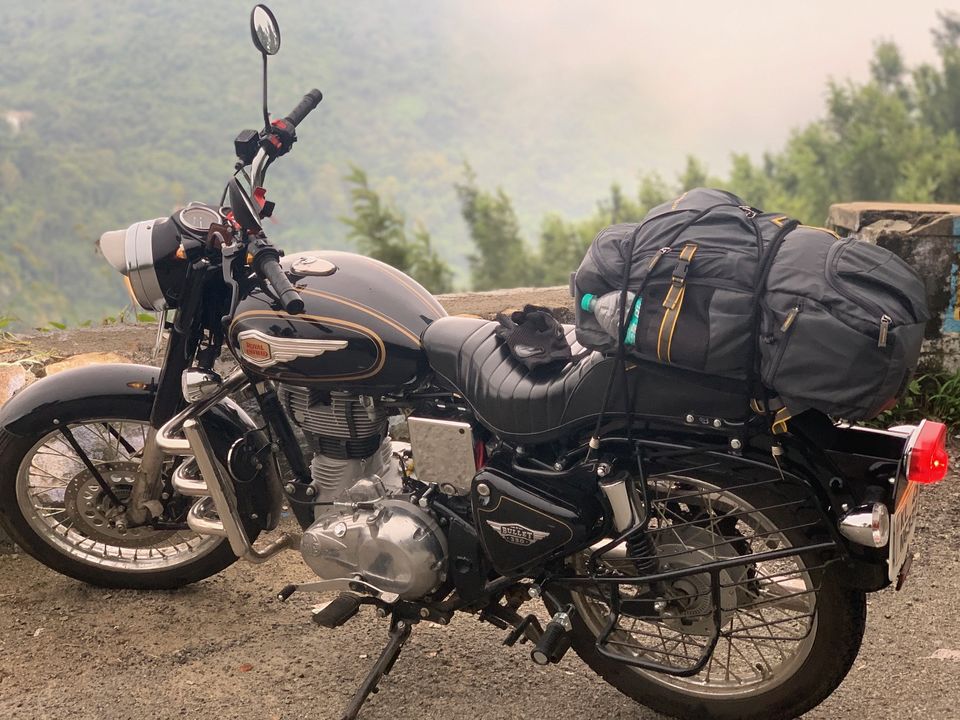 This was a sudden plan as that's the usual way to do. I planned to cover Coimbatore-Palani-Madurai-Kodaikanal-Palakkad in 2 days. Had to cover roughly 530kms. As a solo rider I prefer traveling on day time.
Day 1: Coimbatore - Palani - Madurai
23-10-2019, Wednesday, 09:15AM: I prefer starting the trip early morning but this time I started my trip a bit late. 09:15 AM. Planned to take Palladam route rather the pollachi route to Palani. I had to go through all the hectic traffic. So my trip delayed by 30 mins. But I took advantage of loner roads to catch up the time.
Below is the route I took Coimbatore-Palladam-Dharapuram-Palani. Distance covered: 118km, Riding Time: 3hrs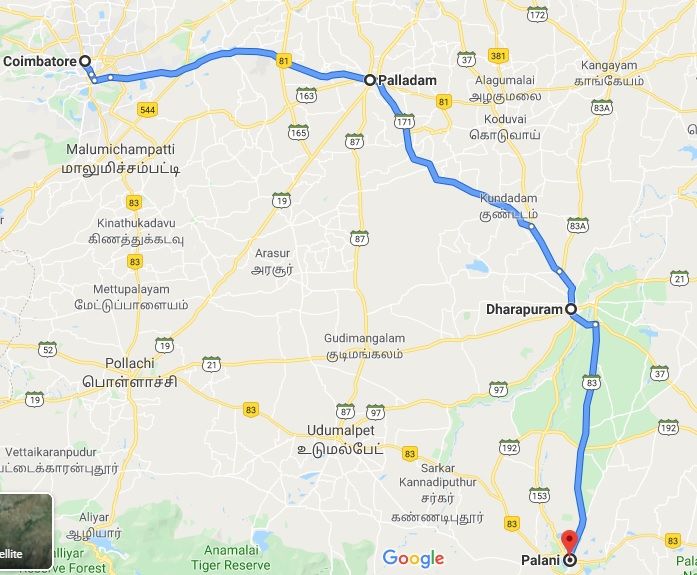 This route is a decent one. There is road work going on from Palladam town till few kms. Otherwise road helped for a smooth ride. I didn't take break enroute Palani except for taking pics and have a tea.
Enjoyed greenery throughout the way and road passes through villages. You can see typical village mates while passing through these road.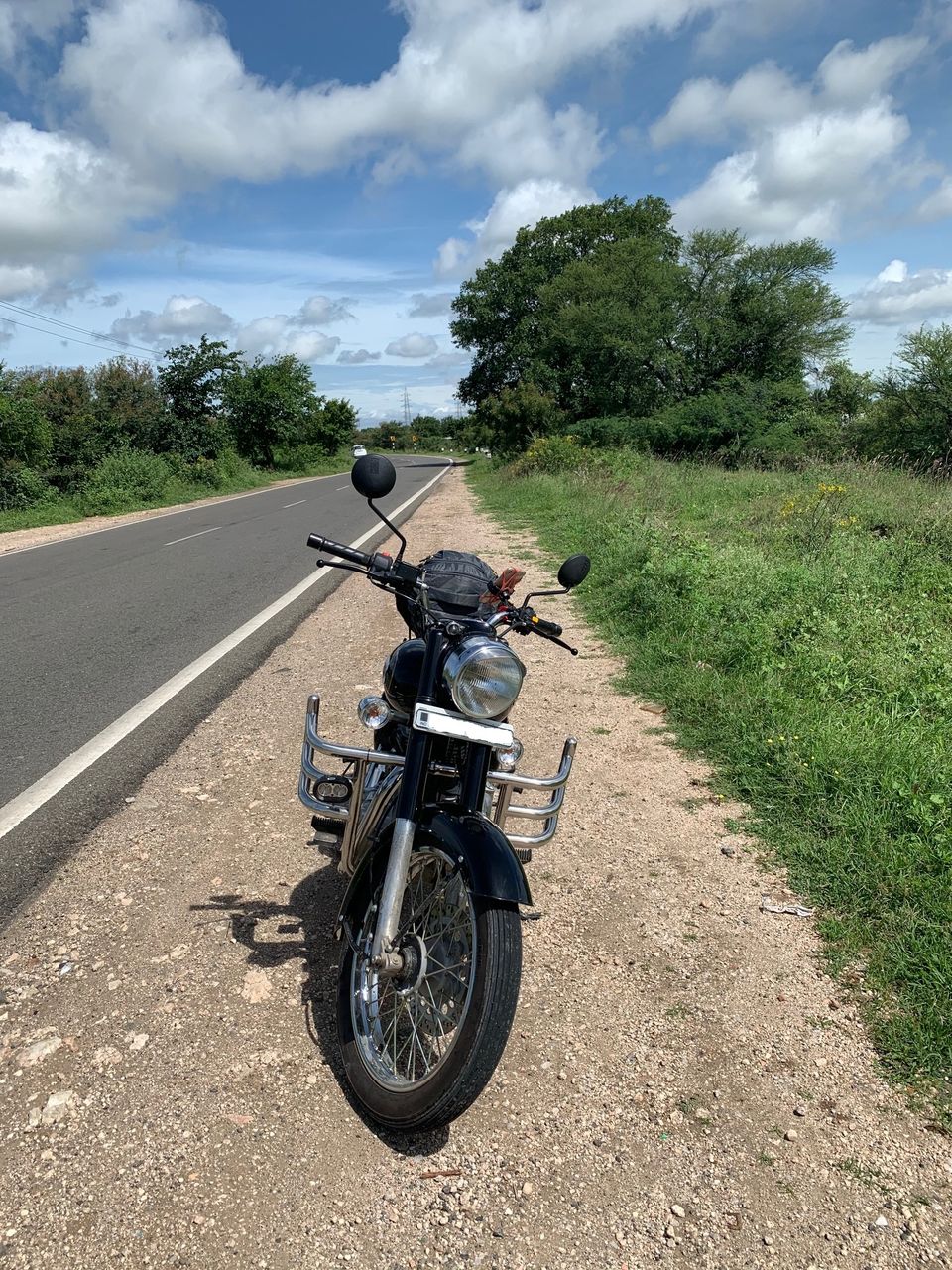 There are many speed barriers. You can find police aid post in many. I was stopped once. But the gentleman just asked where I am from and where I am going to. And he let me go.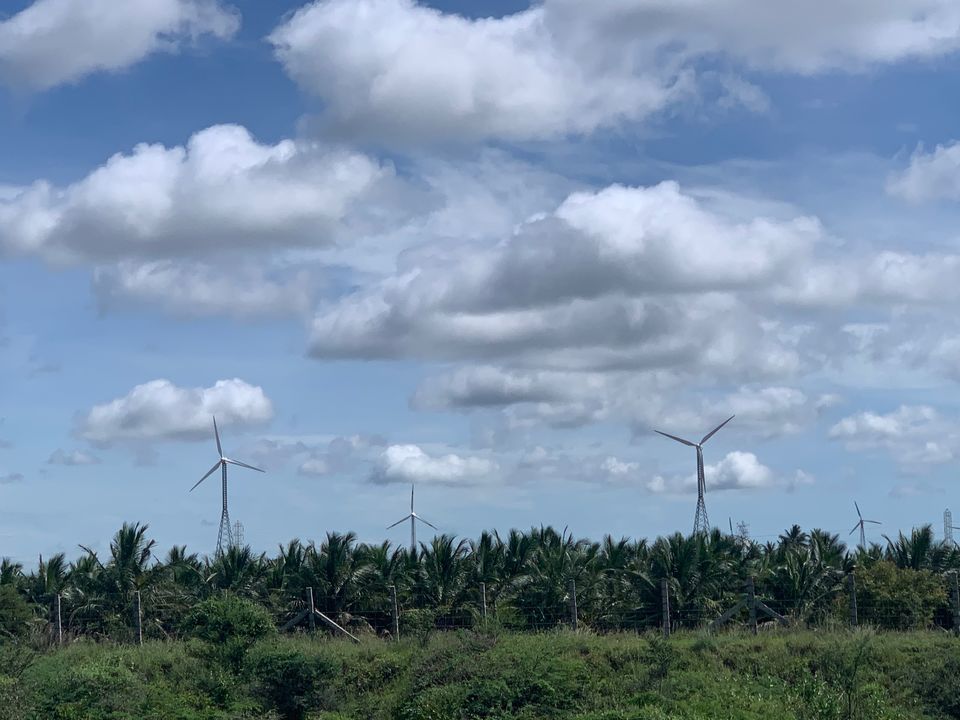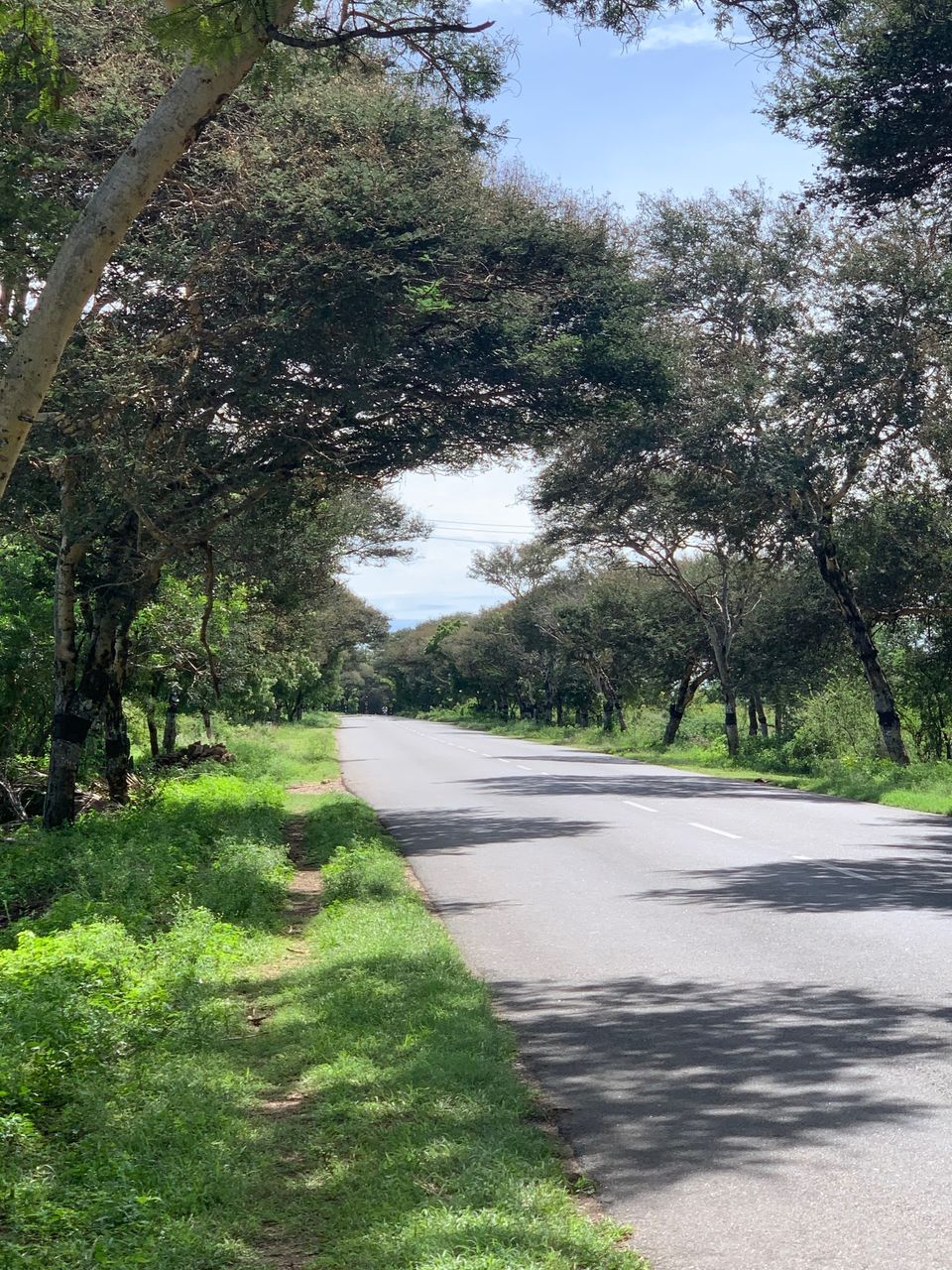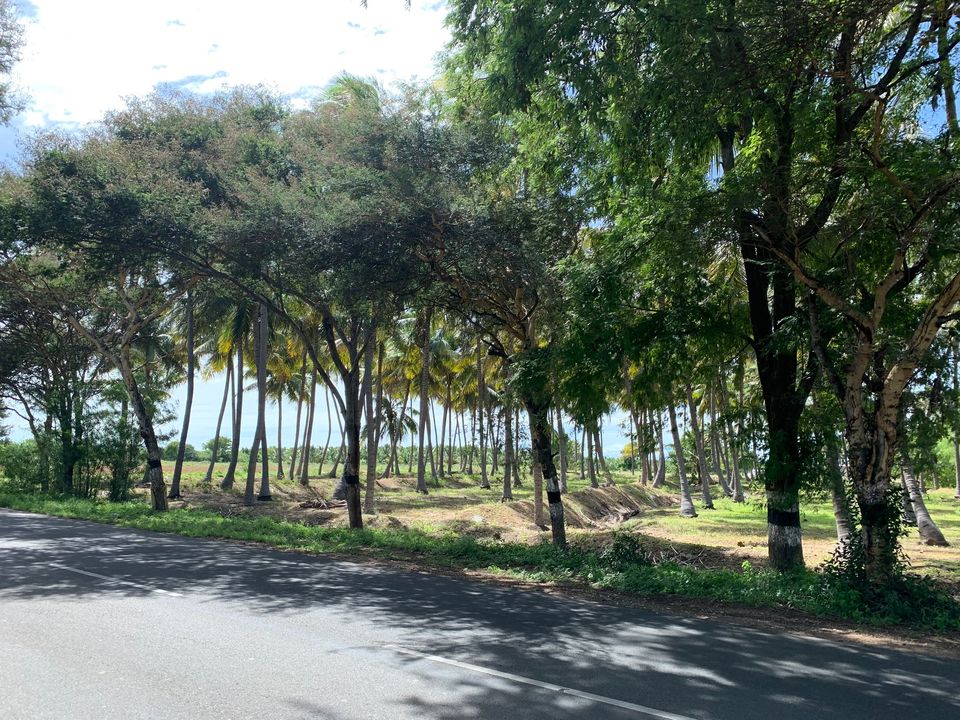 By 12:10PM I reached Palani. Parked my bike paying Rs. 20. Took my bag, deposited at locker paying Rs. 50. You can find locker room run by government at the entrance. This place is safe to keep your bags.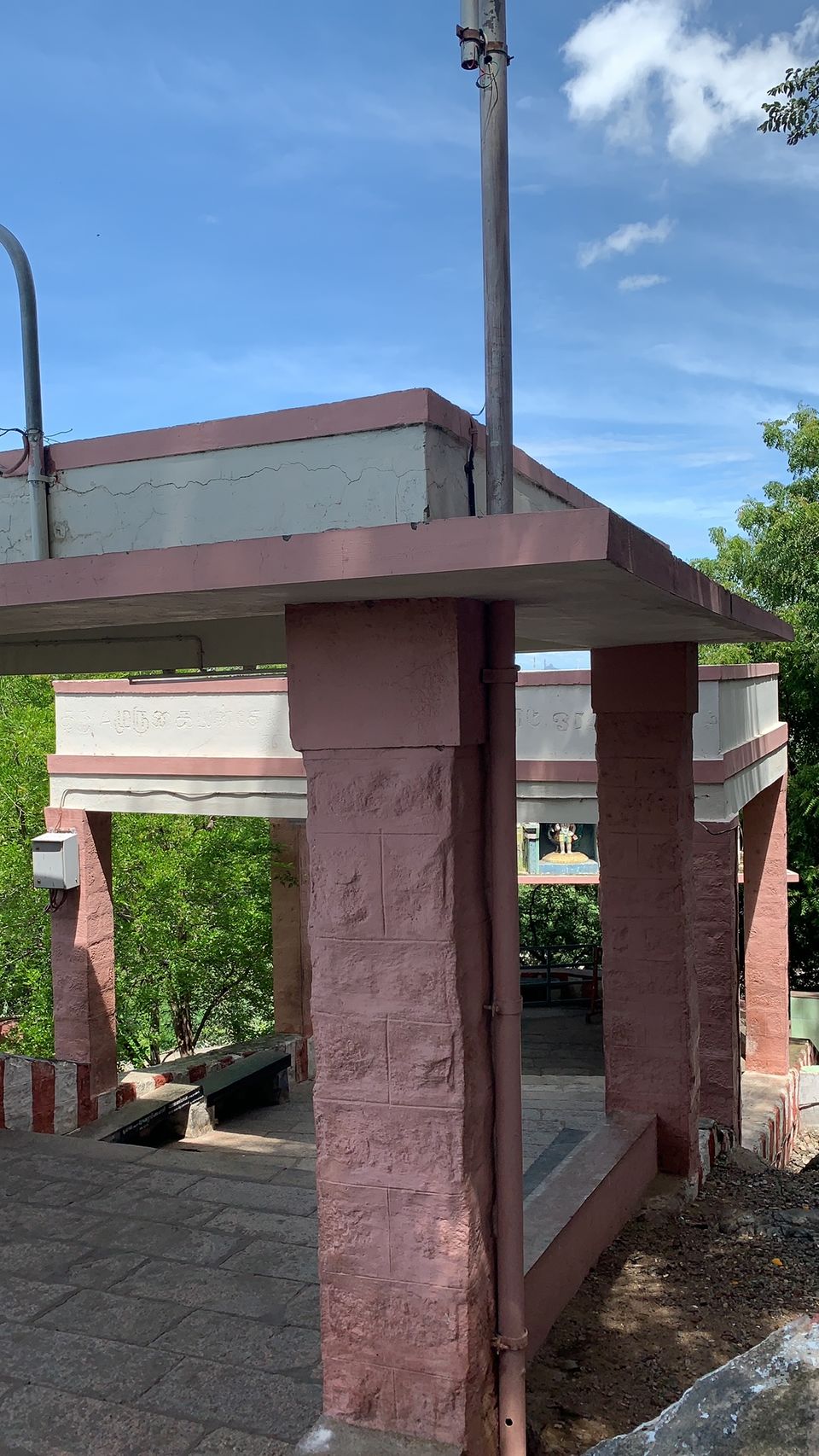 I started walking by 12:40PM. Rather taking the traditional steps, I opted for the alternate route which has lesser steeper steps than the traditional one.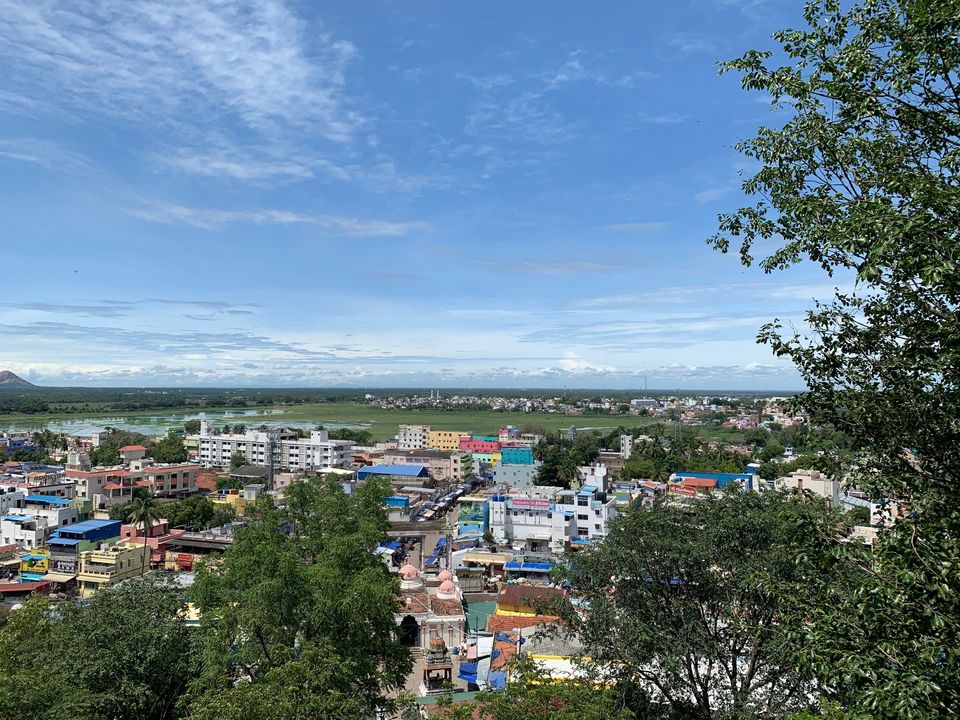 There were no rush as it's off season and that was a weekday. Since there were no rush I took the Rs. 10 queue and went inside. There were no rush at all and had a good darshan for the first time. I stood around 5mins praying.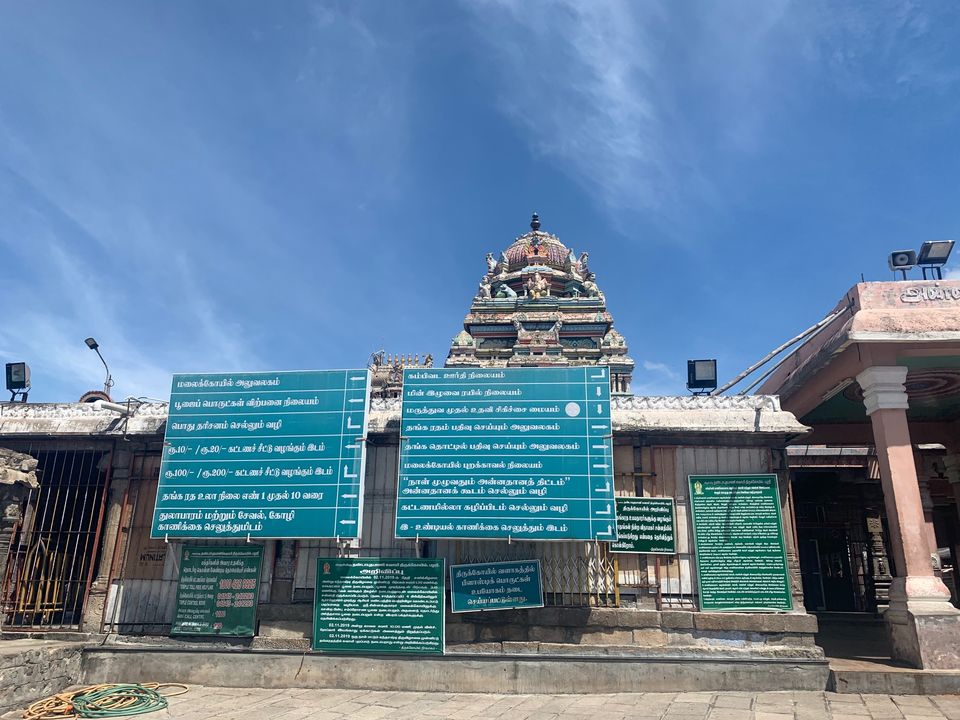 It was 01:15PM and sun was drinking my energy. I was sweating like rain. I purchased the prasad (Panchamruth) and decided to step down.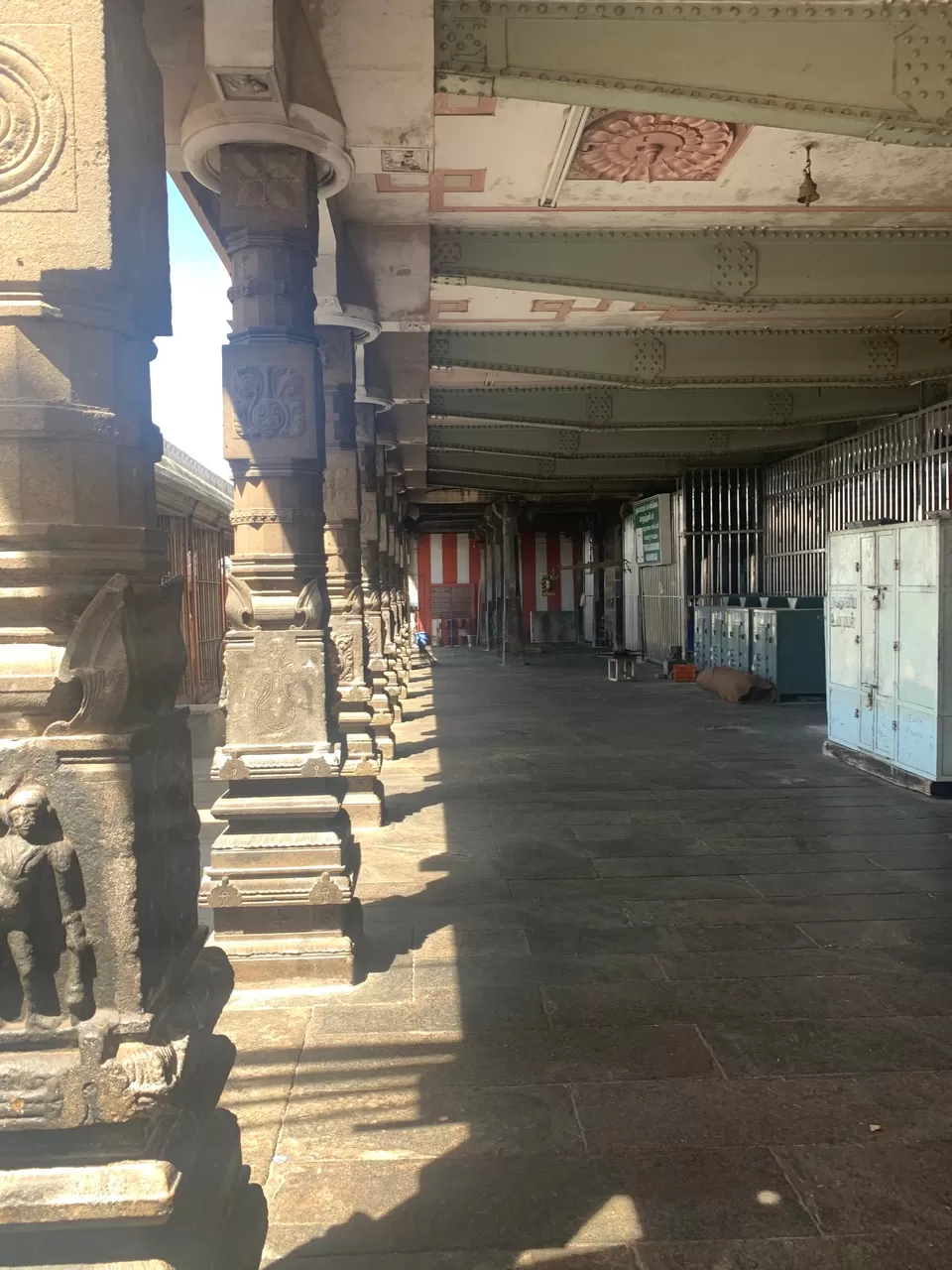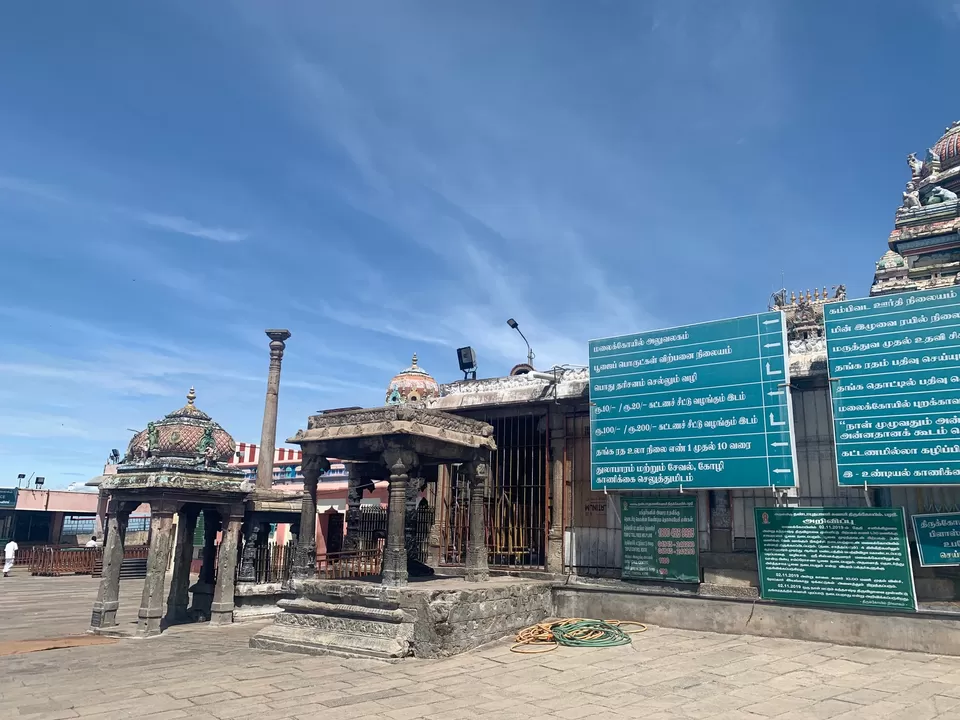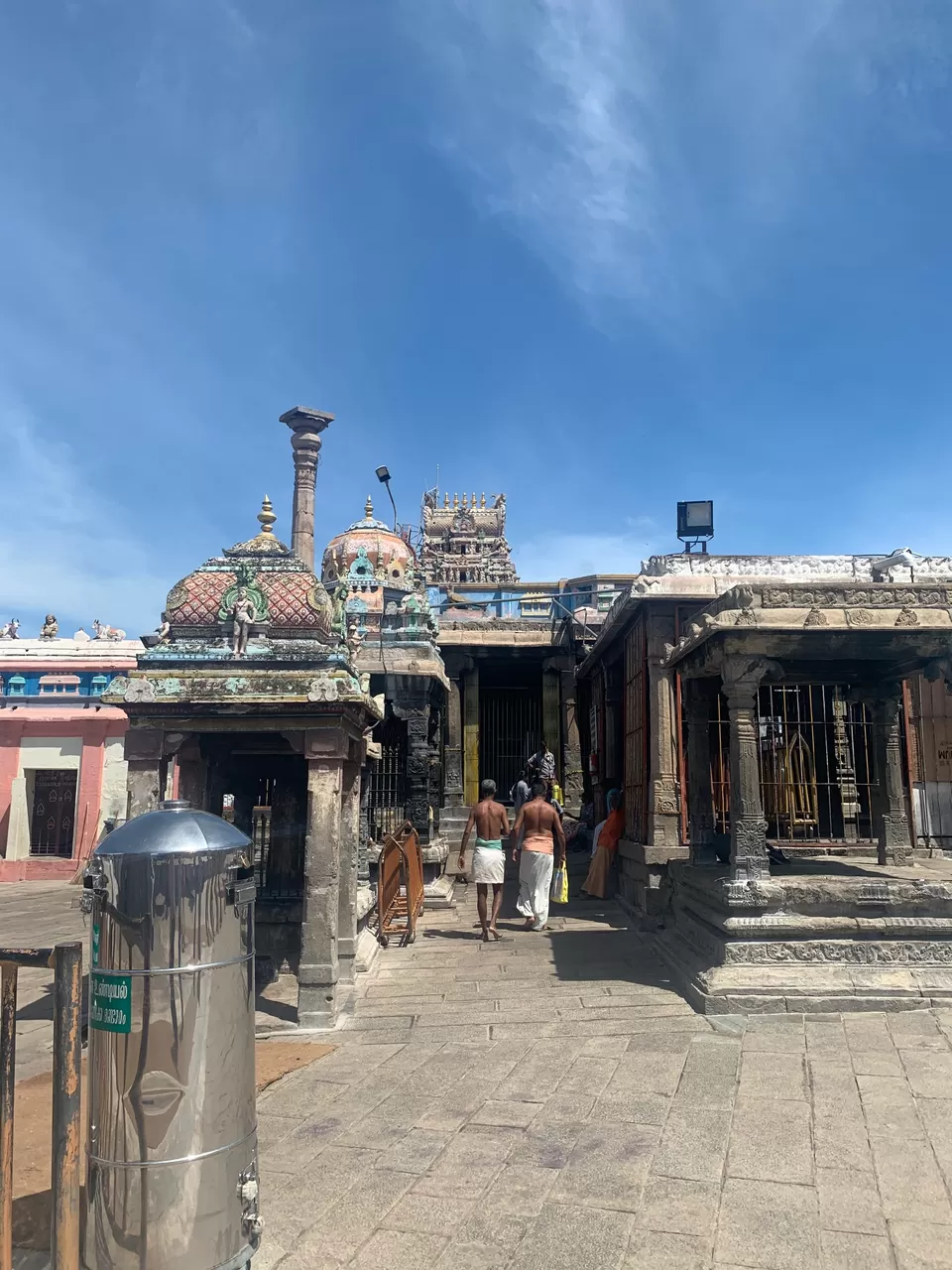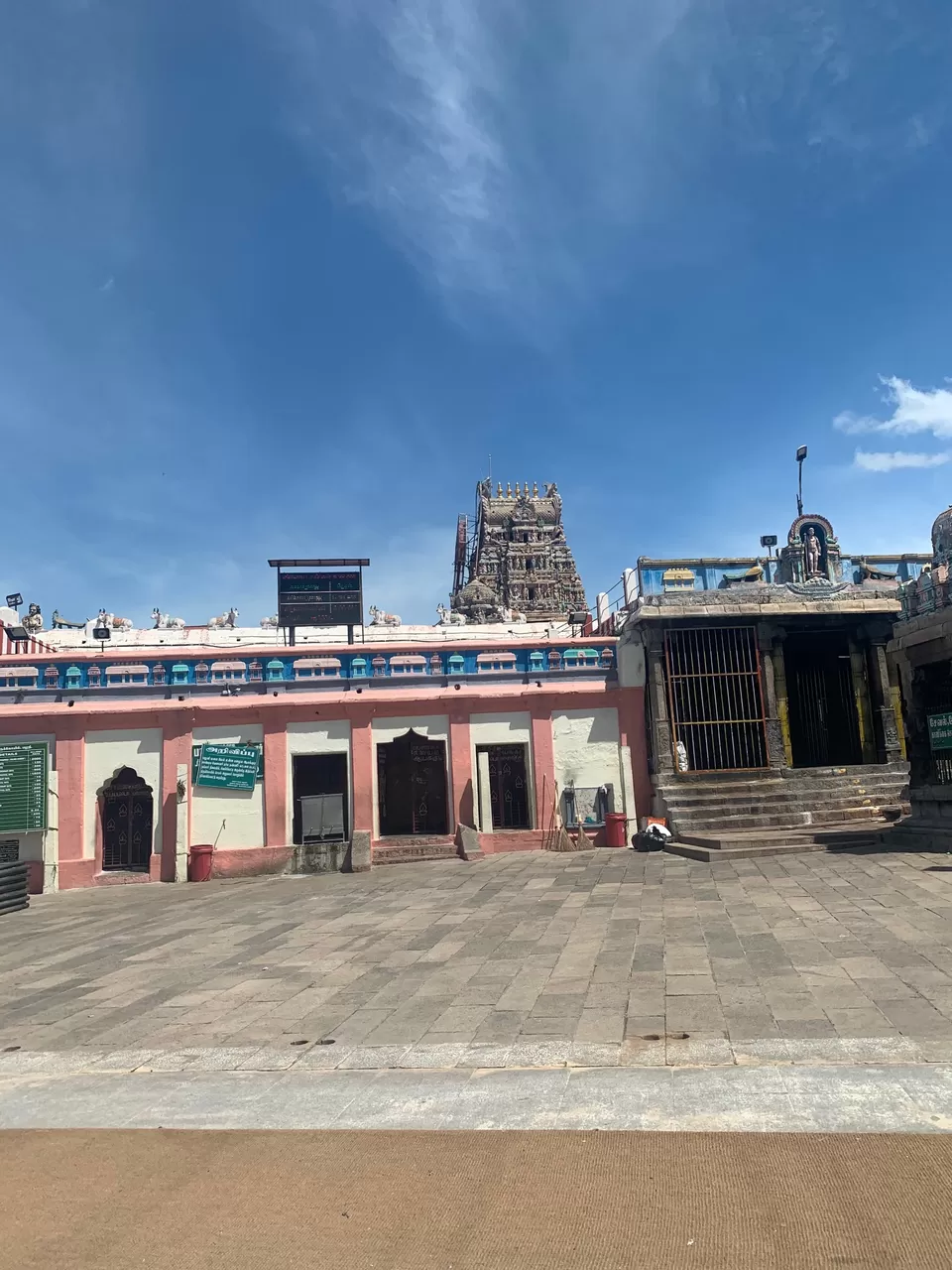 I started walking down. This time I decided to take the traditional steps. Now I started realizing the pain in my legs. I took few breaks in between. Lucky that there are enough shades while getting down and good breeze to accompany.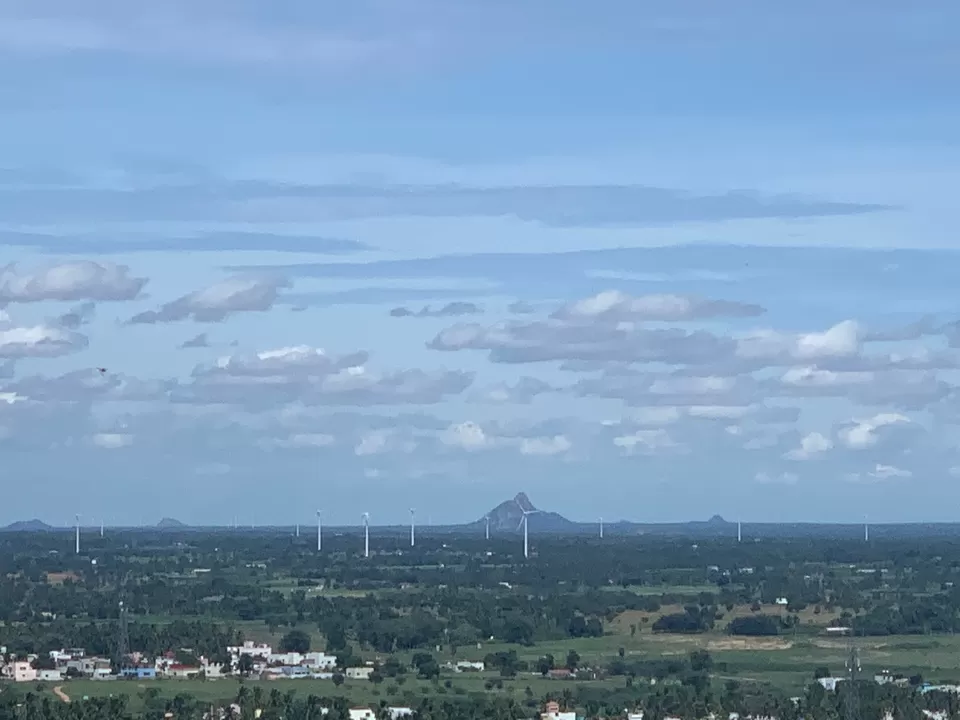 By 01:40PM I was already down. I decided to take lunch and then to collect my bag. Had lunch from a near by hotel. It was decent one. Cost: Rs. 80.
By 02:00PM I collected my bag, tied them up in my bike and started my course to Madurai city.
Day 1, 02:00PM, Palani-Kannivadi-Madurai Ride. Distance: 112km, Riding Time: 3hrs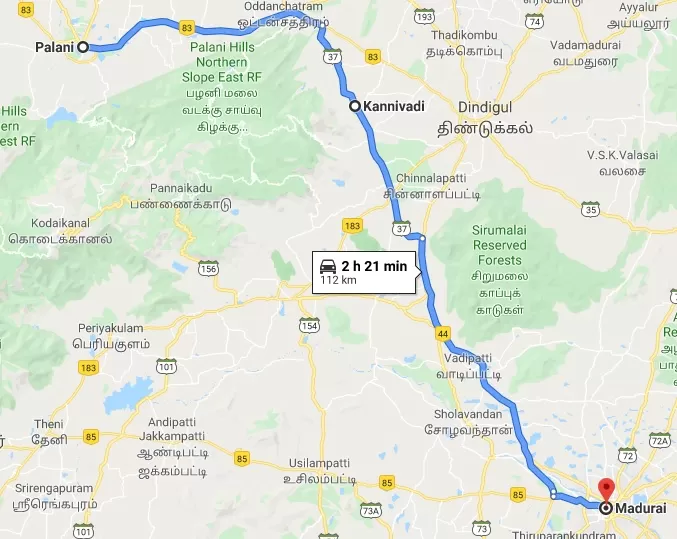 Rather passing through Dindigul city I decided to take the Kannivadi route. It was a good decision I took.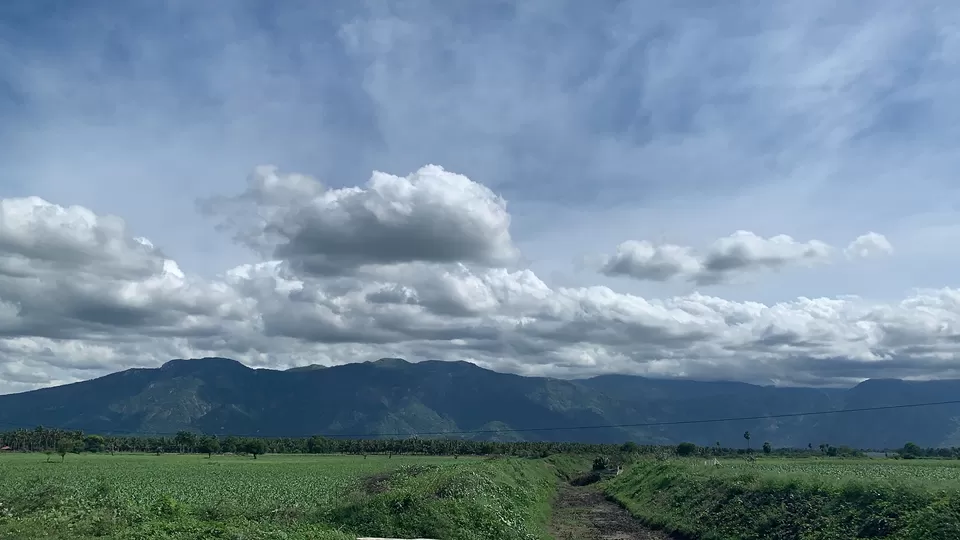 Take Palani Dindigul road and after 12km take right to Kannivadi road. This road ends in Dindigul-Madurai highway. This entire route, almost 40kms is parallel to mountains as shown in above picture.
Though I was riding in mid noon I didn't felt much of heat. And the climate started changing by 03:00PM. I had in mind to reach Madurai before it rains. Hence I could't take video/picture of this route. But this route is worth trying and the roads are really good.
By 04:00PM I entered Dindigul-Madurai highway (NH 44). This road is very good. But needs to be careful as this is the main highway connecting Bangalore.
By 05:20PM I reached The Temple City - Madurai. I had booked earlier in a economic hotel which is less than 200m distance from Madurai temple. As a solo traveler this hotel is fine. They had bike parking luckily.
If you are in Madurai be more vigilant on your bike. Always lock. As this city has it's darker shades as advised by the hotel staff.
I had a nice shower and went to temple by 07:00PM. This hotel was closer to West entrance. Everyone has to go through the security check. MOBILES, POWER-BANK, AND OTHER ELECTRONIC DEVICES ARE NOT ALLOWED TO CARRY. There are storage facility available in each entrance with a charge of Rs. 5 for mobile phones. It's better to keep these devices at hotel. There was a group from Rajasthan. They were so noisy.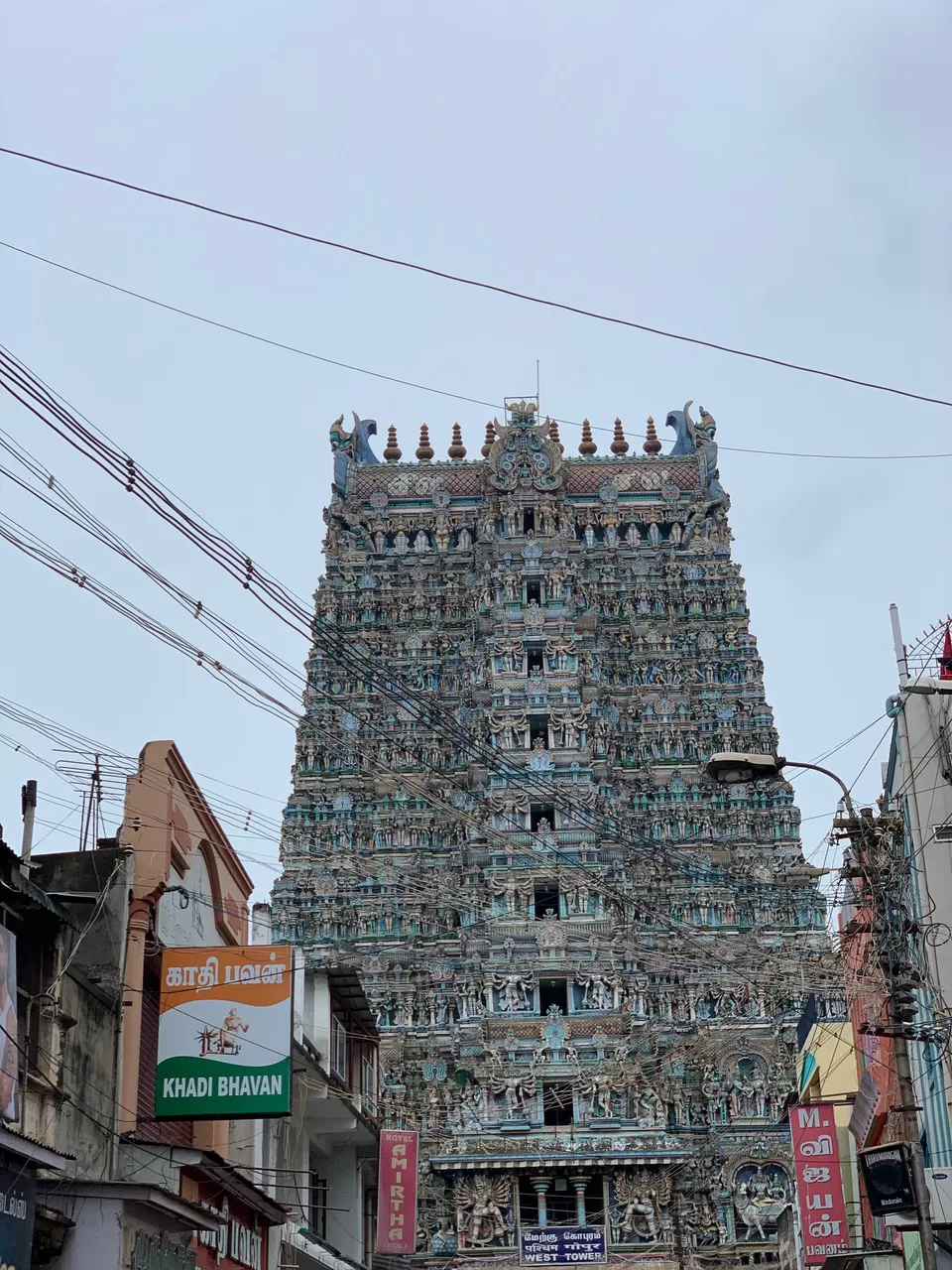 The temple is so peaceful. There were no rush and had a good darshan. Madurai Meenakshi Amman (form of Parvati) is the idol here and her consort Sunderashwar (form of Shiva). Along with that there are Nataraja and Surya shrine.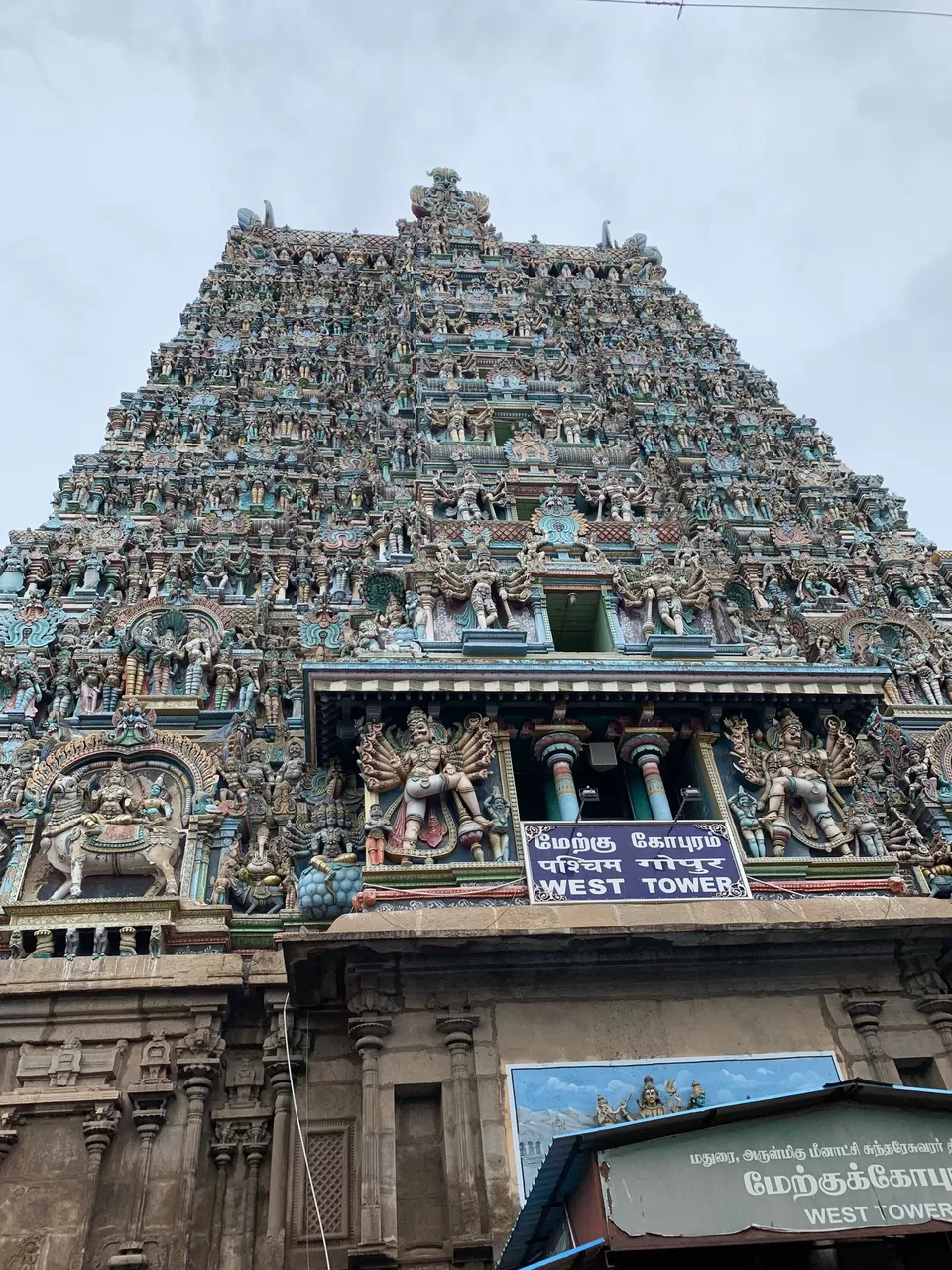 Temple has a big pond inside. 1000 pillar mandapa is a must visit place inside. Entrance fee is Rs. 5 for Indians, Rs. 50 for Foreigners.
Day 2: Madurai-Kodaikanal-Pollachi-Palakkad
I got up early and went to Madurai temple again. Had a peaceful darshan. Had breakfast and decided to kick-start to Kodaikanal.
24-10-2019, 09:00AM - Madurai-Kodaikanal, Distance: 125km, Riding Time: 3hrs
This ride is going to be a hectic schedule as I planned to reach Palakkad by 07:00PM.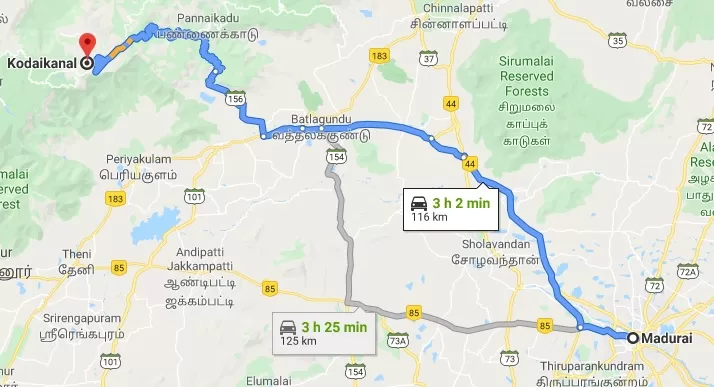 From Madurai, way goes through Dindigul highway and after around 56km starts the Kodaikanal ghat road. Road is smooth through out though there are few patches in ghat road.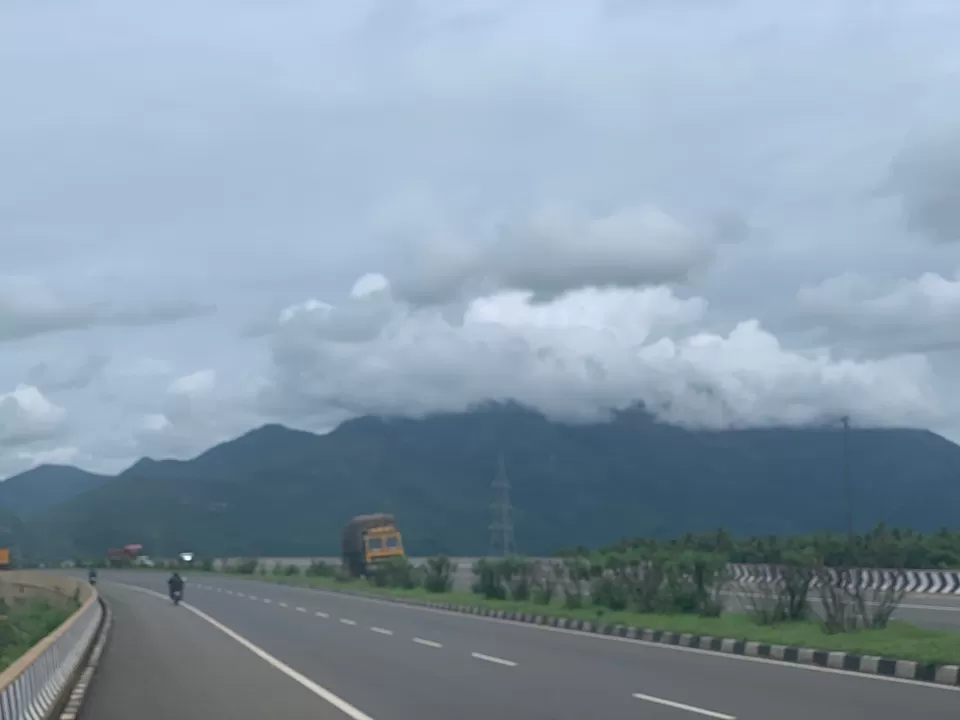 Madurai-Kodaikanal-Palani ride was an awesome experience.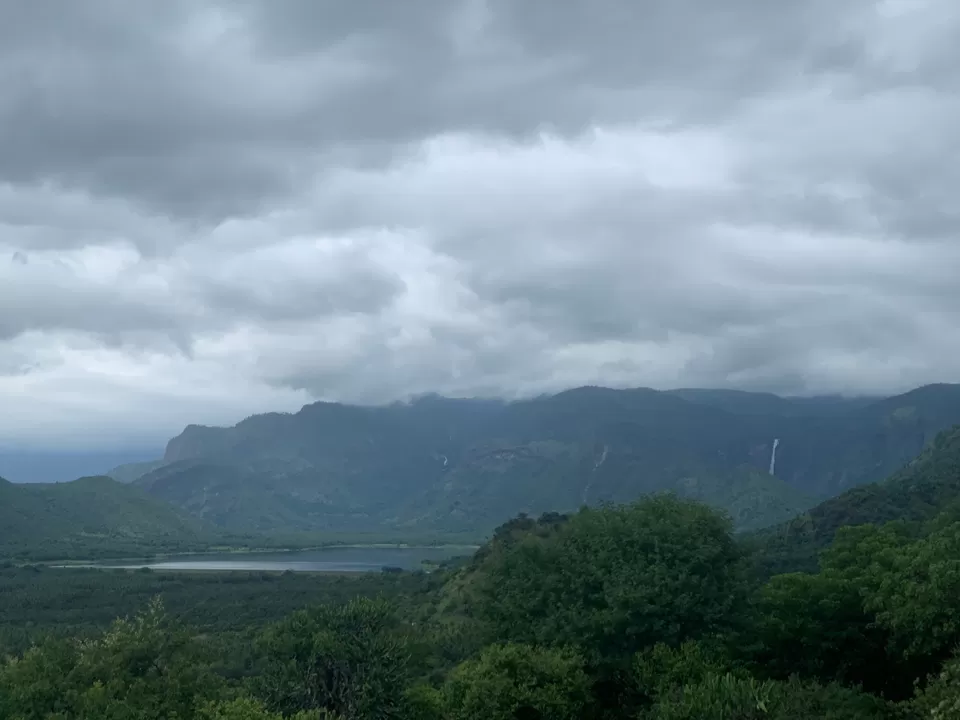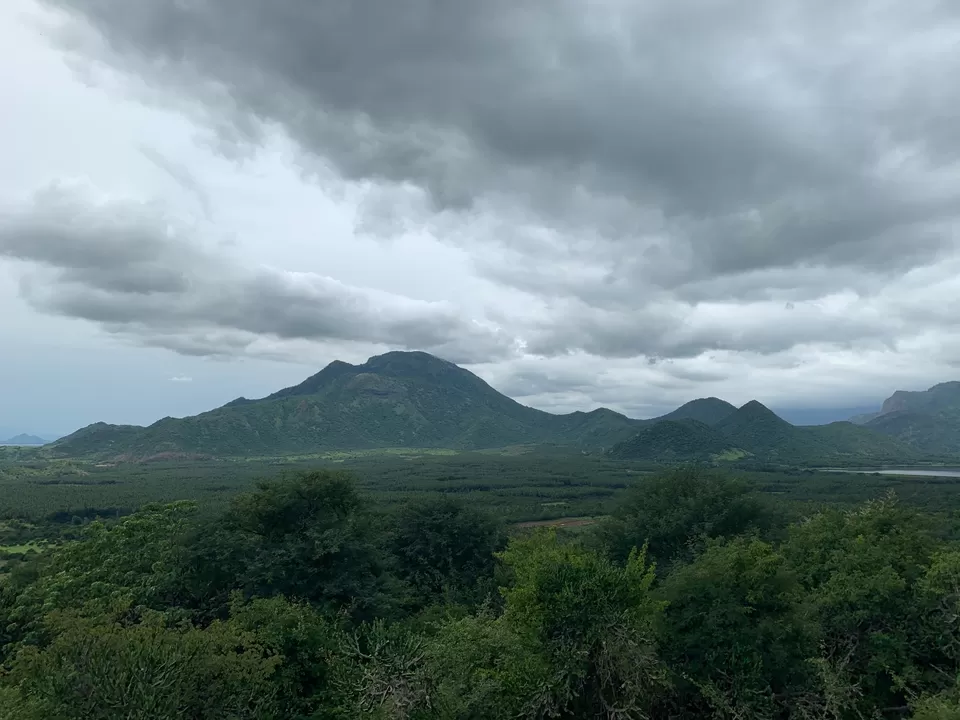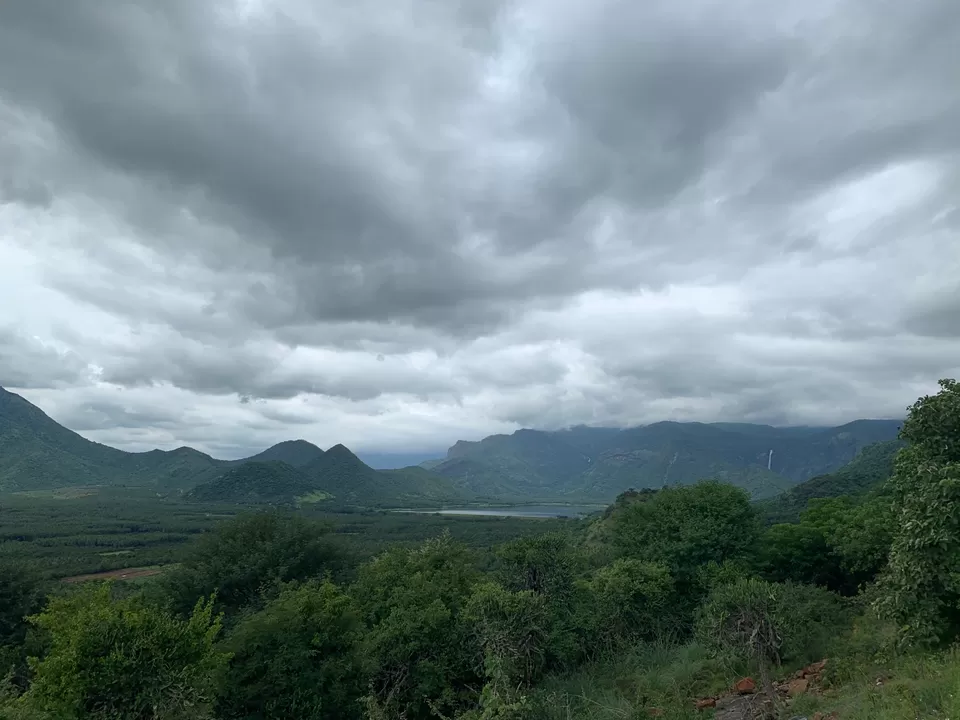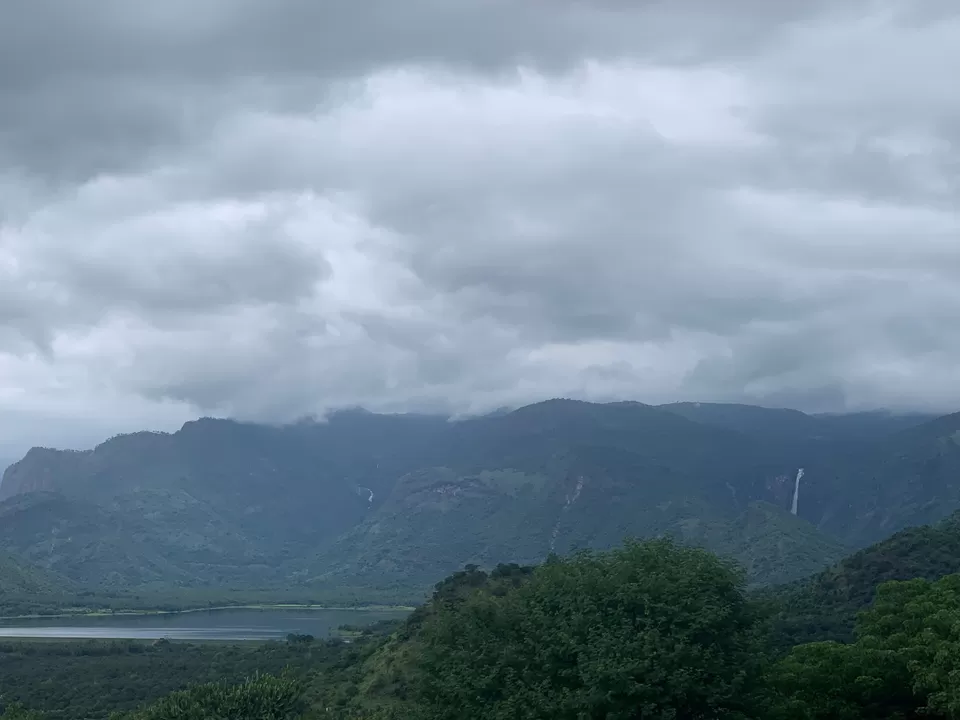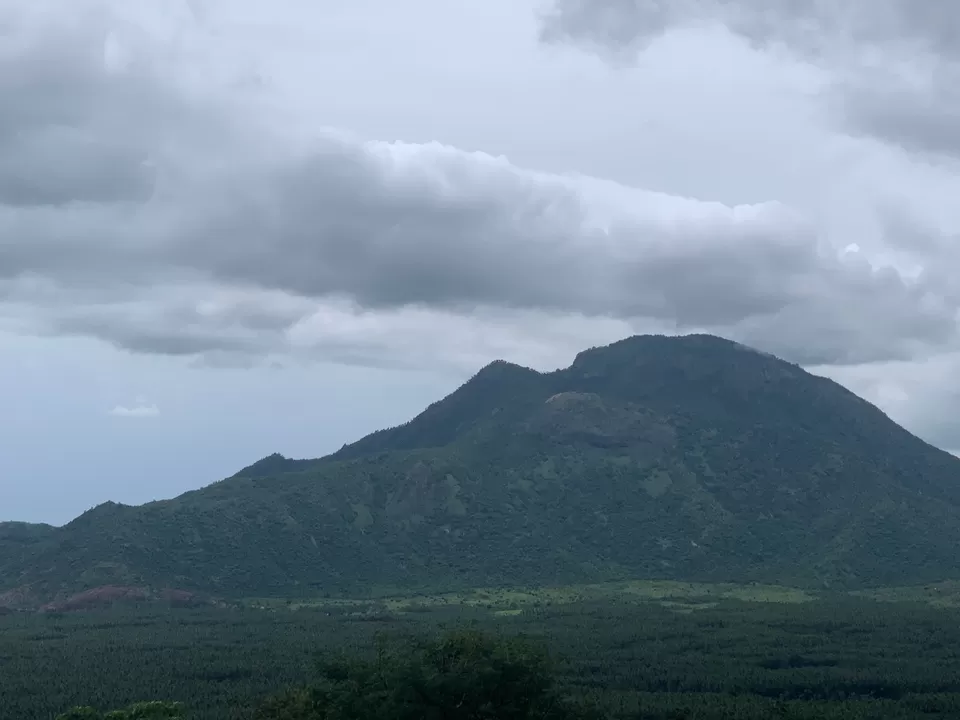 After few kilometers I was blessed with the sudden climate change. Throughout the route, whole Kodai was covered with fog. Temperature started running down and it was a complete black out in road.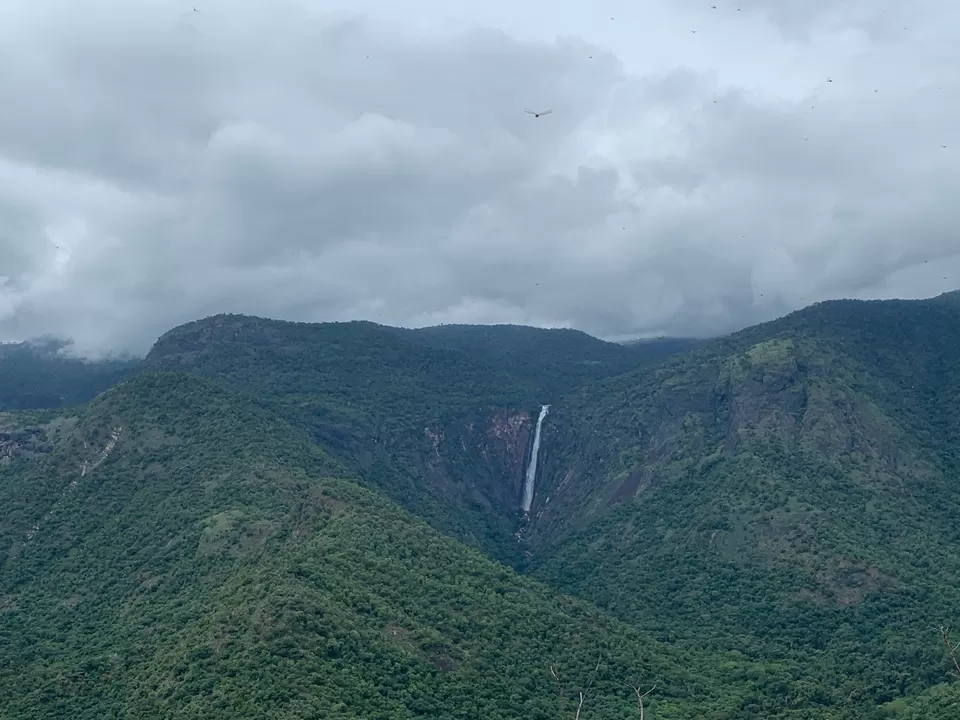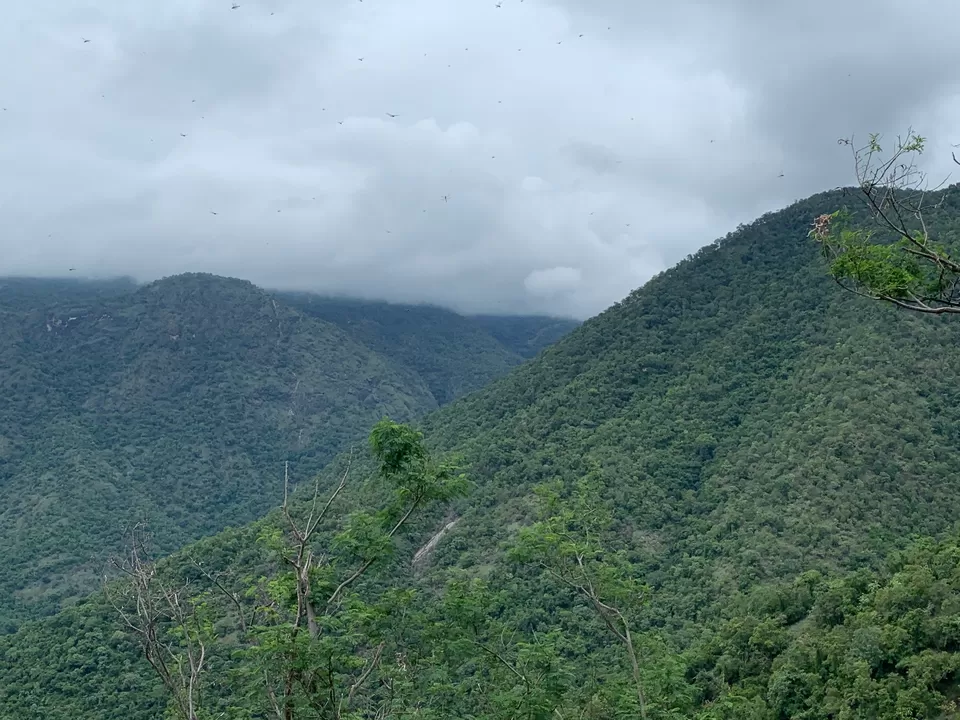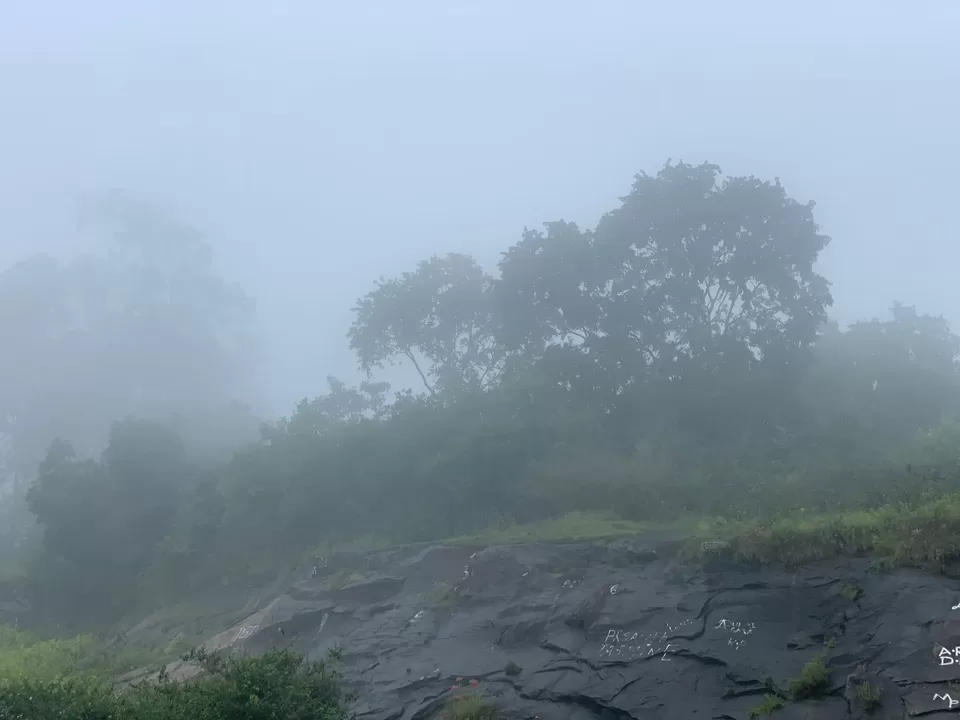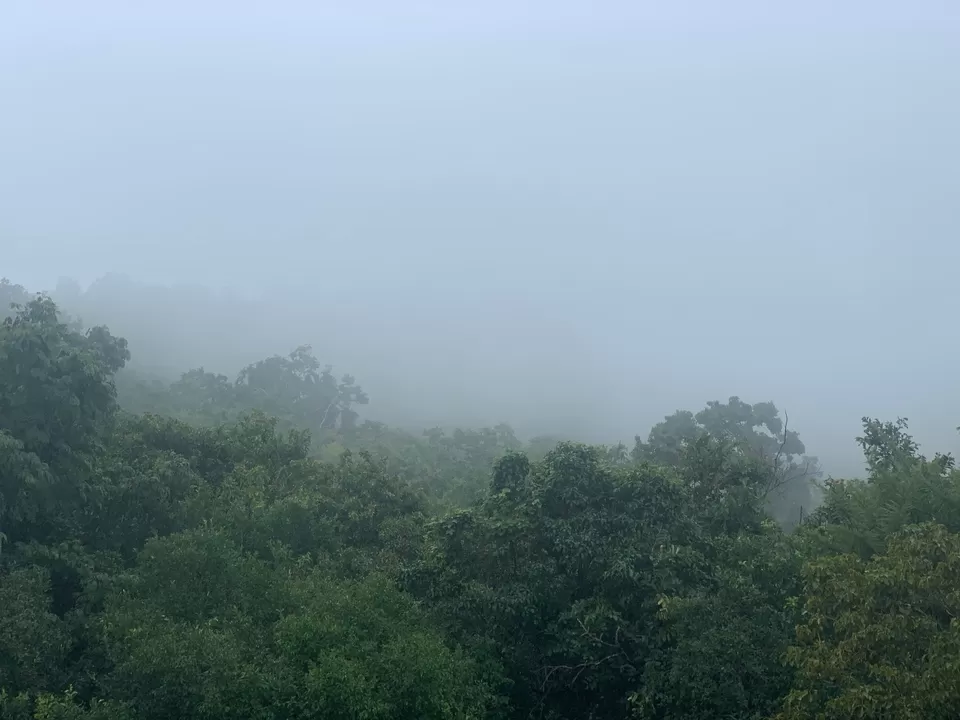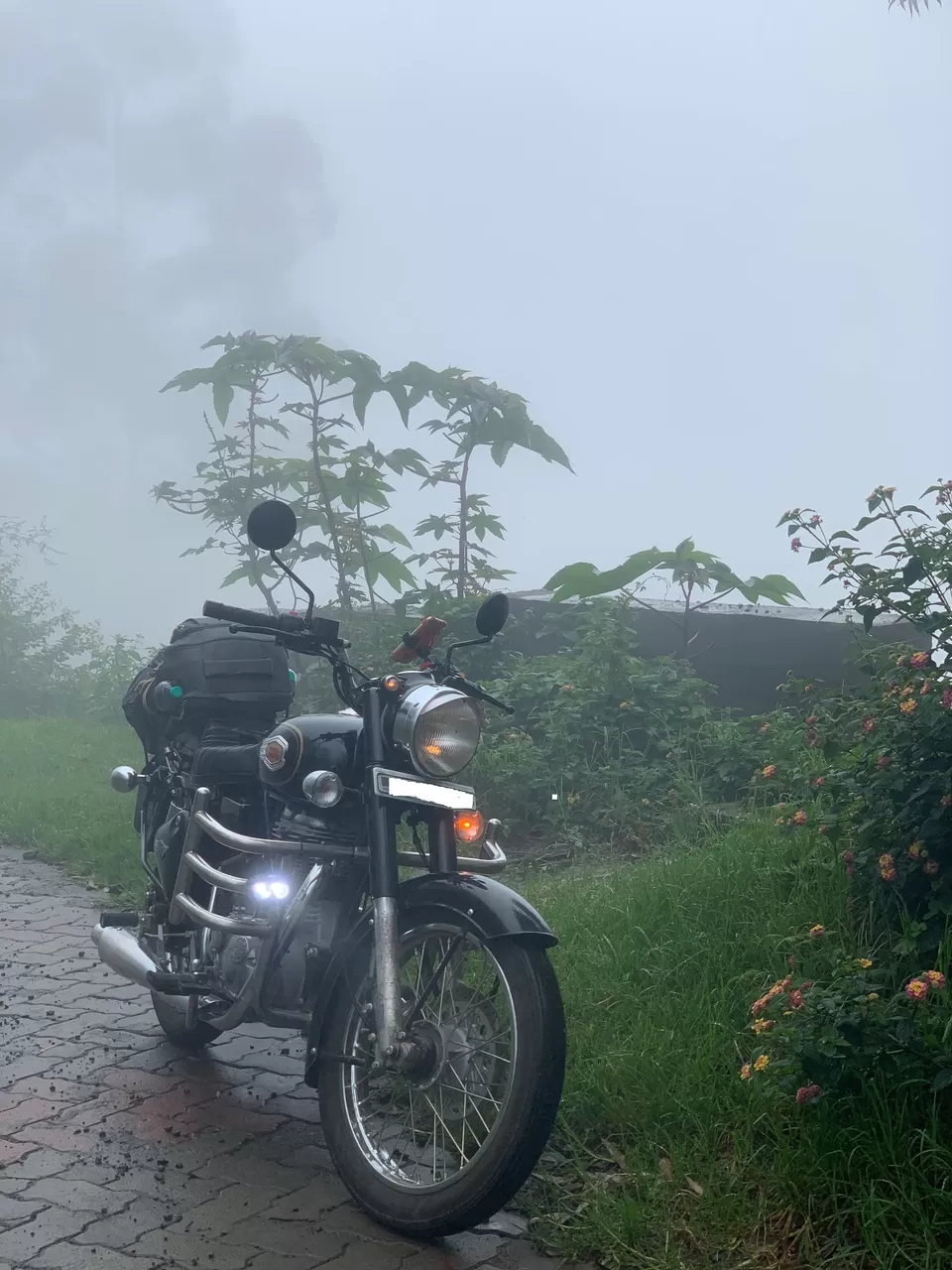 By around 12:40PM I reached Silver Cascade falls.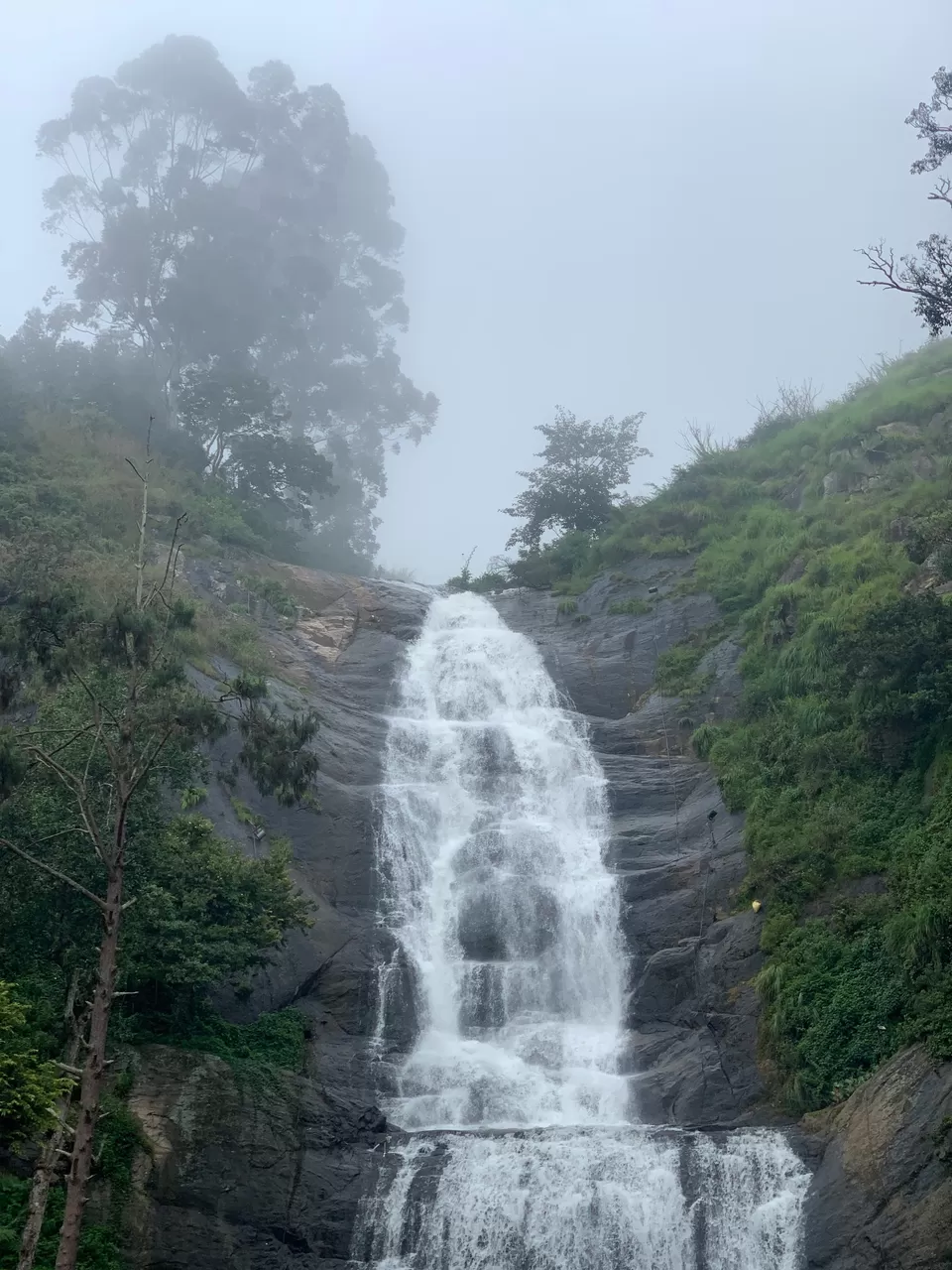 From here I put the gps to Palani as I didn't had plans to visit Kodaikanal city or other attractions. Just riding through the fogs itself is worthier than other sight seeings.
There are 2 routes to Palani. One is the normal Kodaikanal-Palani ghat road. And the other one is the old shortcut which is no longer accessible for public. I decided to go with the second one as there were chances to enjoy the off road.
And my decision didn't go in vain. It was worth deciding. The route is as below.
Kodaikanal-Vilpatti-Palani. Distance: 78km, Riding Time: 2hrs 30mins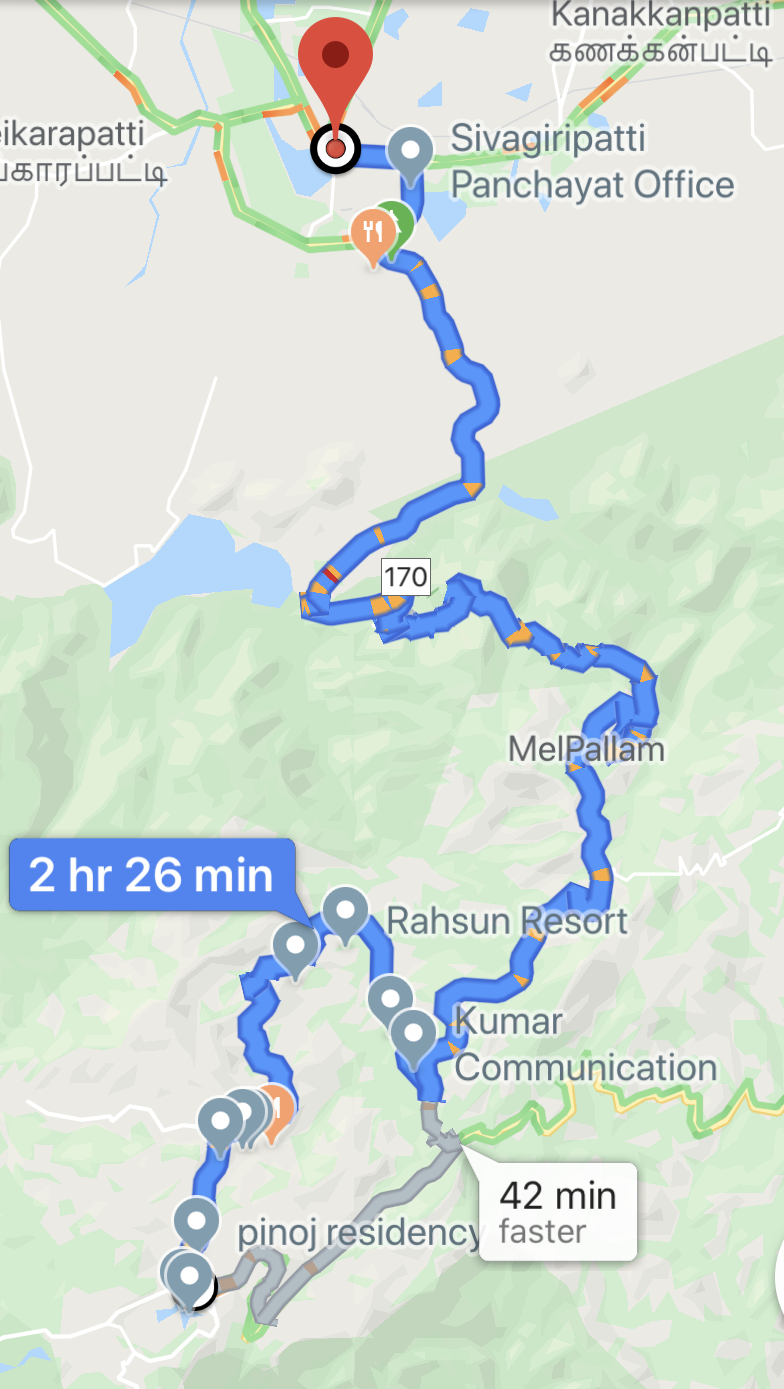 Kodaikanal to Vilpatti the road is entirely through the ghats and it passes through country side. You can see real local people around. You can only find few bikes passing by this area and all of them of locals.
The road is completely terrain. I was blessed enough to travel the entire trip in fog.
After few kilometers there is a check post with a local guy as the guard. I managed to convince him to pass through the road. Imagine going through the wild alone. You will get the same experience as you pass through this road. It's a stretch of 2-3kms road packed with plants and complete off road. Road goes downwards adding tougher challenge.
Please note that the entry to this road is not allowed and even if allowed, can only go by bike.
Though the road ends to a village the entire experience is breath taking. As going downward and off road I faced few challenges. But was worth every second. This road joins Vilpatti road.
From Vilpatti after riding few kilometers, the road joins the main Kodaikanal-Palani ghat road. Still the fog was chasing me. Entire Kodai is covered with Koda (Fog). It was a last minute decision to add Kodaikanal to the itinerary and it was worth much.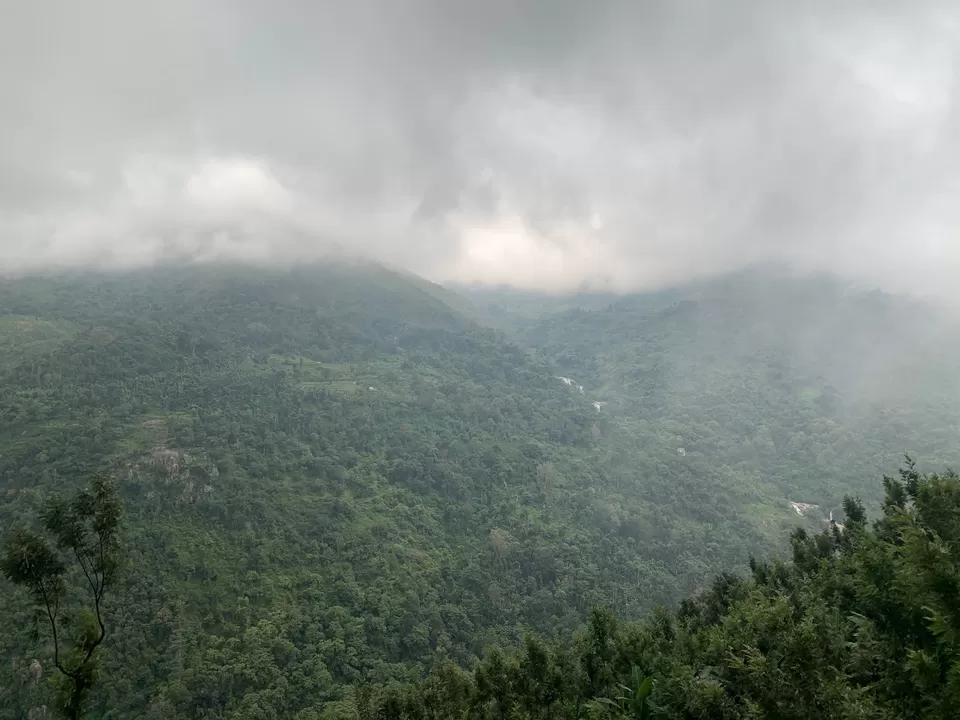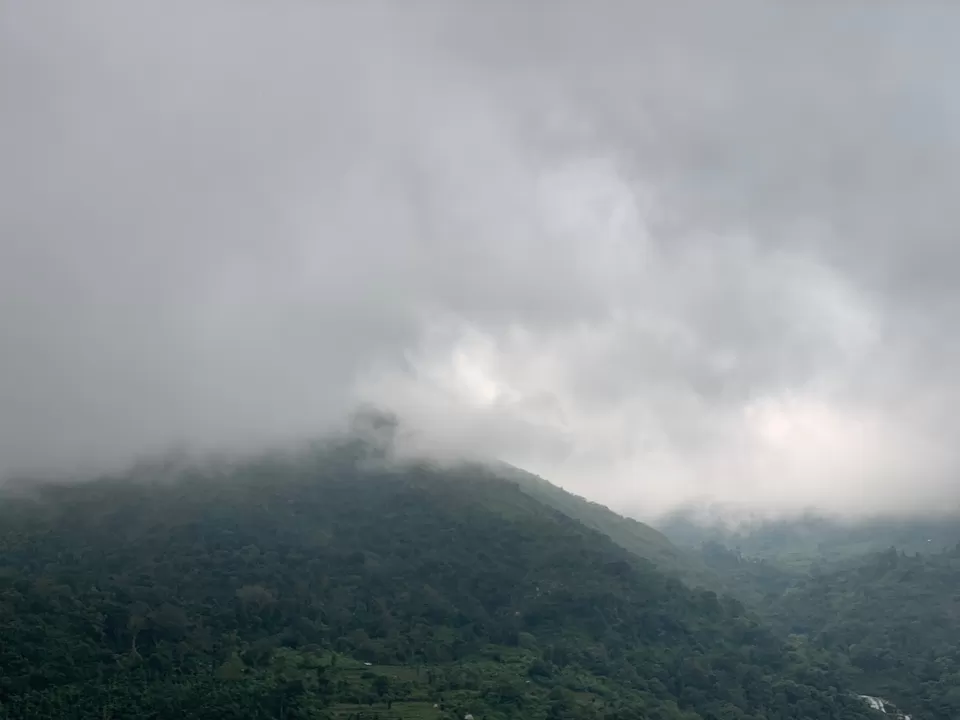 By 04:30PM I reached Palani. From Palani I took a quick ride to Palakkad via Pollachi-Kozhinjampara as I had in mind to reach there by 07:00PM.
Palani-Pollachi road is mess in terms of traffic. As the road passes through many small towns and Diwali was nearing. Still I managed to reach Palakkad by 08:00PM. Thanks to my RE.
Thanks for reading my blog. You can ask any doubts at my instagram page (urbannnclick) and I will be more happier to help. Keep riding.....