Next day sun rises early but not we.but we got ready at 10 am after breakfast and went to ride.

First we went Piller rocks.As the fog was damn high in the absence of sun we didn't get to see anything.Same happened in Suicide point or Green valley view.We took pictures and I went for horse riding.Rain was lightly falling and which made the climate heavenly.

Then we went Guna caves.It was something mystical.Its name was associated with a movie shooted there.

Then came the third twist.

Because of my mistake I got in an accident.My head stuck in the Piller of a check post in Piller rocks.

Nothing happened seriously,but everyone got panic.After the first aid in Kodaikanal hospital we returned our room and after lunch took a nap and decided to left Kodaikanal at 5 pm.In that incident we come to know the love and affection of Kodaikanal people.

At 5.30 pm we went Kodaikanal lake and left home.as these crappy things happened no one was in a mood to enjoy but was in a hurry to get home as soon as possible.We planned our return journey as Palany-Pollachi-Palakkad-Thrissur-Ernakulam.

As my bike again got in trouble we have to go slow with out using back brake.

Some how we crossed Palany ghats and got in highway.From pollachi we had our dinner at 11 pm.

Then from there we deviated straight to Thrissur in a short cut and reached Kochi next day morning 4 am.

Apart from sceneric beauty views we had a serious ride.

As we got in problems,met new people,new conditions things which were new .

Even though trip costed a lot of time,money it's still a memorable one.

And we decided to come back next year with much better planning.

Last but not the least trip ends not the ride.😁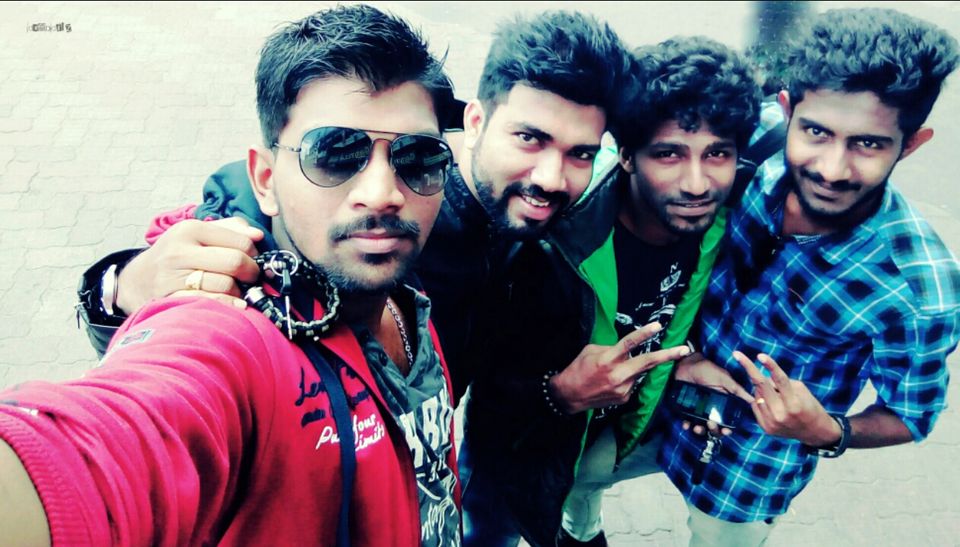 You know how hard you plan a trip,it all get spoiled.But the least we can do is also a good planning.We planned to start our journey at 5am morning from our homeland Thalayolaparambu in Kottayam district of Kerala.
Our root was Pala,Mundakkayam,Kumaly,Kumbam,Theni,Kodaikanal.
All are places in Kerala and Tamil Nadu.
But in the morning first plan got spooked.As Anoop was in his wife's home at Pala,we have to go there and mingle with him.The surprise was there is one bike and three people.What else do?we took the risk and I ride with them to Pala a distance of 25 Km.
At Pala we got Anoop and started the journey.As we were cruising rather than racing the ride seemed smooth and hashy.
Then we reached Mundakkayam around 9am and had our breakfast,a light one you know.
Then came the first twist there when we left from Mundakkayam and about to get in Kumaly road only we came to know that it was strike in Idukky district.Its a religious riot type as the organisers told,that we can't cross Idukki district that day.We got stuck there,Three options were there,first one chance the trip,second wait for the strike to get compramised,third was heavy as return back and ride through Palakkad-Palany route which costs additional 150 kms and 3 hours.
We took second one and waited there,
After 2 hours we got green light an we crossed Mundakkayam.
We got warning from there that similar protests were there through out the roads forward which we have to go.As told we stuck in each towns for nearly half an hour.Peerumade,Elappara and Vandiperiyar.Now only Kumaly is left and it's the Kerala boarder.But then came the second twist.
My bullet was riding Aswin with Aromal as pillion rider.I was in back of Anoop.after crossing Vandiperiyar protest and we about to leave the town my bullet got us in trouble.Its break got stuck and paused in the middle of a bridge.For good Almighty's grace Aswin just stopped the bike and saved himself bike and aromal from a great accident.It was 11.30 am and then we were seriously screwed.
But for our luck even in the midst of strike a mechanic was available.With two hours he temporarily got the bike ready to go.And we happily left his garage and had lunch adjacent to there.It was 2pm then.After the last protest in Kumaly we passed Kerala boarder and got in Tamil Nadu.
Riding through the ghat roads we reached Kumbam,and as planned we get in Theni Royal Enfield showroom.Their mechanic also cared the bike and guaranteed our return journey to Kochi.
Then we left Theni and get in Ghat roads to Kodaikanal around 6 pm.
The road was nice and well maintained but as it was night we didn't get the luck to enjoy sceneric beauty.
At last we reached Kodaikanal and lodged around 10 pm,9 hours late as we planned.
As we lost one day we planned a quick schedule for next day and after a heavy dinner we slept as all was tired of the surprise factors.😁