Yes Kodaikanal is also known as the Princess of Hill Stations in India. When you think of Kodaikanal, you think of a wonderful climate, cliffs covered in mist, cloud-capped mountains and beautiful lakes and valleys, and once you visit this hill station, you will find that every bit of what you have imagined it to be is true. Nestled amidst the rolling slopes of the Palani Hills in Tamil Nadu, Kodaikanal stands at an altitude of 7200 feet above sea level and has a cool, pleasant climate all year round. Kodaikanal means the gift of the forests. Kodaikanal offers the perfect mix of culture and nature to tourists, and its perfectly manicured slopes, scenic waterfalls, rolling hills and clear lakes all come together to create the perfect setting for an ideal mountain getaway. Kodaikanal is a place you can go to take a break from the rigors of daily city life, and this hill station lets you sit back and connect with nature as you head out on biking or trekking trails or take a stroll through the huge forests surrounding the town.
Well, i have been here 5 times now. Many of you would think why he travels to the same places again and again! I visit this place because its one of my favorite place. Now that i have been there so many times, i still feel there are so much to this place!
If you know how to drive, get a car and hit the road or if you wanna chill and enjoy the view while reaching Kodaikanal, you can avail bus services. Best time to visit this place is between September to May.
Where I stayed here?
Everytime i have been here, i have stayed at " Greenlands Youth Hostel & International Tourist Home, Kodaikanal "
Why this place? Because this place will you the best view in Kodaikanal.
This slideshow requires JavaScript.
Below is the link of the album of my second visit. Do see the pics.
https://www.facebook.com/samya2011/media_set?set=a.10153025514175614&type=3
You will get rooms overlooking this fantastic view, where you would see a sheet of clouds during in the morning and as the day progresses the clouds move up giving a clear sight at night with the Madurai city below.
During the day, you can go on a sight seeing and at night you can sit down with you friends with a drink and spend time around the bonfire seeing the fantastic clear night sky and the beautifully lit Madurai city below.
The hostel has a kitchen of its own, and you can ask for tea/coffee anytime. The package generally includes a complimentary breakfast and if you wish to have lunch and dinner you can order from their menu. But i would suggest to go out around the town and you will get a lot of options.
Places to visit!
There are a lot of places to visit! Either you can ask the authorities of the hostel to book a car for you or you can go out to the town and book taxis.
Day 1 Silent Valley Green Mountain View Fire Tower Medicine Forest View Cap's Fly Valley Berijam Lake View Berijam Lake Kodai City Day 2 Dolphin Nose Green Valley View Golf Course Pillar Rocks Devil's Kitchen (Guna Caves) Pine Forest Upper Lake View Moier Point Bryant Park Kodai Lake
Berijam Lake is a reservoir near Kodaikanal town in Dindigul district of Tamil Nadu, South India. It is at the old site of "Fort Hamilton", in the upper Palani hills.The Tamil Nadu Forest Department has restricted entry into the Berijam Lake area to between 9.30 a.m. and 3 p.m. for the general public. Entry permits are issued at the Forestry Department Office in Kodaikanal. Only a limited number of visitors are allowed in the park each day. There is a forest check-post which prohibits unauthorized entry through the road leading to Berijam Lake. Beyond km marker 13 on the Berijam road there is an observation tower from where one may have a fine view of Berijam Lake and the surrounding forest. Threatened mammals including bison, Nilgiri langur, Malabar giant squirrels and Indian elephants are seen here as well as Indian crested porcupines, wild boar, barking deer, sambar deer and mouse deer.
Pillar Rocks is one of Kodaikanal's most famous attractions, these three mammoth rock pillars stand shoulder-to-shoulder, looming 400-ft-high in the sky. Affording a bird's eye view of the surrounding vista, these granite structures are located at a distance of about eight km from the lake tower, and encompass little hidden nooks and crannies within them, which are great to explore. The chambers between the pillars are referred to as the devil's kitchen, and there's a beautiful public garden just adjacent that offers a great view of the structure. Here are some pics.
This slideshow requires JavaScript.
Pine Forest is a lovely picnic spot and photo sessions.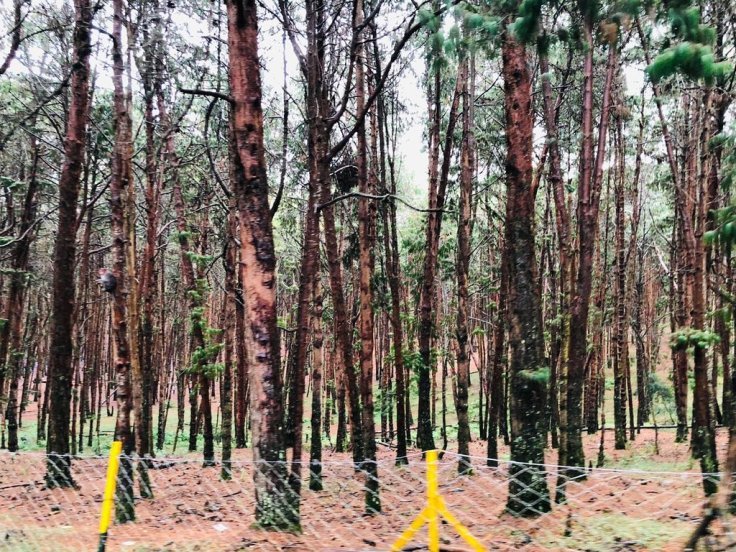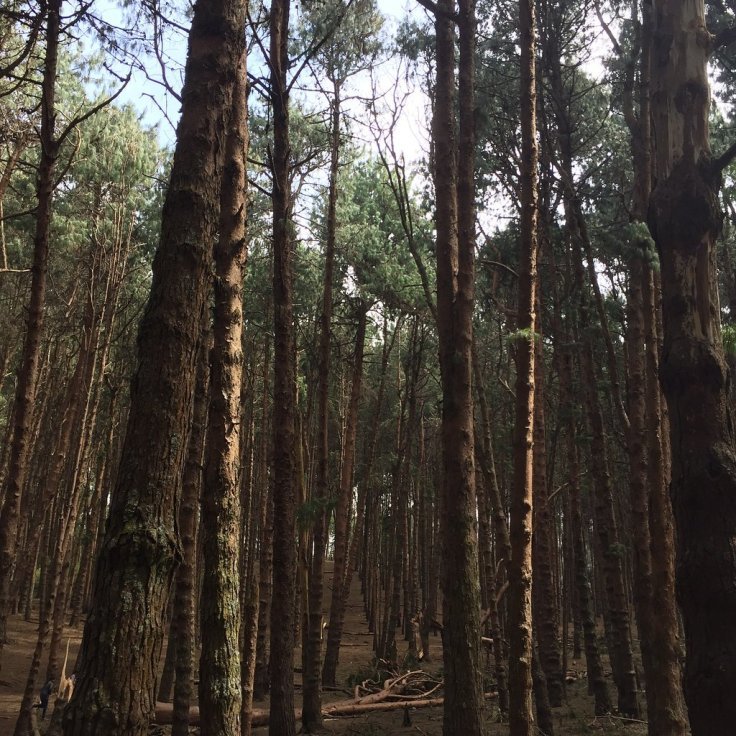 A short walk amidst the exquisite mountains and valleys of Kodaikanal, Coakers Walk is a simple escape into the quaint environment of the beautiful and refreshing surroundings of the city. It is on a vertical slope of the mountain and is merely a kilometer to help you relax without making the tourists exhausted.
Coming back to the town, there is Kodai Lake. You can go around the lake on cycles or on horse rides. There are plenty of shops around the lake. Also there are boating services available.
Try Abby's Cafe in Kodaikanal. They serve home cooked food. You will love how the cafe looks and you will cherish the food there.
Then comes my favorite place in Kodaikanal. Dolphin Nose! It is a major tourist attraction. It is mainly famous for its scenic beauty and breathtaking view from there. People who love adventure, prefer trekking up and down, since they would get a nice view all along the journey.
You can visit my album (link above) and see the terrain and the view. But out the 5 times i have been there, all the 4 times i have got thick fog as a result of which i could you not see the view from the point. My last visit was a success.
You can buy all different kinds of herbal oils, homemade chocolate of different flavors and homemade marshmallows.
Well that's pretty much my trips to Kodaikanal.
Any more information you need, feel free to contact me.
Read the details below.
https://samstravelogue.wordpress.com/2019/01/22/kodaikanal-the-princess-of-hill-stations/