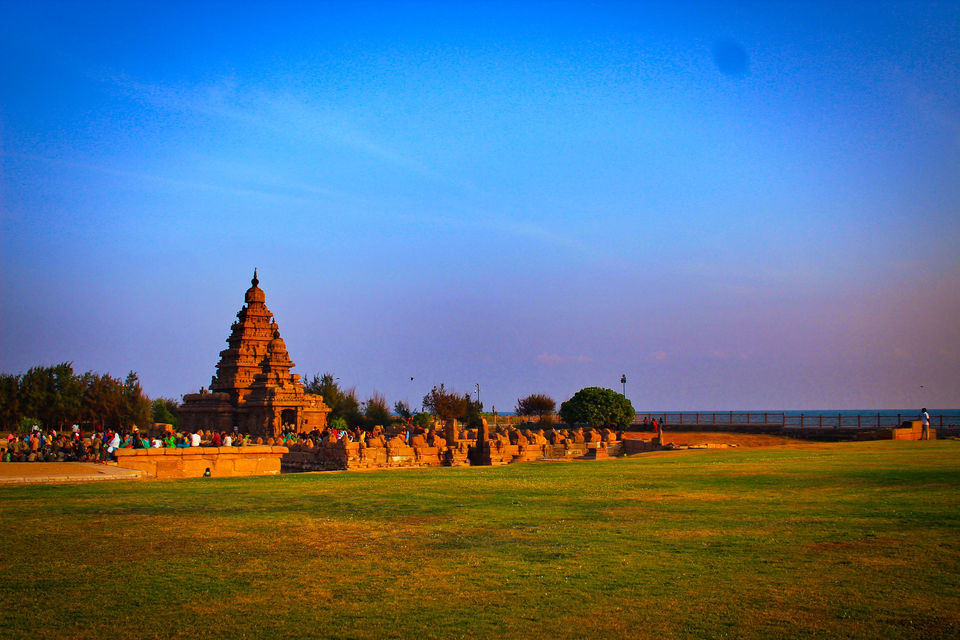 An ancient town of Mahabalipuram's heritage dates back to 7th century. The Town has temples, beaches, cafes, bars and a chilled out vibe! Whether you are a history buff or not, Mahabalipuram is for everyone.
We traveled to Mahabalipuram and Pondicherry in February. Feb end to be precise.
However, I'd say try to go latest by January, as for the month of Feb it was pretty hot ! by 9AM in the morning it used to be really hot. If you travel anytime after Jan, make sure you carry enough sunblock, big hats or caps or umbrellas.
Best time to travel : December to February.
You can either take a flight to Pondicherry ( this costs approx. 9-10K return) or take a flight to ( this costs on an average 5K for return) In-spite of it being a last minute travel, we got a decent airfare on the Indigo- Spice Combo.
Upon reaching Chennai we headed for #Mahabalipuram .
Now this, was not an initial plan. Mahabalipuram was my suggestion as I am a big fan of southern architecture and the beautiful temples.I had always wanted to visit Mahabalupuram and Kanchipuram (the list is quite long) So about few days before our trip, we changed the plan to one night in Mahabalipuram and two nights in Pondicherry.
About Mahabalipuam.
Distance from Chennai : About 55kms – approx 1.5 hrs.
Approx cab fare : 2000 Rs.
Formerly called as Mamallapuram, it is a historic town in Tamilnadu. The town flourished under the reign of The Pallava Empire during 7th Century. The name of the city Mamallapuram comes from the Pallava King - Mamalla. It's a UNESCO World Heritage site. Some of the popular sites to visit when in Mahabalipuram are - Arjuna's penance, Panch Rathas, Krishna's Butterball and Shore temple.
Mahabalipuram can be visited en-route Pondicherry, if you are not a history buff. But those interested in art, history and culture need minimum one night stay in Mahabalipuram to bask in the glory of this ancient town.
From Chennai, before going to our hotel, we took a pit-stop at A2B ( Adyar Ananda Bhavan) en-route for a hearty breakfast. Here's a and Zomato Review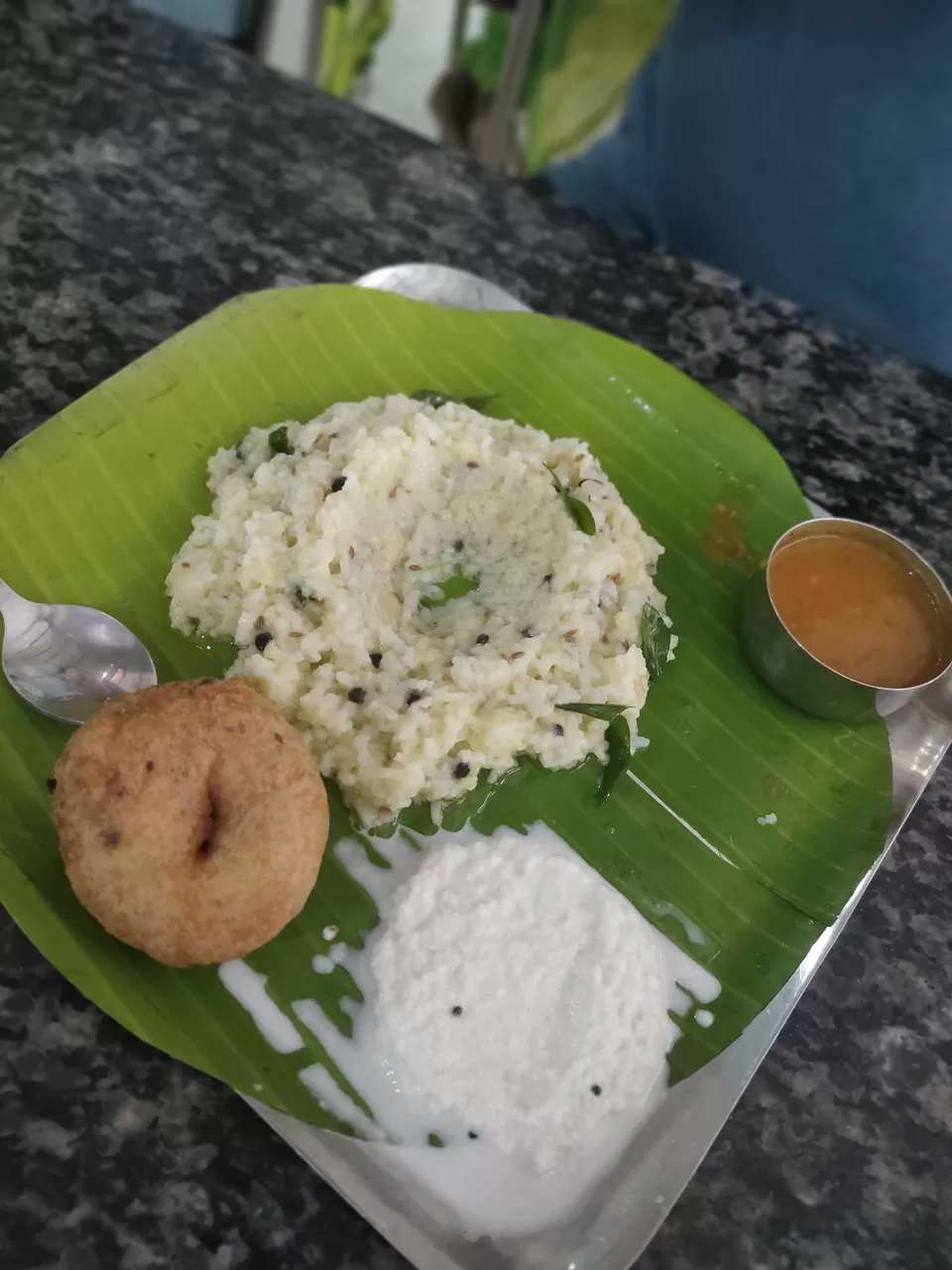 With our stomachs full, we went to our hotel. We had booked a hotel - Oceanside which was close to all the popular sites. A basic hotel with neat and clean rooms, comfy bed, AC, TV, ample space that's all for approx 1800 Rs. The manager and staff was very courteous. They helped us with a lot of information to get around town.
We used booking.com to do the reservation.
We started our sightseeing with Panch Rathas.
Panch Rathas
Panch Rathas, the literal translation means 5 chariots. These are 5 huge Monolithic Structures. Each carved from a single huge boulder. Each Ratha belongs to each Pandava. These are 5 Rathas namely - Bheem, Arjuna, Yushisthir, Nakul- Sahadev and Draupadi ratha.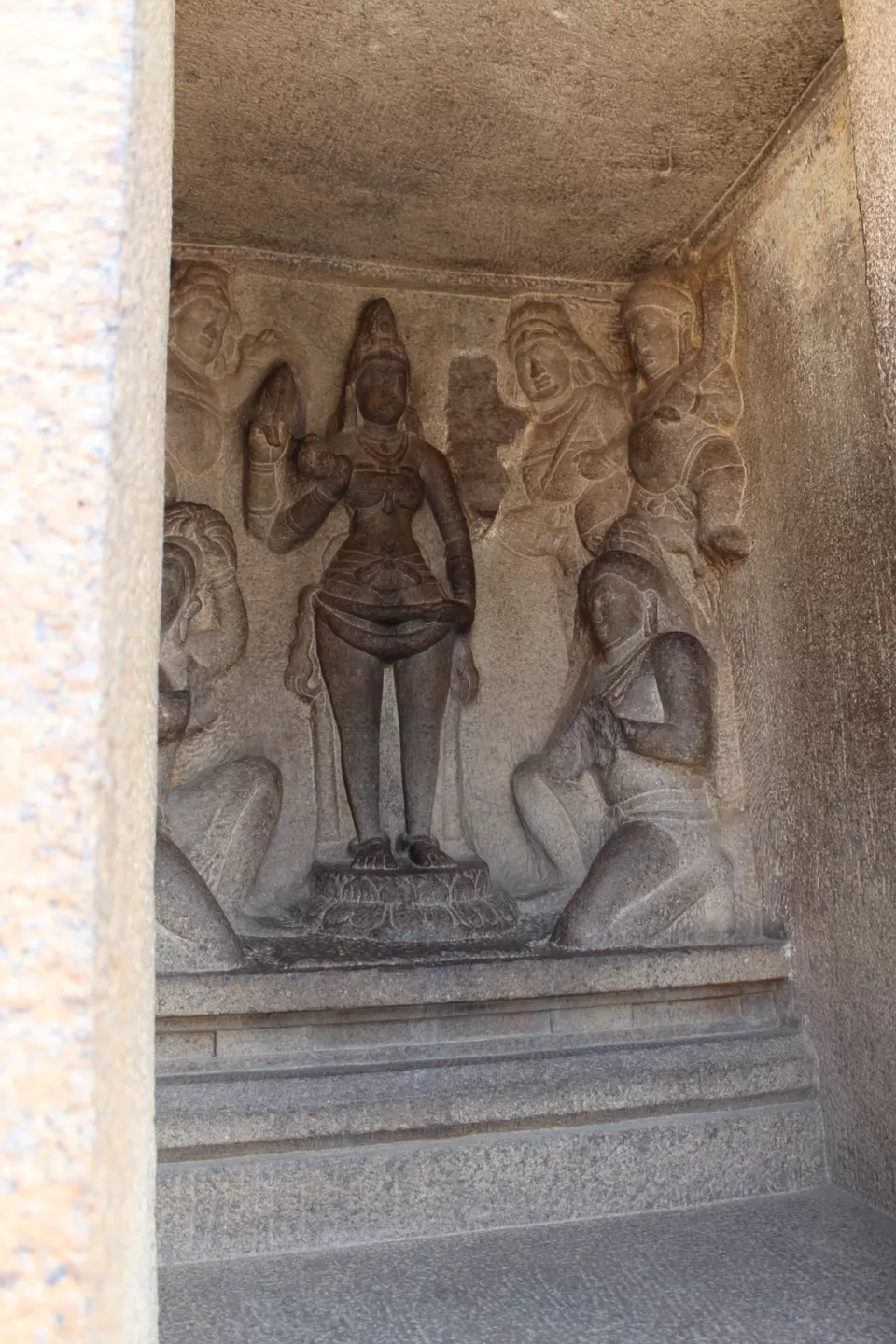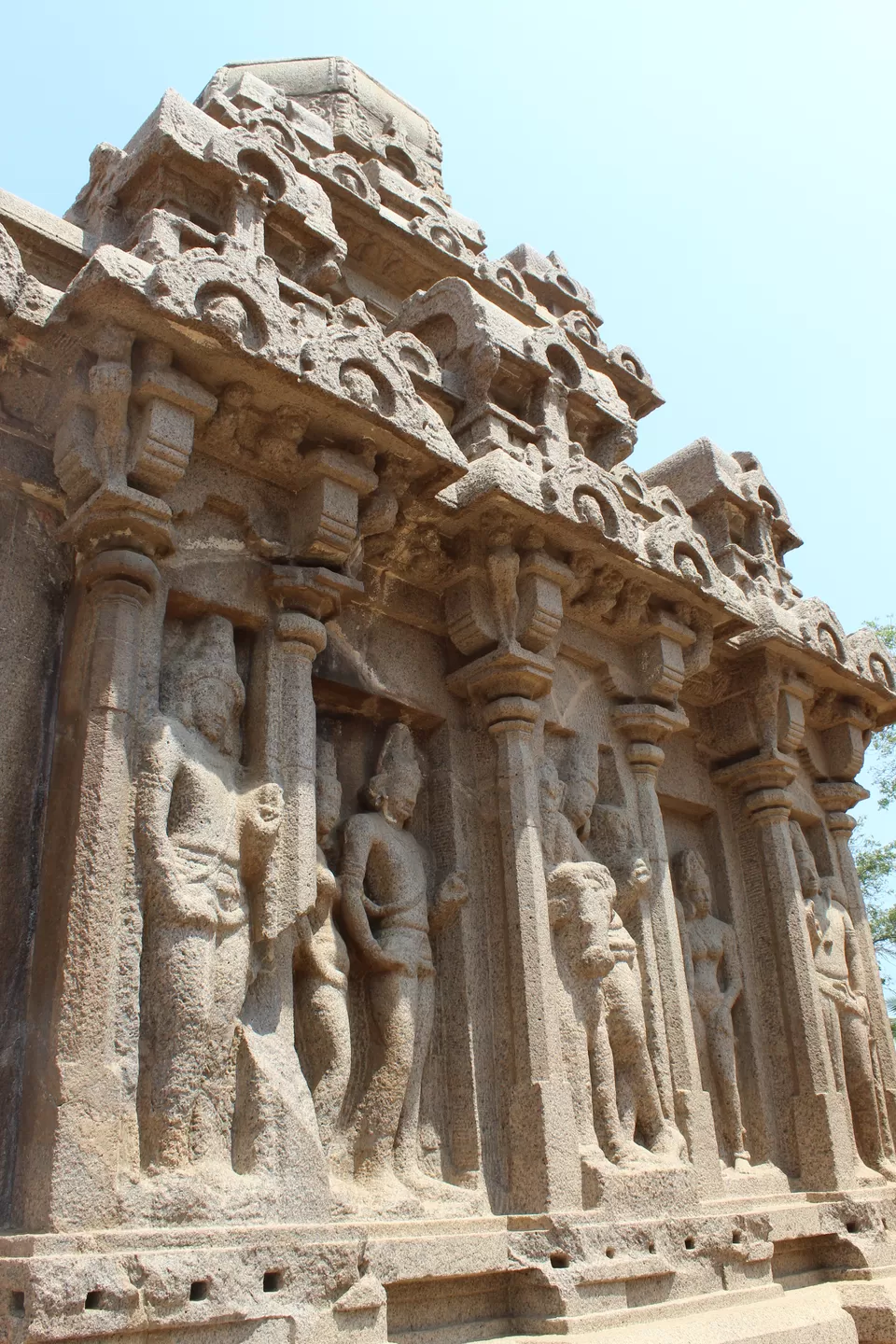 Though they are named after Mahabharata, there is no actual correlation or relevance to it. The architecture style is also very different from one another. It has a lot of Buddhist architecture influence.
The monuments are preserved very well and the premises is clean too.
For lunch, we once again chose to opt for an Authentic meal. So we went to 'Hotel Sri Ananda Bhavan'
The thali is unlimited very reasonable for the price you pay.
Post lunch we headed for visiting the popular monument - Arjuna's Penance and Descend of the Ganges.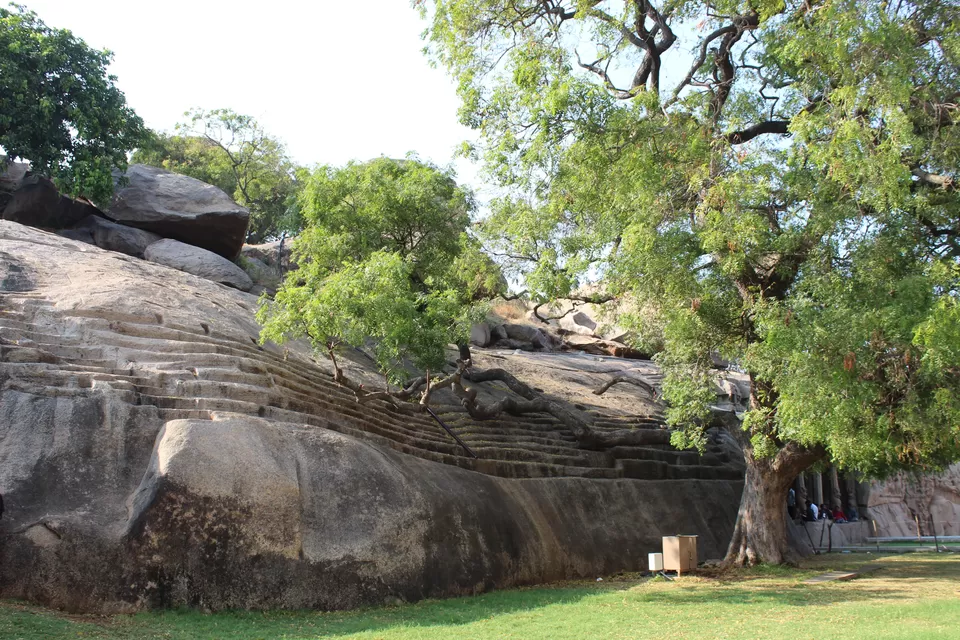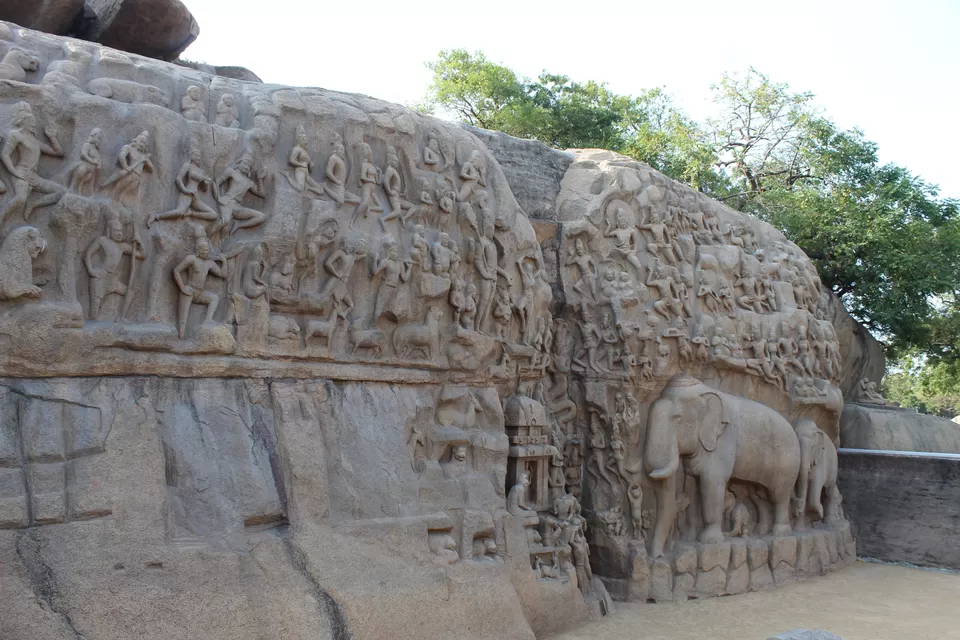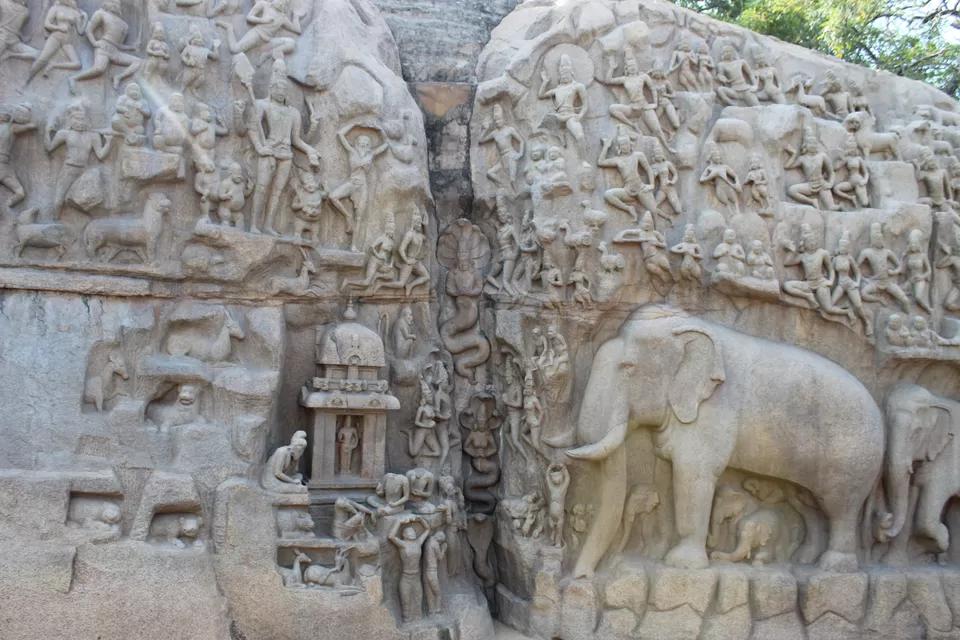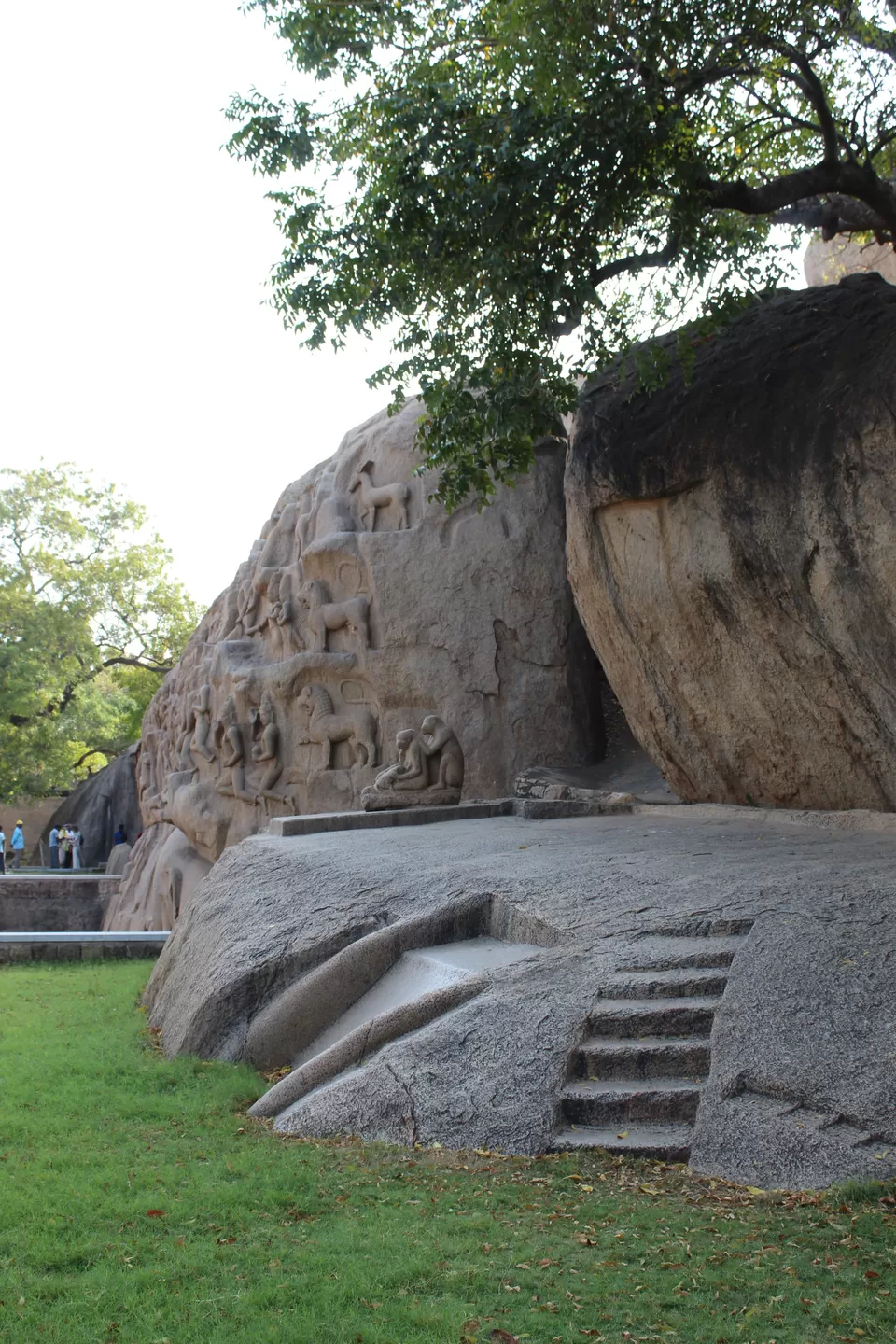 These are basically two huge monolithic boulders with sculptures depicting the tales of 'Descend of the Ganges' and 'Arjuna's Penance'. They say, there was a water tank placed on top of the rock to release water representing Ganges or Ganga river.
The sculpture has many life sized figures of god and goddesses, mythical creatures , sages etc. Apparently, each of the element as a story to tell. ( total 146 figures)
From here we visited - Krishna's Butterball in the same premises. It's a huge boulder weighing about 250 tons, that's miraculously balancing on the edge of a slope. History says, in the past Kings tried moving it but they failed.
Between these two predominant sites there are some small temples and structures which must be visited namely - Ganesha Ratha, Varaha Temple and Thirumurhee cave.
Finally before sunset we went to the most awaited monument - Shore Temple.
This beautiful temple is literally on the shore and it overlooks Bay of Bengal. Sunset is the perfect time to visit it in its maximum glory. This temple though started by Pallava kings, was finished under the reign of The Cholas.
According to history, there were 6 more temples / structures which were originally present, now lay submerged under the sea. These temples were referred to as Seven Pagodas, out of which only one is visible. In the that hit the Tamilnadu coast line, exposed the remnants of these temples.
The temple complex is beautifully maintained with ample greenery and garden space.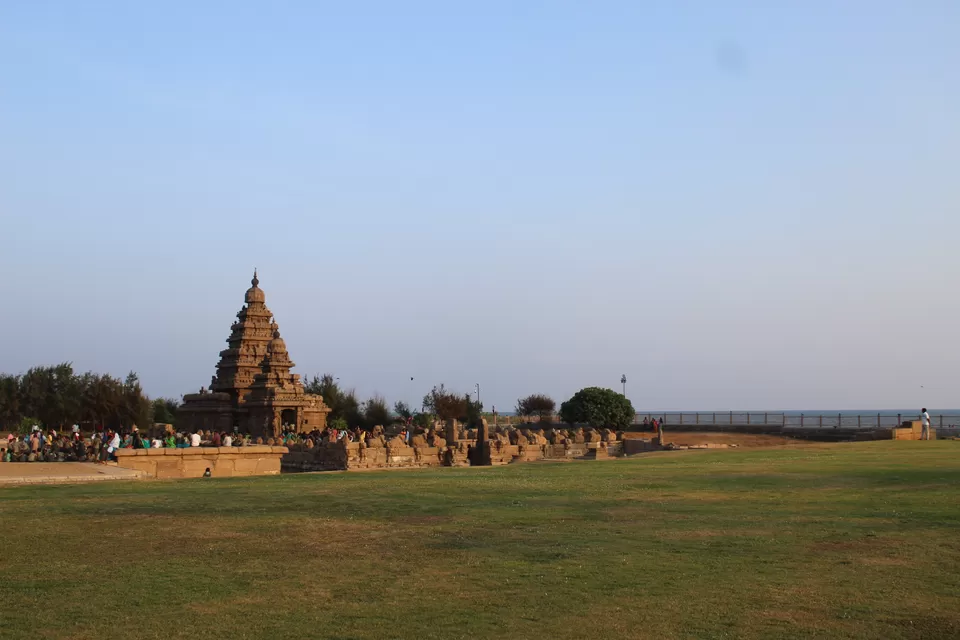 We spent the rest of the evening relaxing in the temple premises and marveling at the temples.
On the way back to our hotel, we had a hot cup of Kaapi ( Coffee ) by evening, it had become quite pleasant. We munched on some local snack too.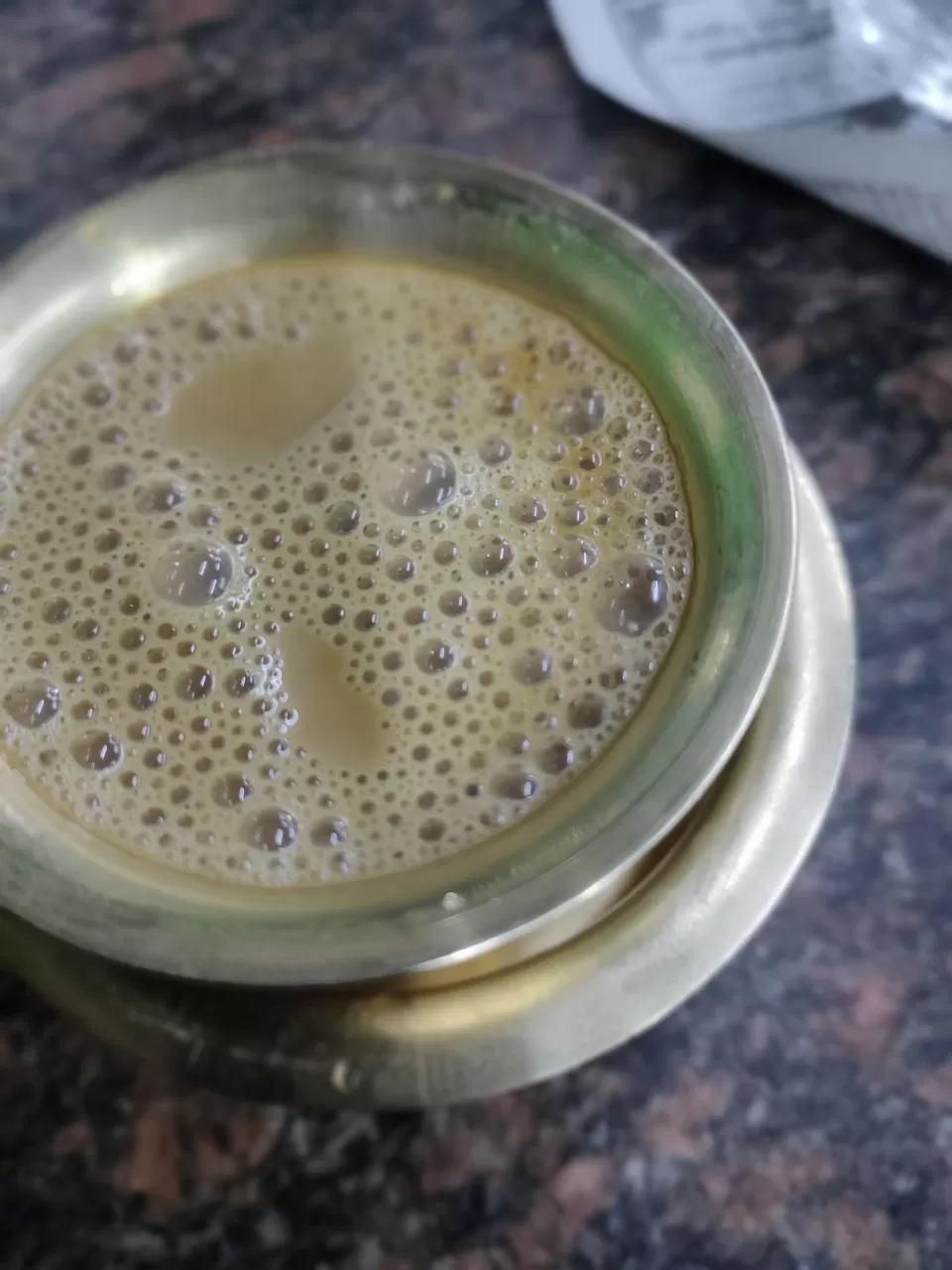 There are some really great stone carving workshops and stores. Make sure you check it out.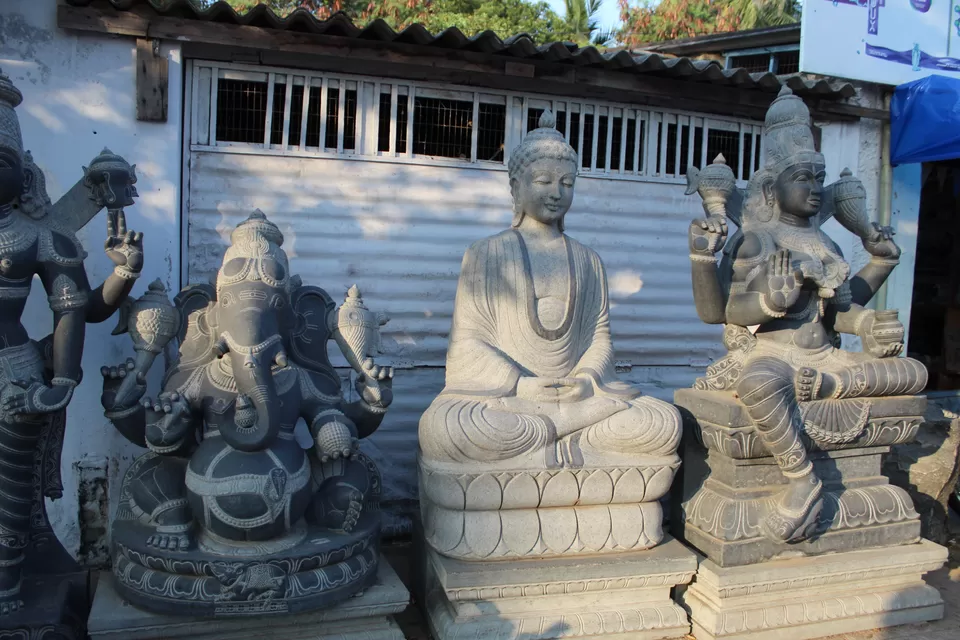 After having a busy eventful day. all we wanted was to have a beer and chill at one of the gorgeous cafes in Mahabalipuram.
The town surprisingly has so many pretty cafes with chill vibe and drinks. Right next to out hotel there was a lane full of small boutiques that led to many cafes.
After checking out a few cafes we settled at Moon Rakers.
Next day's breakfast was had at Hotel Sri Anand Bhavan for the sole reason of Tamil Food 😉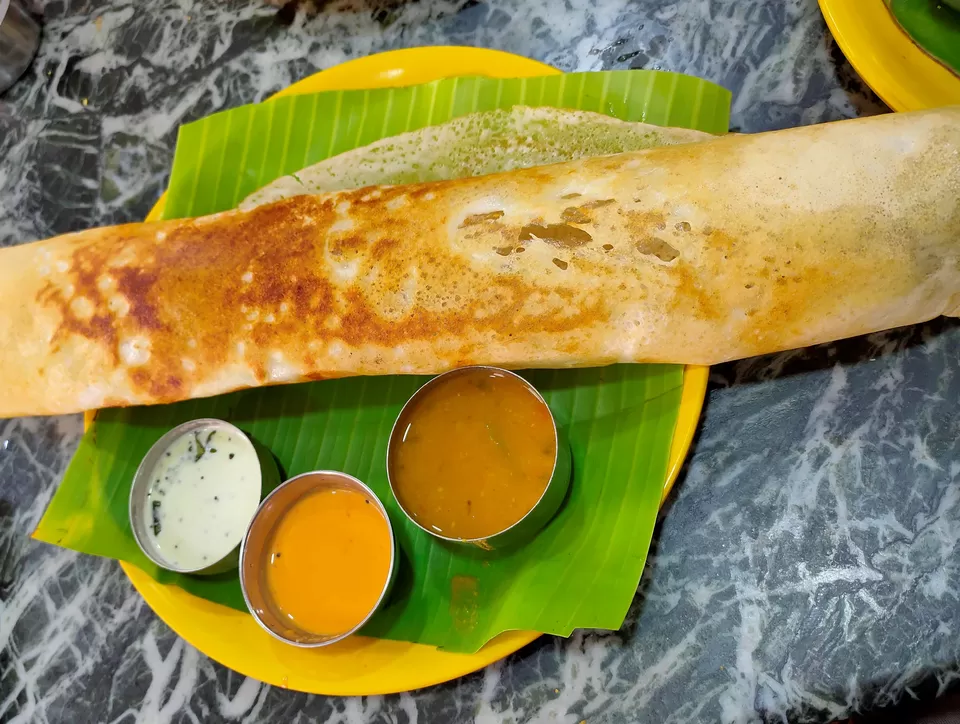 From here we booked an uber and started our journey for Pondicherry.
Read next write up to find out about our Pondicherry escapades.