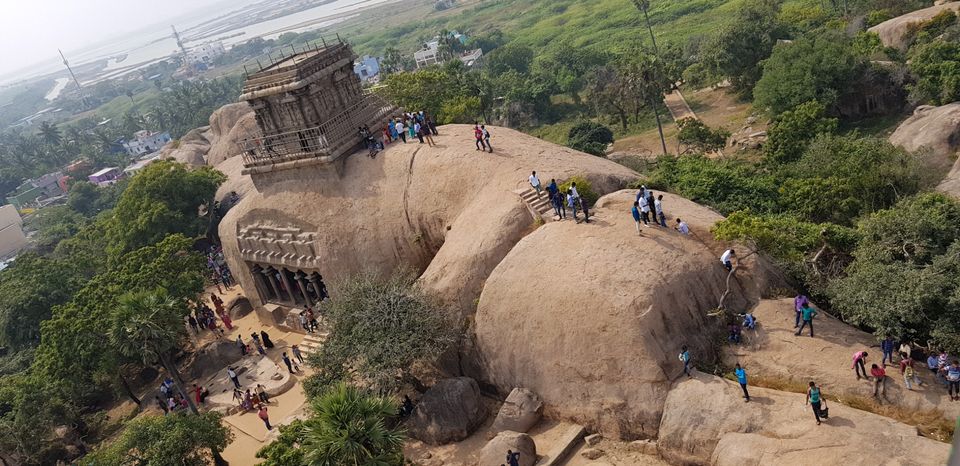 Happiness is exploring beautiful destinations and this time work has given us a chance to appreciate incredible india. It was an official visit to Chennai and as we had one day holiday so we planned a one day trip to Mahabalipuram famous worldwide for its monuments and has been classified as a UNESCO world heritage site.Mahabalipuram is in Kanchipuram district of TamilNadu.
We hired a Ford ecosport and started from our guesthouse in Chetpet at around 6 am in the morning.We thought of visiting few places enroute to mahabalipuram dakshinchitra and kovalam beach.But as we reached too early to dakshinchitra it wasn't even open so we just missed to explore it,kept for our next visit probabaly.
The road trip to Mahabalipuram from Chennai is scenic one with the sea playing peekaboo from behind the vegetation,take the ECR highway and enjoy.
Soon we reached to Kovalam or Covelong beach,as we reached quite early the people were few and fishing boat were lying on beach side.The waves crashing on numerous rocks and the lovely breeze,the morning sun were enough to exhilirate a person's spirit and make one happy.We couldn't stop but climbed on rocks and sat to get partially drenched in water.We spent around an hour clicked couple of photos and started for Mahabalipuram.
We paid Rs 56 at toll gate for East coast road highway and as we were entering Mahabalipuram there was a gram Panchayat charges for different vehicles for us it was Rs 75 for Ford ecosport.
As we reached we visited Shore temple lying adjacent to mahabalipuram beach.Though it's beautiful sight all day but visiting it during sunrise and sunset will have it in beautiful hues of golden brown which would be a real treat to eyes.The fact that the entire temple is carved from a single granite rock will leave you spellbound.Enjoy the marvellous architecture and sea sight with the green lawn surrounding the temple.The ticket for each person is Rs 40 and is applicable to all the monuments in Mahabalipuram.For each different place they put an stamp.
Next we headed for Panch Rathas a brilliant example of perfect dravidian architecture that will surely have a jaw dropping effect on you.We were hoping from one ratha to other and happily clicking pictures.These rathas are copy of rathas of pandavas and draupadi. The sun was shining brighter and we could feel the scorching heat though wind was relaxing and cool, keep yourself hydrated enough so that you can enjoy and keep the spunk in you alive. There is a market by the side ,u can go ahead for shopping - the beautifully carved statues and sea shells and coral made decoratives.
Next stop was at lighthouse and caves, built during Pallava era.There is a ticket of Rs10 per person, the stairs are around 100 in number, the climb and return is through same set of stairs and it has some windows.The beautiful view of sea and the whole town from above, with strong cool breeze will have your heart instantly and you would not want to leave.It was rejuvenating experience.
Next we were hungry enough and needed lunch so we stopped at anand bhavan to have delicious veg meal dal tadka ,gobhi masala chilly paneer, rice , phulkas and tandoori roti everything was awesomely prepared.Once done with lunch there is an adjacent pan shop we had meetha pan which was very sumptuous and tasty full of gulkand and other tasty stuffs ,in one go you can't eat it- fully-yummy Varanasi pan in Mahabalipuram.
Next we visited Arjuna's penance or descent of Ganges.It had intricate carvings of humans and animals.Then Krishna's butterball - which is a huge circular rock that has balanced itself on a slope for 1000 long years, any efforts to move it through crane and elephants and what not is never successful- this is astonishing for everyone.
This was our last stop in Mahabalipuram we started our journey back and went to Kovalam beach again this time we were not in mood to take photos and hence the camera and phones were kept safely inside the car and we were ready to enjoy the waves.Oh man the waves were getting stronger and stronger as the evening was spreading it's wings.We were into the water falling and swaying with the waves laughing at and with each other.The salty water is true healer and refreshes anyone and it had already taken our tiredness away.The three of us had wonderful trip together and after the beach we started and reached back to guesthouse at chetpet at around 7 pm.
Do plan for this one day getaway from Chennai .If you have enough time you can cover Mahabalipuram and Pondicherry and plan for the trip.
Travelling is a tonic for happiness so..Travel while you can.
Happy Travelling!!😊