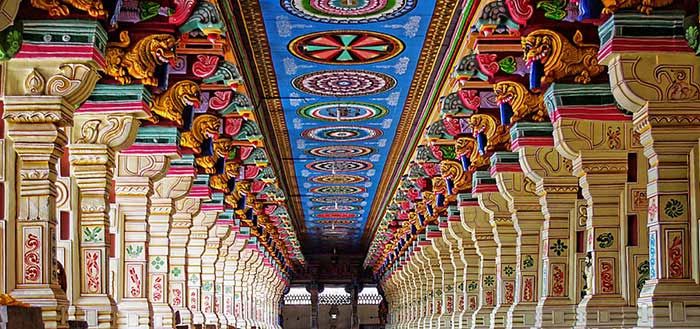 My Postgraduate study is finished. For last 2 years I always dreamed about a visit to Rameshwaram and Kanyakumari but never got that scope. Finally I am going. Woo.
Anyway I was about to leave Chennai for Kolkata this weekend, and it seems the right time to visit all those places I dreamed of going. Once I planned a budget tour for my roommates for Thanjavur-Trichy-Madurai, since then I was waiting for this day when I can execute my own plan.
I planned my trip to "Thanjavur - Rameshwaram - Kanyakumari - Thiruvananthapuram - Ernakulam (Kochi) - Vellore" and then back to Chennai. And the same day I am returning back to Chennai will depart for Kolkata finally.
I booked my Train, Bus tickets and Hotels in just 30 USD (INR 2000/-), and the estimated cost for local travels and food will not cross 30 USD. Once I am back from this trip can let you know about more details and accounts.
I planned only 2 days before about this trip and booked all the tickets today. As you all know the scenario about availability of seats when you book at the 11 th hour and without TATKAL schemes.
Here is the detailed itinerary that I make for myself, and tried my best to optimize it with the resources available.
9th July (Chennai)
I will start my journey on 9 th July. I have a SETC bus to catch from CMBT for Thanjavur. The bus is expected to leave at 22:30 hour and will reach Thanjavur at 07:00 hour on the next day.
Bus Fare : INR 281/- (4.2 USD) [can be booked online from SETC Website]
[One can choose from the range of trains like 16101 (from Chennai Egmore or MS at 21:40 hour), 16179 (from MS at 22:00 hour), 22623 (from MS at 22:45 hour) & 16183 (from MS at 23:30 hour)] and they will reach Thanjavur (TJ) at 03:38 hour, 04:35 hour, 04:53 hour &07:15 hour respectively on the next morning. The cost for the ticket in a Sleeper coach is INR 225/-]
10th July (Thanjavur)
The Sunday I have planned only to be with Chola Temples and to have a glimpse of my childhood love, the Tanjore Paintings. The plan for the day is not strict and I always provide myself the space to decide the ultimate itinerary only when I reach the place. So once I came back can give you the exact details of the places I will visit.
I have a bus to catch at 23:55 hour for Madurai. I will be at Madurai by 03:30 hour and will catch next train (16779) from Madurai (departure at 04:45 hour) to Rameswaram (arrival at 08:45 hour).
Bus Fare: INR 148/- (2.2 USD) & Train Fare: INR 140/- (2.1 USD)
[One can book a train directly from Thanjavur (TJ) for Rameswaram (RMM) but those tickets were not available when I was booking. One can choose from trains like 16713 (from TJ at 22:35 hour), 16779 (from TJ at 23:30 hour) and 16618 (from TJ at 00:15) which will cost INR 185/- , INR 235/- and INR 129/- respectively for a sleeper coach. Other four trains ( 16101, 56829, 18496, 15120) are there at this route but they run at the daytime and I always recommend traveling in trains at night to save your day and money. Before you book, just confirm which trains runs on that specific date you want to travel.]
11th July (Rameswaram)
Will start my day from Ramanathaswamy Temple. Then will Head for Dhanuskodi. APJ Kalam sir's house and Pamban Bridge are also in the list. What more I can explore only time will tell.
My train ( 22621) for Kanyakumari (schedule arrival 04:50 hour on the next day) will depart at 20:45 hour from Rameswaram (RMM).
Train Fare: INR 275/- (4.1 USD)
[Note: 22621 Train runs thrice a week (Monday, Thursday & Saturday)]
12th July (KanyaKumari - Trivandrum)
Want to shoot a beautiful Sunrise from a place where India ends. Will go for Vivekananda Rocks.
I have a bus to catch for Trivandrum (I haven't booked that ticket).
At Trivandrum my plan is to visit Padmanabhaswamy Temple and Kovalam beach.
I have a train ( 12696) to catch for Ernakulam (arrival at 21:30 hour) from Trivandrum (at 17:15 hour).
Train Fare : INR 265/- (3.9 USD)
13th July (Kochi)
The main plan for the day is to visit Kochi Fort, taking picture of the Sunset over the Arabian Sea and then the hunt for a Karimeen Fish.
Will catch a train (12696) from Ernakulam (at 21:30 hour) which will drop me to Vellore the next day morning at 07:45 hour.
Train Fare : INR 315/- (4.7 USD)
14th July (Vellore)
Visit the Golden Temple,the Vellore Fort and buy a Bengali newspaper from the tea shop opposite to CMC (Christian Medical College) and have a plate of biryani from the same hotel I ate 2 years back, and believe me we have an argument pending with that guy over the importance of potato in biryani.
Will then return to Chennai from Vellore by Bus or Train. (Haven't booked any ticket for the same)
Important Note : I booked hotel for only two days. On 10th at Thanjavur and the next on 12th at Ernakulam. Rest of the days I will not stay in any kind of accommodations and I think I have already paid for my sound sleeps to Indian Railways. (You can skip this experimental nonsense if you feel it's too hectic) Cost for Hotel : INR 600/- (8.9 USD) [including the stays at Thanjavur and Ernakulam]