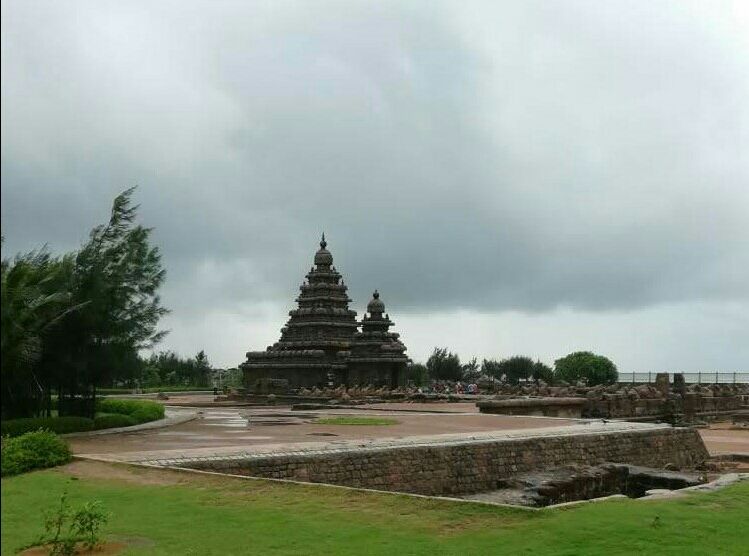 Tamilnadu is a south Indian state which was ruled by great empires - Pallava, Chola, Chera and Pandyan - who shaped the region's culture and heritage. The state is home to Historic structures, Beaches, Hill stations and ancient temples. Non Tamilians will face a little difficulty, as the locals have pride towards their native language and don't encourage other languages.
Indian history was one of my favourite subject during my schooling. I heard stories from my dad about wars and the great emperors who ruled India. I guess my love for history is hereditary.
Places Planned:
Day1: Chennai – Mahabalipuram/Mamallpuram – Chidambaram - Thanjavur (night stay)
Day2: Thanjavur – Madhurai – Rameswaram/Kanyakumari (night stay)
Day3: Kanyakumari and return to Chennai
We had to skip Rameswaram, because of car repair which took 4 hours to get back on road.
There is dress code to visit temple other than mahabalipuram. For female saree or chudidar with dupatta, For Male shirt, pant (shorts are not allowed), dhoti.
Travellers: 4
Month: November
Mode of transport: Car
Day1: Chennai – Mahabalipuram/Mamallpuram – Chidambaram - Thanjavur (night stay)
I was so excited to visit these places, I completed my shift early. My roommate and I boarded the Chennai Express from Secunderabad to Chennai. We reached Chennai by 6:30 or 7 AM. There was a storm, just 2 days before our trip and there were still after effects. Chennai welcomed us with rain, roads were flooded with rain water. We booked a room near Chennai central railway station. We freshen up and we went to meet other 2 guys. We started our trip with breakfast and my favourite Chennai filter coffee.
Our first destination was Mahabalipuram. It is famous for shore temple, which stood still, undamaged by 2004 tsunami, Panch rathas, Rock Reliefs and manymore. As weather was not good we visited only shore temple and had a glimpse of the rock reliefs from car window. Entry fee for Shore Temple and Panch rathas is 10 INR for Indians and 250 INR for foreigners.  
Shore temple was a Dravidian style temple constructed by Pallava kings around 8thcentury. It is one of UNESCO world heritage site. It is believed that the temple probably acted as a landmark for navigation of the ships.
The temple is built by granite blocks and main shrine is Lord Shiva. The temple structures, affected by rough Sea and winds with salt content. There are Nandi carvings on temple wall. This place looks like a painting with sea back drop. Prayers are not being offered here. So there was no dress code. Heavy rains didn't allow us to explore the temple. We rushed back to our car to avoid getting drenched.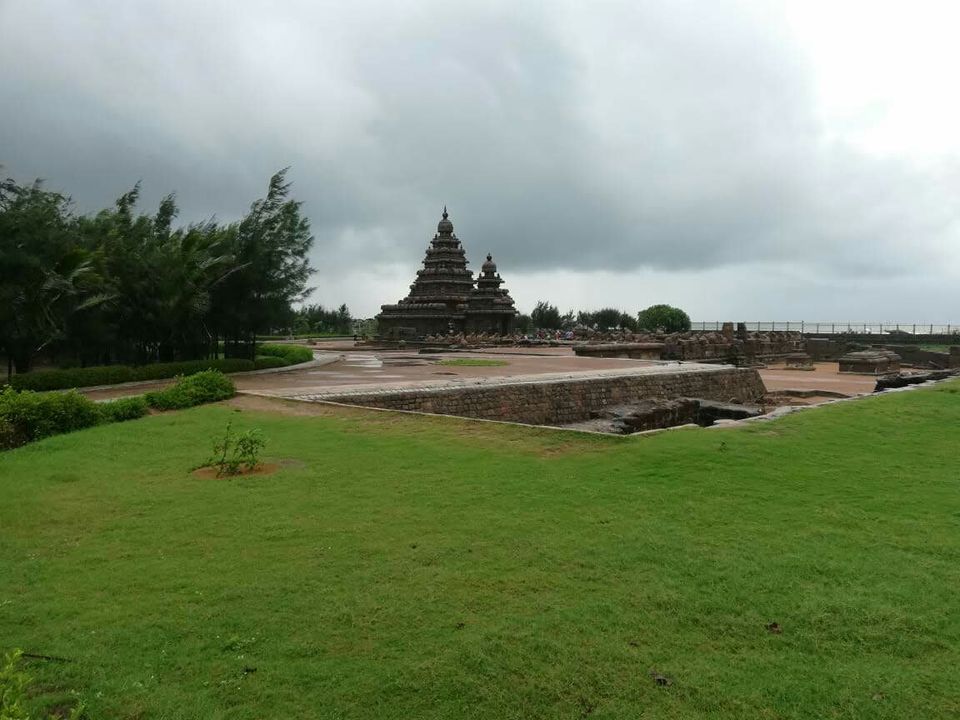 Our next stop was Chidambaram via Pondicherry. We reached Chidambaram by 3 PM. The temple timings are 6 am to 12 noon and 5 pm to 10 pm (Outer gates will be opened by 4PM but main temple by 5pm). We had plenty of time , so we had our lunch and spent some time in our car chatting, unpacking the load of snacks we bought with us.
It was Kartika (Indian month name) month, which is considered holy month by the Indians, dedicated to Lord Shiva. Hindus lit diyas (oil lamps) in front of Lord Shiva and also in their homes - It is believed to ward off evil forces and usher in prosperity and joy. We also bought diyas from shops nearby. Doors were opened at 4 pm, It was crowded, as the day is Karthika Purnima (full moon day of karthika month), which is auspicious day of month.
Chidambaram temple is one of the 5 elements (Pancha Bootha) temples which represents sky (Others are Earth – Kanchipuram, Water – Thiruvanaikaval, Fire – Thiruvannamalai, Air – Sri kalhasthi) which built by Chola's in 10th century. The speciality of this temple is Lord Shiva residing here as Nataraja (in Dancing form). This is a huge temple with more than one entrance, so remember from which entrance you entered otherwise you'll get lost and have to strain your legs. There are 9 gopurams in this temple which are colourful and mythical story tellers. The Bharatanatyam (One of the graceful classical dance form of India) postures are carved on temple. The temple complex has so many other temples like Vishnu, Devi Amman, Ganesha and Murugan it takes so much time to visit. At one point one can see both Nataraja and Lord Vishnu at once which is rare.
By the time we came out of the temple it is almost dark so we started for Thanjavur where we booked Naadi Homestay from booking.com.
Homestay was a double bedroom flat which was good, comfortable and clean but finding location was little difficult. We reached around 9 or 10PM. Hotel helped us arranging dinner as they don't have restaurant. We freshen up, had our dinner and slept.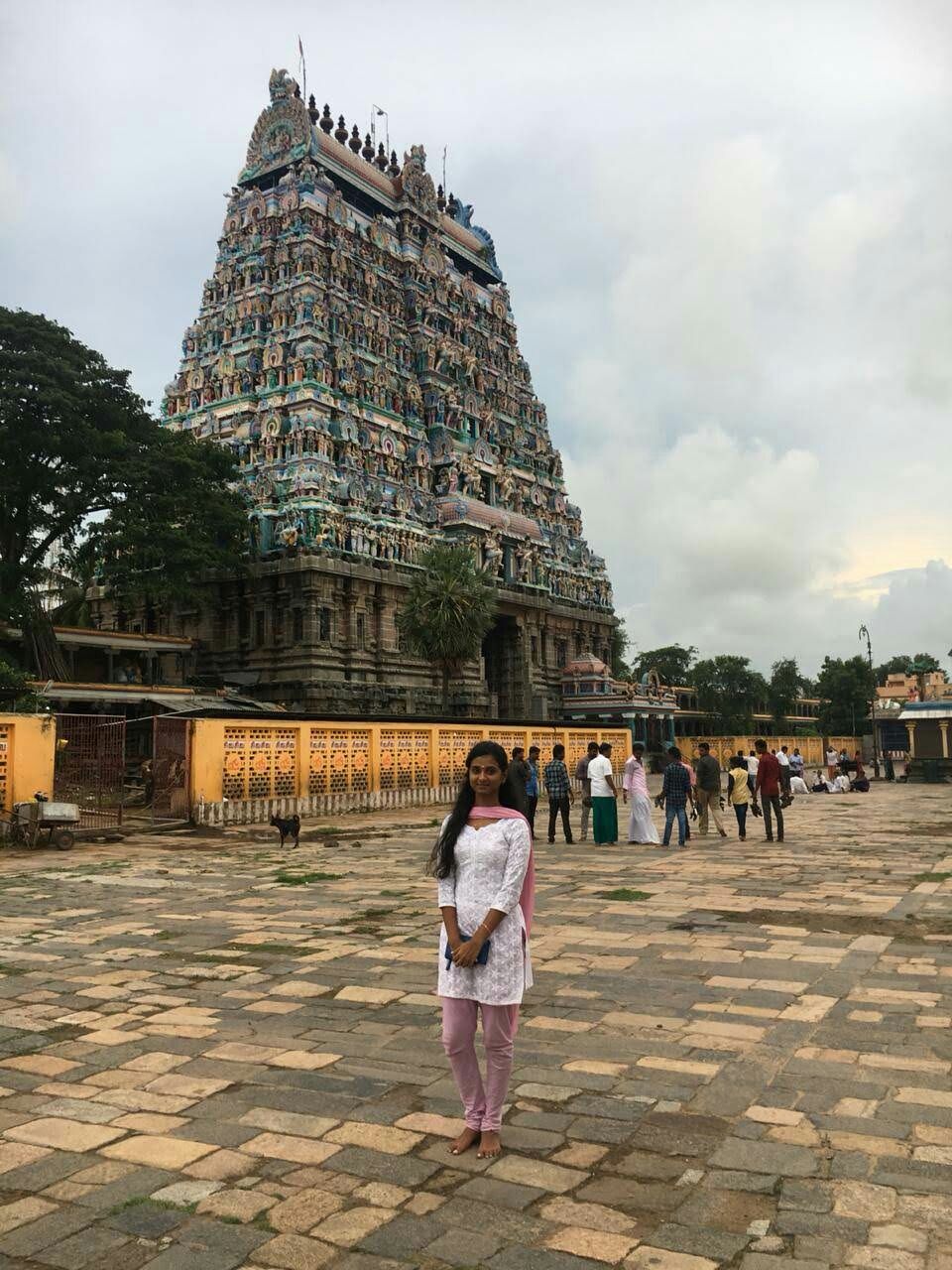 Thanjavur – Madhurai – Rameswaram/Kanyakumari (night stay)
We woke up at 5 AM. We planned to visit 3 temples, so we thought to visit Thanjavur and madhurai temple in first half and rameswaram temple at evening. We checked-out from the hotel and went to visit Thanjavur Bruhadeeswarar temple.
Thanjavur Bruhadeeswarar temple is one of the UNESCO world heritage site constructed by Chola dynasty in Dravidan architecture style in 11th century dedicated to Lord Shiva. The temple main gopuram is so high that one can see it from the road on the way of temple. This place is great, as it was early morning there were less visitors. It was so calm and serene. The temple has a massive corridor constructed by granite and also the temple is home to one of the largest Shiva lings in India. There is a huge mandapa dedicated to Nandi in front of main shirine. The Gopuram walls are filled with carvings of mythical characters. I promised to return back to the temple and left for Madhurai.
We had breakfast on the way and after crossing Trichy our car slowed down, but luckily stopped just infront of mechanic shop. It was raining heavily and it took 4 hours to repair. We spent our time playing UNO cards. So we thought to skip Rameshwaram and went to Madhurai Meenakshi amman temple.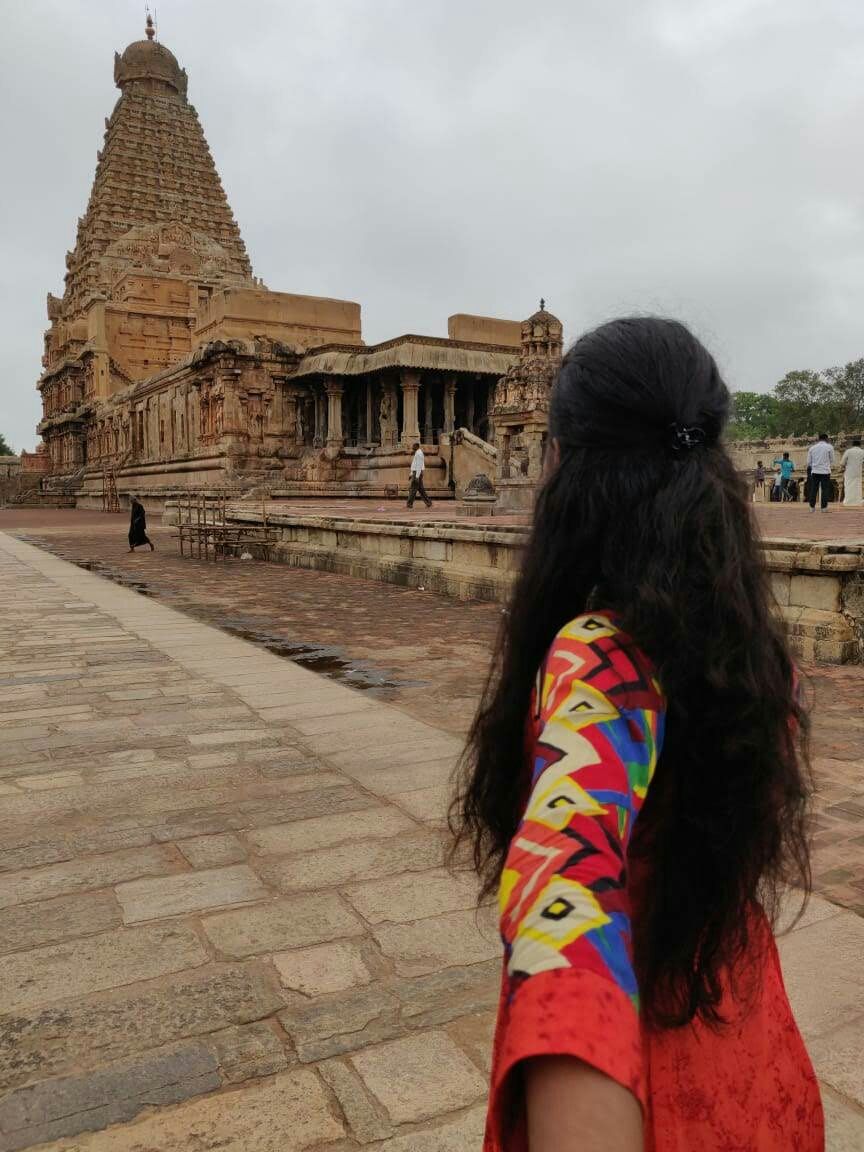 Madhurai Meenakshi amman temple also has open and closing times i.e 5AM to 12:30PM and 4PM to 9:30PM. Non-Hindus are not allowed in main temple. Everyone should maintain dresscode. We reached Madhurai by 3PM, so we first had lunch and went to temple by 4:30PM. One need to walk for 5 min from car parking to temple through shops selling cotton sarees.
Madhurai Meenakshi amman temple is dedicated to Meenakshi a form of parvati built by Pandyan dynasty. The meenakshi temple also includes Lakshmi, Krishna, Rukmini, Brahma, saraswati and other epic deities, as well as artwork showing narratives from Hindu texts. The temple Gopurams are colour full and has beautiful carvings. Temple is huge and takes time to visit, like other this temple also has a pond. Entrace fee is 20 INR for Indians, VIP tickets also available. Mobiles, bags and leather purses and belts are not allowed inside there are stores available at entrance. By the time we came out it is almost 7 PM. We did some shopping and left for Kanyakumari.
We booked a hotel in Rameswaram for that night but as we skipped that place we searched for stay in Kanyakumari. Again booking.com helped me to find a homestay.
We had our dinner on the way and reached homestay by 11PM. Phoniex Homestay Kanyakumari is not far from beach, it was clean and comfortable. We were satisfied with the rooms, we were so tired that we checked-in and directly went to sleep.
Kanyakumari and return to Chennai
KanyaKumari town is located at southern tip of India which is famous for beautiful sunrise and sunset. We didn't want to miss sunrise, so we woke up before sunrise and went to beach to watch sunrise but unfortunately we couldn't because of rain clouds. We clicked some pictures with thiruvalluvar statue and vivekanada rock memorial temple. It was crowded that early morning by people who came to watch sunrise and by some sellers.
We went back to hotel, slept for 1 hour and got ready, checked-out the hotel and went to Bhagavati amman/ Devi kanyakumari temple. This temple is one of 51 shakthi peetas. This temple is dedicated to parvati in the form of girl child. This temple is located at cape southern tip of Indian land where Bay of Bengal, Indian Ocean and Arabian Ocean meets. This temple is mentioned in Hindu Holy scriptures like Ramanyana and Mahabharata too. One should maintain dress code and Entrance fee is 10 INR. This is not a big temple and is accessible by west door. The temple opening times are 6am to 11am and 4pm to 8pm. It will take 30 min to visit the temple. We directly had lunch and planned to visit Padmanabhapuram palace which is around 30 kms from Kanyakumari.
The way to Padmanabhapuram place was so beautiful, crossing villages, playing hide and seek with sea and racing with greenery, I felt like I was in kerala. Palace is near to kerala boarder, The surrounding place belongs to tamilnadu but the palace is still under Kerala Govt.
Padamanabhapuram palace is constructed in 17th century, but rebuilt by Travencore kings in 18th century. This 4 store granite palace was constructed in typical Kerala style. There is a beauty in Kerala style architecture which locks our eyes and we won't realise it. Entrance fee for Palace with camera is 50INR. Kerala Government maintained the palace nicely and there are guides almost at every room who explains the history and importance of rooms. Weapons, sculptures and furniture used by Kings and Queens are still in the respective rooms. People are allowed to visit only 2 stores. There is picture gallery of Travencore Kings and Queens and museum in palace. There are also temples where one of the temple is used as Natyagriha (place for dance). It takes almost 2 to 3 hours to visit the palace completely. We came out and started for Kanyakumari to see sunset. But we couldn't visit sunset too as it was cloudy. We were upset that we didn't get chance to watch sunrise and sunset. We returned back to Chennai.
From Kanyakumari to Chennai is around 750-600 kms. It was an overnight journey. We booked a youth hostel nearby Chennai central railway station. I was so tired that I slept till late noon.
Even there were problem with weather and vehicle. I had an amazing roadtrip. Thanks to the great Kings who built these temples which were proof of rich indian history and culture, who are story tellers. I Promised I'll visit again and returned with the happy memories that my childhood wish of visiting these places came true.