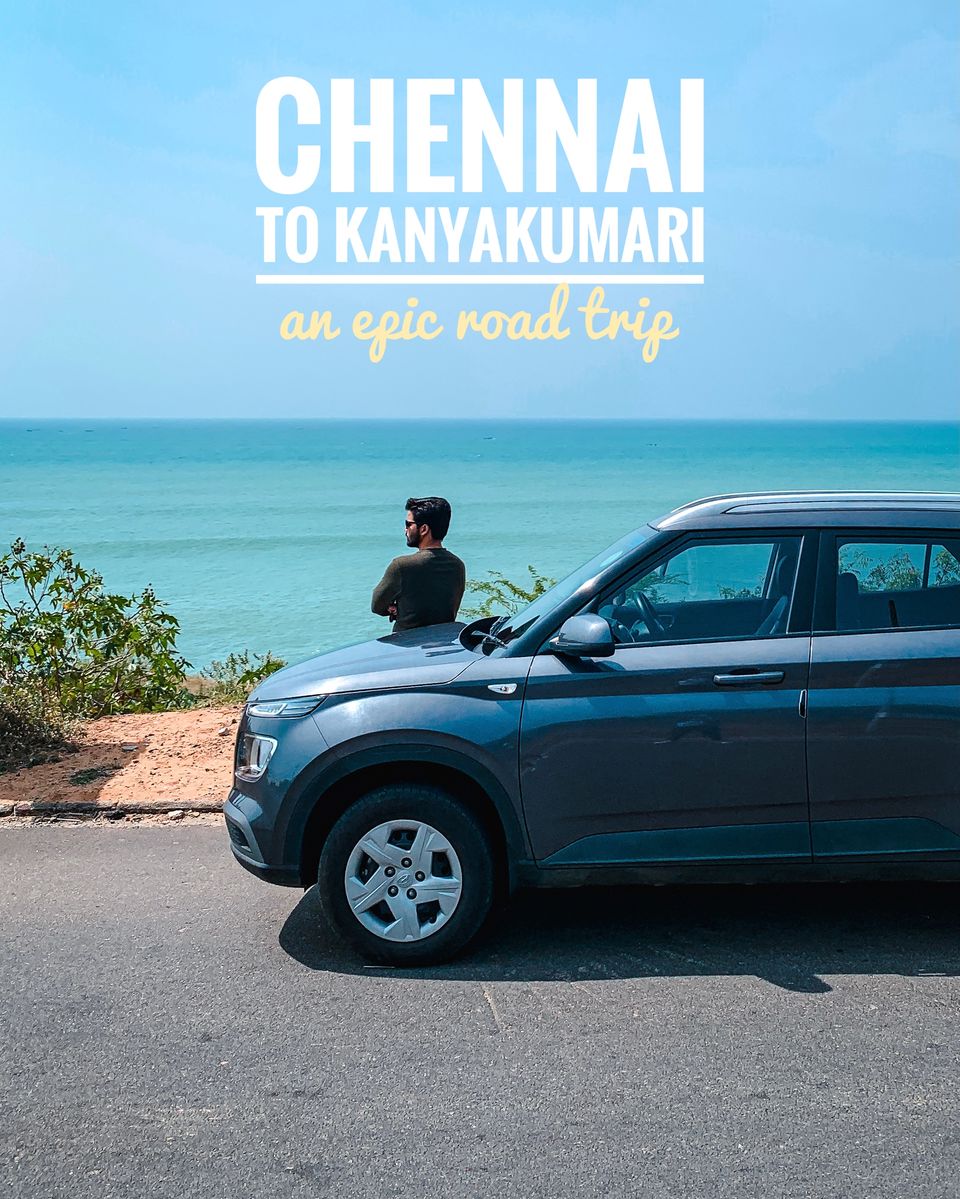 Driving along the East Coast Road (ECR) is like teetering on the edge of the ocean. Roads lined with palm trees and sometimes windmills, this coastal drive was one of the most spectacular ones as we drove along beaches, bridges and incredible ocean views.
Suggested itinerary for a road trip from Chennai to Kanyakumari
Before we divulge into the details of our road trip, here's a suggested itinerary for you.
1. Beaches and surfing at Kovalam (1-2 days)
2. Temple town of Kanchipuram (1 day)
3. The rock cut heritage marvel at Mahabalipuram (1 day)
4. French quarters of Pondicherry and Auroville (2-3 days)
5. Well heeled vacation in the heritage homes of Chettinad (2-3 days)
6. Meenakshi Amman and Murugan Idli at Madurai (1 day)
7. Stunning sunset and sunrise at Cape Comorin (1-2 days)
8. Water sports and The Ghost Town at Gulf of Mannar (2-3 days)
9. Art and architecture in Thanjavur (1-2 days)
Our itinerary
The above suggested itinerary is flexible and a lot depends on your interest and the time in hand. Since we moved to Chennai, we had already explored the first 4 places and thus, did not cover in this road trip.
Budgeting for this Road trip
The overall cost will depend on the number of days you plan, choice of hotels and city of departure. Hotel options range from home stays, heritage hotels and budget hotels.
Food: The local food is delicious and it is easy to eat for as much as INR 500 or even less at all these places. They are several fine-dining restaurants as well and we will include the details below.
Fuel: We spent approx. 13,000 INR on fuel (approx. 2,000 km) for a 8 day road trip.
We are based out of Chennai, thus no flights for us. However, flights will cost you below INR 10,000 from most cities in India.
We did not rent a car but going by the average rentals in the area, it will cost you approximately INR 2500-3500 per day, depending on the car you choose.
Best time to visit Tamil Nadu
Tamil Nadu sun is strong and thus, the best months to travel will be winter months - somewhere between December to February/March. Even in the months of February and March, some days will be stinkingly hot. You will definitely go back home with a temporary tan and carloads of memories forever.
Zooming Places Tip: Plan most of your activities in the morning before 10/11am and evening post 3pm/4pm. Use the afternoons for indoor activities or to drive between cities.
Top 10 Highlights of our trip
Driving in Tamil Nadu along the coastal road is an easy drive- spectacular views, well maintained roads. Think of it like leaving the city to chase the coast. We definitely recommend taking the East Coast Road at least one way.
1. Stay in a heritage home in Chettinad and learn about the gorgeous rustic mansions and the Chettiar family
2. Visit the Athangudi Tiles and Wood Work factory
3. Visit the local weaving centres and buy sarees for yourself and your friends back home
4. Try local delicacies like Dosas, Ragi Idiyappam, Pongal (especially the black rice pongal)
5. Watch the stunning sunset and sunrise at Kanyakumari
6. Drive to Dhanushkodi
7. Stay at Kathadi North and try your hands at Kayaking and Stand up Paddling
8. Fall in love with the temple architecture at all these places, especially Madurai and Thanjavur
9. Learn about the making of Tanjore handicrafts and painting
10. Talk to the Locals because that is the best way to know a place
Day wise itinerary for a Chennai to Kanyakumari road trip
Day 1: Drive from Chennai to Chettinad
The first stop on our road trip was Kadiapatti, a small village in Chettinad- around 400km from Chennai. Start early to beat the city traffic. The roads are in great shape, but there are not a lot of restaurants on the highway. Moreover given the covid situation, we packed our lunch and enjoyed a car picnic. However, there are decent restaurants to stop to use the washroom or enjoy a cup of filter coffee (try and spot a A2B)
Zooming Places Tip: You will cross Trichy on your way and can stop to visit the Sri Ranganathswamy Temple.
Accommodation in Chettinad
There are about 73 villages in Chettinad, the largest ones being Karaikudi and Devakottai. These are home to some of the most beautiful heritage homes. We had shortlisted three of them - Visalam - CGH Earth Hotel, The Bangala and Chidambara Villas. We chose Chidambara Villas, located in a village called Kadiapatti and stayed in their Heritage Double Room.
Be ready to step into a different era in time when you enter this luxury heritage Chettiar home managed by the Sangam Group of Hotels. We were smitten by their warm hospitality and can't recommend enough.
Day 1-2: Explore Chettinad
Chettinad is home to some of the most beautiful mansions we have seen and imagine watching the sun set and rise over these. Also, the food is to die for and their hospitality made our heart dance with joy.
But we did not just eat and sleep. Here's a list of our top 5 things to do in Chettinad:
1. Savour Local Delicacies: The food is to die for and we are talking more than just dosai and sambar. You must experience the Chettinad leaf meal and if time permits learn to cook one of the Chettinad dishes. It's a treat to watch them cook and talk about their food.
2. Thirumayam Fort & Temple: the Fort offers a vantage point from where you can soak in vies of the whole village. It houses a cave which was once used as a hiding spot by the then King. There are two temples built under the fort. You must go to admire the intricately carved sculptures and gopurams.
3. Chettinad Saree Weaving Centre: Chettinad is famous for light breathable cotton sarees. We visited one which was run by a mother-daughter duo and I could watch them work all day.
4. Go Mansion Hopping: Walk and explore the streets of Chettiand. There is a story behind each mansion, like Visalam is the only one which is gifted by the father to his daughter. Traditionally the sons inherit the property.
5. Visit the Athangudi tiles factory and Palace- Chettinars were wealthy traders and they brought back things from Spain, Burma, Italy and added it to their home. One such thing is the tiles from Spain which eventually inspired the making of the beautiful Athangudi tiles. You can't miss it!
Day 3: Drive from Chettinad to Madurai
After basking in the mansion life and delicious food of Chettinad, it's time to continue to Madurai. But first, stop at the Karaikudi Antique Market and explore the rustic lanes of Karaikudi. There are some pretty cool stuff in those tiny vintage shops, though all a bit overpriced.
The drive from Karaikudi to Madurai isn't the most scenic, but it is a smooth two hours. So grab a bite at The Bangala in Karaikudi and then head to Madurai.
Accommodation in Madurai
Madurai is called the 'Thoonga Nagaram' the city that never sleeps for all its buzz and sound. There are numerous hotels for you to pick from as per your budget. We stayed at the Fortune Pandiyan Hotel. It was a decent stay. The other hotel which we really liked, but there was no availability on our dates was Heritage Madurai.
Day 3-4: Explore the Temple town of Madurai
Our timing with Madurai was a little off as the city was all dug up and dusty due to the Smart city work. Nevertheless, we didn't let that kill us.
If you are in Madurai, you cannot leave without visiting the Meenakshi Amman Temple. A word of warning: of all the temples we have visited so far, this one had the most rules. Dress code: Women- Kurta or Saree with a Dupatta (a long scarf) and Men- Fully covered clothes (no shorts). You are not allowed to take your phones or cameras inside the temple. There are deposit counters outside the temple for a nominal fee.
The temple is spread over 15 acres and it like a whole town itself to explore. Don't miss the Hall of Thousand Pillars and 14 towers.
Zooming Places Tip: Best time to visit is early morning. The temple opens at 6AM and that's when you can peacefully spend some time inside. If you have more time, do a day trip to Samanar Hills and Yanai Malai hills.
Other than exploring the Meenakshi Amman Temple, here are a few of our favourite things to do:
1. Dine at Taj Gateway Hotel Pasumalai: The Gateway Hotel is about 6-7km from the city centre, located on top of the Pasumalai Hill. It is a perfect place to get a dazzling view of the entire city. Frankly we did not enjoy the food as much as we enjoyed the view.
2. Visit Thirumalai Nayak Palace: A classic fusion of Dravidian and Islamic style, this humongous place used to be residential palace of the King Thirumalai. The palace is open from 9 AM to 5PM, with a one hour lunch break 1-2PM. There is also a light and sound show every evening in English and Tamil. We could not attend the same due to shortage of time, but you can definitely check it out if it interests you.
3. Try the famous idli and dosa at the Murugan Idli Shop, a simple eatery with delicious food. You must also try Madurai's famous Jigad Thanda- it's a coolant drink made of milk, almond gum, sugar, ice cream and some syrup. I did not really like it much as I am not a big fan of milk based drinks, but it's worth a try.
Day 4: Drive from Madurai to Kanyakumari
Madurai to Kanyakumari is a beautiful 4-hour drive. We started from Madurai around 11am after visiting Meenakshi Amman Temple. On your way to Kanyakumari, some 25km before, you will be driving amidst thousands of wind turbines as you cross the Muppandal Wind Farms. Both of us have this crazy fascination with windmills and it sure was like entering a Wonderland for us.
Accommodation in Kanyakumari
Kanyakumari has a lot of budget hotels and new hotels pop up every now and then. We picked one of the budget hotels based on the proximity to the places on our itinerary. It was a decent stay. If you really want to splurge, you can check out Sparsa Resort.
Day 4-5: Explore Cape Comorin
This small town at the southernmost tip of the country will make you fall in love with it, especially if you love sunsets as much as we do. We were lucky that it was not crowded around the time we visited. Spend your days walking around the Kanyakumari beach, particularly during the sunset and sunrise, admiring that endless horizon line.
Here are our favourite things to do in Kanyakumari:
1. Sunsets and Sunrises are stupendous here as you can see both in the sea. There are various sunrise/ sunset points marked on the map. Find your quite spot and let yourself dream.
2. Triveni Sangam : The sound of the waves is like therapy at this confluence of the Arabian Sea, the Bay of Bengal and the Indian Ocean. Find a time when people are not bathing here. Some say that you can see the difference in the colour of the waves but frankly we couldn't.
3. Vivekanand Memorial: Take a ferry to Vivekanand Rock Memorial and Statue of Thiruvalluvar. The ferry ride itself is okayish but the memorial and meditation centre has a peaceful vibe. Also, the view of Kanyakumari from here is sunning. Ferry Timings: 8 a.m. to 4.30 p.m
4. Kumari Amman Temple: This 3000 year old temple is dedicated to Goddess Kanya Kumari. Yes, this is how the town gets its name as well. The temple is located near the Triveni Sangam and is open from 4:30 a.m. to noon and 4 p.m. to 8 p.m.
5. Muppandal Wind Farm: World's third largest and Asia's largest onshore wind farms. We are sure you can't miss the turbines on your way to Kanyakumari and if it interests you, take a drive through trip to the same.
Zooming Places Tip: The viewing tower is said to be the place to watch the sunset. But we loved it more from the Arabian sea view point or The Twin Beach.
Day 5: Drive from Kanyakumari to Gulf of Mannar
The drive to Rameswaram was the one when we turned around the tip of India and followed the East Coast Road. So let's go- From the southernmost town of India to the last land between India and Sri Lanka. The drive is beautiful and absolutely surreal from Pamban Bridge to Dhanushkodi.
Accommodation at Gulf of Mannar
We split our stay at Gulf of Mannar- a day in the Pamban Island and the next at Kathadi North. We ideally wanted to book both our days at Kathadi North, but there was no availability on the first day. Hence, we booked a budget stay in the Pamban Island.
At Kathadi North, we stayed in one of their natural cottages- coconut thatch, open sky shower and a hammock. Doesn't it already sound like heaven! We can't wait to go back again and recommend it to you wholeheartedly.
Day 5-7: Explore Rameswaram, Dhanushkodi and go wild at Kathadi North
By now you know that we are in love with the temple architecture and heritage of South India. So obviously we visited the famous Arulmigu Ramanathaswamy Temple. But Rameswaram is more than its beautiful temples. So read on for an adventurous twist.
Here's what we loved doing in Rameswaram:
1. Adventure sports with Quest Asia Academy: At the top of our list- Our stay at Kathadi North and our first experience at Kayaking and Stand up Paddling. To stay it was crazy fun will be an understatement- super fun hosts and a great team of trainers. Be rest assured that you will be in safe hands.
2. Retreat to the Blue Beach and Coral Reefs: Stay at Kathadi North comes with an endless stretch of wide sandy beach and that too almost like a private beach. So go roll in the sand, swim in the ocean and make the most of your time here.
3. Visit Dhanushkodi: The Ghost Town, as its popularly known, is located at the south-eastern tip of Pamban and is about 27 km west of Sri Lanka. Once a thriving port, the town is in ruins now washed away in the 1964 cyclones. The Dhanushkodi beach is the clearest blue we have seen in India and the drive to this place itself is worth the experience. PS: No, you can't see Sri Lanka from there!
4. Sunset form Ramar Patham: This is an old temple located on Gandhamadhana Parvatham, the highest point in Rameswaram. Climb up to the second storey of the temple to get a beautiful panoramic view of the entire island. Watch the sunset and the island painted in hues of orange and pink.
5. Pamban Bridge or Indira Gandhi road Bridge: A trip to Rameswaram will be incomplete without the mention of this picturesque bridge. Watching the sunrise from here is a stunner! PS: Don't stop at the bridge for long (ideally shouldn't be stopping at all). If you want to watch the sunrise, you can park somewhere before the bridge starts.
Zooming Places Tip: Drive to Dhanushkodi early morning so that you can catch the sunrise at the Pamban Bridge. If you go in the afternoon, the hot sand at Dhanushkodi will kill the mood. So earlier the better!
Day 7: Drive from Rameswaram to Thanjavur
Thanjavur was our last stop before heading back to Chennai. By now you obviously know that the drive was spectacular, with most part of it along the coastal road before we entered the town.
Accommodation in Thanjavur
One of the most beautiful hotels in Thanjavur is Svatma Heritage. We went there for dinner and they even gave us a property tour. If your budget allows, do book a stay with them in their Heritage wing. If not, there are many other good options as well. We stayed at Hotel Parisutham- decent stay, great location.
Day 7-8: Immerse yourself in the art and architecture of Thanjavur
1. Learn about the making of Tanjore Paintings and handicrafts: Watch the artists at work and learn about Tanjore paintings, making of bronze sculptures and dancing dolls. PS- The artists don't work on Sundays.
2. Brihadeeswara Temple or The Big Temple: You must visit this temple even if you are not religious. The architecture, frescoed interior, the details carved in granite is mind blowing. Around dawn or dusk is the best time to watch the stones shimmer in the golden light. We actually visited the temple thrice in two days for the perfect light.
3. Thanjavur Palace or Maratha Palace: Now don't mistake this one as a lavish palace, but it is home to one of the oldest libraries in Asia- Saraswati Library , a beautiful art gallery and museum. There are three different nominally priced tickets to access the complete palace.
Zooming Places Tip: The painters and sculptors mostly work out of their homes as this art form is passed on in the family. To visit them you can book a guided tour or talk to the locals . We got in touch with them through one of our hotel staff.
Day 8: Drive back to Chennai
If you have more time, then you must include Pondicherry in your itinerary. Here's our detailed blog on Pondicherry. Also a day trip to Pichavaram Mangrove Forest is an ideal way to spend time boating in the second largest mangrove forest of India.
This road trip literally had everything- panoramic views, heritage, culture, food, adventure and leisure. We loved our time here and can't wait to explore more.
You may also like to read: padmanabhapuram palace
Follow us on Instagram @zoomingplaces for more :)