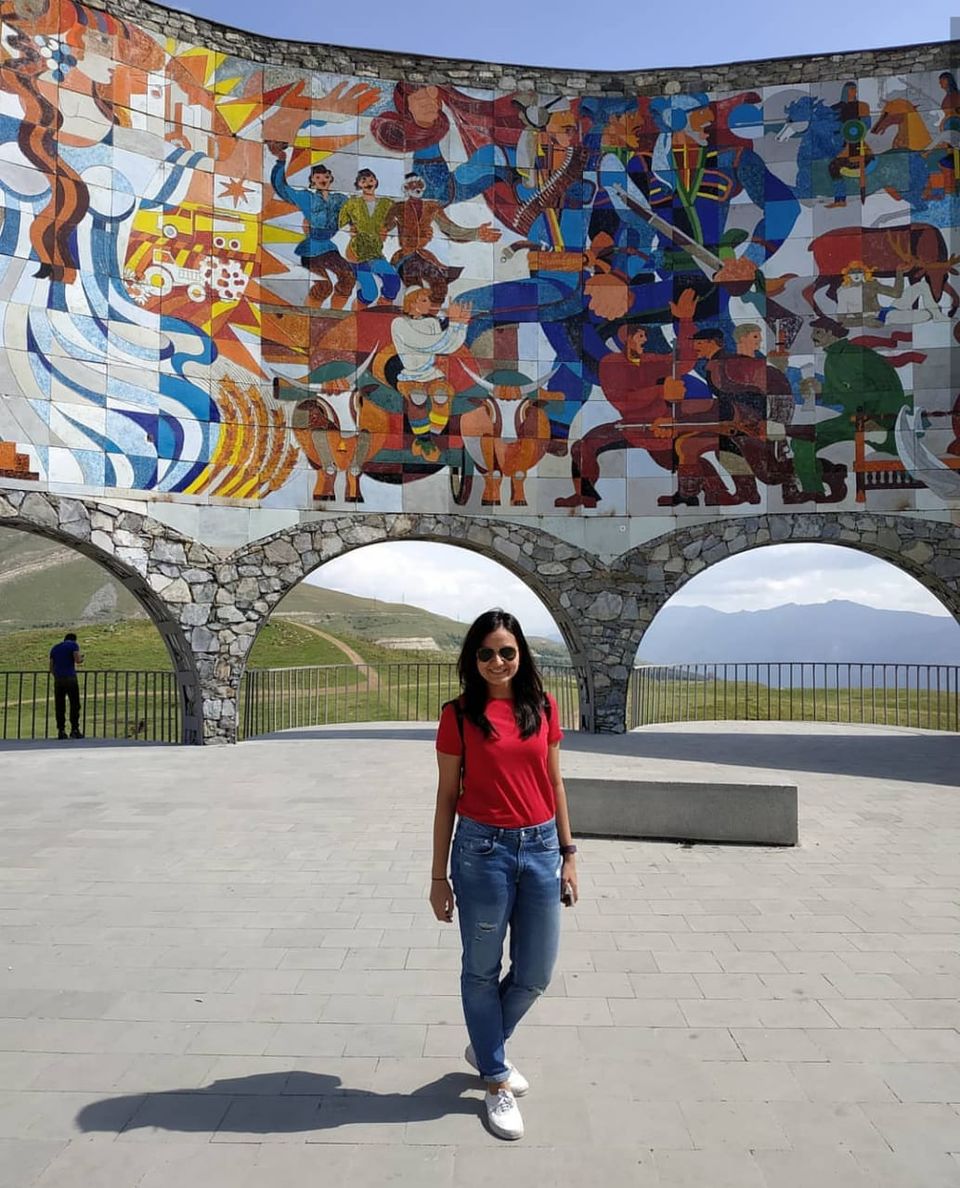 We went to Georgia earlier this month and was wowed by this amazing country. We took an evening Fly Dubai flight from Dubai and landed in Tbilisi late night. It's a cute small airport and immigration process was smooth. We had booked a driver for our 4 day trip to pick us up and take us around Georgia. This turned out to be a very good decision as we did some off-beat activities and our driver was a bundle of entertainment and pro tips.
So we checked in to a pre-booked basic hotel and woke up to a lovely pleasant morning. Checked out and left for Kazbegi which is about 3 hrs from Tbilisi via the Georgian Military road. You don't need to leave super early as Georgia is a chilled out laid back country and a typical day starts a bit late. So we left at around 10 am with our super enthu driver.
Day 1
On our way we stopped at the below places (in this particular order) which I recommend:
1) Ananuri Castle- Spend 10-15 minutes here and click some 'castle-y' pictures.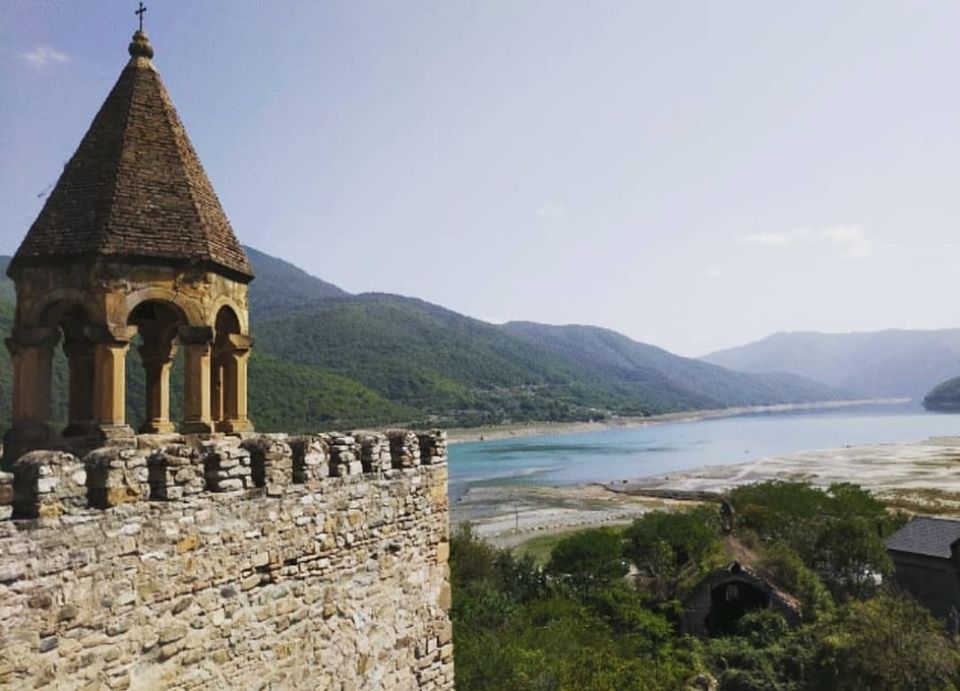 2) Confluence of white & black Aragvi river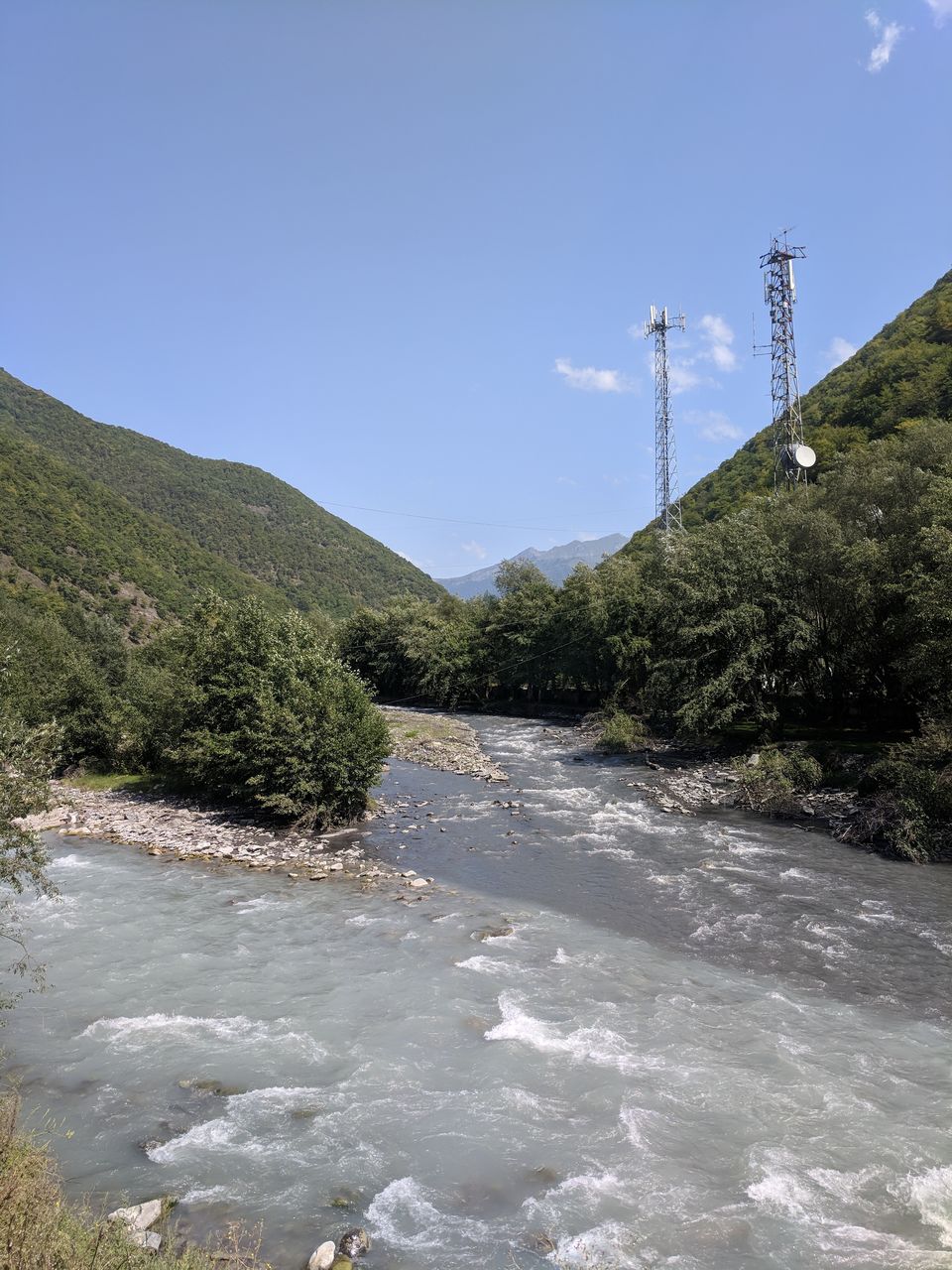 3) PARAGLIDING YAYYY!!! Gudauri
Decided to take this baby step towards my dream of sky diving sometime soon. There are trained Russian and Ukranian paragliders so you don't need to worry at all. The standard price per person is 250 GEL- if you are able to you can try negotiating. It's a 10 minute ride up up above in the sky and should be experienced at least once. In 250 GEL you get a GoPro video which your paraglider will whatsapp you later. Do not forget to exchange numbers with them so that you can get hold of the video. Our driver also made our take-off and landing videos which was pretty cool :) Right next to the paragliding area is the Russian-Georgian Friendship Memorial which is very instagrammable :D as you can see in the below pic.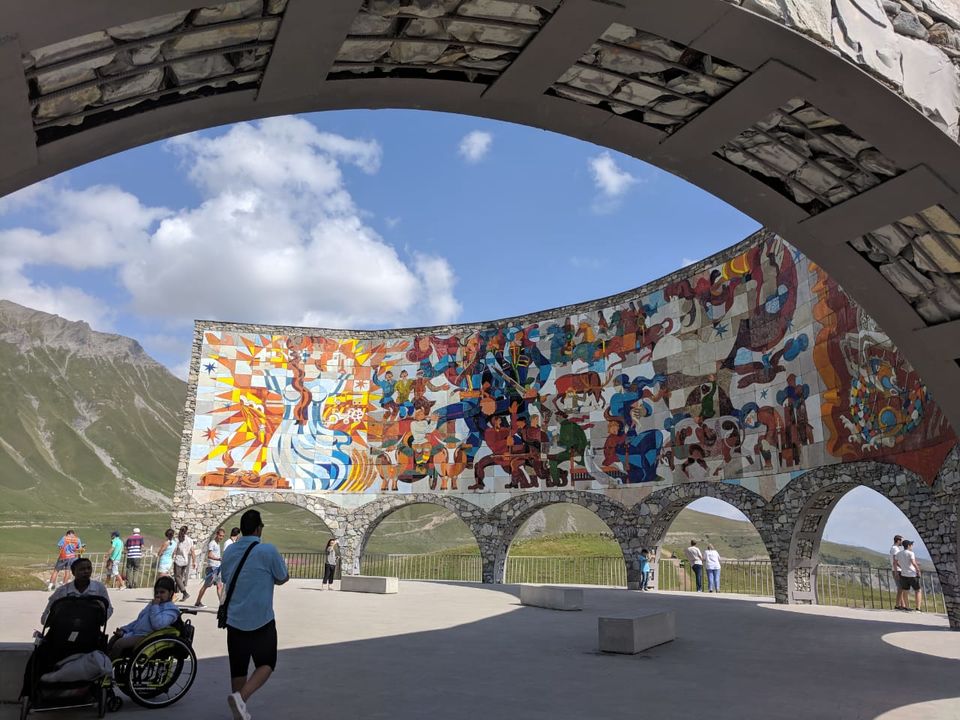 4) Jvari sulphur waters
Do taste the water!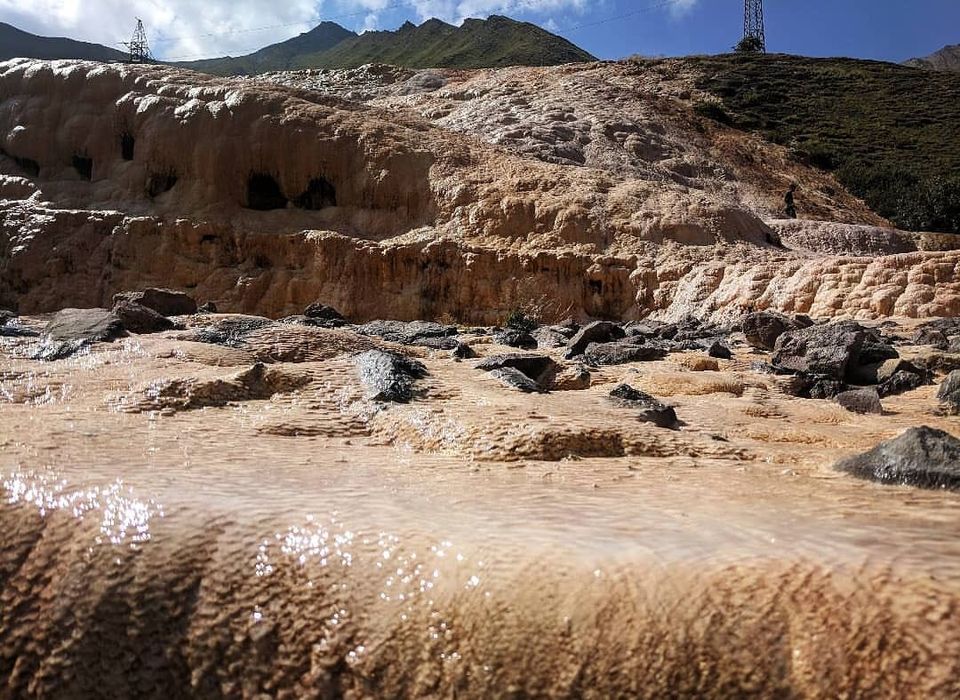 5) Lunch
We stopped at this nice place the name of which I don't remember. It had an outdoor seating with a pretty lawn. We ordered the local delicacy and staple Khachapuri and it had more cheese than I had expected! There was hardly any bread..just CHEESE! Couldn't eat more than one slice even though I live for pizzas! Along with it we ordered Potato and Cheese Khinkhali which was also rich and came with a portion of melted butter. Calories galore!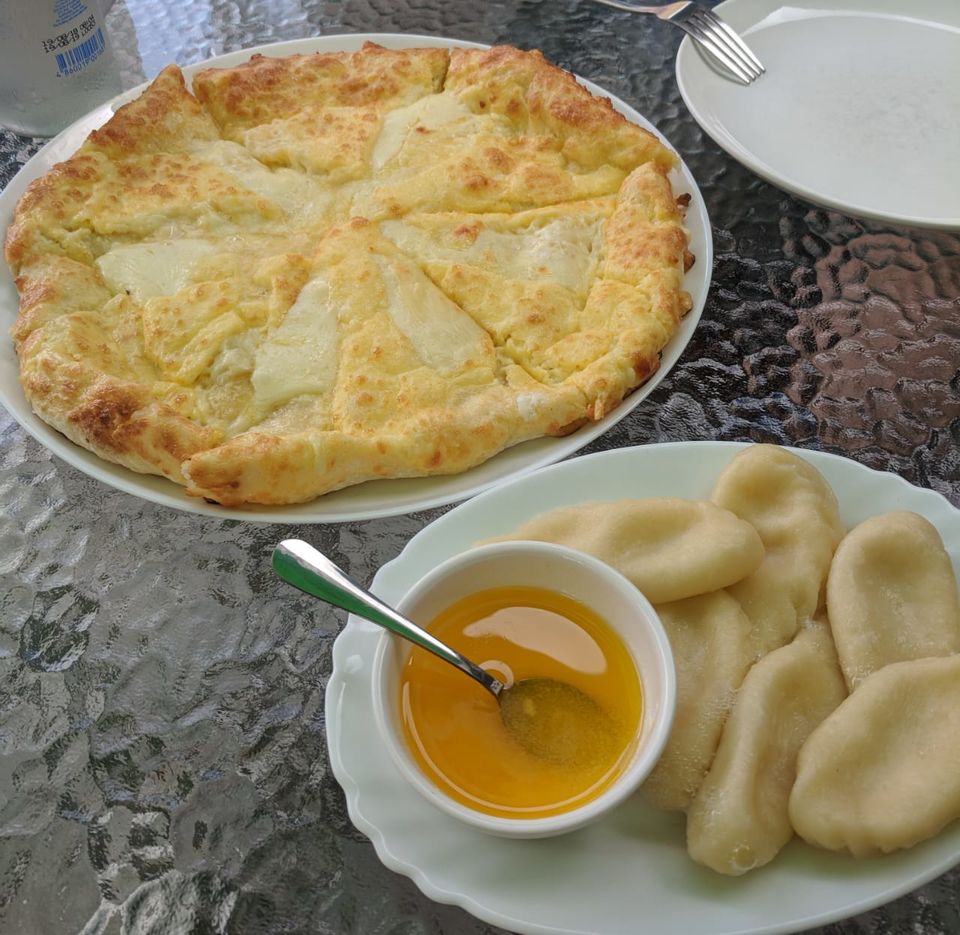 Post all this we checked in to our hotel in Kazbegi and explored the area in the evening. Went to check out the famous Rooms Hotel- we were staying close to it. Nice view but our much more economical hotel also had a good view ;)
Also, it was a bit cold in Kazbegi so our light jackets helped!
Day 2
The next morning we had planned to trek to Gergeti Trinity Church. We left at 7:30 am and hardly saw 2-3 people on our way to the base of the mountain. Remember to carry a light jacket and a waterproof jacket as it tends to drizzle almost daily in September and that brings down the temperature a bit. Plus it's very windy at the top. Carry light snacks and water- you'll need it at the end of the trek ;)
Now I had read somewhere online that the best path is the one towards the extreme left and has a dirt track which eventually changes into an amble meandering path. There are 3-4 paths which are not clearly marked and you might end up taking a path which seems doable initially but gets very steep & kinda treacherous. We ended picking up the correct path..yayy..reached the top in 1.5 hours with a few pic breaks and rest breaks. There is a food van at the top which opens at 10:00 and was a saviour when we wanted some hot coffee.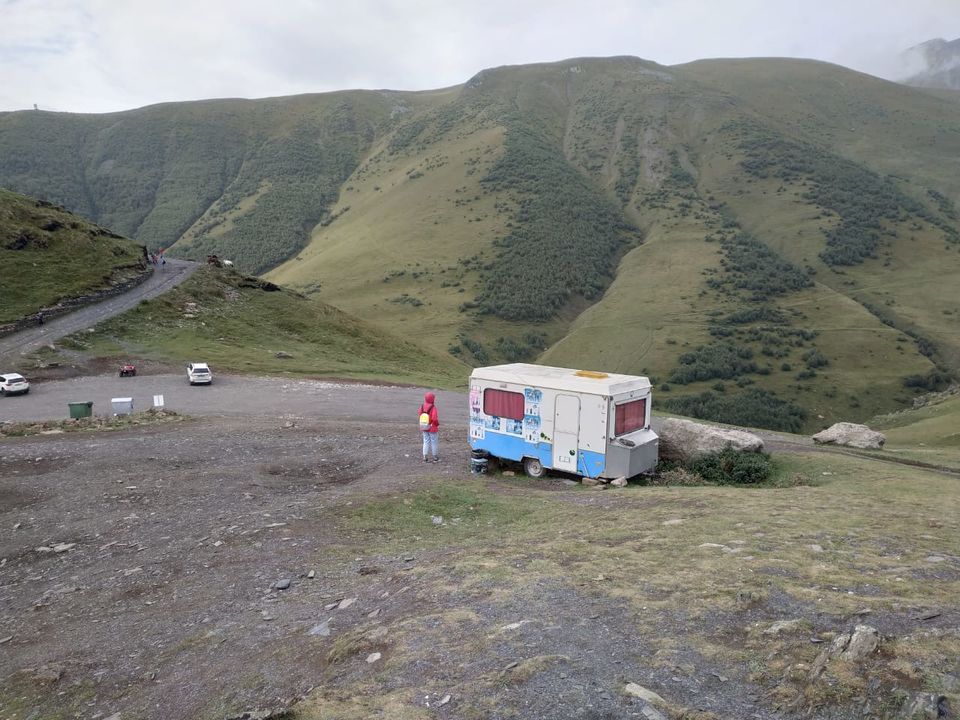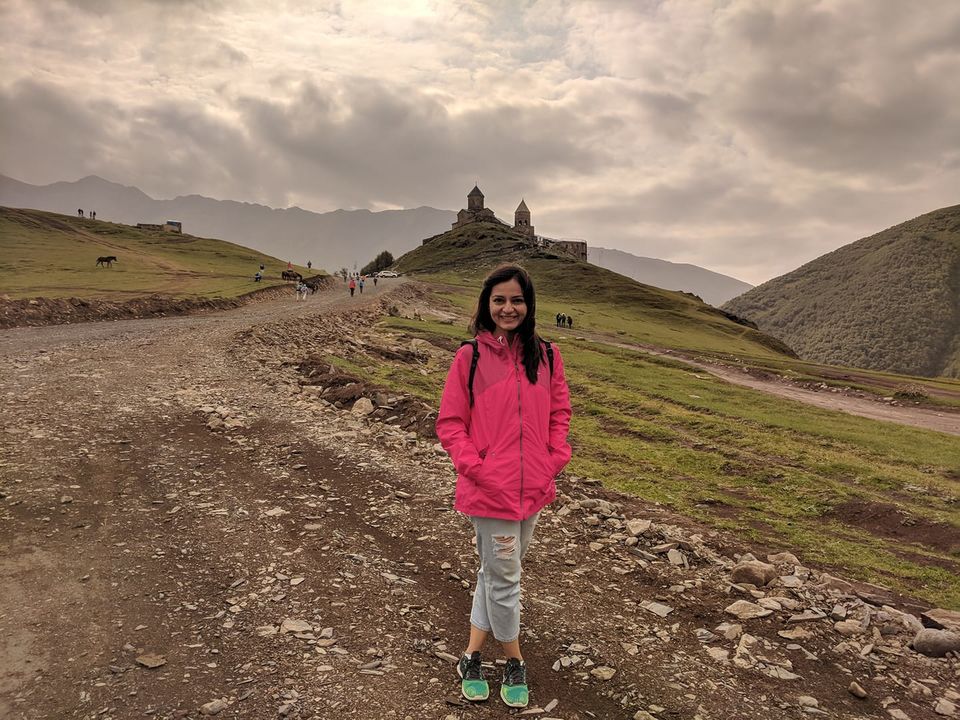 You can see the Kazbeg mountain from here but it was cloudy that day so we didn't get great clicks of the mountain. Otherwise it's a treat to watch the sun rays reflect off the peak of the Kazbeg mountain. 7-8 kms the other side of Kazbeg mountain is Russia, peeps!
For the way back we walked down the road which tourists usually use to come up via cab. Hardly any souls at 10:30 am. Reached the hotel and checked out. Had brunch at this cutesy place Anna's Sweet Corner. Do try the chocolate banana crepe and the lemon ice cream.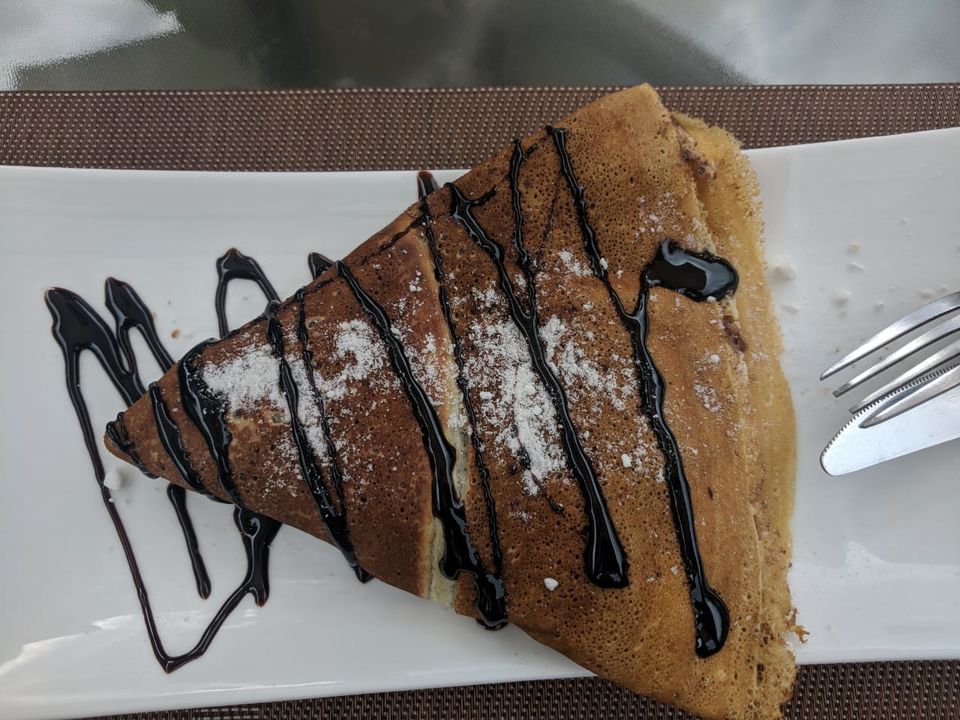 Left for Tbilisi and saw 1-2 churches on the way. Tried the famous sweet delicacy Churchkhela- nothing great, IMO! On reaching Tbilisi we checked into our hotel in the Vera district. Very good area with a nice park and the main market. Explored Tbilisi in the evening.
Day 3
Left for Borjomi Mineral Water Park. Do remember to drink the fountain water there as well and relax in the stream. Spent 1-2 hours there and took the cable car to reach the top of the mountain. Took a Ferris wheel ride and enjoyed the views.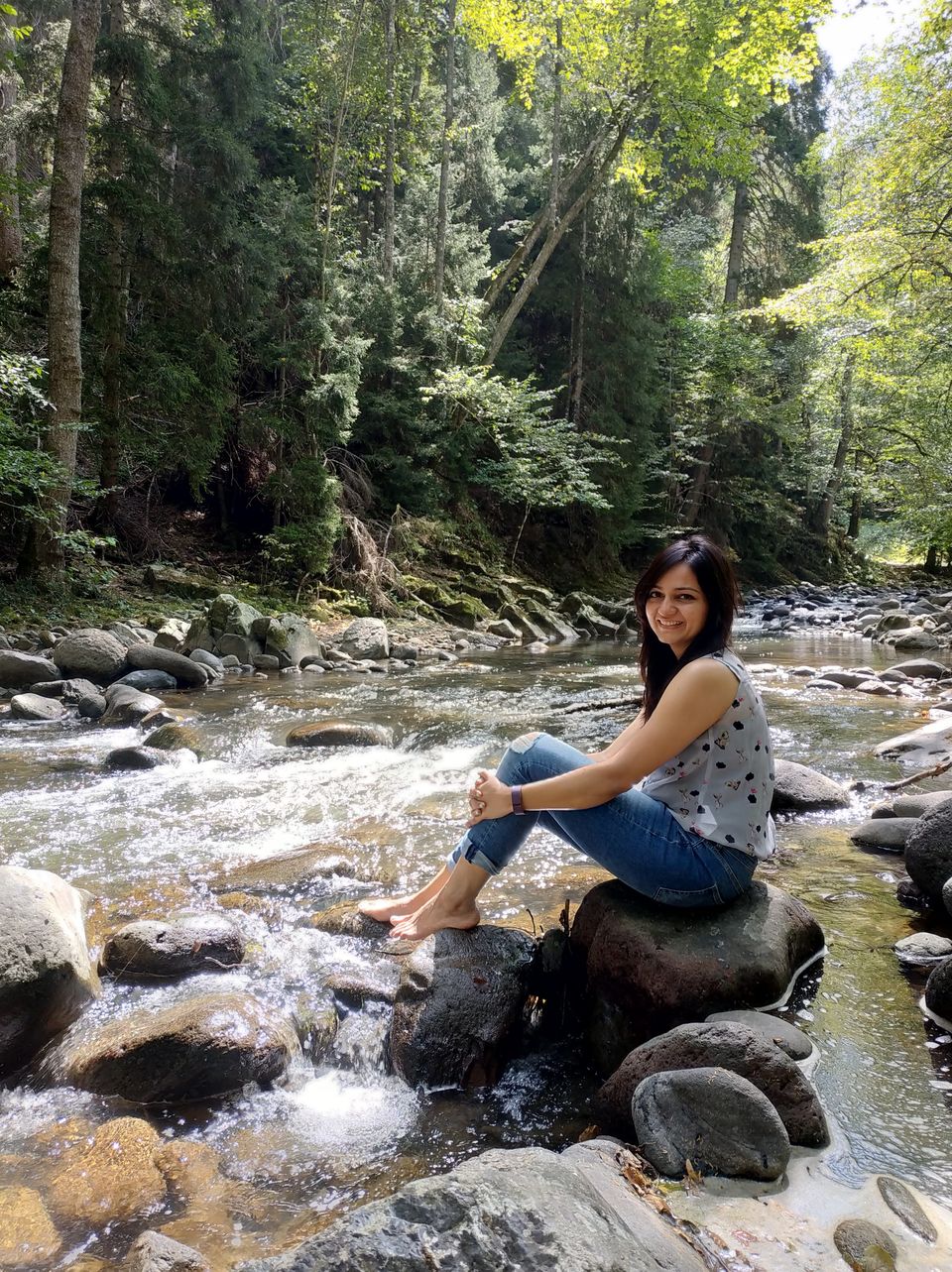 Came back via the cable car and left for Uplistsikhe-ruins of a rock-cut Iron Age town. This is also a must visit place.

Then we left for Tbilisi and visited the famous Mtatsminda Park. You have to experience the awesome Tbilisi funicular to reach all the way up to this amusement park. It feels a bit scary especially at night because of the incline but it was so so so worth it! It's one of the steepest funiculars in the world.
Do take a ride on the Ferris wheel. Relaxed, slow and enjoyable,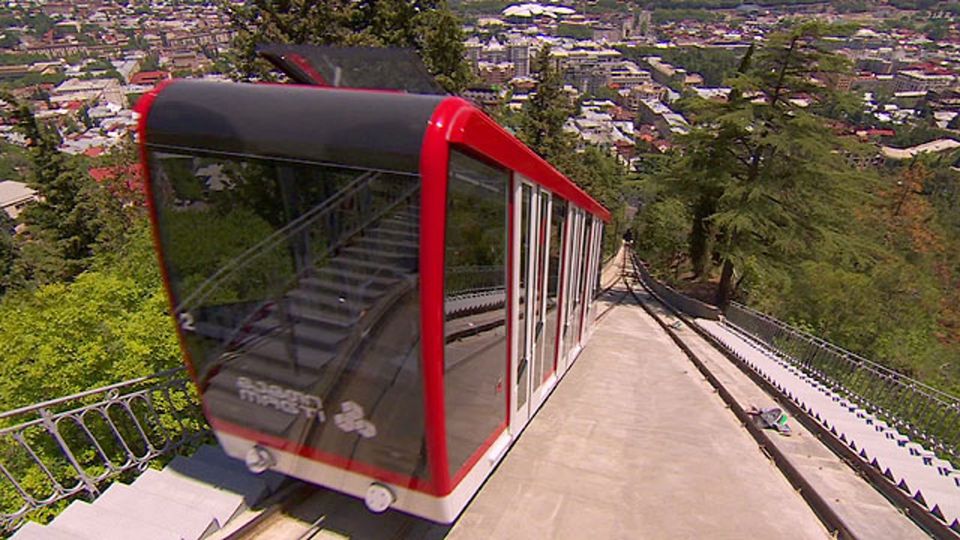 Day 4:
The next day we left for Signani and went to a vineyard and bought some grapes on the way. The grapes were extremely sweet! We stopped at Bodbe monastery and spent half an hour there. The gardens were beautiful.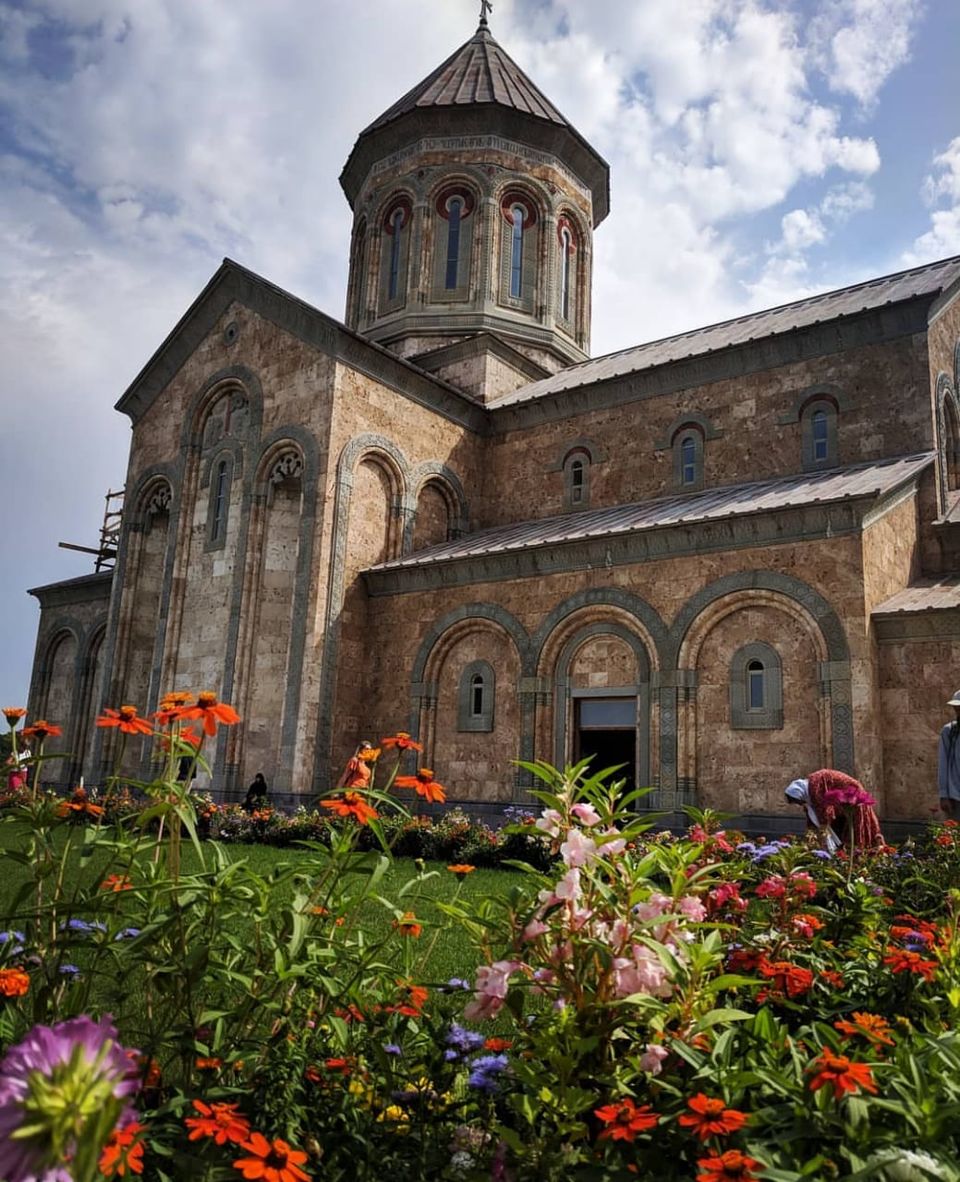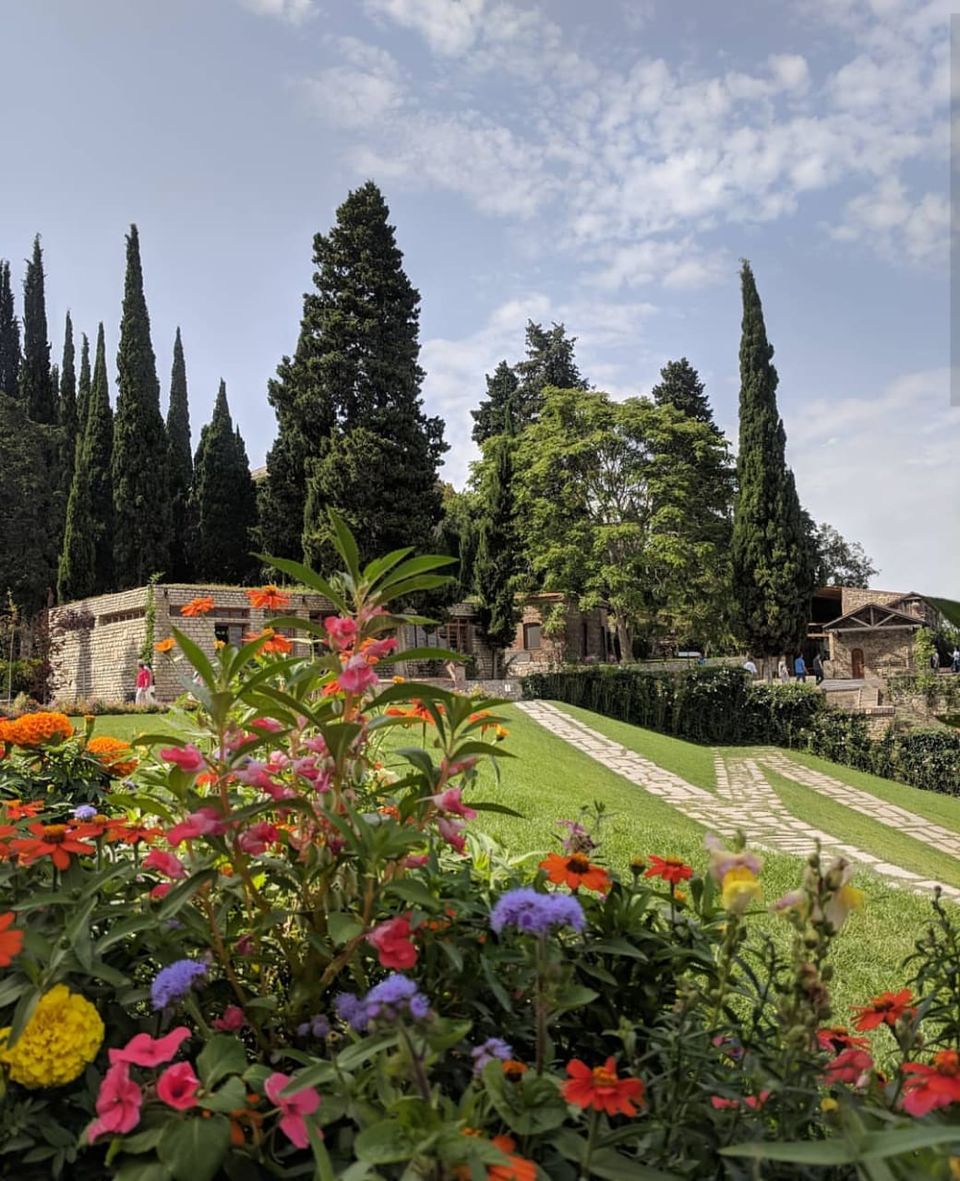 We reached Signagi town, walked around a bit and had lunch. Wrapped up and left for Tbilisi as our flight was later that night. In the evening we went to see the Bridge of Peace which is a bow shaped bridge illuminated with numerous LEDs. Took the cable car ride and again witnessed a nice view of the town.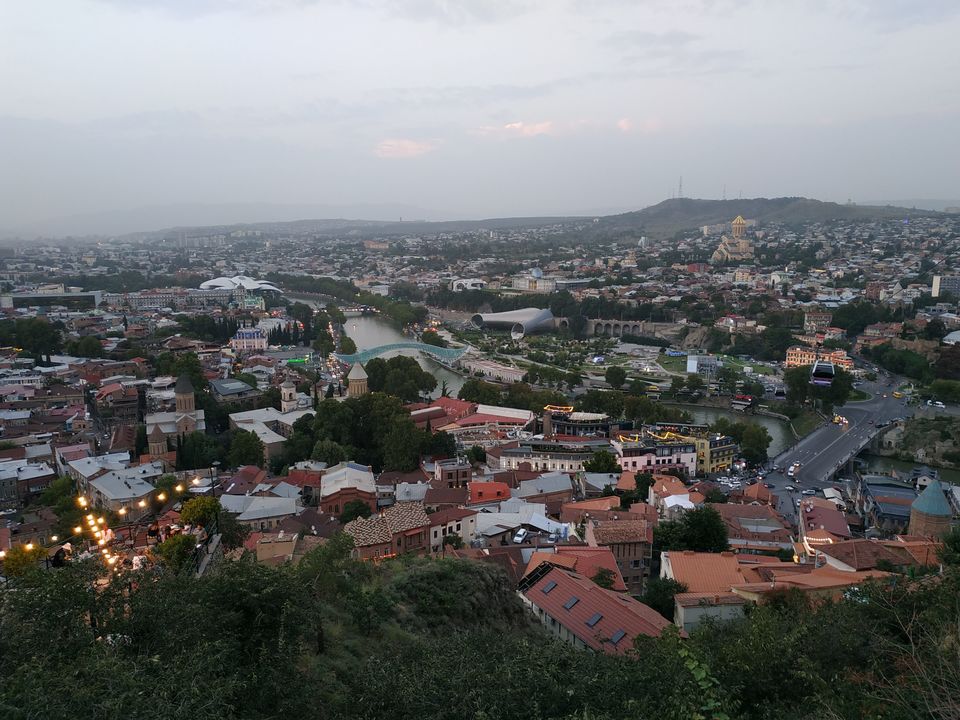 That's it folks! These were my 4 days in Georgia :) For your Indian food cravings, go to Karachi Darbar in Tbilisi. That's the best out of all the Indian restaurants in the main area. The interiors of all Indian restaurants there are a bit dingy and sad but the food is decent and that's what matters the most :D
I loved Georgia and I'll visit it again!