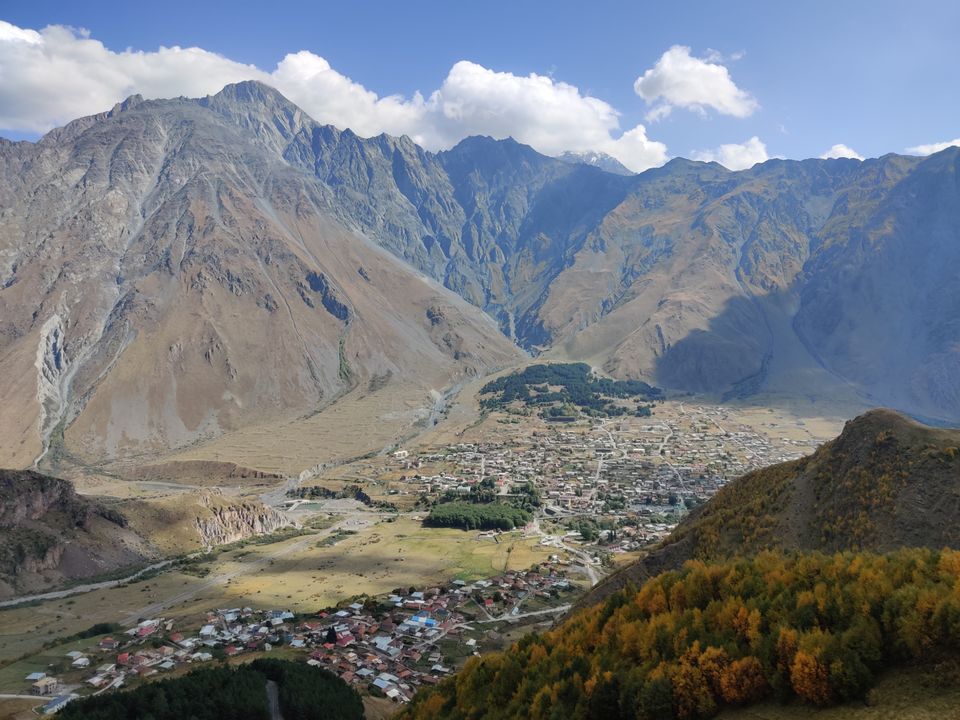 Prefect Time to Travel Motherhood of Wine
2019 September 18th to 26th – Weather was little chilly at night and it was not too hot during daytime.
It's all started one fine day morning where I was bored and looking for visa free countries especially for USA tourist visa holder. Then I listed out European regions and found Georgia where the flight tickets are cheap compared to other countries. Immediately I booked for next week to Tbilisi, Georgia from Chennai by FlyDubai airline. I spent Rs.40,000 for both ways and that is the lowest price I got because I booked one week before without baggage allowance and meal. So I pre-booked my baggage allowance Rs.120 each way for 20kg. May be if I have would booked a month before I would have got my flight tickets cheaper than this.
After that I was doing some research about the place I am going to visit, the first thing I saw in google was TripAdvisor website. 'Tbilisi' was a beautiful city to roam around, 'Kazbegi' is the place where you can see more mountains and monasteries, 'Kutaisi' is another place where you can do adventure trip like hiking on hanging bridge, walk around in Martvili waterfalls and Prometheus Cave. 'Batumi' is the place to chill out in beach. 'Brojomi' is the place of castle and caves. I don't want to visit Batumi because I have seen enough beaches in south India. So I chose other four places to visit.
As soon as I reached the airport, I bought the sim card 'Magiti' network where two people were selling in a small counter. My sim card plan was 2 weeks with 5GB for 38Lari and it activated within 10minutes. I did currency exchange in Dubai duty free airport where they took almost 60Lari as commission and I was surprised when I did some more currency exchange in Tbilisi airport for zero commission and even in Tbilisi city its zero commission everywhere. Damn my 60Lari was wasted!!!. Then I enquired about the taxi in the airport where they offered me a ride for 90Lari to my hotel. I don't want to be fooled again, so immediately I downloaded 'Bolt (Taxify)' App for taxi with my new Georgian number and it showed only 23Lari from airport to my hotel.
1st Day I checked in Hotel Four Brothers which is near to Avalbari Metro Station and closer to Tbilisi old town. I booked the hotel from booking.com for 6days Rs.13,000 including breakfast.
2nd Day morning I was walking around on my own, I got metro card given by my hotel receptionist to use the public transportation. To be honest public transport is very cheap, each way its 0.50Lari only even if you take bus or metro train. So I visited the Rike Park which was closer to my hotel and then I took cable car for both ways its 5Lari which goes to Mother of Georgia Statue. Then behind the mother of Georgia statue there was a ZipLine connected to the botanical garden, I took zipline for 40Lari and reached botanical garden quickly, then I roamed around the garden and found out the amazing waterfalls. Then I booked evening walking tour one week before my trip for Rs.950 through TripAdvisor – https://www.tripadvisor.in/AttractionProductReview-g294195-d15615885-Tbilisi_city_evening_walking_Tour_with_local_guide-Tbilisi.html
Meeting point of the walking tour is at Avalbari Metro Station, the tour started at 6pm. The tour was very informative about the Georgian cultures and history. I had 3hours walking with the group where I got to know another waterfall which was hidden in the Tbilisi old town, end of the walking tour we had wine tasting. Then I had my dinner at famous Jan Shardeni Street, honestly it was expensive and very commercial.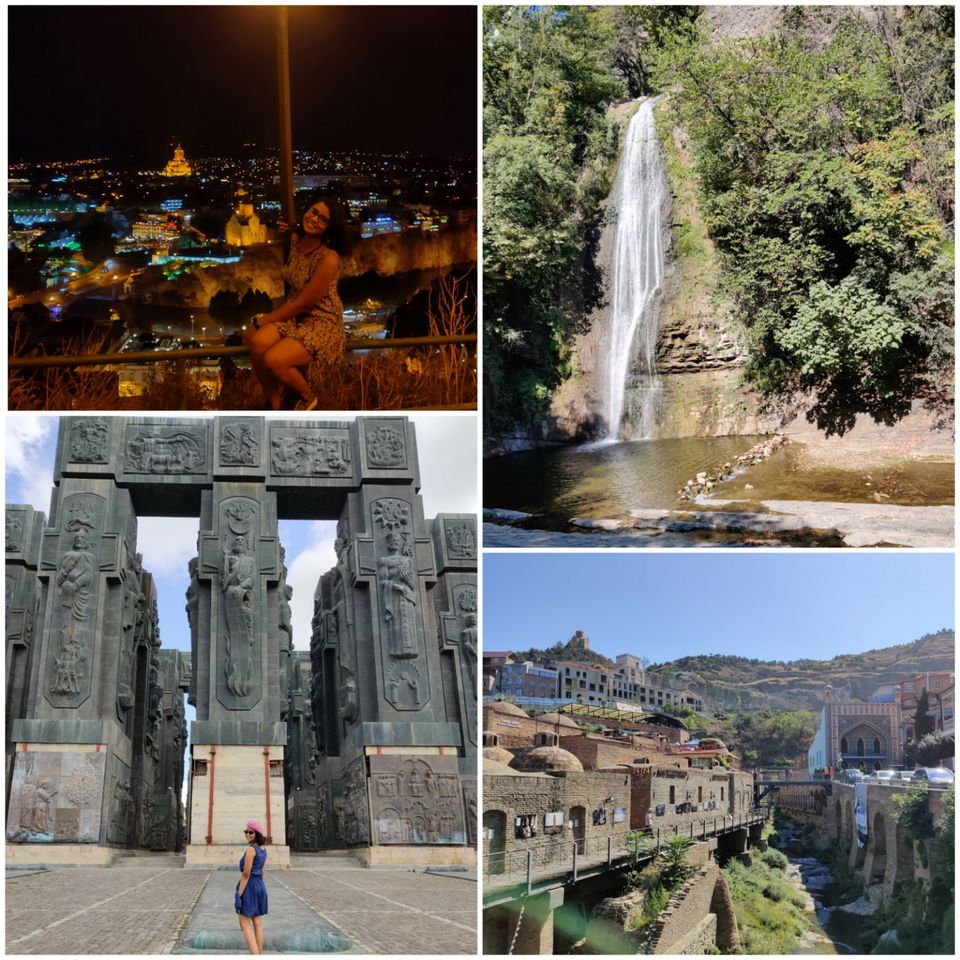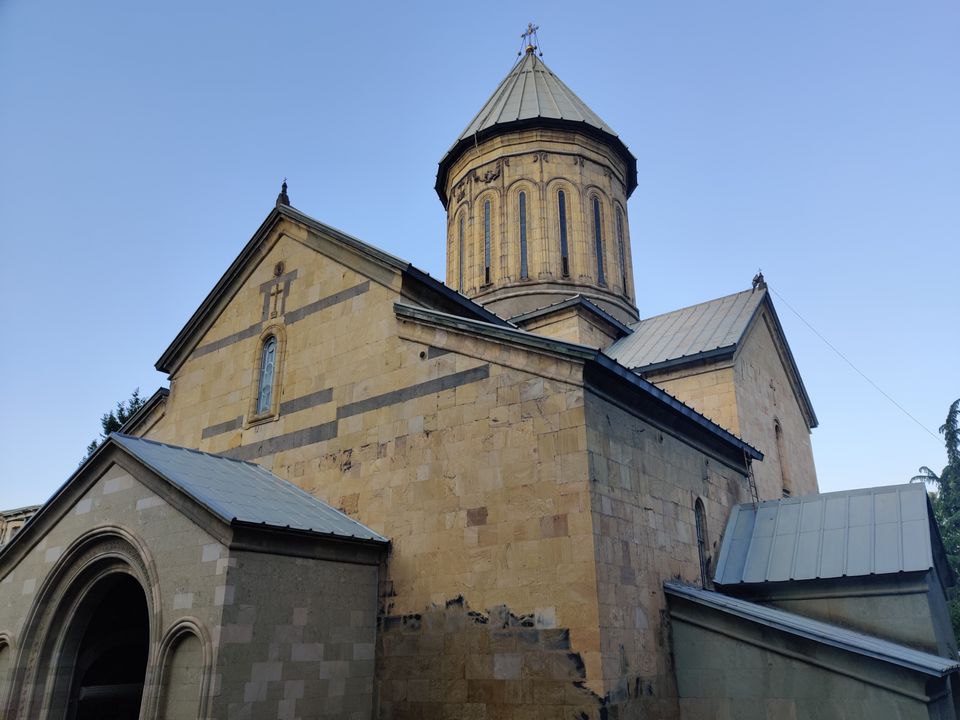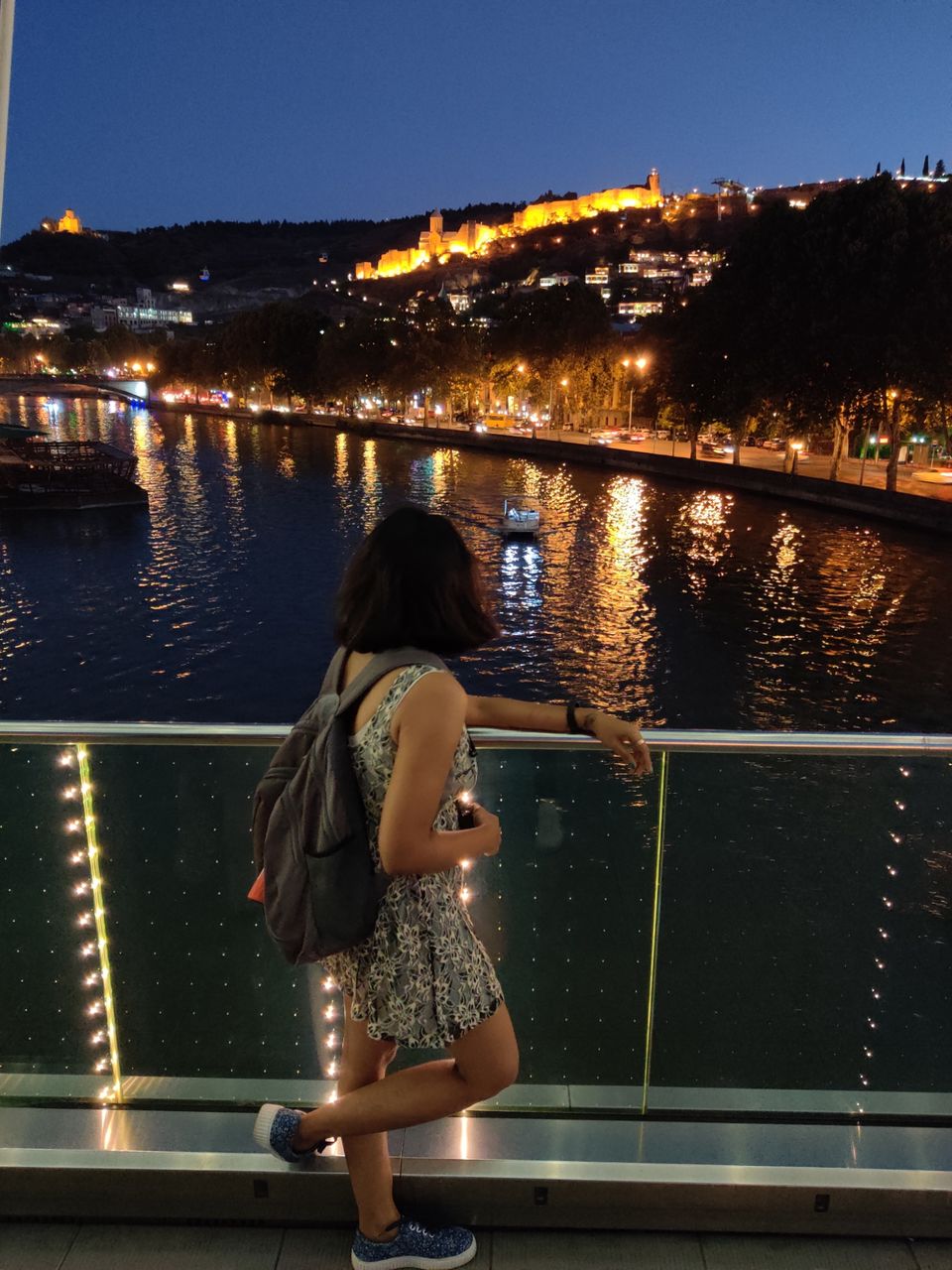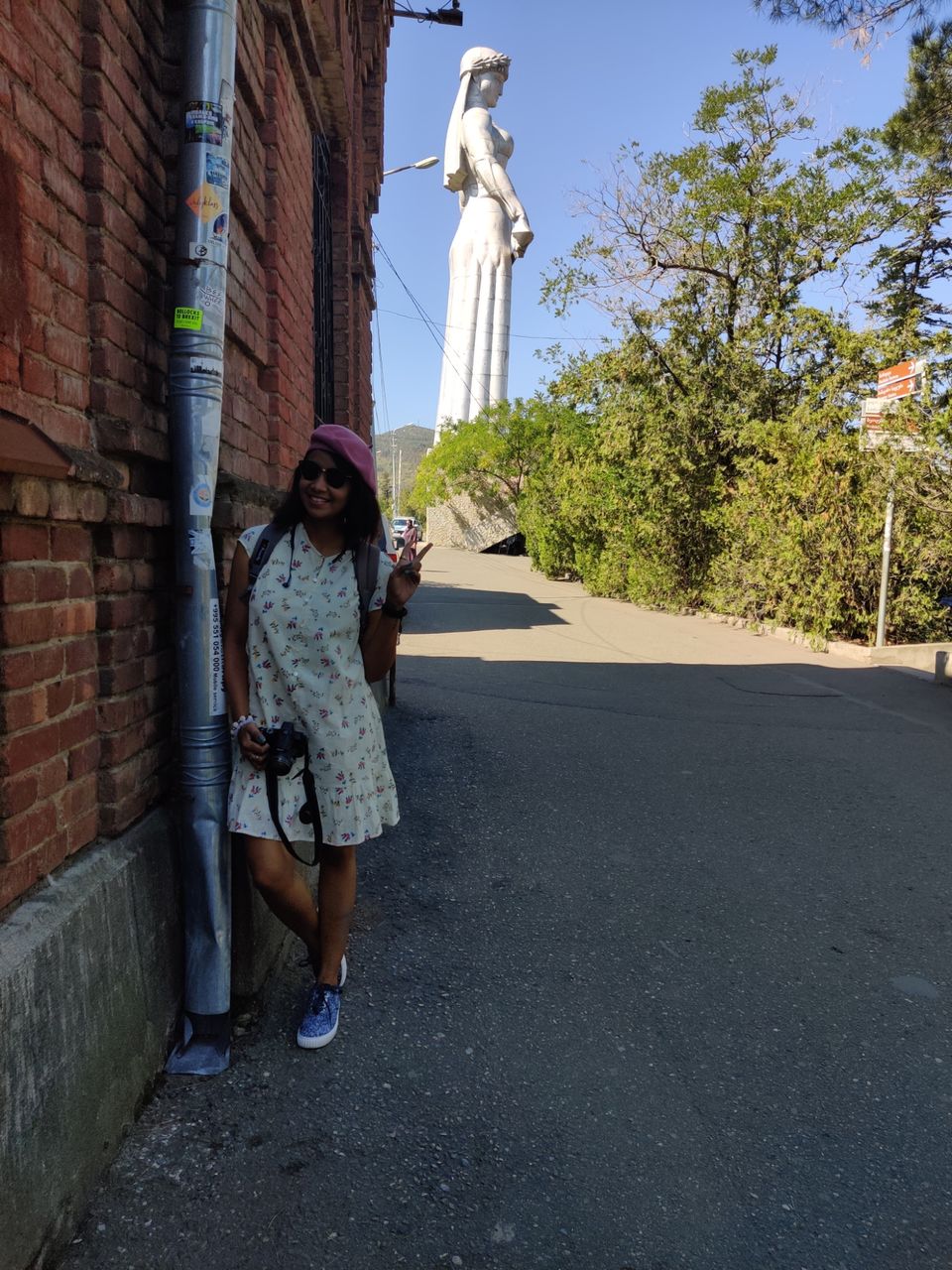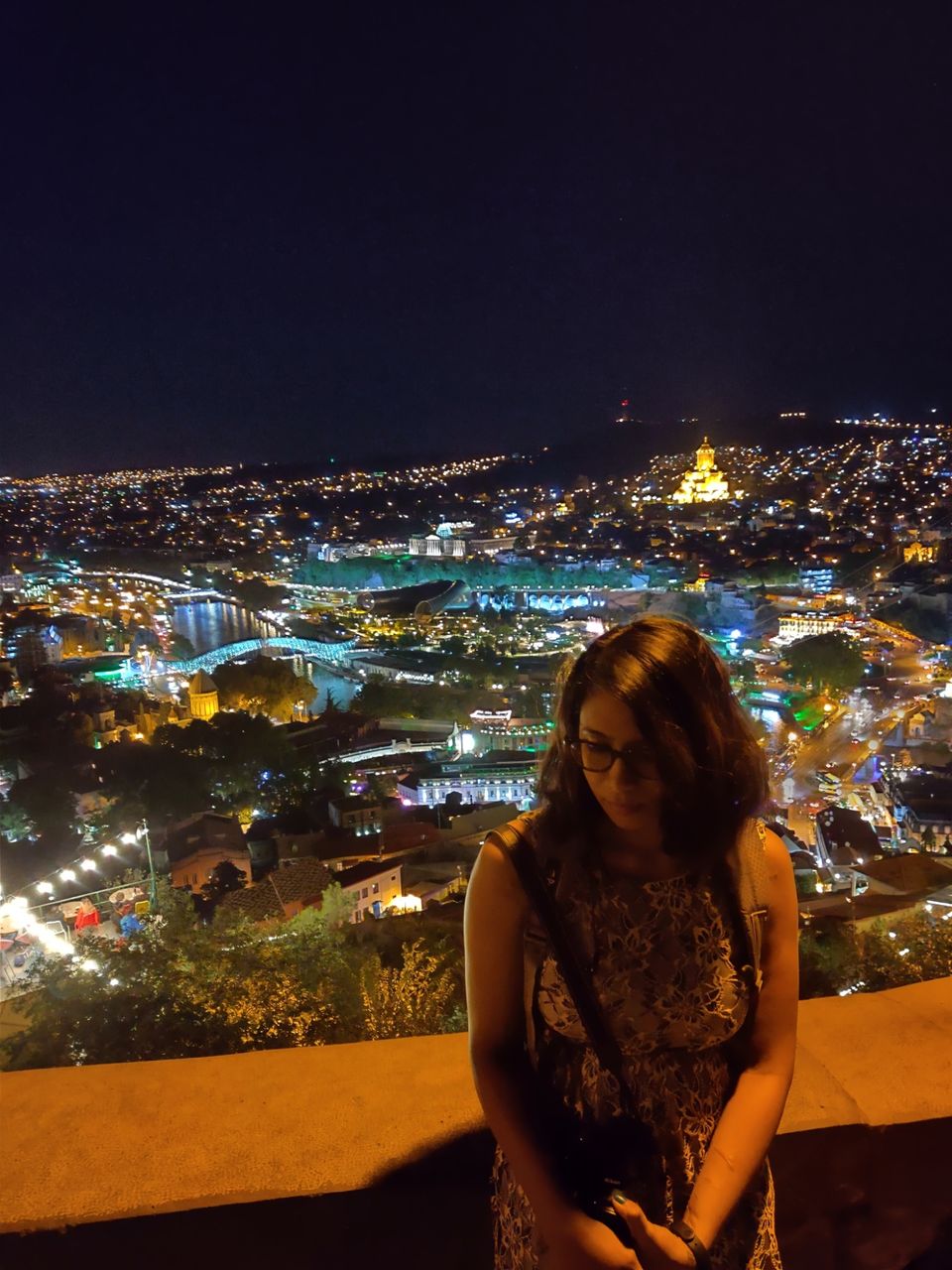 3rd Day I booked one day group tour to Kazbegi (Stepantsminda) one week before my trip for Rs.2500 through TripAdvisor – https://www.tripadvisor.in/AttractionProductReview-g294195-d14986137-Crazy_Group_tour_to_kazbegi-Tbilisi.html
Meeting point was at Avalbari metro station where they will take everyone by air-conditioned mini-van and the tour started sharply at 9am. First stopping point was Gergeti Trinity Church which was located at the top of the hill, we reached there around 12.30pm and the view of mount kazbegi was awesome. After that they took to us to the Dariali Restaurant at Gudauri to have our lunch. Then we went to Russian-Georgian friendship monument where you can do paragliding for 250Lari. I dint go for paragliding because I just finished my lunch and it was cold where I might throw up. After that we went Ananuri Fortress, Aragvi river flow and Jinvali water reservoir, it wasn't interesting though. I expected to see two different colour of water which flows at Aragvi river, but I couldn't find any difference. Then back to Tbilisi at 9pm.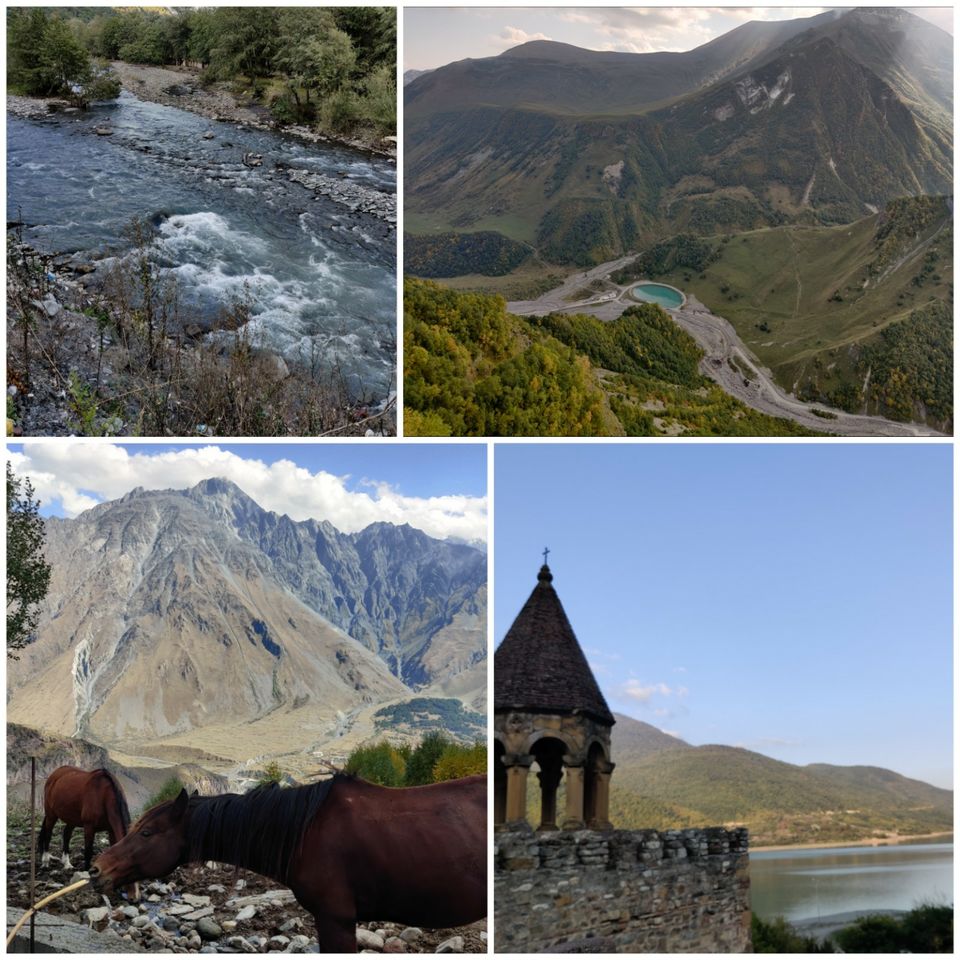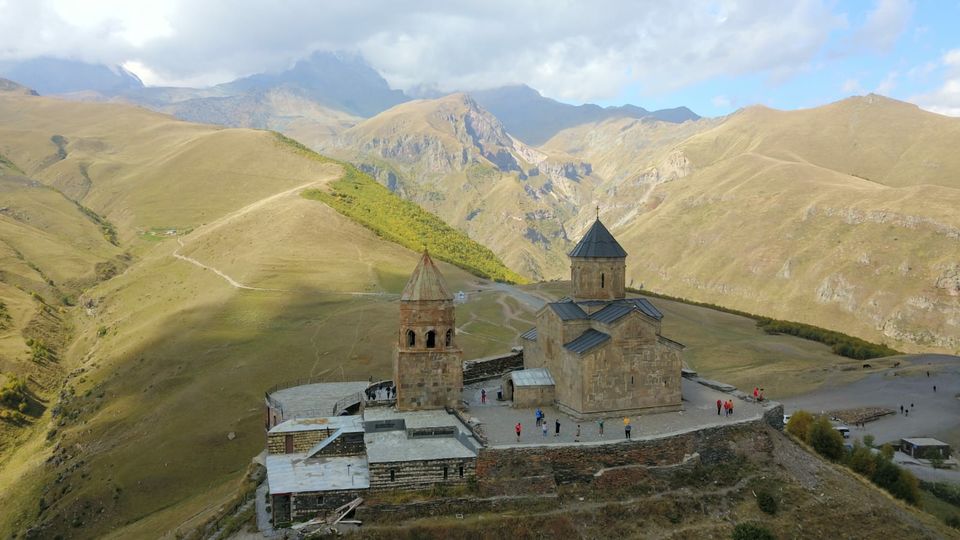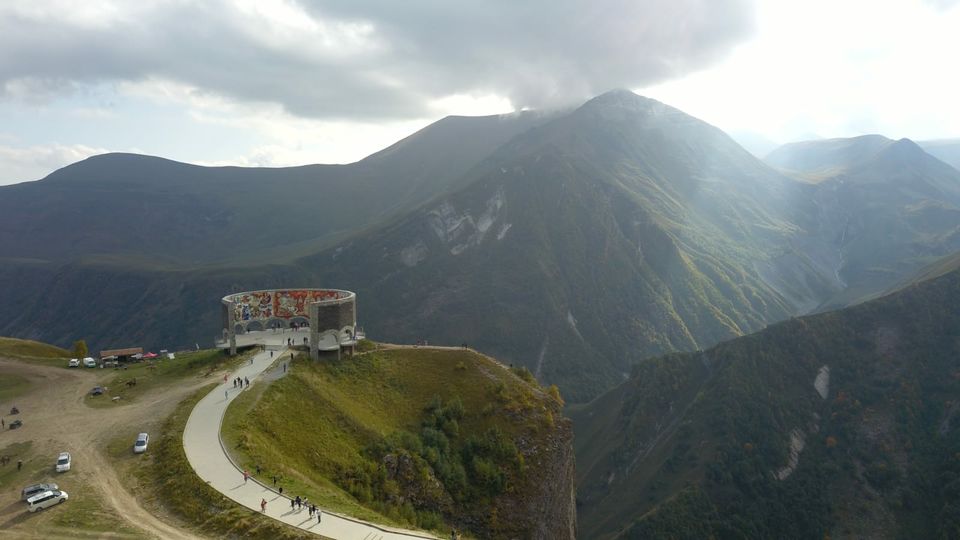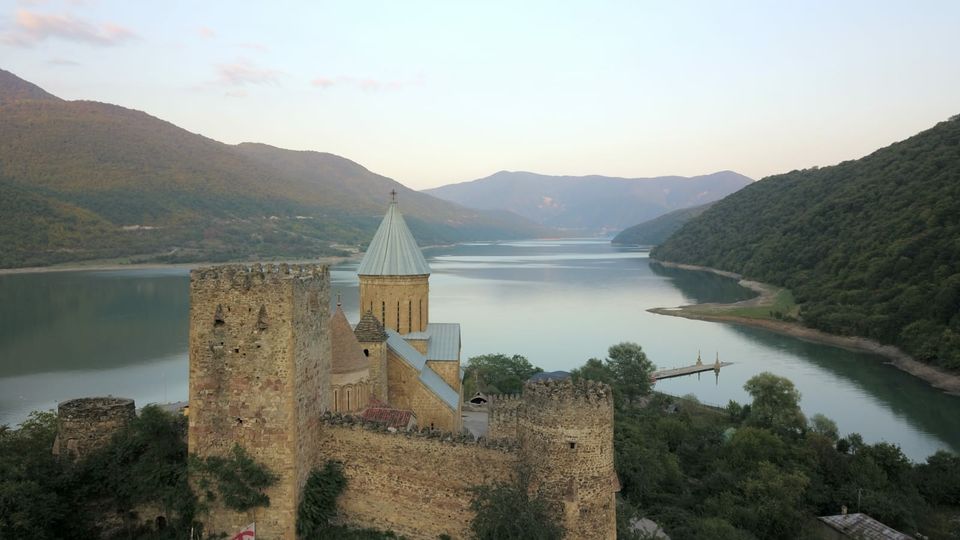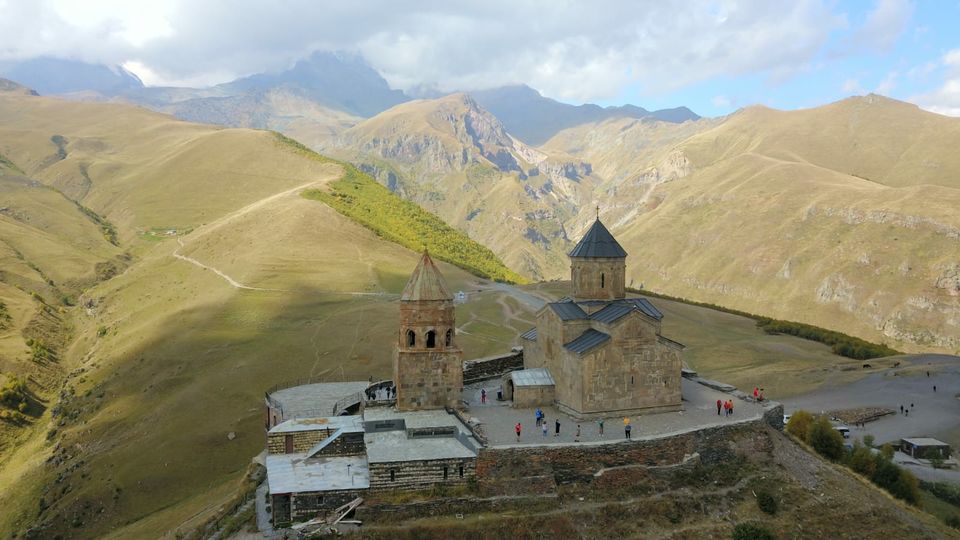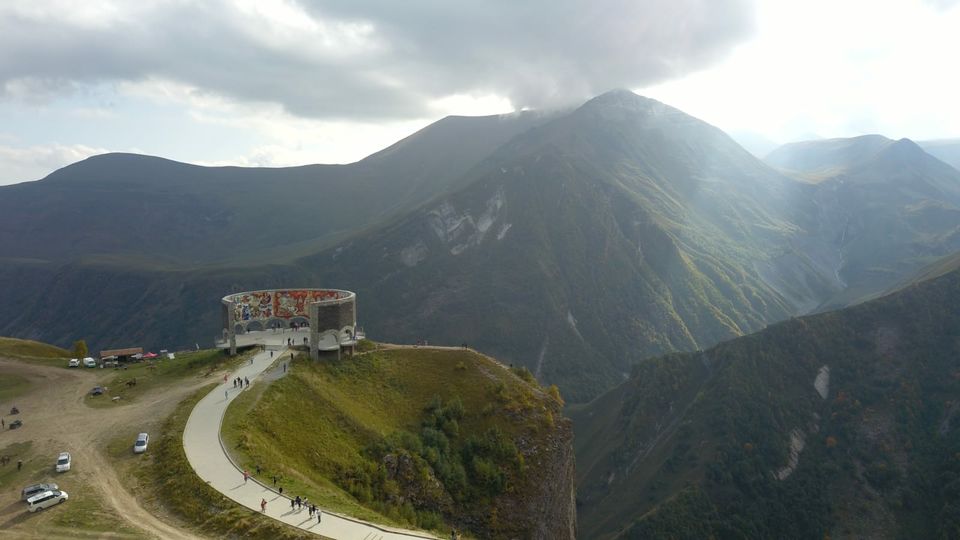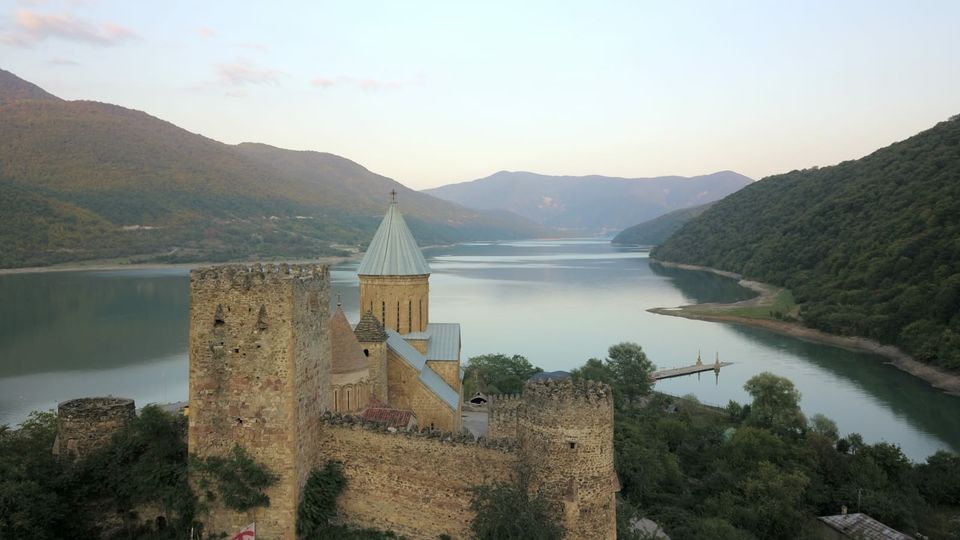 4th Day morning 8.30 I went for the famous traditional sulphur bath, it was extremely hot and stinking, I wasn't able to sit in the water for more than 20minutes due to the water heat and I had scrub massage which was not that great. Afternoon I went to Central metro station to book my train ticket from Tbilisi to Kutaisi and paid 8Lari each way. I wasn't able book my train ticket through online, so I went to the station and booked, people over there prefer to come 2hours earlier to book the ticket on same day of travel. If I am not wrong there are only 2-3 trains are going every day from Tbilisi to Kutaisi. The bus tickets also cheap its 10Lari each way. But I cannot go by bus because I use the toilet more often and please don't keep any high expectation about the train cleanliness. Then I was doing souvenir shopping in Tbilisi and in the night went to a restaurant near to my hotel where I drank famous Georgian drink ChaCha and Wine along with the Georgian traditional food.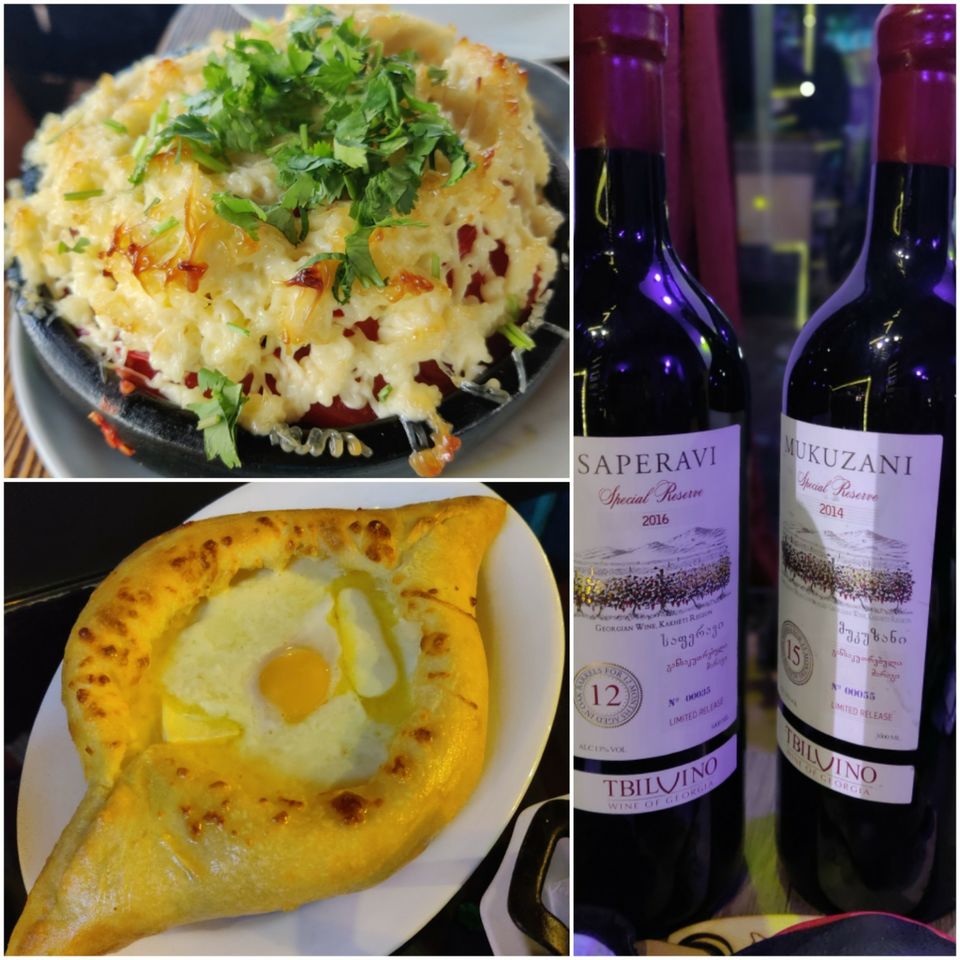 5th Day I suppose to go for one day tour to Borjomi from Tbilisi, I booked on my 4th day through local guided tour 'Secreto Tours Georgia, 1 Wine Rise, Tbilisi' for 70Lari, she was very friendly and kind. Unfortunately the tour got cancelled and she refunded my money immediately. She even offered me to book with another local tour guide group, but I decided to get a tattoo in Tbilisi. I went to 'Tbilisi Ink Tattoo Studio' based on the google review. The artist did a very good job but I got disappointed after I came back from trip because the few of the shading part in my tattoo got disappeared. Now I can't go back and redo my tattoo for what I paid. It's a lesson for me that I should not get a tattoo when I am travelling anywhere or I should not keep any high expectation. Finally I bought 3 bottles of best wine for 40Lari from 'Wine House Secreto, 21/8 wine rise, Tbilisi' suggested by the lady from Secreto Tour Agency along with good offer.
6th Day morning I checked out my hotel at 8.30, got down in central metro station to catch my train to Kutaisi at 10am. Train journey was 4hours and they don't stop or don't sell any food. So you have to pack your food and water, also they stop in Rioni Railway Station for 30minutes and you can find one small shop to buy snacks and drinks. I reached Kutaisi-I Railway station at around 2.30pm, there is no lift or elevator in the railway station. So be ready to carry your big luggage through stairs, then I booked taxi through bolt app and reached the 'David Guest House'. I booked this Guest house including breakfast through booking.com, this guest house run by old Georgian lady and I paid 60Lari cash for two nights. As soon as I arrived she welcomed me with grapes, pumpkin fruit and hot tea, she don't speak English and her granddaughter spoke to me on phone to confirm with me the breakfast timing and explained about the water service. Evening I went to Bagrati Cathedral by walk and the view of the Kutaisi city was awesome, prefect place for photography.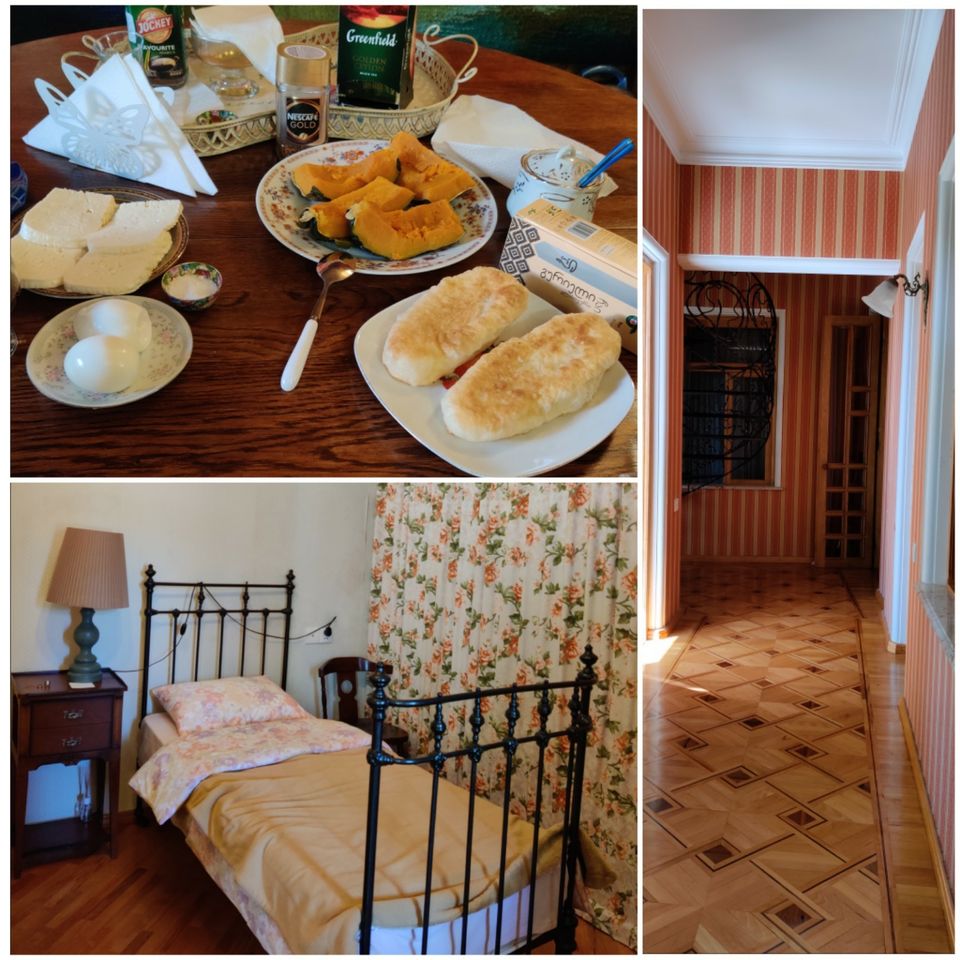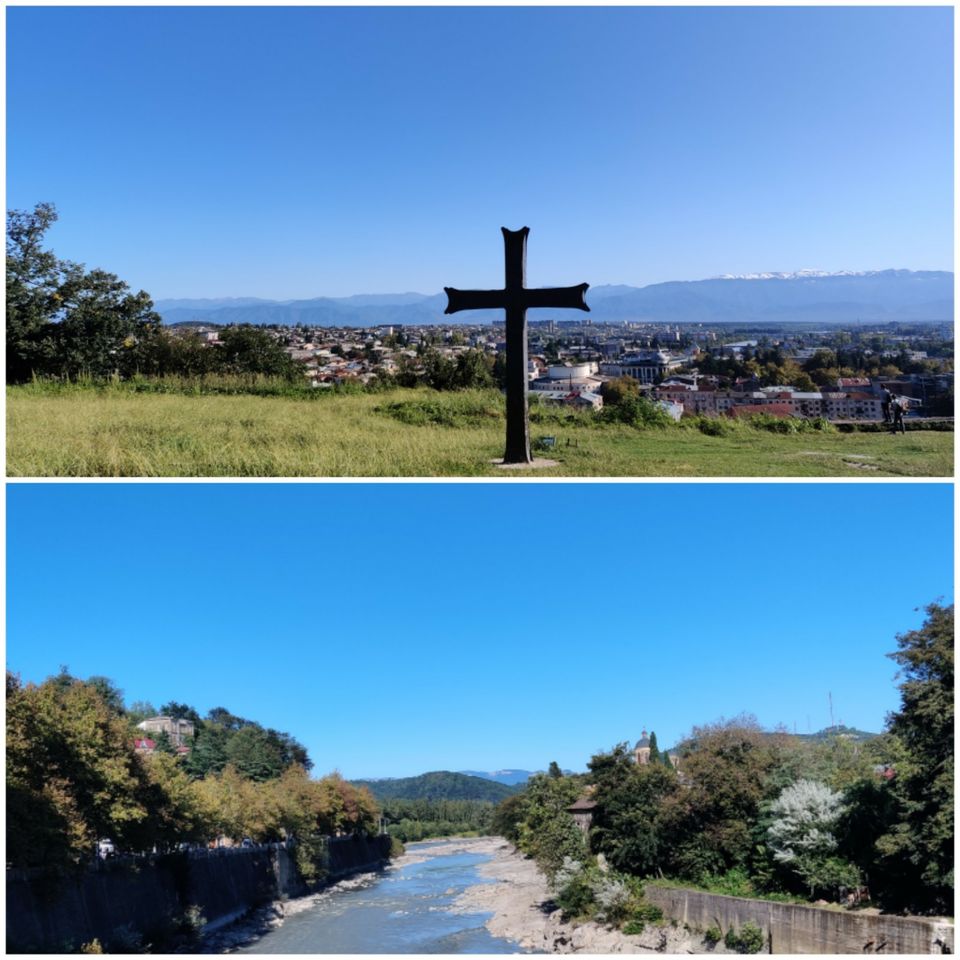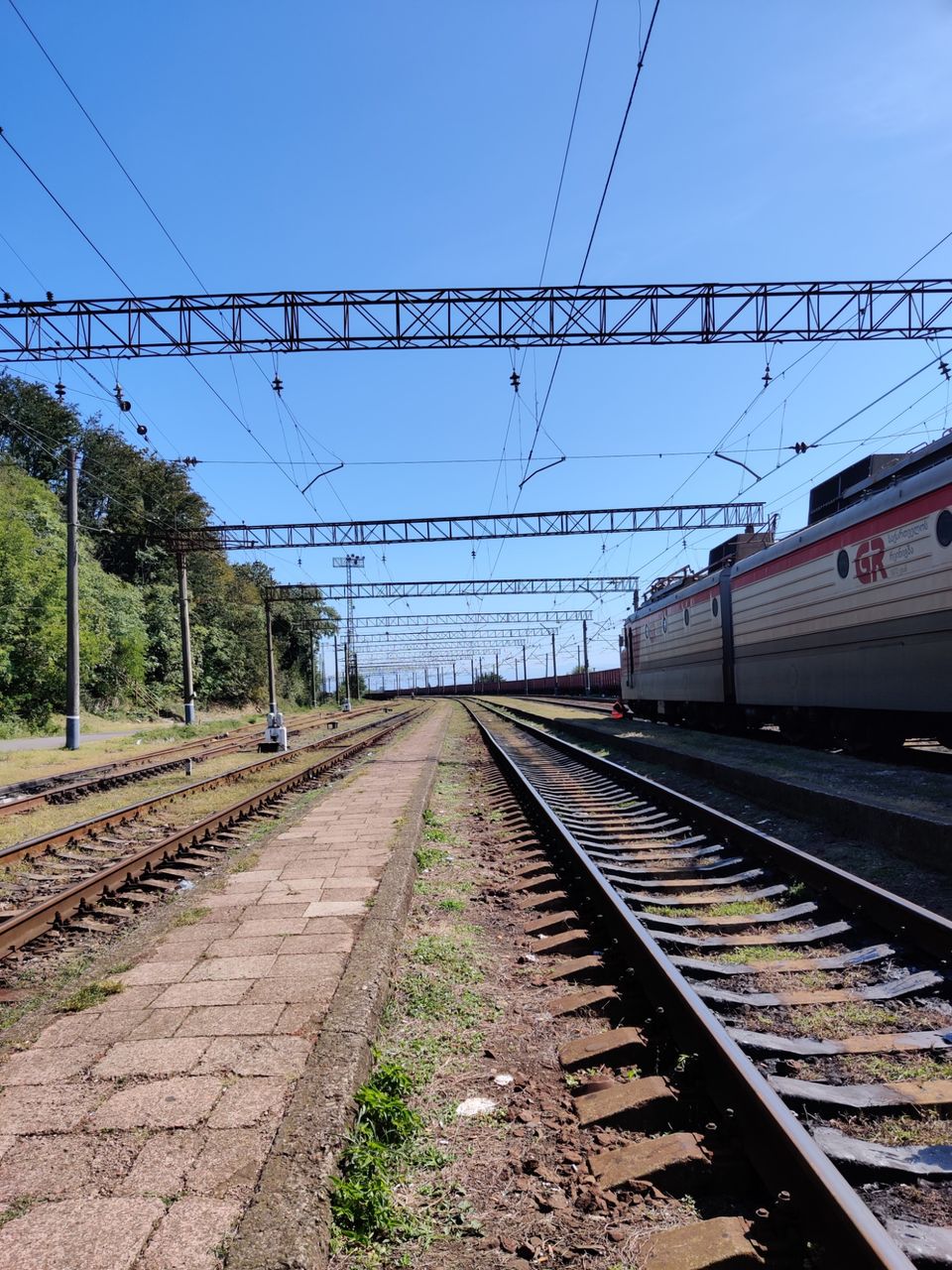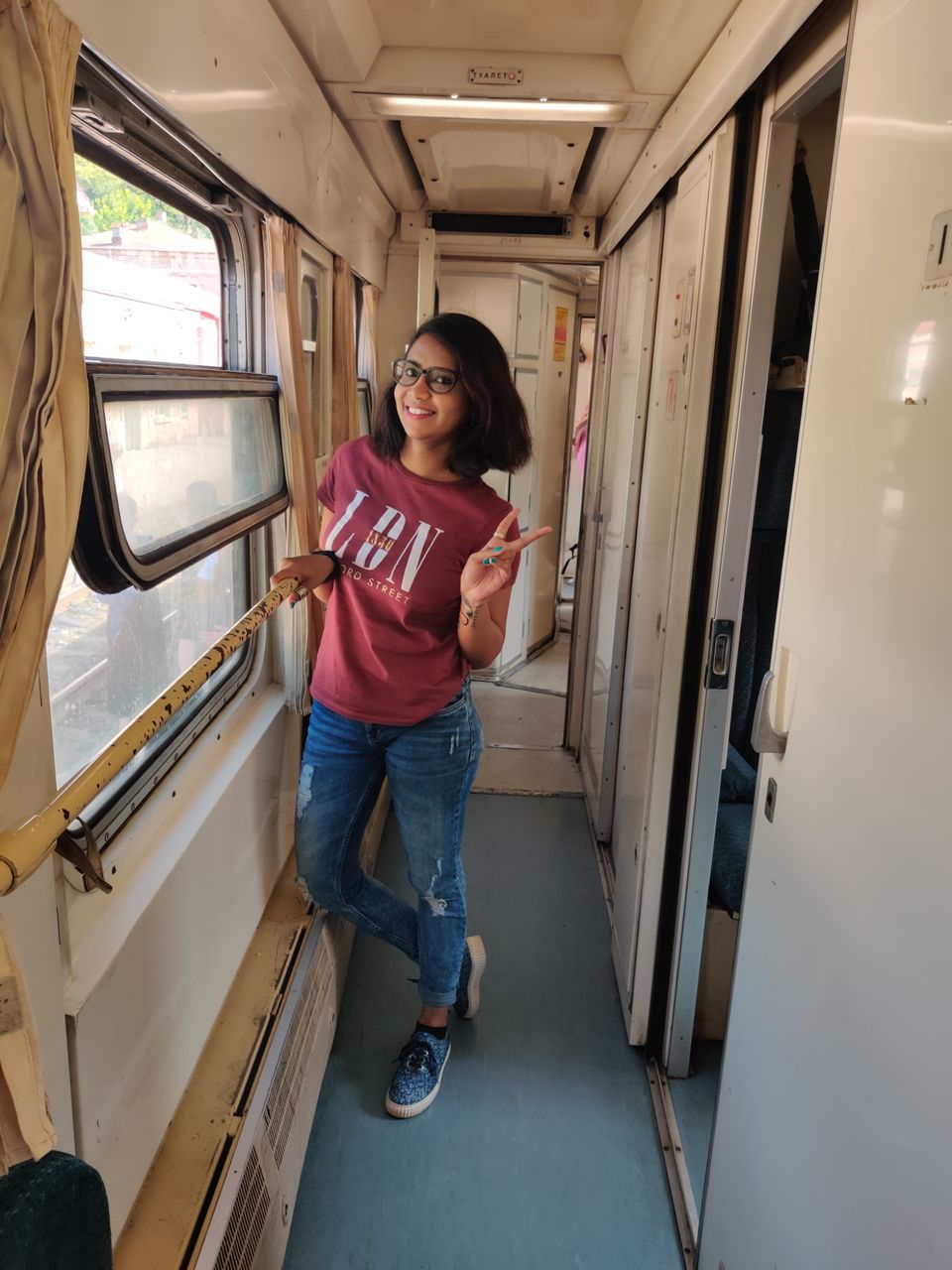 7th Day morning I started my day tour at 10am and I booked one week before my trip for Rs.1400 through TripAdvisor – https://www.tripadvisor.in/AttractionProductReview-g294194-d17403871-Canyons_and_Caves_Tour_from_Kutaisi-Georgia.html
Meeting point was at 'Budget Georgia Office Kutaisi, where they will take everyone by air-conditioned mini-van. Before we started the place tour guide reminded us that all three places entrance fees are not included, it will come around 90Lari including boat ride at Martvili waterfalls and taxi ride at Okatse Canyon. First stop was Prometheus Cave, the cave was 40meters below sea level, it was like beauty and beast. Second stop was Martvili waterfalls and took boat ride for 15min which was very scenic and beautiful. Then we walked down to see some more waterfalls in and around Martvili. Third stop was Okatse Canyon where we had to walk to 3km to reach the hanging bridge, we can take off-road taxi for 10Lari each way. But I walked down to hanging bridge but return I wasn't able to walk back due to hurt on my toe finger, So I took off-road taxi ride which was like going on Roller-coaster. You need lots of energy to walk down to hanging bridge, lots of stairs and narrow path to walk. Finally we reached Kutaisi around 8pm, was exhausted and tired.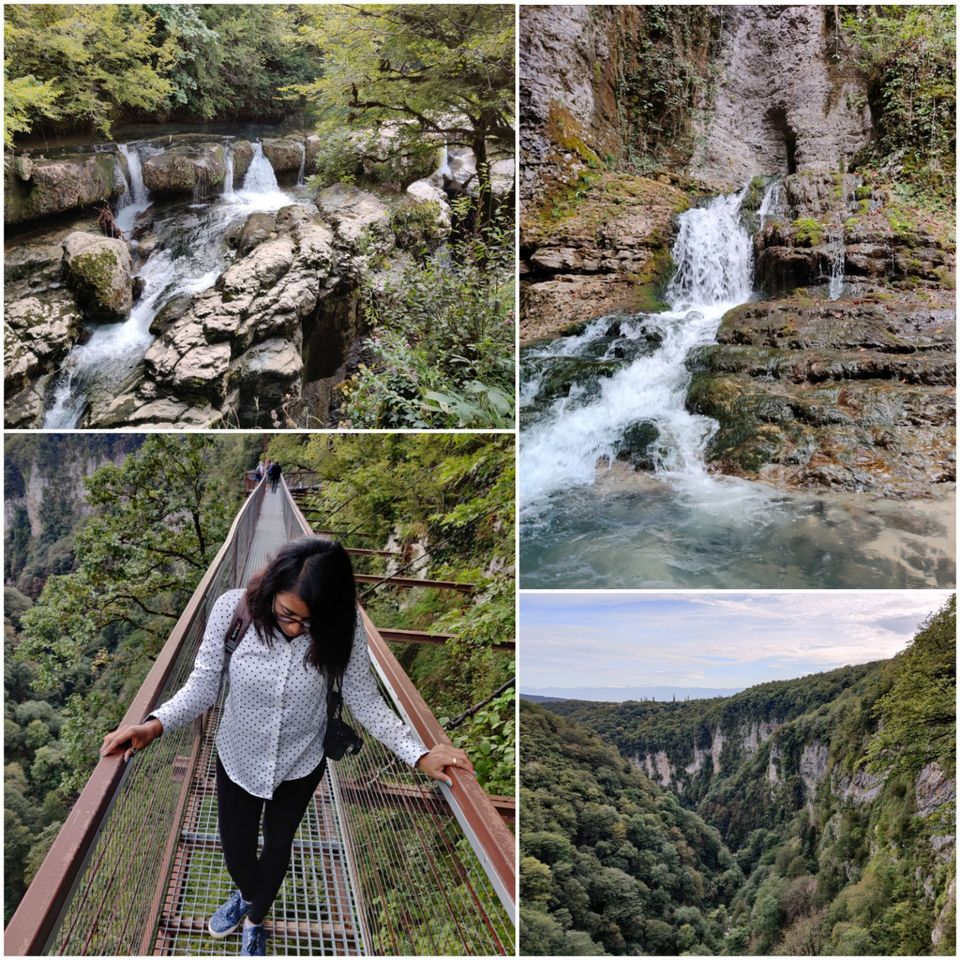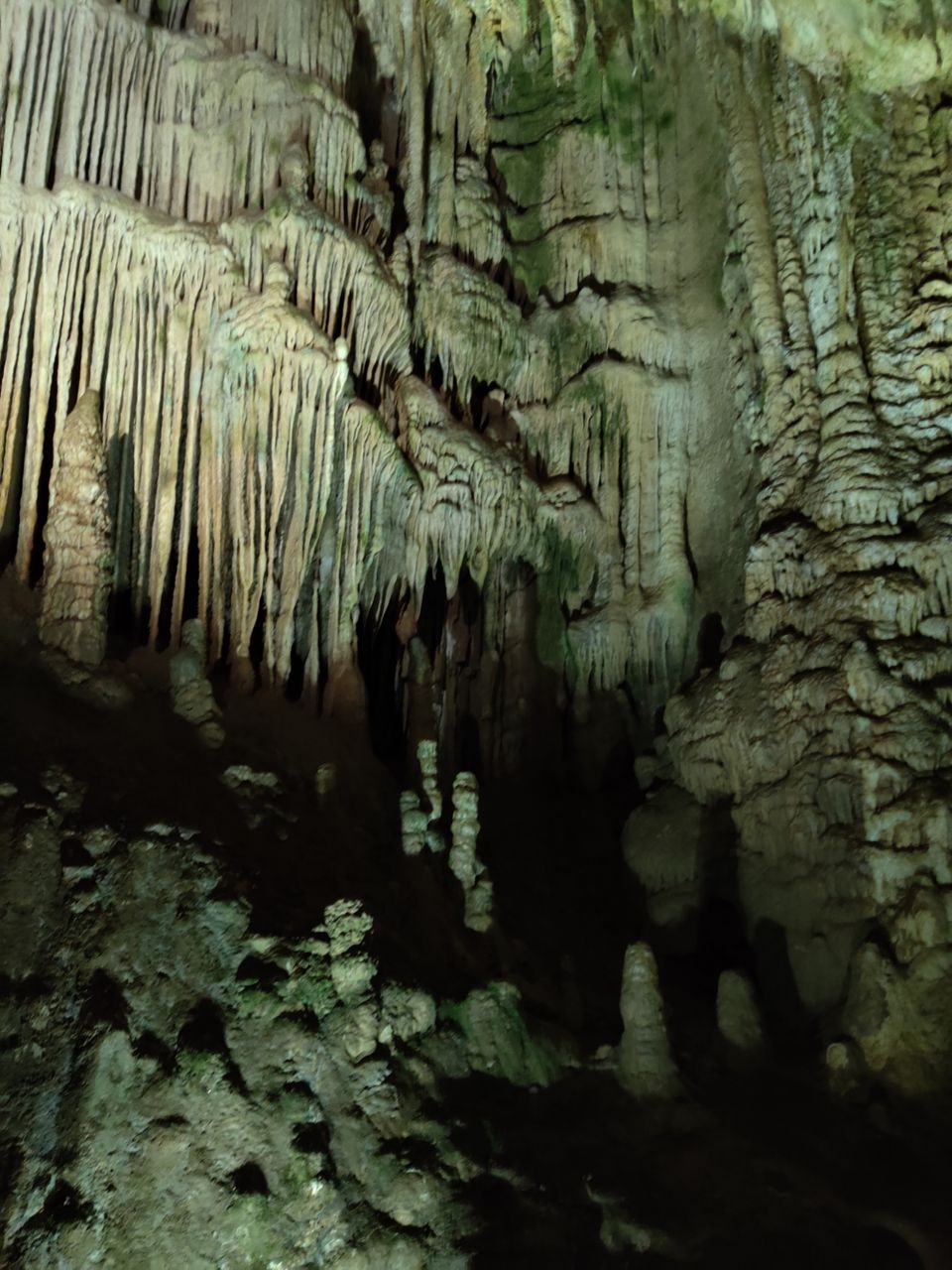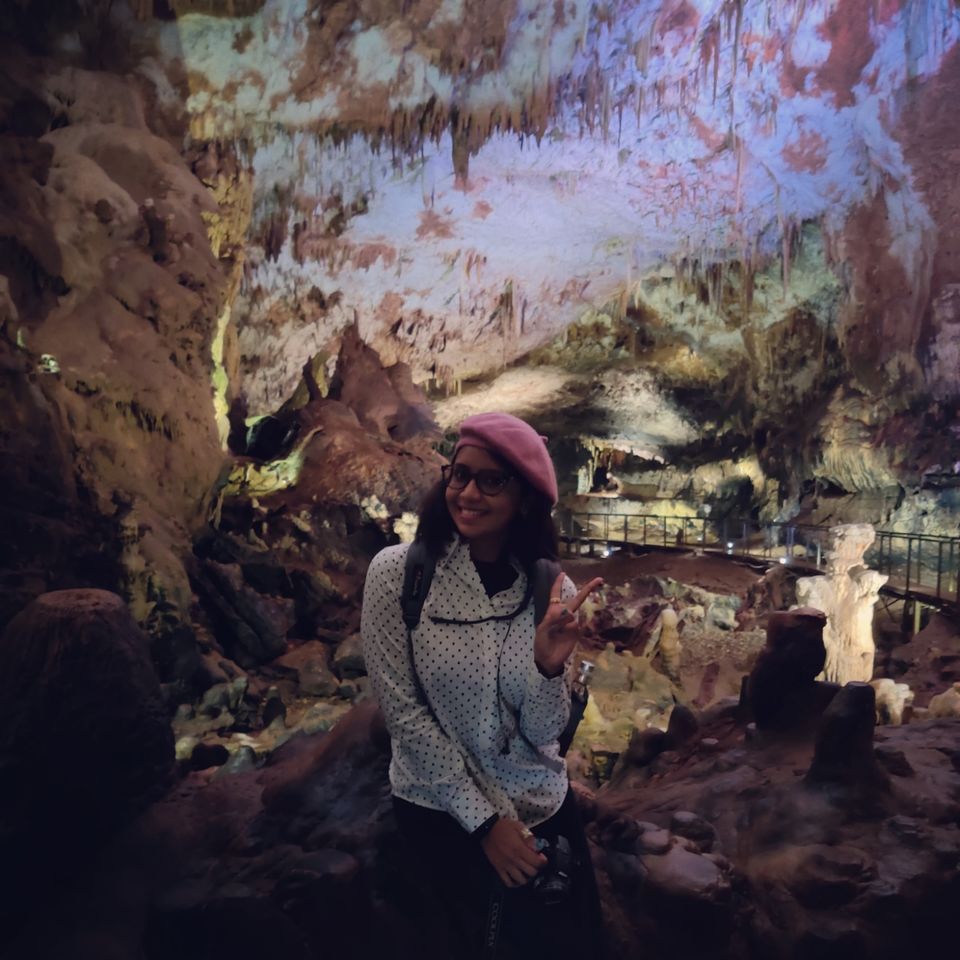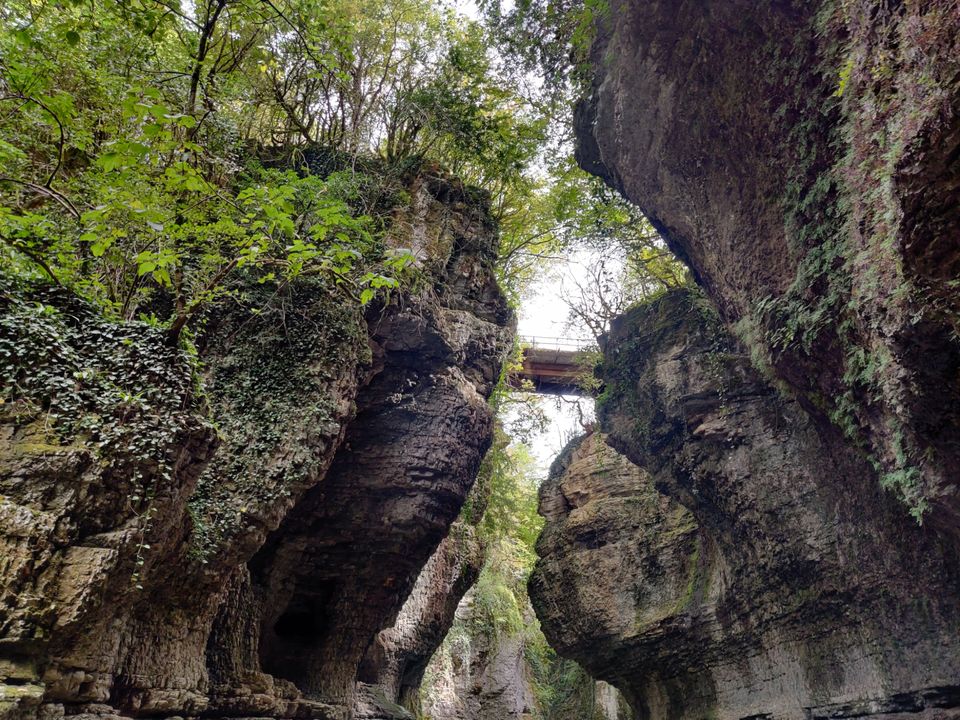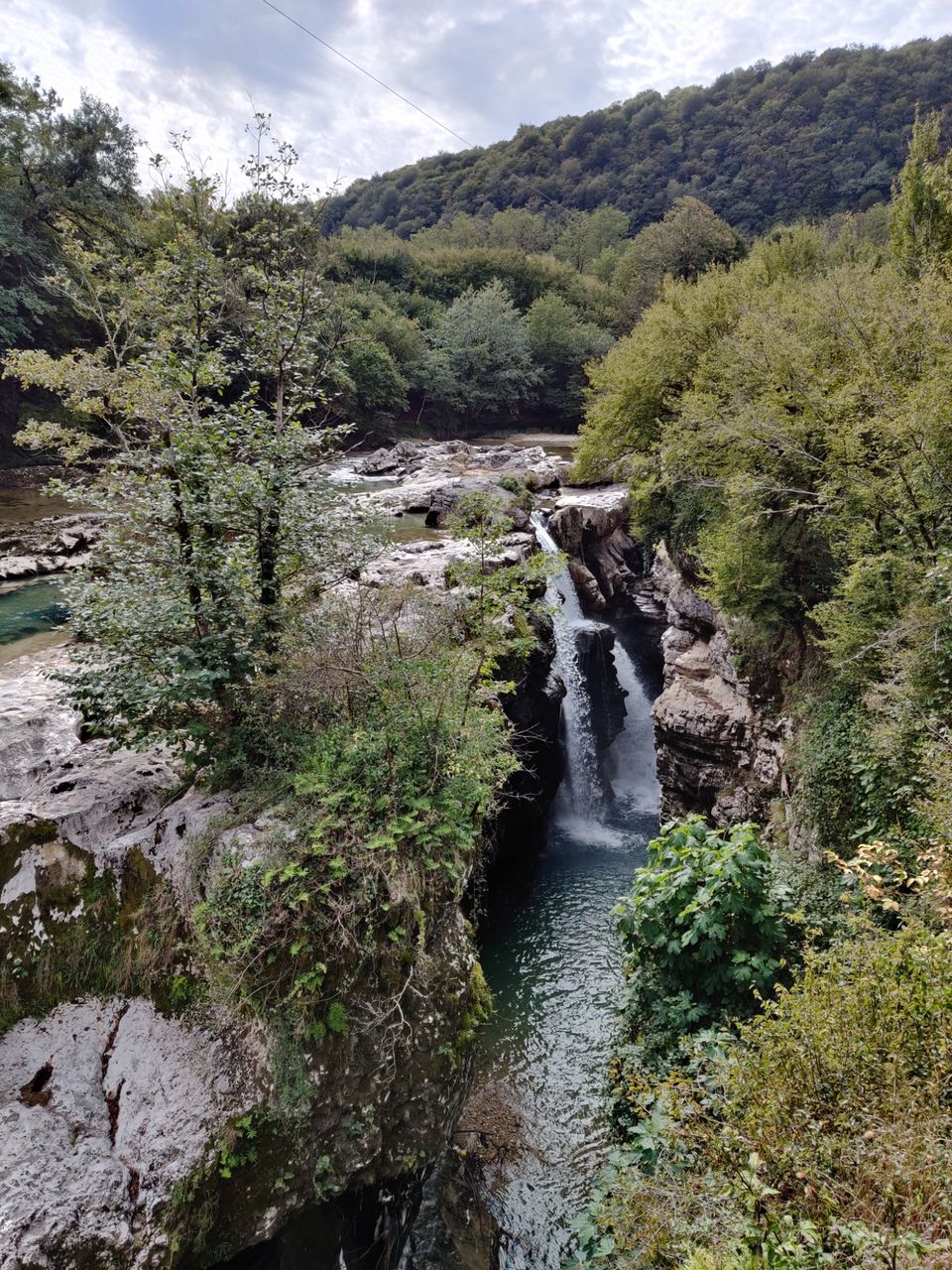 8th Day morning had awesome breakfast prepared by Georgian lady, then I took a return train from Kutaisi-I railway station to Tbilisi at 12.25pm. Reached Tbilisi around 5.30pm and I checked in Hotel Atlantis near airport booked through booking.com for a night 75Lari including breakfast. There was no restaurant or supermarket near by the hotel I stayed, so I booked my dinner through online food delivery app 'menu.ge'. You have to order minimum of 15lari along with delivery charge to book from the online food delivery app.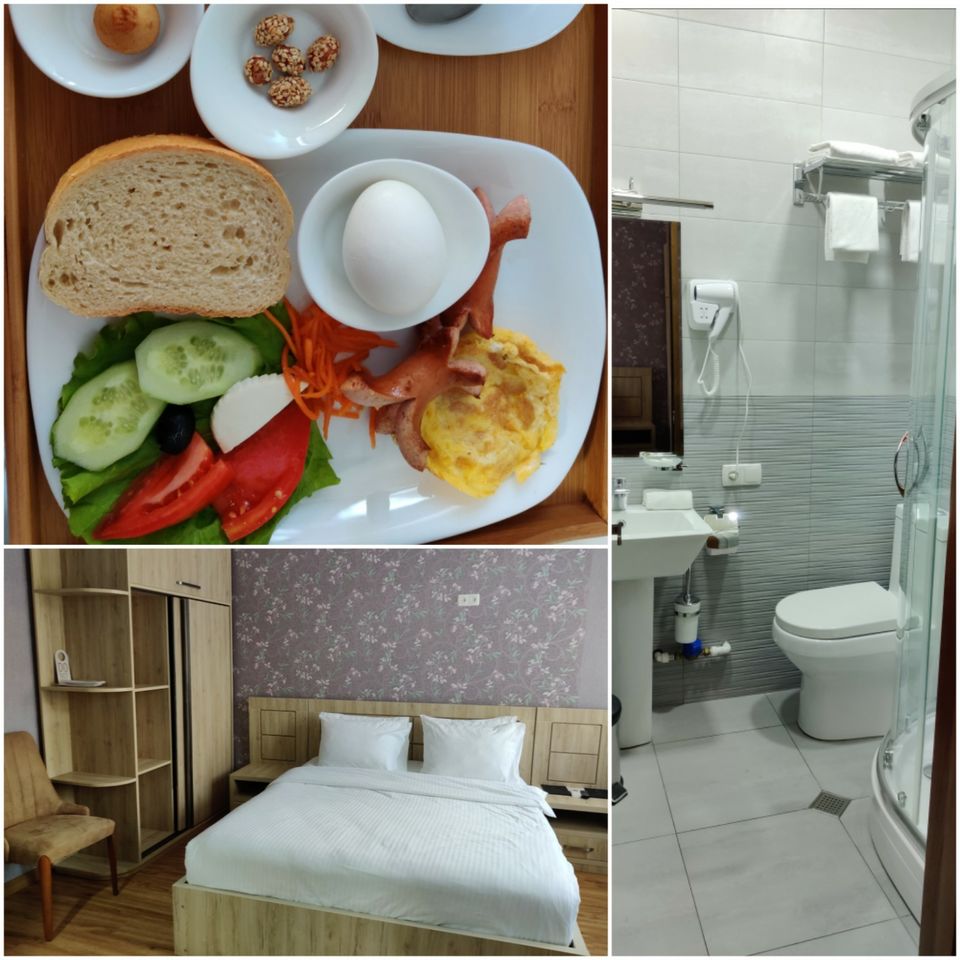 9th Day morning 11am I checked out my hotel and took taxi from the hotel taxi service to airport for 17Lari. Reached airport within 25min and I bought some chocolates from duty free shop which was little expensive but cheaper than Dubai duty free shop.
Flight Ticket – Rs.40,000
Three Hotels (8days) – Rs.16,200
Food I spent for Lunch & Dinner – Around Rs.3500
Traveling by Metro & Electric Train – Rs.600
Traveling by Taxi – Rs.1500
Sightseeing Tickets – Around Rs.7000
Extra – Rs.12000
Total – Rs.80,000/- (USD 1300)