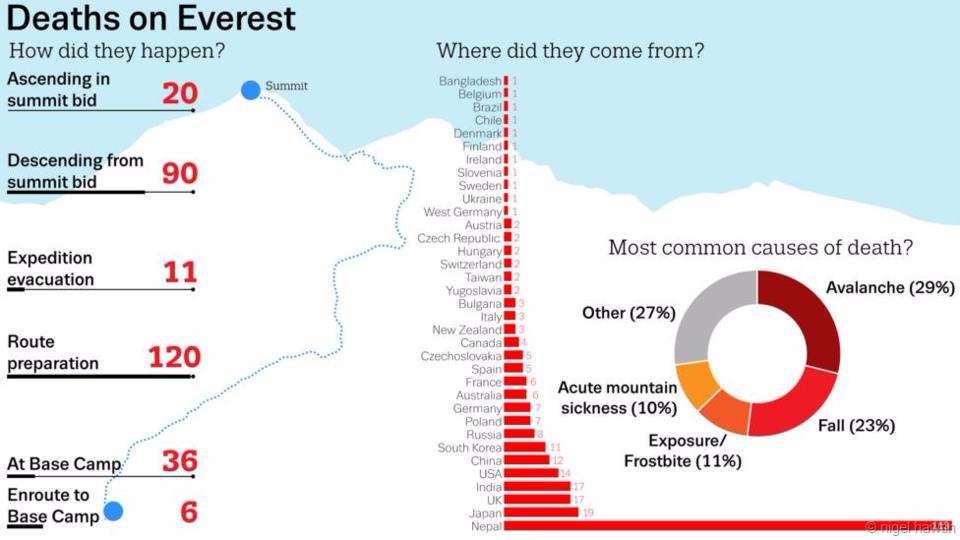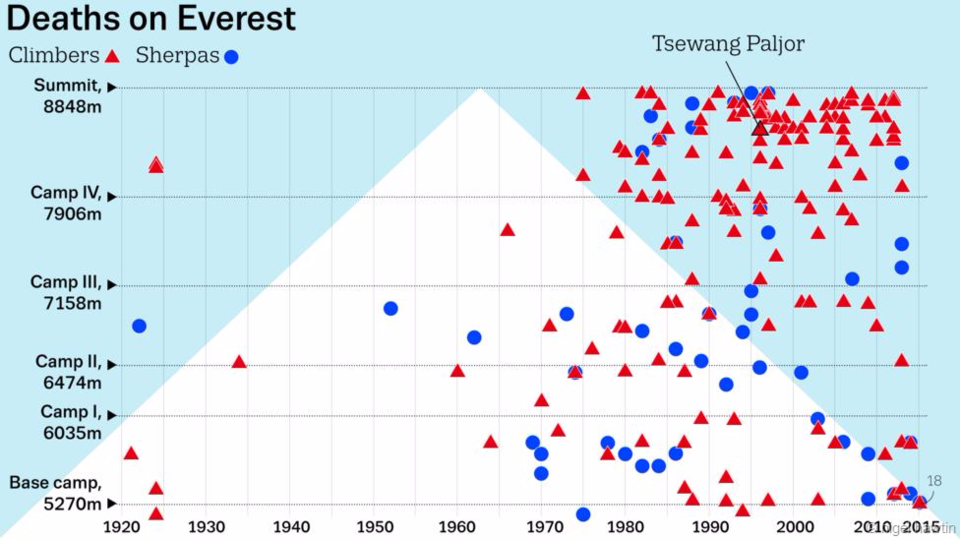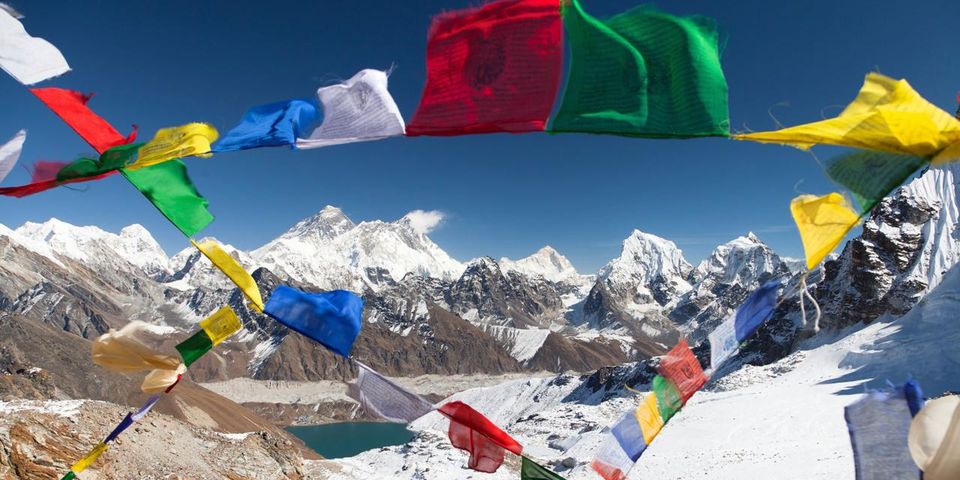 you know how many bodies remain on Mount Everest today? You don't; neither do I. But there are certainly more than 200. Climbers and Sherpas lie tucked into crevasses, buried under avalanche snow and exposed on catchment basin slopes.
Mountaineers largely view such matters as tragic but unavoidable. For the rest of us, however, the idea that a corpse could remain in plain sight for nearly 20 years can seem mind-boggling.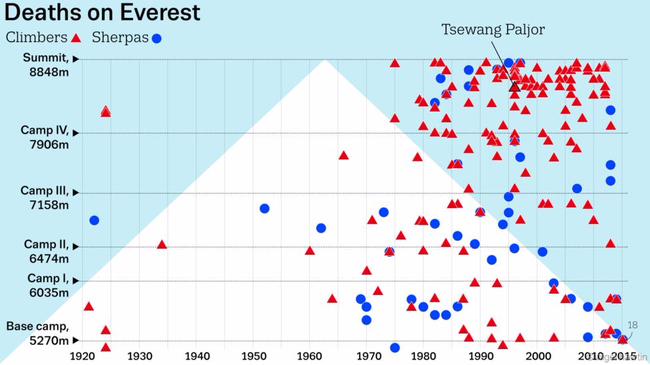 *Source: Richard Salisbury and Elizabeth Hawley, Himalaya Database. Note: In some cases, multiple deaths in one location eg in 2015 an earthquake killed 18 (Credit: Nigel Hawtin)*
(The reason Tsewang Paljor is highlighted here is because the next research is on him)
Perhaps most well-known of all are the remains of Tsewang Paljor, a young Indian climber who lost his life in the infamous 1996 blizzard. For nearly 20 years, Paljor's body – popularly known as Green Boots, for the neon footwear he was wearing when he died – has rested near the summit of Everest's north side. When snow cover is light, climbers have had to step over Paljor's extended legs on their way to and from the peak.
Before answering those questions, however, it is worth asking something more fundamental: when death is all around, why do people gamble their lives on Everest at all?
Reaching the highest point on Earth once served as a symbol of "man's desire to conquer the Universe," as British mountaineer George Mallory put it. When a reporter once asked him why he wished to climb Everest's 8,848m (29,029ft)-high peak, Mallory snapped "Because it's there!"
Everest, however, is no longer the romantic, unconquered place it once was. Since Tenzing Norgay and Edmund Hillary became the first men to stand on its summit in 1953, the mountain has been summited more than 7,000 times by more than 4,000 people, who have left a trail of garbage, human waste and bodies in their wake.
"Climbing Everest looks like a big joke today," says Captain MS Kohli a mountaineer who in 1965 led India's first successful expedition to summit Mount Everest. "It absolutely does not resemble the old days when there were adventures, challenges and exploration. It's just physically going up with the help of others."
It is a challenge, but the bigger challenge would be to climb it and not tell anybody.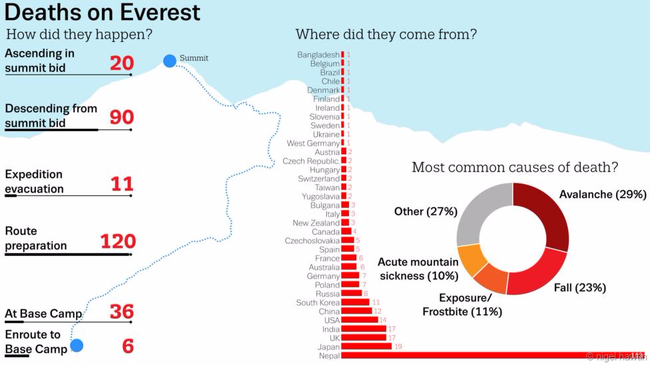 *Source: Richard Salisbury and Elizabeth Hawley, Himalaya Database (Credit: Nigel Hawtin)*
"My view has changed on this fairly dramatically. If you don't have anyone who cares about you or is dependent on you, if you have no friends or colleagues, and if you're willing to put a single round in the chamber of a revolver and put it in your mouth and pull the trigger, then yeah, it's a pretty good idea to climb Everest." says Seaborn Beck Weathers, a pathologist in Dallas who lost his nose and parts of his hands and feet – and very nearly his life – on Everest in 1996.
**story complied by Rachel Nuwer**