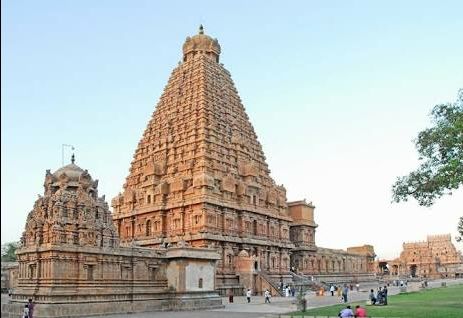 The big temple in Thanjavur is one one the under rated architectural marvel in India !! Tanjavur is approximately 50 kms from Trichy which has a airport !!! While you enter into Thanjavur you can see the gopuram of the Big temple welcoming you to Thanjavur majestically!!!
There is a big parking lot just opposite to the temple !! When you enter the temple's first gopura you will feel that you are entering a piece of history !!! You will definitely fell in love with the Red coloured theme that the builder used throughout the temple !!!!
You need to go through two gopuras until you see a magnificent site of the BIG TEMPLE !! You will be wondering how did they build such a miracle a 1000 years ago !!! The entire gopura is made of granite and the sculpturs are excellent !! I cannot describe the feel as you have to experience it !!!
There is lush green garden around the temple where one can sit and relax watching the gopura !! The basement of the temple is so high as it gives a majestic look to the entire temple !! After visiting the Shiva Linga inside the temple which is as huge as the temple you can also visit various sanithis devoted for various Gods !!! Also dont miss the Big Nandhi !!!