Murudeshwara. One place that I wanted to visit since past few years and the sole reason behind it was the second tallest statue of Shiva located on its beach.
So, to continue by own tradition to spent my birthday at some new place that I always wanted to explore, I planned to visit Murudeshwara. As usual, I called my cousin at 11:30 AM and asked him if he will join, and all he asked was what train we will be catching. He must have got used to my absurd habit of dropping sudden plans on him.
Three and half hours later, we were at Thane station waiting for Mumbai - Mangalore Matsyagandha express with our sacks on our back and thoughts about how long we will be standing in train before we can rest our butt for some time. Luckily, three hours into the journey, a group of people got down at Mangaon and we got a place to seat. Rest of the journey was completed comfortably (with our nomad standards). We got down at Murudeshwara Road at around 4AM in morning only to see couple of autos waiting outside railway station. This was my first time in an of the four southern states of India and I was really excited and worried about it at the same it. We took an auto from Station to Town and were planning to spend some time outside temple before the doors open. But auto driver suggested us a hotel nearby temple, so we planned to go for it. Place was average and we got the rest needed before starting our day.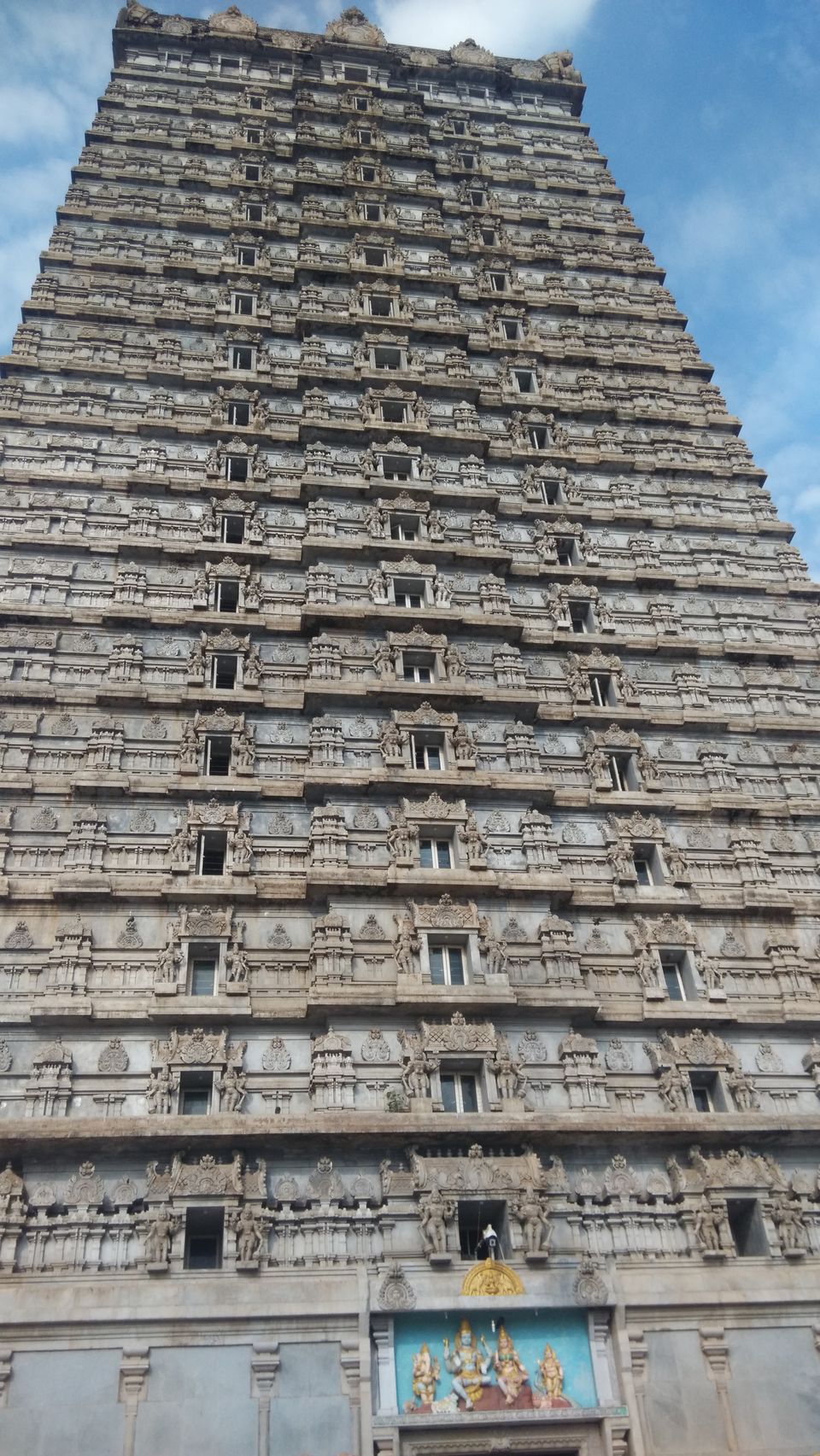 Next day morning, we got up and rushed to Temple to avoid rush, as it was Sunday. As expected, there was a queue of buses on the road leading to temple. Few meters away from the temple, one can see the statue of Shiva behind the murudeshwara temple. We reached the main gate, and stood aw stuck looking at tall Raja Gopura standing almost 20 floors high. Crossing the crowd waiting to get into elevators of Raj Gopura, we reached temple. Temple has typical South Indian architecture with elegant carving on its shikhara. Standing outside the entrance of main temple is an iron(?) rod. Warm sea breeze from Arabian Sea was making it difficult for us to stand outside temple. Inside temple complex is a Murudeshwara(Shiva) temple at center and there are other temples around it. We took our time doing pooja and then came out to finally see the thing we went there for. But after trying to find a road from temple complex to Shiva statue for around 15 mins, we finally understood that we can only see the statue from there and to actually visit it, we had to come out of temple complex. On our way to Statue, we did breakfast in a restaurant which is build over sea shore on poles in water. Food was average in restaurant but view was good.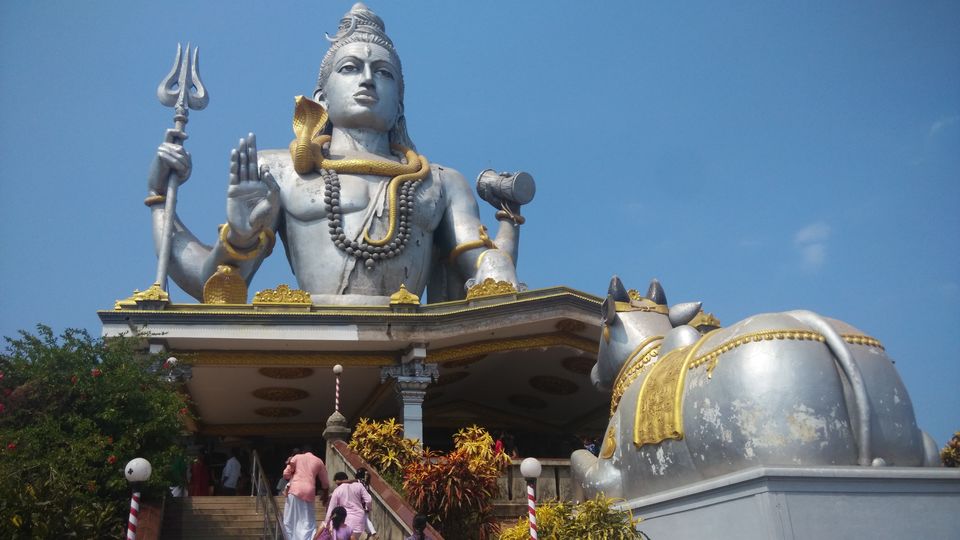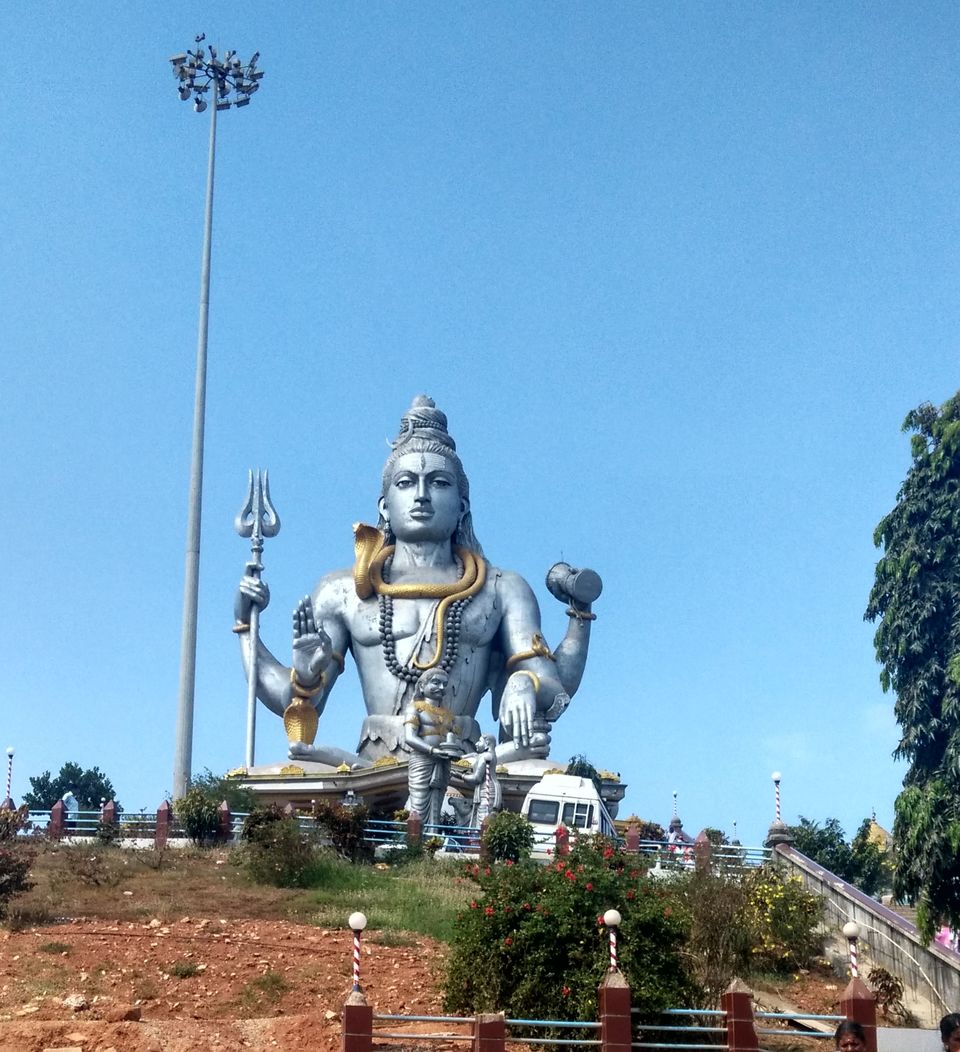 After having food, we went to see the statue. Standing below it, one can understand how huge it is. It is made very elegantly even after being so huge. Under the statue, there is a cave which tells us the story of Murudeshwara and Gokarna with statues of Ravana. There is another temple in Statue complex which is dedicated to Lord Shani. Seating behind that temple and looking at sea, one can find the peace in the noise of waves hitting rocks. There is a garden next to Shani temple with few more smaller statues. From there, we went back to hotel, to take some rest and planned to get back to temple to visit Raj Gopura at around 12.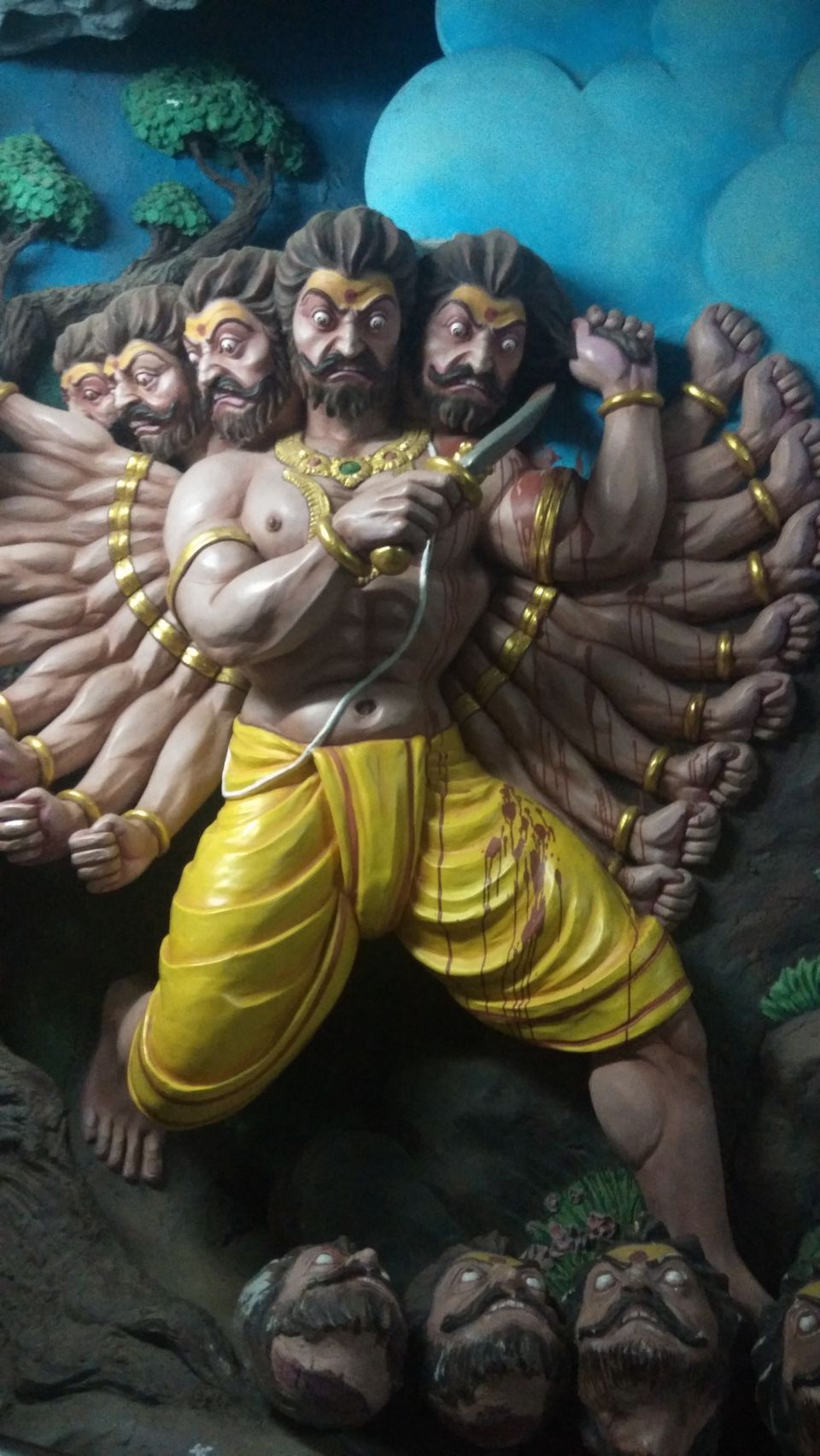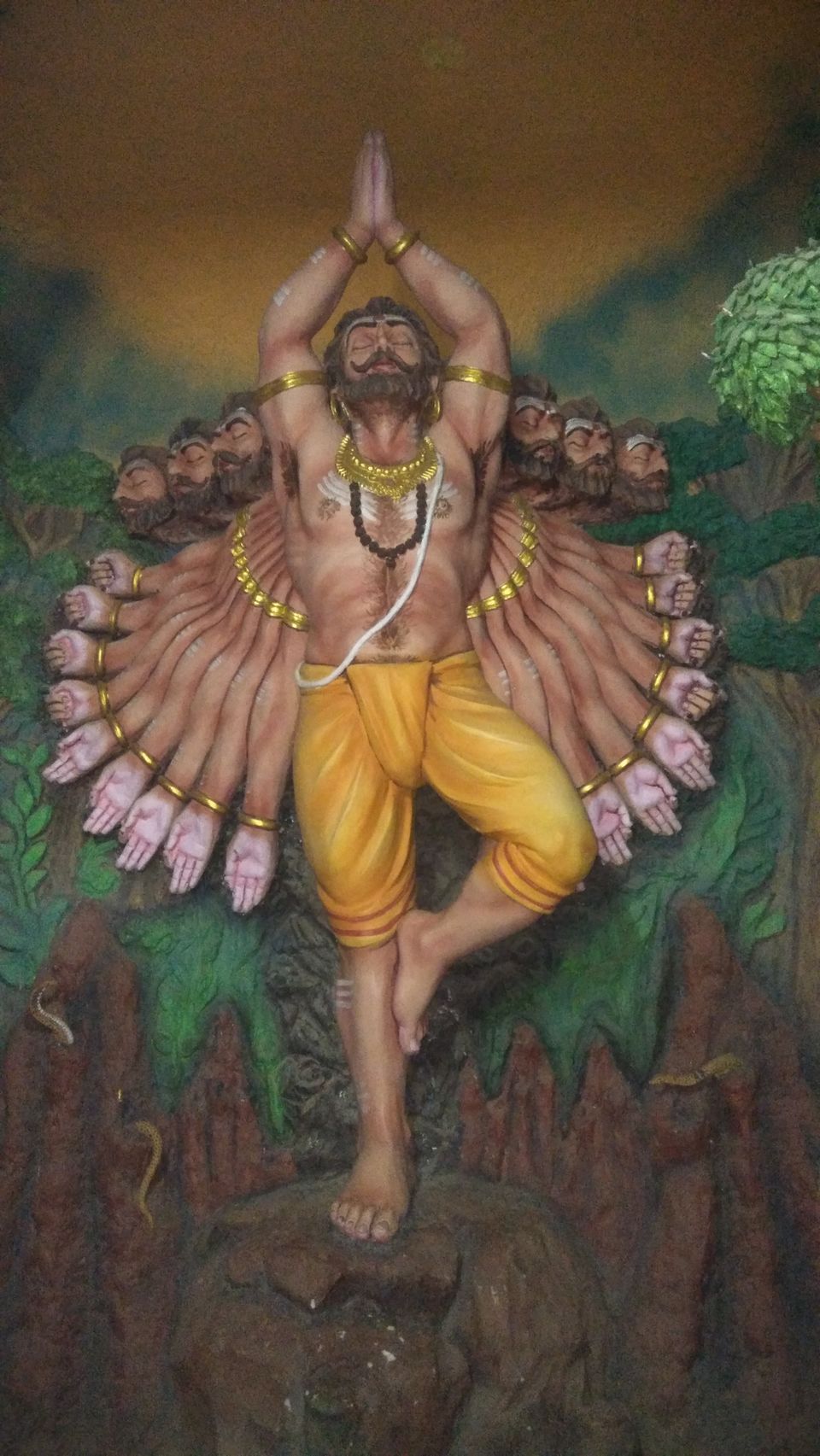 Later in day, after taking some rest, we checked out of the hotel and came back to temple complex to see Raj Gopura. We bought tickets and waited in queue to get into one of two elevators to go upstairs. Reaching the top, there are four windows on top floor. One of them looks at Shiva statue. Other two gives clear view of beach on either sides of temple. while fourth one shows you Murudeshwara town. I have never seen beach from such heights and was quite fascinated looking at sea from there. People were looking like ants moving around beach. After skipping two elevators to go downstairs, we finally decided to go. Coming back to town, we tried to look for some good restaurants there, but couldn't find any. Finally we settled for one where we got chicken gravy put jeera rice when we ordered chicken fried rice. After we had food, we said good bye to town and headed to railway station. There is good big arch on entrance of town off the Mumbai-Trivendrum national highway. We stopped auto for some time to click a picture of arch and then went to station. Train was apparently 20 minutes late, so we decided to roam around the station for time. We were pretty sure that train will be crowded but luckily got one seat on upper birth at Murudeshwara and soon at Gokarna, we got one more seat. Journey on our way back seemed quick, may be because we were sleepy and little tired of short and fast trip.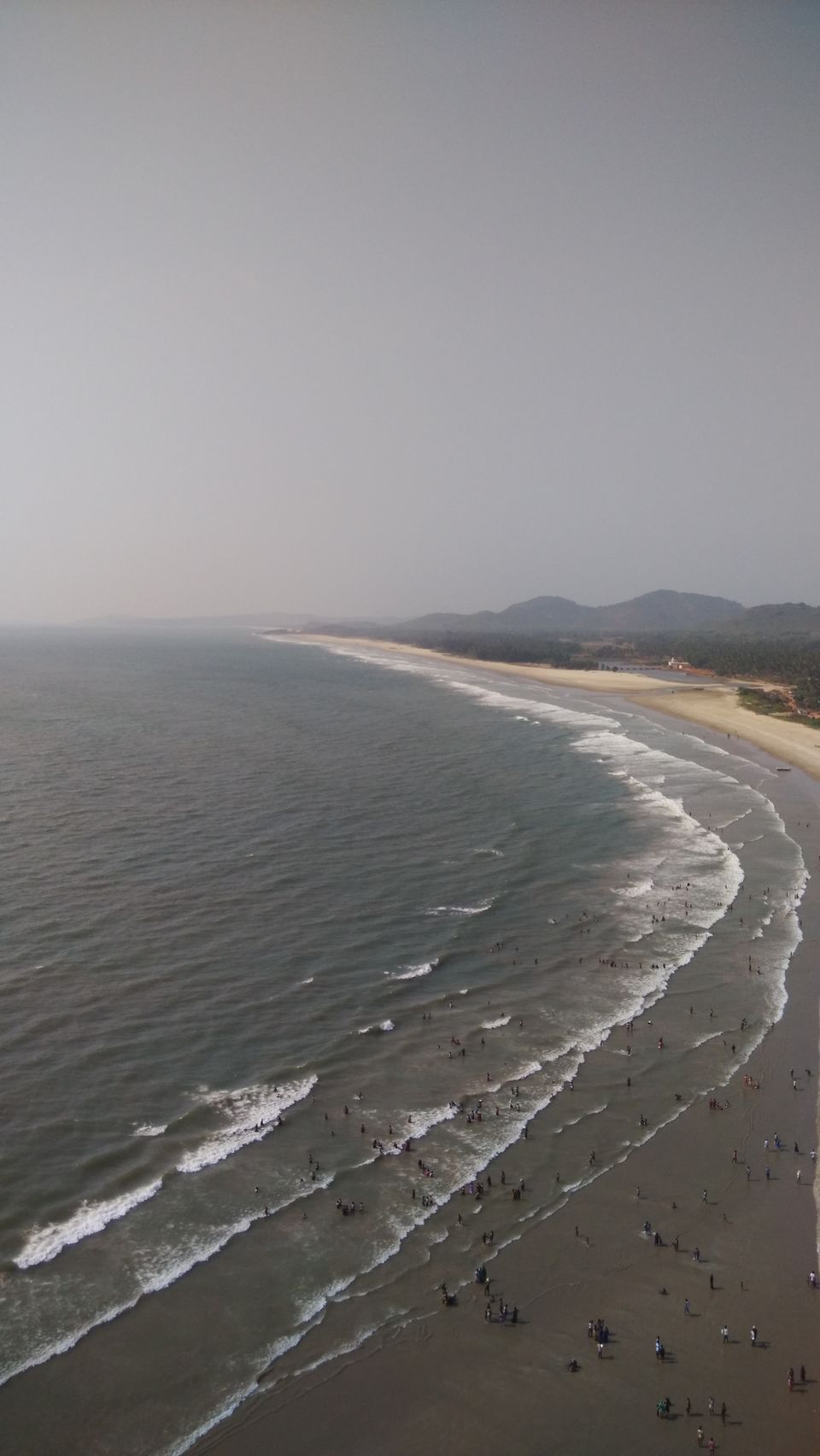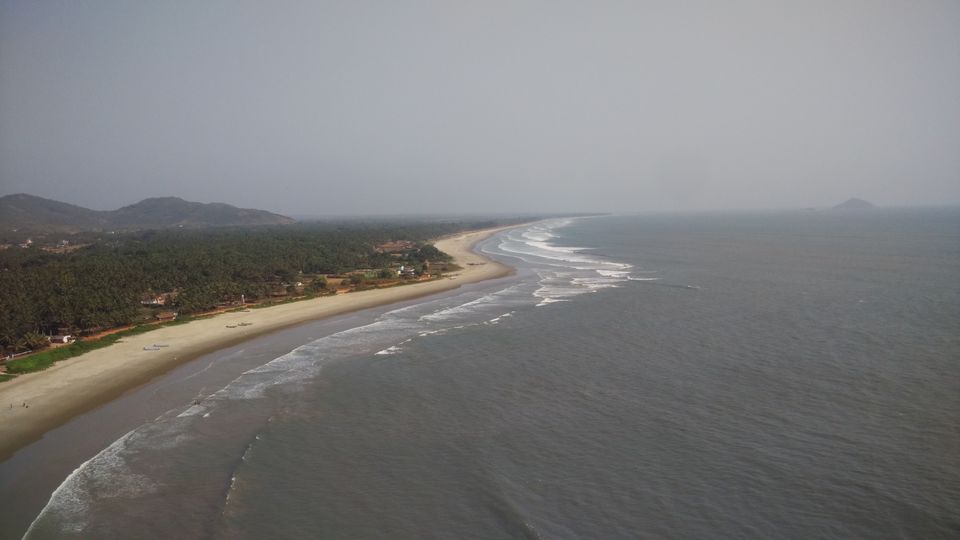 But we were happy at end of the day, for ticking one location off our list. For finally entering South India and starting to explore it. It seemed good to me. I enjoyed it thoroughly. Its a good and short weekend trip for people on west coast of India and if planned well, can be comfortable as well. One can also visit Gokarna from here which is famous of its temples and beaches.