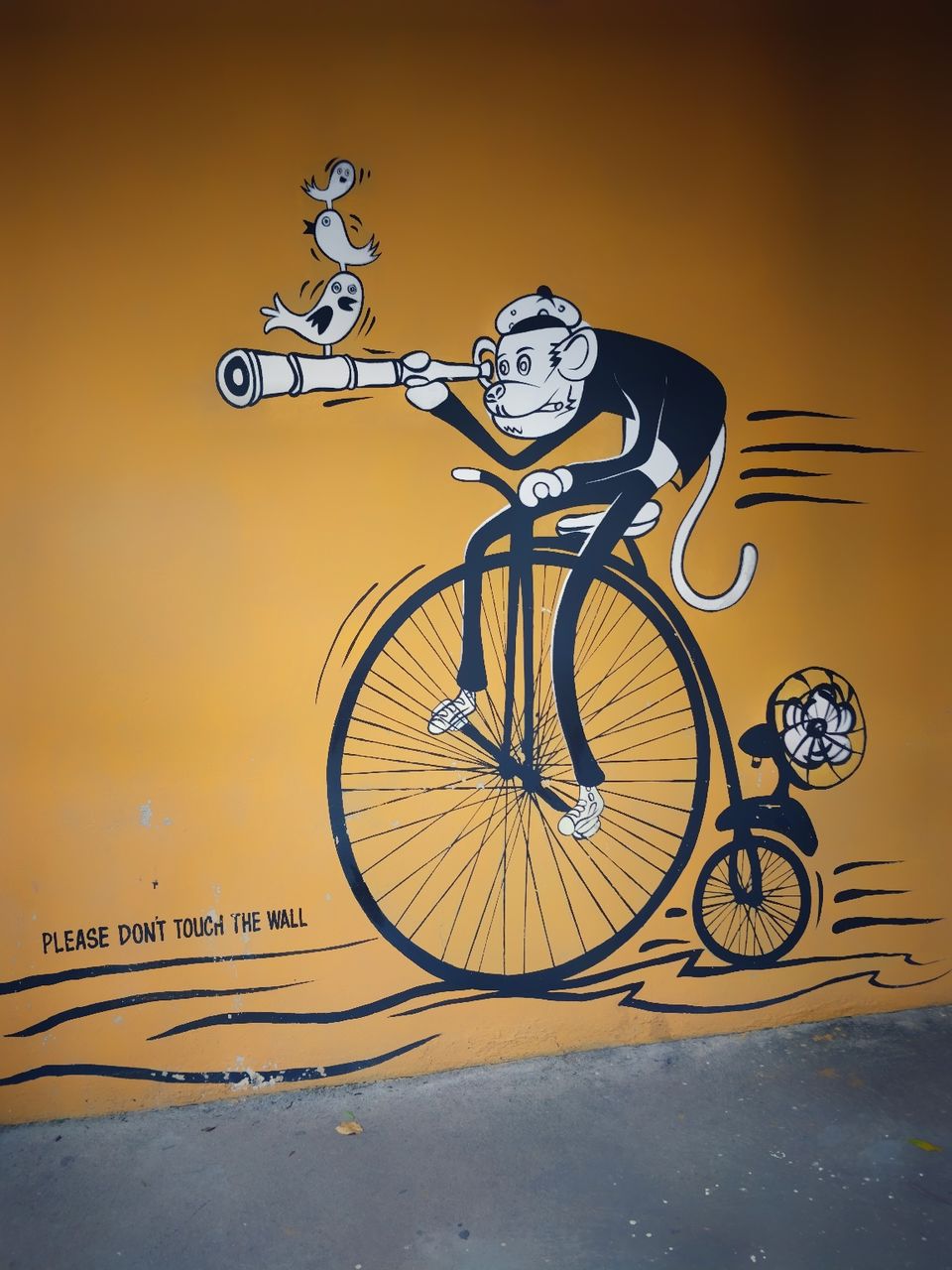 Arriving from Chennai to Pondicherry takes appx. 3 hours. We arrived at 9.30 am and checked into our heritage hotel called Esparan Heritage in the city centre.
After relaxing for a while we went for lunch at the nearby Suruguru restaurant.
Very authentic and tasty vegetarian food. We had Ghee Roast, Thalava wada, Suruguru thali (south indian thali).
From thereon hired a two wheeler (₹350 for a day -12 hrs)
Visiting white town/french town is the next thing we did. The area is full of French colonial buildings. Roads carry French names and there are many french schools and institutes in this area.
If you've been to Europe in France or Italy specifically, it won't interest you much to see the architecture. However, it's a good place to just relax and take it easy life. Hiring a bicycle(₹60 per day) is the best to just go around.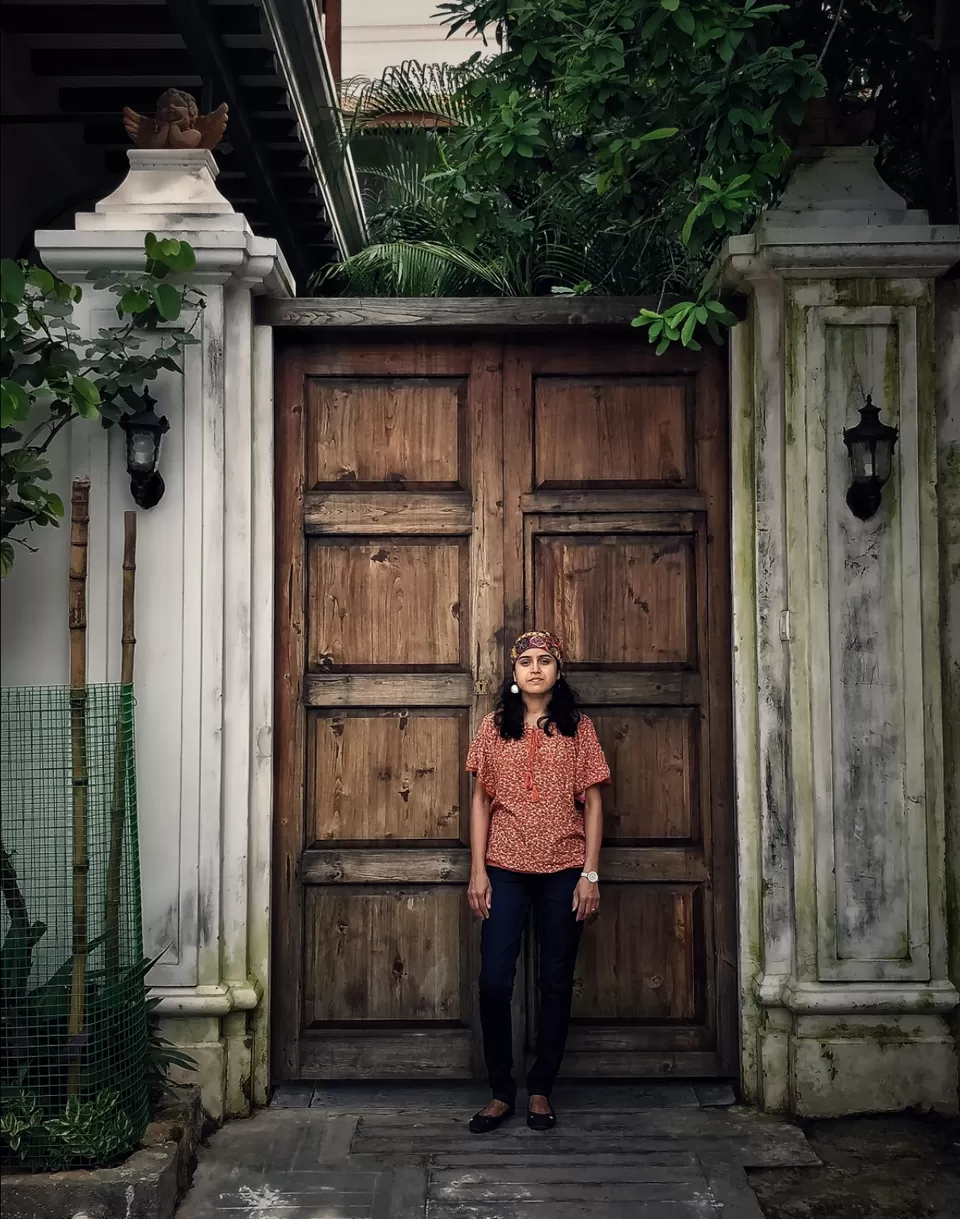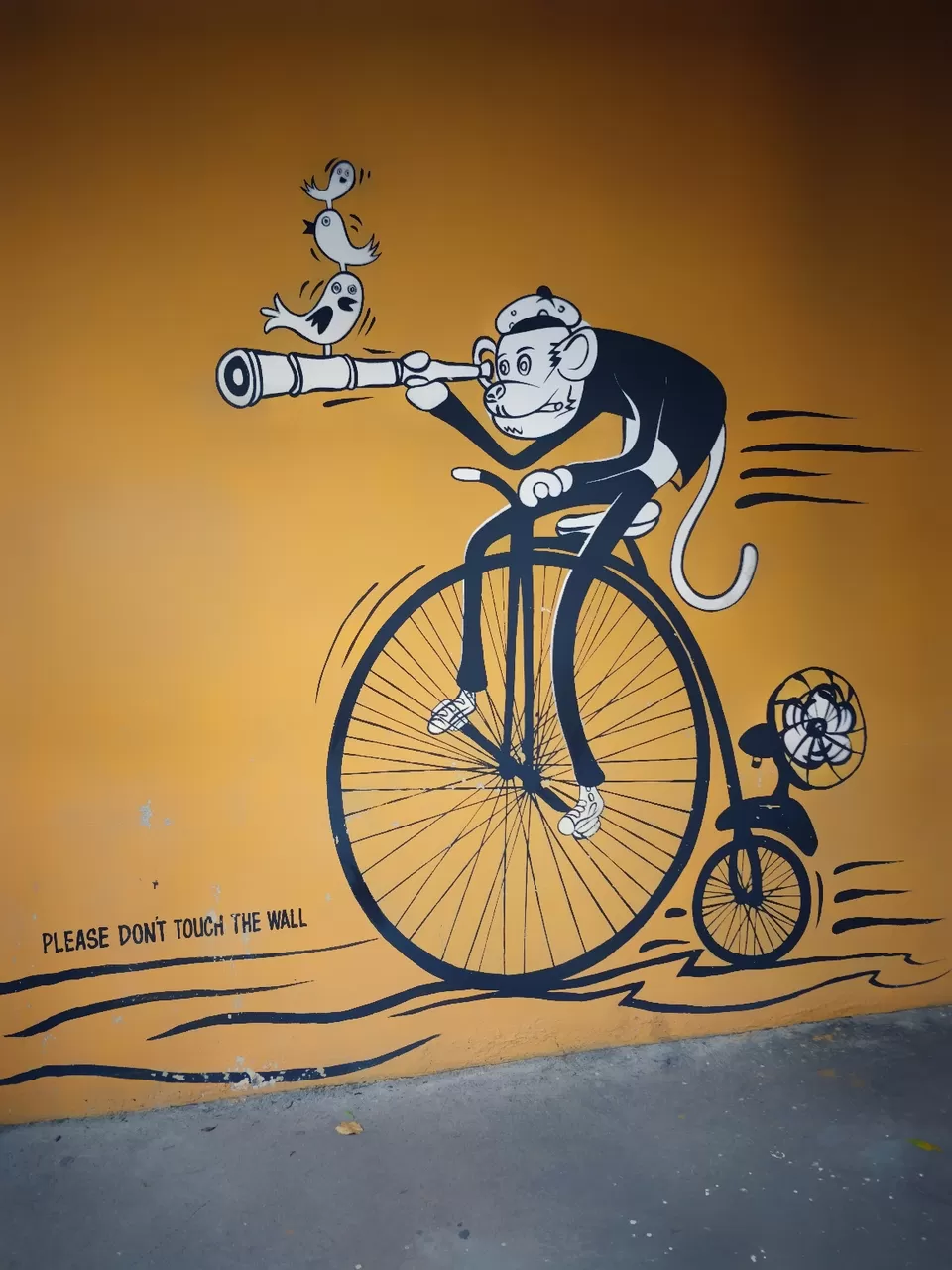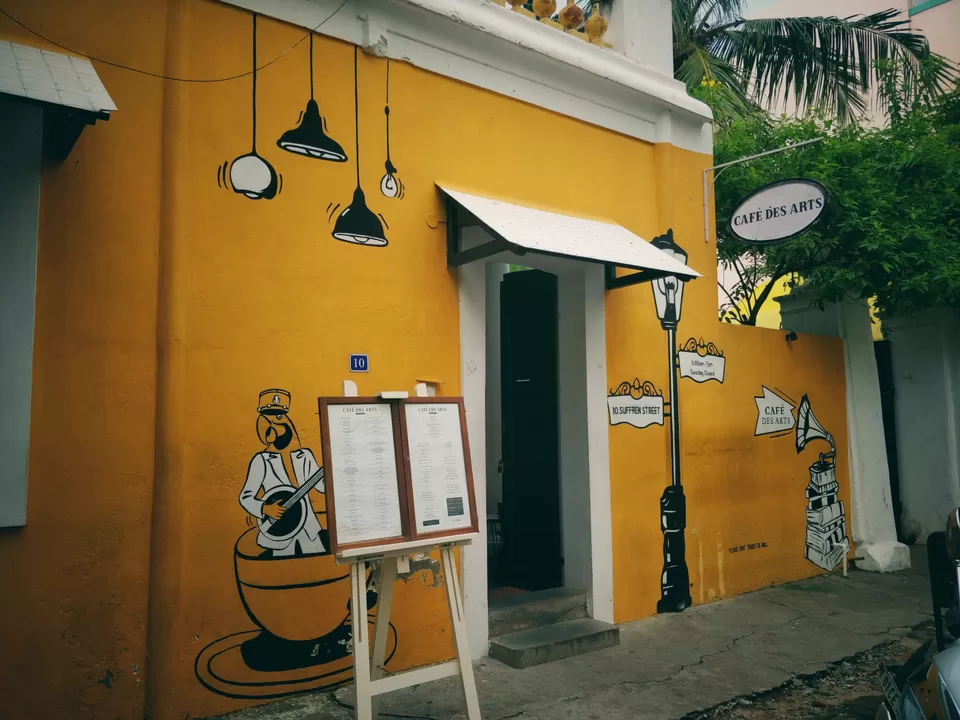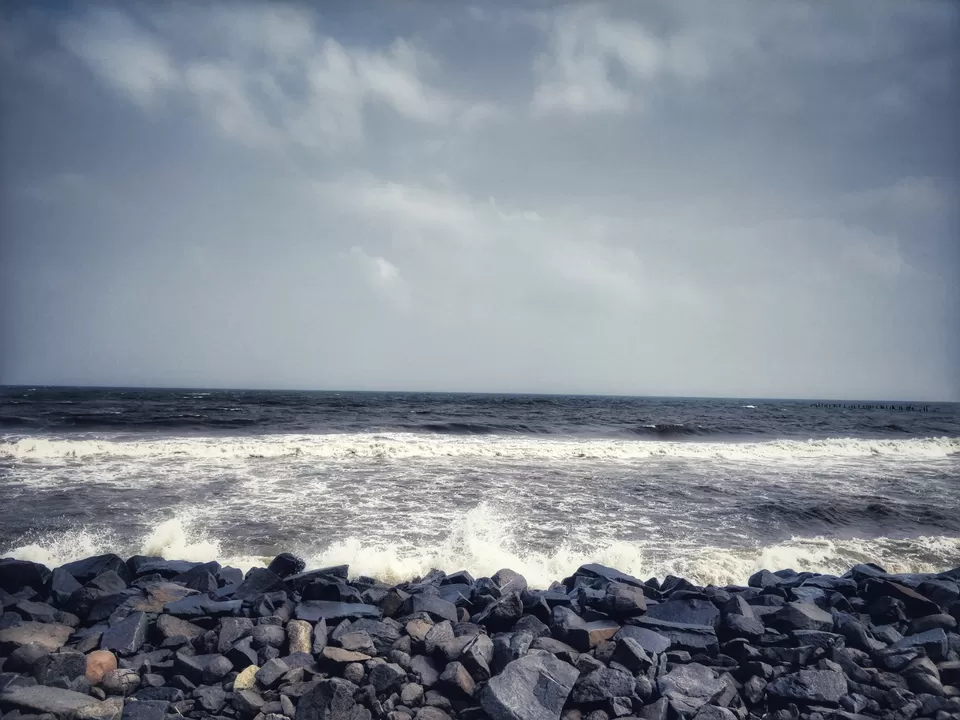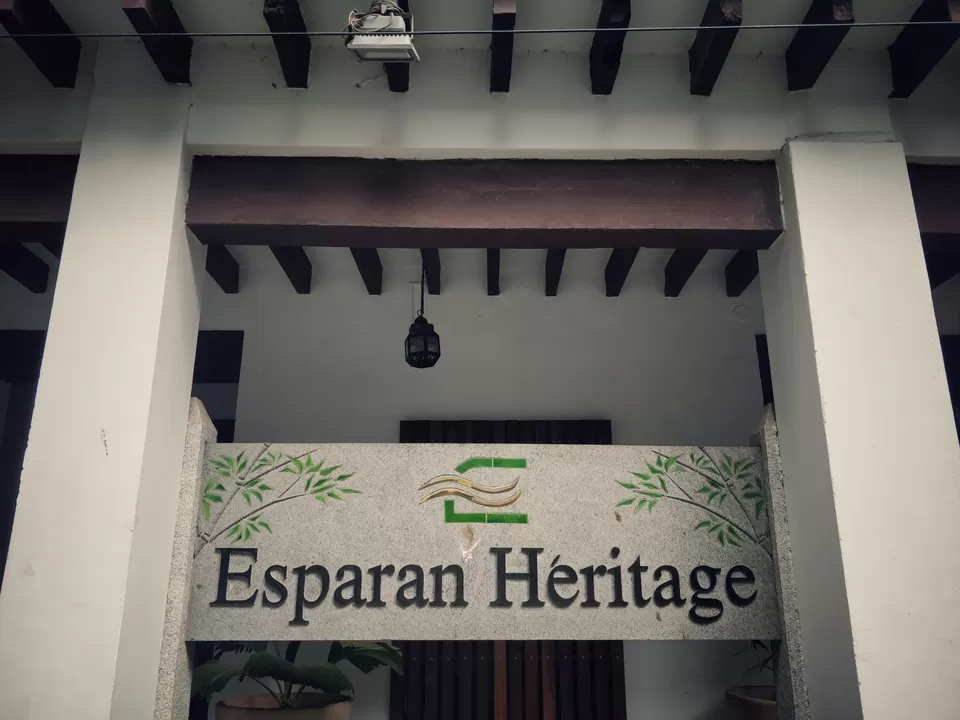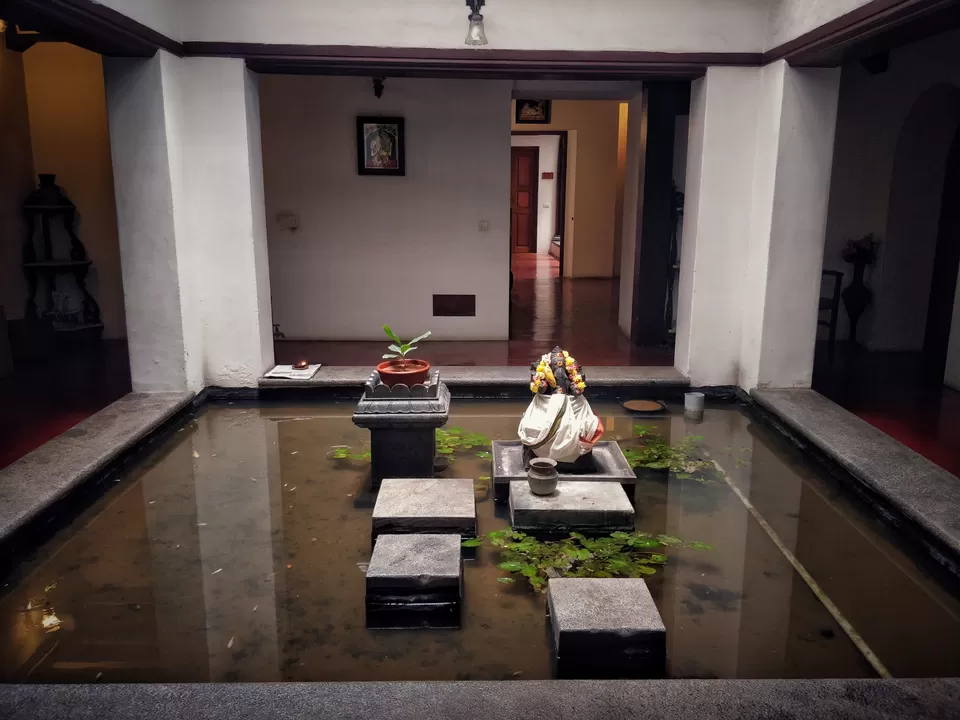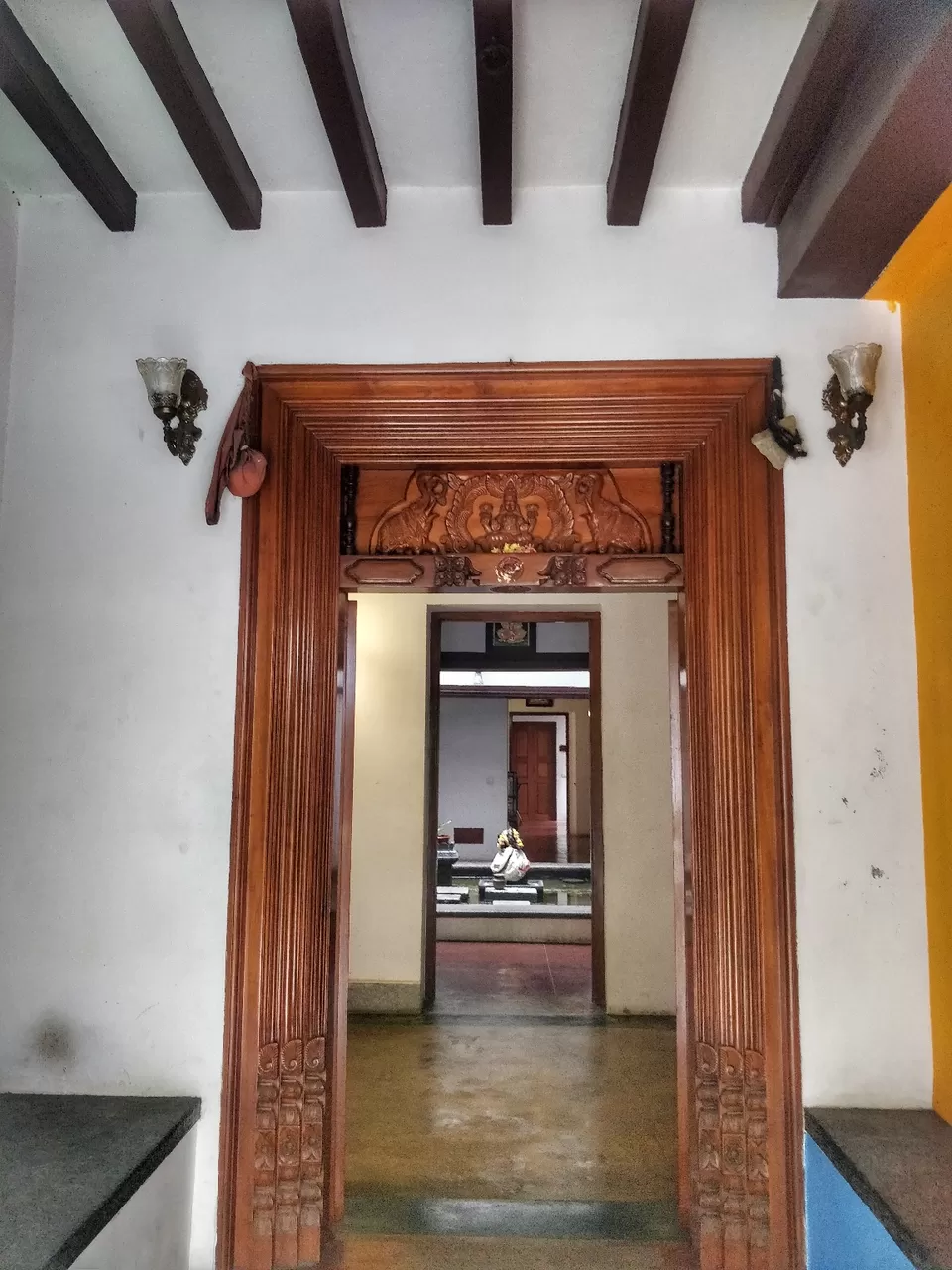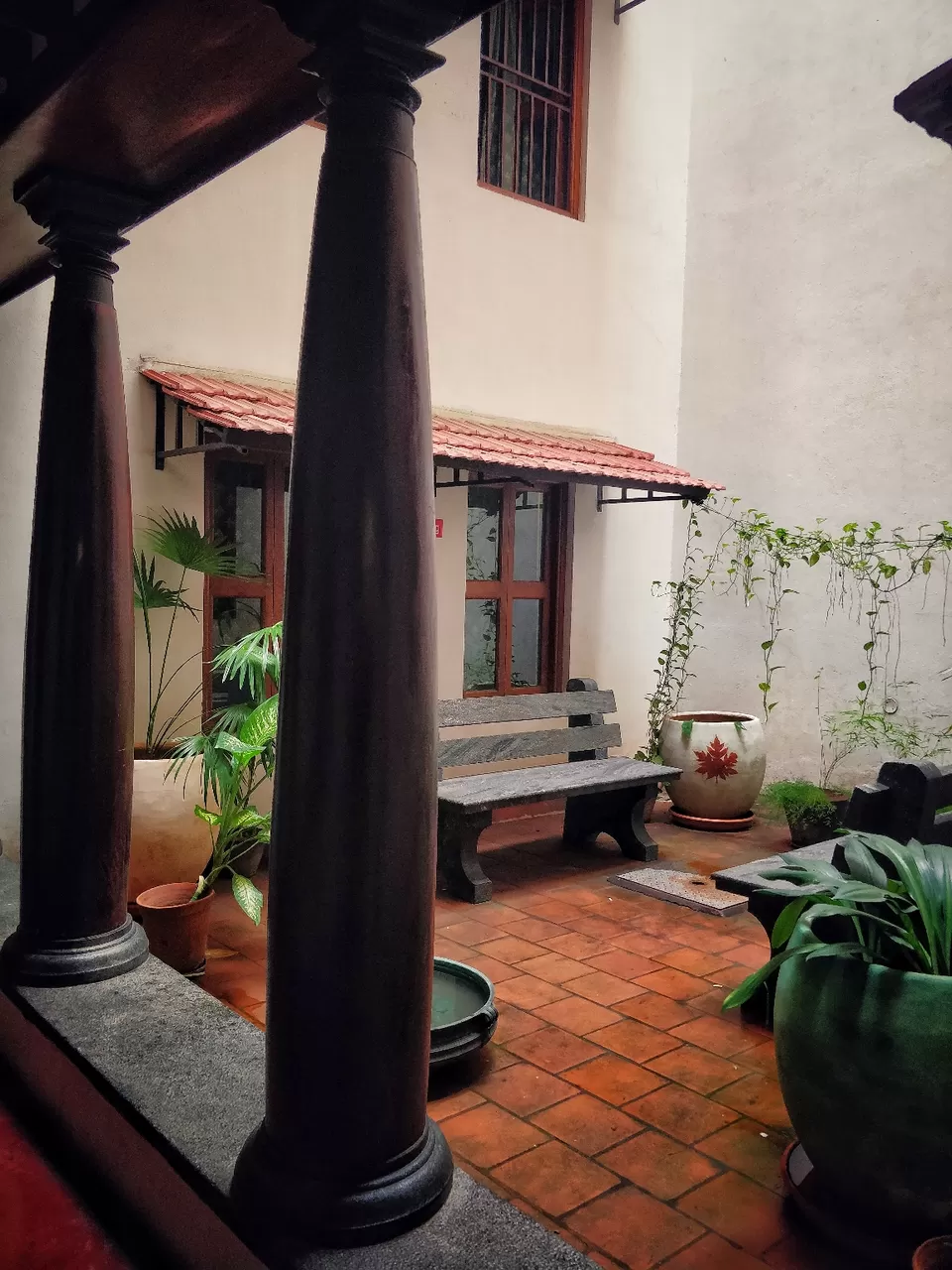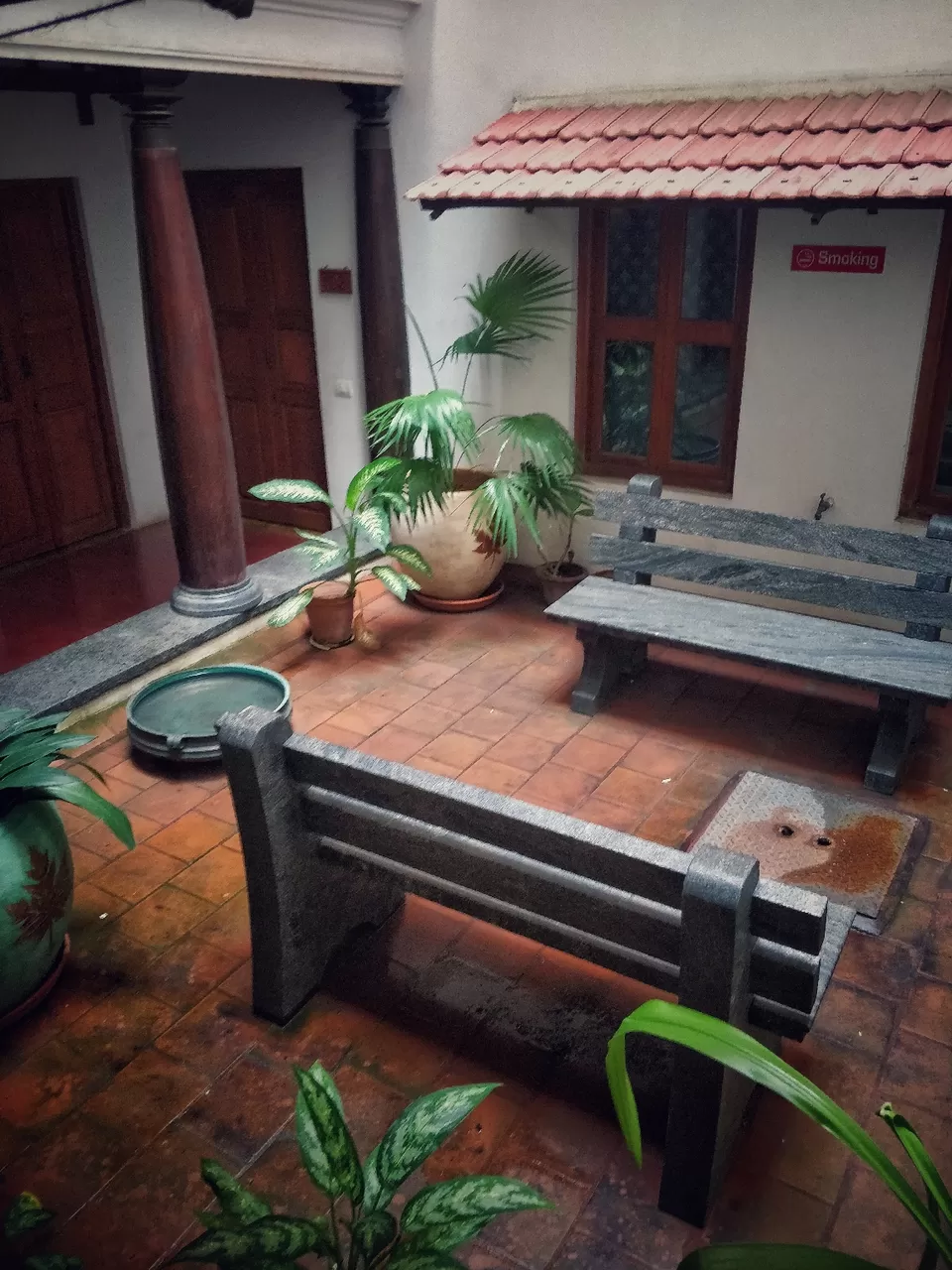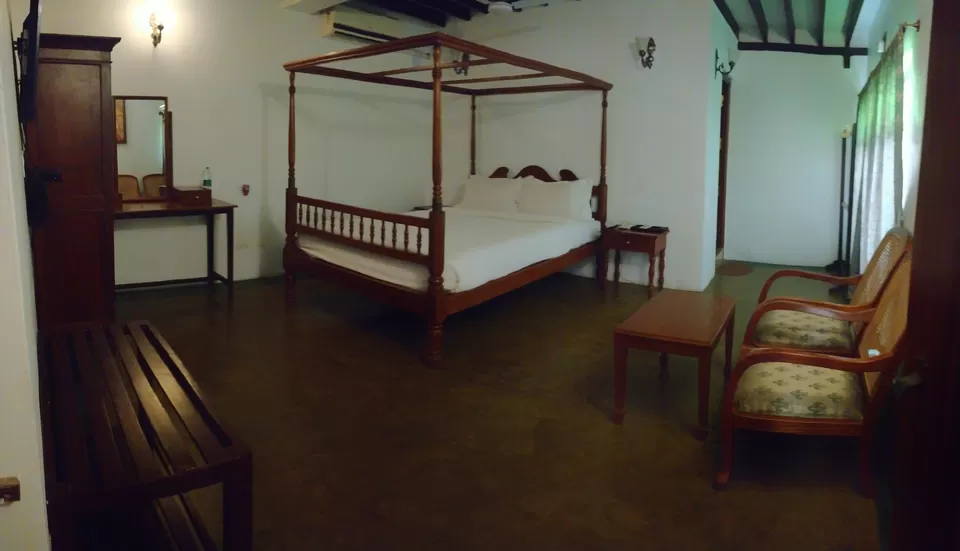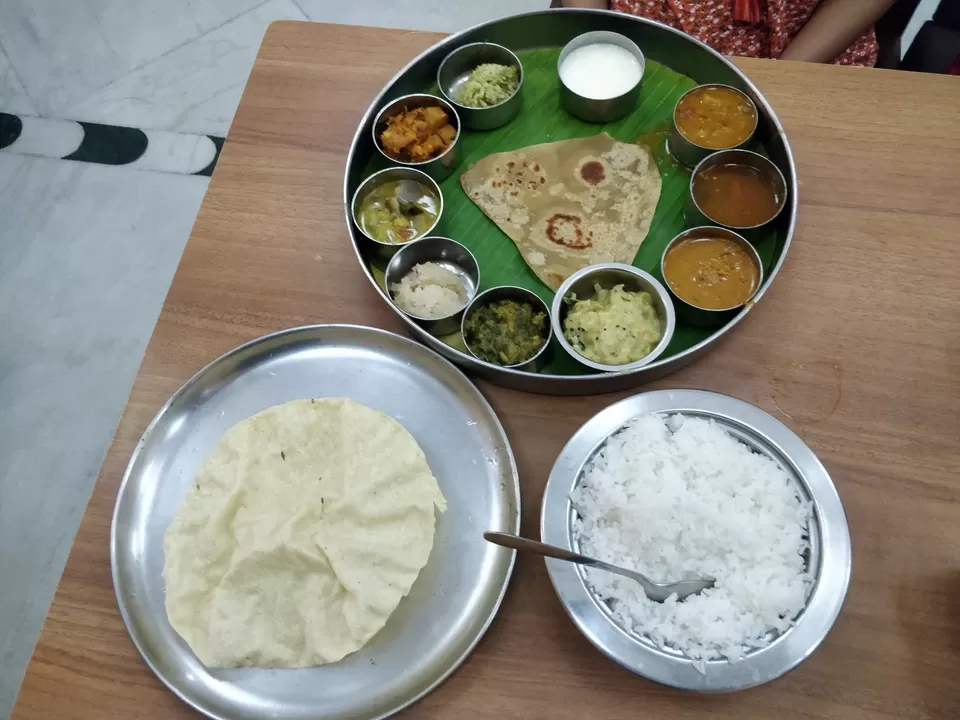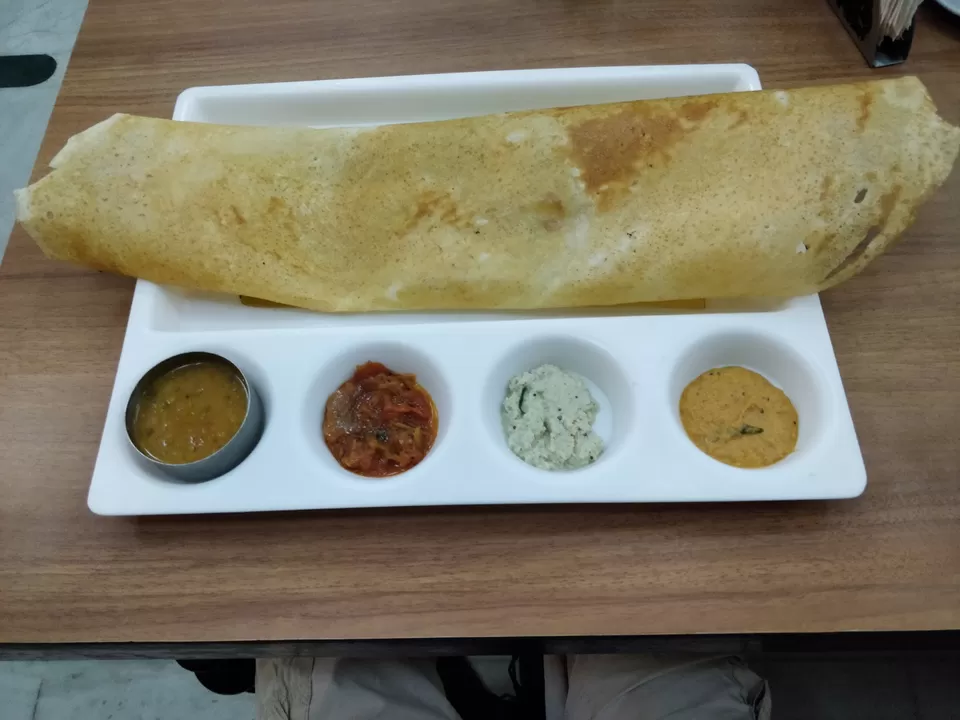 There are many cafes in this french colony town. You can sit there for hours reading books or just chitchatting sipping on juices/tea/coffee. We chose Cafe des Arts. It's a beautiful cafe with many murals on the outside walls and a good variety of snacks and drinks to keep you hooked.
Just few steps further is the promenade beach aka pondicherry beach. Between this french colony and the promenade beach there is a garden called Bharadhi garden, however, it's just another garden surrounding government buildings.
Promenade beach front is a rocky beach and there is no way you can venture into the sea there. It's just a beach front to take a walk, run, or sit and relax listening to the waves.
There's another interesting cafe called Le Cafe having amazing french cuisine dishes to munch on. The best being their speciality Lasagna. It's just on the beach front so you will find lot of young crowd just hanging around for hours. Feeling the sea breeze and listening to the soothing sound of waves it would surely make you forget the sense of time. There are many churches in Puducherry being the French colony, most visited being Sacred Church and Dumas Church.
Further in the city centre there is one temple which is pretty renowned in the town where many tourists and devotees visit from all around the country, this being the Manakula Vinayagar Temple. This temple is of Lord Vinayak/Ganesha as the name suggests. This temples is more than 500 years old, it has an illustrious history and is one of the oldest temples in the region. It's name is deived from two Tamil words Manal meaning 'sand' and Kulam meaning 'pond near the sea'. The temple was known by the name Manal Kulathu Vinayagar earlier. Inside of this temple forty different forms of Lord Ganesha are portrayed on the walls of the temple along with a golden spire. If you see in the corners and observe some of the statues in black stone, you would understand that these sculptures are really very old, however, still in decent condition. Otherwise the whole temple around is painted and new sculptures can be seen all around. There are various replica sculptures of Lord Ganesha from various East Asian countries like Thailand, Burma, Vietnam, China, etc dating back to 7th century A.D. Also, the ones which are worshipped are also of so many different types carrying local significance, it would be interesting to learn more about the mythological aspect/stories behind each of these forms of Lord Ganesha. There is also an elephant in the premises who gives blessings with its trunk to the devotees. Just for information, no photography allowed inside the temple. Also, most of the temples in this region are open only from 6am to 12.30pm and from 4pm to 9pm.
Another temple near Esparan Heritage Hotel in the city centre is the Salai Vinayagar Temple. This is not very well known among the tourists, however, this seems to be older than the Manakula Vinayaga Temple. This is more of a temple complex comprising of many smaller temples of gods and goddesses.
Inside it's noticeable that there are old sculptures and old stones upon which newer construction is seen. The old stone structures are kept in there raw form so it's easily identifiable. Also, the old sculptures are in the raw forms as well just that as these are being worshipped, there are lot of flowers and clothes draped around sculptures. There are hundreds of idols inside the temple and it becomes quite difficult to identify each one of them. There are names written on top of every idol, however, these are only in Tamil.
Interesting to see idols of sungod on both the sides of entrance. As the sungod is not wearing shoes, hence, seems to be from a pretty later period.
There is a beautiful sculpture of Kartikeya and it's two wives inside the temple complex. Infront of this there is a peacock sculpted very beautifully. There is also a small pond inside of this temple, most of the temples in South India have it having a certain significance to it.
Upon finishing this we went for dinner to a place called Appachi Chettinad Restaurant, serving Chettinad food on banana leaves. The restaurant is small and simple. If you are fond of non-veg and spicy flavoring, then this place is a must visit.
Finishing dinner, going to promenade beach for a walk was the best thing to do, going through the French colony late evening, when the colonial buildings are lit up and then taking a walk aling the beach front listening to the waves and pleasant breeze on the face, just making the perfect end to an amazing first day in Pondicherry.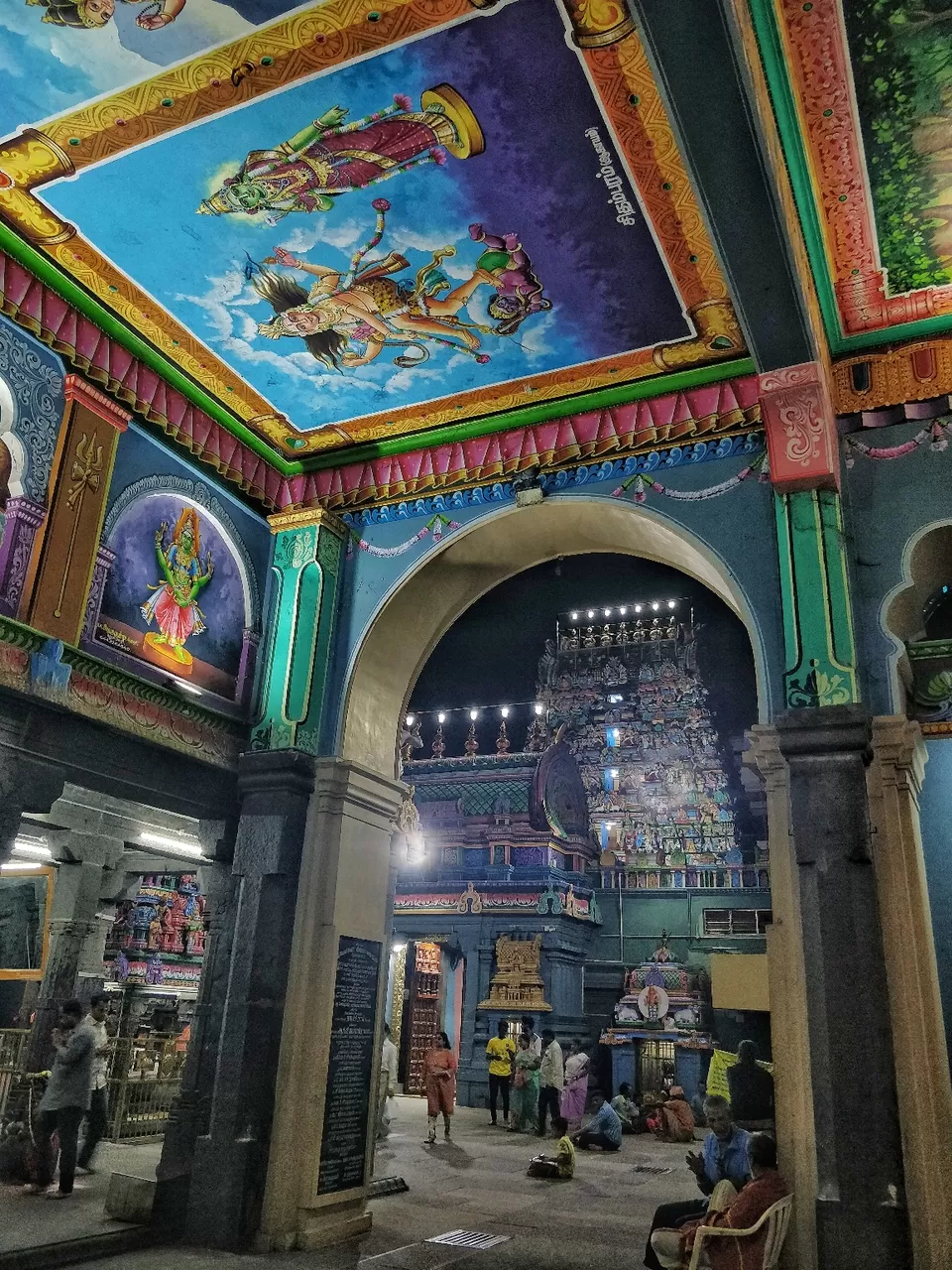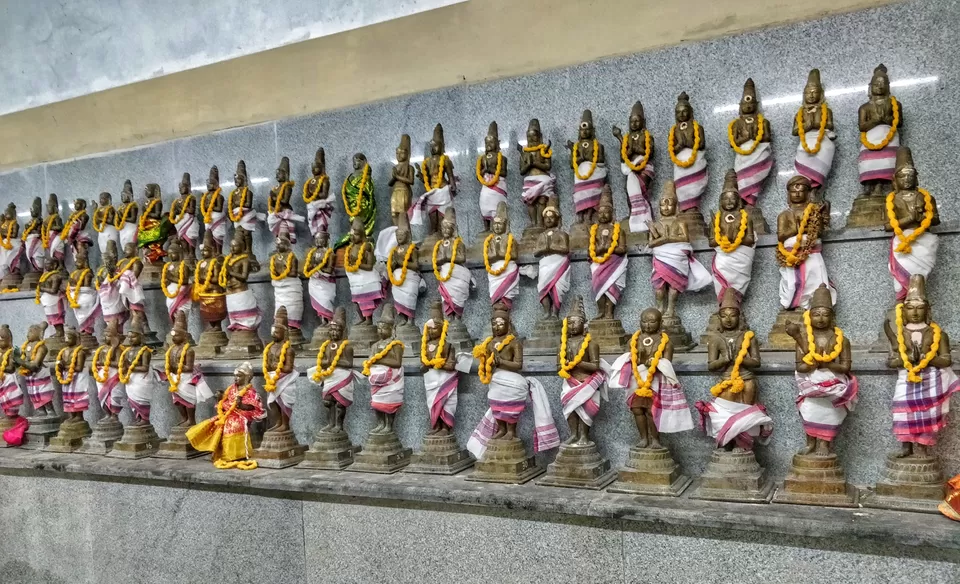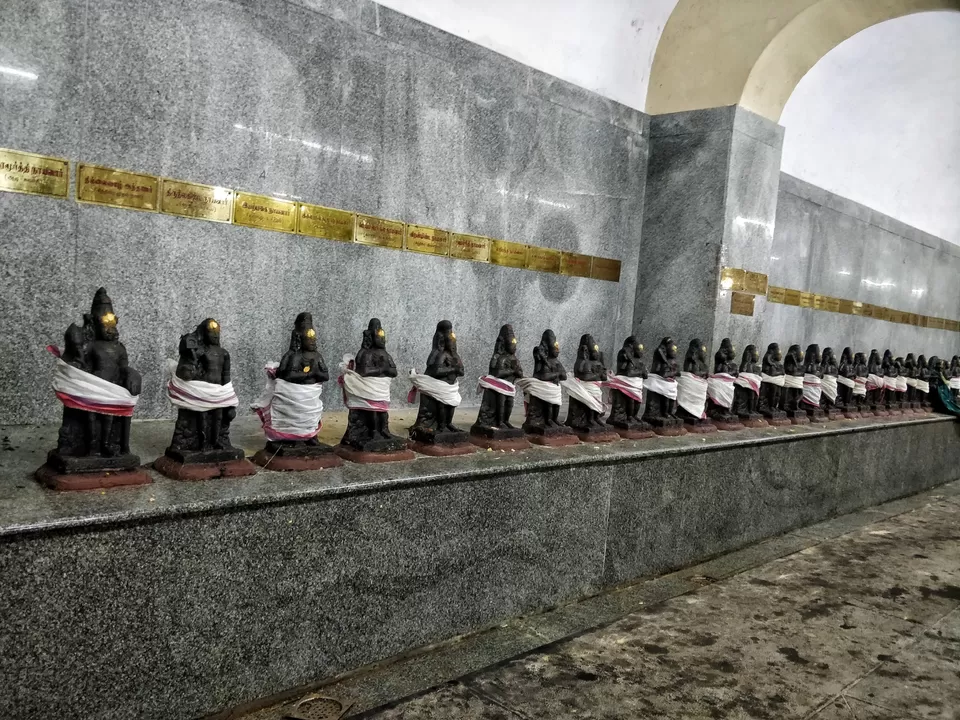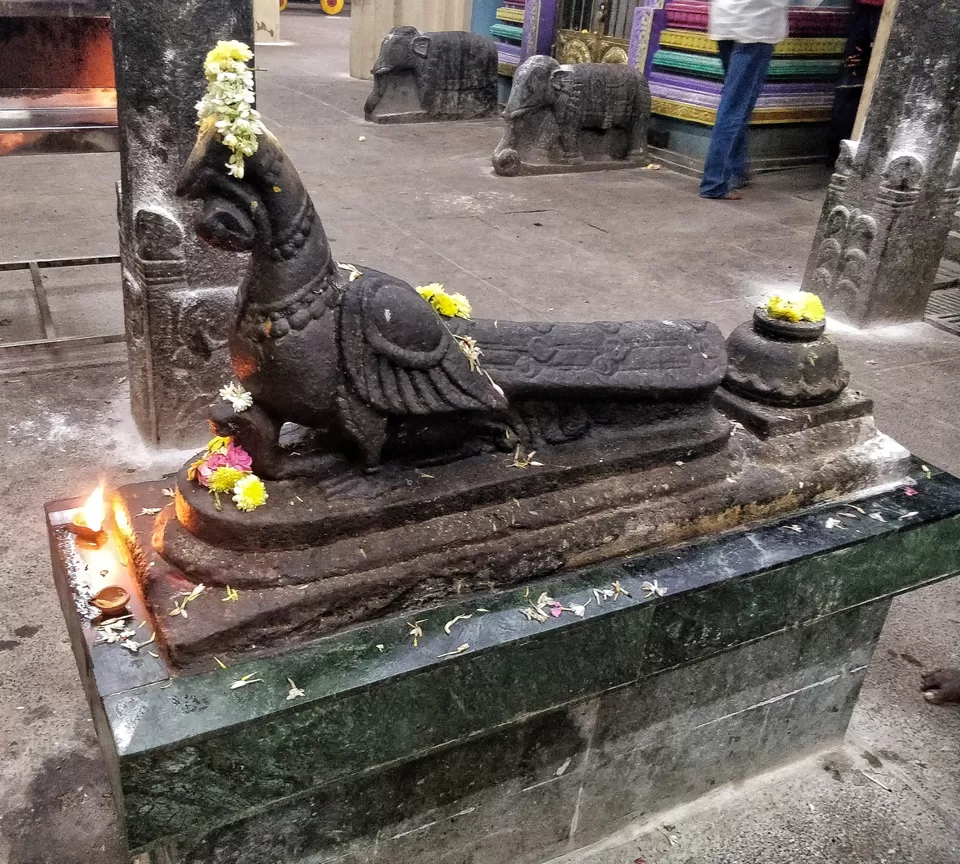 Day 1: Pondicherry
White Town
Lunch at Suruguru
Promenade Beach
Cafe hopping
Snack at Le Café
Manakula Vinayaga Temple
Salai Vinayaga Temple
Dinner at Appachi Chettinad
Ending the day with walk on promenade beach
Expenses for day 1 : ₹800 pp excluding stay
Day 2
Chidambaram Nataraj Temple
Lunch at Shri Krishna Restaurant
Gangai Konda Cholpuram Brihadeeshwar Temple
Stay at Tanjavur
Expenses for day2 : ₹600pp excluding stay
Taking a bus from Central Bus Stand to go-to Chidambaram. There are private buses(₹350) available however taking state transport bus is better option to talk to people and understand more about the culture and the region around. State transport did not have a direct bus Chidambaram, so we took a bus till Cuddalore(₹18) and from there another bus to Chidambaram(₹40). The traveling time was appx 2 hours and cost was just ₹58. State transport buses are well maintained unlike many other states.
The bus stops exactly infront of the east gate of the Chidambaram Nataraj Temple so taking this bus was pretty helpful.
The name Chidambaram comes from the Tamil word Chitrambalam which means atmosphere of wisdom. However, this name was given by the Chola dynasty. Before this, it was called as Thillai, following Thillaivanam which is derived from mangrove of tree type "Tillai" which is peculiar to this region and forests around.
As almost all the temples in this area even this temple closes at 12.30pm and reopens at 4pm. However, the outer area near the Gopuras is open till 1pm. There's no photography or videography allowed inside the temple. This temple was built in 10th century when Chidambaram was capital of Chola dynasty and further damaged, damaged, repaired, renovated and expanded multiple times.
The Chidambaram temple complex, for example, has the earliest known Amman or devi temple in South India, a pre-13th century Surya shrine with chariot, shrines for Ganesha, Murugan and Vishnu, one of the earliest known Shiva Ganga sacred pool, large mandapas for the convenience of pilgrims and other monuments. Shiva himself is presented as the Nataraj performing the ananda tandava ("Dance of Delight") in the golden hall.
It has 4 Gopuras in each direction and has 108 dance forms carved on inside of these gopur entrances.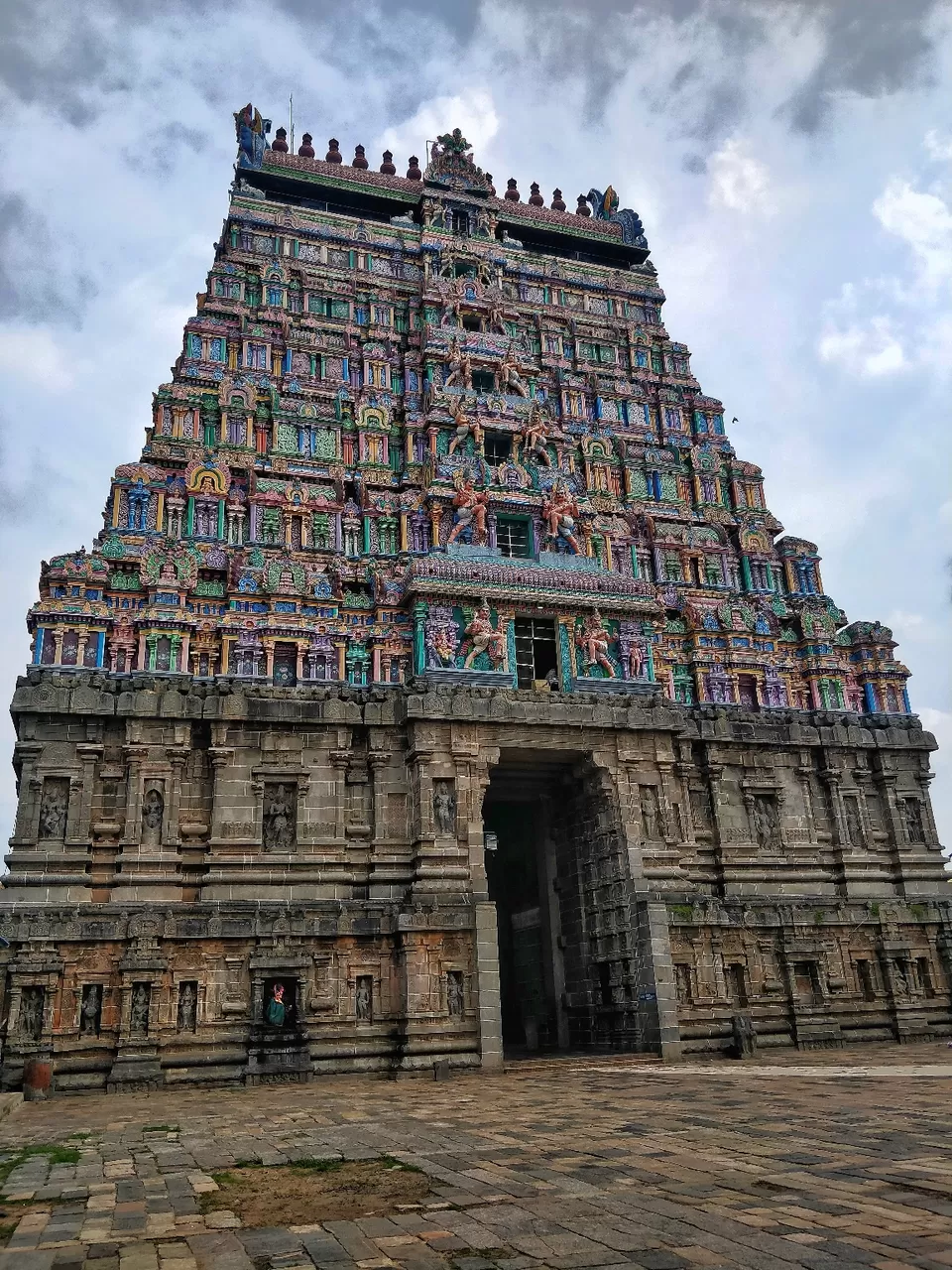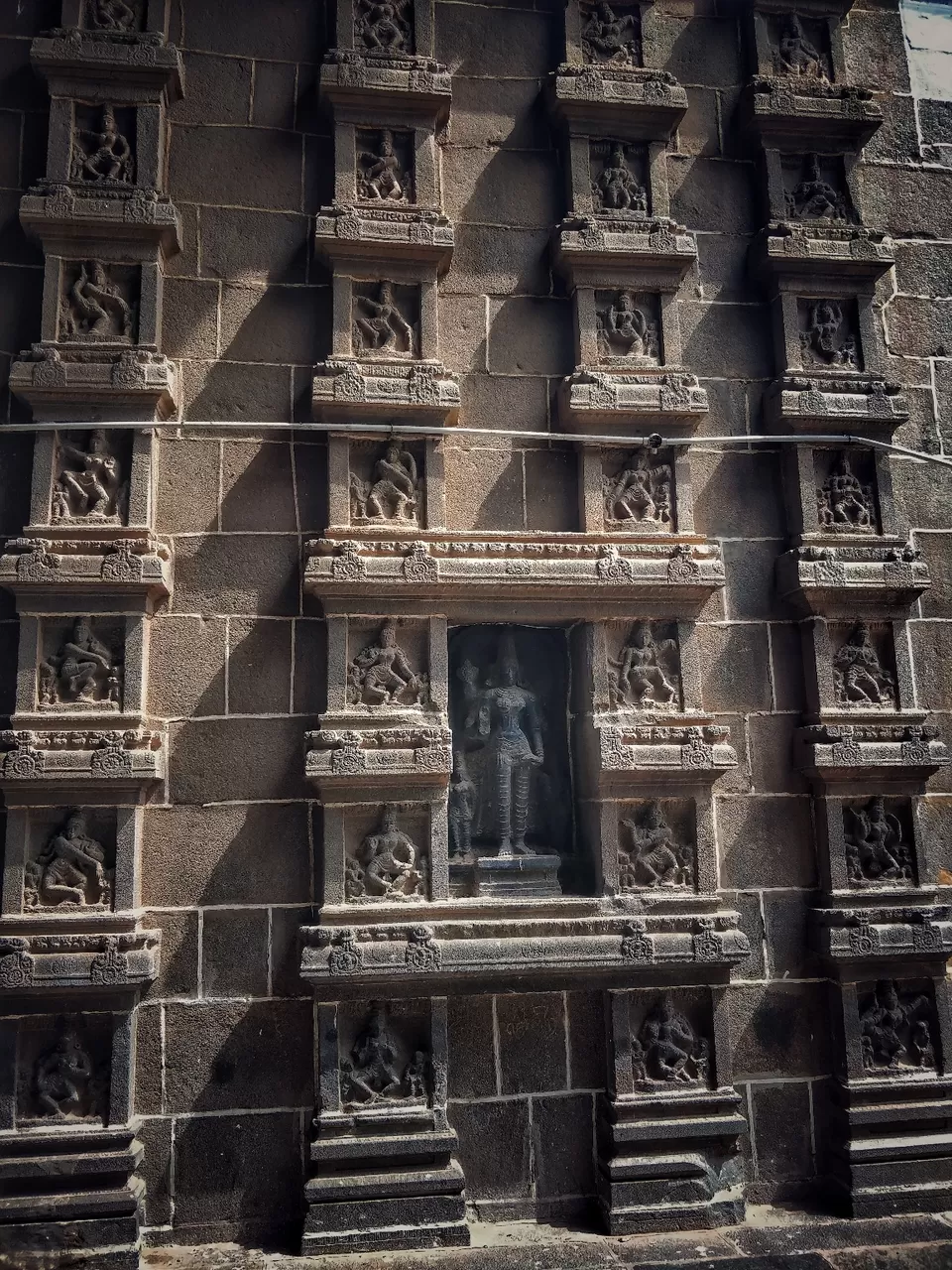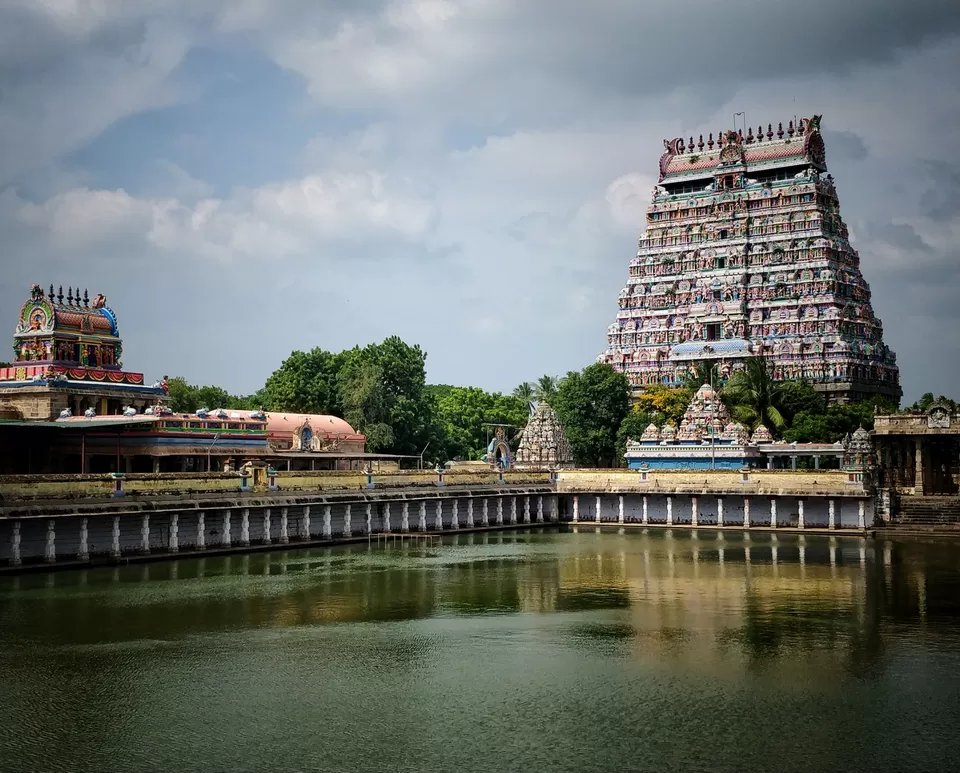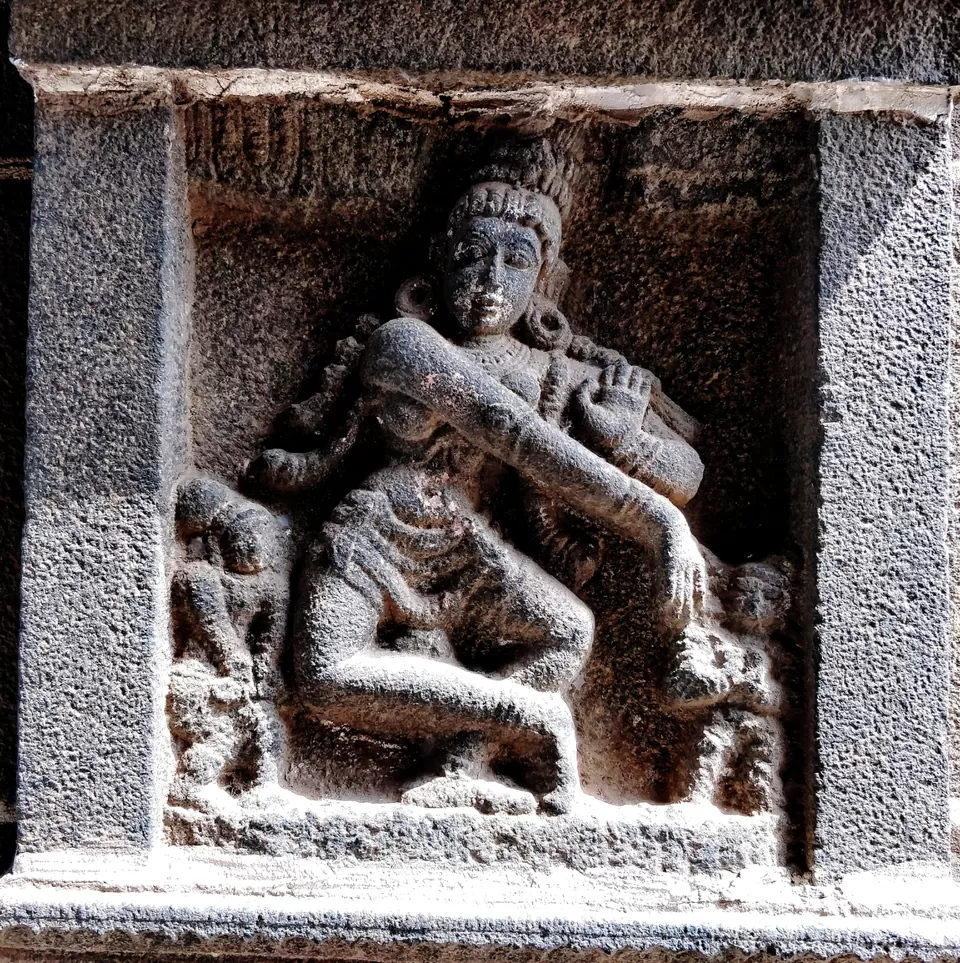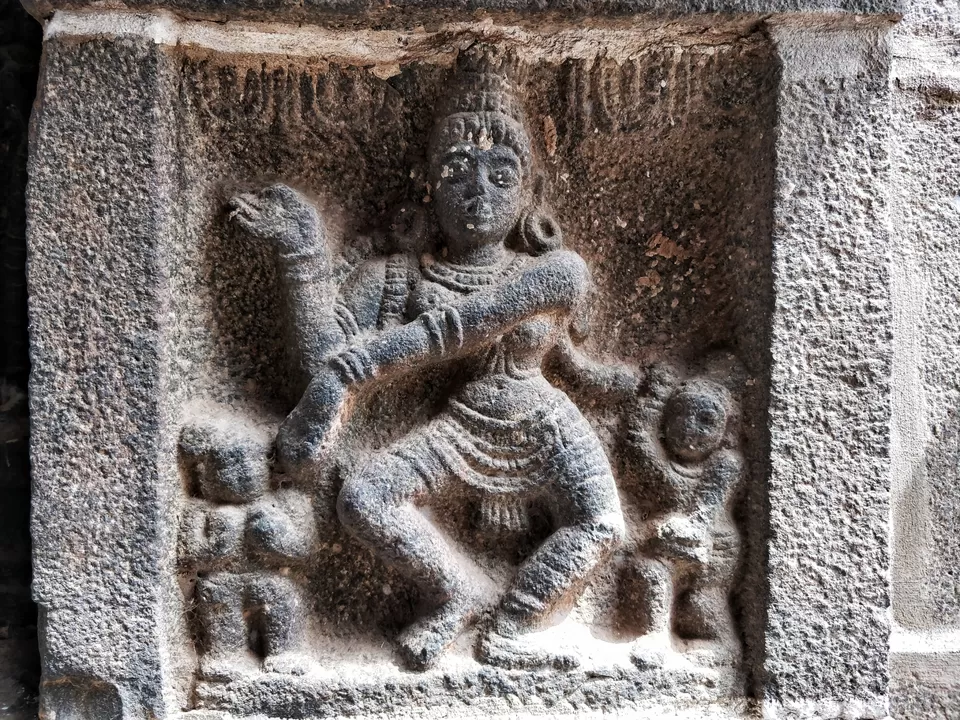 We had lunch just opposite the east gate of the temple in a restaurant called Shri Krishna suggested by one of the locals why chatting with them around the temple. Best quality local food on banana leaf where the locals hog on it.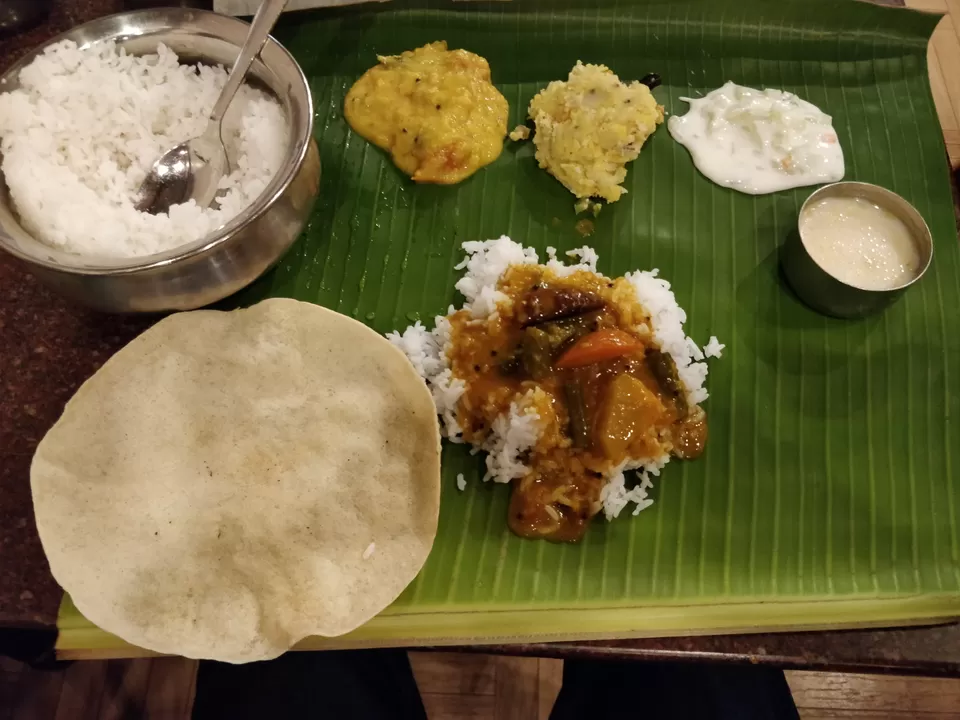 Further we decided to go to Gangaikonda Cholpuram. Chidambaram Bus Stand is just 600mts from the temple's east gate. We took a bus going towards Trichy to goto Gangaikonda Cholpuram. Again this bus stops right infront of the gate of Brihadeeshwar Temple of Gangaikonda Cholpuram as it's just on the side of the highway. We reached at 4 pm and were absolutely mesmerized to see the massive structure from the road itself. This being one temple and not a temple complex can be seen within an hour's time.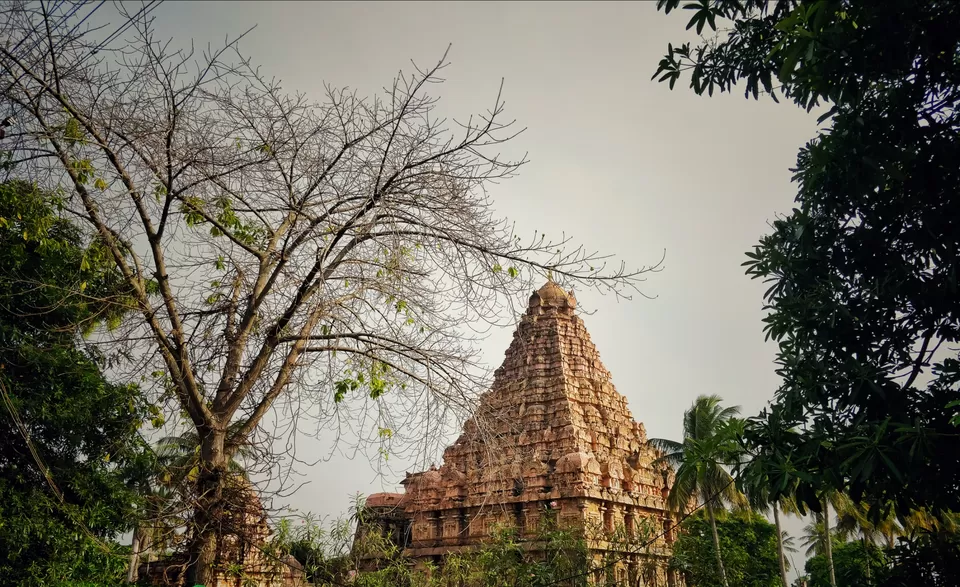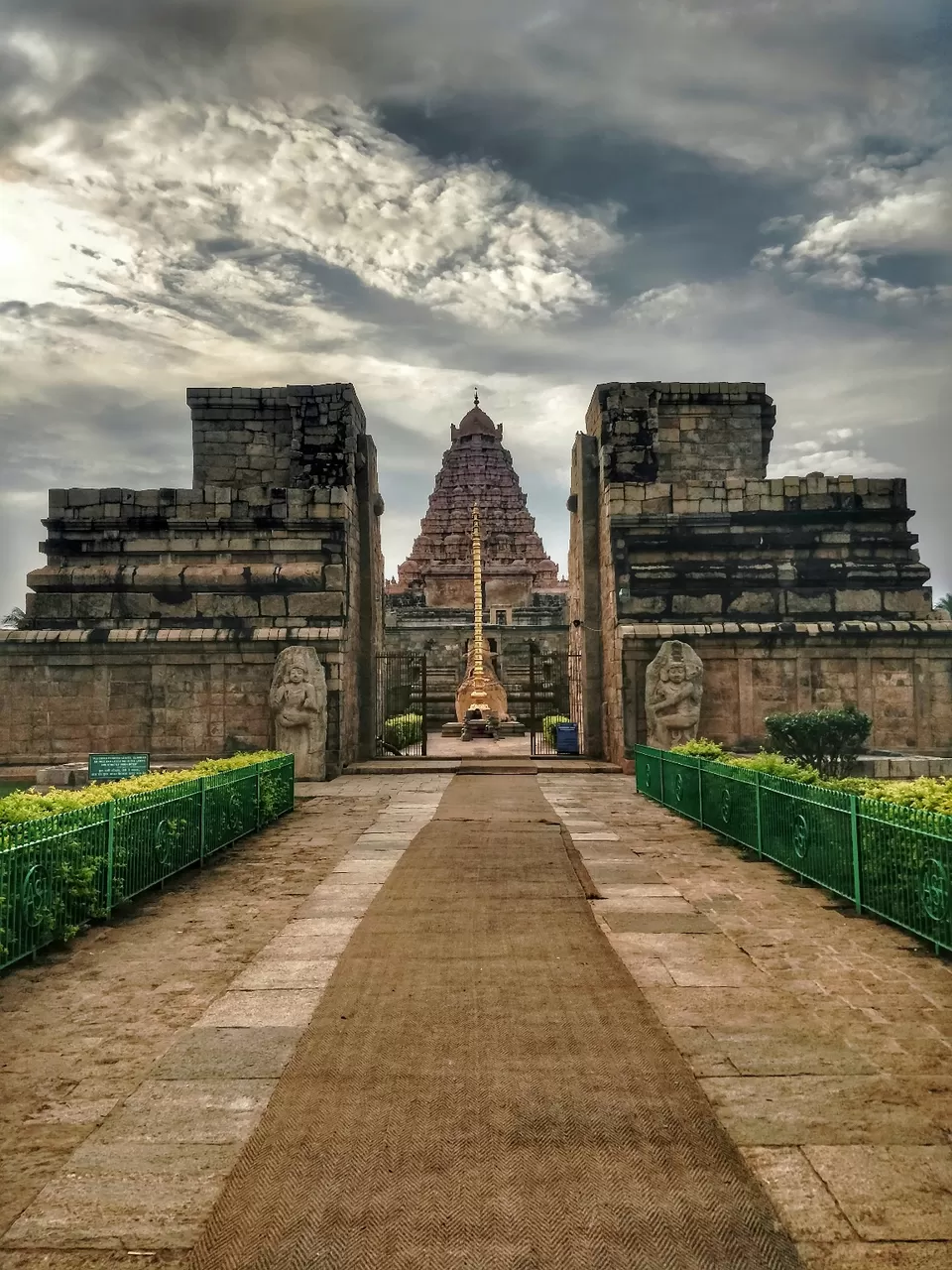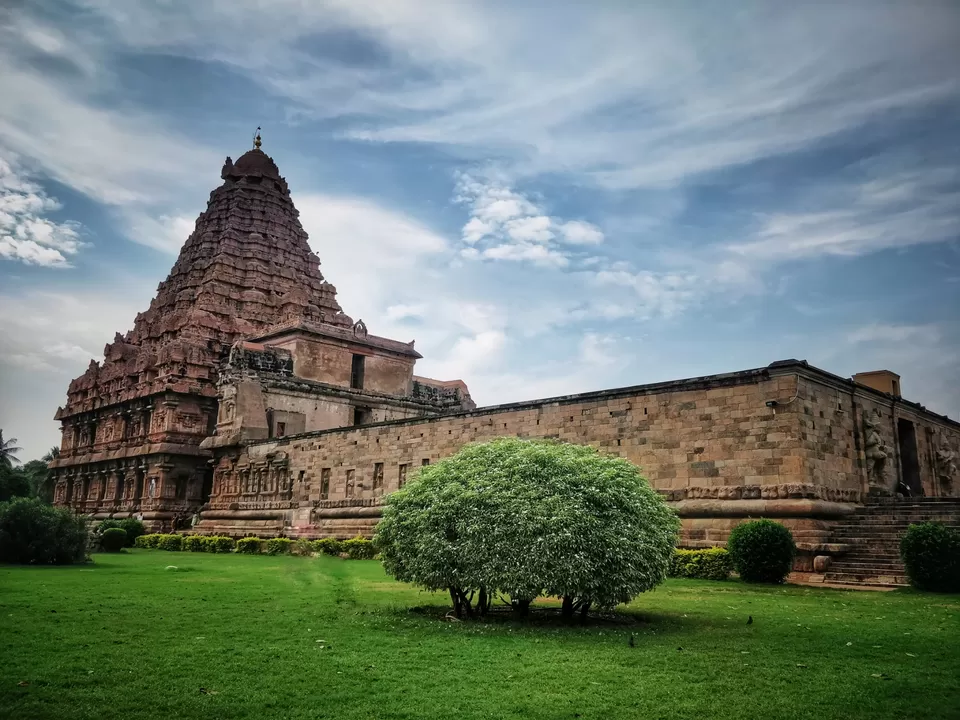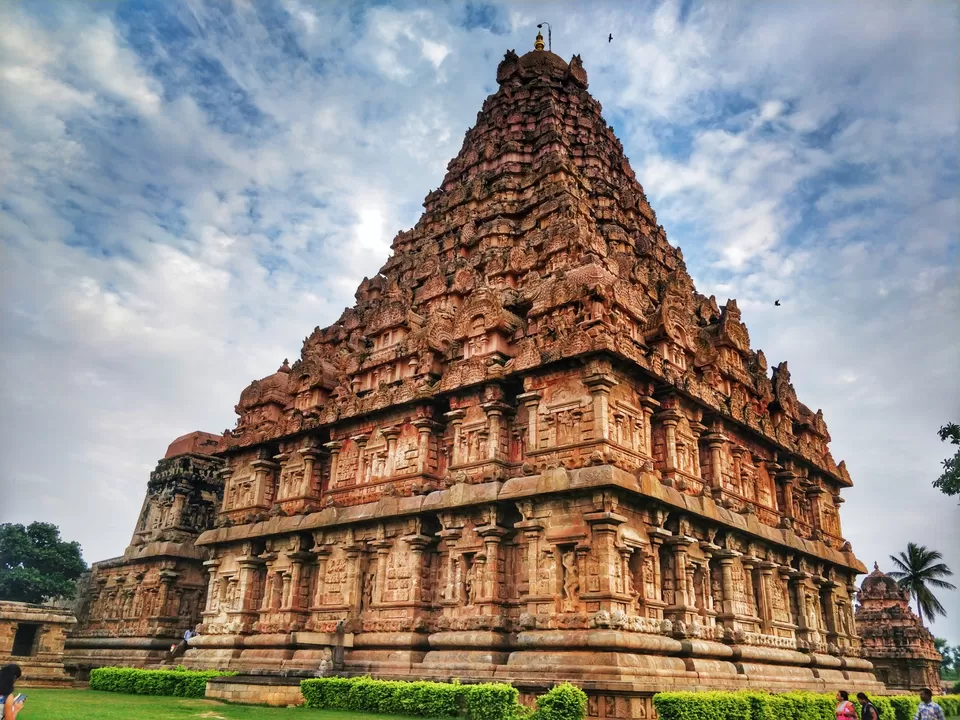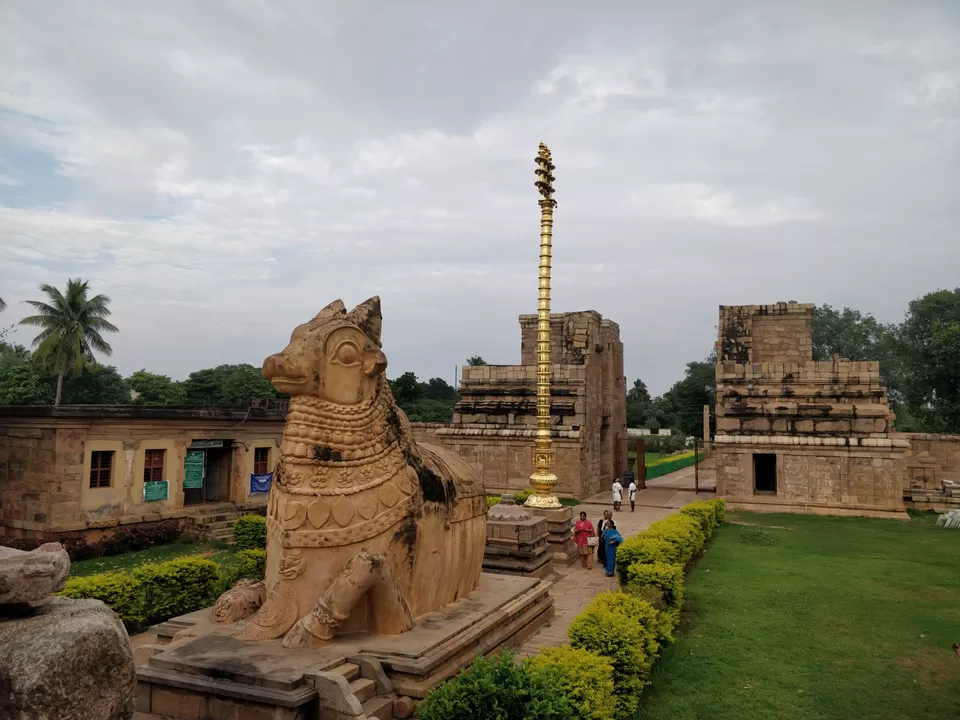 This temple was built by the son of Rajraja Chol, Rajendra Chol in 11th Century and was capital of Chola dynasty during this time. This city was founded by Rajendra Chol after defeating the Pala dynasty and the name of the city signifies victory over the king of Ganges. The height of this temple is 9ft smaller than the big temple Brihadeeshwar of Thanjavur. The temple has sculptures of exceptional quality. The bronzes of Bhogasakti and Subrahmanya are masterpieces of Chola metal icons. The Saurapitha (Solar altar), the lotus altar with eight deities, is considered auspicious.
After visiting this temple we decided to move towards Thanjavur. Just outside the gate of Gangaikonda Cholpuram temple, there's a bus stop. From here we caught a private bus going towards Thanjavur (₹75pp).
It took almost 2.5 hours to reach Thanjavur as the roads are not in good condition as well as are very narrow going through all the small towns. Reaching there we decided to have some Chettinad food. Gnanam Hotel is where we stayed and has also a good renowned restaurant in it. We had dinner and called it a day.
Day 3:
Brihadeeshwar Temple, Thanjavur
Thanjavur Palace
Back to Pondicherry
Expenses for day 3 : ₹600pp
Brihadeeshwar temple of Thanjavur which is also called as the big temple as it's Sanskrit meaning is big.
The opening timings are 6.30am till 12 and 4pm-8.30pm.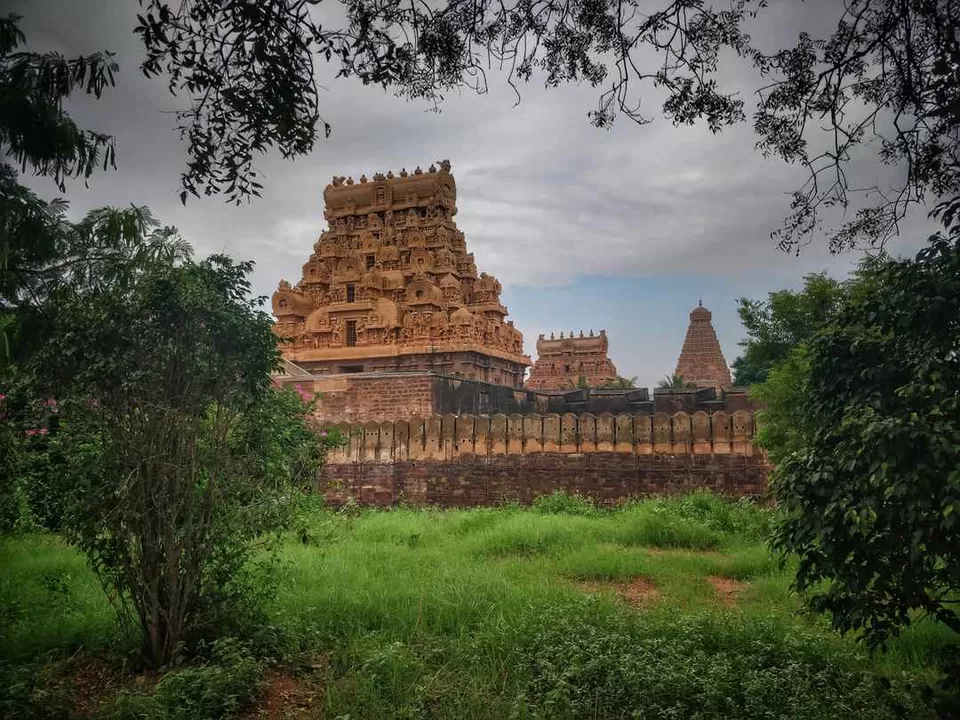 Brihadeeshwar temple is walking distance from the old Bus stand. At the first glimpse itself it looks massive. At the entrance a huge Gopura is seen leading to another Gopura and further to the temple.
The temple is built in 11th century by the king Rajraja Chol, hence, the temple is also known Rajrajeshwaram or the locals also call it as Peruvudaiyār Kōvil. It was built around the moat of River Kaveri. This whole temple is built out of granite.
It is very famous for the quality of sculptures as well as has one of the largest Shiva Lingas in India. There are many 10-11th century brass idols in the temple.
Describing this temple in itself would be a different blog. It took more than 2.5 hours to see the complete temple. Though at this time there is certain repair and painting work going on and the temple would be completely open only after February'2020 which marks the maha kumbh abhishek. All the shrines were locked and the idols were masked. Only the Mukhmandap was open to see, further mandapams and the sanctum were not open.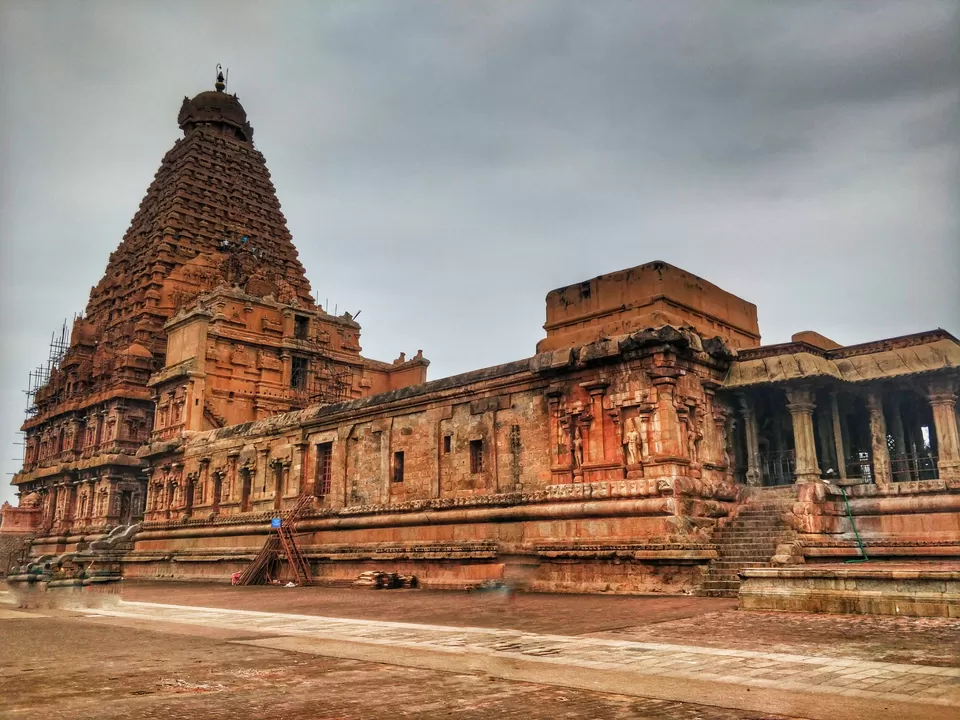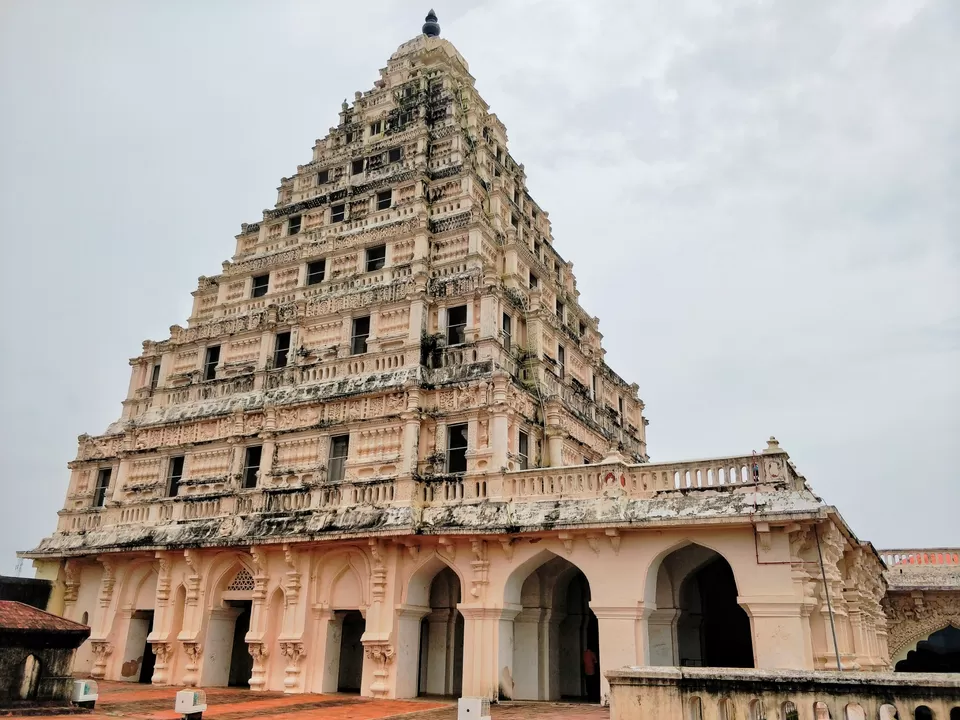 In the vicinity there's the Thanjavur Maratha Palace of the Maratha Empire. Thanjavur was occupied once by he great maratha king Chhatrapati Shivaji Maharaj's brother Ekoji Raje aka Vyankoji Raje and further their descendants from 17th century to 19th century A.D. Hence, there is a lot of settlement of Bhosale family in this region and the palace serves as Bhosale family's official residence.
Entry to this palace is ₹50 pp and camera fee additional ₹50.
The palace complex consists of a very old library having many manuscripts, the Sadar Mahal Palace, the queen's courtyard and the Durbar Hall. The Royal Palace Museum contains a splendid collection of Chola bronzes. The Raja Serfoji Memorial Hall and the Royal Palace Museum are situated in the Sadar Mahal Palace.
As it was lunch time we decided once again to have local food and no better place than the Sree Ariya Bhavan restaurant which is quite famous in this area for it's meals and local cuisines. A special meal costs just ₹105 and all your taste buds will become active after having this.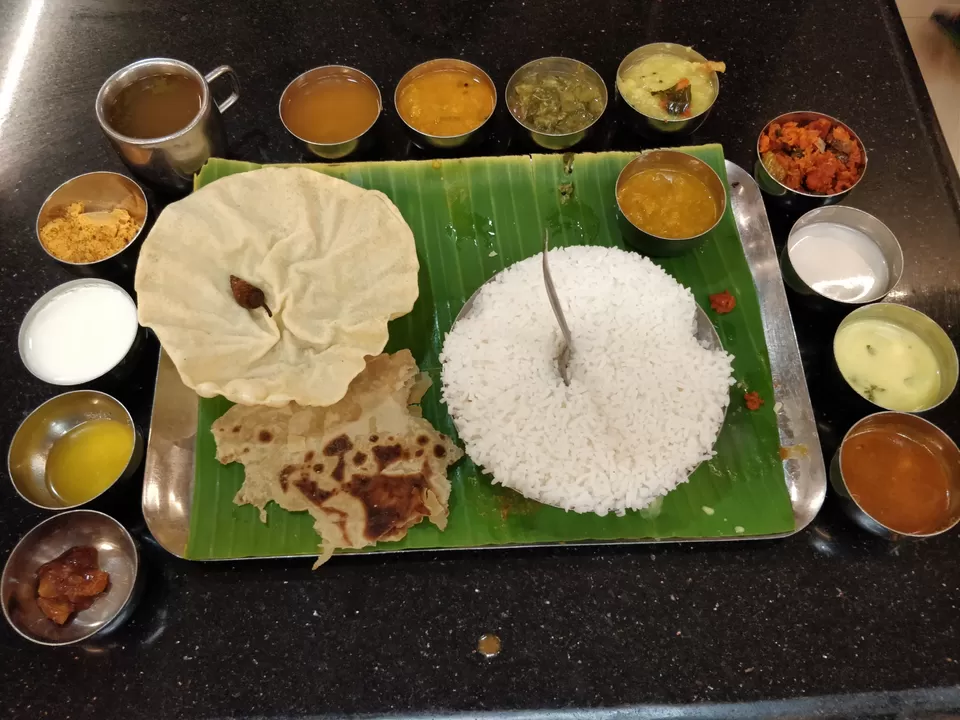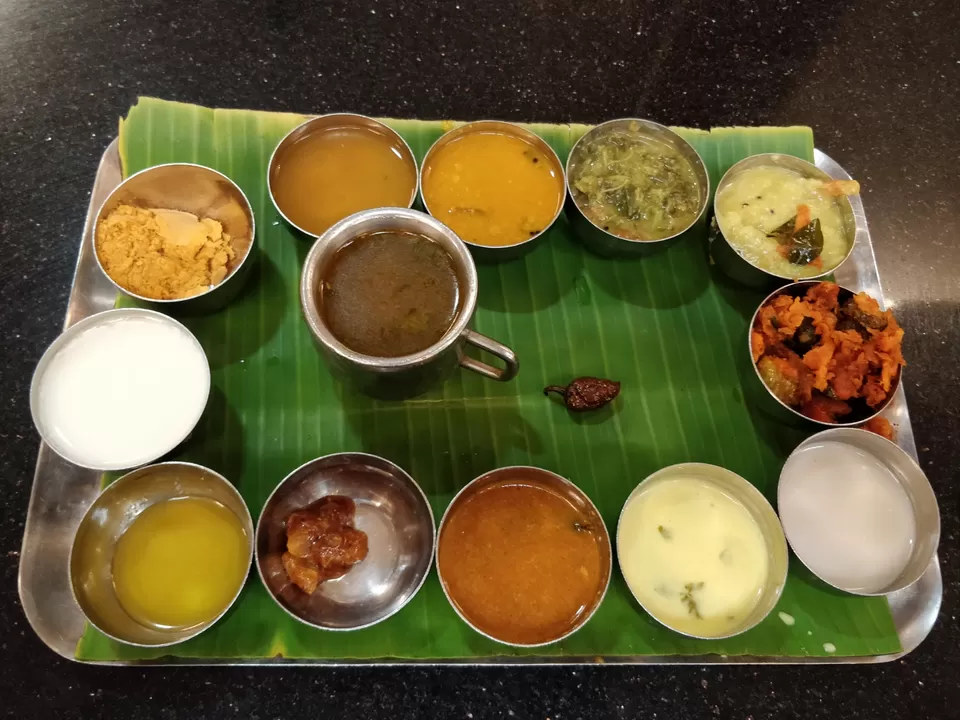 After having lunch, we were skeptical on going to Darasuram and Kumbakonam, which is a town of temples and has a history dating back to 3rd century A.D. there appx 118 temples in this town. However, as it started raining and it's not possible to cover it in one day ( main reason being, all the temples are closed from 12pm -4pm), we decided to move back to Pondicherry to explore Auroville.
There's no bus in the day time from Thanjavur to Pondicherry, not even private.
We had to take a bus from Thanjavur to Kumbakonam and then from Kumbakonam to Cuddalore and then to Pondicherry. This is quite hectic, however, not much of direct connectivity to Pondicherry.
Early morning taking a walk at the Promenade beach is quite pleasant. Walking through the white town towards the beach looking at the old colonial buildings, Aurobindo Ashram, French Consulate and then hitting the beach. Barefoot walk at the beach, wetting feet in the nice morning little cold water of the sea, feeling morning breeze on the face, listening to the waves is pure mediation while witnessing the sunrise.
While returning to the Hotel, visited the Aurobindo Ashram. Very calm and soothing place. Entering it and it felt very positive and relaxed. Inside the Ashram there are gardens with so many colorful flowers and birds chirping around. It's like a meditation garden around the memorial of Shri Aurobindo. We were not there to meditate though, we visited the library instead and were completely mesmerized by the collection of books written by Shri Aurobindo and The Mother. Turning the pages of various books and it felt to be in a different world of spiritualism which was pretty positive enough. I picked up some books and one which I liked most was The Collected Poems of Shri Aurobindo. It's a beautiful book with lots of poems and explanation of verses in it. Frankly, the books are quite cheap and I picked up a diary of 2020 as well having pictures of flowers.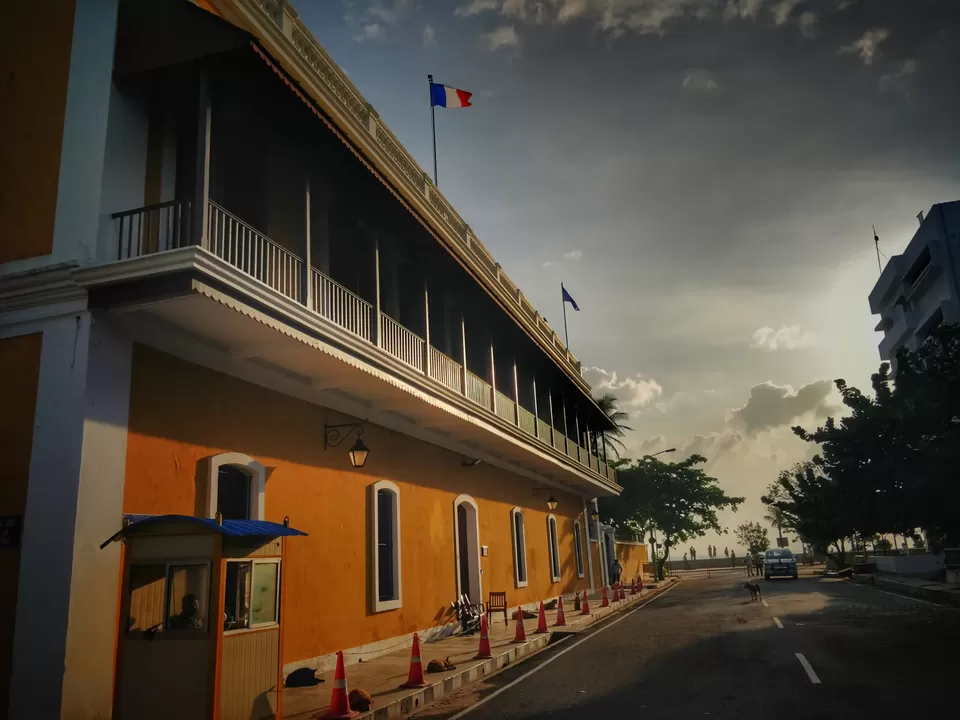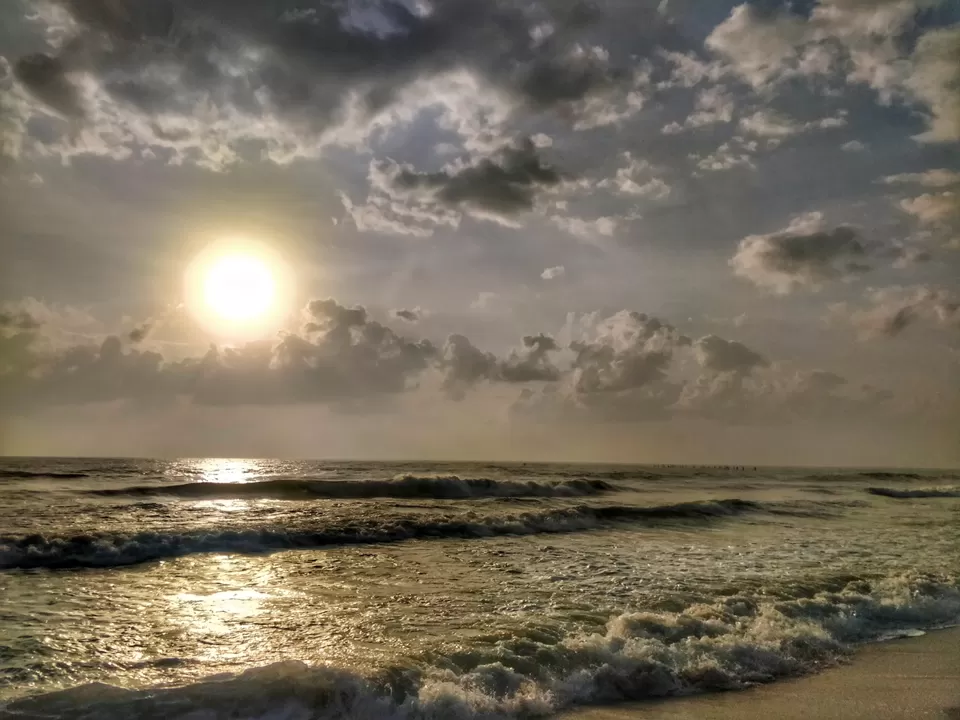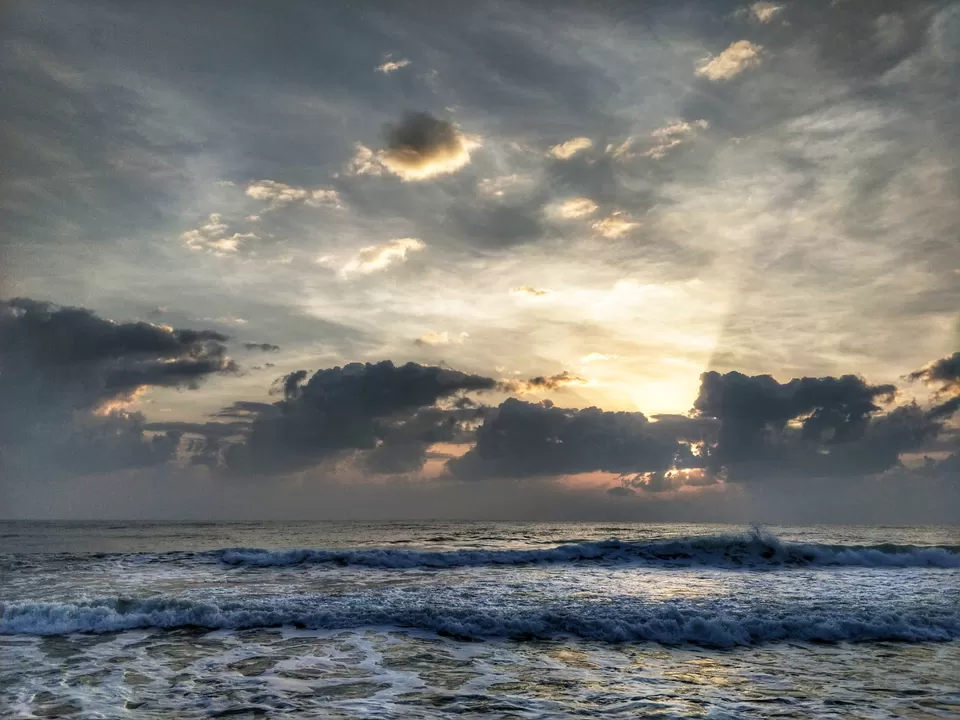 Further to this after having breakfast at Cafe des Arts, we decided to goto Auroville.
Took a local bus (₹10pp) towards Auroville which drops you on the highway. In the bus looked for places to stay in Auroville and had heard a lot about the Time Travellers Hostel which is right opposite the Matrimandir Visitors Center parking.