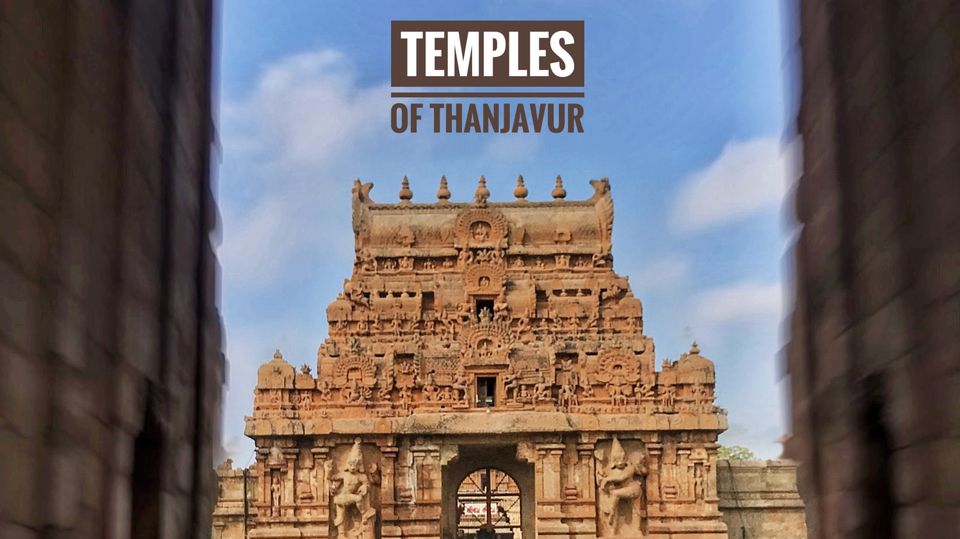 Home to one of the three Great Living Chola Temples that form part of UNESCO World Heritage site, birth place of melodious Carnatic music and the place that gave us the iconic bronze statues and golden Tanjore paintings. It is not surprising that Thanjavur or Tanjore, once the capital of the Great Chola empire, is now the leading cultural head quarter of Tamil Nadu.
You've got to see it to believe the grandeur of this city. For me, it was like living in some of the most intriguing, melodious and beautiful pages of the history of India. So before I take you on a virtual temple run, let me tell you visiting Thanjavur is much beyond a "religious journey". It surely is a treat for you if you appreciate art. So here's a little art therapy or/and temple therapy for you!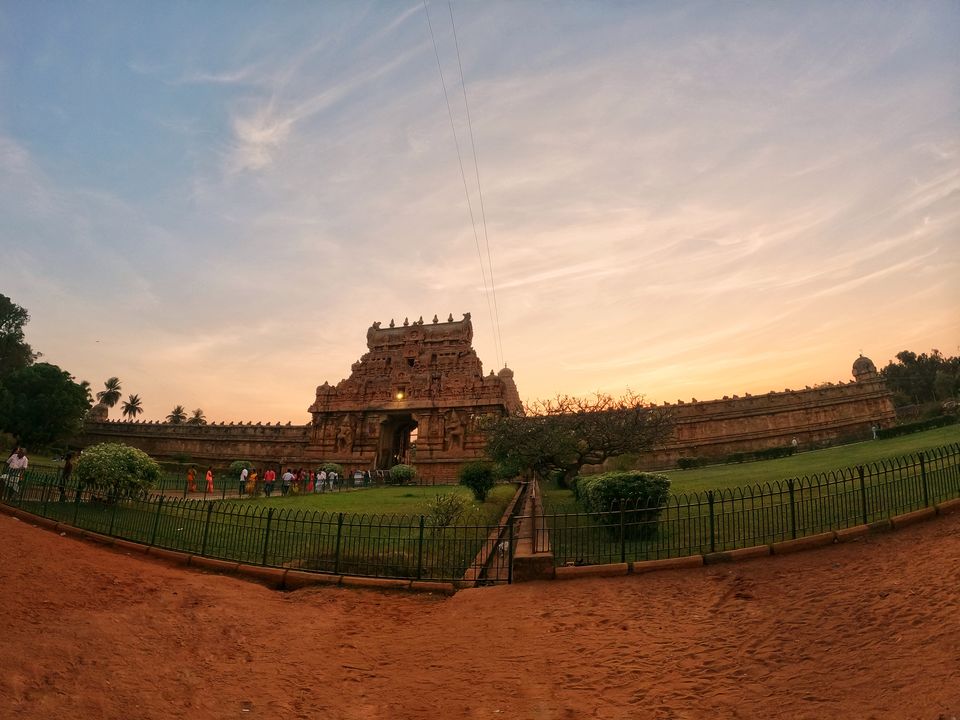 Brihadeeswara Temple or Rajarajeshwar Temple:
No matter how many times you visit Thanjavur, no trip is complete without visiting the Brihadeeswara temple. It is literally called the Big Temple (this name actually became popular as most tourists found it very difficult to pronounce Brihadeeswara).
Built during the reign of Chola emperor, Raja Raja Chola, to showcase the grandeur of his empire, this temple is an architectural marvel. The temple complex is divided into 5 main parts - the main shrine, a Nandi hall, an assembly hall, a gathering hall and a pavilion. The shrine itself is a 216 feet structure and made of 1,30,000 tons of granite using the interlocking technique and yes, we are talking about some 1000 years back. The intricately carved gopurams, rare frescos, magnificence of the main shrine and even the smaller shrines will leave you stunned
5 Interesting Facts about the Big Temple:

1. The temple was originally called Rajarajeshwar before the Marathas changed it to Brihadeeswara.
2. The temple complex was used to showcase Bharatanatyam dance performances. Now that's a stunning imagery!
3. There is no granite quarry within 50-60 km and I leave the rest on you to imagine how this architectural beauty came into being.
4. The shiva lingam in this temple is one of India's largest monolithic sculpture.
5. It was here that the first brass Nataraja idol was commissioned in the 11th century.
Watch this video for more.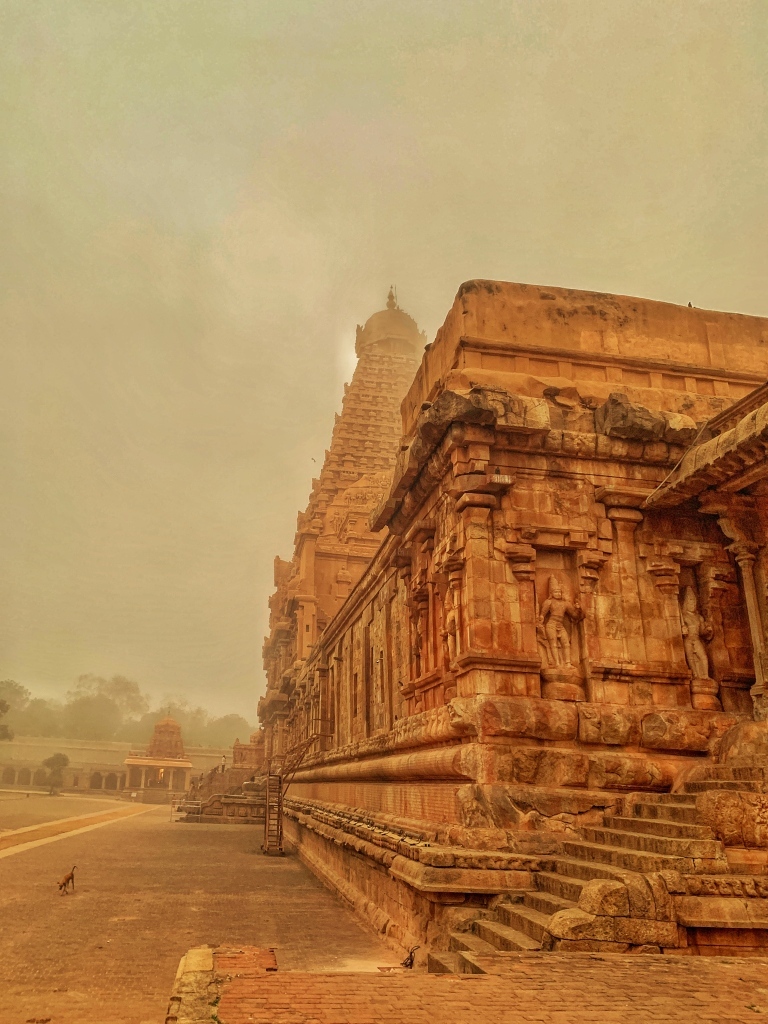 Temple Timings: Morning 6AM to 12.30PM and Evening 4PM to 9PM
Best Time to Visit: Best to visit during the early hours of the day. You must also drop by later in the evening to watch each stone shimmer as the sun sets, illuminating the complex in a beautiful golden light.
Best Month to Visit: Winter months between November to February is the best to escape the scorching Tamil Nadu sun. This is true for most of the temples in South India, unless you want to time your visit to a certain festival or celebration.
Dress Code: While most of these temples don't have a specific dress code, it is advisable to dress a little traditionally - cover your legs and avoid wearing sleeveless tops.
Nearest Airport: Tiruchirappalli International Airport (60 km)
Thanjavur Royal Palace:
Though not a temple, I am going to include the Thanjavur Royal Palace or the more popularly called "Thanjavur Aranmanai" in this list for its valuable collection of Chola bronzes and history of pretty much everything you would see in Thanjavur.
For full disclosure, this palace is not as fancy and luxurious looking like the palaces in Rajasthan but the collection of old manuscripts and other ancient collectibles over centuries is priceless. The Palace Complex houses 3 venues: the main palace, art gallery and Saraswathi Mahal Library.
Saraswathi Mahal Library: This manuscript library is one of the few medieval libraries existing in the world and a true treasure house of culture and knowledge on the Thanjavur dynasties. This place is more like a museum, home to age-old manuscripts and artifacts.
If spending time with rare manuscripts, preserved books, maps and paintings appeals to you, then this place is a must visit.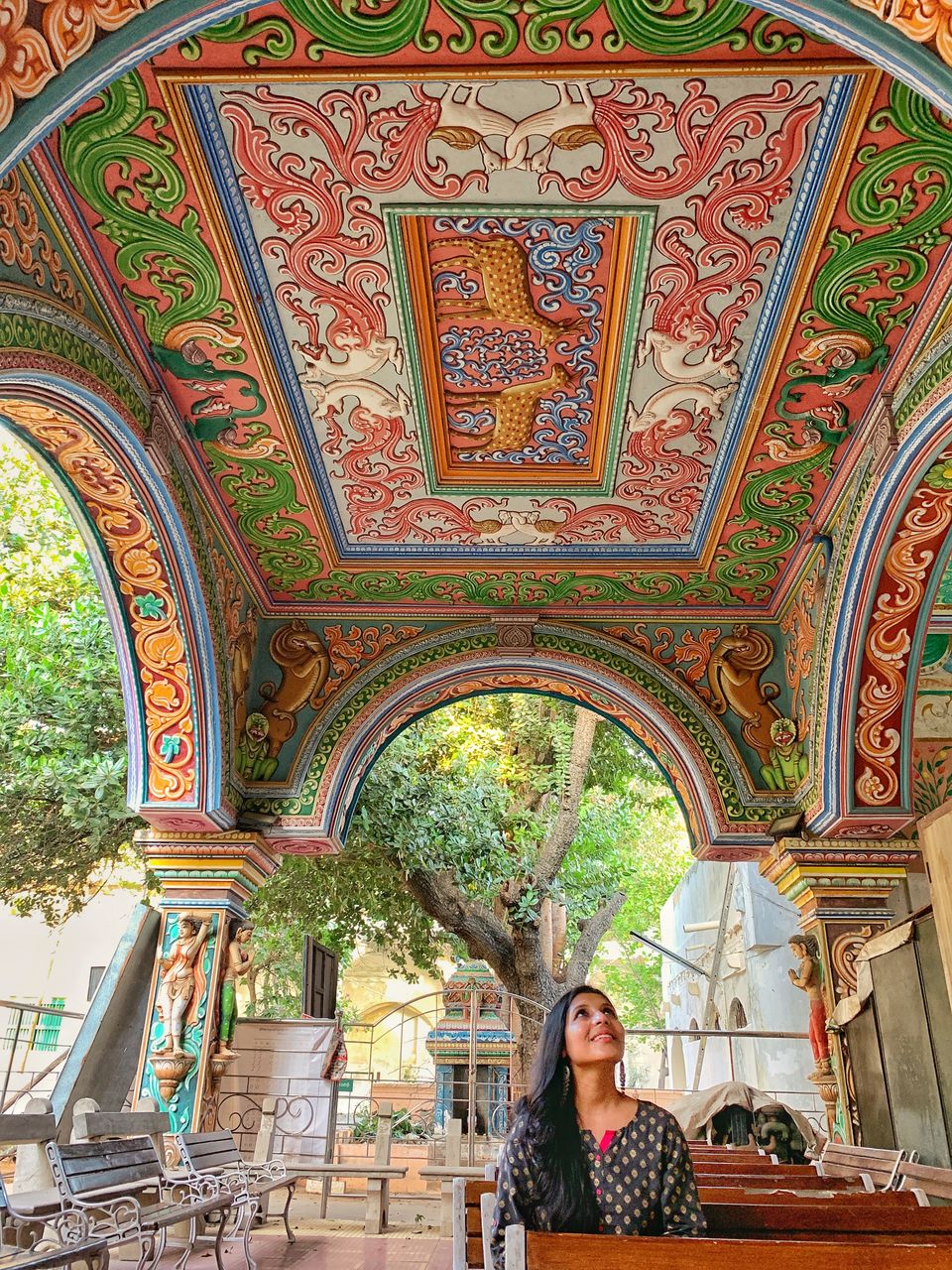 Timings: All days of the week except on some statutory holidays. So, do check before you go. Morning 9 AM to 1 PM and Evening 2 PM to 5.30 PM
>>
The other two Great Living Chola Temples are in close proximity to Thanjavur and a must visit if time permits.
Brihadeeswara Temple, Gangaikonda Cholapuram:
This namesake of the Big Temple is yet another stunning testimony to the glorious Chola Empire. Though it follows the same architecture as the Big temple, some even say that the sculptural quality of this temple is grander. The main shrine houses a four meter high lingam of Lord Shiva and its entrance is adorned by a beautiful image of Goddess Saraswati. Deservedly, this site has also been declared as one of UNESCO's world heritage sites.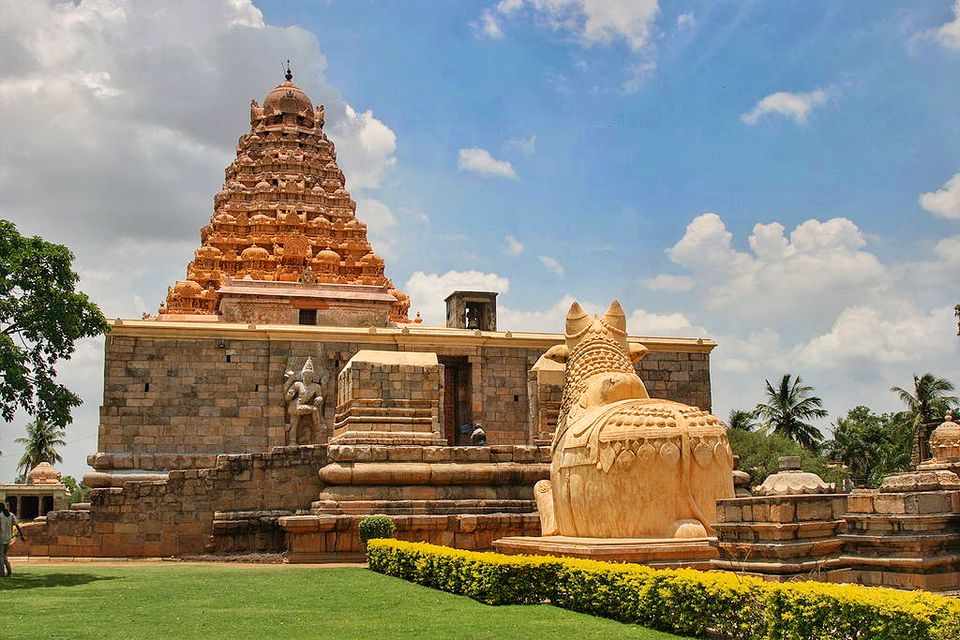 Temple Timings: Morning 6AM to 12.30PM and Evening 4PM to 8PM
Distance from Thanjavur: 85km which is about 2 hours drive
Airavatesvara Temple, Dharasuram:
Located in Kumbakonam, this Shiva temple is the third of the greatest living Chola temples which forms part of the UNESCO world heritage sites. This temple rather feels like a strongroom of art and architecture of the talented classical artists. It is home to some of the most intricate and beautiful paintings and sculptures.
As you enter the temple, you will see that it is shaped in the form of a chariot drawn by horses. The temple tower is 85ft high and the main shrine houses a lingam called Airavatesvara which according to Hindu mythology is named after the white elephant used by Lord Indra as a vehicle.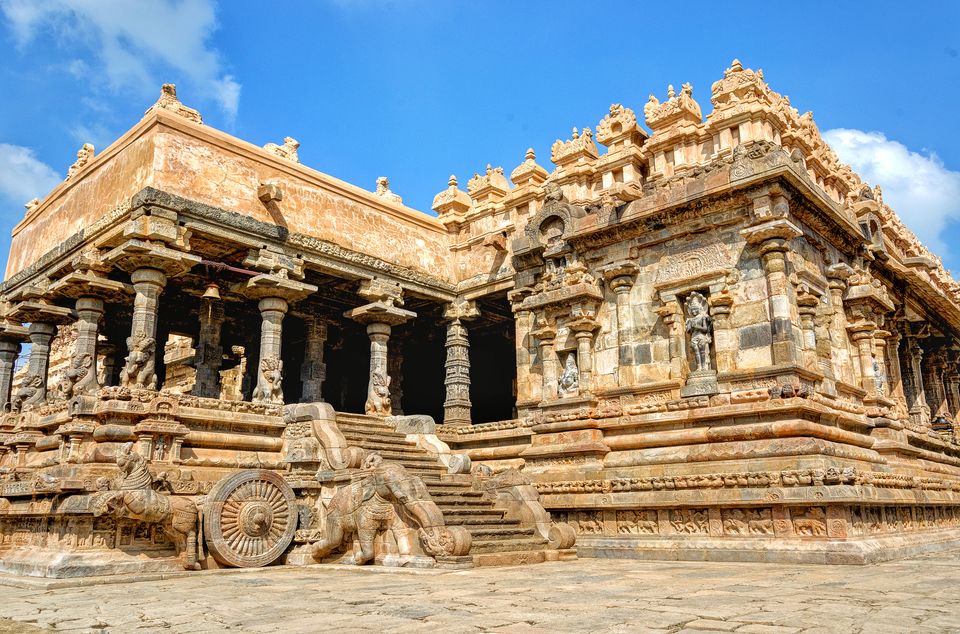 Temple Timings: Morning 6AM to 12.30PM and Evening 4PM to 8PM
Distance from Thanjavur: 40km which is about 1 hour drive from Thanjavur
>>
Another majestic temple which is an easy drive from Thanjavur and a must visit while you are here.
Sri Ranganatha Swamy Temple, Srirangam:
Referred to as the most famous Vishnu temple in the world, Sri Ranganatha Swamy Temple is built in classic Dravidian style architecture. The Rajagopuram is 236ft high and also the most prominent and famous feature of this temple. With its dozens of shrines in a 156 acre complex, a 1000 pillar hall and 21 intricate gopurams, this place is an immensely impressive to say the least.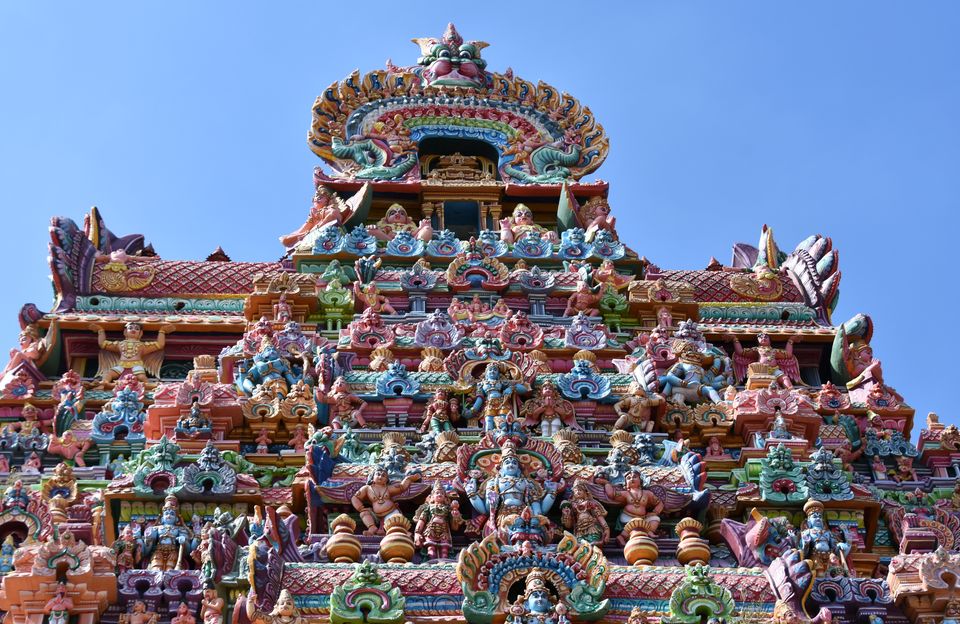 Temple Timings: Morning 6AM to 12.30PM and Evening 4PM to 8PM
Distance from Thanjavur: 60km which is about 1.5 hours drive
>>
While the above list contains some truly incredible architectural marvels, there are about 80-90 other temples you can visit in and around Thanjavur to witness the glorious heritage of South India. Here's a list of a few other majestic temples (in no particular order):
1. Thanjai Mamani Koil or Thanjapureeswarar Temple is a set of three temples together called Divyadesam dedicated to Lord Vishnu.
Location/ Distance from Thanjavur: 5km from the main city on the Thanjavur- Kumbakonam highway
2. Rawaswamy Temple, dedicated to Lord Rama, was constructed in the 16th century in the Nayak-era. The temple has been carved out of a single stone and the 64 pillars surrounding the main shrine have stories from Ramayana engraved on them. Fascinating, right?
Location/ Distance from Thanjavur: Kumbakonam, 45km - about 1 hour drive from Thanjavur
3. Kampahareswar Temple has a similar Dravidian architecture as the Big temple with one exception- the Shiva temple tower is remarkably tall which is not the case in other shrines.
Location/ Distance from Thanjavur: Thirubuvanam, 50km - about 1 hour drive from Thanjavur
4. Thiyaagaraaja Temple, once a dedicated center of learning, still houses several inscriptions across the temple. This temple houses the largest chariot in Tamil Nadu. If you don't mind a little (read: way more than a little ) crowd and heat, then visit this temple during the Chariot festival in the month of April.
Location/ Distance from Thanjavur: Tiruvarur, 70 km - about 2hours drive
5. Swamimalai Swaminatha Swamy Temple is one of the two temples which shows the elephant as Lord Murugan's original mount. The idol here is placed at a height of 60ft on top of a hillock and 60 steps named after 60 Tamilian years lead you to the shrine.
Location/ Distance from Thanjavur: Swamimalai, 50km - about 1 hour drive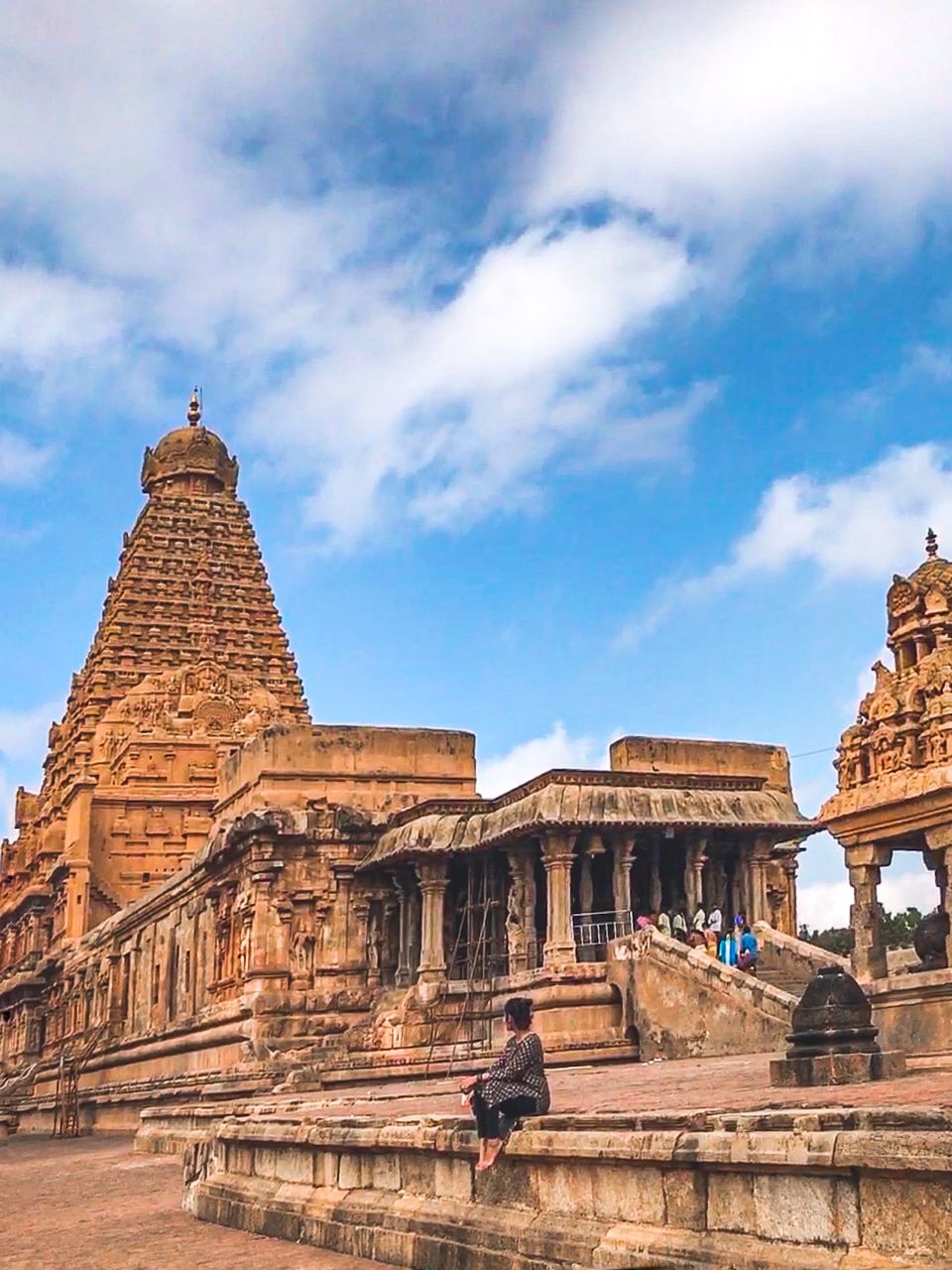 Also read: All you need to know to plan a road trip in Tamil Nadu Chennai to Kanyakumari- a road trip like no other.
Hope this will help make your trip to Thanjavur super amazing. I am sure you will come back from this place both bags and hearts full, like we did.
Happy travels 🙂
Follow us on Instagram @zoomingplaces :)
Ready to travel for free? Earn credits and redeem them on Tripoto's weekend getaways, hotel stays and vacation packages!