The first time I heard about Mount Kailash was not on some Discovery Channel show or through a factual conversation with elders. My first encounter with the existence of Mt Kailash was through the 90's show, Om Namah Shivay. I was only 5 years old and the series was a television adaption of Shiv Maha Purana, an epic about stories out of Shiva's interactions with the mortal and immortal world.
As children, the stories of 'Kailash Parvat' were stories of Shiva, the god of destruction, the Yogi who lives an ascetic life on the summit of Mt Kailash with his wife and goddess Parvati.
Mt Kailash is the most divine mountain in Hinduism, Jainism, Buddhism and Bon. One might wonder why this peak is such highly revered in four major religions. Answers for age-old traditions are often found in natural phenomenons.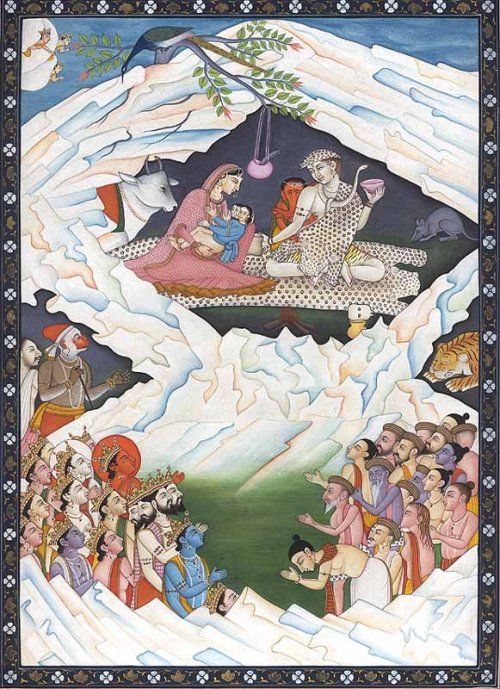 Kailash's divinity can be traced back to its geological formation and geographical location. The mountain lies near the source of some of the longest rivers in Asia; Indus, Sutlej, Brahmaputra and the Karnali River (a tributary of the River Ganga).
Along with this, Mt Kailash is a very unique meta sedimentary roof pendant supported by a massive granite base, formed when the Indian continent collided with the Asian continents. All this makes Kailash a sight to behold, a piece of heaven on earth.
In Other Religions
In Jainism, Kailash is called Meru Parvat (or Sumeru). The unreachable mountain next to Kailash, Ashtapada, is where Rishabhadeva, the first Jain Tirthankara attained nirvana.
In Buddhism, Tantric Buddhists hold Mt Kailash as the home of Buddha Demchok, who represents supreme bliss. The area around the mountain too holds great spiritual and mythological importance as it was the tantric practices of Guru Rinpoche here that established Buddhism as the main religion of Tibet in the 7th–8th century AD.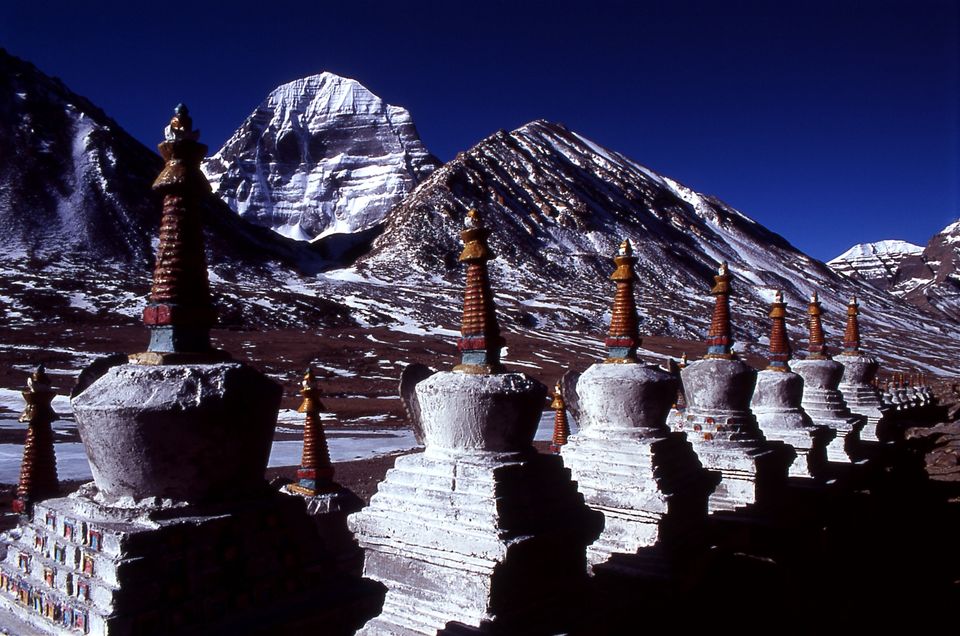 Bon is a pre-Buddhist shamanistic religion that follows a slightly distinct narrative than Buddhism. But even in this native Tibet religion maintains that the entire mystical region around Kailash and the nine-storey Swastika Mountain are the seat of all spiritual power.
The Mind and The Evil
The word "Manasarovar" is a Sanskrit word, which is a combination of the words Mana and sarovar – 'mana' meaning mind and 'sarovar' meaning lake. According to Hinduism, the lake was first created in the mind of Lord Brahma after which it manifested on Earth. For Hindus, Manasarovar is the purest tangible entity.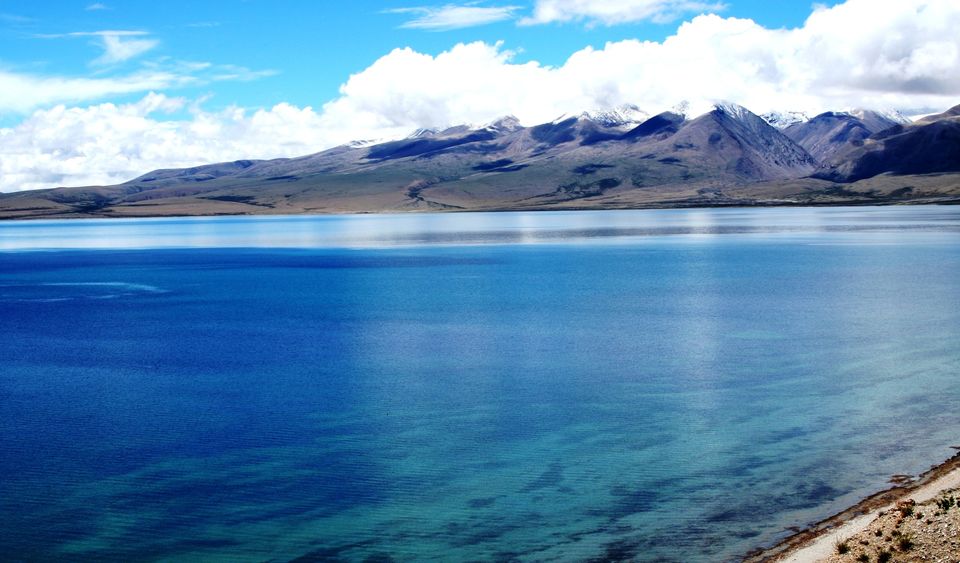 Lying at 15,000 ft above sea level, the fresh water of Manasarovar is truly a natural phenomenon. The lake, despite dry and harsh Himalayan winds remains calm and serene.
Slightly east of Manasarovar lies Rakshastal, a terminal lake. The fresh water flows from Manasarovar into Rakshastal, which has no exit of its own. The crescent shape lake is a salt water turbulent body that has no vegetation around it. Together, Manasarovar and Rakshastal look like a coupling of the sun and the moon.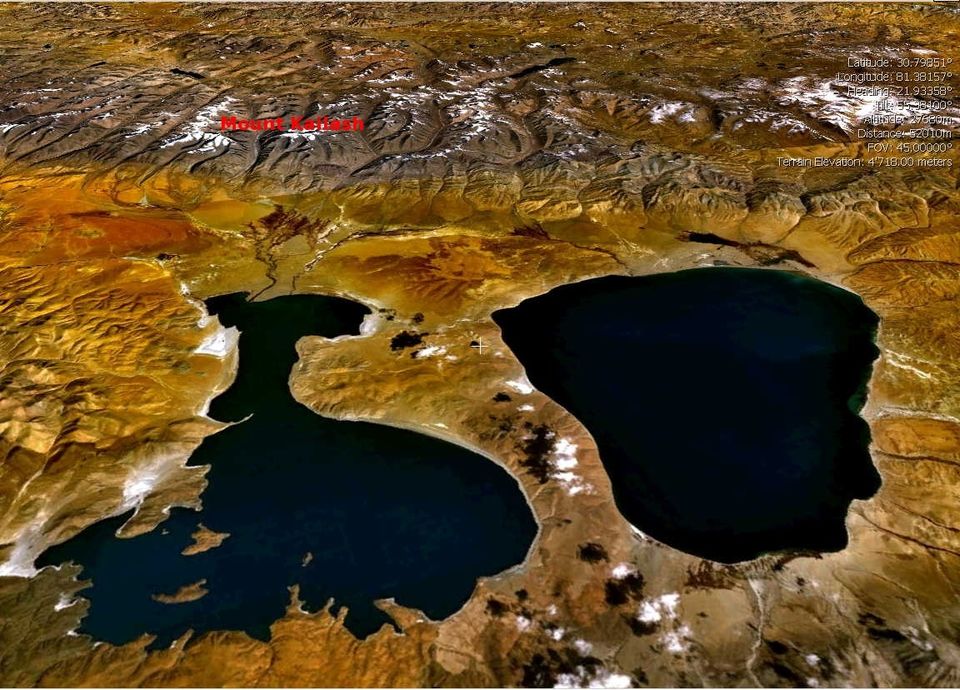 The Mountain No One Climbs
Central to this spiritual haven is the argument about its scalability. Several mountaineers have deemed it unclimbable, yet some have even traced a straight path to the top.
But no one has ever climbed Mt Kailash.
Hugh Ruttledge has remained an arduous explorer of Kailash and its amazing terrain. In 1926, he studied the north face and called it "utterly unclimbable". Ruttledge was in the area with Colonel R.C. Wilson and his sherpa Tseten. Wilson claims that Tseten told him, "'Sahib, we can climb that," as he too saw that the south east ridge represented a feasible route to the summit. But Colonel Wilson had a strange experience.
"Just when I discovered an easy walk to the summit of the mountain, heavy snow began to fall, making the ascent impossible."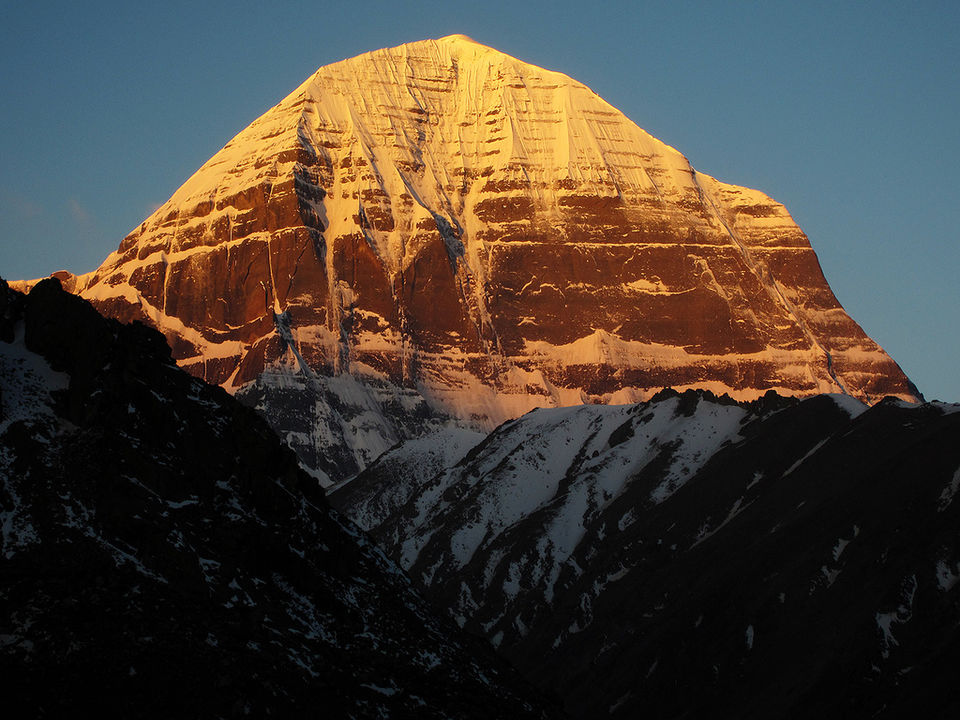 Similar to this are the accounts of a Russian climber, Sergei Cistiakov, who just couldn't move ahead –
"When we approached the foot of the mountain, my heart was pounding. I was in front of the sacred mountain, Mount (sic) which cannot be beaten. I felt extremely emaciated and suddenly I became captivated by the thought that I do not belong on this mountain, it must necessarily come back! As soon as we started the descent, I felt liberated."
In 1936, another renowned climber Herbert Tichy enquired with the Garpons of Ngari whether Kailash was climbable, and the Garpons replied,
"Only a man entirely free of sin could climb Kailash. And he wouldn't have to actually scale the sheer walls of ice to do it – he'd just turn himself into a bird and fly to the summit."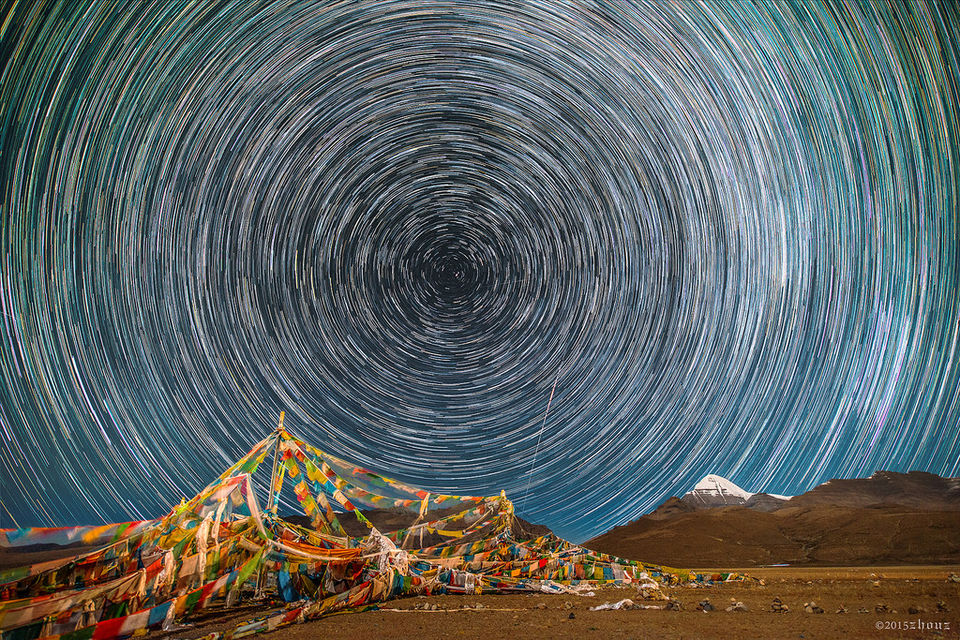 The last recorded attempt at climbing Mt Kailash was in 2001 when the Chinese gave permission to a Spanish team to climb the peak, but there was an outrage amongst people across the world whose faiths believe that Kailash is the holiest. This resulted in an all-out ban. But it was Messner who eloquently put why Kailash should never be climbed,
"If we conquer this mountain, then we conquer something in people's souls ... I would suggest people go and climb something a little harder. Kailash is not so high and not so hard."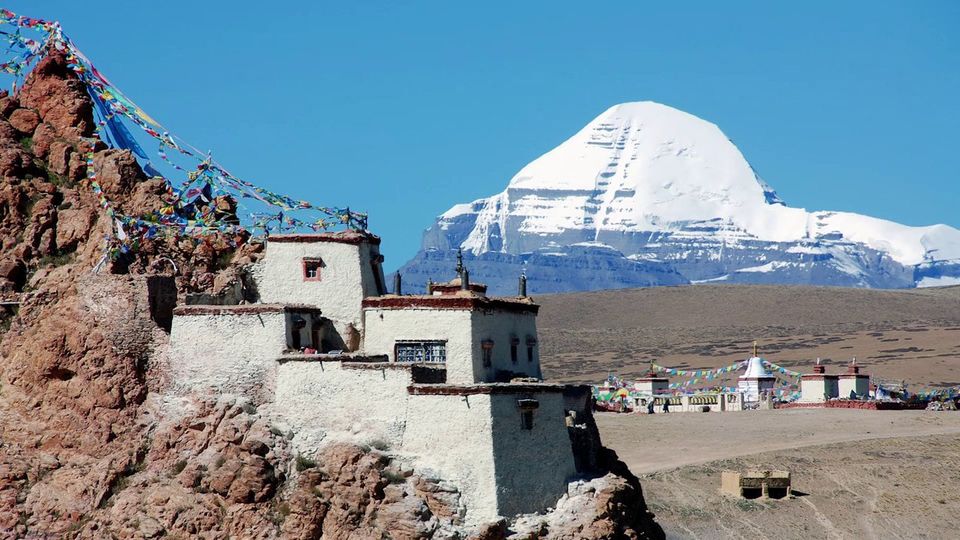 How to Reach
There are a bunch of tour operators who organise Kailash Manasarover Yatra every year. The trip can be done either via helicopter from Nepal, or overland through either Nepal or Lhasa.
a) Kailash Yatra by Helicopter via Nepalganj (07 nights / 08 days): Rs 1,65,000
b) Kailash Manasarovar Overland (12 nights / 13 days by bus and jeep): Rs. 1,08,000
c) Kailash Manasarovar via Lhasa (17 nights / 18 days by flight and jeep): Rs. 1,99,000
Click here if you want to know more about the packages.
India is home to the most intriguing and fascinating phenomenons. Have you encountered any yet?