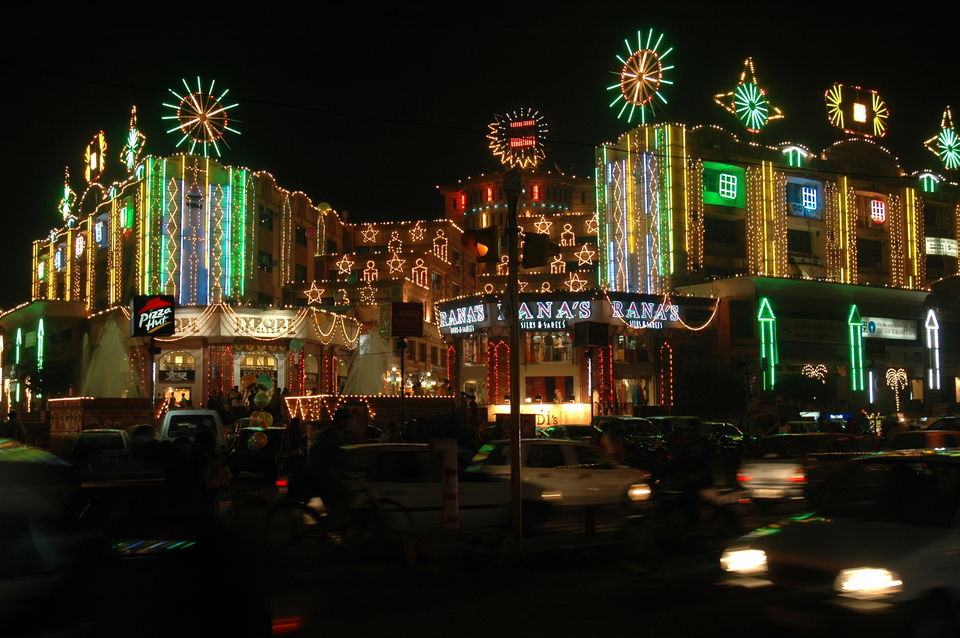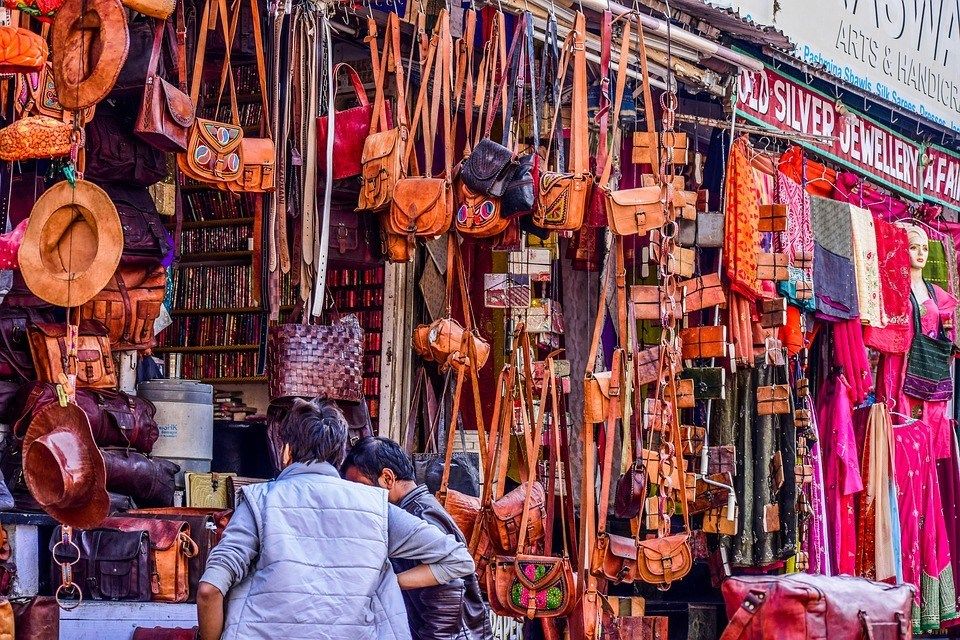 Pink City! Yes, that's the other name for the beautiful city called Jaipur. Apart from the amazing monuments and heritage, the city is filled with lights and colours, especially during Diwali. For years, it has been on the top in the list of best places for shopping. So, let's discover the 5 best places for shopping in Jaipur -
During Diwali, the whole Jaipur is illuminated with colourful lights and decorations. All the shops are well lit and loaded with the best stuff and huge variety. This time, visitors get the best things with the best deals as Diwali welcomes the wedding season. Most people visit Jaipur during Diwali for bridal shopping.
What are the best shopping places to visit in Jaipur?
1. Bapu Bazar
Shopping at Bapu Bazar
Bapu Bazar is the main shopping market in the heart of the city. It is traditionally built market which is colourful and vibrant. One can find anything and everything from head to toe in this market. From Bandhani, Leheriya, Lac, Gota Patti to various other popular designs that stamp the Rajasthani culture, artistry and style to the sarees, textiles and other handcrafted items. The market provides more varieties in terms of jewellery, clothing, footwear as compared to shopping malls in Jaipur.
Women seeking for shopping in Jaipur for Diwali vacations, must read this post thoroughly for better idea of what, how and where to buy from and plan/prepare the trip accordingly to avoid any hassles.
What are the "Must buy things" at Bapu Bazar?
Before starting with the must buy things, it is very important to know that Bapu Bazar is the best bargain market in Jaipur. So, one should posess bargaining skills to get the best bet.
1. Bandhani (Jaipuri Bandhej), Leheriya, Gota Patti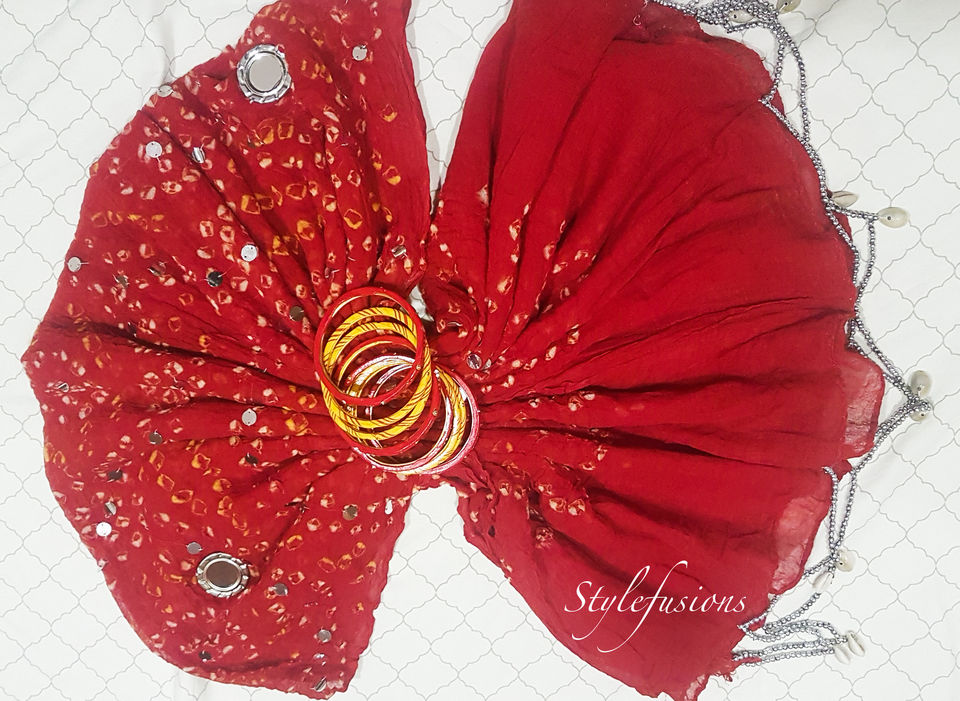 One thing that any woman should never miss is buying Bandhani Saree or Bandhani Dupatta from the market. Sarees range from Rs.1500 to Rs. 2000, depending on the quality of the material you want to buy. Bandhani Dupattas can be worn on any plain suit, pure cotton Bandhani Dupatta costs around Rs. 150 to Rs. 250. Best shop for buying dupattas is shop no.5 (Mohan Silk and Dupatta Shop).
Leheriya and Gota Patti Sarees, suits, lehengas are also available in the market with various colour options. If you want good quality or high end ethnic wears, the best shops are Pratap Sons, Nikhaar and Rama's in Saraogi Mansion, Bapu Bazar. Otherwise, there are many shops in open market that offers huge variety with reasonable prices.
Saraogi Mansion in Bapu Bazar is a huge complex with branded stores like Pratap Sons, Nikhaar, Poshak, Mandana, Rama's (for lehenga, sarees, kurtis, all ethnics and bridal wear). Other than that, there are footwear shops, kids wear, jewellery, stationary, gift shops, restaurants and everything that makes it a complete hot spot.
2. Mojaris
Your shopping in Jaipur is incomplete until you pick atleast a pair of Mojaris that enhances the look of your ethnic wear. These are colorful footwears made of leather kind of material with embroidery and intricate work. These range from Rs. 150 to Rs. 400, depending upon the intricacy of work on them.
3. Lac Bangles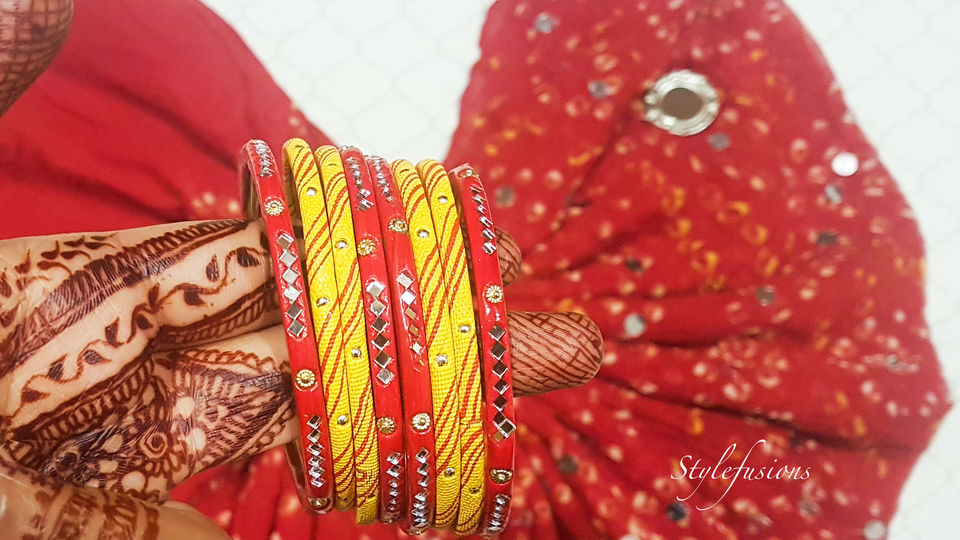 When we talk about colours, how many colour combinations can you think of? There's a huge variety of Lac Bangles in the market with great colour combinations. One set of bangles range from Rs.150 to Rs.200. If you are planning to buy any traditional wear from the market, it is better to choose the bangles thereafter to match or contrast with the outfit. In every lane, there are atleast 5-7 hawkers who are selling lac bangles, but again buy from the one with whom you get the best bargain.
4. Meenakari Junk Jewellery
Meenakari Jhumkis and danglers are also a must buy. The same hawkers who sell Lac Jewellery sell Meenakari junk jewellery as well. Price ranges from Rs. 50 to Rs. 150 for the pair. It is better to buy these junks from hawkers rather shops as they sell at quite reasonable rate.
5. Bedsheets and Bedcovers
Pure cotton bedsheets with Sanganeri, Bagru and Katha prints are quite popular in India. Mona Prints, Shop no. 27, offers huge variety of bedsheets and bedcovers with strong and fast colours. The price range for king size double bedsheets starts from Rs. 650 and goes till Rs. 2000 depending on the quality of the cotton cloth and designs. They also have pure cotton dress materials (ranging from Rs. 500 to Rs. 1500) that makes shopping in Jaipur more worthy.
6. Handicraft items
Jaipur is famous for its handcrafted items like blue pottery, handcrafted gift items, puppets, textiles, antiques, semi antiques, Hand woven Jaipuri quilts that are very soft and light in weight, decorative figurines etc. These all are available at fair prices in the market.
7. Street Food at Bapu Bazar
Not only for shopping, Bapu Bazar is quite famous for eatery as well (mainly street food). Falooda Kulfi, Gol Gappe at Link Road and Chana Zor Garam Chaat are quite popular. People also enjoy Sabudana Khichdi at Falahaar in Saraogi Mansion. There's also Kachoriwala at the exit gate of the Saraogi Mansion who sells delicious kachoris. These all act as toppings over the cake that make shopping in Jaipur more interesting.
2. Johri Bazar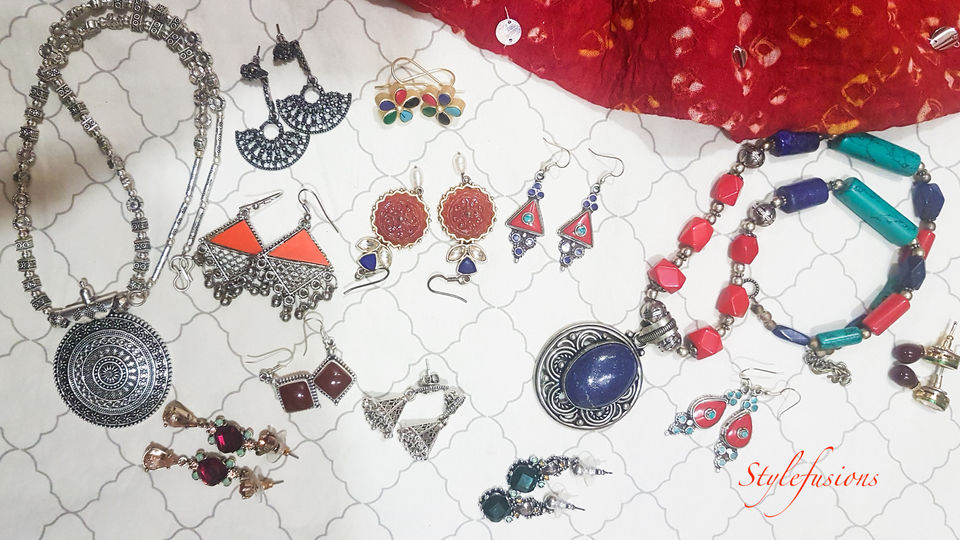 As the name suggests, this market is for the people who love jewellery. It is situated within the walled city of Jaipur. All the precious and semi precious gems and stones are also dealt for wholesale in this market. Johari Bazar is the legend of all the markets dealing in jewellery made of Diamond, Gold, Silver, Brass, Ruby, Coral, Emerald etc and is popular for its authenticity. Kundan is traditional form of Indian gemstone jewellery which is quite popular in Rajasthan. Huge variety of Kundan sets can be found here. However, women are more attracted to silver junk jewellery sold by the shops alongside the market.
The main market in Johari Bazar mainly consists of the shops dealing in jewellery, Jaipuri Razai (Jaipuri Quilts) and Rajasthani Sarees. But the narrow lanes inside have much more where they deal in wholesale and export of precious and semi precious stones. They have smaller workstations known as "Gaddis". The two most popular names among the lanes are Gopal Ji ka Rasta and Haldiyon ka Rasta. The jewelleries in this market are so unique and intricate that it makes one forget about shopping in the malls in Jaipur.
Shops for Jewelleries in Johari Bazar

Johari Bazar is the place where you can Shop until you Drop! The market is full of Jewellery and Saree shops. It gets very difficult to choose from such wide range of same wares that are so close together. However, there are certain shops that are quite popular for their huge range of alluring gemstones and intricate jewelleries. Motisons Jewellers and Shivam Jewellers are two of them. There are some shops that are exclusively dealing in Kundan and Meenakari Jewelleries and they have the artisans sitting behind who work upon the customised jewellery designs ordered by the clients.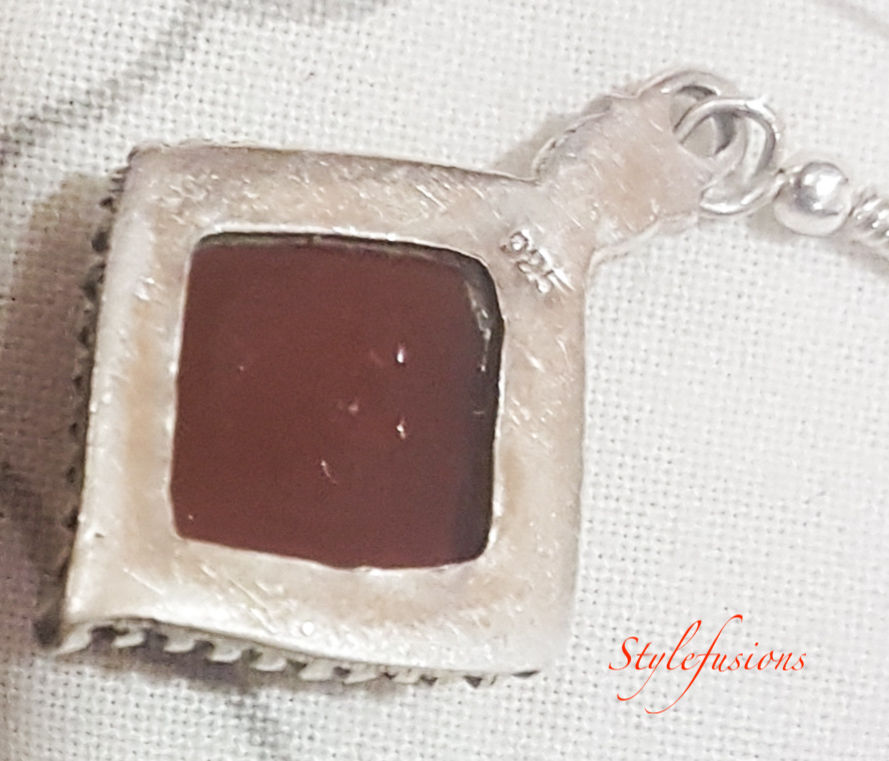 Shops for Sarees, Lehengas, Dress Materials in Johari Bazar
Johari Bazar being the hub of Jewellery market, also deal with conventional textiles, tie and die sarees, bandhej work sarees and lehengas, dress materials, etc. The number of shops dealing in them are so many, that it is not easy to compare the designs and prices of the stuff you see in the market. Major shops that have variety of sarees, lehengas and dress materials with stone work are Aari Tari, Roop Laxmi, Rana Sarees and Jaipur Saree Kendra. Though on expensive side, the range here starts from Rs. 3000 and goes till Rs. 30000- 35000.
Other areas to Shop in Johari BazarPurohit Ji ka Katla
This market has lanes under lanes and is especially meant for women shopping. Though, majority of the crowd shopping in Jaipur consists of women but even men enjoy roaming in such markets that gives pleasure of buying things for thier love. Purohit Ji ka Katla is a hub for wedding shopping. There are many traders and wholesalers sitting in the market selling sarees, lehengas at cheapest rates. It is a shopping place for common man with the variety of things at cheapest prices. You get to see the smaller lanes with huge crowd around. Apart from ethnic wear, there are wholesalers selling plastic goods and toys.
Place to eat in Johari Bazar
Lakshmi Mishthan Bhandar Hotel, popularly known as LMB (established in 1954) is the Vintage place to eat. It is 5-6 mins walk from Hawa Mahal. The Popular dishes of the hotel are - Aloo Tikki, Samosa Chaat and Ghewar.
Narayan Ji Gajak Wale - Gajak is well known confection or dessert of Rajasthan. Narayan Ji Gajak Wale is popular for selling gajaks in all over Jaipur.
3. Nehru Bazar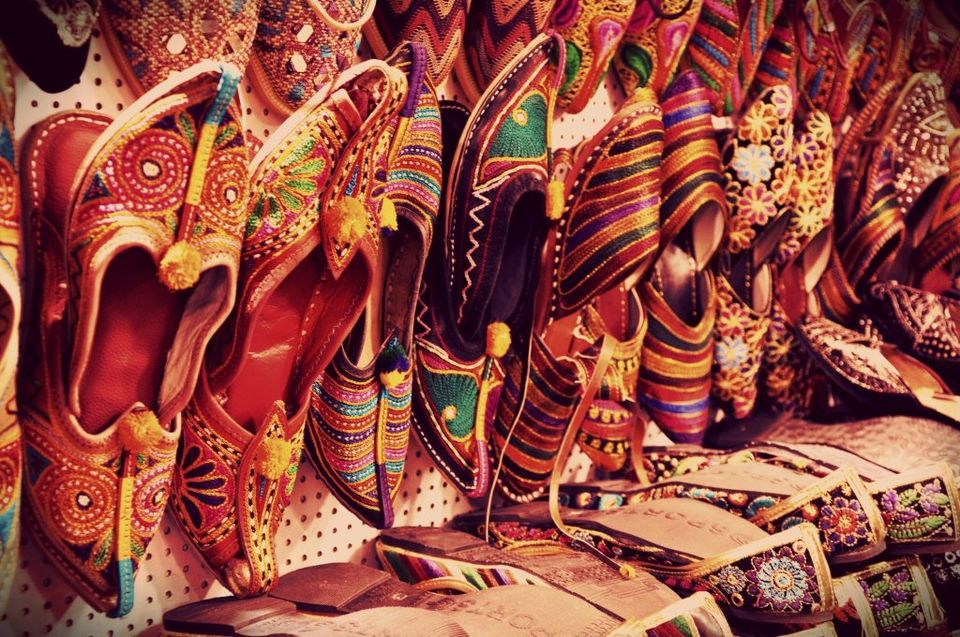 If you are looking for the shops especially dealing in footwears, the best market place to visit in Jaipur is Nehru Bazar. Mojaris and Jootis are the main attraction of this market. Although, as I said, everything from top to toe is also available in Bapu Bazar but some market places in Jaipur are especially meant for specific things. Here also, you need bargaining skills to get the best buy.
Guddu Ice cream Parlour at Nehru Bazar, is the best place to have Ice cream shakes. They are worth every penny.
4. M.I. Road (Mirza Ismail Road)
It is really not possible, if you have listed the places to visit in Jaipur and M.I. Road is not one of them. Visiting any of the above markets, one has to pass through M.I. Road. It is an ideal place for shopping in Jaipur if you have to buy readymade branded garments. The market comprises of showrooms like Nike, Adidas, Woodland, Raymond, United Colors of Benetton, Levi's, Crocodile and many more. Some shops have antique items, handicrafts, textiles, etc.
Apart from that, there are two big Jewellery stores, one is Birdhichand Ghanshyamdas dealing in Gold and Diamond Jewellery. You can find the second shop of the same in Johari Bazar but they have a huge store and huge collection at M.I. Road. And the other is Gem Palace where you can find exclusive antique jewellery. Some other jewellery shops at M.I. Road sell old silver jewelleries.
Top few places to eat at M.I. Road
Hotel Surya Mahal at Panch Batti Circle - It is a retro style dining restuarant. Popular for North Indian food. Dasaprakash - Located on the main road, serving the best South Indian dishes. Handi Restaurant- If you have love for red meat, go to this place, serving the best non veg platters and kebabs. Lassiwala- Located at Panch Batti Circle, M.I. Road. Lassiwala is popular for making thick malai layered lassi which they serve in Kulhad (cup made of clay)
Apart from shopping and eating in Jaipur, there are some other places to Hangout. One of them is Raj Mandir Cinema hall located at Panch Batti Circle, is known for its large size and beautiful interiors and architecture.
5. World Trade Park, Jaipur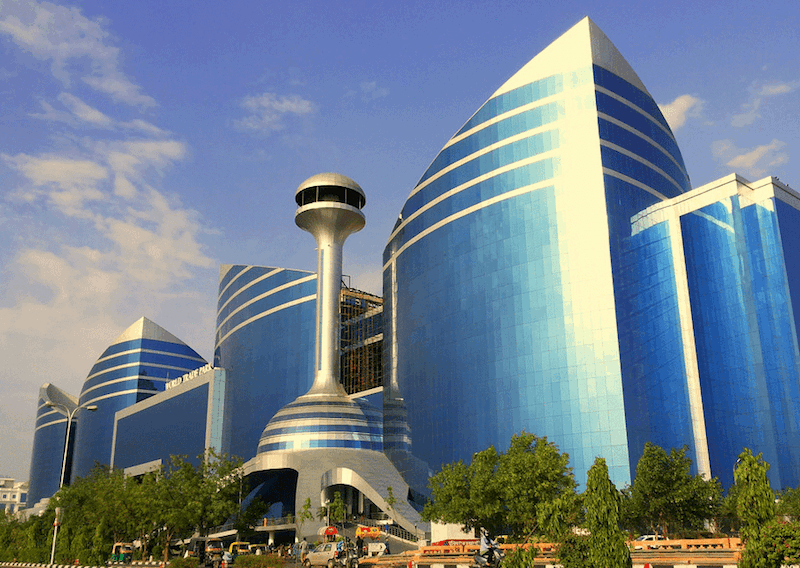 If you have already roamed around and have seen the heritage city with the beautiful architecture, now comes the latest shopping mall in Jaipur. World Trade Park, popularly known as WTP is a huge high end shopping mall in Jaipur. It is located in Jawahar Lal Nehru Marg, Malviya Nagar which is quite a happening place as many Universities, Colleges, Hospitals and Big Multinational Companies are occupying that area.
The huge mall is divided in two blocks - The North Block and the South Block. These Blocks are connected by the street known as Dubai Street comprising of small-small kiosks selling fun things like Mobile Covers, Kids gift items, Cosmetics, Churan, Pan Masala, etc. The building's architecture reminds of Dubai Shopping Mall as the interiors have Big Beautiful Chandeliers on the ceilings and various statues and sculptures. It is being more a selfie destination rather shopping due to its beautiful architectural construction and interiors.
The Shopping Mall includes all the high end expensive stores like Mango, Swatch, Zara, Accessorize, Vero Moda, Meena Bazar, Clarks, Da Milano, Rado, Tagheuer, Salons, Coffee Shops, Pubs, Discotheque and many more!
Other than Stores for shopping, World Trade Park has Cinepolis, Office Spaces, Event Hall, Conference hall, Play Zone, so, it can be considered as one stop hot spot destination for Shopping, Fun, Entertainment, Events, Work and Food.
Places to visit near World Trade Park, Jaipur
Gaurav Towers, just next to the World Trade Park is also an everyday go to place for youngsters. Apart from shopping, it is also an attraction for fun seekers as there is huge open place with food stalls for people to hangout and chill. Other than World Trade Park, this place is a must visit in jaipur and a preferred hangout spot due to the space, variety and popularity. Unlike World Trade Park, this place has both the high end shopping stores as well as local stores. From things like apparel, watches, footwear to electronic items, mobile stores, food stalls, everything is covered here.
How to travel around for shopping in Jaipur?
Shopping in jaipur is not diffucult as in other cities. For roaming within the Jaipur City for markets like Bapu Bazar, Johri Bazar, Nehru Bazar, it is better to hire Electric Rickshaw which is very much reasonable from a layman's point of view. Other than this, you can also hire auto rickshaws, cabs, motor bikes etc.
For roaming around or outside the main city area i.e. M.I. Road, Malviya Nagar for World Trade Park or Gaurav Towers, it is advisable to travel either by cabs or buses.
How to Pay for shopping in Jaipur?
It is better to keep good cash with yourself, even when credit and debit cards are allowed in most of the places. It is because there are many stalls and kiosks from where you may end up buying things for which they do not accept card payments. Paytm is still not accepted by most of the shops in Jaipur. As for the shopping mall like World Trade Park and Gaurav Towers, card payments will do the work.
Some commonly asked questions regarding shopping in Jaipur-
Q. What are the famous things to buy in Jaipur?
A. 1. Sarees, Lehengas, Suits - Bandhej, Leheriya, Doriya, Gota Patti. 2. Jewellery - Kundan and Lac Jewellery 3. Footwear - Mojaris 4. Handicarft items
Q. What are the best places to shop bridal wear in Jaipur?
A. Pratap Sons, Nikhaar in Bapu Bazar, Zari at Narayan Singh Circle, Tonk Road and Aari Tari, Rooplaxmi in Johari Bazar.
Q. Which area is the best to stay close to Jaipur market?
A. Banipark is 10-15 mins from M.I. road which is linked to all the markets. It has many 3-4 star hotels that are easily accessible and available.
Q. Which shopping area is near to Jaipur Railway Station?
A. M.I. Road is very close to railway station which is further linking to Bapu Bazar, Nehru Bazar and Johri Bazar.
What are the best timings to go for shopping in Jaipur?
Most of the market opens around 10:30- 11:00 a.m. and closes around 8:30-9:00. However, most of the shops are open on all days of the week but some of them are closed on Sundays and Tuesday, so it is better to plan your trip accordingly.
So, these are the must visit shopping places in Jaipur. Please comment below for what you liked and what you did not like about the post or any experience you had for shopping in Jaipur that I missed here. Join me on instagram or facebook for more lifestyle updates.