Nandi Hills Tourism & Travel Guide
Nandi Hills Tourism & Travel Guide
Located about 60 km from Bangalore, Nandi Hills is a popular destination for people looking for a break. Nandi Hills is known for its rich cultural history; it is believed to have been Tipu Sultan's favourite summer retreat. The hills in fact have a massive fort named Nandidurga Fort built by him. This fort was inhabited by the Britishers during their rule as well. Do visit Tipu's Summer Palace and Fort, Amruth Sarovar Lake and Secret Escape Route when you are here. If you'd like to explore the hills on your own, do ask a local to take your around, especially if you have plans to go trekking. Paragliding is another activity that you can try here. Perfect for adventure seekers and foodie lovers, Nandi Hills is a treat to explore!
Best time to visit Nandi Hills is from October to March
Trips and Itineraries for Nandi Hills
1 Day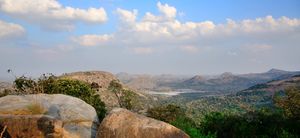 Avalabetta: Nandi Hills without the crowd !
3 Days
Chill Out: From Bangalore to Nandi Hills
---
Top Places To Visit in Nandi Hills
9 Spots
Nandi Hills, Karnataka 562103, India
---
Hotels and Homestays in Nandi Hills
1 Hotels
---
---
Book Nandi Hills Tour Package