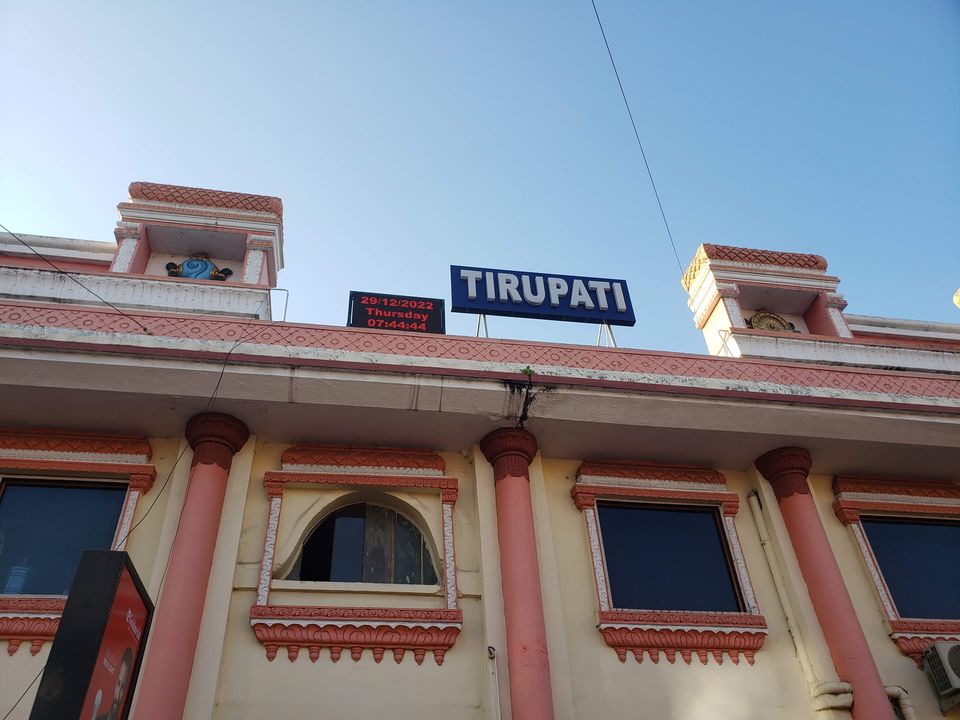 Trip to Triuputi in Dec 2023.
Note: If you are planning to go to Triuputi then I would advise you two things.
1. Book the temple Darshan Tickets online in advance.
2. Have one or two days with you in addition so that, if you get late during the Darshan due to queue or get tired climbing the steps, you can take rest and return back.
We boarded the Venkatadri Express Train from Kachiguda which started at 8: 00 PM and It reached Triuputi at 7: 30 AM. ( Train Tickets Cost is 1000 Rs approximately)
Once you reach Triuputi, you can find plenty of Lodges and Hotels Nearby. There are free lodging near to temple at the hilltop.
We have chosen a Lodge in Random and We have chosen Sriram Lodge which costed us 750 Rs for two persons for 24 hours.
After freshup, we had our lunch at Sri Bhojanalaya ( Punjabi Dish) which provided us unlimited food for 160 Rs per plate. Quality of food was good as well as the maintenance of hotel.
After having the lunch we took a bus from the bus stop near to station and reached to
Sri Vari Methue.
There are two ways to go to the hilltop ( if you planning to climb the steps.
1) Alipiri : You have to walk 4000 Steps + 7 kms walking.
2) Sri Vari Methue : You have to climb 2500 Steps
It depends on persons to persons which one will they opt.
We preferred 2nd option.
You will find water at every a 100 to 150 steps. So, you don't have to carry water bottles. You will even find people selling refreshments so that you can rest for a while and restart your journey.
The best part of this journey is, you will find a lot of people with whom you can interact and learn a lot of things.
Once you reach at the top, you will have to join the queue, depending upon if you have taken free Darshan or Paid.
To get the paid Darshan, you have book the tickets online which will cost you 300 Rs. This tickets has to booked at least one month advance.
We went around the temple and saw the mesmerizing view of two elephants escorting almighty to reach to temple.
We spent some time at the temple itself and returned back to hotel by 10: 00.