Trekking in the north-east has got a unique appeal of its own with its dense forests, beautiful rivers and some of the most picturesque settings of nature. An occasional brush with the tribal life in these areas is quite an experience too. The best way to explore all the hidden beauty of the North-eastern states is by skipping all the regular touristy things everyone usually does and going on treks into the wilderness that lies within these places.
While there are plenty of popular treks that have people coming back over and over again to these states, we got hold of a few that aren't as popular but incredibly beautiful nevertheless. Here are five North-Eastern treks that you may not have heard of before, but are definitely going to love once you go about them.
Unakoti trek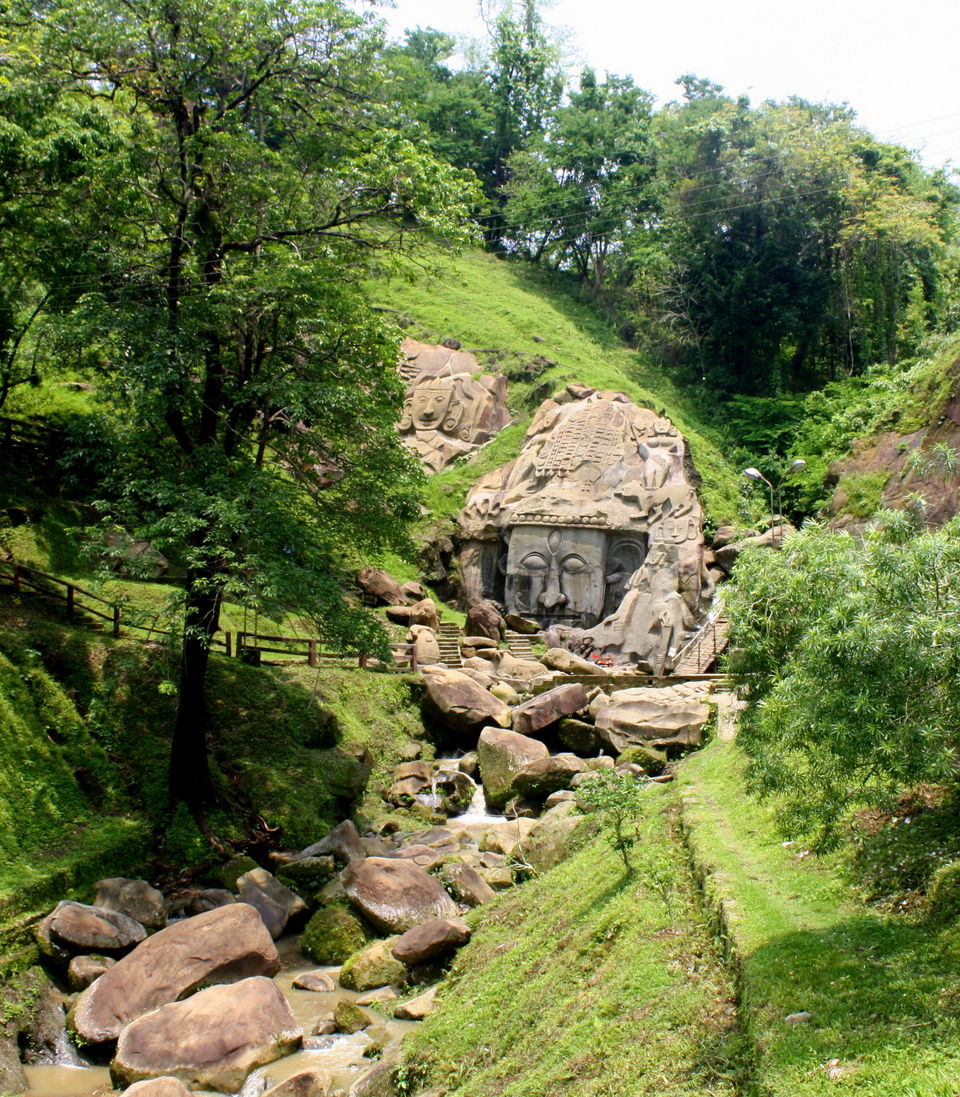 In Tripura, a few hours away from Agartala is the Unakoti trek which is a short climb up a few hills of the ruins of Unakoti. What draws people here are all the rock carvings of Hindu gods such as Shiva, Ganesha, the bull which are rumored to be dated back to the 2nd century AD. The thick vegetation all over these hills and the scenic back drop along with all the carvings of gods make this nearly-hidden trek a really unique experience.
How to get here : Between the towns of Dharmanagar and Kailashahar lie the Unakoti hills. As you are travelling on the road connecting these two towns, there will be pointers that lead you to these hills.
Difficulty level : The Unakoti hills make for an easy and a small trek. With a lot of people visiting here, there is a path laid among the rocks that is easy to walk through.
Best time to go : October through March is a good time to visit here.
Time taken : It takes about an hour get up the hills and savour all the beauty and back down if you can do it fast.
Namdapha trek
The Namdapha national park is one of the treasures of Arunachal Pradesh where nature is in its most serene, unperturbed and beautiful form. It is said that there are a whole of 425 species of plants and animals in this national park. A trek through this wild abode of some gorgeous flora and fauna can take quite a few days with stops in towns through the length of it. From boating to elephant safaris to visiting the tribal villages, there's a whole lot to do during this trek. Accommodation is also found at many palces within the national park for you to stay at while you are exploring it.
How to get here : The closest city to the Namdapha trek is Dibrugarh which is well connected to the rest of the cities and towns in India by rail, air and buses. The road from Dibrugarh to the beginning of the national park is good and can be reached by a car or any other private vehicle.
Difficulty level : This is a lengthy trek that needs you to walk quite a bit among the forests and that can be a bit difficult for beginners. However, since you can take a lot of breaks while you are at it, it isn't that tough either.
Best time to go : The weather is best during the months of October through March.
Route/Time taken : The whole park can be trekked through in 8 days at the maximum but if you want t o cover just a few areas in the park, they can be done within a day or two. Here are some Namdapha treks you can try out - trek 1, trek 2.
Phawngpui peak trek
Phawngpui, also called as the blue mountain of Mizoram is the highest peak in the state and a trek above this mountain to the peak is a visual delight all through. At 2165m from the ground, a trek up the blue mountain takes a few hours (about 4) and you can also take a jeep if you'd rather not do it on foot but the jeep road gets you only to a place called Farpak and not all the way up to the peak. The way up is filled with scenic natural beauty with all the rhododendrons and butterflies we get to see. The river Chhimtuipui that lies next to the blue mountain adds to the beauty of this trek.
How to get here: The closest town to the peak is Aizawl which is connected by air to Kolkata and Imphal. Sangau is a village that is the closest to the peak which you can get to by road. From Sangau, you get to the base of the peak which is also called as Farpak through a dirt road (either by foot or jeep) and then trek your way up to the peak from here.
Difficulty level : The trek is on a decently laid out road but it is the length of the trek which could make it slightly difficult for beginners.
Best time to go : The trek is open only from November through March and that is a good time to do it.
Route/Time taken : From Farpak to the peak and back, the whole trek takes about 4 hours. From Sangau it takes nearly 8 to 10 hours.
Talley valley trek
If all the natural beauty and serenity of Ziro valley of Arunachal Pradesh is one that astounds you, you should definitely do this trek in the Talley valley which could last from a minimum of 5 days to 14 days as well. From the beautiful greenery of the rainforests of the Talley valley to the rivers, lakes, valleys that you find here and the tribal villages you encounter every now and then, a trek through this valley can make for one amazing experience.
How to get here: Naharlagun is the nearest town to Ziro from where you can drive to the valley. Beyond Ziro, you can only get around by two wheeler at some places and by foot through most of the trek.
Difficulty level : The trek needs some good fitness levels as there is plenty of walking and camping to do, sometimes amidst rain and so yes, it probably isn't for everyone.
Best time to go : Unless you want to walk in the rains, the best time to go is when it doesn't rain from December through March so that you can avoid the heat as well.
Siang valley trek
A trek through the incredibly beautiful Siang valley of Arunachal Pradesh amidst Himalayas,rivers, lakes and valleys and many stunning landscapes will be an experience that you will absolutely love. It starts off at Dibrugarh and will have you cross many beautiful places such as the Yembung, Milang, Sessen and ends at the Siang valley. The Siang valley ends in the Tsang Po river which has originated in Tibet. While you are on this trek, you also get to interact and stay with many local tribes of Arunachal Pradesh and that's definitely an interesting experience as well.
How to get here: Dibrugarh is the starting point for this trek and it is well connected with most of its neighbouring cities and towns by air, rail and road.
Difficulty level : There will be plenty of climbing and walking to do amidst camping in villages so it needs you to be fit and well-trained.
Best time to go : October through March is the best time to take this trek up as the weather is reasonably cold without rains.
Route/Time taken : The trek usually takes up to 7-8 days starting from Dibrugarh and leading us to Yembung by boat and a few village halts and valleys later to the Siang Valley.
Have you been on any one of these treks? Do you know of any hidden treks in the north-east you want to tell the world about? Here's where you can do it.