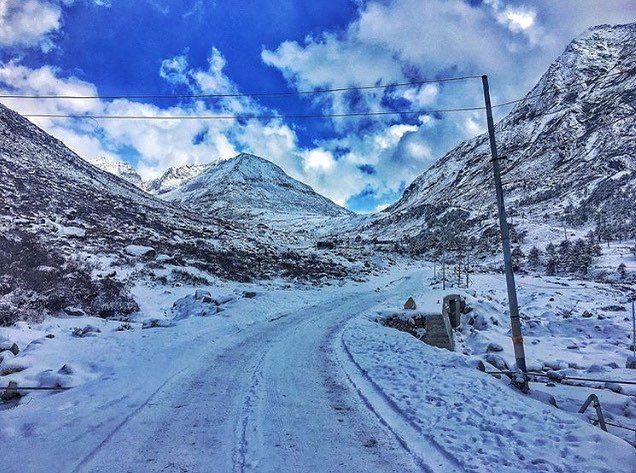 How often have you thought of visiting a hill station in India where you can just relax and stare at nature's splendour while letting go of the stress that your everyday life brings you? However, with the number of travellers increasing every year and the increasing commercialization of the local hill stations, this seems like a distant dream.
A favourite amongst tourists, the beauty of the mighty Himalayas stretching along the North eastern boundary of India is no secret. Thronged by visitors every year, most of these places have become tourist centrals, however there are some parts of it which thankfully are yet unexplored. Arunachal Pradesh is one such state which is a must visit for its raw untouched beauty. Sharing its boundaries with Assam on one side and Bhutan, Burma and China on the other, it is a hidden territory waiting to be discovered.
Known for their delightful Himalayan views and simplicity, the hill stations in Arunachal Pradesh are the perfect destinations to get extremely close to mother nature. From famous hill stations to unexplored ones, here are the top hill stations in Arunachal Pradesh for you to visit for your next trip!
This tiny hamlet located in Arunachal Pradesh is one of the most sensitive zones of India. Once a part of the Tibet region in China, it was captured by the British army during their colonial rule. When the British left in 1947, it was eyed upon by the Chinese, who tried to seize it in 1962 but lost in the hands of brave Indian soldiers. Till date, this region remains a matter of dispute and hence special permits are needed for both Indians and foreign nationals to enter it. These can be easily arranged from the office of the Deputy Resident Commissioner of Arunachal Pradesh. This off the radar destination is known for its snow laden Himalayan peaks and the famous Tawang monastery which is the largest in Asia and 2nd largest in the world. From history buffs to nature lovers and adventure lovers, this place has something to offer to everyone visiting it. For adventure lovers, a visit to the Bum La pass perched at an elevation of 16500 ft. is a must visit. A special permit from the Indian Army is needed which is given only to Indian Nationals.
How to reach: The best way to reach here is by Air, the nearest airport is at Tezpur in Assam which is well connected to Guwahati and Kolkata. From the airport, board a government bus or take a private bike/car to reach Tawang while enjoying the scenic views on the way.
Known as the "Land of Dawn-lit Mountains", this hill town is the capital of Arunachal Pradesh. Despite being the state capital, it is untouched by the glamour of city life and provides you a rustic holiday experience with the perfect surroundings to relax in the lap of Mother Nature. A perfect destination for nature lovers as well as adventure seekers, it is known for its hiking trails particularly the Itanagar-Pasighat trail. For culture lovers, check the dates for its major festivals like 'Losar', 'Mopin', 'Reh' and 'Nyokum'. Each of these festivals is filled with colourful folk dances, acrobatic performances and unusual rituals. For food lovers, the local delicacies like momos and tribal flavours of bamboo shoots and Yak cheese are a must try.
How to reach: The entry to Itanagar is through the bordering state of Assam whether you are travelling via road, rail or air. The nearest airport is at Lilabari in Assam (67 kms) which is well connected to Guwahati. You can also travel via train; nearest station is at Harmuti station in Assam. A Helicopter facility is also available thrice a week between Guwahati and Itanagar operated by Pawan Hans Ltd.
Ziro is the administrative headquarters of the Lower Subansiri district of Arunachal Pradesh. Perched at an elevation of 5500 ft above sea level, it is a delight for wildlife lovers for the many exotic species that can be found here. The picturesque trail is dotted with bamboo forest, terraced rice fields and pine trees which make it one of the most photogenic places in Arunachal Pradesh. The Talley Wildlife Sanctuary is known for hosting the elusive clouded leopards and gives you an unmatched wildlife experience. The Apatani tribe in this valley is well recognized for their advanced agro farming methods that combine high altitude fish farming and unusual rituals. A Tribal camping experience with them is a must on your visit here. If you are travelling in September, then you can visit the internationally famous Ziro Music Festival which brings in artists from across the world to perform here.
How to reach: Nearest airport is at Tezpur in Assam. If you are travelling by train, nearest station is at North Lakhimpur in Assam.
Known as the gateway to Arunachal Pradesh, Pasighat is the administrative headquarters of East Siang district in North East. With an elevation of 155 metres this hill town is blessed with gushing waterfalls, scenic views and majestic mountains. For nature lovers, a walk in the thick woods along the Siong River while watching hundreds of colourful birds fly above you is a delight to watch. This river also hosts various adventure activities such as white-water river rafting and kayaking etc. To experience its rich culture and history, a visit to the Kekar Monying hill cliff, the Komsing Village and Gomsi is a must, remains of the past can still be seen in many areas here. Some of the oldest tribes like Pasi and Minyong are also found here, following their traditional customs till date.
How to reach: The closest airport is at Dibrugarh (167 kms). The closest railway station is at Murkong Selek (35 kms). By road it is connected to major cities such as Dibrugarh, Guwahati and Itanagar via state buses or cabs.
Truly a slice of paradise, Bomdila sits an elevation of 3500 metres in Eastern Himalayan range as the administrative headquarters of the West Kameng district of Arunachal Pradesh. Despite being a disputed area located very closely to the Indo-China border, innumerable visitors, adventure seekers and culture enthusiasts visit here every year. The striking fruit orchards here give you an opportunity to pick fresh fruits right from the trees for consumption. The perfect time to visit this place is during the Buddhist New Year somewhere in Feb end or early March when they celebrate their biggest festival and you can be awed with masked dance performances and delicious Tibetian food.
How to reach: The nearest airport is at Salonbari Airport in the Assamese city of Tezpur from where you can take a bus of a shared/private cab to Bomdila. Alternatively, you can take a train till Rangapara followed by a road journey via NH52. However be ready to expect a bumpy ride since roads aren't much developed in this area.
On the banks of the beautiful Kameng river, this lies in close proximity to the Assam-Arunachal border and makes as an entry point to Western Arunachal Pradesh circuit. To visit famous destinations like Tawang and Bomdila, one must plan to stop here for a few days to have a unique village experience. From star lit skies to dense woods, Bhalukpong is a memory to treasure. The best time to visit here is in March, when the Nyethidow Festival brings life to the whole valley with orchid blooms and hill trails that give awe-inspiring panaromas.
How to reach: Nearest airport is at the Salonibari Airport located at Tezpur, take a state bus or cab from there. A better option to enjoy the road trip here is to travel via Guwahati and make a visit through the Kaziranga National Park and along the Brahmaputra river to reach Bhalukpong.
Located near the Dibang river, this is the headquarter of Lower Dibang Valley in Arunachal Pradesh. From flat to snow peaked mountains, this district is hilly in the north and gentle to plan in the south. Criss crossed with numerous blissful lakes, rivers, ancient archaeological sites and wildlife sanctuaries this town appeals to countless tourists every year. However, despite its popularity, it is far from any sort of commercialization. Located just 50 kms ahead, Mayudia is a popular point of interest for tourists. Mayudia is every snow seeker's dream come true with snow laden mountains and scenic views which are unmatched. The journey from Roing to Mayudia itself needs a special mention for its every ever-changing peaks and misty clouds which are a delight to city dwellers.
How to reach: Nearest airport is at 'Mohanbari Airport' or 'Gopinath Bordoloi International Airport' both located in Assam from where cabs or state buses can further be taken to reach Roing. Nearest railway station is 'Tinsukia Railway Station' from where it is accessible by road or a ferry. Helicopter rides operated by Pawan Hans are also available from Guwahati, Dibrugarh and Naharlagun, located in the neighbouring state of Assam.
Sharing an international border with Myanmar(Burma), it is known for its bio diversity and subtle uniqueness. One of the most unique places to visit here includes the Lake of No Return which is known as a destination where planes perished and hence is named thus. The World War II Cemetery, Stilwell road and the Tibetian Refugee camp are well known landmarks for history enthusiasts. The remains of World War II can be seen at Ranglum in the form of crashed aircrafts and debris. A must visit here is the Hell Pass at Indo- Myanmar border which is of historic importance and was named thus as it was highly dangerous to cross this route during the war.
How to reach: Changlang town can be reached from Dibrugarh, Tinsukia, Margherita and Miao by road. The nearest airport to Changlang town is situated at Dibrugarh and the nearest railhead is at Tinsukia. Taxis and jeeps are the best options to travel to the place.
Similar to the Pasighat region, Yingkiong, the administrative headquarters of the Upper Siang district in North East sits an elevation of 200 metres above sea level. The beautiful Siang river which flows right through the heart of the village is loved by nature and adventure lovers both. For the numerous opportunities it provides the travellers from water sports to spectacular views. The Mouling National Park' and 'Daying Ering Wildlife Sanctuary are also popular attractions for tourists interested in wildlife and bird-watching.
How to reach: The nearest airport is at Dibrugarh and Guwahati in Assam. For train travel, Murkong Selek Railway Station is located at 160 kms. From Yingkiong. From where state buses or private cabs are available. Helicopter services are also available from Dibrugarh and Itanagar thrice a week.
Note: For most regions in Arunachal Pradesh, Inner Line Permit (ILP) for domestic travellers and Protected Area Permit (PAP) for foreign nationals are the major pre-requisites to enter and can be arranged from liaising and Resident Commissioner Offices located in all major cities across India including New Delhi, Kolkata and Guwahati. These permits range from Rs. 100-200 for all the cities.
Have you visited any such unexplored places? Write about it on Tripoto.
For videos and more, check out Tripoto's YouTube page!
Frequent Searches Leading To This Page:-
Arunachal Pradesh Tour Itinerary, Arunachal Pradesh Backpacking Trip, Trip to Arunachal Pradesh, Reviews for Arunachal Pradesh Backpacking Trip, Arunachal Pradesh Backpacking Trip cost