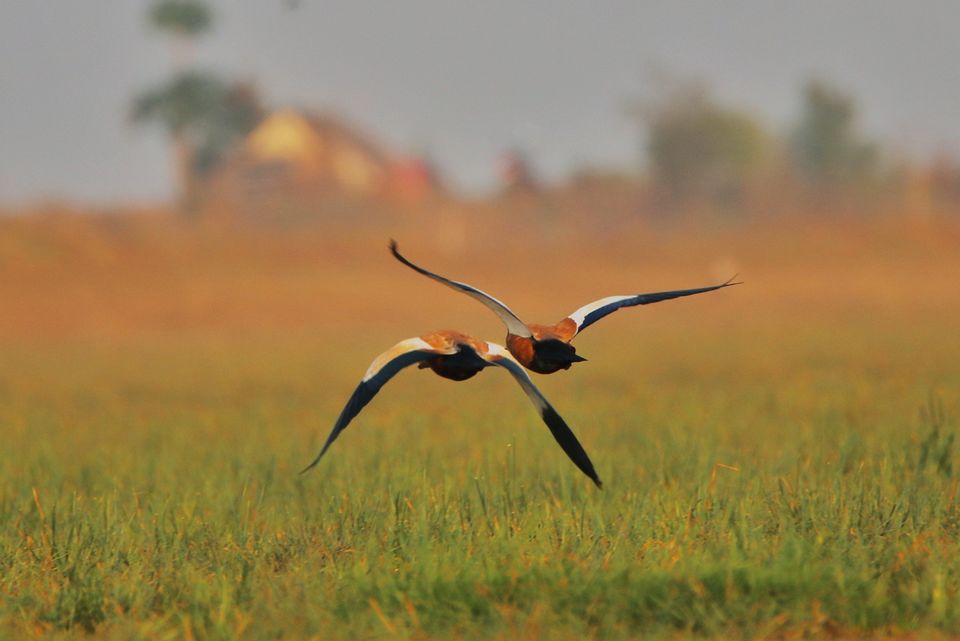 If u want a life of wilderness... Calmness ... Serenity ... There are various places to explore. But exploring keeps us always surcharged with various activities. One such activity is birdwatching or more concisely bird photography which took me to the North of our West Bengal.
I was in this birding field for a long run even visited few places to click some rarities but this time i was there not for endemic birds but for migratory ones.
After discussing and taking valuable informations from my photography inspirations and also after contacting my guide, i planned to move on 13th jan 2020 for Siliguri.
Gajoldoba is mainly a barrage located 36 kms away from the city. Being a solo birder i broke my journey from Siliguri Bus stand to check post and then to gajoldoba via Ambari. My journey was hectic but the huge barrage with a view of Kanchenjunga reflecting over its lake took my heart.
Gajoldoba is a small village in the Oodlabari in Jalpaiguri district of Dooars region. Gajoldoba is in the western south of the Himalayan foothills between the Mahananda and the teesta river. Gajoldoba barrage was made mainly for irrigational purpose but then it slowly became a hub of migratory birds in winter.
The reservoir is surrounded by the forests of Baikunthapur. And its location makes it a great habitat for the migratory birds. But i was greeted by the sunset over Teesta. It was out of world. I met my local guide cum boatmen and planned for my birding the next morning. Being a kind person he even managed me a room in a nearby resort.
The day ended with a lots of dream which were yet to be fulfilled.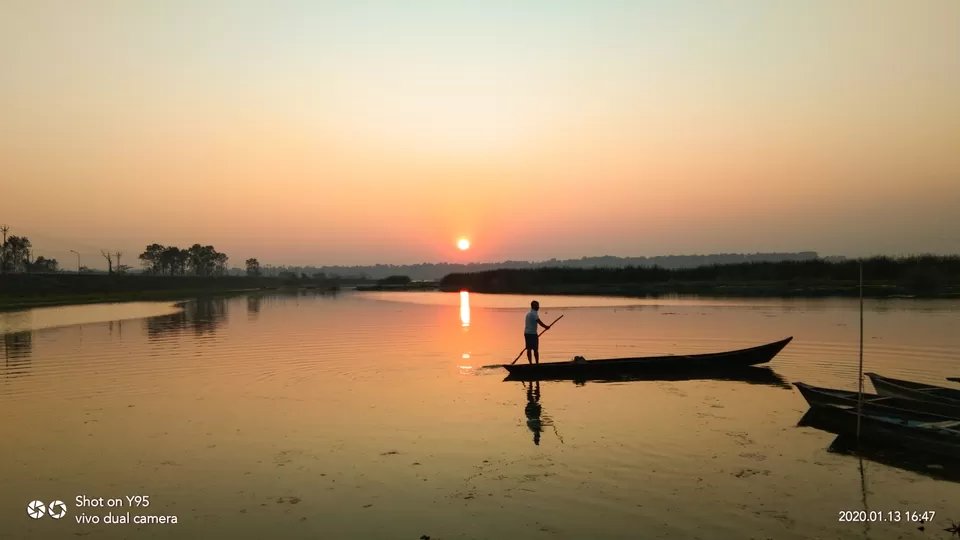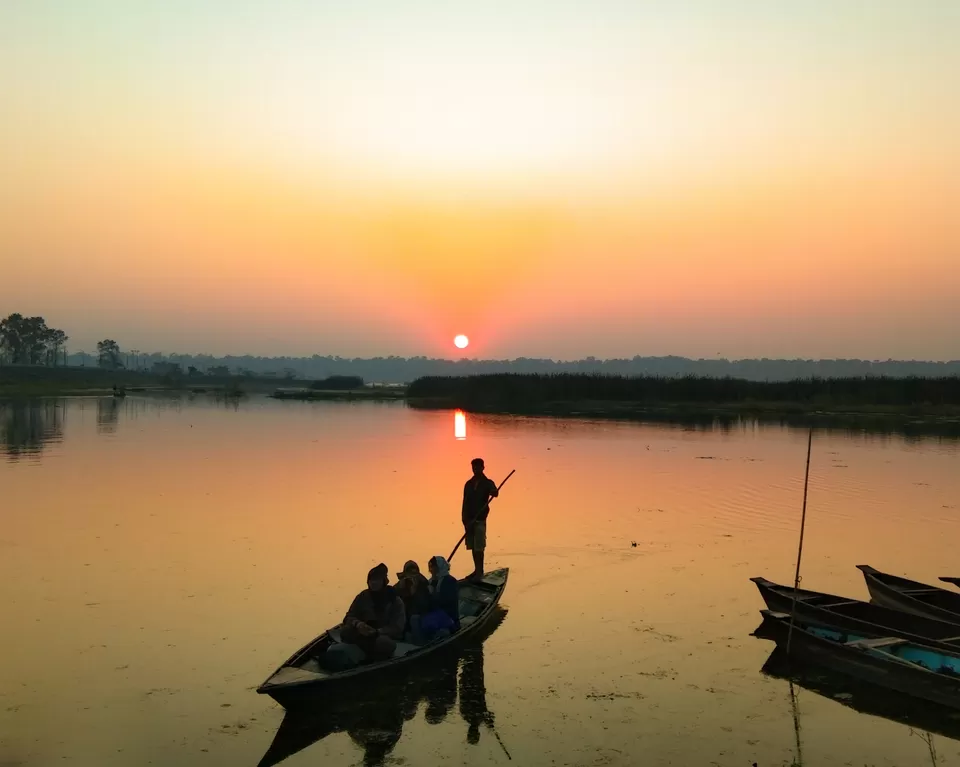 The day broke with calls of roasters from near by farms... Quite a village like experiance it was. Today the day was full of birds .... Had my breakfast and took my seat in the boat of Thakur Da. He was my guide and boatman.
As soon as he started rowing the boat the sighting started .... There were flocks of Red Wattled Lapwing, River lapwings sunbasking along the side of the water. Even when i went to Mangalajodi on Orissa, the same thing happens. CLICK!!CLICK!!CLICK!! and CLICK!!.
The shutter goes on. Some dominant species which are mainly found in Gajoldoba are Gadwall, cotton pygmy goose, ruddy shellduck, common shellduck, Northern Shovler, Smew, Eurasian Wigeon and many other duck species.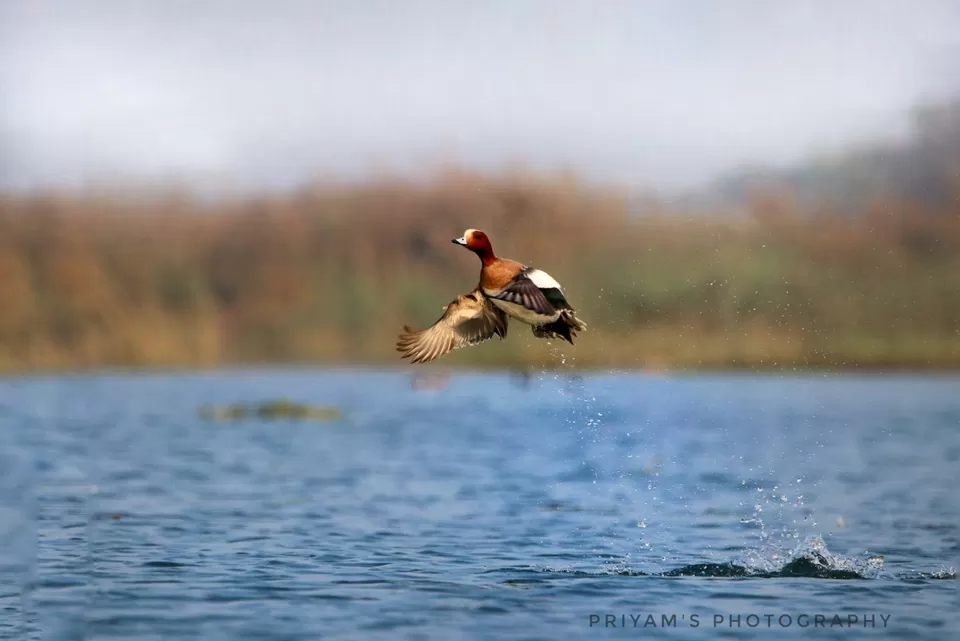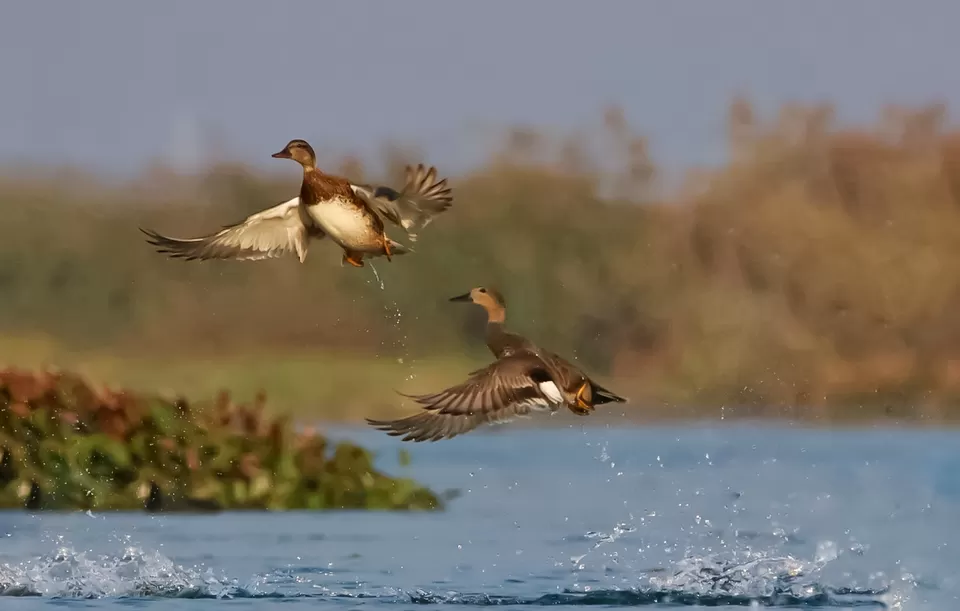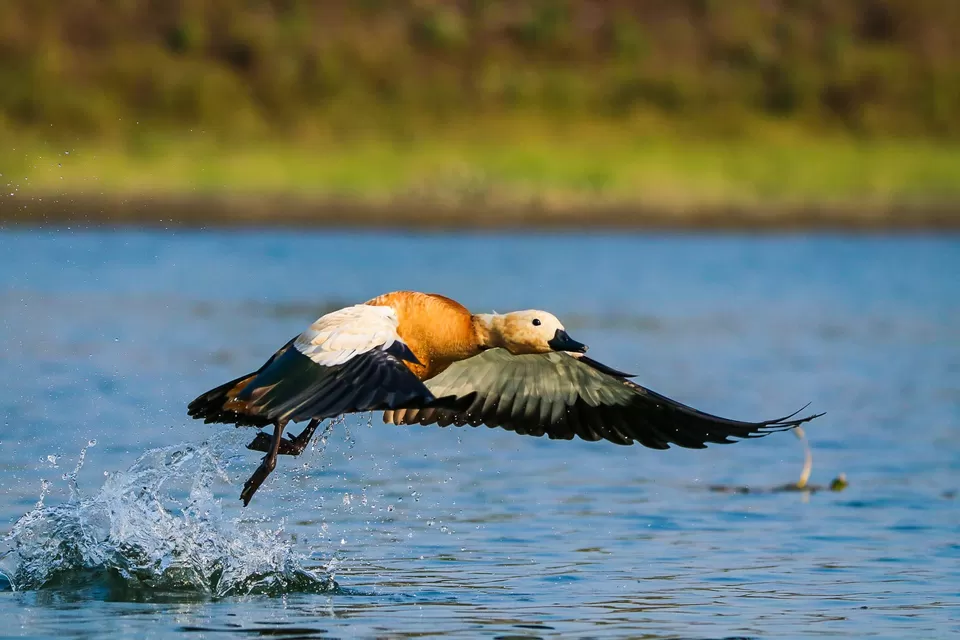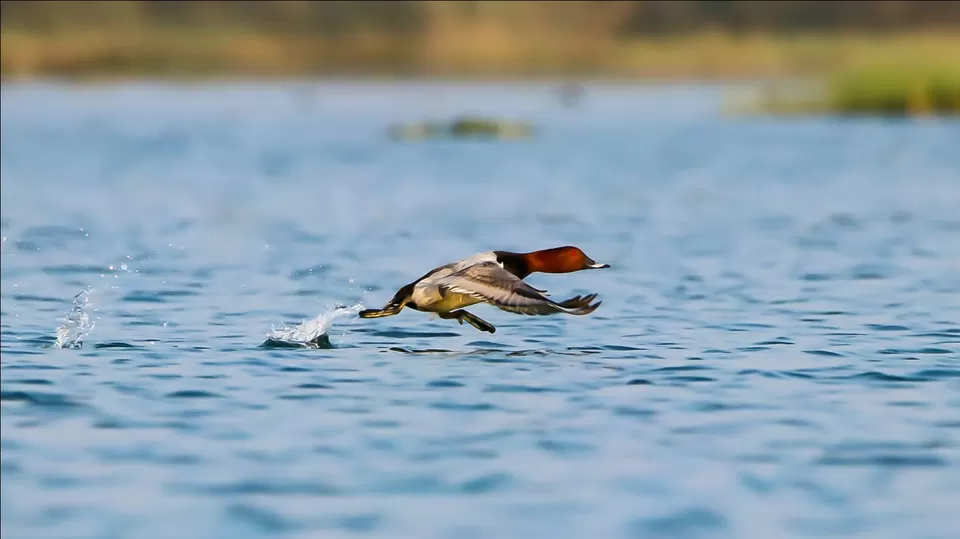 Its really majestic to row the boat through the swamps ... Sometimes through fresh water and sometimes through the cours of River Teesta. It really fills ones heart with some poetic gesture. But apart from the beauty one also have to keep eye on birds. We spotted a flock of Golden plovers on upstream course of River Teesta sitting in flocks over an island.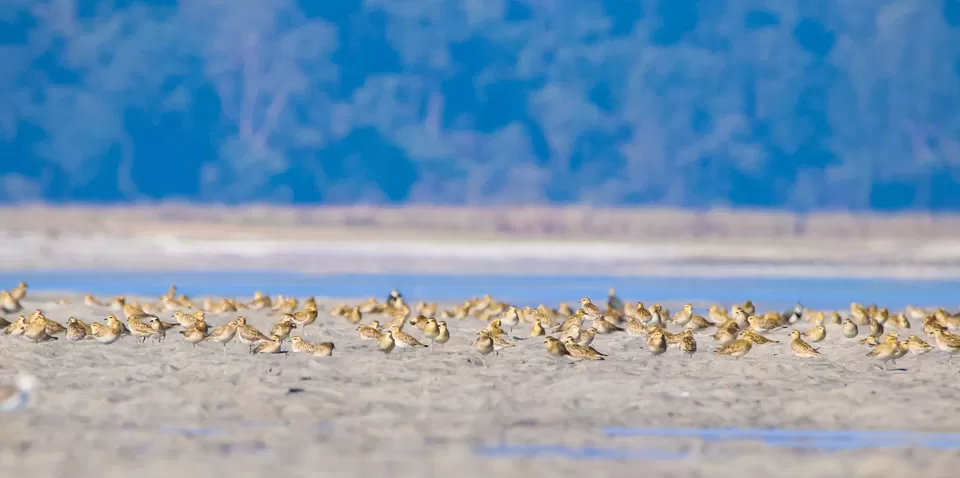 Now my target was to find a rarity and a unique bird of Gajoldoba: Common Mergenser (M&F). They are usually found over the rivers so we started finding along the course for 2-3 hours. Suddenly I saw a female mergenser floating over the sparkling blue water. When more and more we moved ahead the male joined the course and they gave a flight together. It was an awesome shot.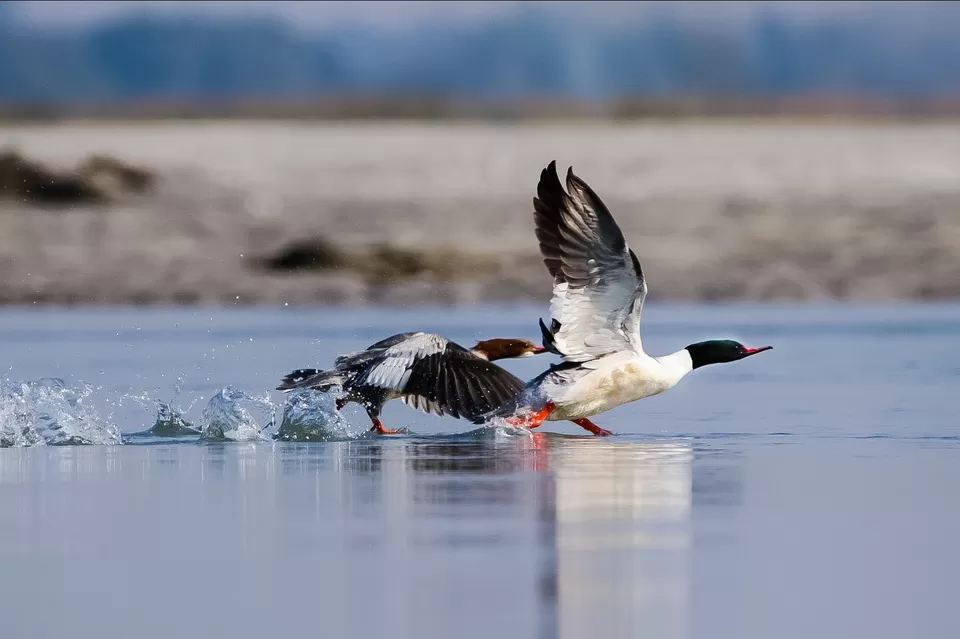 We started chasing them to find their other friends then soon the really photography started. Wowww!!! What a vibrant colors they have. I was feeling to lucky to have a shot of Mergenser.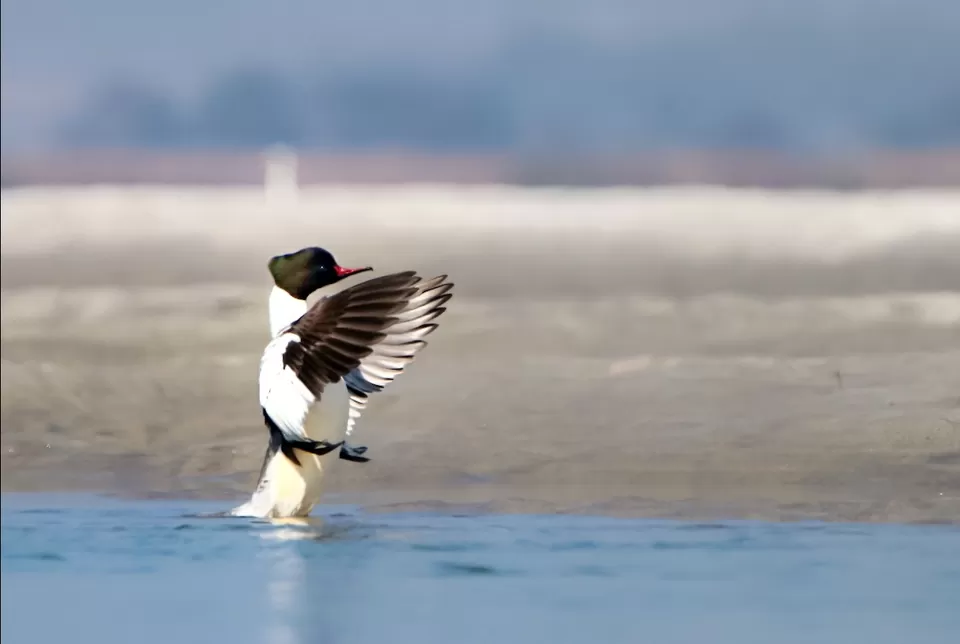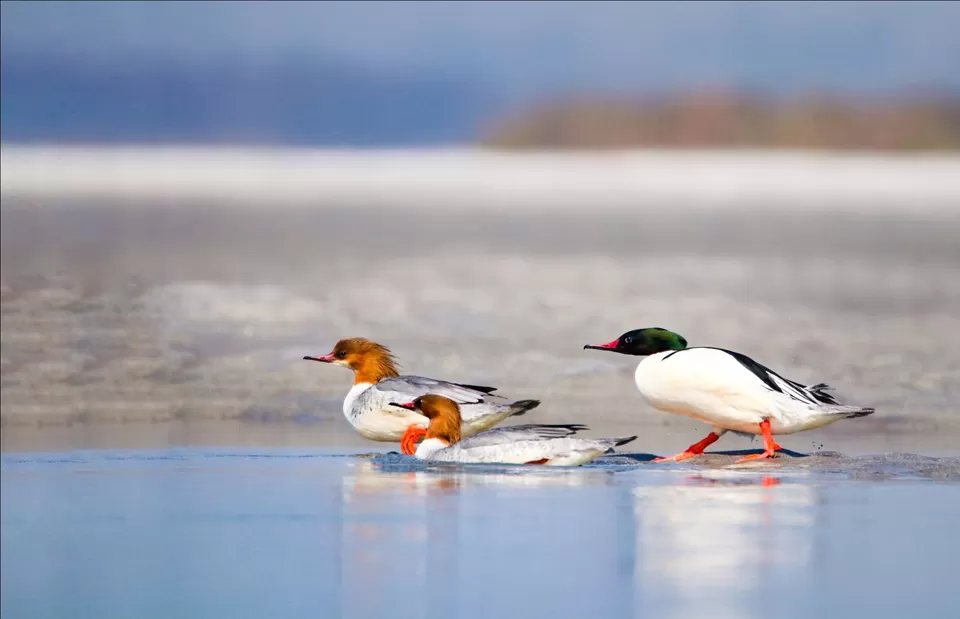 After some shots we moved towards our next part of exploration that is to find Northern Lapwing. It is mainly found in this region and in some parts of Bhutan. After comming downstream i was bit amazed to find two-three Northern Lapwing.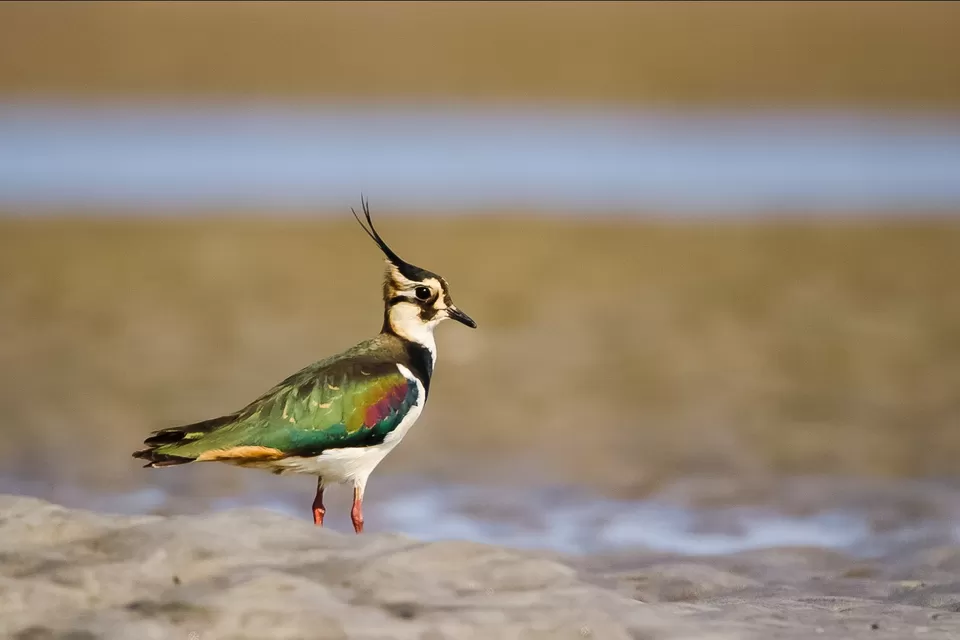 I was thanking god for creating such beautiful species. It was just a feel out of world. Boating betwixt nature and flocks and flocks of birds. Suddenly heared a call and looked up holding my camera. There were a flight of a flock of Bar headed Geese.
Do u guys know one thing ? Theese Bar headed Geese are the only species who flies over Mt.Everest to come in India. I was not lucky to get a clear close up shot but i felt happy with what i have. May be next time i will get a close up.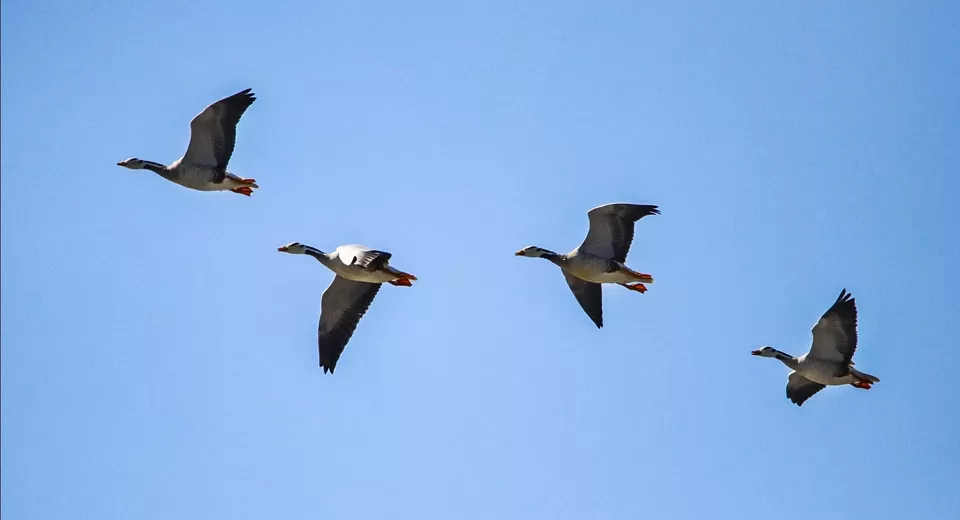 The boating continued and the exhibitionism of birds went on and on.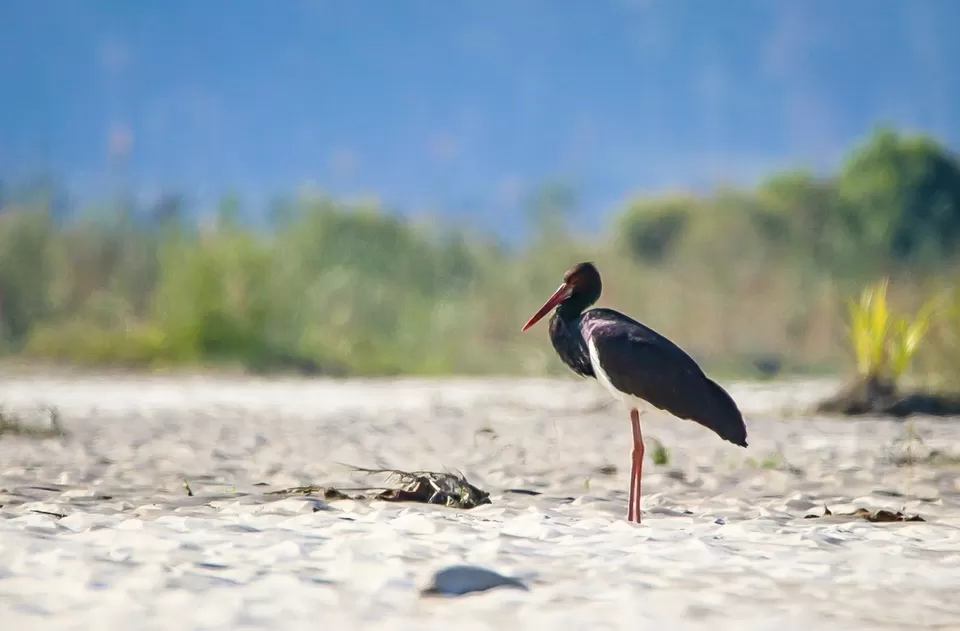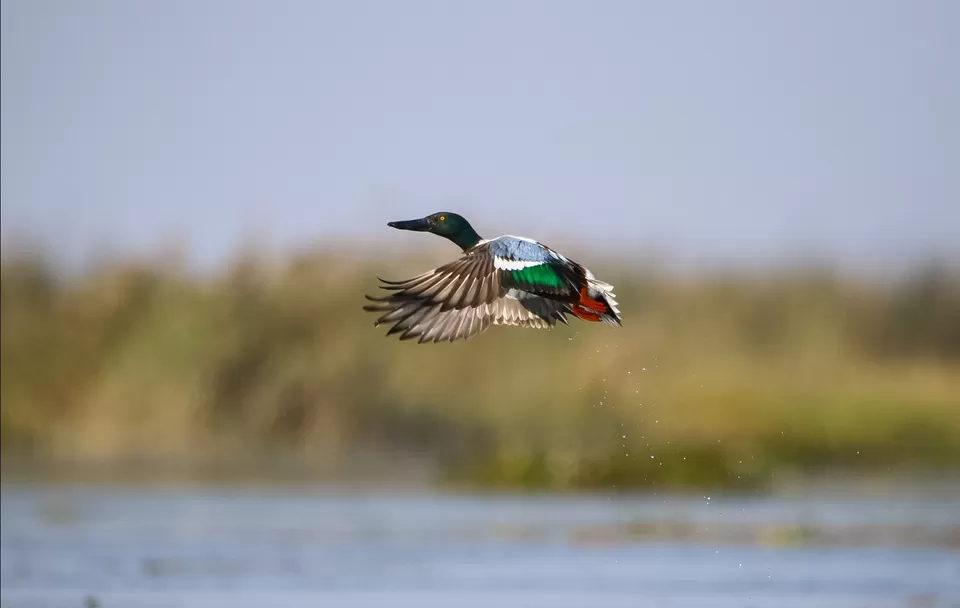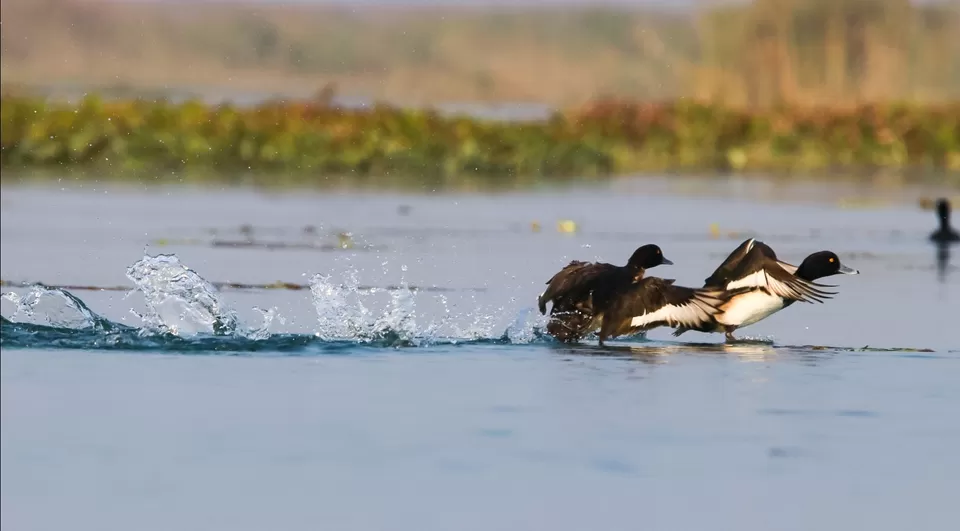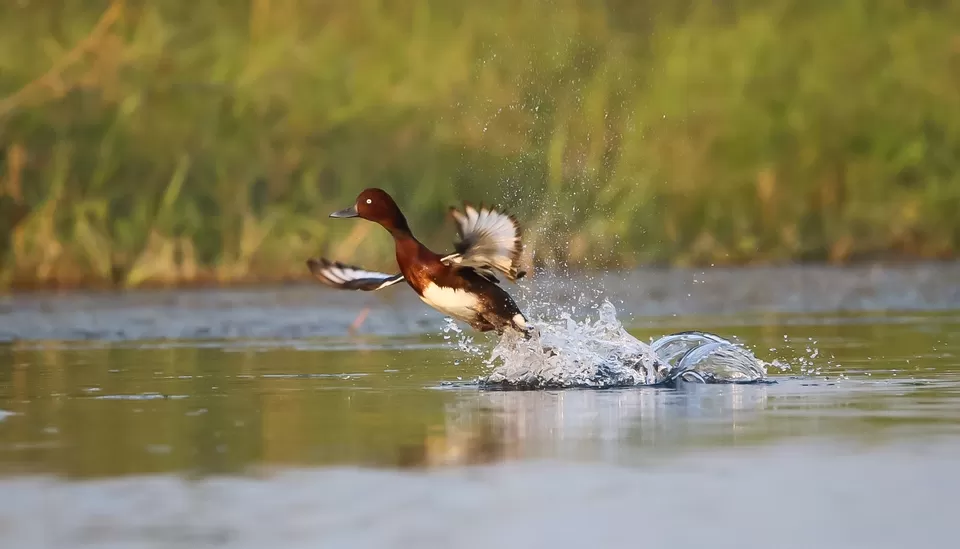 I was not at all expecting an raptor in a migratory birds heaven but suddenly there i saw something peeping out of a strewn log. Thakur Da by his eagle's eye sighted it and said : " Dada Falcon" . I raised my camera and it took a flight what a shot but the focus i guess was not perfect enough.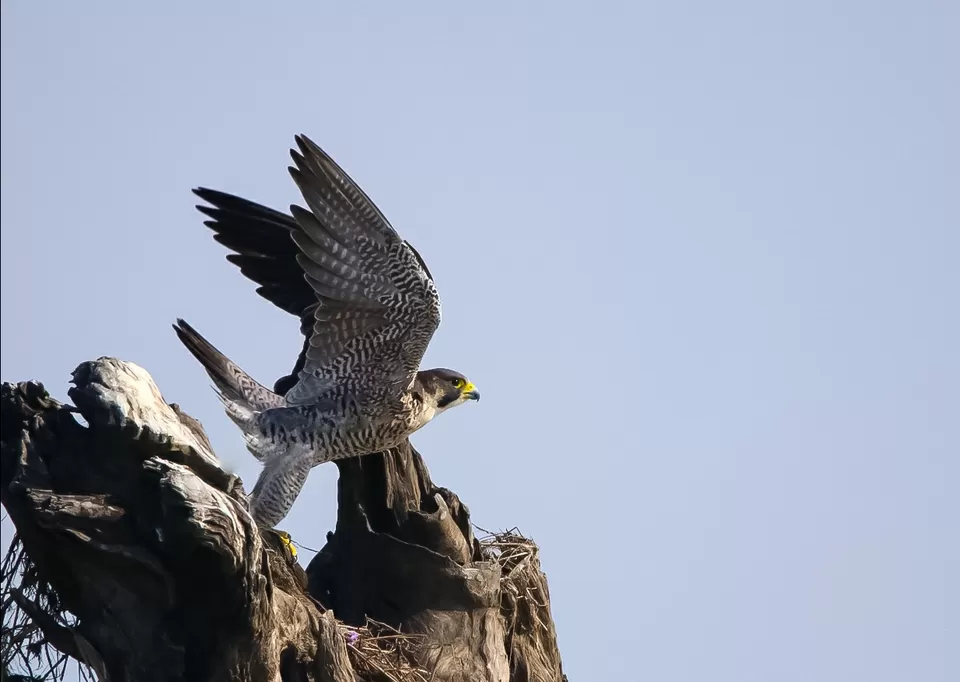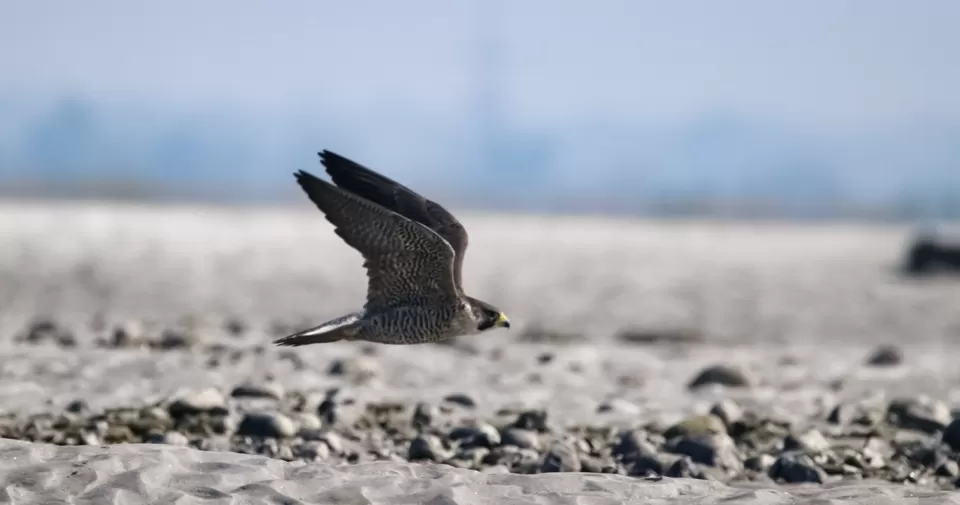 Birding was going quite nice. I had my lunch inside the boat as i extended my time till 3:00 o clock at afternoon. Sighting was also going well there were Tufted Ducks, Common Coot and even Greebes like common Crested Greebe and Little Grebe. We were chasing few of them. Atlast got a shot before giving up.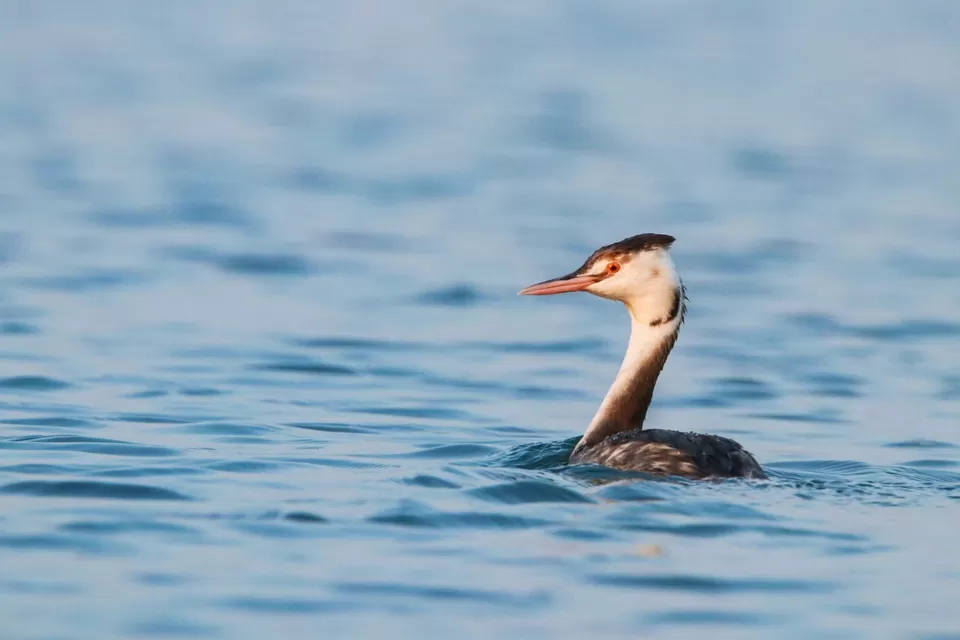 Some clicks from my Gajoldoba Birding Trip: