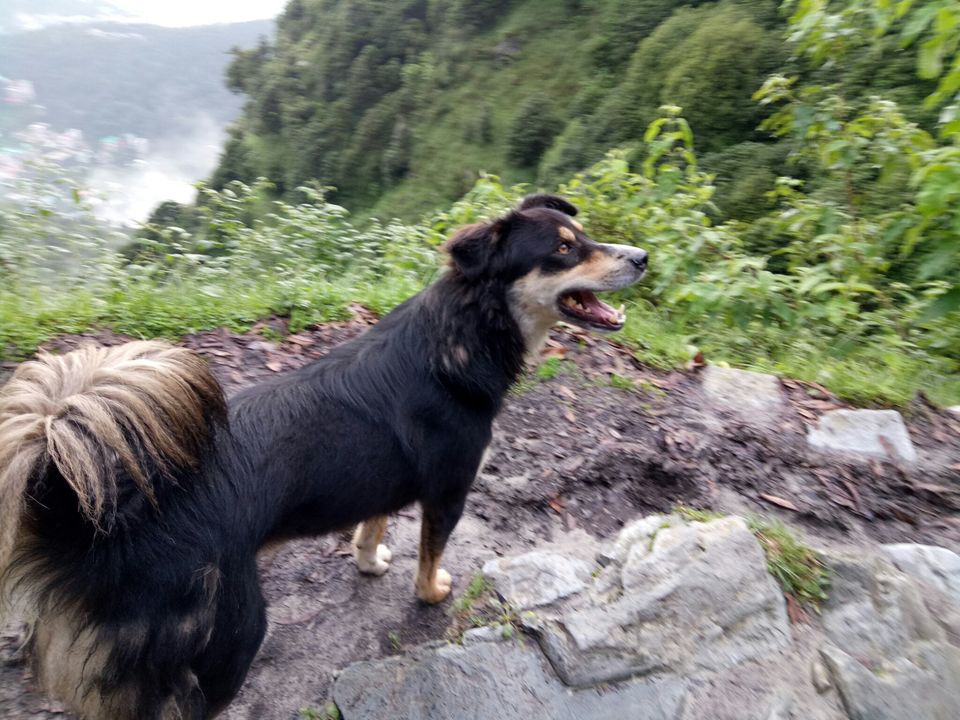 "Once you have travelled the voyage never ends, but is played out over and over again in the quietest chambers. The mind can never break off from the journey"~ I am still experiencing it! The memories that I've had beats inside me like a second heart.. And so I am here to share a beatific episode that I've tripped over, which has become a trail of unmapped emotions flowing inside me..
So we were striding up on the Triund Trek, which is about 9-10 kms. The weather was unfavourable due to rain, because of which landslide eventuated and nobody was there on the trek except us. My navigation had stopped working.. and battery was almost dead but luckily Piyush's phone made it feasible for us to move on.
We chose the second path as the first one was blocked but as we covered the distance further, the path was finished. We got astrayed like this for 2 times! But fortunately the navigation was working. Decorously saying, we didn't even had anything to eat till then, cause there were no one at the stops because of ponderous rain.. but somehow, we reached Truind.
So basically Triund is known as a prominent point for trekking because of it's aesthetic appeal of sky and the landscape at the night (We couldn't witness it because of the fogg) and people also hire tents from shops downwards to stay there at night, and so we had planned to do, but now astoundly we got apprised that the tents are unavailable! I couldn't comprehend what was happening.. The hassle was this that we had left for trekking in the evening.. Now in one whole day we needed to make an Up-down which was nearly undoable! We didn't even had time because at night the position becomes risky, but we decided that somehow we will go. It took us 4-4.5 hrs to reach the top. We clicked pictures there and had Maggi at last! And so from here….. Comes a plait in my narrative..
Now we were returning down the trek, there were hardly two or three people who were on the trek. I was steadily moving forward, Piyush was behind me as he was a little tired. So to my surprise what I saw, there was a dog, 'Blackish-Brown' in complexion' just at a height on my right side. It was sitting reticently, looking here and there, everybody was spottering it because it was the only one we had seen so far… As during the whole path we had seen only mountains and waterfall! Everybody was showing affectionate gesture to it, but it didn't responded. The dog was sitting unruffled. My eyes went on it.. I stared.. The dog turned it's face, then I started moving forward. Hardly 5-7 mins may have passed, suddenly I discerned that the same dog came in front of me, I was startled! I don't know how it came near me, it was quite distant from me..!! The dog kept me staring for a moment, I thought it would be roaming. Again, I went forward. I tell you… this wasn't just a coincidence, I could espy, maybe the dog perceived it.. looking into my eyes, or I feel maybe it must be having a relation with me in the past, or long time ago I had a dog.. that itself had came wearing this dog's skin or this dog could sense my fondness for dogs.. I don't know what it was, but that dog literally came to show me the direction for moving down the trek as if it knew that we are off-track and we could get adrift as our position could get deficient anytime.
Now just as I moved forward, the dog was letting me walk behind it. It stops, then watch if I am coming and then move forward again.. The dog repeated this until we reached down the trek. Piyush alleged that the battery is about to die, I sanguinely said, "Close your navigation, I am damn sure this dog will take us down the trek." and I was correct…!! Within a span of 1.5 hrs we were down the trek. The dog was in a continuous motion, now at a point I told Piyush that the dog may have come down with us but whatever that belongs to it- it's habitat was all up at the top, he agreed. So I tried shoo-ing the dog off, but wherever I went, it followed me. That dog was moving, along with me like a shadow, so I too went emotional coming at that moment. I too was thinking what I could do so that it can go back. Now at the point I had to be rude. I again tried shoo-ing it off by showing stone and stuff. Somehow I stopped the dog there, I just ran rapidly down the mountains.. hiding behind the trees, so that the dog doesn't see me. And then I just left it there and went down. But now… I miss that dog a lot! I am unable to cognize that what actually is true capacity of love that makes dogs such rewarding companions! I don't know with what heart I left it there.. Maybe by putting mountain itself on my heart. I still am unable to configure what kind of connection is it, I didn't even loved it to the fullest because that dog didn't gave me this opportunity, but still it makes me feel like as if we have bond from ages.
I don't know.. I am numb, but this incident attracts me to that dog.. To that place..
I have learnt that if you must leave a place that you have loved and where your yesterdays are buried deep, you cannot leave it in anyway except a slow way. You turn there everytime and believe that an hour you remember it is a better hour.. Because the feel of it is still alive inside you.
I just say… passed days seem vanquished ones, while the future lives in a cloud.. formidable from a distance… :)