After a hectic internship in Mumbai and Anand, three MBA students – Shikha, Ramana and Kanj (I) decided to take a chill trip to Kasol. Ramana lied to his folks in Chennai that he was going to Mahabaleshwar, Shikha told her parents at Meerut that she was with her friends in Delhi, and I didn't tell anyone anything.
As impromptu as all my plans are, I got them to board a bus to Dharmshala from ISBT Kashmere Gate. The plan was to go to Kasol, but as the next bus to Kasol was only three hours later, we decided to board the bus which was ready to leave.
Next morning we were in Dharamshala. We quickly found a share cab that dropped us at McLeod Ganj. The next task in hand was to find a decent stay. We roamed around, smoked a joint, and started looking for hotels. We were turned down from a few places because they were all packed. Of course, it had to be like that when we had arrived there at the peak of the summer holidays. We found some pretty places that were unoccupied but quite expensive. Eventually we managed to find a place in a borderline shady guesthouse for something we were fine to pay, but the place didn't deserve.
We had another smoking up session, and passed out. We woke up in the evening and went around to Bhakshunag, the monastery and the market. We ate a lot and slept off.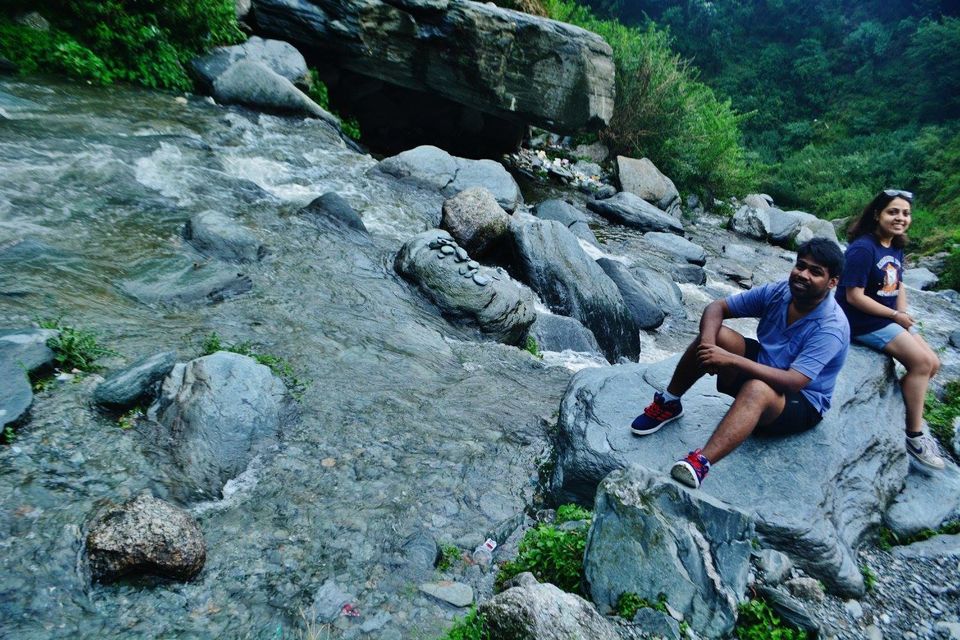 The next day, we had to trek to Triund. We decided to flee from our hotel on not spotting the caretaker. We had some Rs 400 due but since we felt that the hotel was not worth it, we decided to not let them know that we were checking out.
I wanted to start the trek as soon as possible, but unlike me, Shikha and Ramana were not so quick on their feet. Ramana got his cheap sports shoes that he had bought from the market outside Kashmere Gate and which had given up on the second day of walking, repaired at the McLeod market.
We had just started walking towards Triund, that I spotted the hotel caretaker walking towards us. I easily managed to escape his sight and walked off. But Ramana and Shikha were behind and were held by him. He threatened them and they had to give him his remaining amount. On coming back they asked me why did I run away. I told them that they too were supposed to dodge him.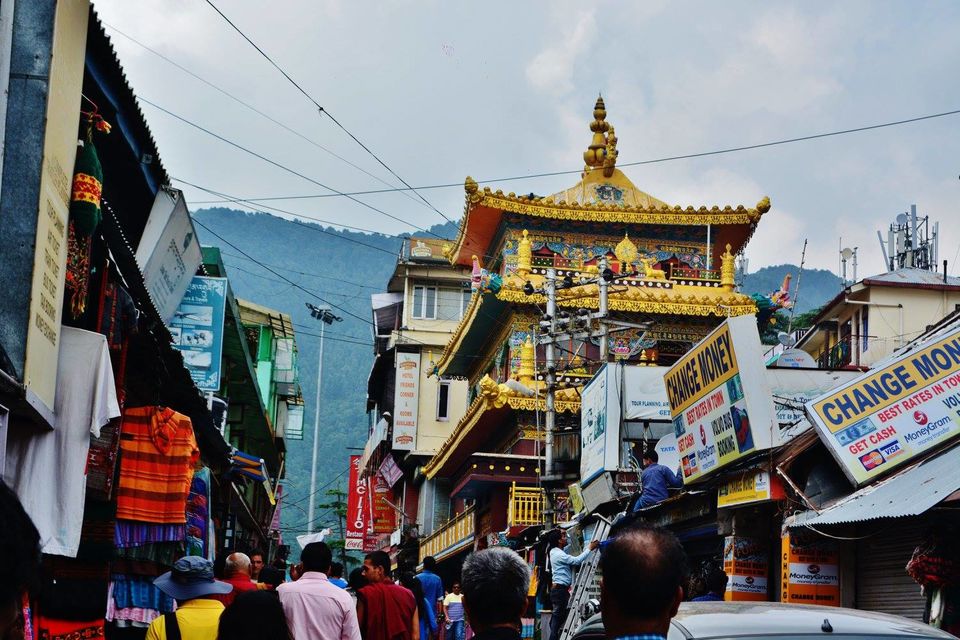 No sooner than we had walked for a few more metres that Ramana remembered that we do not have tobacco to mix with the weed. So he went back to get that. We smoked up and finally started trekking.
We started walking with our odd bags and clothing – Shikha was carrying a hand bag and had worn white shorts. I had a huge rucksack and a heavy camera bag and Ramana was stoned. No sooner than we had trekked for half an hour, it started raining. Thankfully, we had bought those thin raincoats from the market below. We got into them and continued ahead.
The rain stopped for a bit until we reached Gallu Devi temple. Most trekkers prefer to reach this spot by car and then start trekking from here. But we had exhausted some precious energy by climbing up for about 1.5 km with first time trekkers who were sulking. We were happy that the rain had stopped, and we could trek easily now. As suggested by our friends, the trek should have taken three hours.
But no sooner than we had started trekking that it started raining again. We exclaimed, "Wow, such a wonderful day, the only thing we miss now is a hailstorm." And God listened to us, for the next minute, ice pellets started hitting us. It was really difficult for us to continue the trek but we kept on it. After 25 minutes of facing the hail, we met some people and asked how much distance do we have to cover.
They told us that five more kilometres are left. Having absorbed a lot of water, our luggage had become heavier by now, and it had got really tiresome for us to trek. However, we continued for another 20 minutes, and asked a few passers by, how much more was left. Their reply was 5 km more.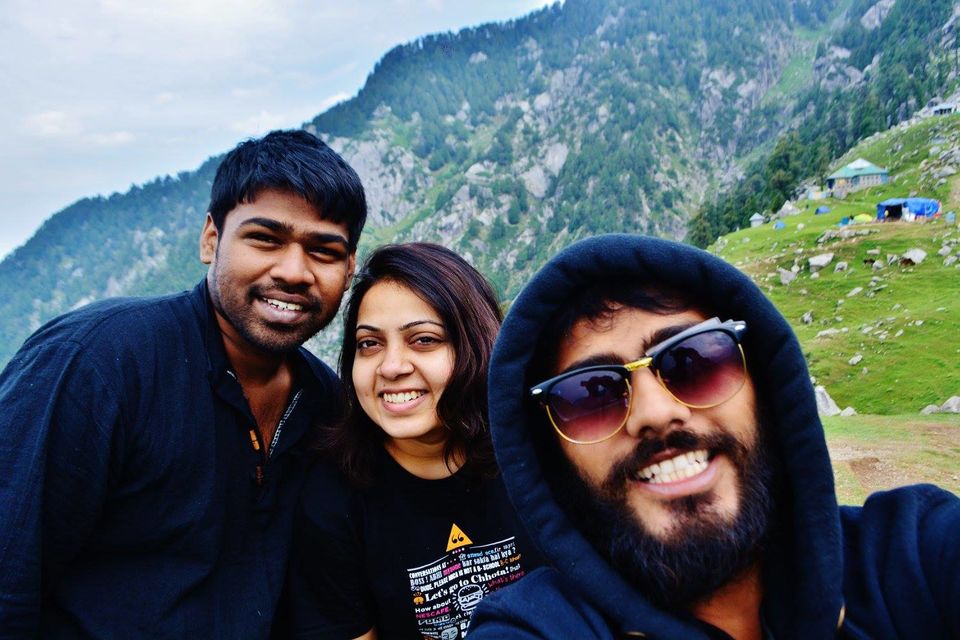 We were aghast. Are we not covering any distance? But then we assumed that the people might not be sure of the distance, so they could be telling us whatever they felt like. Yet again, after some 15 minutes of trekking we were told that 5 more km were left to be covered. The rain hadn't stopped for the last 1.5 hours, but somehow, we managed to reach one of the popular mid-way spot. Here we found two guys who were trekking on the same trail, however, better equipped than us.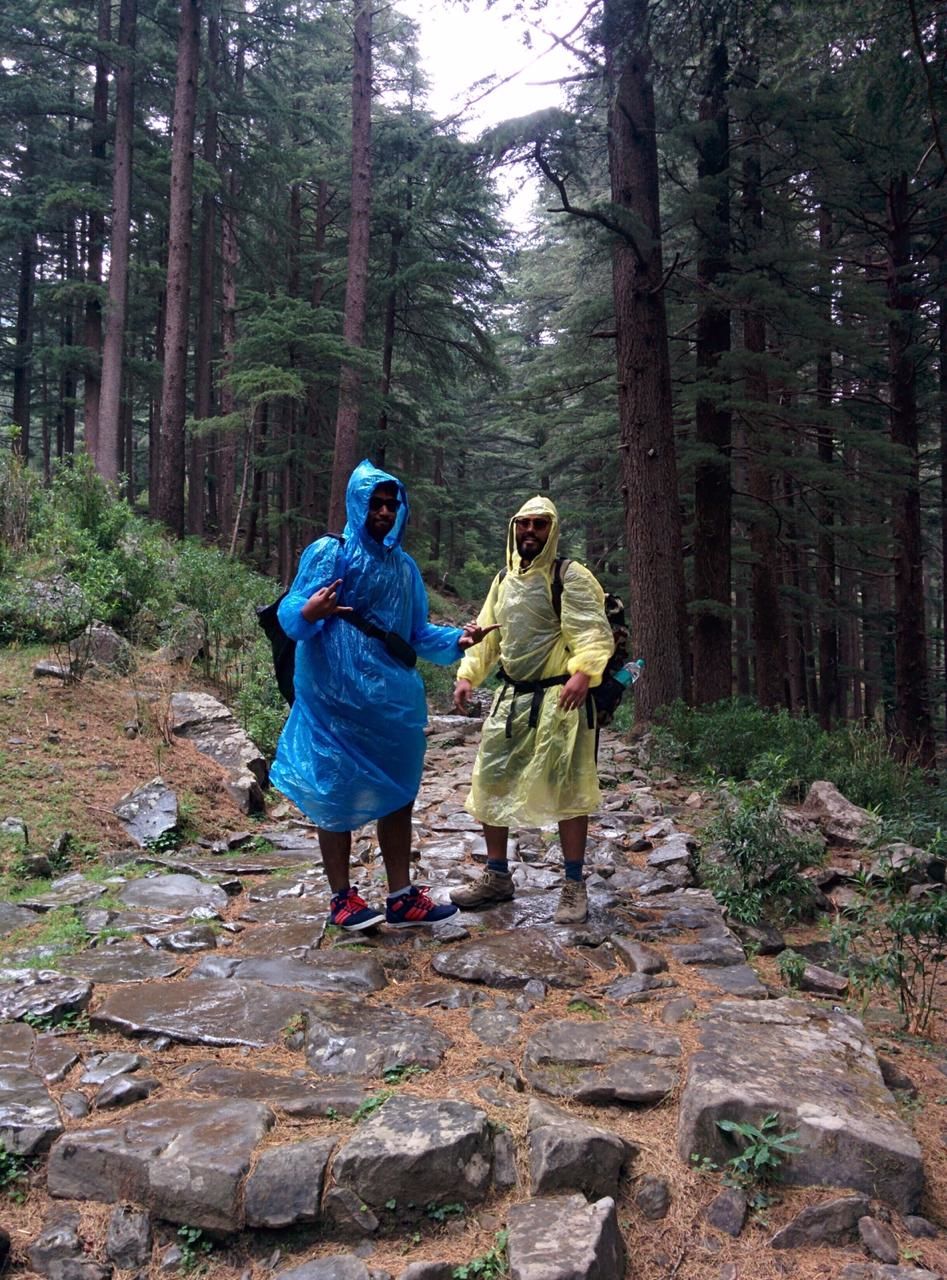 Shikha instantly developed a crush for the guy who we came to know was called Chaudhary. She was upset that clad in a yellow plastic sheet, and drenched in rain, she looked like a boiled potato, and the guy looked at her with pity and mockery. Anyway, after some rest we continued our trek. The rain had stopped by now, but the trail had become slippery. We had toiled really hard to cover just a small distance, and a large part of the trek was still to be covered.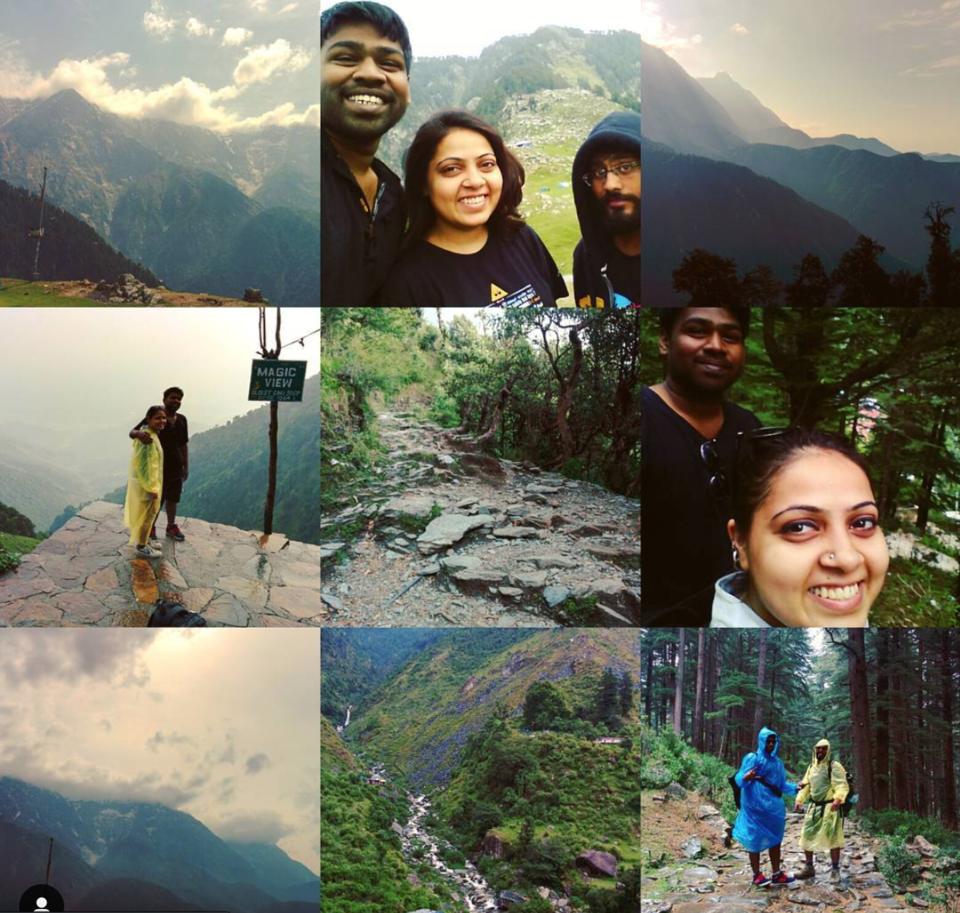 Shikha was slowly giving up, as her small steps ensured that she lagged behind. She was literally crying, and we had to motivate her to continue. We had started for Triund at 1 pm, and it was already 6 pm by now. It had started to get dark, and we had to ensure that we reach till the top in daylight. Eventually, after dodging a herd of cows trekking down, we managed to reach the top.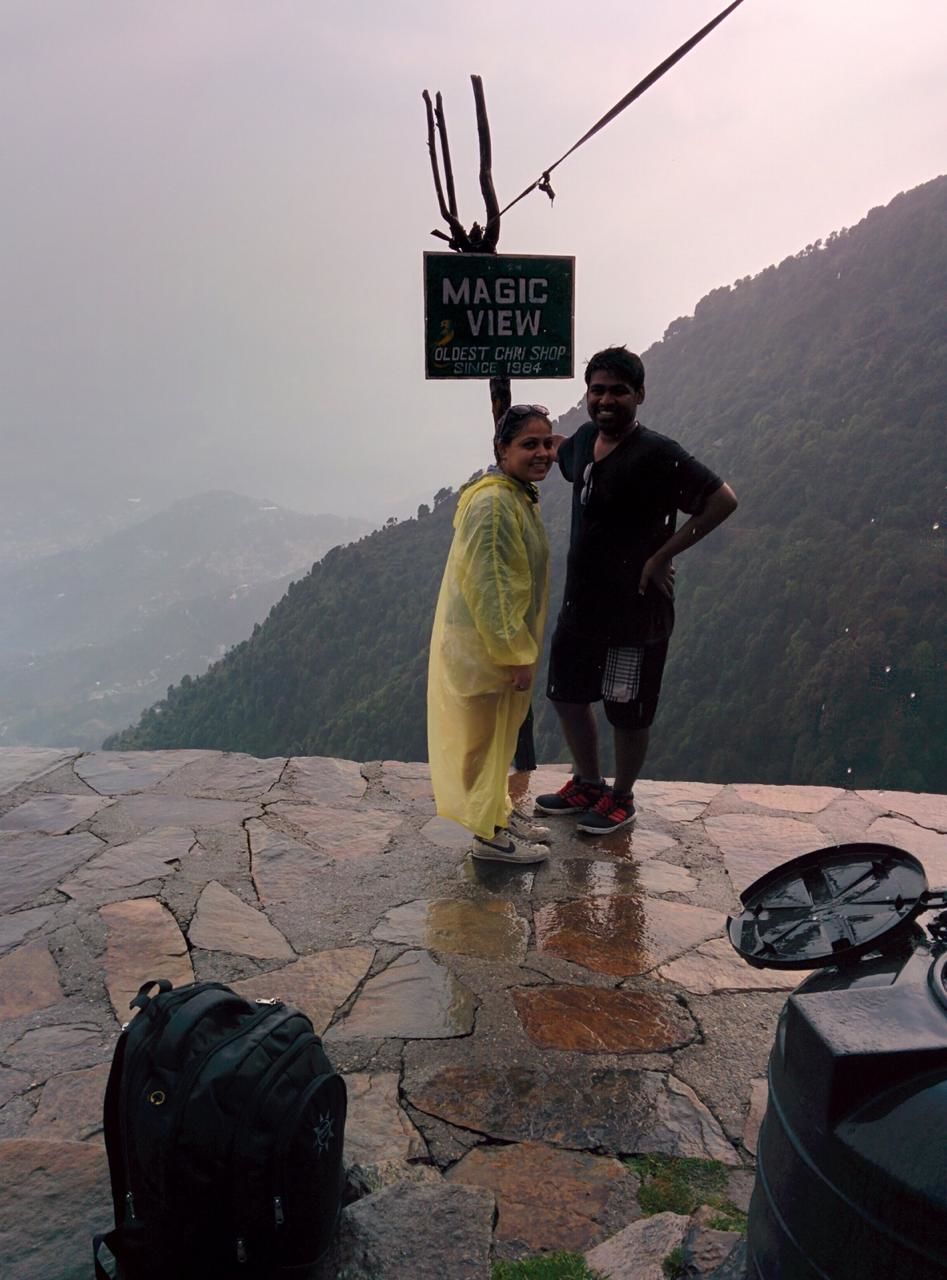 All of us needed to pee. But there were no toilets around. By the time I took a leak and came back Ramana had already arranged for a tent for all three of us. We got into the tent, and checked our luggage. Each and every item was wet, and we had no dry clothes to change into. The only available edible item–Maggi arrived. Never before we had paid Rs 350 for three plates of Maggi. But we needed food and warmth for sure.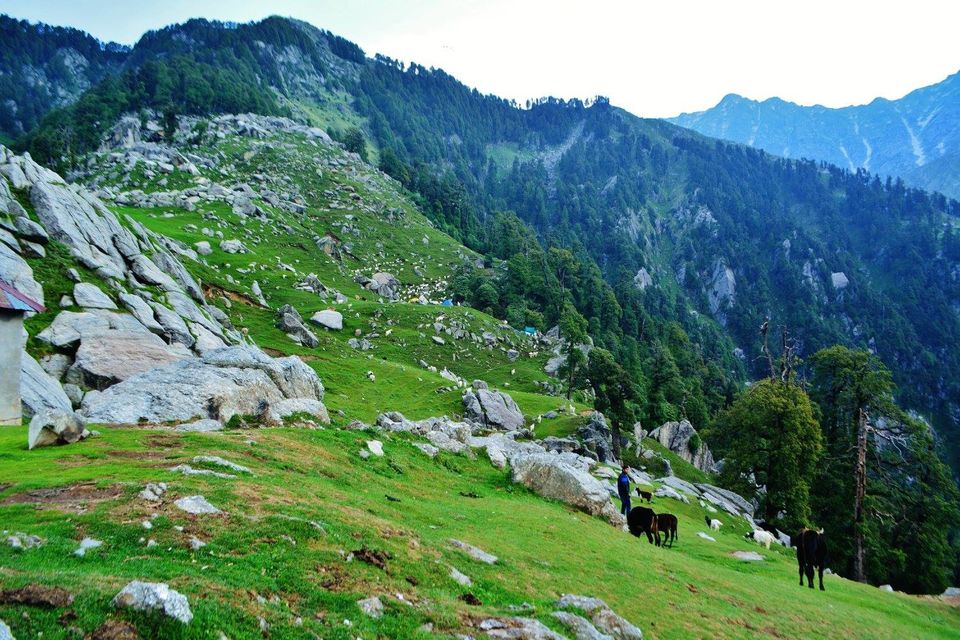 It had started getting cold, and hence, after the dinner, we tucked ourselves up in our sleeping bags. But those bags weren't warm enough for the weather. We were shivering and devising ways to keep ourselves warm. We teased Shikha that we should try giving each other body warmth, and should roll up together. Shikha was shrieking that she doesn't want to die because of cold, but she won't do this either.
We were expecting that we would pass out because of tiredness, but that didn't happen. The fun loving guys from Haryana who were our neighbours at the hill-top started playing loud Punjabi music. It took at least three hours for the boys to end up their drinking-singing-dancing programme. We were finally falling asleep. But there were more things to come. Some animals were moving our tent. We assumed that they could be sheep and goats. These goats were probably enjoying hitting our tents or resting there to avoid the clothes themselves. Thankfully, they were not bleating, so we didn't shoo them away.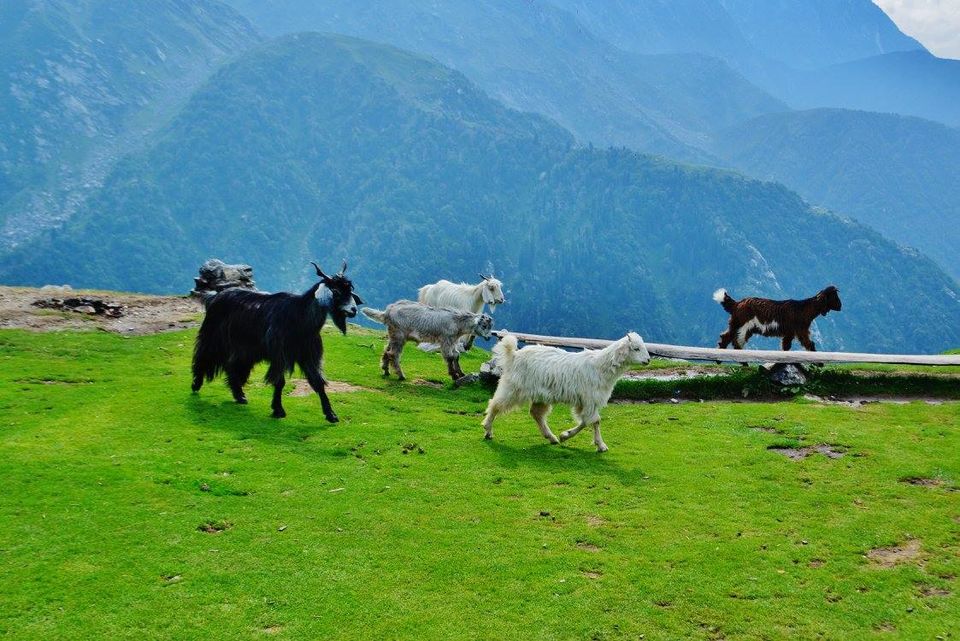 Finally the morning arrived, and it was lovely. The sun was out and there were no signs of rain. As there were no washrooms, we decided to poop only after we got down to McLeod Ganj. We actually trekked down in less than three hours. We were hoping to meet Chaudhary during the trek, but he wasn't found anywhere.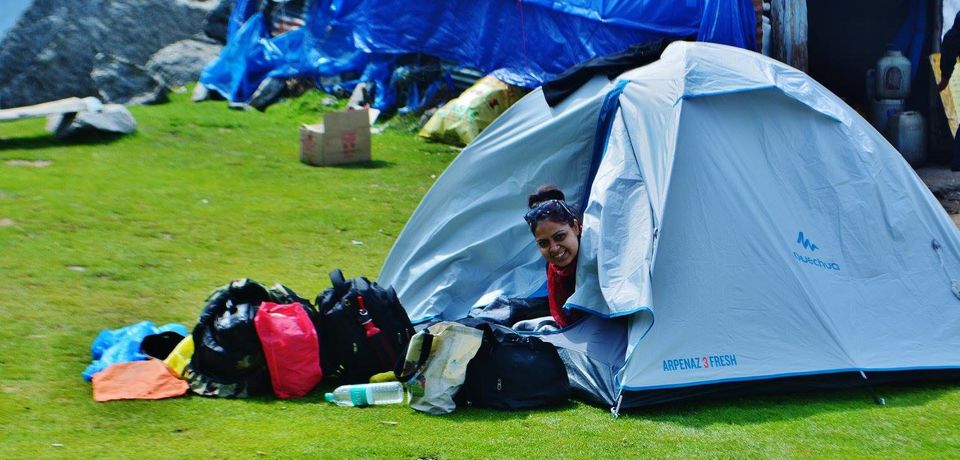 We managed to find a CCD in McLeod Ganj where we took dump. And while walking through the streets before taking our bus back to Delhi, we met our classmate Vineet with his family, who told us about his fun experience in Triund. Duh!
Shikha, Ramana and I have taken many more trips together, and there has been no single place where it has rained be it Diu, Kasol or Navsari. However, Shikha backs out every time I propose that there would be an easy short distance trek.
Been on a trip to remember? Tell us all about it here on Tripoto and earn Tripoto Credits!
Get travel inspiration from us daily! Save our number and send a Whatsapp message on 9599147110 to begin!