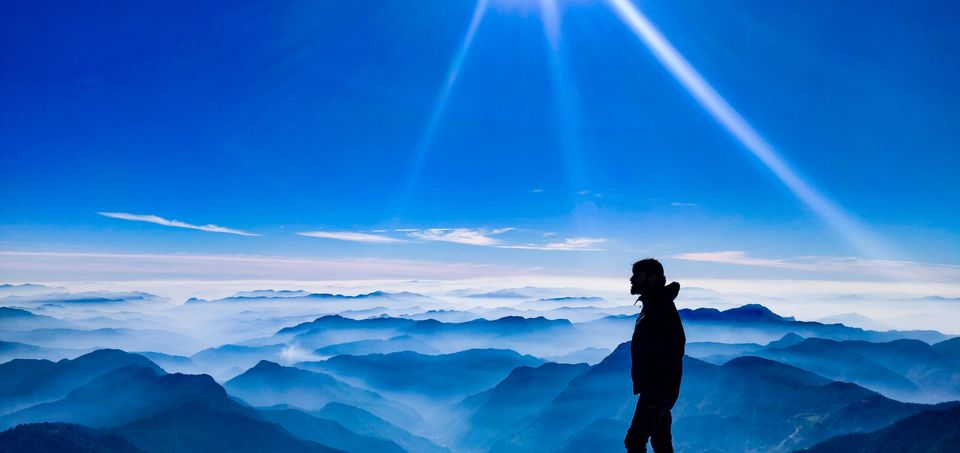 The moonlight Himalayas-
I reached the munsyari last night, after 8 hrs of office and 24 hours of local bus journey, around 7 pm. All tired and looking for a hotel I couldn't really look at the beauty of the town. My friends joined me at around 10 and after having our dinner and a couple of drinks under the moonlight, in front of the great Himalayas, we slept in our beds ready to see the great Himalayas by opening all the curtains while sleeping.
The next morning
We woke up around 8 and just layed there looking at the Nanda Devi. It was so peaceful that I just layed sipping me tea. We got up all excited to start the trek. Since we were not much experienced in snow trekking, we needed more time than others, we couldnt start the trek before 12. It was a slow start, but as we are started moving upwards the views and the snow started giving us motivation.
We then reached KMVN around 3. Had our lunch and planned to reach the top and return here to stay the night. We then resumed our trek all excited but now it was time to trek over the snow. It was getting difficult at time as the snow was dirty and slippery. The trek was getting steeper as we continued but the excitement to see that range from the top wasn't letting us stop. We reached khalifa top around 5 and it was almost sunset.
We were too exhausted and it was getting to hard to walk as it was ankle level snow. The only motivation I had to move forward was THE SUMMIT.
Most of my friends were wearing normal shoes and it was getting slippery for them to walk on the frozen water and ice. So they did something weird to overcome that difficulty as I was amused how well it worked. They brought extra pair of socks to wear on the shoes seeing them wear was funny at first, but when they started to walk I could see how comfortable they were. But it had a big flaw, the socks used to freeze in half an hour or so, then u have to take them out and dust off the ice and you can carry on again. But get a lot of them.
I had no energy left but was just looking up at the summit and was moving forward. It was almost dark and everyone wanted to return but I couldn't just return from there, it was too hard. We had no other option, it was almost dark and moving up and returning would have taken 2-3 hrs. So we decided to return. I just sat there disappointed looking at that beauty and promised myself to return within a year to climb my first unfinished climb.
The sunset-
Also I was really disappointed that I couldn't see the sunset from the top. Everywhere I go, I have to see the sunset. May be I am obsessed, but it's the best thing there. It was the reason I was giving my everything to reach the zero point that evening. But then I got up, turned around and saw this. It was more beautiful than the sunset itself. The sunlight lighting up the great Himalayas and the sky above it, literally.At that moment I was satisfied as this was worth everything.
We then returned to KMVN and sat in front of the bonfire, shivering and enjoying everything we could from that awestruck view of the Himalayas. We then had a nice dinner and slept with the plan to descend tomorrow morning.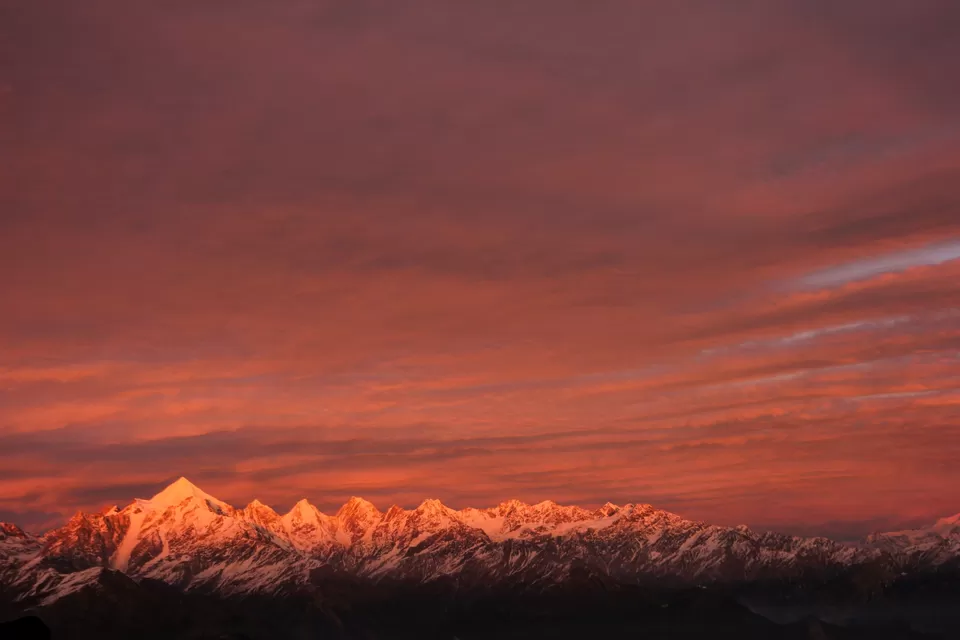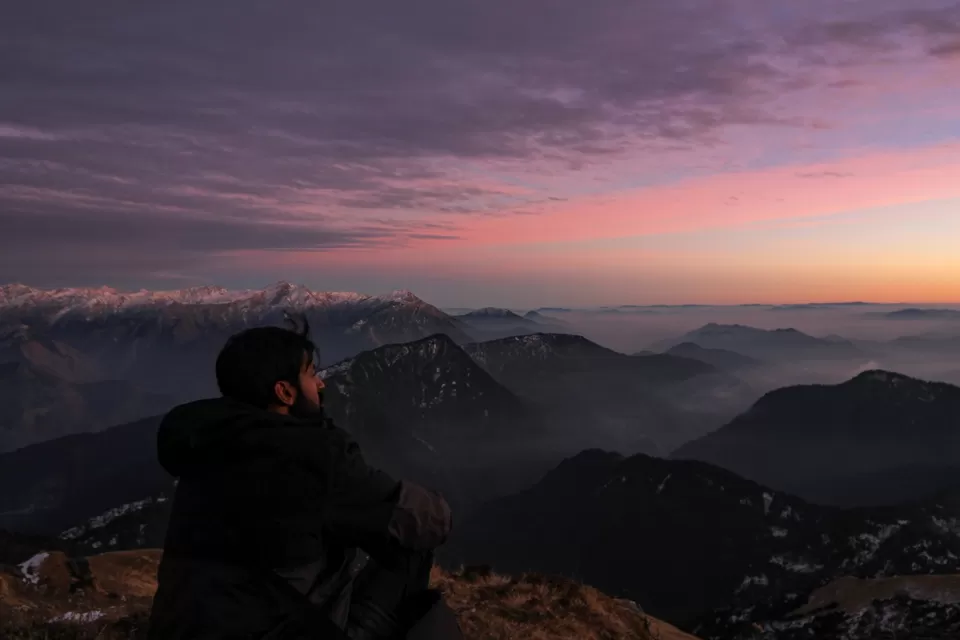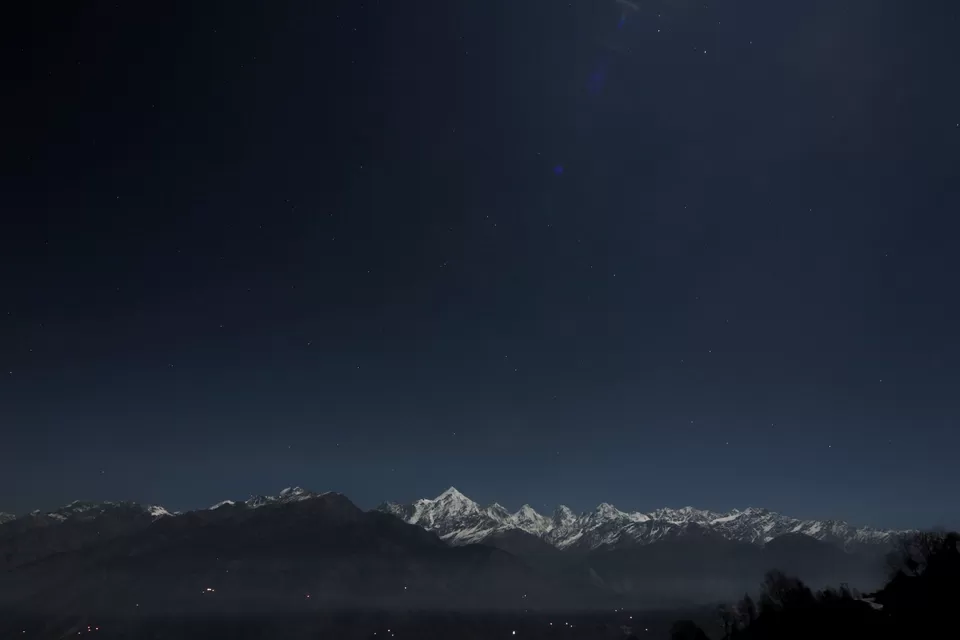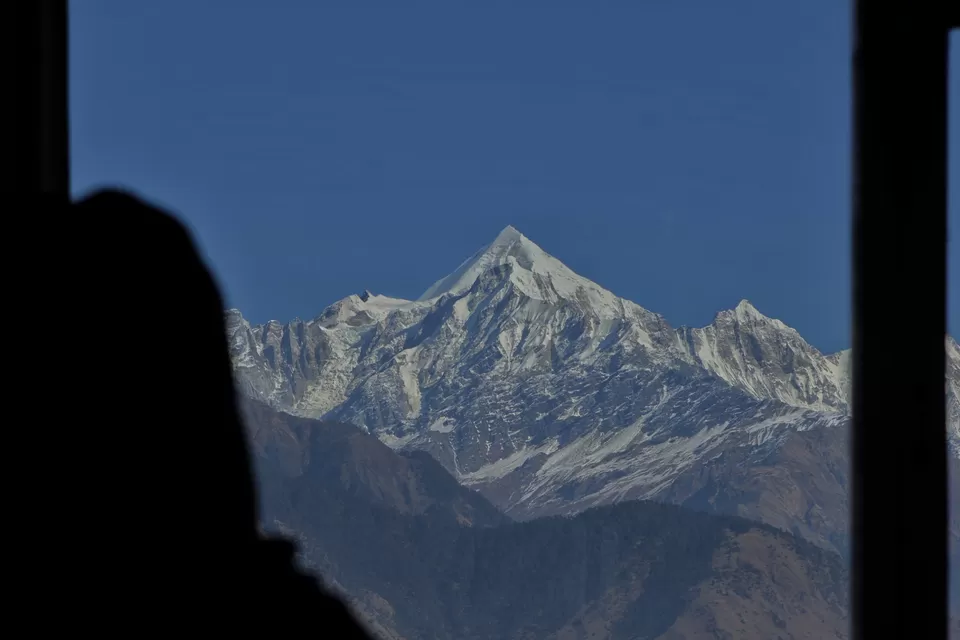 So we woke up next morning planning to descend back to the hotel. But one of our friend said he is going to the top, and all excited I agreed with him. We convinced all the other guys we started the trek without even having breakfast and with 2 water bottles. We reached the Khaliya top easily this time. We halted there for 10 mins and continued the trek as we knew it's going to be much tougher and we didn't have much time as we had to descend all the way to the hotel today.
The trek-
We then continued the trek and we could feel that we should have done the breakfast. We didn't have much water also so we had to consume water very effectively. It was already getting tired and because of food it was getting dizzy at times. But we didn't stop and continued. It was really tough for us as it was our first time on a trek with snow upto our knees. We didn't have proper equipment as well, because we didn't expect so much snow. The only motivation was to stand on the top with Indian flag waving up from the top. I personally quit around 10 times as it was getting steeper and the amount of snow was increasing as we kept moving. The last time I quit,less than 100 mts before the summit,I lied down on the snow just asking my friends to continue as I couldn't walk further. Then I looked at the summit and saw the Indian flag and thought that I can't just return from here. I got up with them and just ran with all the energy left in my body.
The Top-
And I was there. I was there. I just couldn't control my happiness that I did it. All the hard work, motivation was worth it. Like it's said you have to earn something good, that day I understood what it meant. It was such a proud moment for me, I did something I never thought I could today. But I know only 50% of the task was completed. I needed food to descend as it was getting really dizzy. But for that moment all of us just stood there clicking pics, enjoying the moment, absorbing the beauty of the place and then we left as it might get dark while we reach the car.
The Descend-
It was really fun at the start as we just slid down on the snow like kids, making videos and hitting each other when stuck. Then we sat there and every one dried there shows and socks with fire as there were all wet. Then we continued down, but I needed food and water badly. I just couldn't walk more than 10 mins before lying down again. We ate snow to prevent our dried up mouths. We could see a camp a little ahead and were planning to ask them for some water and biscuits if they had extra. I somehow reached the camp and asked them for the same, those people gave us a water bottle and a big pack of good day biscuits. They were my saviour that day, one of the reasons I love traveling to the mountains. It gave me enough energy and motivation to trek down to KMVN and have my lunch before we descend all the way down.
It was an easy journey from there as we enjoyed while descending and everyone was searching shortcuts to save time and energy. We finally reached the place where our car was waiting and as we sat in the car it was a relaxing feeling we never felt before. We sat in the car and left for the hotel smiling all the way just thinking and talking what we had accomplished today????