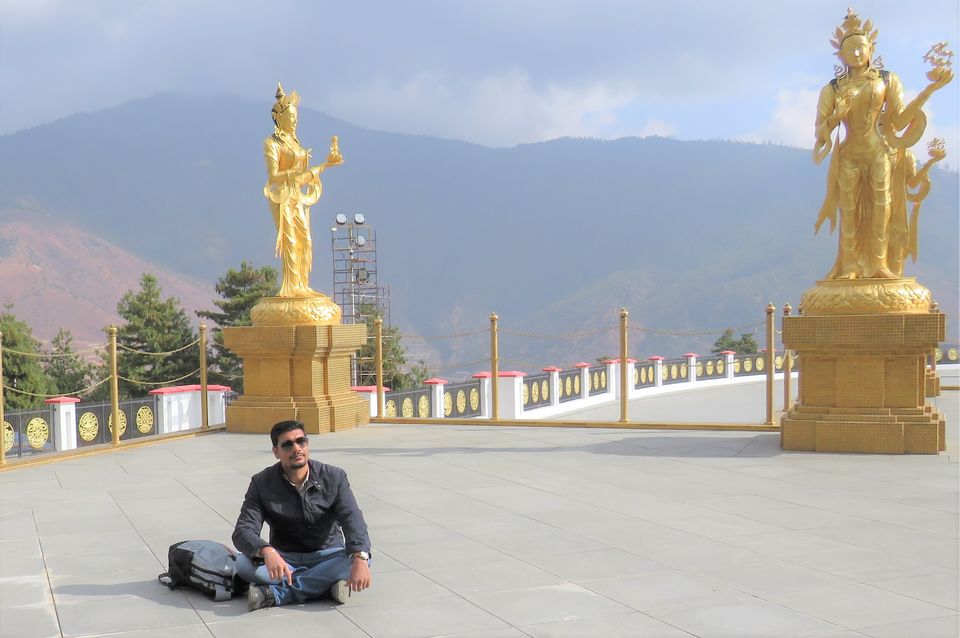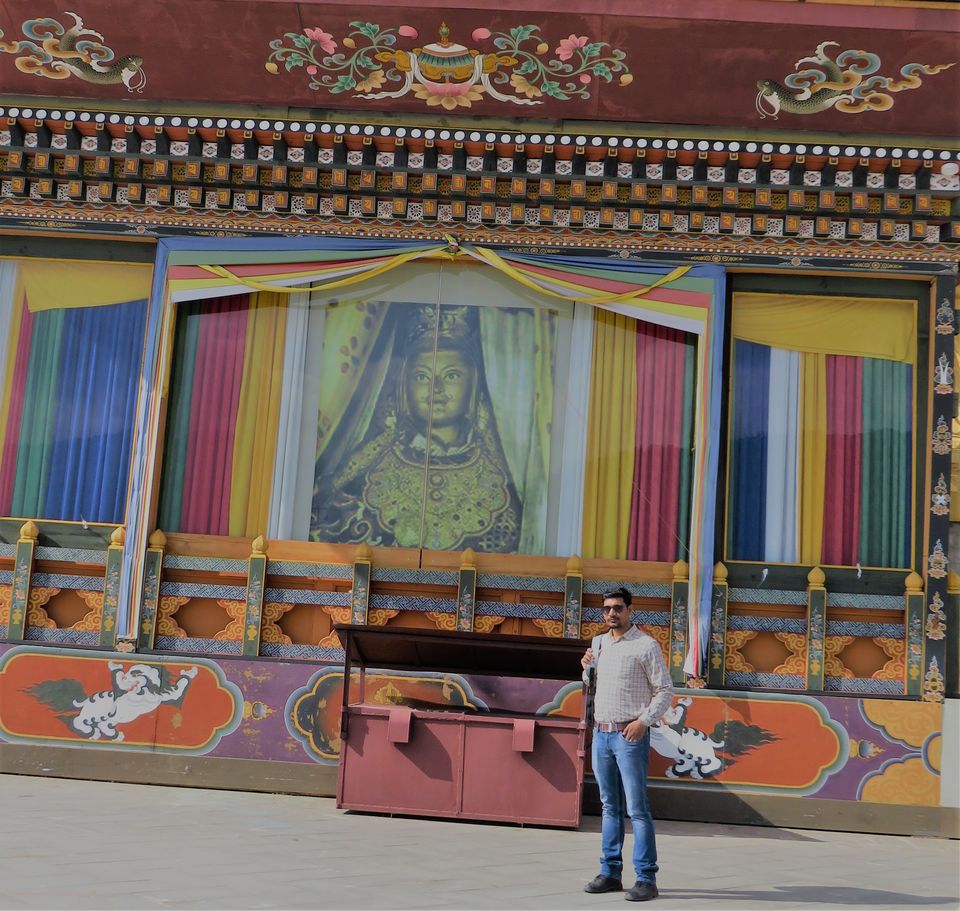 Bhutan is a beautiful country where it feels like someone returns in the old era. Apart from global smart cities, Bhutan is simply heaven. Bhutan is a very calm country where noise pollution is almost zero. There is no hoking policy in Bhutan. I have completed this journey as per the following steps-
1. Entry:
A- By Road- Jaigaon town is the entry point of Bhutan from India. specifically, the Bhutan gate is the entry gate for Bhutan. all public transport from India will drop you to Jaigaon town. Beyond the Bhutan gate, Indians either can use Bhutan transport vehicles or their personal vehicles with an entry permit.
Personal Vehicle:
If you drive a vehicle into Bhutan, you can get a 14-day permit at the Phuentsholing border. You will need the help of a tour operator to handle the paperwork.
Indian visitors may travel throughout most of Bhutan in their personal vehicle, upon getting all relevant documents such as registration papers, insurance policies, emission and fitness certificates and individual driving licenses endorsed by the Road Safety and Transport Authority at the border. Traffic regulations are the same as in India and are strictly enforced.
Driving Licence:
NGO staff and volunteers who insist on driving in Bhutan should obtain a driving license issued by the Road Safety and Transport Authority. Bhutanese licenses are also valid throughout India.
An International Driving Permit is not valid in Bhutan. An Indian driving license is valid in Bhutan, and it's possible for Indian nationals to drive in Bhutan; but unless you are an accomplished rally driver or are from a hill station such as Darjeeling and have experience in motoring in the mountains, it's safer with a professional driver.
Road Rules:
Traffic keeps to the left and is much more orderly than in most other south Asian countries. Speeds are low in towns and on rural roads; you will be lucky to average more than 40km/h on the roads in the hills.
B. By Air- Someone can take a direct flight from Delhi to Paro, but it is not available every day in the week.
2. Entry Permit:
The citizens of India don't need a visa to visit Bhutan. However, they need to obtain a seven-day entry-cum-stay permit from the border offices (Office is situated near Bhutan gate) from 9 AM to 5 PM. This permit is only valid for 7 days. If one needs to extend the stay beyond 7 days, it can be done in the immigration office of Thimpu. The entry permit office remains closed on Saturday and Sunday. Following documents are required for entry permit-
a) Indian passport with a validity of at least 6 months
and/or
b) Voter Identity Card issued by Election Commission of India
c) Carry a photocopy of Passport and 2 passport sized photographs
d) Booking details of your stay for each day you will spend in Bhutan.
e) An itinerary for your trip
If you use your passport then it will process in a short time to get a permit than voter card.
Bangladeshis and Maldivian nationals can obtain a permit at the port of entry on producing a valid passport with a minimum of 6 months validity. All other tourists must obtain a visa clearance before traveling to Bhutan. Visas are processed through an online system by your licensed Bhutanese tour operator directly or through a foreign travel agent.
3. Transport:
The best way which I use that anyone can hire a car from Phuentsholing for your whole journey. Moreover, your car driver also works for you as a guide. If you hire a local car in Bhutan then whichever hotel you stay, hotel management will arrange a stay for your driver in the same hotel with free of cost.
one can use their personal vehicle for touring in Bhutan, but my suggestion is to avoid own vehicle if you have never driven a vehicle in the hill area.
A person can also take a mode of transport on a sharing basis from Phuentsholing to a specific location.
4. Places of visit:
I visited the following places in Bhutan-
Thimphu- Thimphu is the capital of Bhutan. Thimphu is a very beautiful city with unique architecture. There are a lot of attractions in Thimphu where someone can visit but don't forget to visit The Buddha Dordenma. The Buddha Dordenma is located atop a hill in Kuenselphodrang Nature Park and overlooks the Southern entrance to Thimphu Valley. This massive statue of Shakyamuni measures in at a height of 51.5 m, making it one of the largest statues of Buddha in the world.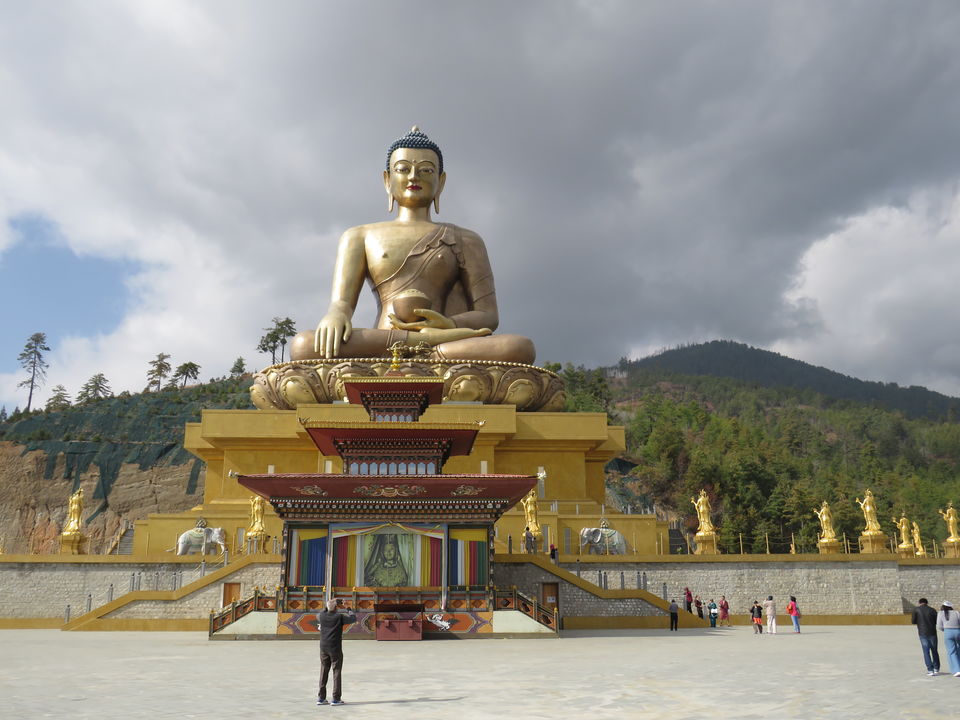 Paro- Paro is another beautiful town in Bhutan. It is not as modern as Thimphu but it is not least in beauty. The road which goes from Paro airport to Paro has a mesmerizing view like a beautiful painting. Paro is situated on the bank of the beautiful river Paro Chhu. Someone can visit local attractions in Paro. There are also night clubs in Paro where someone can visit.
Paro Taktsang(Tiger's Nest Monastery)- It is a prominent Himalayan Buddhist sacred site and the temple complex is located in the cliffside of the upper Paro valley in Bhutan. The monastery is located 10 kilometers to the north of Paro and hangs on a precarious cliff at 3,120 meters (10,240 ft), about 900 meters (3,000 ft) above the Paro valley, on the right side of the Paro Chu. The rock slopes are very steep (almost vertical) and the monastery buildings are built into the rock face. It is a must-visit place in Bhutan. There is a cafe in between of the trek to Tiger's Nest Monastery where someone can enjoy a delicious vegetable food.
Punakha- Punakha Dzongkhag has been inextricably linked with momentous occasions in Bhutanese history. It served as the capital of the country from 1637 to 1907 and the first national assembly was hosted here in 1953. Punakha Dzong is not only the second oldest and second-largest dzong but it also has one of the most majestic structures in the country.
October 13, 2011, marked an unforgettable wedding of the King of Bhutan, Jigme Khesar Namgyel Wangchuck to Jetsun Pema which was held at Punakha Dzong. Punakha Dzong was built at the confluence of two major rivers in Bhutan, the Pho Chhu and Mo Chhu, which converge in this valley. It is an especially beautiful sight on sunny days with sunlight reflecting off the water onto its white-washed walls. In addition to its structural beauty, Punakha Dzong is notable for containing the preserved remains of Zhabdrung Ngawang Namgyal, the unifier of Bhutan as well as a sacred relic known as the Ranjung Karsapani. This relic is a self-created image of Avalokiteswara that miraculously emerged from the vertebrae of Tsangpa Gyarey, the founder of the Drukpa School when he was cremated. Punakha valley has a pleasant climate with warm winters and hot summers. It is located at an average elevation of 1200 m above sea level.