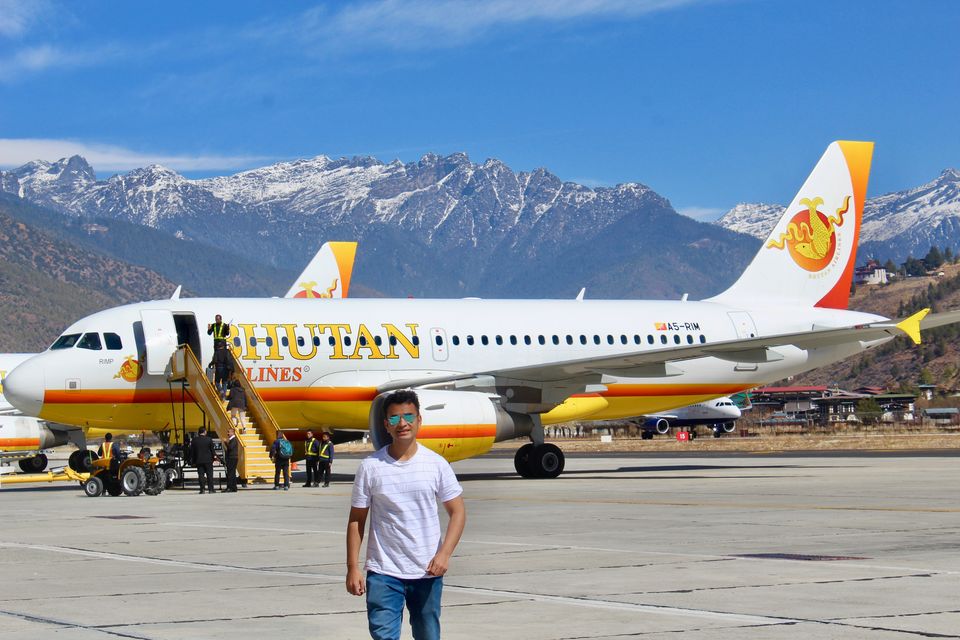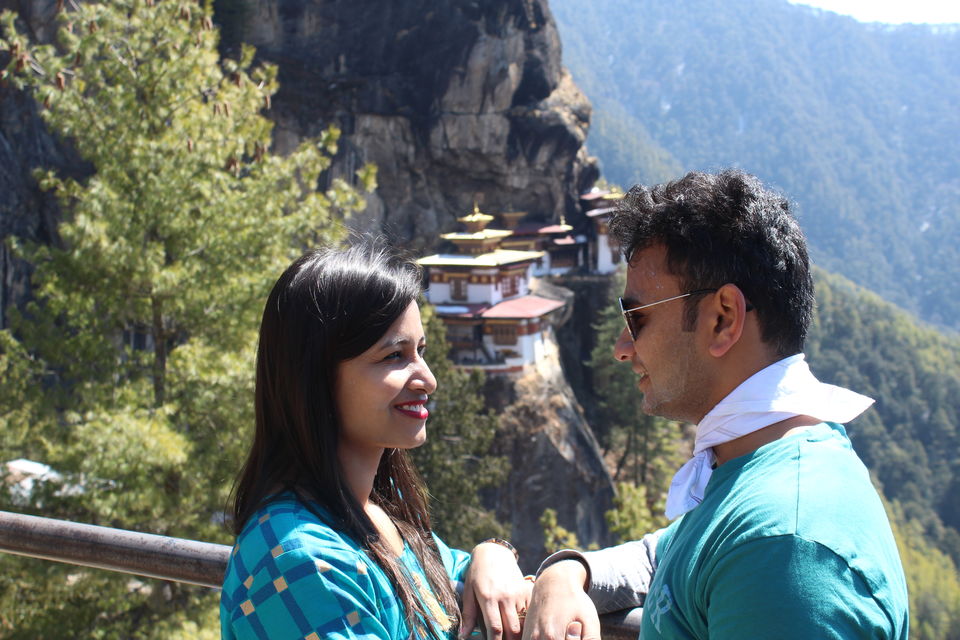 A nation in the eastern Himalayas bordering India and China known for its Monasteries, scenic beauty, unique and fascinating architecture, peaceful countryside, fluttering flags, Buddhist culture, and no traffic signals.
Happiness is a place guy and the place is Bhutan. A place which has chosen GNP (Gross National happiness) over GDP (Gross Domestic Product) to measure progress.
It's the only carbon negative country in the world and committed so much to conservation that it preserves 60% of its and under forest cover at all times. You can imagine how un-spoilt and beautiful it must be!!!
Getting into Bhutan
By Flight - Paro International Airport/Bhutan is connected directly to Nepal(Kathmandu), India(NewDelhi, Kolkata, Bagdogra, Guwahati, and Gaya), Bangladesh(Dhaka), Thailand(Bangkok)and Singapore(Changi). At present two carriers operate to Bhutan, Drukair and Bhutan Airlines. We took flight from Bagdogra to Paro (1 hrs).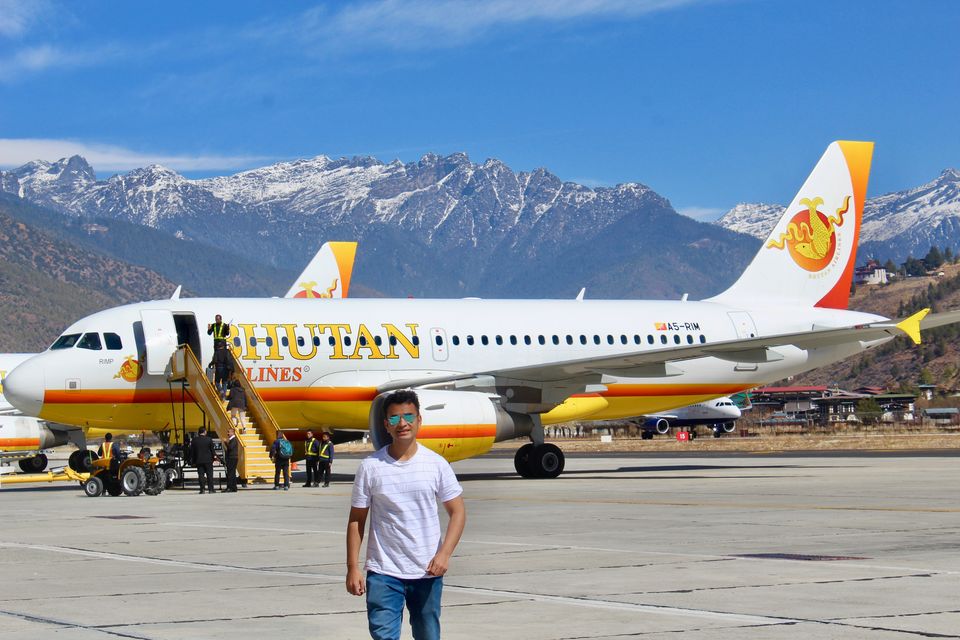 For Indian, Bangladeshi and Maldives nationals the visa is not required. Once you reach Paro you will get entry permit (for visiting Paro, Thimphu, and Pheuntsholing for 7 days) provided you carry a passport with validity of at least 6 months. Indian nationals can also use Voters Identity card instead of the passport.
All other tourists must obtain a prior visa clearance. You are required to send the photo-page of your passport to your tour operator who will then apply for your visa. The visa will be processed once the full payment of your holiday (including a USD $40 visa fee and $200-$250 per day) has been done. Visa clearance may take up to 72 working hours. 
Note - $200-$250 per day (applicable on tourist other than Indian, Bangladeshi and Maldives nationals) covers accommodation, food, guide and vehicle with driver.
By overland – Pheuntsholing/Bhutan is the border town from where you can enter into Bhutan by land.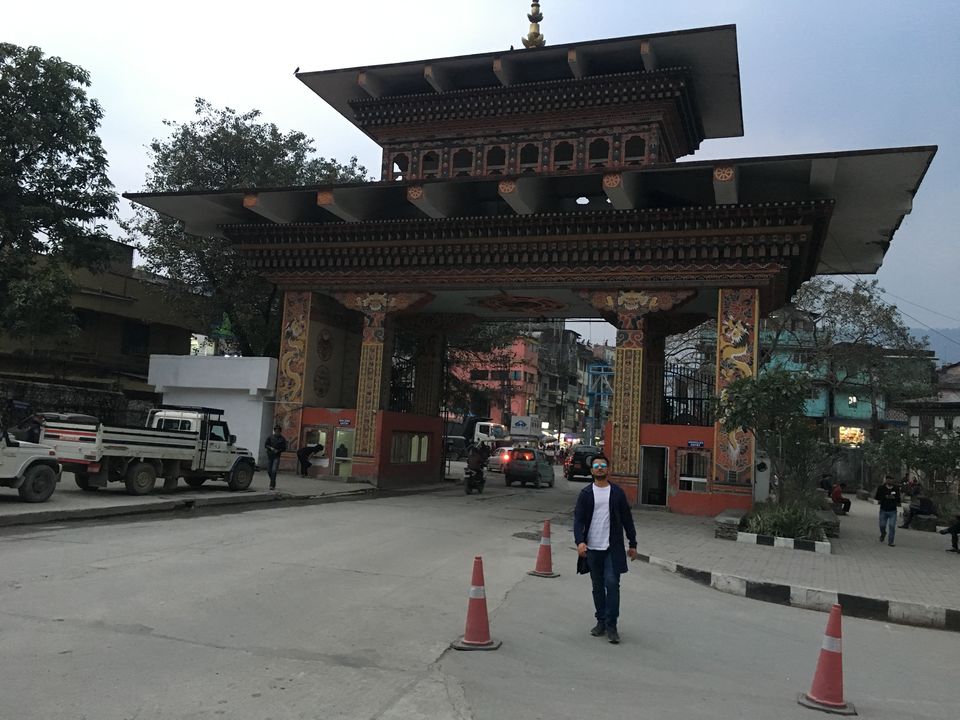 Note – the Nearest airport to Pheuntsholing is Bagdogra (3-4 hours). Taxis are easily available to commute between these two (Rs. 2500 for a private taxi, Rs 650 for sharing)
After entering Pheuntsholing, you need to obtain a permit (valid for visiting Paro, Thimphu, and Pheuntsholing for 7 days) from the Immigration Office of Royal Government of Bhutan. You will need 2 passport size photographs and carry a passport with validity of at least 6 months. Indian nationals can also use Voters Identity card instead of a passport.
Note - Immigration Office, Pheuntsholing remain closed on Saturdays, Sundays and Bhutan Public Holidays. On working days it remains open from 9:00 AM to 5:00 PM Bhutan Standard Time. So plan your travel accordingly. They might ask for your hotel bookings and itinerary, so take a photocopy of email confirmation of your hotel bookings.
Indians can take their cars as well. For that vehicle, a permit is also required. You can get that from Road safety and Transport Authority of Bhutan at Phuentsholing. You need to produce all valid documents of the vehicle, the vehicle must have an Indian registration vehicle number, owner of the car and driver must be the same person.
Withdraw cash from ATM beforehand if you are from India
Check the back side of your Debit/ Credit card, if it's mentioned that "Not valid for payment in foreign exchange in Nepal and Bhutan", you need to carry all the cash you are going to need in Bhutan. You may ask your bank to enable International Transaction on your card so that the same can be used in Bhutan.
Bhutan's currency is "Ngultrum" and its value is the same as Indian Rupees which is widely accepted in Bhutan.
Once You reach Bhutan
Booking Taxi - Taxis are available just outside Paro Airport. You can book them straight away from there. The price ranges in between 2500-3000 Ngultrum per day. We did the same and found a driver smiling just outside the Airport. We booked the taxi from Bhutan_lambu_Taxi_service and our experience with the driver (who then became our friend) is one of the best in Bhutan.
Note: Though Paro and Thimphu can be explored without booking a taxi for the whole day. You can either walk or use cabs to reach from one location to another (They will charge 200 Ngultrum even if you are using it for even a km).
We recommend booking a private taxi as it's easy to get around with that.
Buying a local SIM Card - Ask your driver that you want to take a local SIM card. Only two operators Tashi Cell and B Mobile. We purchased a SIM for 200 Ngultrum having the same amount of credit. Considering that there is WiFi in most hotels and homestays, this amount is sufficient.
Extending your permit and going beyond Paro and Thimphu - If you want to go beyond Paro and Thimphu, you will need a separate permit for that. There is an immigration office in Thimphu. Go there, fill a form and collect your permit in 3-4 hours. We extended it for Punakha and Phobjikha. You can also extend stay up to a maximum of 30 days. Immigration offices remain closed on Saturday, Sundays and Bhutan Public Holidays. On working days it remains open from 9:00 AM to 5:00 PM Bhutan Standard Time. So plan your travel accordingly.
Leaving Bhutan by road – If you are planning to leave Bhutan by road, make sure to submit your entry permit at the last checkpoint.
Our 9 days and 8 Nights Itinerary through Bhutan
Kuzkuzampol La (Hello) guys!!! We backpacked for 9 days in Bhutan, entering the country by air and leaving it by road.
If you choose to use airways both the ways, the same itinerary can be covered in 7 days.
The travel route we took in Bhutan is :
Paro (2N);Thimpu (2N);Phobjikha Valley (1N);Punakha (1N);Paro (1N);Phuentsholling (1N)
Overview of how we explored Bhutan in the same order as mentioned:
Day 1: Took a flight from India and landed in Paro, Bhutan. Stayed in Ama's Home Stay. Visited Kyichu Lhakhang Monastery, National Museum of Bhutan, Paro Dzong, Town Square Market and ended the day perfectly with a Riverside Walk.
Day 2: Famous Tiger's Nest hike in Paro, Airport viewpoint, Beer factory
(tasted 8 different types of beer there) and tried our hands in Archery.
Day 3: After breakfast off to Thimphu, visited Tamcha Lhakhang on the way. In Thimphu explored Semtokha Dzong, Memorial Chorten Thimpu, Simply Bhutan, Thimpu Dzong and Handicraft Market. Stayed in Himalayan Kisa Hotel.
Day 4: Sunrise at Buddha Dordenma, breakfast at the hotel and off to Tango Institute Hike, Jigmorjee National Park, Changangkha Lhakhang, National Zoo MotithangTakin Preserve and night walk at clock tower square.
Day 5: After breakfast off to Phobjikha, Dochula Pass on the way, Spotted Black-necked cranes in Phobijkha and stayed in Pasang zam Home Stay.
Day 6: Gangtey Nature's Trail, Gangtey Gonpa in Phobjikha, Off to Punakha, Punakha Dzong, and Suspension bridge.
Day 7: After breakfast Chimmi Lakhang Temple visit in Punakha and back to Paro.
Day 8: Morning walk at riverside Paro and left for Pheuntsholing after breakfast, explore Pheuntsholing and its market.
Day 9: Taxi from Pheuntsholing to Bagdogra and flight to Delhi.
We will soon be posting our experience at different places in Bhutan.
Stay tuned guys.
Frequent searches leading to this page:-
Bhutan vacation, Bhutan vacation packages, Bhutan trip plan, Bhutan tourism cost, best Bhutan packages, holiday in Bhutan tours & travels