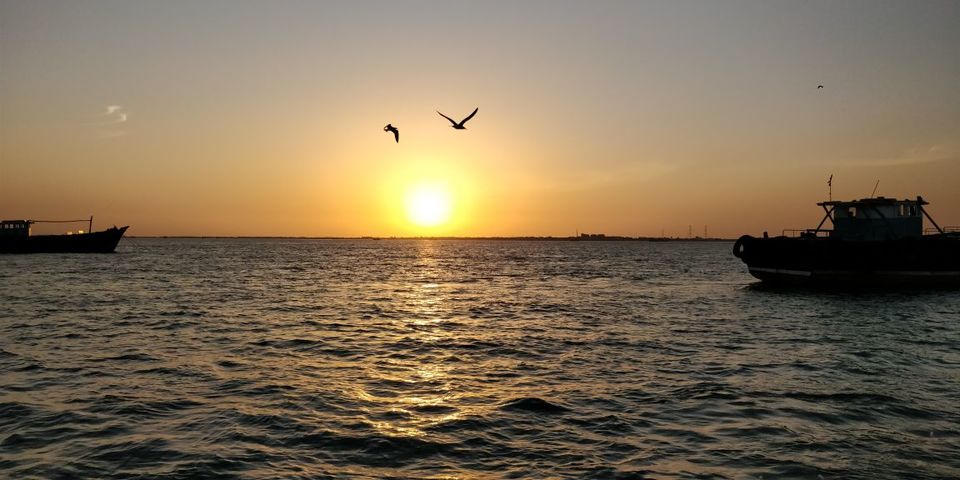 We took a 3 days 2 nights trip to the southern coast of Gujarat from Ahmedabad, covering Dwarka, Somnath, Diu and Gir National Park. The roads of Gujarat are very smooth and well maintained even around the rural area. I would recommend leaving Ahmedabad really early to beat the traffic. We started around 3:30 A.M in the morning and reached around 11:15 A.M., with a stop at Honest Restaurant enroute. Almost a 440 kms later, we reached Dwarka, the city of Lord Krishna. Dwarka is one of the four Dhams (Vaishnavite pilrimage sites as defined by Adi Shankaracharya), others being Puri, Badrinath and Rameshwaram.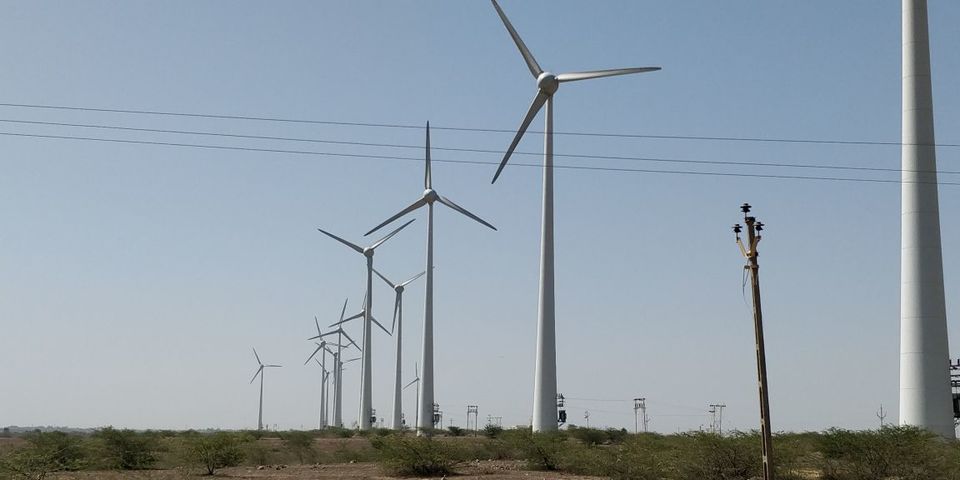 Dwarka is an important pilgrimage for Hindus and so there is no dearth of hotels and homestays there. We checked in to Maheshwari Bhawan and took a 4 bed and a 3 bed rooms (we were 7 of us). It costed us 1250/- for a 4 bed and 950/- for a 3-bed room. (as on March 2018). Both the rooms were air conditioned and had attached bathrooms. Both were spacious and clean. They had a restaurant which served fixed lunch and dinner for Rs.100/- a person. Food here was really good.
An hour later we were at the temple. Electronics aint allowed in the premises and are to be deposited outside at the counter.
The Temple, situated on the confluence of River Gomti and Arabian Sea. is grand with beautiful carvings and eye catching architecture. The main temple is huge with about 7-8 floors, though you are allowed only till 4th floor at specific timings. The flag (Dhwaja) at the top of the temple dome is changed 5 times a day and is usually pre-booked by the devotees months in advance.The temple complex has two gates called 'swarg dwar' (gate of heaven) and 'moksh dwar' (gate of moksha). You would find the idol of Lord Dwarkadhish alone in the main temple. Queen Rukmini's (Lord's wife) temple is at a distance of about 12 kms from Dwarka. It's said the Rishi Durvasa was angered by a mistake made by the Lord and the Queen and thus cursed them to stay apart for 12 years. He also cursed that the land around Dwarka would be unfit for cultivation and would lack drinking water (these still stand true and is quite prominent in the city).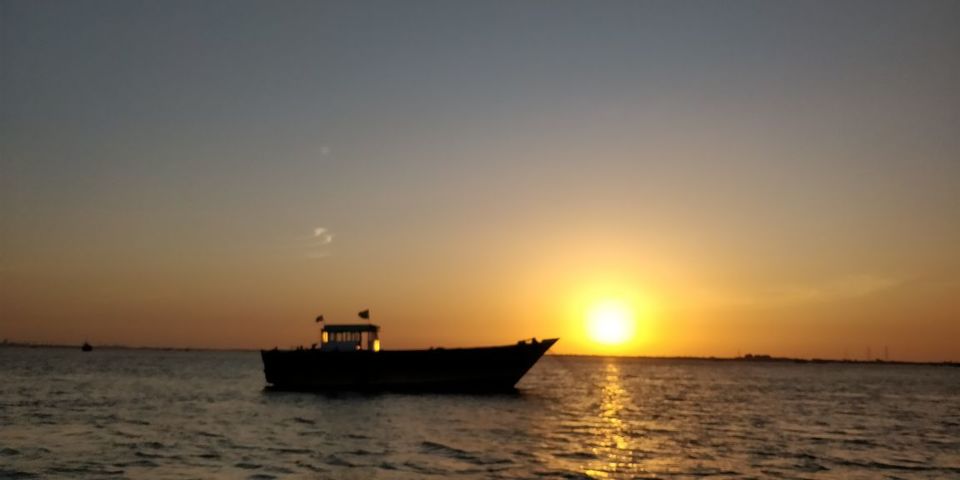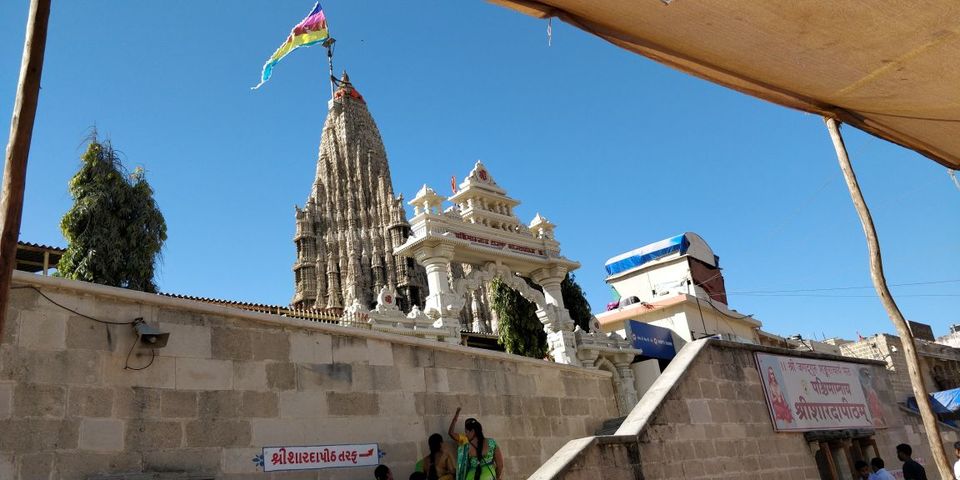 Other important temple is that of Mother Devaki and Balram (Elder brother of Krishna). Crossing it You come to the other gate i.e. 'Moksha Dwar'. This gate takes you to the bank of river Gomati through 'Chhappan seedi' (56 steps). While going down the steps, you would notice a place where "Tula Daan" (Donation in kinds equivalent to one's weight) is performed. It's a ritual started by Queen Rukmini who donated gold equal to her husband's weight. Tula Daan is of great importance here in Dwarka. It's said to relieve the donor of bad health. There are three types of Tula Daan.
The first one requires donating Ghee, Sugar and Rice in equal quantities equal to your weight (comes down to Rs.145 per kg)
Second one requires donating equal quantities of ghee, rice, sugar, wheat, 3 types of dals equivalent to your weight (come down to Rs.105-110 per kg)
Third requires donating: for eg, your weight is 60 kg, then 30 kg would be gehu and 5 kg each of the other 6 things mentioned in the second type. (comes down to Rs.70-75 per kg)
You could also insist on a Tula Daan of a much lower amount, as low as 1100/- or 2100/- for a couple. They allow it but the quantities and varities of stuff varies from that mentioned above.
Remember to keep yourself hydrated specially during summers. We grabbed some Fresh lime water and coconut water on the way to the hotel. Few hours later we left to visit other temples in the vicinity.
Nageshwar is situated about 20 kms east of Dwarka, is one of the Twelve Jyotirlingas. The Garbhagriha (main part where the Idol is placed) is made of silver. The Jyotirling is covered with glass to protect it from deteriorating further. There is a big Shiva's idol at the entrance of the temple. Mobile Phones are allowed in the temple premise though clicking pictures isn't allowed. Entering the Garbhagriha for performing Puja and other rituals is allowed on the payment of Rs.150/- per person. They also have a stall inside the temple where you can buy souvenirs and other religious stuff from.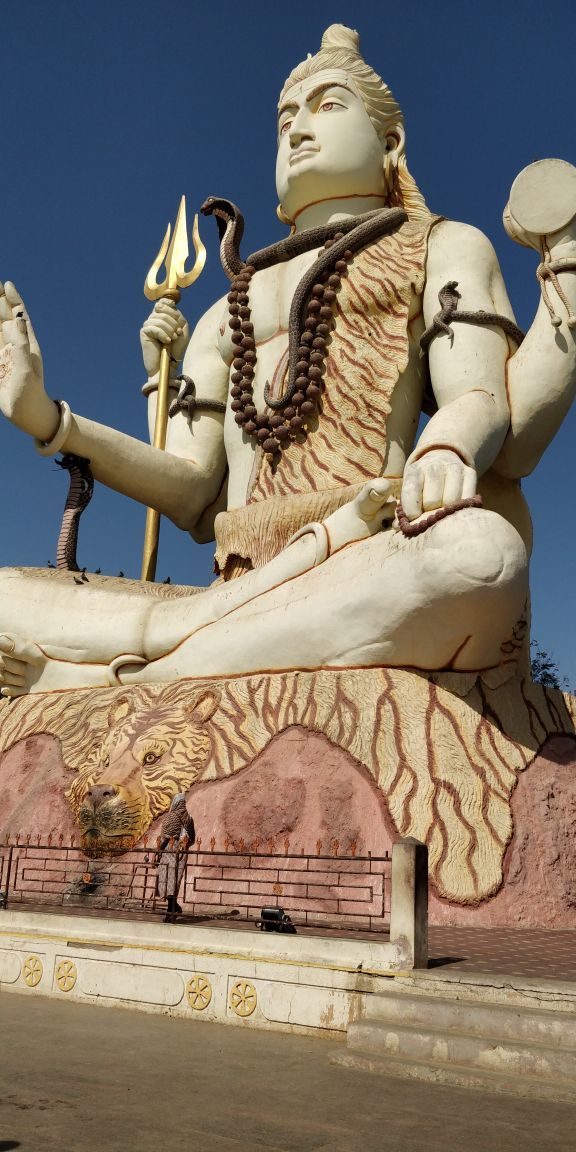 We have been to a few other Jyotirlingas and what surprised us here was, this place wasn't crowded at all which was in contrary to every other Jyotirlinga we visited.
Gopi Talav: As the legend goes, this was where the 16000 wives of Shree Krishna turned into Sandalwood. This was shortly before the time of Krishna's Swadham Gaman. You have to walk a little to reach this place. You will come to a dried lake of sandalwood. You will find many shops and hawkers selling sandalwood and other handicrafts.
Bet Dwarka
As said there are three Dwarkas:
Dwarka- Where Lord Krishna ruled
Bet Dwarka- Where Lord Krishna stayed with his four wives
Mool Dwarka- Where Lord Krishna first arrived after leaving Kurukshetra (war with Jarasand)
At a distance of 20 kms, Bet Dwarka is a boat ride from the Okha Port in Dwarka. It's a 15-20 mins ride from Dwarka. The boat was overloaded but was a good ride. There was this guy selling masala chana on the boat which was a bonus as we all were very hungry by this time. The amazing part here was the way that guy balance himself on the edge of the boat. It was a good ride altogether. Once there we walked for about 1 km to reach the temple. They also have hand carts to carry people who can't walk much. They charge Rs.200/- per cart and allow around 4-5 people on it at a time. Like Dwarka, electronics ain't allowed inside the premises. Expect to find many cows around. This temple isn't very grand like the former but is spread in a very large area. There are many small temples inside the premise. The four corners of the temple homed the four wives of Krishna named Rukmini, Jamvanti, Satyabhama and Radha. After spending about an hour here having done with all the darshan we headed back to catch a boat. The ride back to Dwarka was mesmerising. We got a chance to view the sunset on the Arabian Sea from the boat. The cool breeze and the sea glowing with the last rays of the sun for the day, many birds flocked together in groups giving the entire set a mesmerising look. This was one of the best sunsets I had witnessed till date.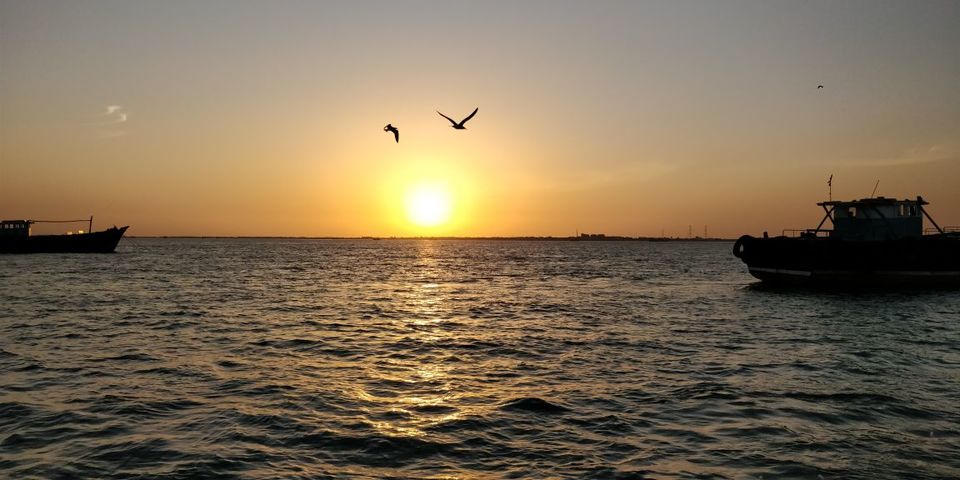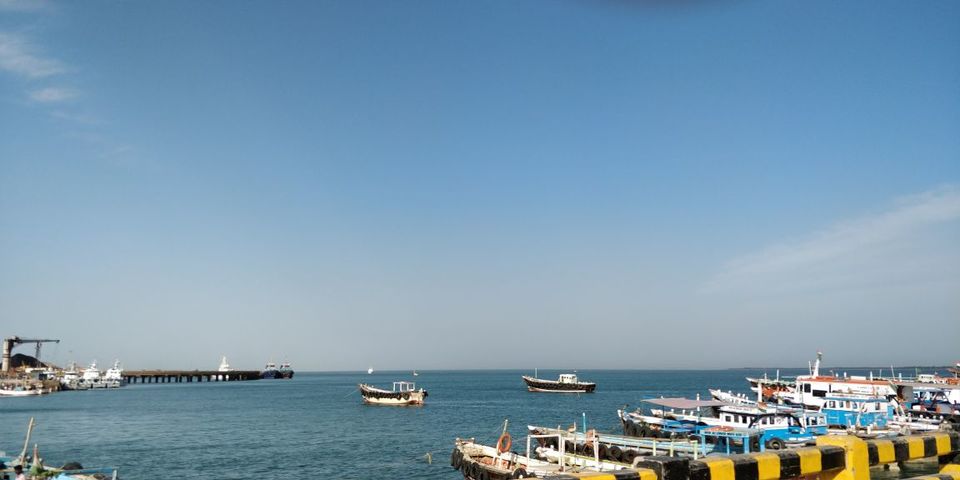 Rukmini Temple: This temple is about 12 kms from Dwarkadhish Temple. It is said that Maharishi Durvasa cursed Mata Rukmini, the first wife of Sri Krishna that she couldn't stay with Lord Krishna for the first 12 years of marriage. He also said that there would be dearth of fresh water around the place as She dint offer the sage water to drink. This is the reason we wouldn't find a single idol of Goddess Rukmini in any of the temples in Dwarka.
Once done we left for our Bhawan. We had dinner (a thali which consisted 3 sabzis, falkas, khichadi, curry, papad and chaas). We then went for a walk around the place. It's a quaint little town which shuts down pretty early with a few shops open till late. We found an ice cream shop, sat there for some time, had a few ice creams and then were back to our hotel. We called it a night as we had to get up early the next day.
After a quick breakfast, we went to the temple for darshan. After darshan we went on the banks on River Gomti and took a boat ride to the confluence of Gomti and the Arabian Sea. It was a good view. Try to catch up the sunrise here. I believe it would be a sight to watch, we missed it by minutes though. Then we proceeded towards Tula daan centre for the ritual. After buying a few souvenirs we made our way to the hotel to check out.
On the last day we visited Dakorji. It's said that the idol at Dwarka isn't the original one as it relocated itself at Dakorji on request of its devotee. Therefore, pilgrimage to Dwarka isn't complete without visiting Dakorji.
There are numerous stories relating to the life of Lord Krishna and the city of Dwarka. The locals and the priests, everyone has some story to tell and all these leave you longing for more. The surroundings are witness to the stories but it doesn't stop you from wondering how much more the city holds. This place left us inquisitive yet rejuvenated, as we continued to the next leg of our trip.
Read the entire trip here.