We just got back from a 7 day trip to Gujarat this January .We covered Duuvarika and Somnath the last dhams pending in our Chardham yatra ,extending till Kutch as it was the time of Rann Utsav. For those who love sea, sun, birds, sand , temples and heritage this is an amazing trip.
The trip started by Boarding 11.50 a.m flight from Mangalore to Rajkot with a change over at Mumbai .Spent an hour in Mumbai airport taking snaps and an hour at the runway since an old man with head injury had refused to get down the aircraft. As we landed at 5.30 p.m, I could spot colorful kites a scattered on the turf besides runway hinting that Rajkot citizens had a vibrant kite flying festival.Our accommodation was booked at Hotel SS Inn above Sankalp Restaurant located at Race course road. We were allotted a studio room ,Race course garden is visible from the window. It was a chilly and pleasant evening for any Coastal kannadiga,the Hotel Manager turned to be an introvert ,did not respond to our enquiries. We roamed around the city in an auto.
Sri Swaminarayana Mandir,Rajkot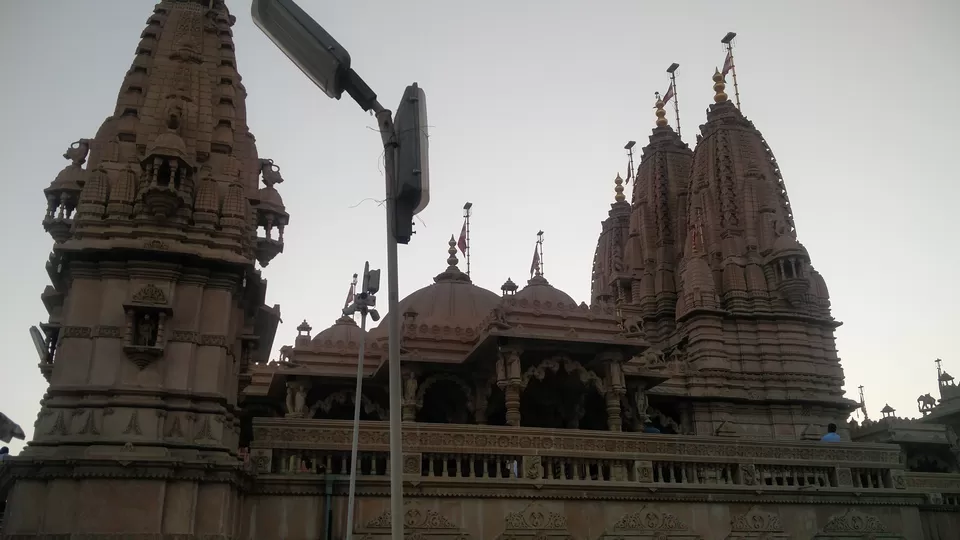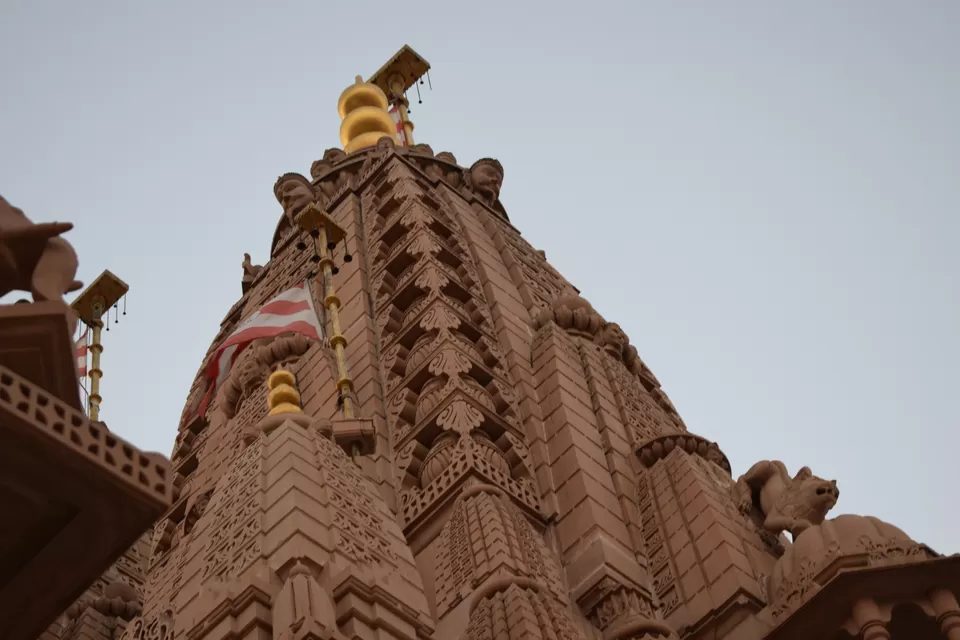 The temple built in pink stone is decked in intricate stone detailing on arches and columns .No concrete or cement has been used in construction. Central shrine has idol of Lord Swami narayan , other shrines are Harikrishna Maharaj and Lord Krishna & Radha.
Jain temple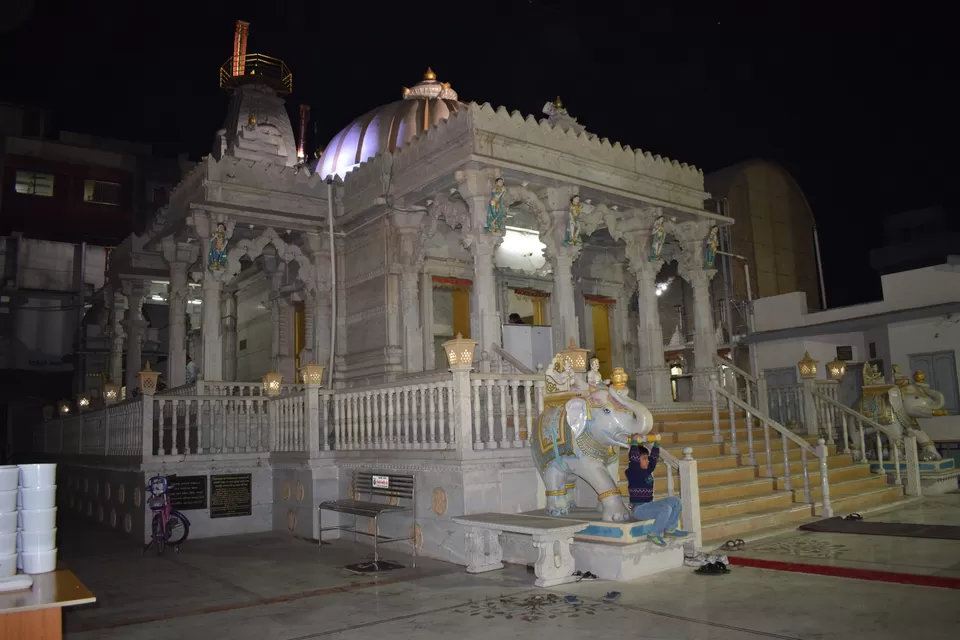 Temple architecture is outstanding.
Love temple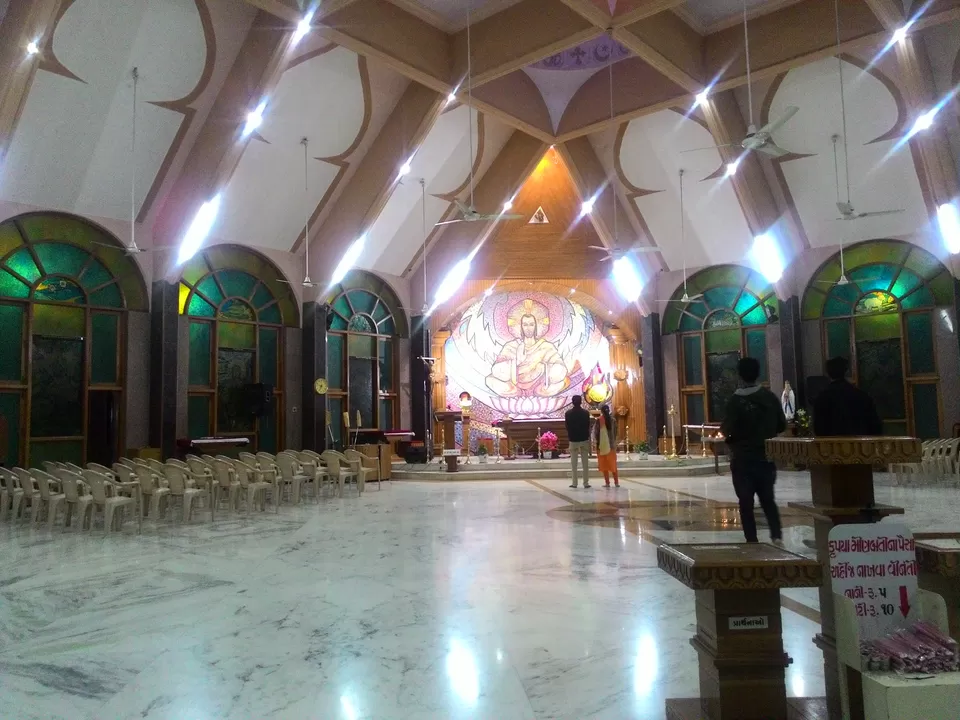 Love temple is a Syro-Malabar cathedral dedicated to Sacred heart of Jesus.It blends the architectural features of other religions but looks like a temple. There is a mosaic of Jesus seated in a meditation pose above a lotus like an Indian holy man.
Night had crispy Masala dosa at Sankalp restaurant. Quite contented to taste south Indian quality dosa accompanied with 3 chutnies and perfect sambhar in Gujrath. There were wide variety of dosas, idlies,bisibele bat all authentic South Indian tiffin items,the waiters were explaining about composition of bisibele bat to guests.
We had booked a taxi from Deepak Travels -Rajkot to traverse this figure 8 tracing circuit starting from Rajkot- Bet Dwarka, Somnath, Junagadh, Rajkot, Bhuj, Koteshwar, White Rann and back to Rajkot . The total travelling cost suggested was around Rs 20,000 for the 6 days itinerary, apart from the hotel accommodation .
Early morning our driver MukeshBhai picked us ,briefed us about day's programme,he spoke fluently in hindi .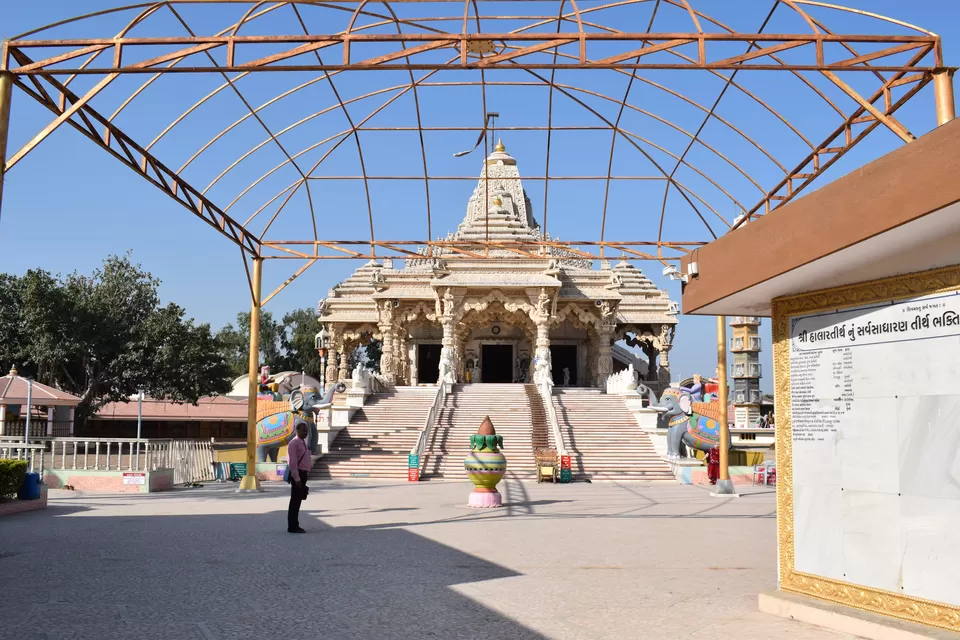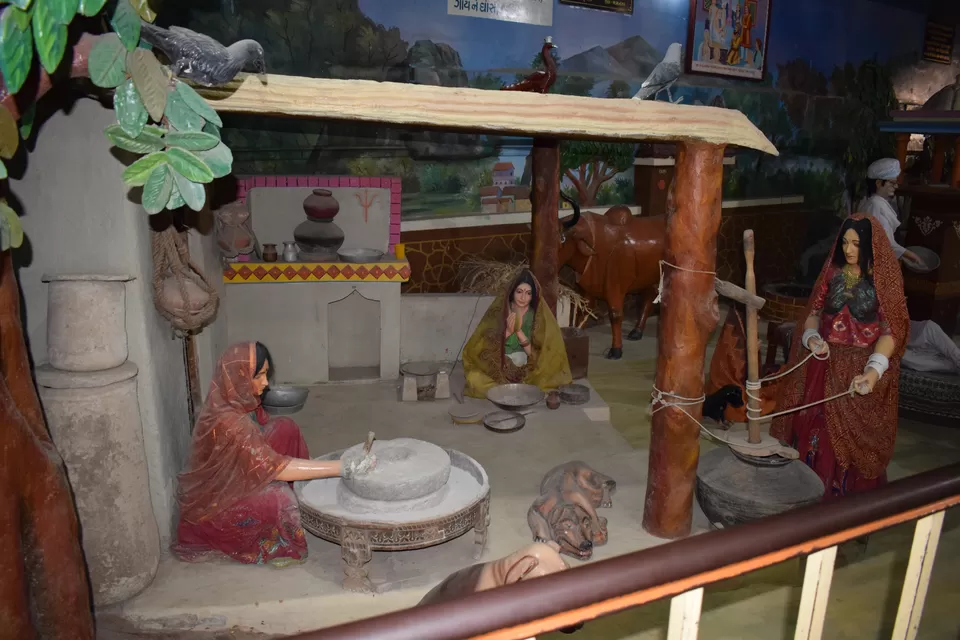 First in this series turned to be Aradhana Dham after Jamnagar. This is a Jain temple dedicated to Shree Halartheerth , galleries depicting Hindu mythology and a garden in the premises.Spent some 30 minutes inside the temple.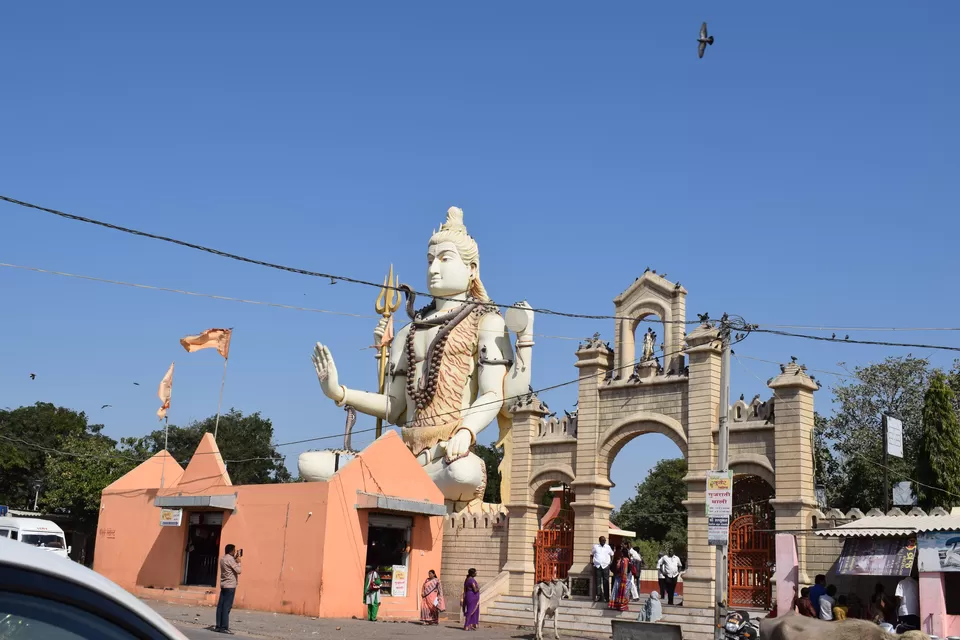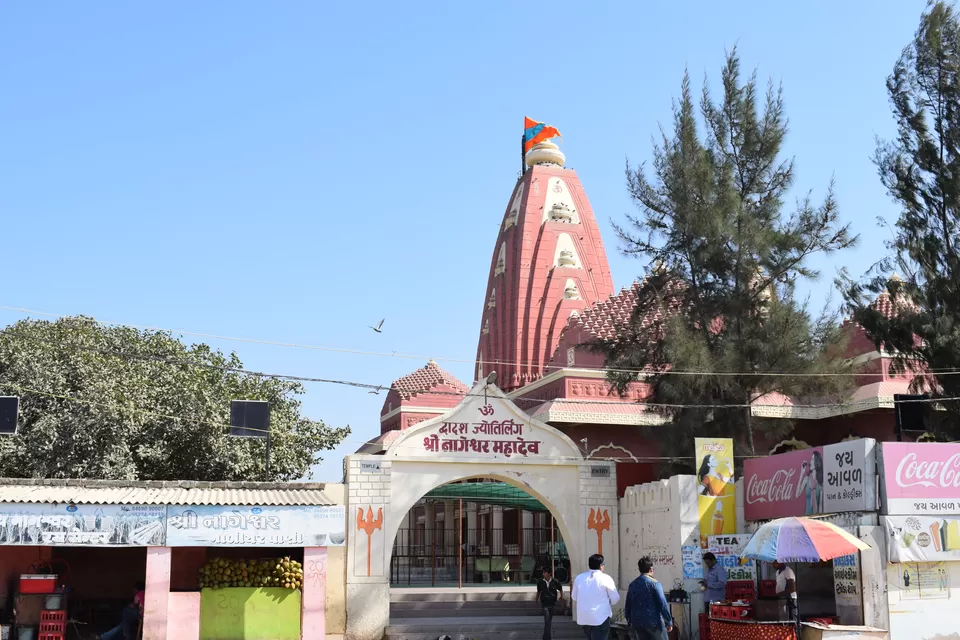 Nageshwar Temple is located on the route between Gomati Dwarka and the Bet Dwarka,the powerful Jyotirlinga symbolizes protection from all poisons. We performed abhishek to the lingam, one (even ladies) can enter sanctum by purchasing pooja thali items at the temple .There is a massive statue of Lord Shiva near the temple. The road all through the drive is dotted with wind mills (pavanchakki).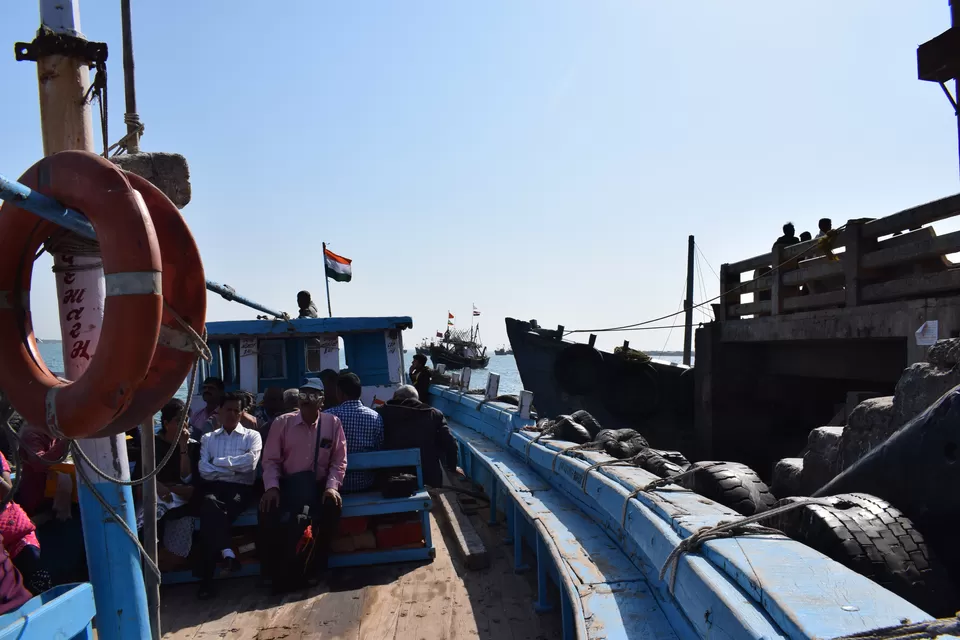 Bet – Dwarka is an island surrounded by sea from all sides. Boat service is available between Okha and Bet-Dwarka, it's a 15 minute journey but one has to wait till the boat is full, there is no ticket counter, gents are not allowed to sit on the floor of the boat.Feeding the sea gulls can be good time pass. The temple opens at 5.00 p.m due to new construction work of temples going on.One has to deposit camera ,mobiles and luggage at the counter. This temple is considered as residence of Lord Krishna, Sudhama came from Porbandhar to meet his friend here.One can buy prasadam,there is a free meal service for pilgrims.It was almost 6.00p.m when we reached our taxi, so after an hour long drive reached Dwarka .
Dwarkadish temple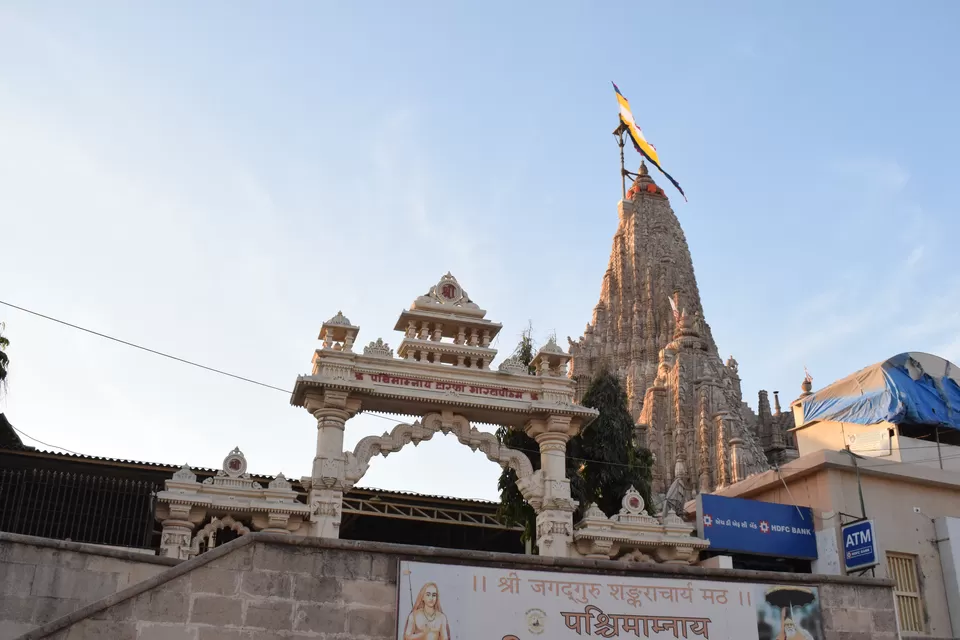 Straight away headed to the Dwarkadish temple to witness evening arthi. Liked this aspect of devotees greeting the Lord as their soulful friend by raising both hands. Drum beats and keerthans made the environment divine and serene. There were many Tamilians in the crowd. Women and men are allowed in separate queues, luggage,mobiles & camera are not permitted.
We retired in our room at Hotel Bhansi, this hotel is near to temple has parking facility. Even though I voluntarily wrote my reviews about the hotel, I continue to get calls from other travel sites regarding our stay after a week .
Next morning had another glimpse of Lord, dip in Gomti river.There are shrines dedicated to Lord Shiva, Balram and Devki in the premises of Dwarkadish temple. Purchased Balgopal and souvenirs from the Adi Shankarcharya Mutt at the temple. After breakfast of Dhokla and Parota left to Rukmini Temple.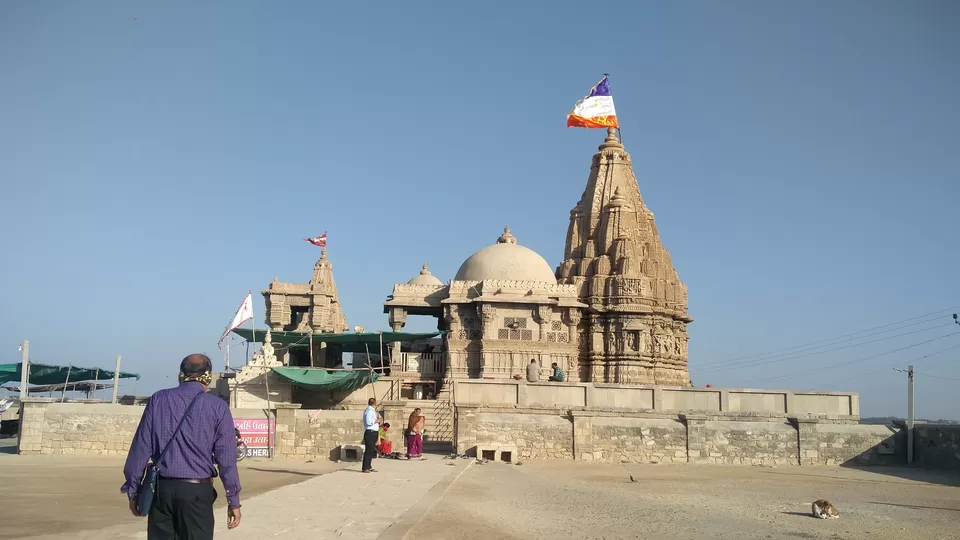 Our driver told that us that without visiting Rukmini Temple Chardham circuit is not complete. This temple is said to be some 2500 years old. This is a carved temple, decorated with Sculptures of Gods. The priest gave a commentary on the significance and the history of the place, we donated towards Jaldhan as Dwarka is completely dependent on Potable Water from outside.
Enroute Porbandar visited Harsiddi Mata Mandir, spotted Dhirubhai Ambani's Ancestral home .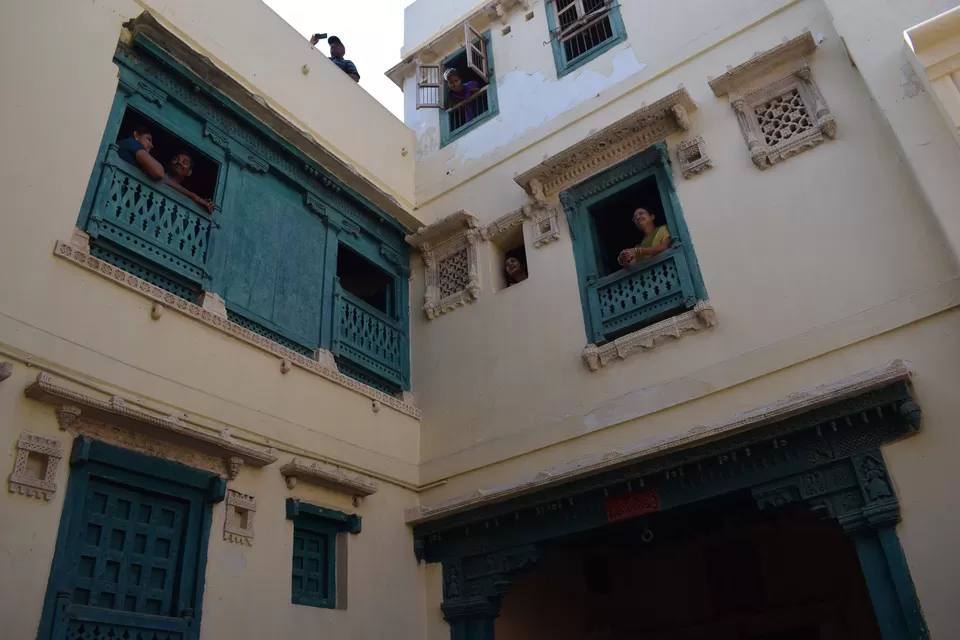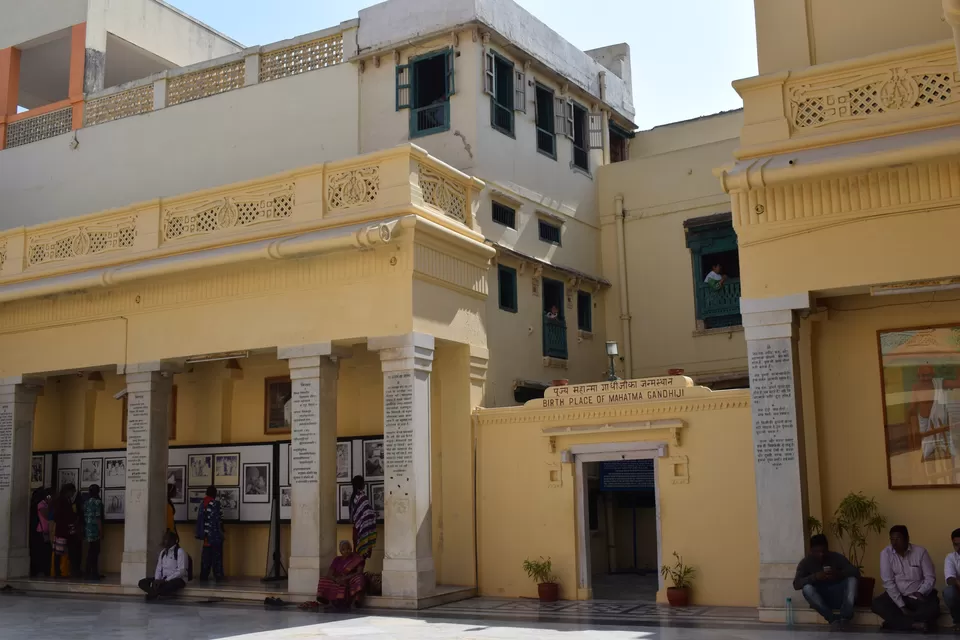 Porbandar turned to be a dusty town due to the ongoing cable laying excavation work throughout the town . Visited the house where our father of Nation Mahatma Gandhi was born in the city of Porbandar. The house is situated in a small road. Though it is renovated at the exterior, the basic house with 22 rooms and 2 storeys is maintained, Photographs of Gandhiji are housed in a museum, library are worth visiting. Purchased a T Shirt from souvenir shop .Also visited Bharath Mandir ,Akash Bhavan (could have been skipped )and Sri Sudama Mandir dedicated to humble friend of Lord Krishna.
At Somnath we had booked Maheshwari Bhavan, after dumping the luggage left for Sri Golaknath Dham near Triveni Ghat, Pandu Gufa and Surya Temple.
Lord Krishna breathed his last at Gujarat's Prabhas Patan. Golok Dham was the place from where Krishna embarked onto his journey to the Nijdham .The footprints of Krishna are present at the place from where he left for the Baikunth Dham. Following in Krishna's footsteps his elder brother Balram also made his journey to Nijdham via same route.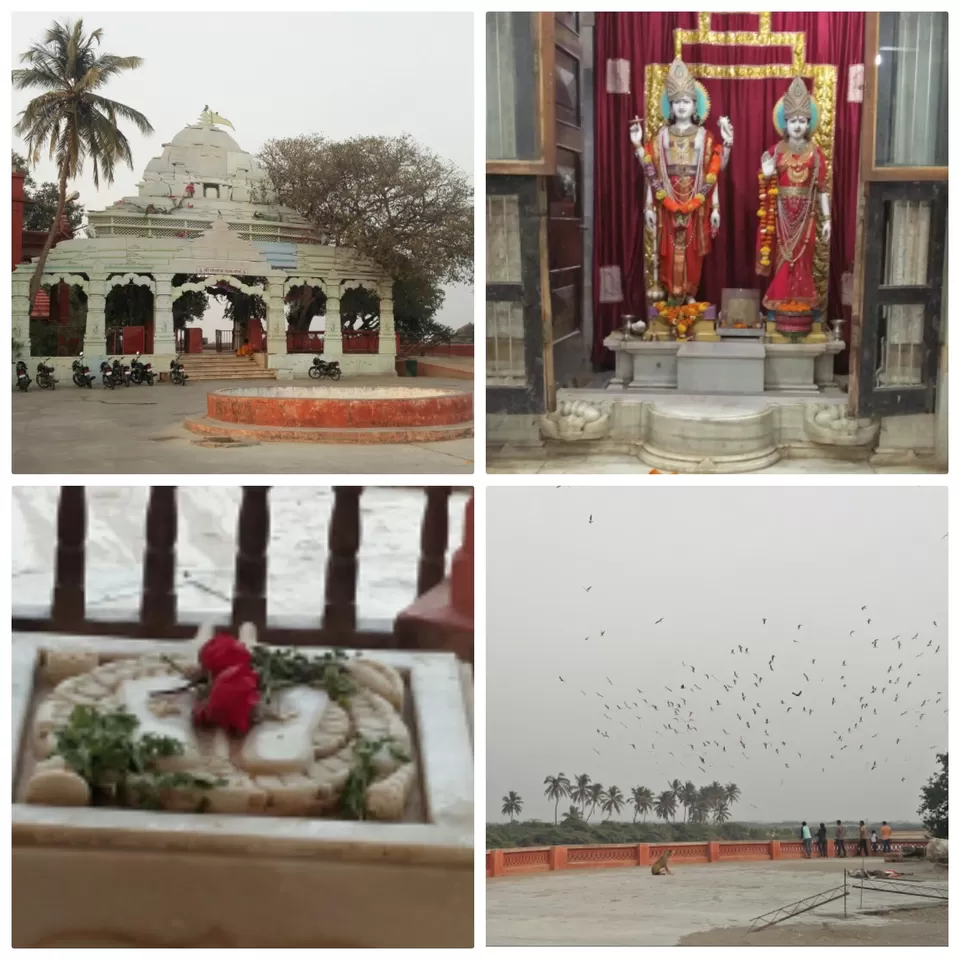 Somnathji temple is a beautiful, cleanest and hi-tech temple complex, arthi can be viewed from outside on the big LED screens , abhishek can be performed electronically without entering the sanctum Standing tall on the ocean shore , the temple is an example of recent Indian craftsmanship in Chalukya style built at the site of the old temple which was ransacked by the Moghuls. Shehnai music during Arthi for some 30 minutes left us mesmerized .
Next part of the post will cover journey from Somnath to Bhuj and back to Rajkot.