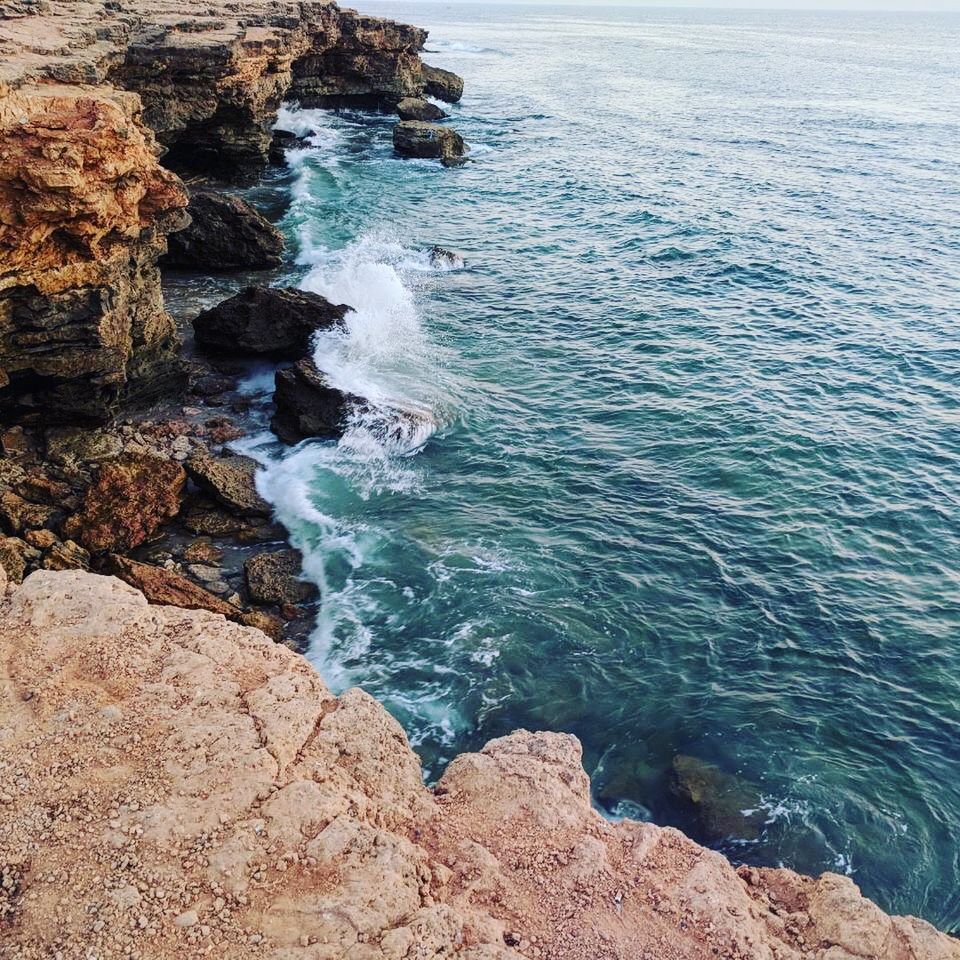 Gujarat had been on my travel bucket list for quite some time and when my parents expressed their desire of pilgrimage to Dwarka and Somnath, I immediately jumped in to grab the opportunity! Me and my husband desperately wanted to go Runn of Kutch to experience its unique white salty deserts! And, since we were traveling in December, Kutch Festival would have been the icing on the cake! But unfortunately, we couldn't make it to Kutch as I was traveling with my 1-year old son and 65-year-old father who is diabetic and a heart patient and there was a risk of them getting exhausted with too much of long duration road journeys.
So, in nutshell, we followed below itinerary in Gujarat:
Day 1 – 23rd December 2018 - Arrival in Ahmedabad from Bangalore by air
Day 2 – Road trip to Somanth and Visit Somnath Temple in evening
Day 3 – Day trip to Diu
Day 4 – Road trip to Dwarka and visit Dwarkadheesh temple in evening
Day 5 – Sightseeing in Dwarka
Day 6 – Road trip to Ahmedabad
Day 7 – 29th December 2018 - Back to Bangalore by air
Tourism is at its peak in Gujarat in winters (December-February) since it remains extremely hot during rest of the year. Therefore, it is highly advisable to do all reservations well in advance if traveling in winters. We initially thought of traveling by train within Gujarat since a lot of trains commute during night amongst Ahmedabad, Somnath and Dwarka. But every train was on waiting list even 2 months before our traveling dates. Therefore, we finally resorted to most comfortable but a bit expensive option of road trip in a cab. We hired Innova with driver through Safari.com. It costed us approx. Rs. 25K for whole journey, to and fro from Ahmedabad Airport. Well, safari.com was cheapest of all other taxi services available in Gujarat like zoomcar.com, etc. Our driver Mr. Maulik was extremely knowledgeable, accommodating and humble person!
All hotel reservations were also done 2 months before traveling dates and to our surprise there were not much options left for us to book in Somnath and Dwarka and tariffs had also doubled!
Weather was quite pleasant. A thin jacket should be sufficient for chilly mornings and evenings. During the day, summer clothes are sufficient. Roads are excellent offering super comfortable drive and journey.
Day 1
Our flight was at 2:30 PM. On reaching Ahmedabad we called our driver whose details had already been shared with us by Safari.com. We reached Hotel Nami Residency by 5 PM. A descent budget hotel with average rooms, service and food.
We left for Law Garden weekend evening market in evening. It is a flea market which is famous for Gujarati traditional (predominantly Kutch) dresses, accessories, home décor and footwear. Small stalls with colorful display of clothes like Lehenga-choli, dupattas, stoles, etc. are lined along the road and are thronged by tourists and locals alike. Bargaining is at its peak here! Our driver specifically mentioned to shop for these traditional Kutch clothes at Bhuj or Runn of Kutch incase going there since it will be cheaper, more authentic offering more variety.
Law market is also famous for its street food stalls. Lot of dhabas with all kind of cuisines operate in full swing as the sun sets. We had Kathiawadi Thali at one such dhaba and it was mouthwatering especially the tomato sev sabji and bajre ka rotla!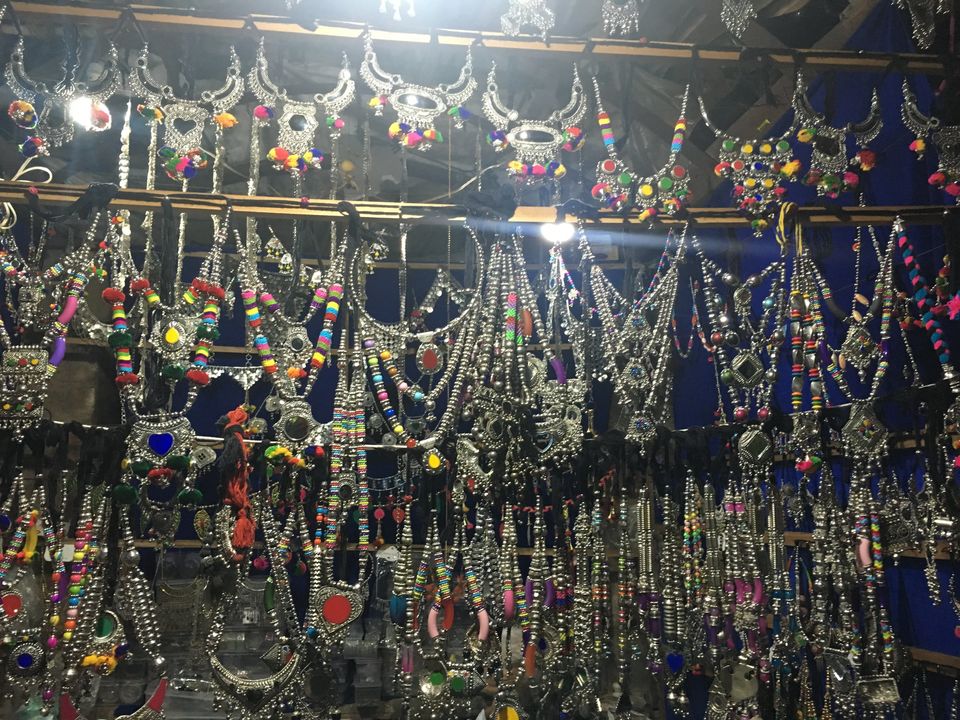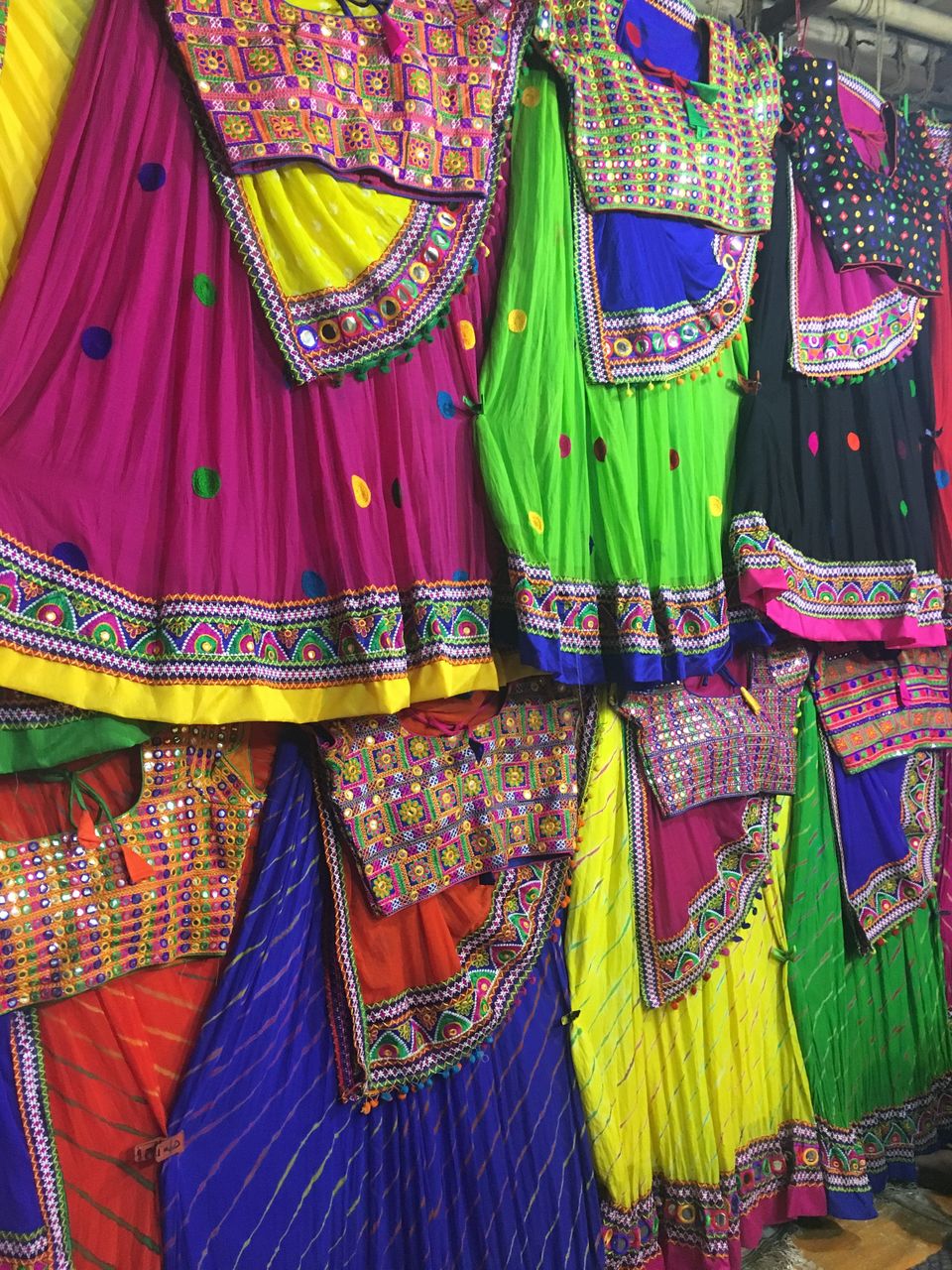 Day 2
We departed for Somnath at 9:30 AM and reached our destination at 5 PM after approx. 8 hours long road journey. On the way, we halted at Honest Restaurant for lunch. Honest is a chain of restaurants present in all major cities of Gujarat and on highways. This time we ordered both Kathiawadi and Gujarati thali. We liked the former one more since it is spicier unlike the latter which is on a sweeter side.
We stayed at Hotel Lords Inn. Excellent hotel with convenient location, good food, service and rooms. Post freshening up, we went for Somnath temple at 6 PM. Devotees are not allowed to carry leather products like belts, wallets, etc. and electronics like camera, mobile phones inside. Photography is also not allowed and that is why you wont find pic of any temple in this blog. Do not forget to carry jackets along as it tends to get chilly at night.
Somnath temple is dedicated to Lord Shiva. It is located on seashore. It has been plundered, destroyed and rebuilt many times in history. Its architecture is marvelous. You can read more about its background here. Temple premises offer stunning views of sunset and ocean waves crashing over rocky shores. It was quite refreshing spending time here relaxing post our day long journey.
As expected temple was flanked with soaring number of tourists but crowds were very well managed by temple authorities. There is a donation counter just infront of entrance to main sanctorum where you can make donations of different amounts and for prayer ceremonies. Tickets for sound and light show can also be bought from this counter. It happens daily at 8 PM and is very informative and interesting. I highly recommend watching this show. There is no arrangement of special VIP darshans (like present in Tirupati Balaji temple) or quick access queues. However, I feel there should be a senior citizen queue just like it is present in Golden temple, Amritsar which is definitely a boon for aged devotees like my parents!
Evening Aarti was at 7 PM but we were unable to see anything inside sanctorum because of too much crowd. It is best visible from life-size screen installed just outside the sanctorum on which live feed of activities happening inside main sanctorum are displayed and are visible even from large distance.
Day 3
My parents wanted to visit Somnath temple in morning as well so we went at 6AM. It was dark and people had queued up at this time as well. Morning arti happens at 7 AM. Temple looks absolutely mesmerizing at the break of dawn when direct sunlight rays fall on it. Golden color of temple changes into bright orange color which looks breathtakingly mesmerizing!!
Post breakfast at hotel we left for Diu. It's approx. 1.30-hour journey. Diu is an island and one of the union territories of India. This place is highly influenced with Portuguese architecture since they came and settled here in past. Also, you get cheap alcohol which is unavailable in Gujarat being a dry state! Therefore, you will find a lot of young crowd roaming around on bikes coming here for partying!
Our 1st stop was Gangeshwar temple. This one is again situated along the rocky seas shore. It has 5 shivlings which were supposedly built by 5 pandvas as per legend. During period of high tide, these shivlings get covered with ocean waves and that's the fascinating part of this temple. Unfortunately, we couldn't witness this much-hyped phenomenon! But, the location of this temple is a must sightseeing place in itself. The open ground beside the temple, present atop a cliff alongside seashore, is a perfect picnic spot with gazebos and benches installed.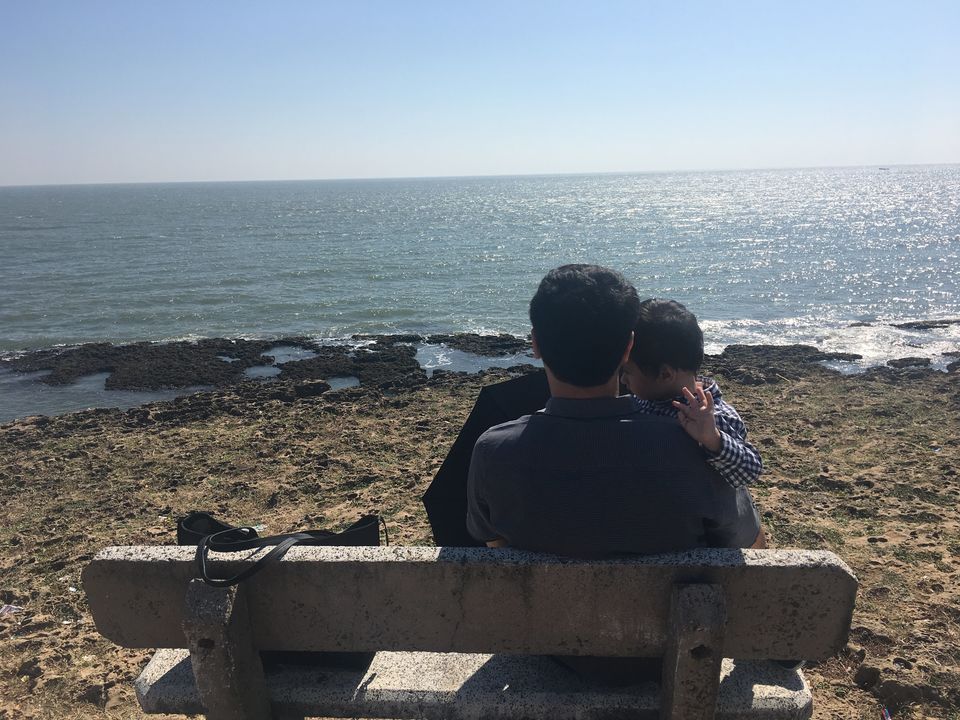 From here we went on to see Naida Caves. It is labyrinth of big limestone rock formations. It is definitely photographer's paradise as these caves are simply stunning. I haven't seen anything like this in India before so I highly recommend visiting these caves! There is no entry ticket. It is such a shame that this wonderful place is so much underrated and nothing is being done by our government to promote and maintain such sites.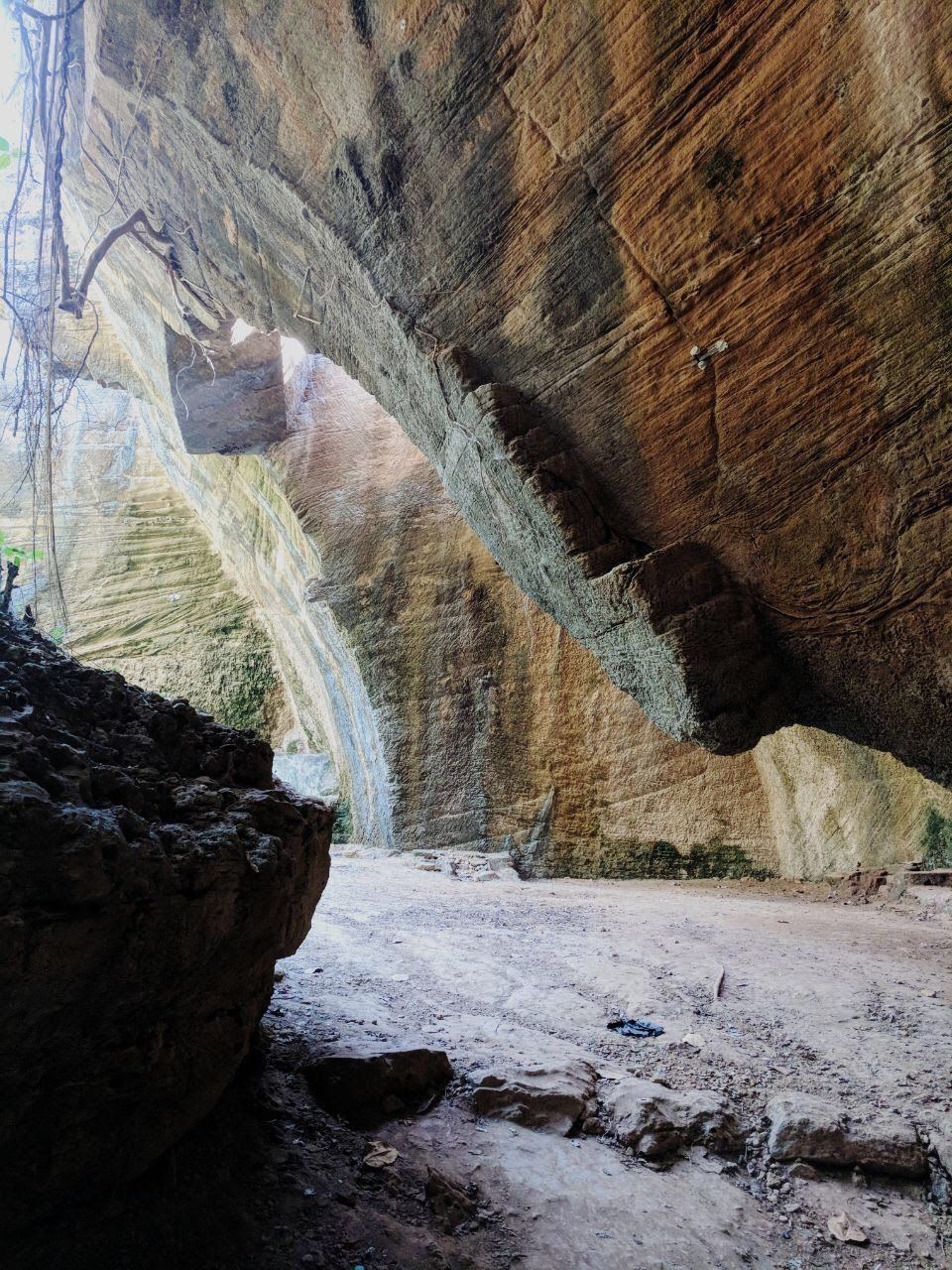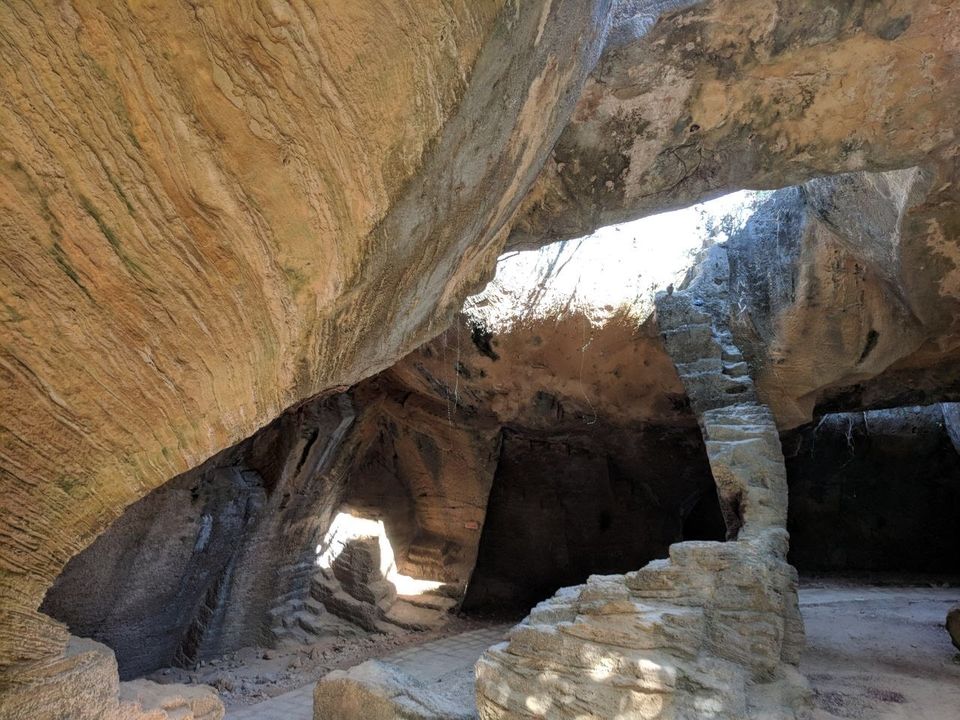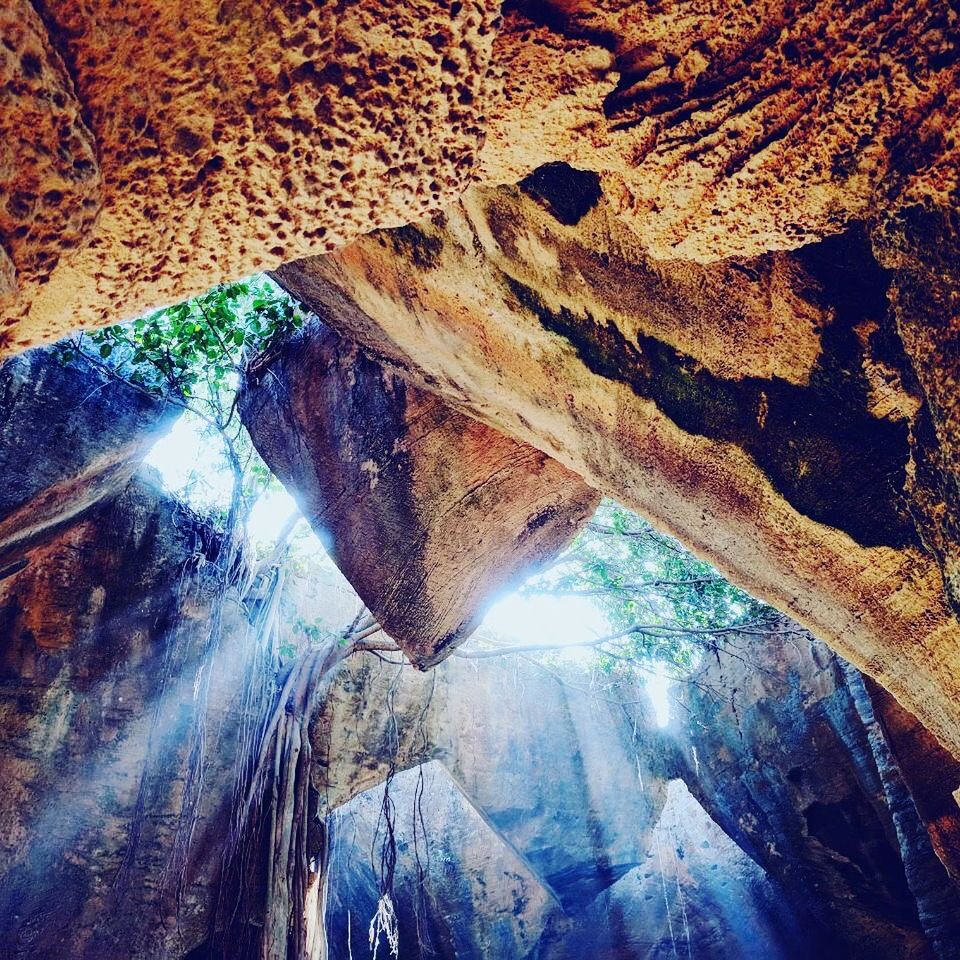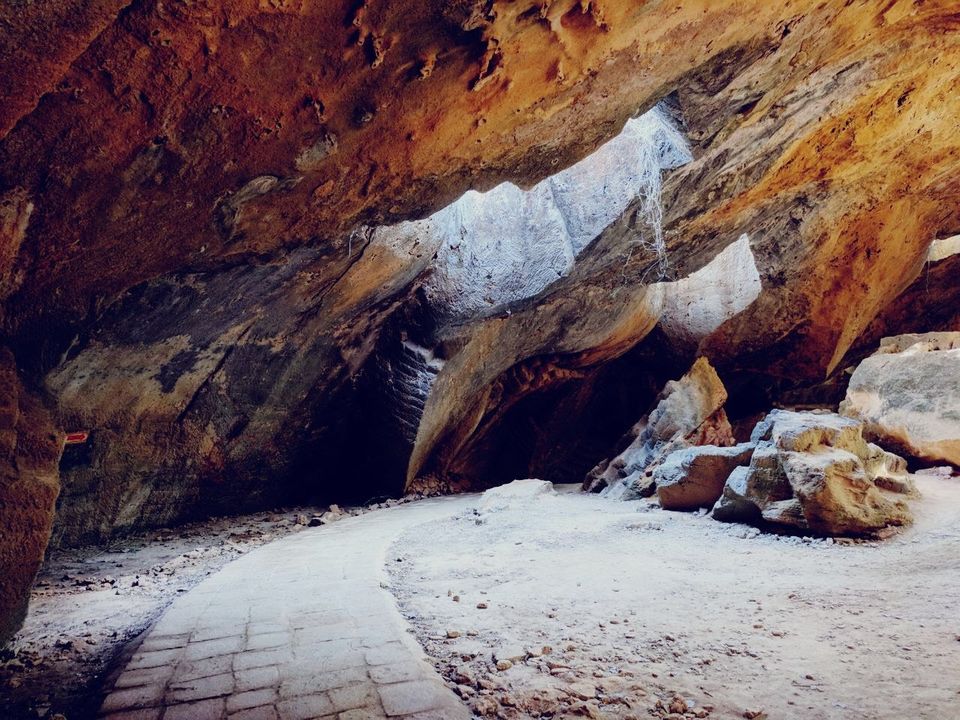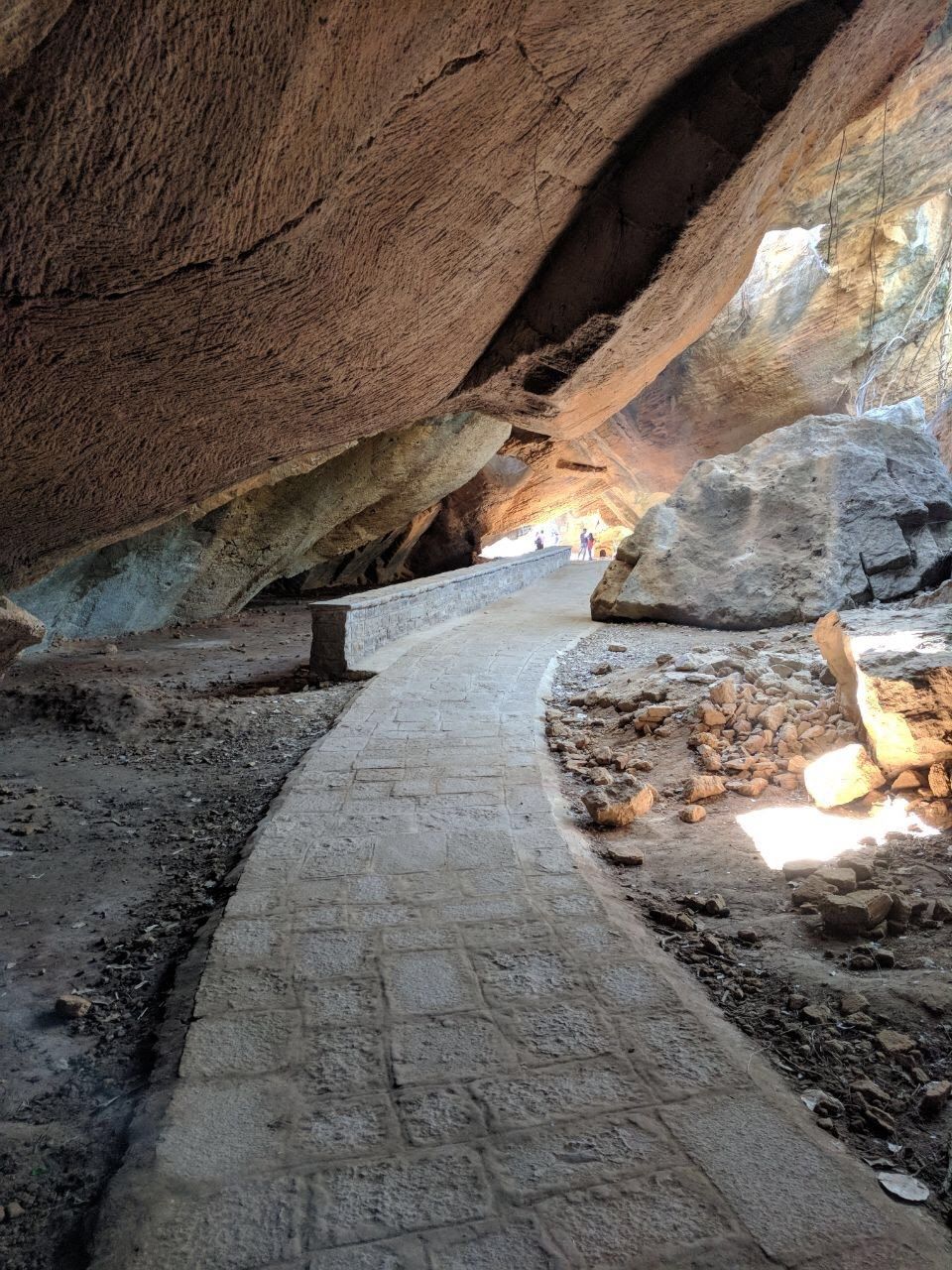 Post having lunch at a restaurant we left Diu. Our driver took us to fishermen area of Somnath where we saw knitting of 1-KM long fishing nets, construction of boats and cold storage of fishes. Then he drove over a concrete path running towards sea having a lighthouse at its end. Well, I did not even dare to get down the car since this whole place was swarming with big rats!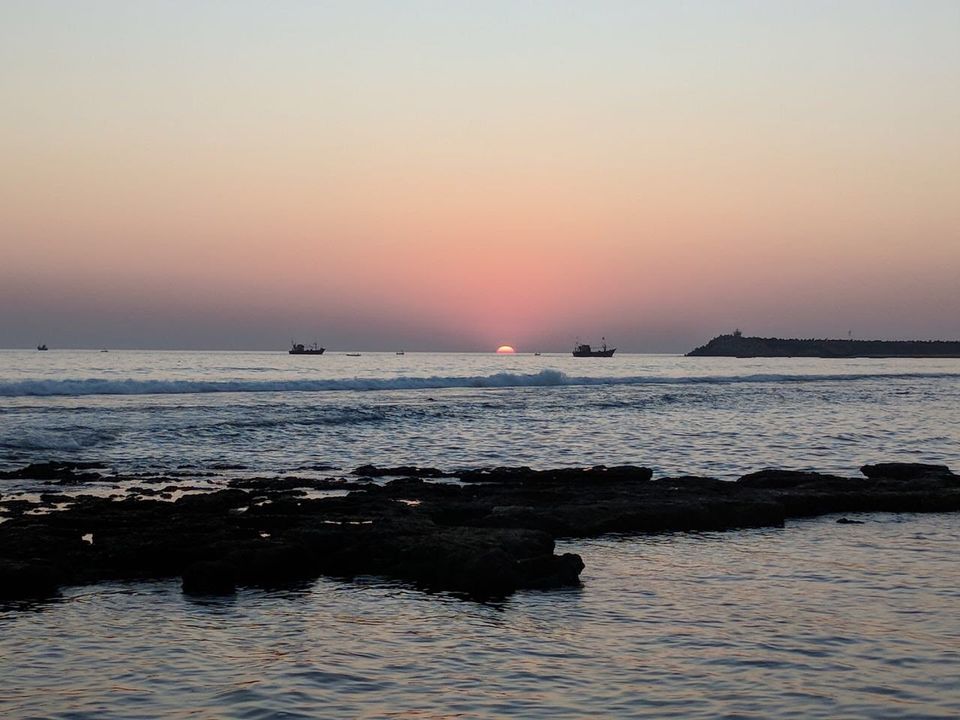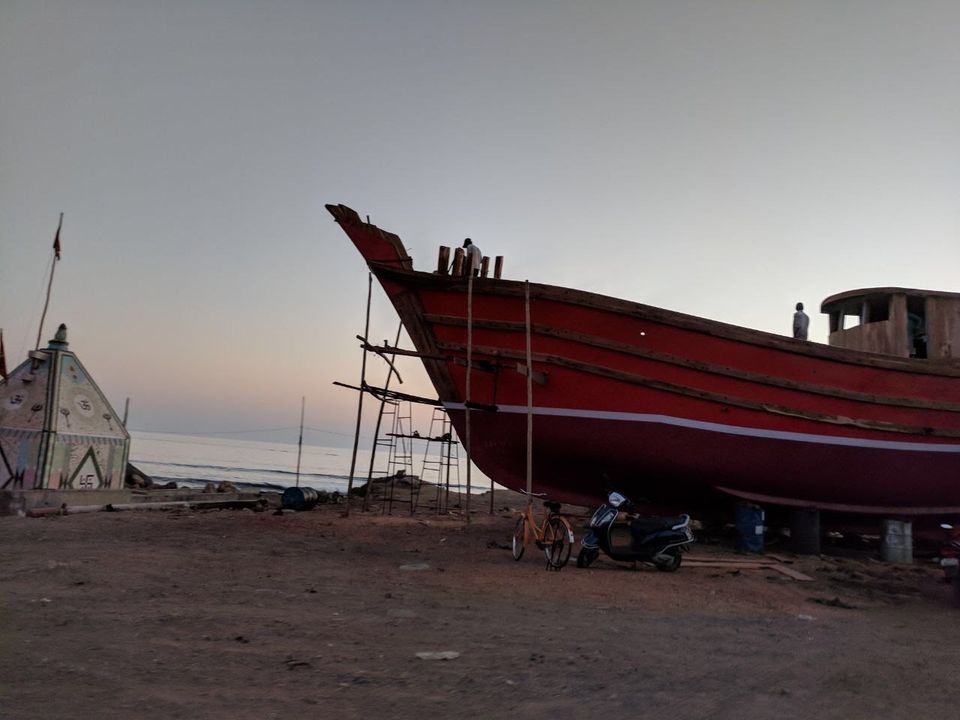 From here we went to Triveni Sangam and Ram Mandir. Both these places can be skipped, we did not find anything spectacular about them until and unless you have religious sentiments attached with these places.
Day 4:
We left for our next destination Dwarka next morning at 9 AM after having breakfast at nearby Honest restaurant and it was pretty bad!
On the way, our driver took us to Adari beach. It is present just a few kilometers off the highway at the end of a village. It doesn't have a sandy beach but a swampy one with green algae. Can be skipped!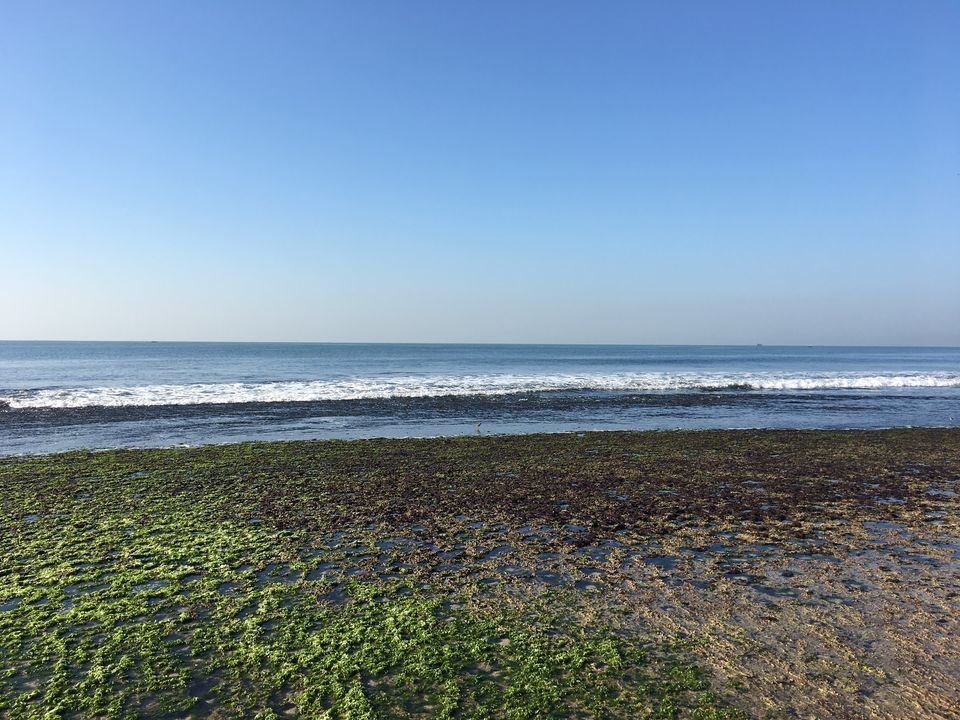 The highway runs along the sea shore but beach can be seen from road only at a few stretches and not throughout. At one such stretch we halted and the beach was pristine! Golden sand with deep blue sea in front, it was a sight to behold. Crystal clear water and squeaky clean beach, just what you expect out of a virgin beach! Highly recommended to halt here for a refreshing break. We stayed here for like half an hour and continued with our journey ahead. As you are about to reach Dwarka, there is a bridge over sea which enters into mainland of Dwarka. We again halted here to soak in the spectacular views of sea and road ahead.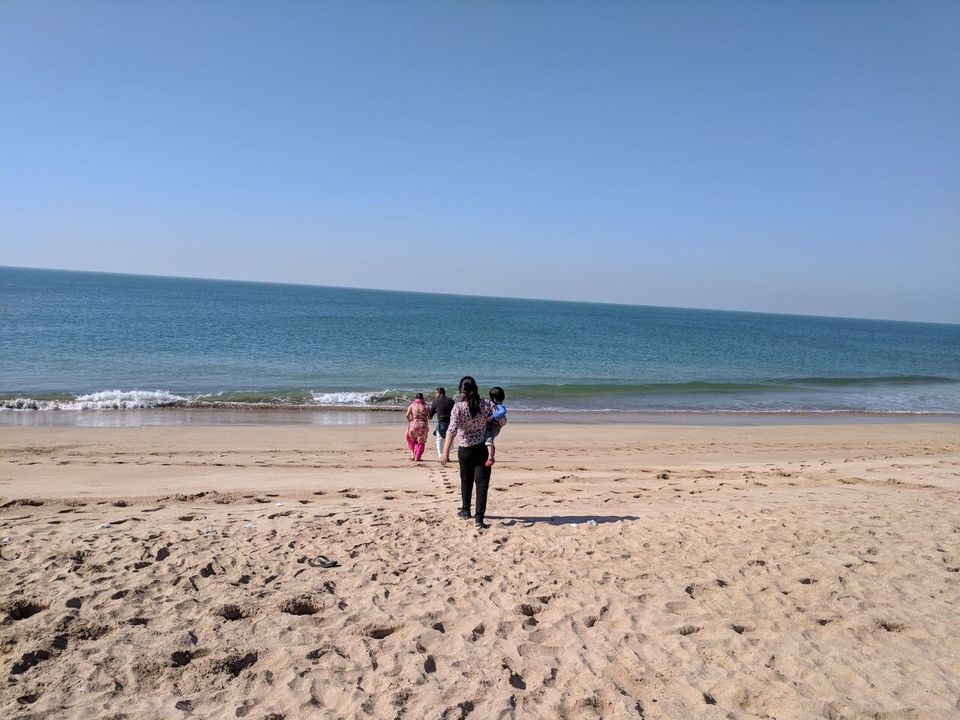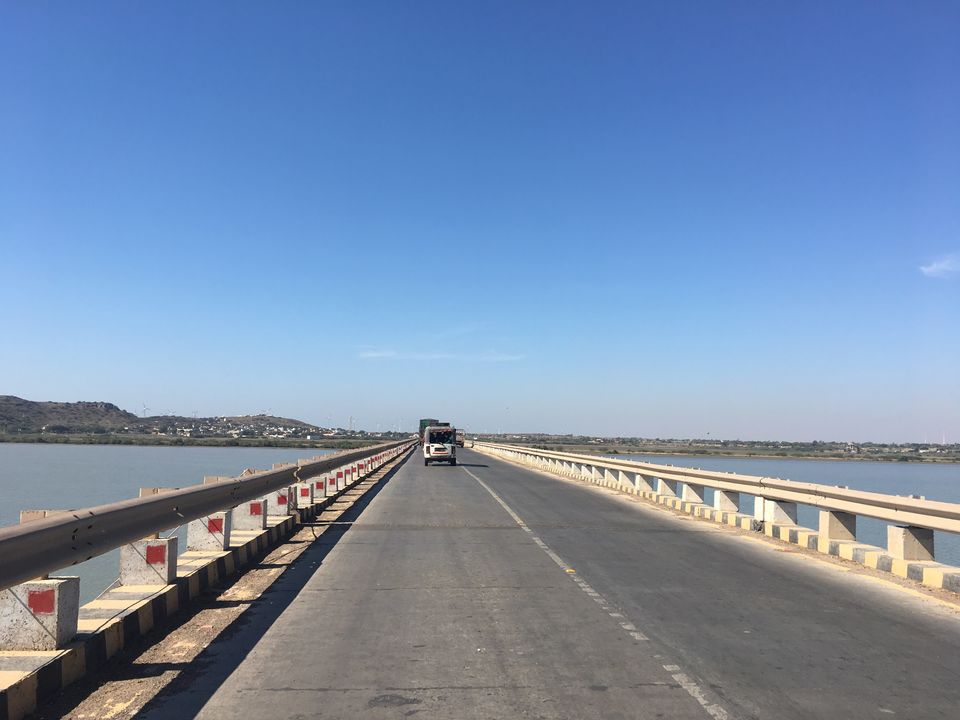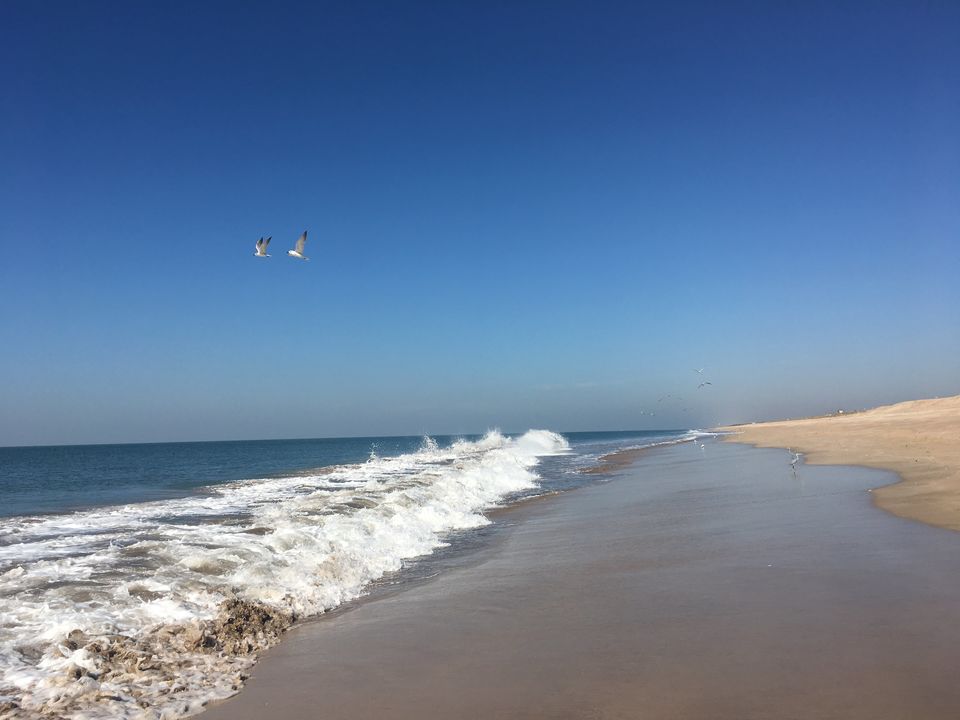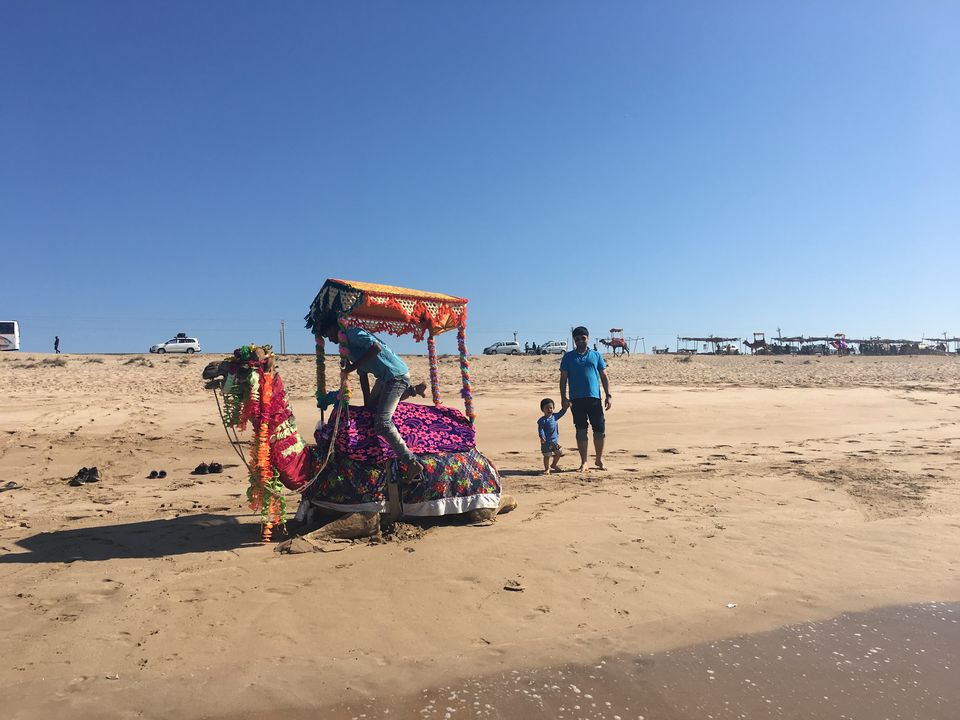 Reached at 2 PM at Hotel Mercure, our accommodation in Dwarka. This hotel is located on highway, 7 KM away from main Dwarkadhish temple and city center. We couldn't find any other hotel available which is closer to temple while making reservations 2 months earlier. Well, this is the only 4* hotel in Dwarka and it takes only 10-15 mins to reach main temple from here in a car. Our stay was super comfortable in this hotel with good food, service and rooms.
We left for Dwarkadhish/Jagat temple at 5:45 PM. Evening aarti takes place at 5:30 PM, so in order to avoid long queues at entrance and crowds we chose to start a little later. But our trick did not work and we still encountered huge crowd at the main sanctorum. However, we still managed to get good darshan! Electronic devices are not allowed to carry inside so better stick to your closed ones. Queues are very poorly managed unlike in Somnath temple.
My parents knew some pandit/priest in Dwarka through some common contacts. He showed us the whole temple while giving some background on temple and Dwarka in general. Architecture of this temple is fabulous. It is built out of limestone rock. We came back to our hotel by 8 PM.
Some fascinating facts/legends/myths behind Dwarakadhish/Jagat temple and Dwarka:
Dwarka Temple:
1. Originally believed to be built by Vajranabh, the great grandson of Lord Krishna, this temple is more than 2500 years ago and is built out of single rock.
2. The old temple that existed in this site was destroyed by Mohmud Begada and the present temple was constructed by enlarging the older structure and features the Chalukyan style of architecture
3. As per the legends, when Meerabai renounced her married life just for the love of Lord Krishna, she started with her pilgrimage to Dwarka. After reaching Dwarkadeesh Temple, out of her immense love for Lord Krishna, her body dissolved while dancing and merged with the the idol of Lord Krishna.
Idol of Lord Krishna
4. Once upon a time a girl named Badana used to pay a regular visit to the temple. Pleased by her devotion, the principal deity one day walked with her, but the priests suspected that Badana had stolen the idol and pursued her to get it back to the temple. Badana convinced the priest that in exchange for the idol she would give gold in proportion to the weight of the idol and priest agreed. The idol was placed in one side of the scale and to the surprise of all the priests, one single nose stud of Badana could equal the weight of the statue. After all, the Lord knew that his humble devotee did not have anything else to buy the statue and so played this miracle. However, an ethereal voice said the priests could dig in a particular place the next day to find a similar statue. When they hurriedly dug the place without waiting for the next day, they found only an incomplete statue which was installed in Dwarkadhish temple and seen to this day.
Dwarka:
5. As per Hindu legend, Dwarka was built on a piece of land by Lord Krishna that was reclaimed from the sea. Sage Durvasa once visited Lord Krishna and his wife Rukmini. The sage wished that the pair took him to their palace. The pair readily agreed and started walking with the sage to their palace. After some distance, Rukmini got tired and she requested some water from Krishna. Krishna dug a mythical hole that brought in river Ganga to the place but forgot to offer it first to the sage. Hence, Sage Durvasa got furious and cursed that there will never be sweet water available in Dwarka but only the salty one.
6. It is believed that original city of Dwarka submerged in ocean when Lord Krishna departed from world and some remnant have been discovered during archeological excavations!
Day 5:
We went to Dwarkadhish temple again for darshan in morning at 6:45 AM. Morning aarti happens twice in morning at 6:30 and 8:30 AM. As expected we were again welcomed by huge crowds and queues!
This temple is located on the banks of Gomti River. It is actually a backwater river having salty sea water. It has religious significance in Hindu religion so my parents took a holy dip in it. Obviously, you will have to come back to your hotel to bath again to remove that sea water saltiness and sand! We came back to our hotel by 8:45 and left for Bet Dwarka by 10:45 AM. We were late! We were supposed to leave by 10 as suggested by the pandit but couldn't and therefore, by the time we reached Bet Dwarka temple at 12:30 PM, it was closed! So, make sure to leave for Bet Dwarka max by 10 AM otherwise don't go. It remains closed between 12:30-4 PM.
Bet Dwarka was supposedly the residence of Lord Krishna. This temple is said to be standing over the exact residence of Lord Krishna and the original idol at the temple is said to have been established by lord Krishna's wife, Rukmini.
To reach here we first went to Okha in our taxi. Beyond its taxi stand, outside cabs are not allowed to go. So, you will have to take a local auto rickshaw to reach at ferry station (5 mins drive). From here a ferry will take you to Bet Dwarka island. It takes another approx. 15-20 mins. You will be welcomed by Seagulls on the way! On reaching, post 10 mins walk you will finally arrive at the temple. It takes around 1.5-2 hours in total to reach Bet Dwarka from Dwarka.
Well, disappointed we came back to Dwarka for our next destination, Nageshwar Mahadev Temple. It is one of the 12 jyotirlingas in India. It is located 17 KM away from Dwarkadhish temple. It has a huge statue of Lord Shiva in its premises. Queues were highly mismanaged. We left the temple post darshan by 4:30 PM and came back to our hotel.
As per my observations, please keep in mind following points while planning your itinerary for Dwarka during peak season:
1. Do not come to Nageshwar Mahadev temple between 1-4 PM when most tourist buses arrive and huge crowds throng this place. Most people are back from Bet Dwarka by this time since its temple closes by 12:30 PM. We observed that there was almost no queue at 4 PM when people again leave for 1) Bet Dwarka as its temple reopens by 4:30 PM or 2) for evening aarti at Dwarkadhish temple or 3) for sunset view by the beach.
2. Similarly, Dwarkadhish temple had no queue at 8:30 AM when morning aarti just finishes and people start leaving for Bet Dwarka.
3. Plan for Bet Dwarka at early morning when most people will visit Dwarkadhish temple first for morning aarti. Also, many overnight trains arrive at Dwarka by early morning and devotees come directly to temple as there is locker/luggage storage facility available at the temple premises.
Post our temple hopping throughout the day we went for some sightseeing at 6 PM. Our driver took us to Bhakti garden for sunset views. It is located close to Bhadkeshwar Mahadev temple. Sitting on the edge of a cliff with my husband, overlooking ocean waves crashing on rocky foothill of cliff and watching red colored sun going inside sea horizon infront – was truly a unique experience!! Location of Badhkeshwar temple is also quite interesting. It is present on pile of rocks inside sea and a narrow footpath connects the cliff to this temple. It offers 360* view of sea around. Well, we didn't go inside since this one was also crowded with devotees!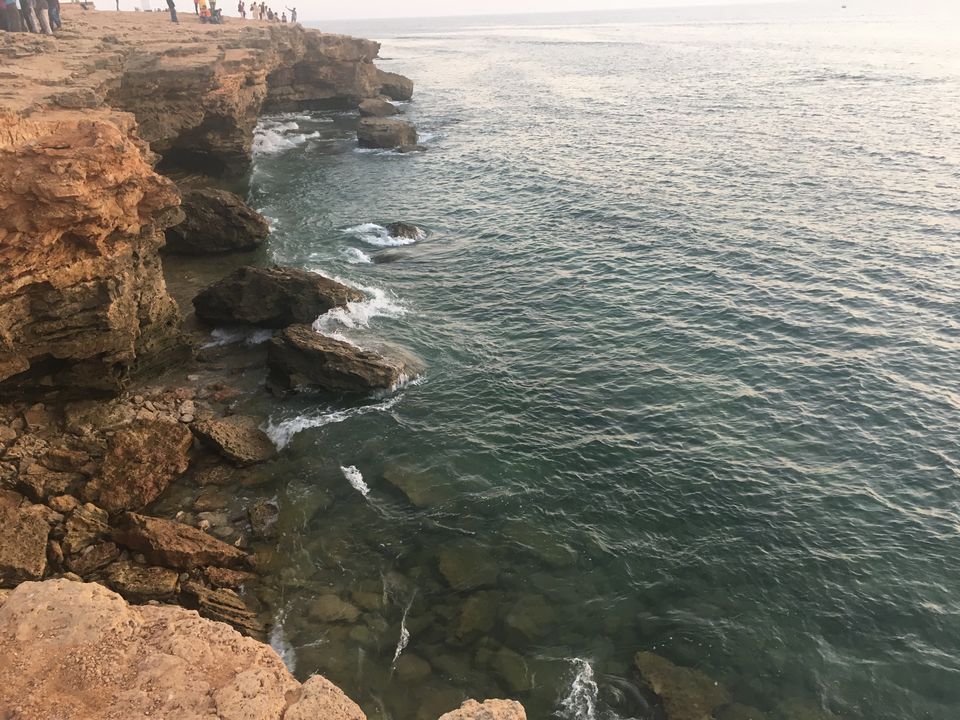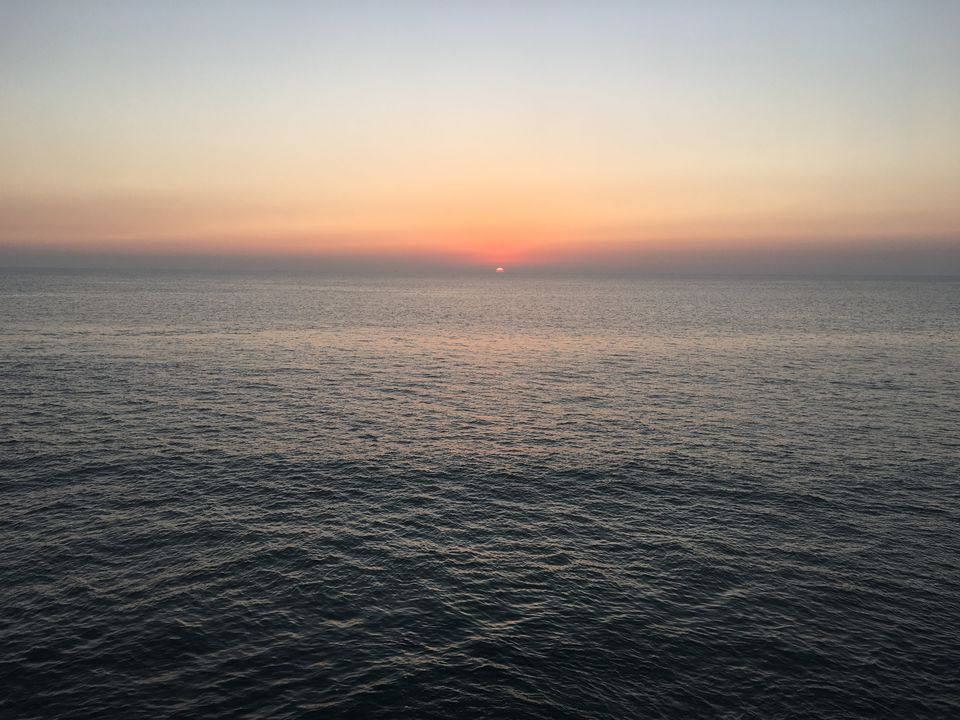 From here we went to Sudama Setu located just beside Dwarkadhish temple. It is a suspension foot bridge constructed over Gomti river offering stunning views of Gomti river, illuminated old city, temple and the ocean beyond. It has an entry ticket of Rs. 10 and closes by 7:30 PM. On crossing the bridge, on other side of the river bank, a cemented sloping platform has been constructed over which some benches have been installed. And, at the end of the platform you will find vast ocean with a clean sandy beach! We spent 1-2 hrs walking up and down this platform, sitting on the benches and relaxing on the beach. It was the perfect end to our trip in Dwarka!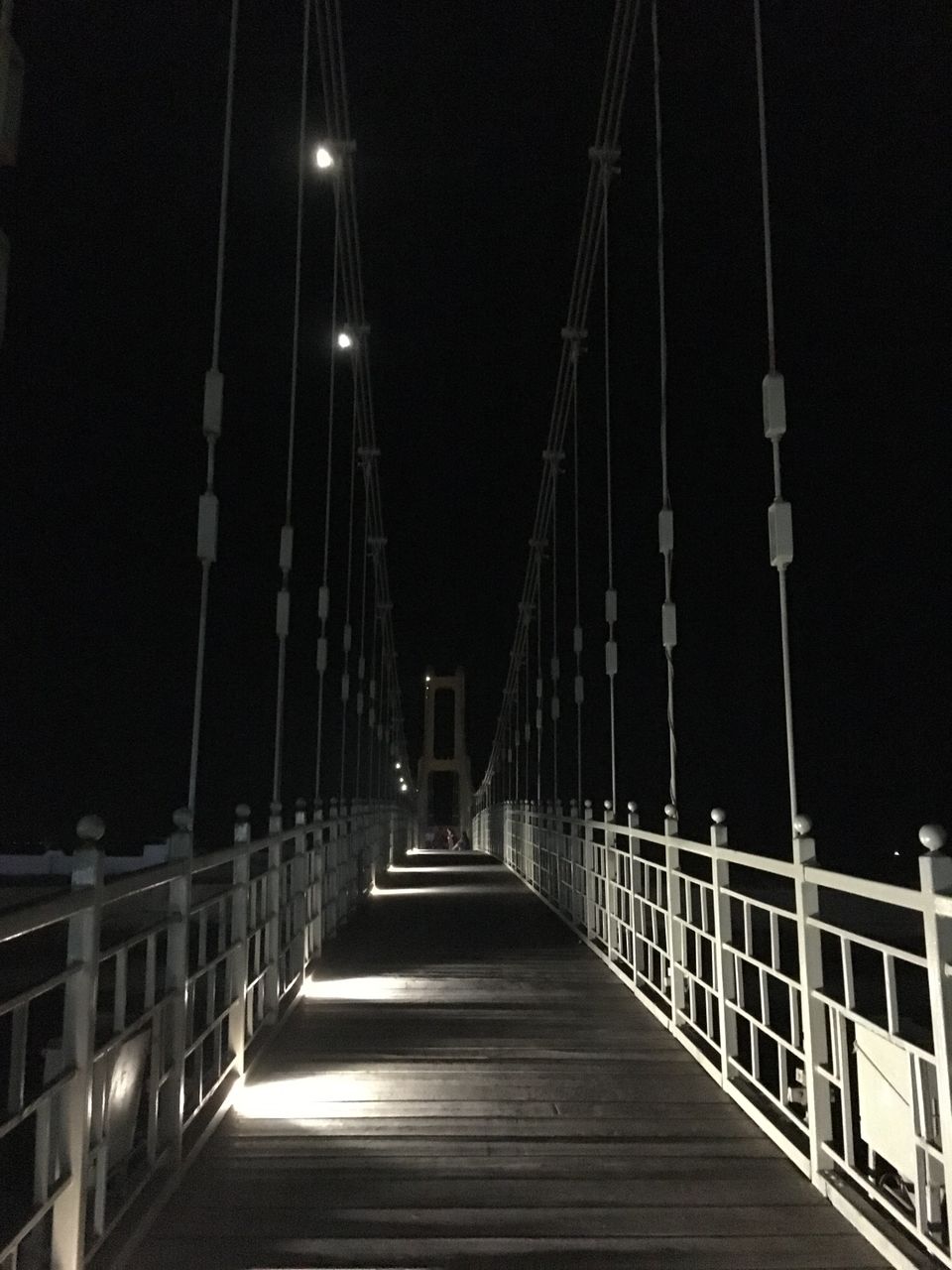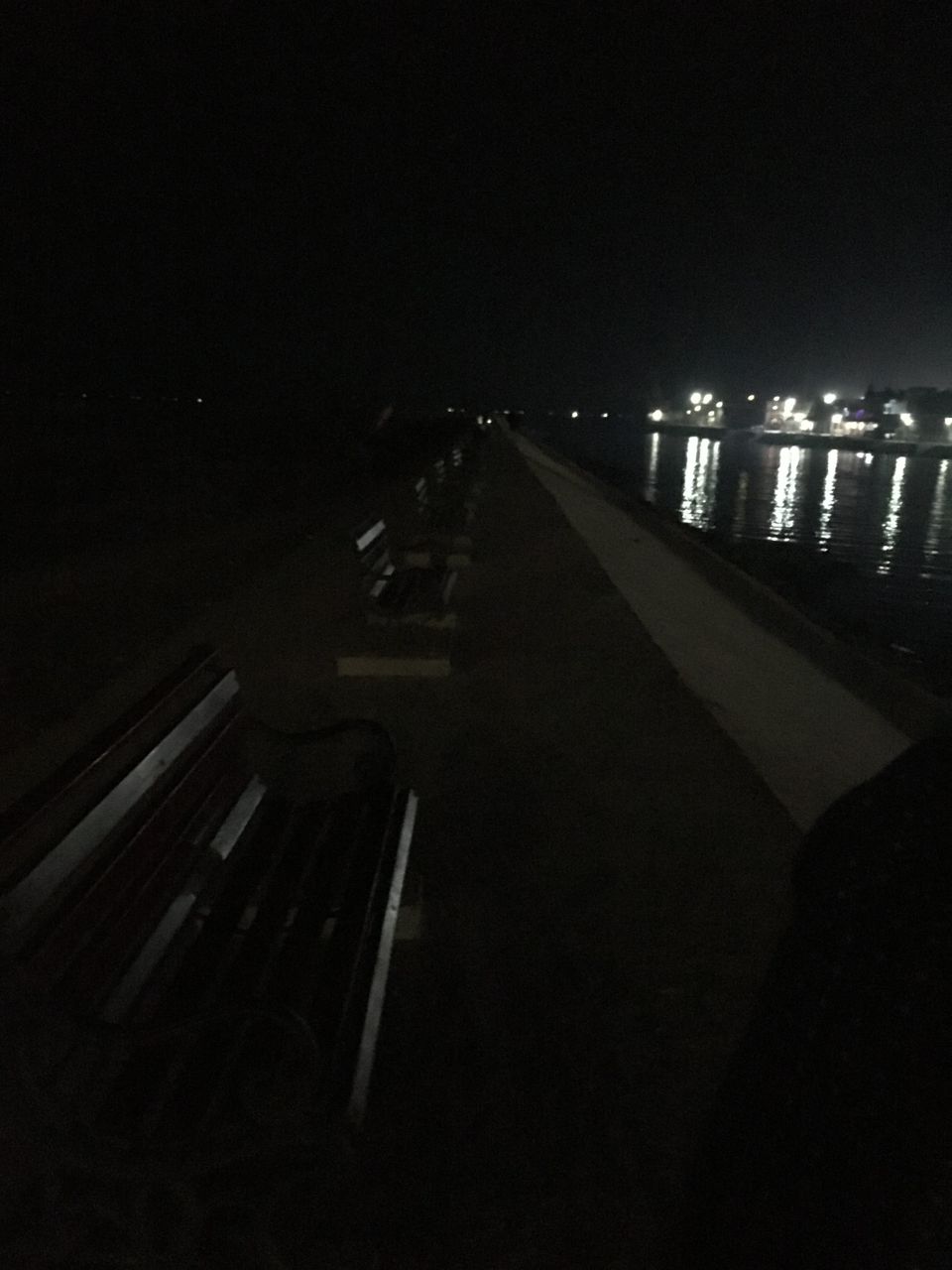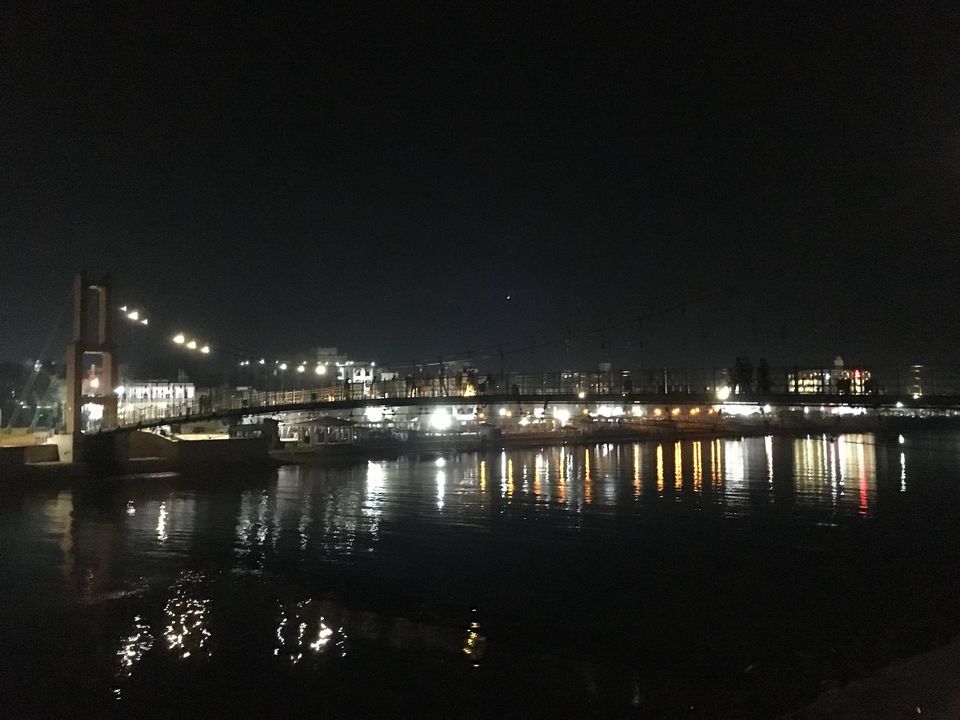 Day 6:
A long 8 hours journey awaited us today from Dwarka to Ahmedabad. We left at 9:30 AM and reached our hotel House of MG by 5:30 PM.
House of MG is an excellent property and one of the best heritage hotel I have ever stayed in. The hotel is situated in the old part of the city and really provides an old-world charm. They have merged heritage with luxury to give a unique experience. It has 2 properties: Mangaldas ni haveli 1 and 2. We stayed in 1 where there much hyped Agashiye restaurant is present. The havelis have been beautifully restored. Though we had an idea that we chose the best property in Ahmedabad but once we reached here we were completely spellbound with its grandeur & awestruck interiors.
They conduct short tours of 2 hours daily to nearby old city, jain temples, markets, havelis both at night and during the day. Ticket is Rs. 250. I really wanted to go for night tour but so couldn't go for it since I was dead tired. They have a museum showcasing different fabrics, embroideries, handlooms and other textiles available across Gujarat and India. Hotel guests have free access to this museum. Then, there is a small shop inside the hotel premises called "Local Artisans" selling Gujarati traditional handicrafts, home décor things, clothes, souvenirs at over the top prices!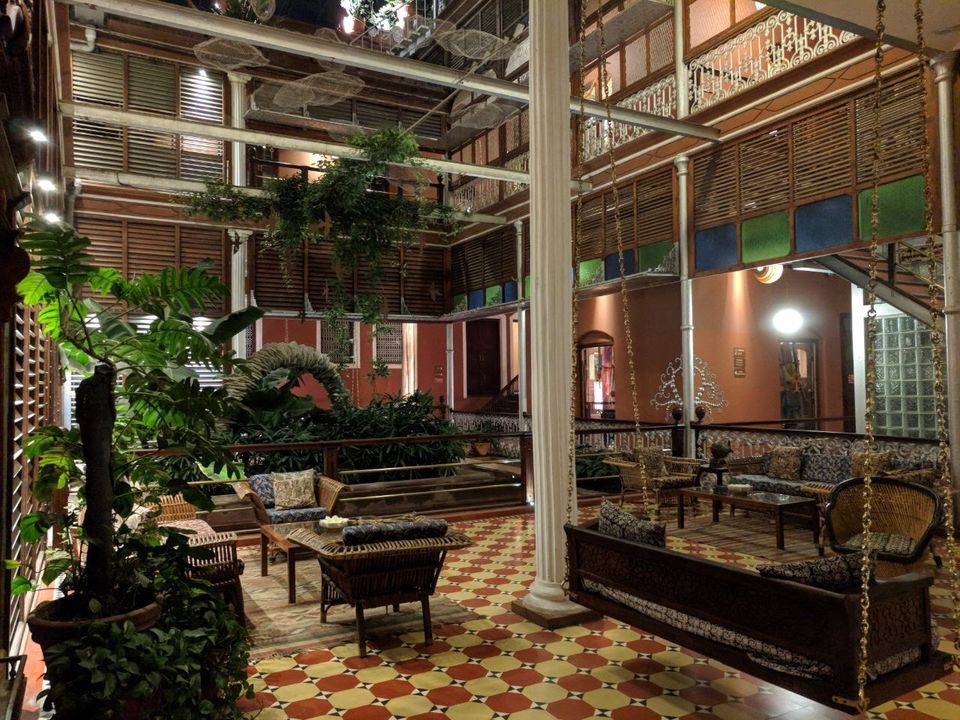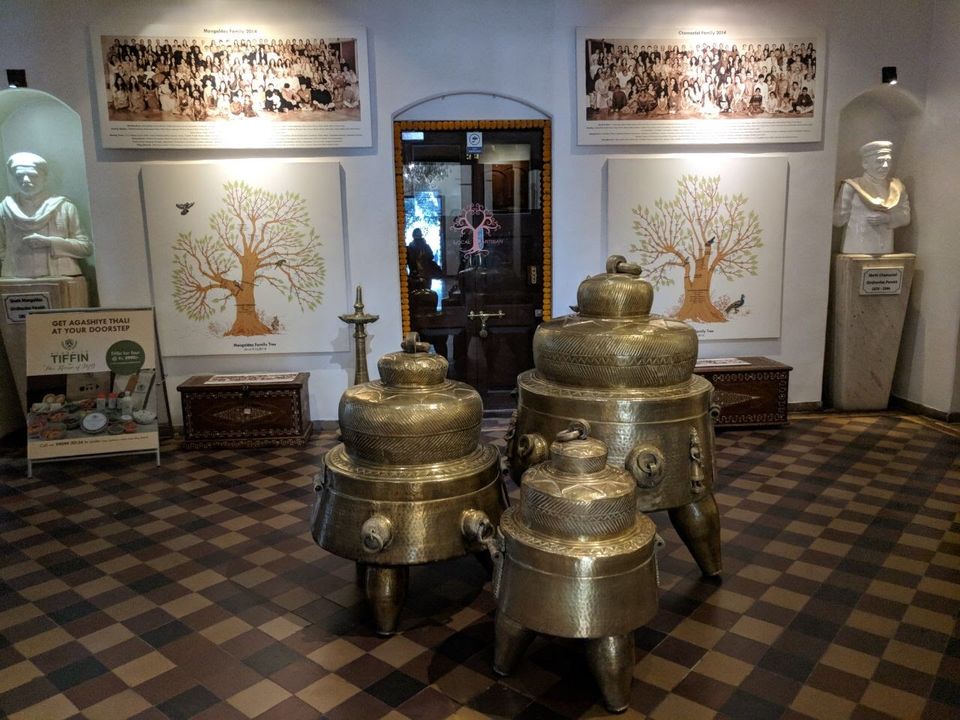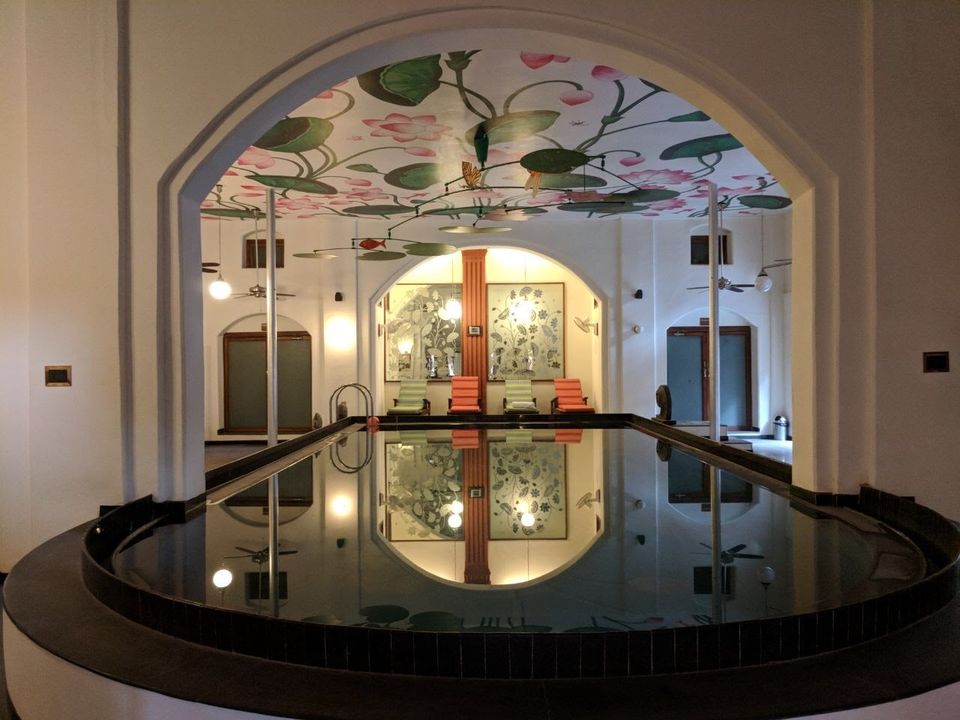 Post freshening up we left for some sight-seeing in Ahmedabad, whatever we could given the limited time we had. So, our 1st stop was at Kankaria lake. Because of Holiday time, some flea market/Mela had been set up and as the result the place was swarming with locals and tourists. We didn't spend much time here. But it had a lot of kids friendly activities to offer like in-house zoo, toy train ride around the lake, zorbing, etc. It can be skipped unless you have kids or its not crowded!
Next, we went to Induben Khakrawla shop which is like world famous for its lip smacking Gujarati namkeens. We bought bhakarwadis, soya chips, ratlami sev, khakras and everything was delicious. But, Bhakarwadis were simply to die for! Before this I had always eaten Haldiram's bhakarwadi and they are nothing in comparison to these. So, if in Ahmedabad do not forget to buy Bhakarwadis from Induben Khakrawala shop.
Our next stop was Swati Snacks in Law Garden area for dinner. Now, this place is again very famous for their innovative yet traditional super yummy Gujarati delicacies. And, it did not disappoint us in whatever dish we ordered from their menu. I had one of best vada pavs and Dabeli here. So, do not forget to pay them a visit!
House of MG has a restaurant called Agashiye which is popular for their Gujarati thalis. And, I was really excited to try them out. But it was such a disappointing experience. 1st it was too dark to see anything, very poor service, no explanations as to what we were given or could expect, food was not at all as delicious as it is hyped and an overall feeling of being rushed even though there were plenty of tables available!
Day 7:
Another restaurant in House of MG which serves breakfast buffet was extremely expensive and I could see only foreigners eating there. Also, after last night's sad experience at Agashiye we decided to have breakfast somewhere outside. So, we landed up at Lucky restaurant located just opposite to this hotel and I again had vada pav and dabeli which were simply yum!
Our flight was at 12 PM. So, we quickly went to nearby Asopalav store for some shopping. I bought bandhani dupattas and suit materials. They were expensive but extremely beautiful.
Recommendations:
1. If you are coming back from Dwarka and are short on time then consider covering Adalaj step-well on the way. It is in Gandhinagar which you will cross first before entering Ahmedabad. Akshardham temple is also in Gandhinagar but it takes 1-2 hours to see it completely. Since we had already seen the one in Delhi which is bigger than this, we decided to skip it.
2. Things we missed which can be included, if trip can be extended by a few days:
a. Runn of Kutch – From Dwarka it is 8 Hours journey by road to Rann of Kutch. Go there to experience white salty deserts, Kutch festival, staying in camps in salty deserts and most importantly to shop some traditional Gujarati handicrafts and clothes! You can also go to Vighakot from Kutch where you see Indo-Pak border. Vighakot is approx. 60-70 KM inside India bridge. India bridge is last point till which civilians can go. To go beyond you would need special permission which can be procured from BSF HQ in Bhuj (which I have heard takes almost a day and it closes by 4PM) or through some phone calls to defense official or highly designated Government beauracrats if you know any! Add 4 days atleast if you want to cover all the above (may be 3 if your flight is from Bhuj).
b. A day trip to Gir Forest from Somnath. Better book your safaris online in advance especially during peak season.
c. Raiyoli village, nestled in Balasinor is called Jurassic Park of India. It is home to to the one of the largest dinosaur fossils sites in the world. It takes approx. 1.5 hours to reach here by road from Ahmedabad. You can stay with the royal family in their home at Garden Palace hotel which is a heritage property owned by rulers of Balasinor, the Babi family. See their website for more information. Unfortunately, the state of Gujarat has not shown much interest in developing the site as a mega tourist attraction and hence most Indians do not even know of the existence of this site. Stay here for a day and night.
4. Do not forget to view Sunset at Dwarka or Somnath or whichever place with beach you visit in Gujarat since it is the western coast of India and therefore sunsets are fabulous!
5. Gamthiwala and Bandhej are other famous shops in Ahmedabad for shopping some traditional Gujarati fabrics and dress materials
Happy Planning and keep travelling!