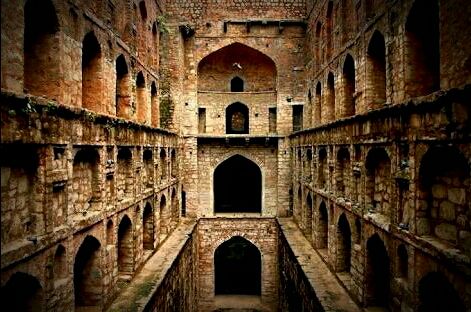 The bollywood superhit PK - a movie by aamir khan, created buzz around our city for Agrasen ki baoli. Hundreds of travellers and visitors started coming here to see the home of PK and then one of the most ancient monuments - Agrasen ki Baoli, became a popular destination for facebook check ins once again. :D

Agrasen ki baoli, the modern day's - selfie place was in the list of most haunted places of Delhi once and it has few mysteries which were never revealed. So your mysterious traveller is back to throw light on few instances about the place.

So you come out of the Barakhamba road metro station and ask an auto rickshaw - "bhaiya agrasen ki baoli chaloge kya?" and he starts up his auto to drop you there. There was something about this place which made me visited here few years back for the first time. A 10 minutes distance destination from Barakhamba Road/Cannaught Place, the Agrasen Ki Baoli is one of the most ancient preserved baolis of Delhi. A series of steps and thousands of bats - is this all about Agrasen ki Baoli? What was the purpose to build this baoli? These questions were in my mind when i reached there.

There is no proof of origin of this baoli but according to few sources, the place got originated during Mahabharat era by Agrasen. "Baoli" in past was a place to drink water. In past, Delhi was not a single city, infact it was a cluster of different villages altogether.

This was the place where most of the villagers used to quench their thirst and was a place for women and children for social gatherings. A host of many festivals once, this destination got disappeared before PK. The place is rich in history for all sort of social gatherings but a destination which witnessed few suicides too in past.

This made the place to be called as "haunted" and presence of cluster of bats was an add on for these stories.

At present, the baoli has about 4-5 feet of water which is black in colour now. A historical destination for history lovers and a place to hangout for fun lovers, the Agrasen ki Baoli welcomes you all to come and explore the place.

Everything is same except "gatherings to take water" in past to the new role of place as - "gatherings to take selfies". So the story doesn't end up here. Come and explore the place so that this destination doesn't get disappeared once again :)

- A trip story by Udit Gulati.