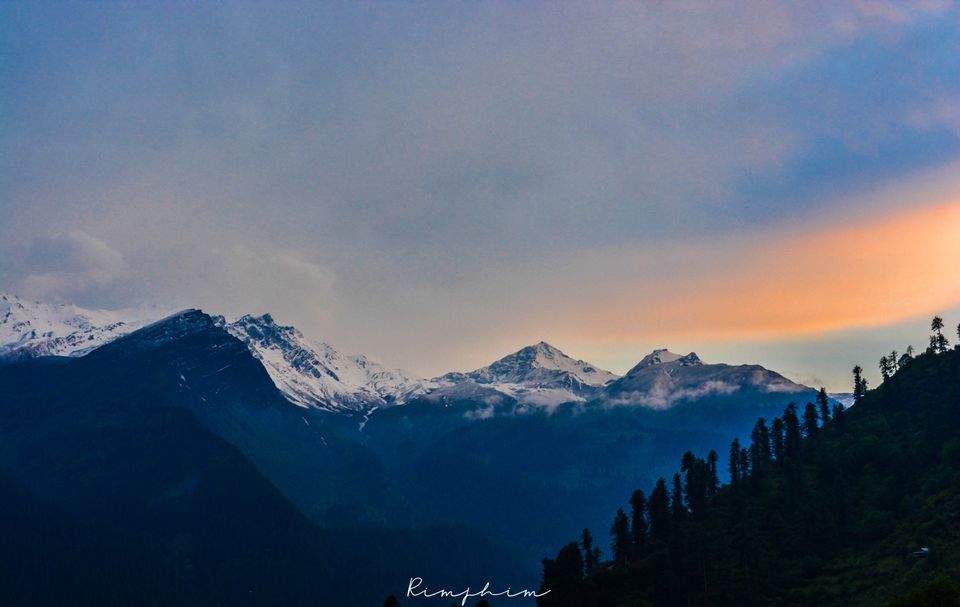 A week after we graduated, and we were all scared to death because we didn't know if we'd ever see each other again. So my friends and I planned to go on a trip - the unplanned way. We hopped on a bus to Bhuntar, and thought we'd figure it from there. Come afternoon, voila Kasol!
Kasol used to beautiful and serene a few years ago, but now it's dirty and crowded with tourists. We were looking for a traveller's haven, not something superficial, so we decided to make the best of being there, which was..
Food! Kasol is famous for its cafes and Israeli cuisine. It is also called Mini Israel of India. So we headed to Evergreen Cafe, a beautiful outdoor cafe where we sat under the trees looking at the mountains, sipping fresh juice and gulping down amazing food.
We headed on to Tosh, a small village we had heard of and wanted to explore. The way to the village was through a trek upwards of Manikaran - exactly what we were looking for. The route was stunningly scenic as the clouds started accumulating - threatening darkness and rain.
Little streams greeted us on our path as we walked over staggered rocks and uncertain paths created by the feet of all those who had walked before us, showing us the way. Evening had set in, and darkness would soon be upon us.
Soon, we were able to spot the village close above us, glad to find shelter before it rained. We were all dressed for summer, and would freeze to death if it were to rain in the evening in the mountains. Reassured, we moved on.
Finally, we reached the pretty little village of Tosh. The entrance looked pretty hipster, and we were eager to see more. The clouds were getting darker and meaner, and we still needed to find a place to stay. Not to forget we needed to replenish our supplies.
We walked along narrow, steep and rocky paths, surrounded by immense mountains on all sides. Spellbound by the beauty around us, we stopped and stared, despite the resounding thunder warning us of rain.
No matter how big the picture is, the little things matter most. And so we smiled at children lurking at windows, a dog leading us on our way, pretty white flowers, colourful houses and old women with kind eyes. We knew we had come to the right place.
By the time we arrived at our destination, the sun had set behind snow capped peaks, and our flimsy clothes were drenched in tiny droplets of cold rain. We were shivering, hungry, dirty and disheveled. But we were happily so. Tomorrow would bring sunshine, and today was perfect.