Ireland. When you say country Ireland first things you hear is Cold, wet, soggy Ireland. But there is a lot more. I moved to Ireland 4 years ago since then I realized, Ireland is blessed with deep shades of nature's green and blue.
Till date, Gougane Barra and Gap of Dunloe are the two favorite place I would love to visit any time of the year. From the palce where I live its couple of hours drive to spend a day in these natures beautiful spot.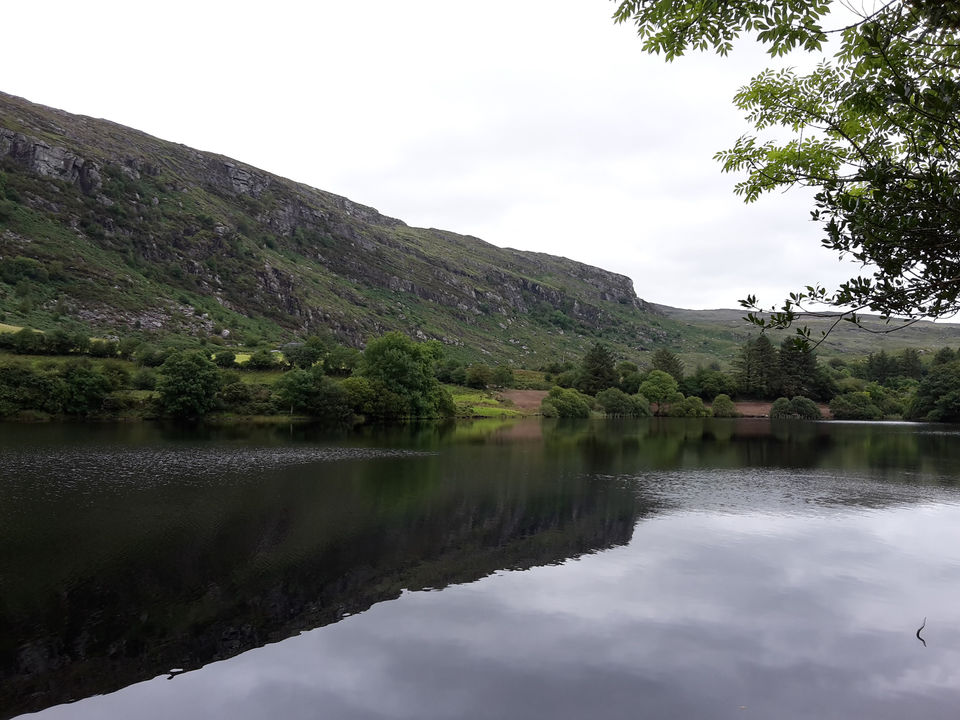 Gougane Barra could be visited at any time of the year. Best suited time would be during summer months to avoid gusting wind and rain during winter. If you are looking for the right place in west cork for cycling or walking trails, then this is the place. There are several nature trails in and around Gougane Barra. A Gougane Barra forest park offers a great picnic place to hang out with friends and family.

The first thing you see as you enter Gougane Barra is the CRONIN'S BAR & CAFÉ. One of the best place to get cheesecake. You should definitely try it out. Walking further you are met with natures welcome with a view of hills with Gougane Barra Lake and famous St Finbarr's Oratory or commonly called church which is located on a small Island of its own.

Oratory is accompanied by St. Finbarr's Monastery dated to 6th Century with beautiful old stations of the cross above the ancient prayer cells. History says that legendary St. Finbarr spent at this place before arriving into the Cork. The nature in this area is breathtaking, and it offers the visitor a little time out in this peaceful valley. Every time I visit here I spend about half a day walking in nature. Cork's River Lee has its source in Gougane Barra's Lake, where it flows through Ballingeary and onwards towards Cork City.

From the Gougane Barra Gap of Dunloe is about an hour drive away. Most of the people visit Gap of Dunloe from Kerry, which is the only possible way if you are going through public transport or guided tour. But If you are driving, I would suggest taking road R584 trough Ballingarry and towards Ballymakeery. This road connects to N22 and partially goes trough ring of Kerry. Driving further for about 30 minutes passing huge hill and lake, take a turn towards Gap rd. This trip has two best things to offer, first being fantastic places to visit and the second is an excellent driving experience in the valley and mountains.

In this course of the journey, you will also get to see Ireland's Highest Pub. Top of Coom is Irelands Official Highest Pub is set 318.5m above sea level. The pub overlooks the Glanlee valley to the west and the Muscrai valley to the east. The pub is located in an area of great natural beauty.
Kerry is one of the famous areas in Ireland filled with nature and stunning scenery. Many people drive through the countryside stopping now and then. The Gap of Dunloe is part of Kerry and is also an excellent place for a hike. The Gap of Dunloe is a narrow mountain pass formed due to glacial flows, between the MacGillycuddy Reeks and Purple Mountain. The river Loe fills the gap in this valley. The Gap begins at Kate Kearney's Cottage. The road, narrow in many places, winds through the pass and descends into The Black Valley passing five lakes, Coosaun Lough, Black Lake, Cushnavally Lake, Auger Lake, and Black Lough. A famous 'Wishing Bridge' is at easy walking distance from Kate Kearney's cottage is picturesque. It is said that wishes made here really do come true.
Overall this is my best two places to visit around cork city in a day. I have been to these places several times, most of the time it's with friends who visit me and some time alone to take a break. I find it easier and less expensive to rent a car to go around the countryside of cork city. The price listed along with this blog was to rent 5 people car. Let me know in comments about your experience if you have visited this palce.