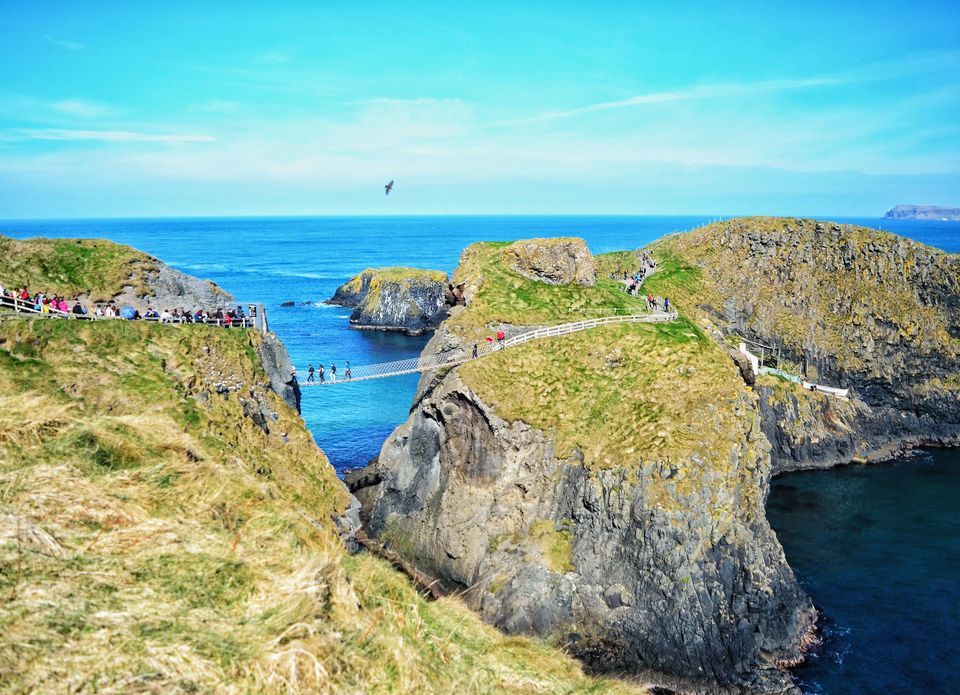 You ought to see them to truly believe them is what I had heard of the Cliffs of Moher as they are truly magnificent and that is exactly how I felt when I saw them for the first time! However, "Your trip to Ireland is incomplete if you don't see the Cliffs of Moher!" is a bit of an over exaggeration in my opinion. After visiting almost all the cliffs around the Country, I have to say that there are ample of them in Ireland that are less crowded, preserving the natural ruggedness, thrilling drive and mind blowingly stunning panoramas, than Cliffs of Moher. If you are like me who prefers seclusion, without compromising on the breathtaking view of the Cliffs , here are some Cliffs of Moher alternatives for you!
Slieve league Cliffs
I have mentioned this a couple of times, that Europe's tallest cliffs, Sliabh Liag are my most favorite in Ireland due to the sanctity and tranquility of this place. About 4 hours drive away from Dublin and about 2 hours from Sligo, these cliffs will ignite some spirituality in you because of its off-beat location. These cliffs are very rugged and undeterred by tourism.
There are two parking levels here, one right before the gate and one way up at the viewing point. Some people prefer parking on the first level, open the gate and walk up to the Bunglass point which takes more than an hour. The gate is for sheep and can be opened, but do not forget to close it behind you. You can even hike on these cliffs to the summit point following Pilgrim path or right from the Bunglass point. Just being here is a feeling of calmness and comfort. When I was here it had snowed the day prior, the snow covered cliffs looked one in a million!
You'll loose network as soon as you pass the Tea Lin Cafe which is the last cafe/restaurant on the way to the cliffs. This place is closed during winter. However, I would definitely recommend visiting Rusty's for some delicious food and an Irish coffee. There are tonnes of Airbnb's and hostels in Donegal County. I was staying in an Airbnb which was located right on the foot of the cliffs. Waking up to the views of the snow covered Cliffs and a lake made the whole experience unbelievably special. I don't like calling them Cliffs of Moher alternatives because they are unique and prepossessing. Hence, I thought of mentioning them!
Downpatrick Head Cliffs
Needless to say these are my second most Favorite cliffs in Ireland. I would without a doubt skip Cliffs of Moher, if I was asked to choose between the two. This cliff has a blow hole which is now secured with standing poles. If you walk ahead from the blow hole, you'll see sea stack standing tall in front of you. The Sea stacks is a wondrous rock formation in the ocean from the cliffs. Enjoy the seclusion, the view from every direction possible. Watch the ocean kiss the base of the Cliffs especially during hide tide. You are not alone on this cliff, you'll see a number of sheep grazing in the area.
You could find an accommodation either in Ballycastle, Claggan Island Luxury Pods or Achill Island. There are plenty of options for a stay close by.
Malin Head
Malin Head in Donegal county is my third favorite cliff and cliff walk in Ireland. Banaba's crown is the most Northern Part of Ireland. This is a small Village and the drive to Malin head is about an hour and a half from Belfast. The cliff walk to the crowns is about an hour or so. I was alone when I started my walk and had the whole place to myself. Some how I have developed the knack of going to a place at the right time to have it all to myself. It is a vast stretch of a land and the crowns look breathtaking from the edge of the cliff.
I would definitely suggest visiting this place and then stopping at Doagh Famine Village for a coffee and snacks, it is only 30 minutes away from here.
Mussenden Temple Cliff Walk
Game Of thrones Fan would definitely skip Cliffs of Moher to be here if given a choice. Mussenden Temple definitely looks like a place that had a very interesting story behind its existence. The location of this temple which use to be a library back in the days is what makes it worth a visit. As I walked through the Coliseum and the Downhill home towards the Temple standing significantly tall right above the Atlantic Ocean, I could not resist the feeling of surreality and peacefulness.
Just when I was leaning on the wall gazing at the beach here wondering if I could even hike down to walk on the sand, is when I saw people far away meandering, watching the train pass by from the beach. Despite of the cliff erosion, there is a railway line running under the temple in a tunnel which was blasted in 1850s. It was one of those sights that made me loose my mind and left me out of words!
Cliff walk to Carrick-e-rede Rope Bridge
Carrick-a-rede rope bridge is the very definition of a precarious location. This tiny bridge joining the mainland to a tiny island of Carrickarede was build by salmon fishermen in 1755. A 20-30 minutes walk on the cliff from the parking lot to the bridge is one of the most idyllic walks. I was welcomed with the spectacular views of Rathlin Island and Scotland on the other side of the bridge. The sunset from here is to die for. If I were living close by, this would be one of my favorite places to take a stroll.
Greystone-Bray Cliffwalk
One of the most convenient and closest Cliff walks near Dublin. This Cliff walk from Greystone to Bray is a very famous one. You can start the cliff walk in either directions, but preferably from Greystone to Bray would be ideal as opposed to the other way around which is steep, not to forget the views are much better. It is more of a relaxing walk and you can easily take breaks in between. If you are daring enough you could also go up the Bray head which is a very steep hike that welcomes you to a reposeful view of the city.
Minaun Cliffs
Sunset by the beach with Minaun Cliffs in the backdrop. It was a cloudy day, so the cliffs are not clearly visible as they were completely covered by the clouds.
Minaun Cliffs in Achill Island are like a dream. I first noticed them while driving through the Achill Golf club. That first sight of the cliff was super tempting but unfortunately there was no space to stop and admire at this beauty. I drove ahead and stopped near the Valley house bar and restaurant which is another perfect spot to view the Cliffs from. Keel beach would be the next most convenient location to walk by the beach, enjoy the sunset and the Cliffs.
If you visit Minaun Cliffs, one thing that I would most definitely suggest is driving up to Minaun Heights. When you make a left towards Minaun Heights, you are basically driving through the hills and eventually on the cliff. There is a parking spot after you make it up to the Cliff, park there and walk to the end of the Cliff. The view of the whole Island is ineffable. At first when I was driving here, the clouds had completely covered the Cliff and I couldn't see the road clearly. It being a steep drive, I didn't want to chance it. I waited till the clouds cleared and it was inexplicable from here.
You can hop on to my post for more details on Achill Island.
Kilkee Cliffs
Kilkee Cliffs are an hour drive away from Cliffs of Moher. It is another splendid 8 Km walk which is for sure to rejuvenate your tired souls as read on almost every website that talks about these cliffs. On a clear day the view of Aran Island and Kerry County to the South are hard to miss.
I would definitely suggest staying in Liscannor village to get a true Irish Village experience. Some other options would be Doolin or Ennistymon which are all close to the Cliffs.
Kerry Cliffs
These cliffs to the south in Kerry county in Portmagee are famous for its spectacular views of Skellig Michael. People going for Skellig Michael Landing often stay in Portmagee or Valentia as these Cliffs are very close by. These cliffs stand over 1000ft above the Wild Atlantic and truly offer some incredible photo opp if it is weather permitting. You only pay 4 euros entry fee to view the cliffs. I love Southern Part of Kerry more than then Killarney any day.
Hope you enjoyed my list of Cliffs of Moher alternatives. Let me know which ones you enjoy the most!