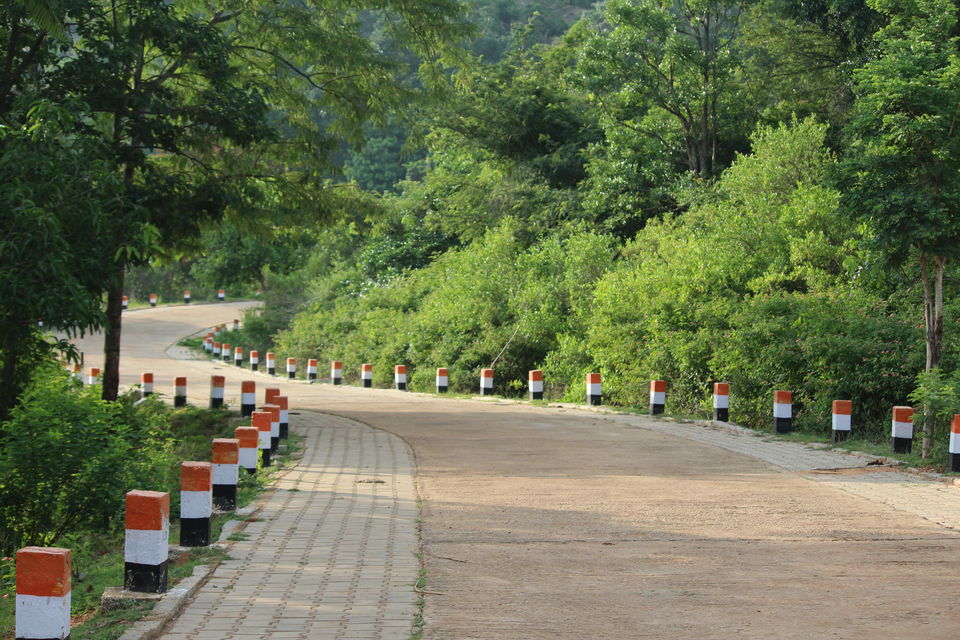 'You'v been around Bengaluru for over two years now and couldnt manage to find some time out for Avalabetta? Seriously??!'
☝The thought which came in my mind when i finally decided to do 'Avalabetta' !! It was a quick plan as my rider brother Charan called me up and wanted me to check for a resort in Nandi hills as he is organising a Chennai - Bengaluru ride. I made a quick call to my mate Sunny and checked if he wanted to come along. The idea was not a trip and just a casual ride to nandi, check the home stay, negotiate on price and come back as soon as possible. But ultimately it turned out to be a ride of 6 people, 3 bikes and ofcourse yes we woke at 3 in the morning and left for 'Avalabetta' which was nowhere in the initial plans!!
Saturday Night (23.09.17)
Location: Sunny's room
Time: 08:00 PM
I went to Sunny's room to confirm of tomorrows plan. He was like - "Bro a colleague (Girl!) just called me up and she wanted to go to Nandi". As most man does he was momentous to cancel the preplanned trip with me to ride along the girl who just called him up an hour back!!☺
My luck or for his badluck the girl was not ready to wake up at 3 in the morning and to leave for Nandi which helped me run my plan☺. Our initial plan was to start by around 9-10 in the morning for Nandi. But later on, as we were required to ride till Nandi anyway, we included Avalabetta to the plan as both of us never made it and which is hardly 50kms away from. So we decided to wake up by 3 AM and leave by 3:30AM to Avalabetta and on the way back to climb Nandi and check the home stay as required by Charan.
Time: 10:30 PM
I returned to my room planning to sleep early as we were supposed to leave early in the morning. But since i had a deep sleep in the afternoon i could not fall asleep even after trying hard .
Time: 11:30-12:30
Took out my phone, checked texts and was scrolling through some youtube videos when i remembered of Hareesh! He was my previous room mate and we had plans for some trips which never took off!. I checked with him for the trip and was quick enough to join! Next in line, Abishek joined who was also my previous room mate, roping in two of his friends along! Ratna and Sarath. Ratna and Abishek shied away once they heard of the 3:00 AM plan. I could convince them easily just by faking a pic of Nandi hills (Source: Google) fully covered with mist for Avalabetta!☺. By the time it was already 12:30 and all of us signed off to meet at 4 AM and meeting point KR Puram.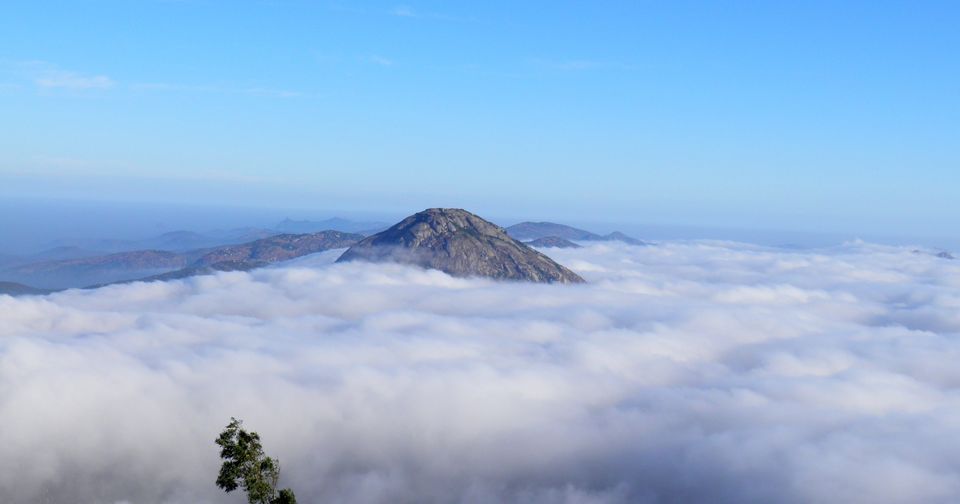 Enroute Experiences
Time: 03:00 AM
I did not sleep a bit knowing, if i do i wont be able to wake up at 3 and also for the reason that i slept well previous afternoon. Alarm rang at 3, i called up Sunny, got ready and started by 3:40 from electronic city. Meanwhile, forgot to mention, Hareesh was the most exited one among us for the trip. He wanted us to wake him up by 3. Me and Abishek tried for long and the response was switched off! ( I knew that there is some issue with his phone because of which it gets turned off from time and again.) Me and Sunny was in Honda Shine which were to be exchanged for Yamaha FZ with my brother from Ramesh Nagar, and thought that Hareesh would manage to call us by the time we reach Marathahalli.
I really felt bad for Hareesh when i told Abishek to wait for more 10 minutes and leave if Hareesh doesnt call up. Finally he called up at 4 and joined us at KR Puram in few minutes.
All six of us joined at KR Puram HP pump, filled up the tanks and finally set for Avalabetta. Me n Sunny were not in a hurry and maintained only a speed of 60-70kmph, also to experience the early morning bliss of nature! Till the junction to turn for Nandi i did not feel anything new as i have taken up the route a few times. But once we crossed it was a package of serene beauty from nature. Rising sun filling the sky with sporadic explosion of pale orange in the background, multiple grape farms spread over and numerous flower farms with white, orange and yellow flowers. I really wanted to stop at each of these place to frame it. But for the reason we would miss out the early morning view atop Avalabetta we did not. Needless to mention about the road. I must admit its pure 'craftsmanship' from NHAI. It was then i started feeling for my long waited Royal Enfield Himalayan. Though its a straight highway which is defenitely not for what Himalayan is made for i am damn sure Himalayan would have just glided over it. Ok, lets wait. I believe its woth a wait for Himalayan!!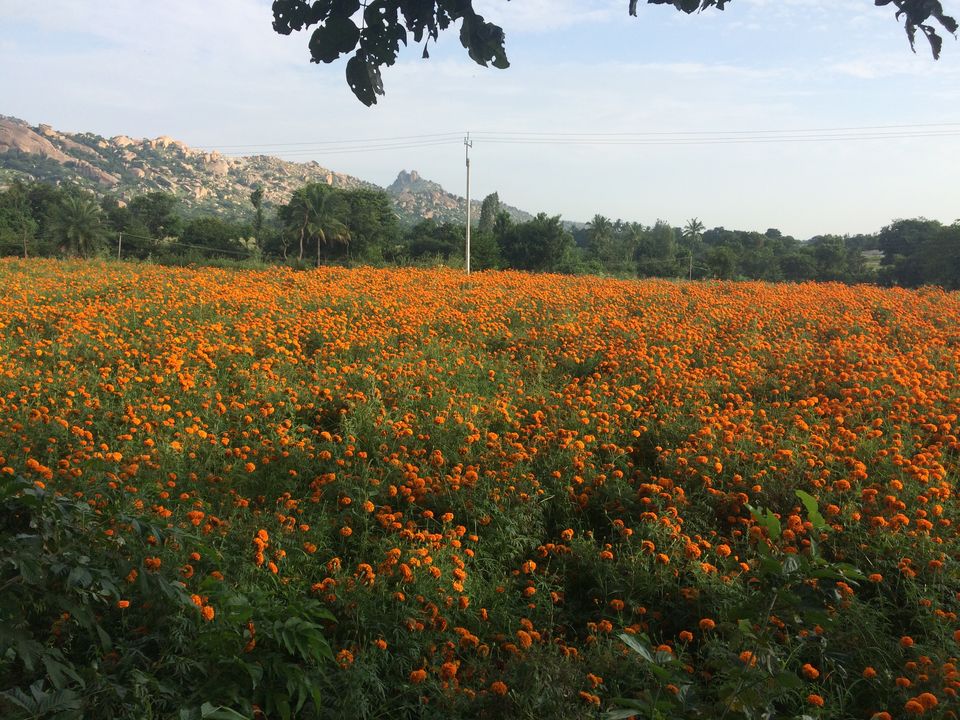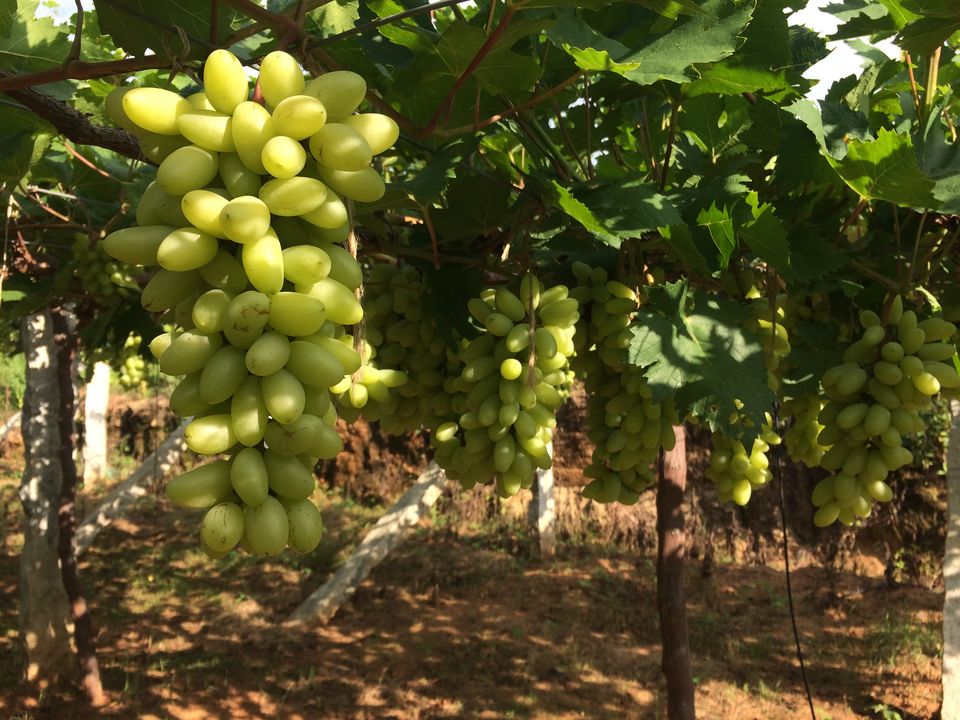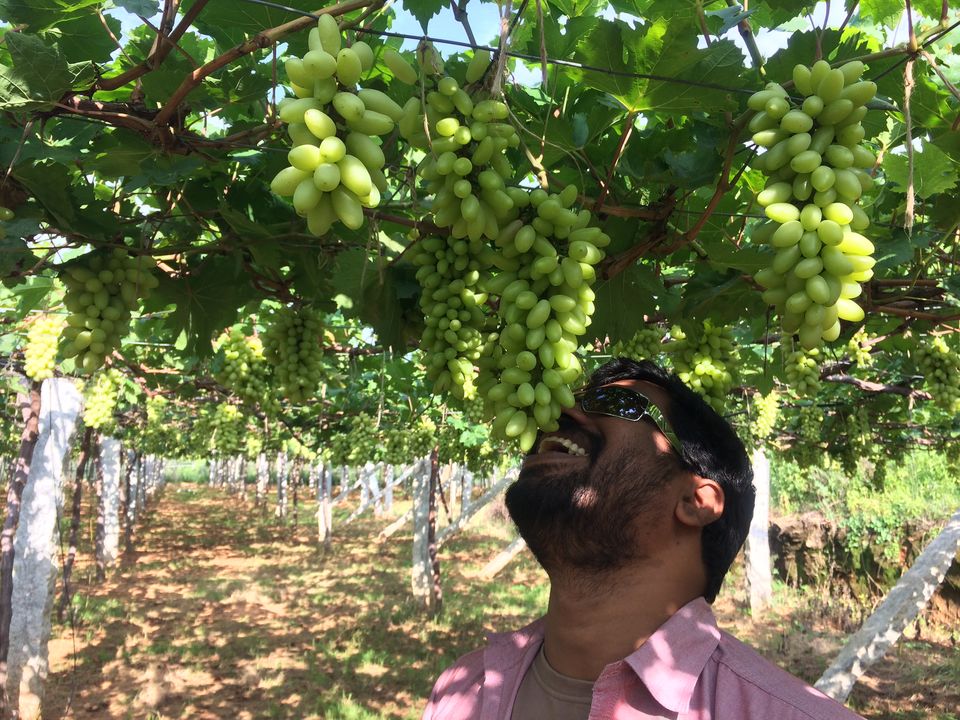 We happened to stop at a tea shop just to take a small tea break when Sunny told there is a burning smell which turned out to be from our bike. I was also feeling an unusual engine sound and a slight lag in power all over the way, but ignored for the reason it might be only a variation in sound as i am wearing helmet. But once we checked for the engine oil there was hardly any drop!
Formally i have been riding bike for over 7 years now and never has anyone from a fuel station asked me for engine oil. But today morning it happened for us when we were fueling from KR Puram, the salesman just turned up and was forcing the engine oil on us which we turned down with a deep smile!. (Lesson learned: Never ignore anyone!☺)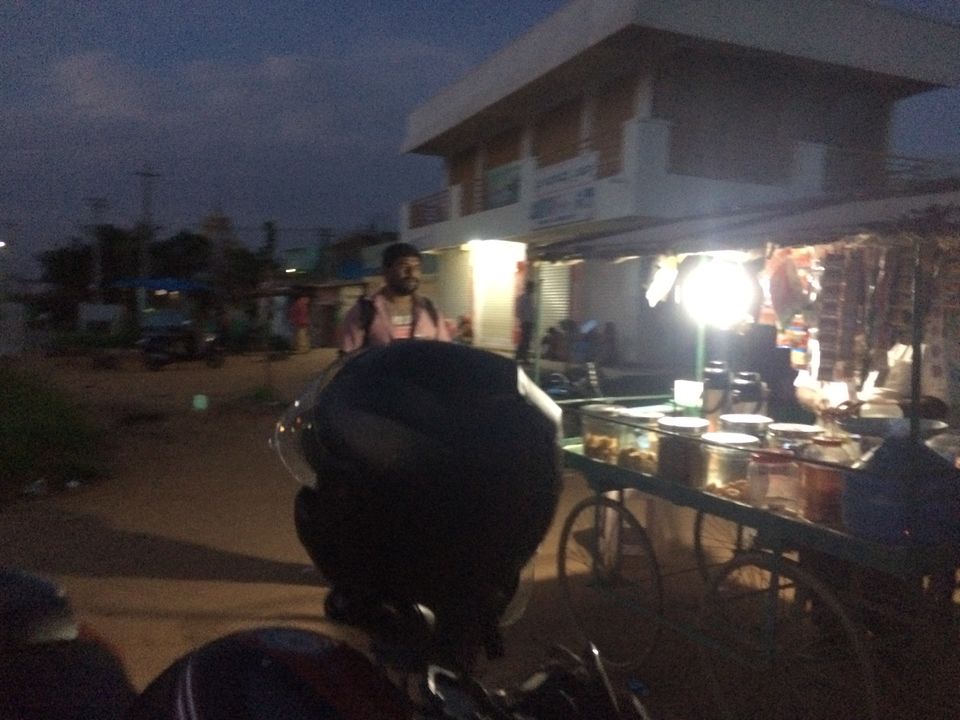 Refilling the engine oil we resumed our ride to Avalabetta. Once you enter the village from NH, the route till hill top is splendid. Need to admit that i became a bit nostalgic as i was noticing this large number of cattles and hen a long time after we had it at my mothers ancestral house. Also grape farms and flower farms continued all over our pursuit which was kind of icing on cake!
Atop Avalabetta
Though we fell behind others initially as we were riding a bit slower and to refill engine oil, we were the first to reach atop Avalabetta! We could reach there around 6:30 AM and on contrast to expected there wasnt any signs of mist though the climate and temperature seemed to be sublime.
Upon reaching, the first sights was of a small ticket counter (but aesthetically big!), 2-3 roadside snack vendors and a parking ground just opposite to ticket counter. U may even encounter school kids selling cigarette packets and bottled water which i feel pity about for our country. Within the parking ground there is an installation over which you can unleash the adventurer within you.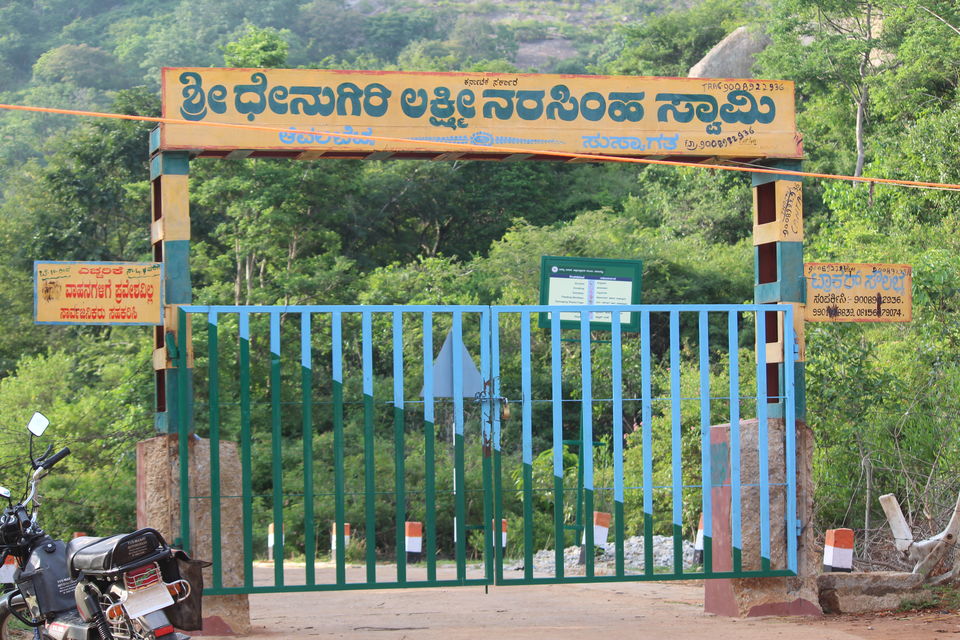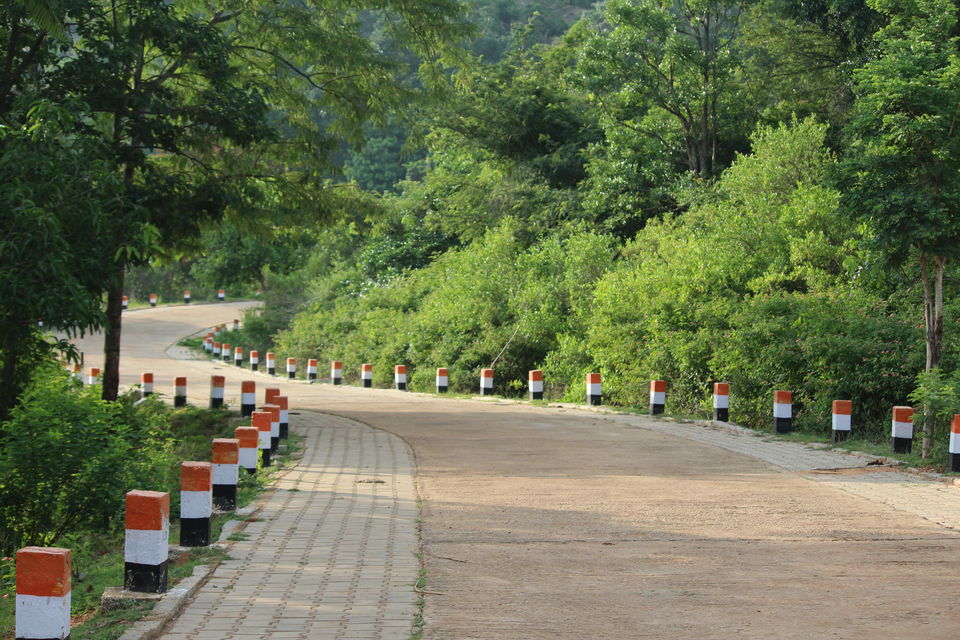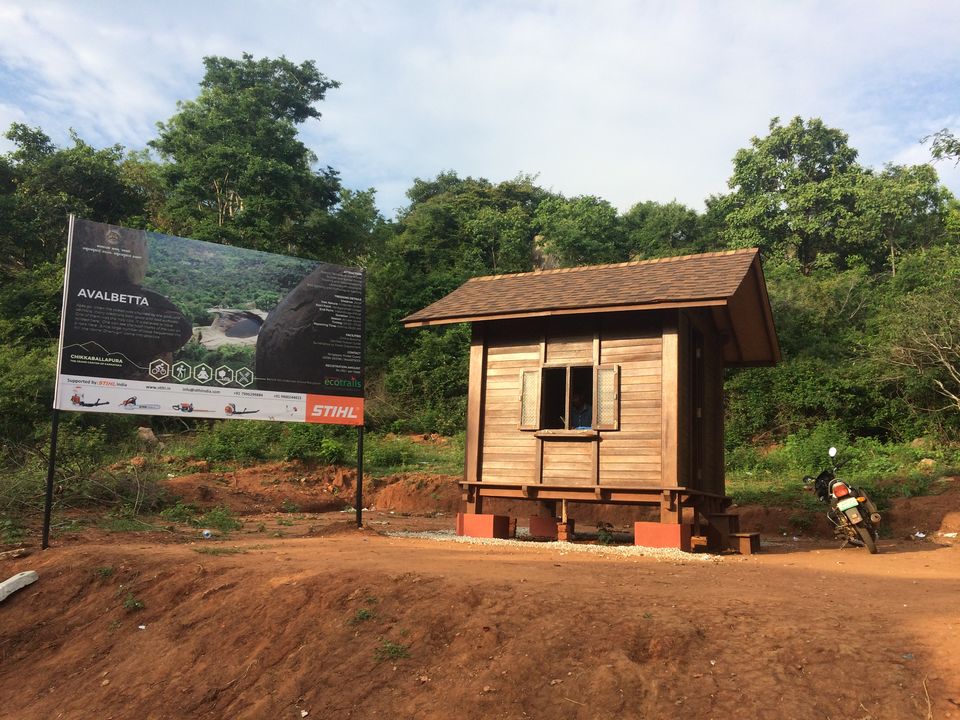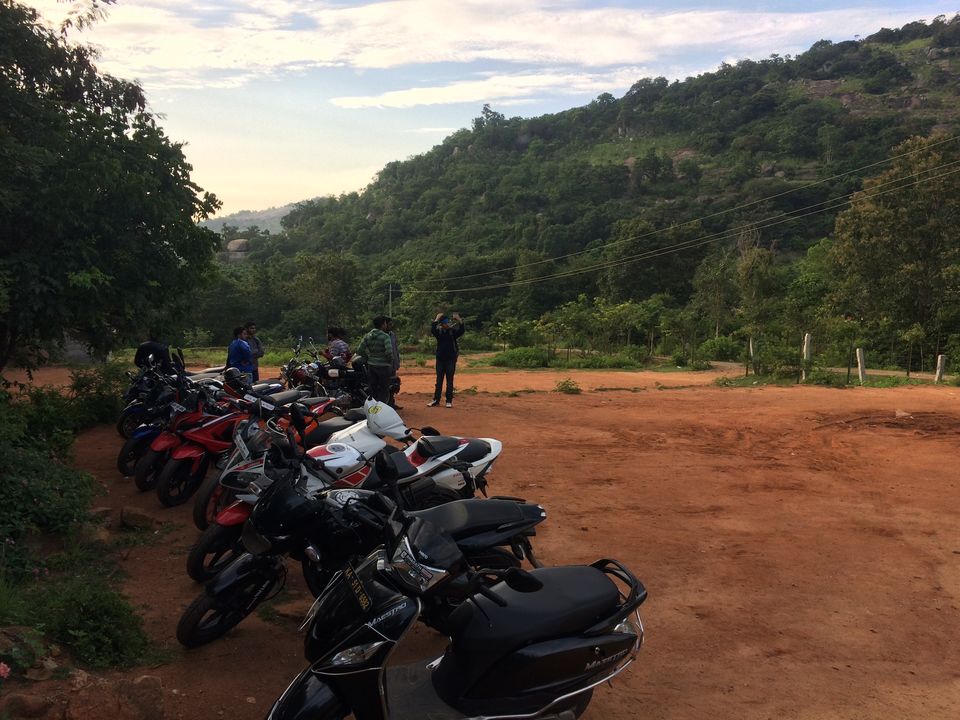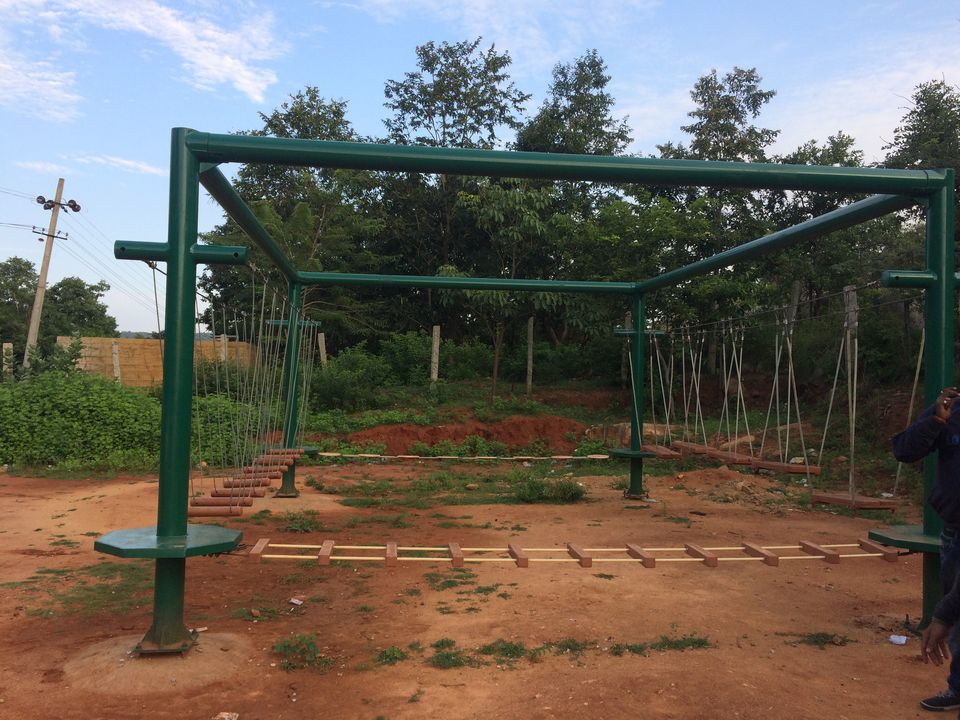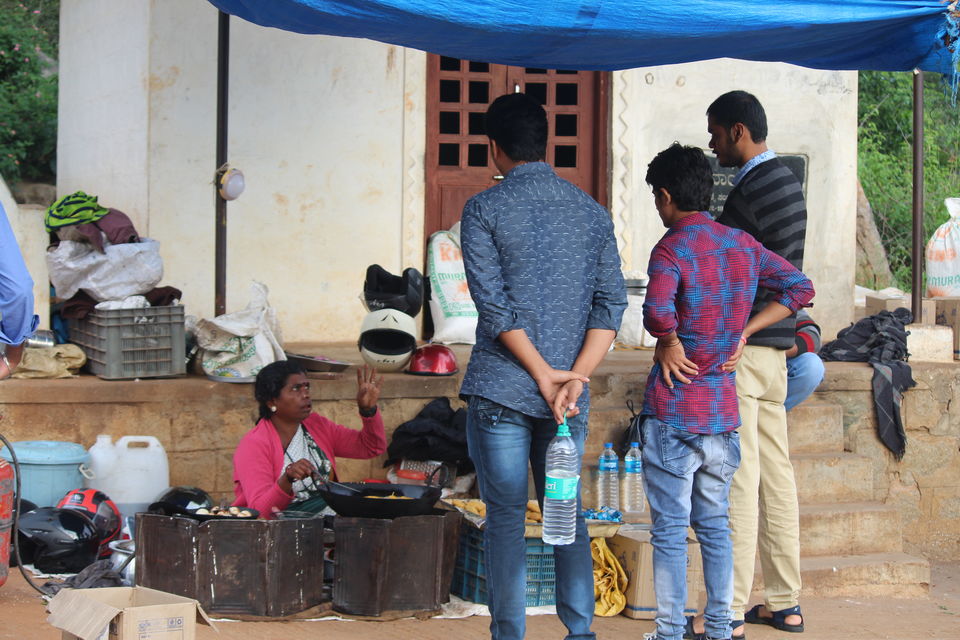 Though small its pretty good (Balance your steps so that you dont fall off and hurt yourself!) but i am not sure how long it will last, as with all the installation in our public spaces. Its to be taken serious note off about the common Indian nature of damaging public installations. Guess its embeded in our DNA and something which we must shred off immediately.
Myself, Hareesh, Sunny (Abishek to a greater extent) unleashed the adveturer in us while waiting for Ratna. Once Ratna reached we clicked some selfies and moved towards ticket counter.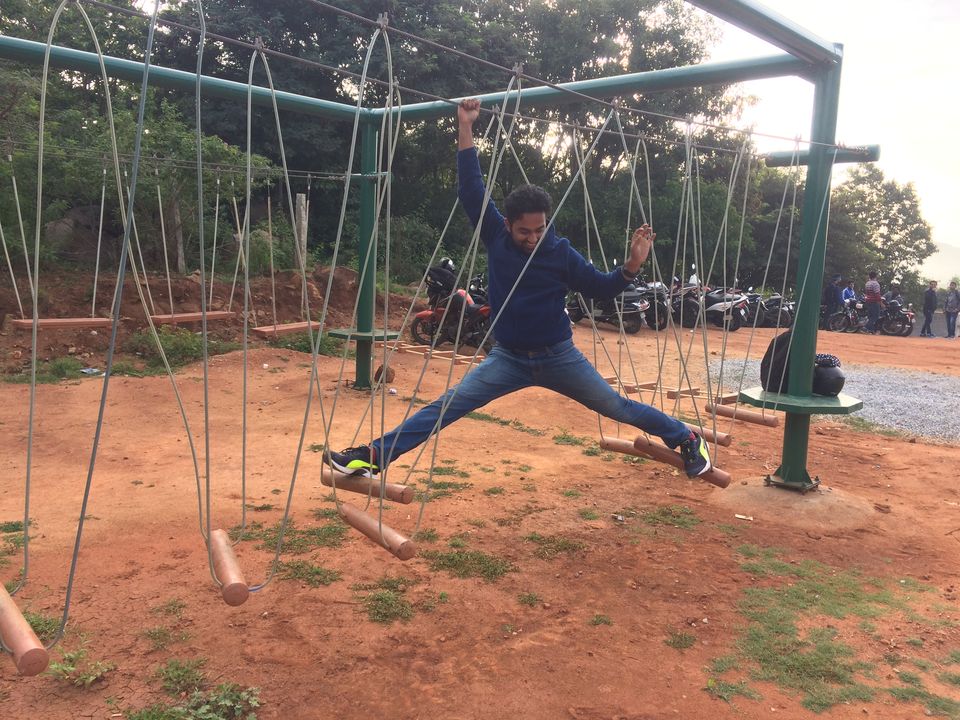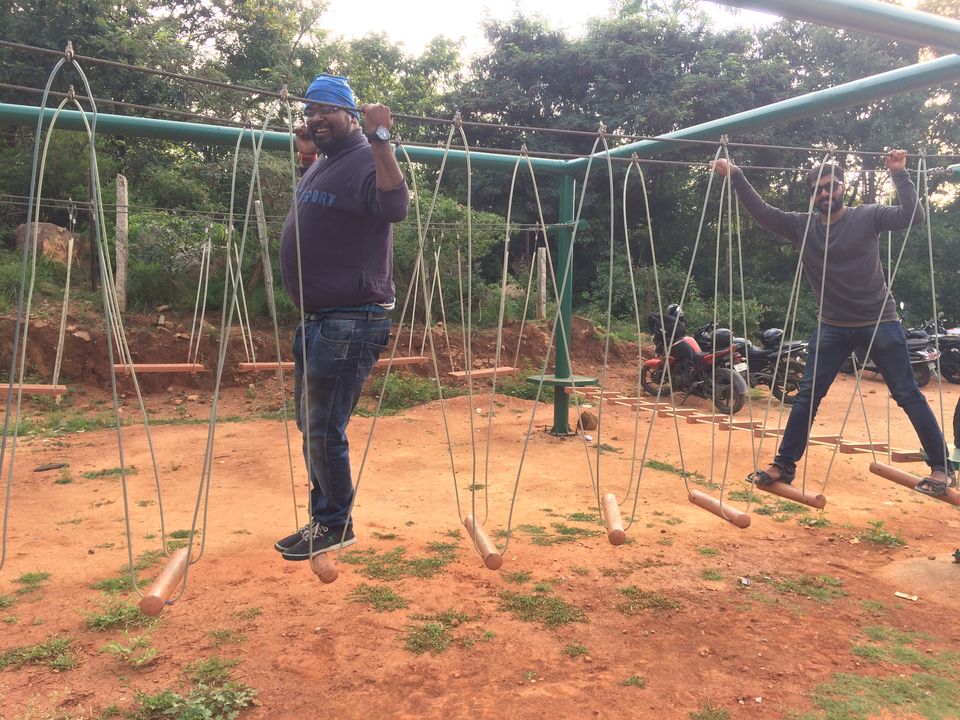 It was then the real adventure took place! Entry fee seemed to be Rs.450 per head! As a reflex i just threw a look among all of us and none were willing to pay this hefty amount! We decided to click some pics and head back. Later changed our mind thinking of taking the 110kms again just to experience Avalabetta. (I definitely would't mind taking up this route purely for the reason of a ride but not for Avalabetta and wouldn't mind either if it's 110/210 kms!). Fortunately/unfortunately they were not accepting card payments and we didn't carry sufficient hard cash either (Nearest ATM center is 7kms away). Later on we were informed of buying entry pass online - which again went in vain. (How do you expect to load a website in 2G fluctuating network from which even placing a call is an acheivement!).
Its pure failure from tourism department expecting people to carry hard cash when most of the visitors for Avalabetta will be techies from Bengaluru. Anyway lets b optimistic.
'And thats what we have been practicing for centuries.'