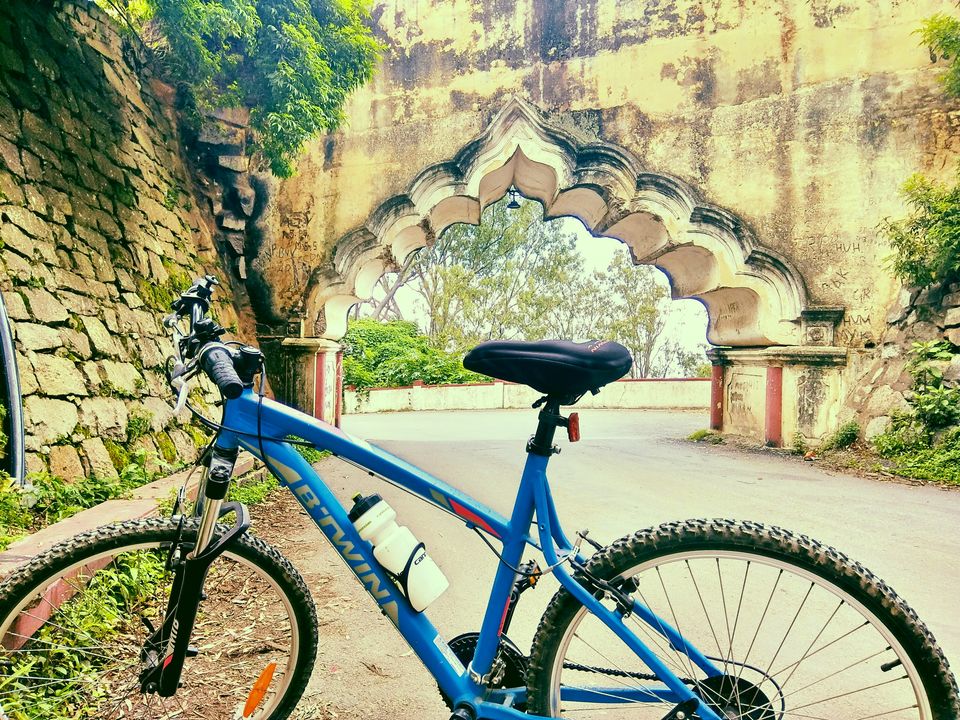 Bangalore is well known for its cyclists all over India. There are numerous cyclists in Bangalore who just peddle around the busiest to busiest roads of Bangalore over weekends. There are much loved cycling routes in Bangalore which gets filled with cyclists over weekends like Cubbon Park to M G road, Lalbagh to V.V puram, circling the Ulsoor Lake or heading towards Hesaraghatta Lake, and also on the airport road which has a separate lane where cyclists can ride on.
Out of all these cycling tracks, this one stretch just stands out for its unique level of difficulty and also the strength of mind one has to possess to cycle this track. That is none other than cycling to Nandi hill top, a must go destination in Bangalore to get the best sun rise. It is almost every cycling freak's dream to peddle on the mighty serpentine roads of Nandi hills and challenge his potential and his love for cycling. So it was my dream too, to cycle this route and prove something worthy of having a cycle and to make the perfect use of it. Usually there need no plan to be done to cycle this route as one has to be physically fit and a normal gear cycle to fulfil this dream. Being cycling for about 10 months now and also had completed cycling solo from Chennai to Pondicherry, this was on my to do list for many days now just bothering me now and then. Having the fitness level this route demands I had to paddle on and off this road many times till decathlon on airport road and then head back to my home.
Cycling on this route is seriously not for the faint hearted as many speeding vehicles from motorbikes to cars rush in this road on weekends. Many bike groups also take this road to test their riding skills cornering their bikes to the top and back to the starting point. So with all this the 8 km uphill steep roads also pose a challenge on your cycling skills on your way.
It all started with me getting up as usual on a weekend Saturday early morning well before the sun rise and taking my bicycle on one of the usual routes I ride, The Airport road from Jalahalli cross where I reside.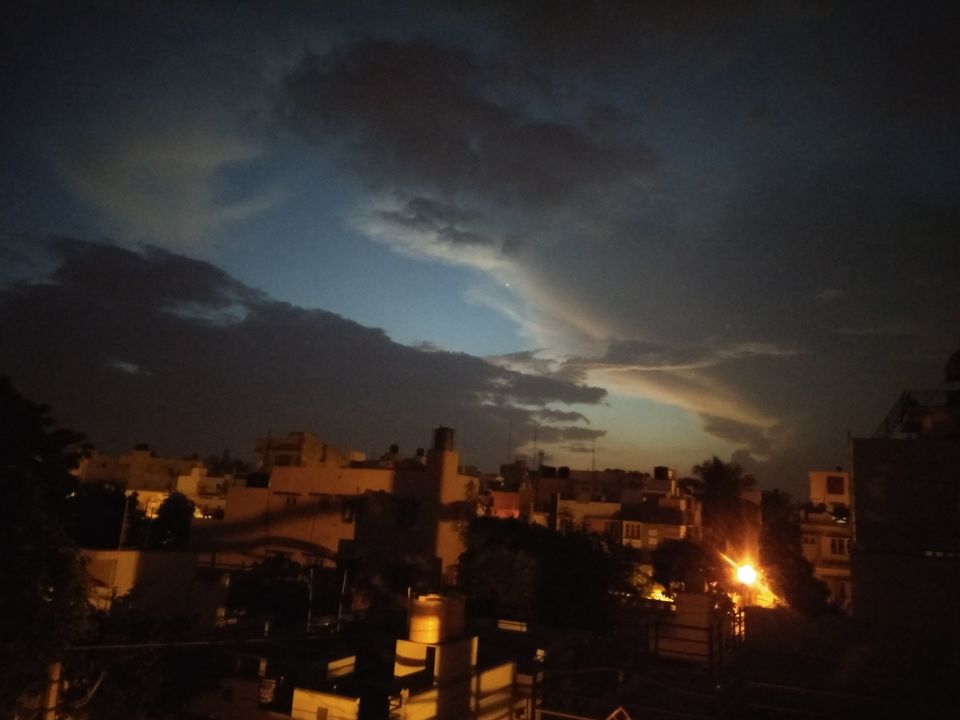 It was not that cold that day morning and I set myself with a normal speed and reached Hebbal by 6.30 a.m. and stopped over for a tea break near Kodigehalli cross. After a tea break of 10 minutes I resumed cycling on Airport road.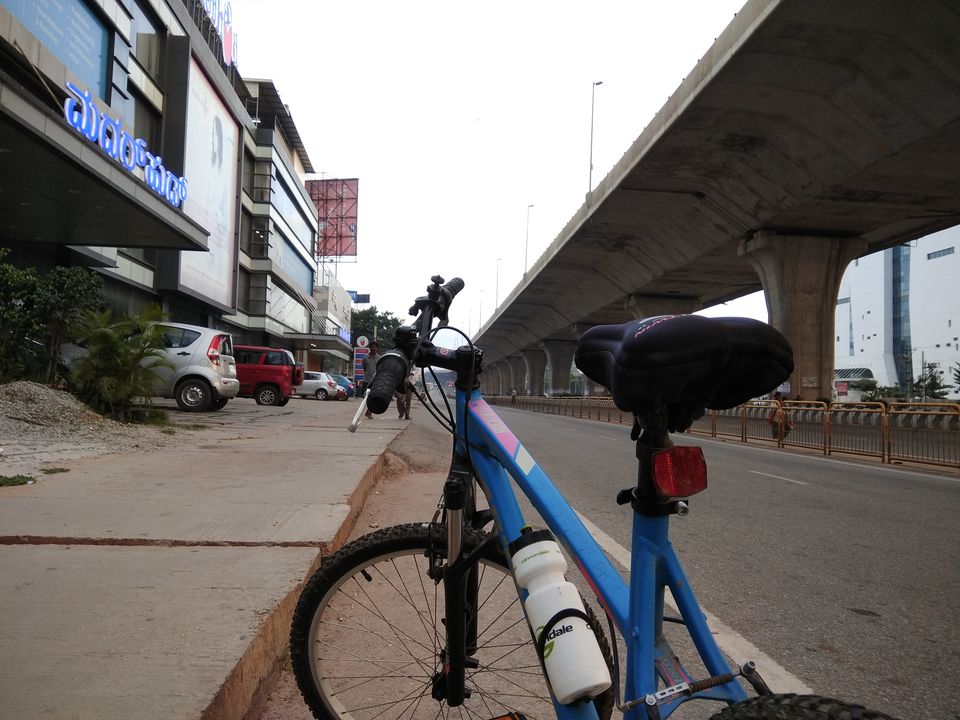 The road was slowly building up its normal day to day traffic and I rode carefully towards the left of the road being all careful with the speeding vehicles. It didn't take me more than an hour to reach Decathlon Anubhava which is on the airport road. Somehow I was not done with my quota of riding that morning and was feeling good amount of energy also. So just to check my level of extension I started to ride further on airport road and made it to the toll of airport road by 8.20 a.m. Still I was not done with the day and just rode much further and came to a junction which read Nandi hills to the left of the main road. That sign board ignited the long awaiting dream of me riding on the steep roads of Nandi hills. Without giving any chance to a second I continued on the way till the bottom point of the hill or Nandi point from where one has to take a deviation towards the top of the mountain. It had clocked 9.30 a.m. by this time and at that point of time I had noticed that the speed of my riding had evidently reduced for last couple of hours and my legs had started to feel the pain out of exhaustion. The sun was already there on the head showing all his love towards Mother Earth and hundreds of people were already setting down from the hills after seeing an early morning sunrise. I just sat there in a small hotel and ordered one more tea to think of what to be done next, whether I have to ride back home or set myself up towards top of the hill which said exactly 8 kms and that too steep climb in maximum parts of the hill.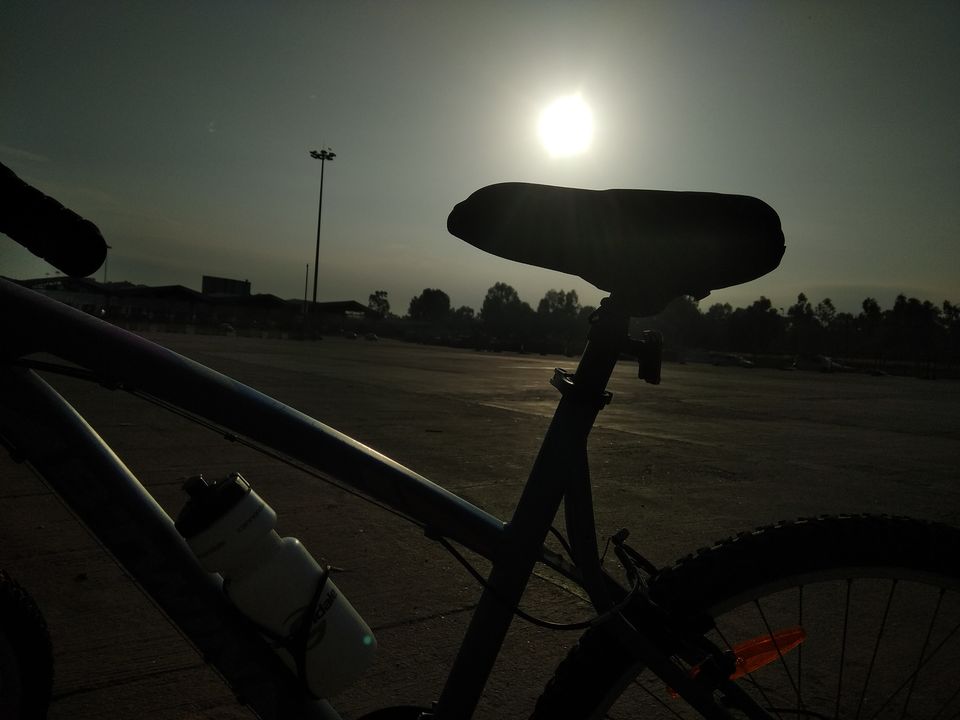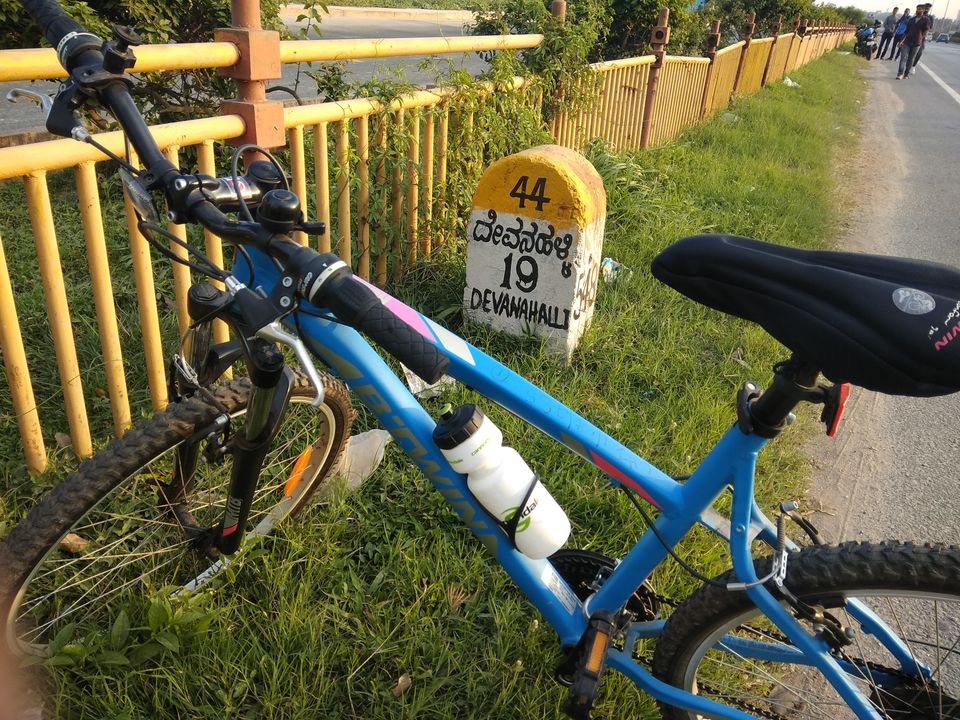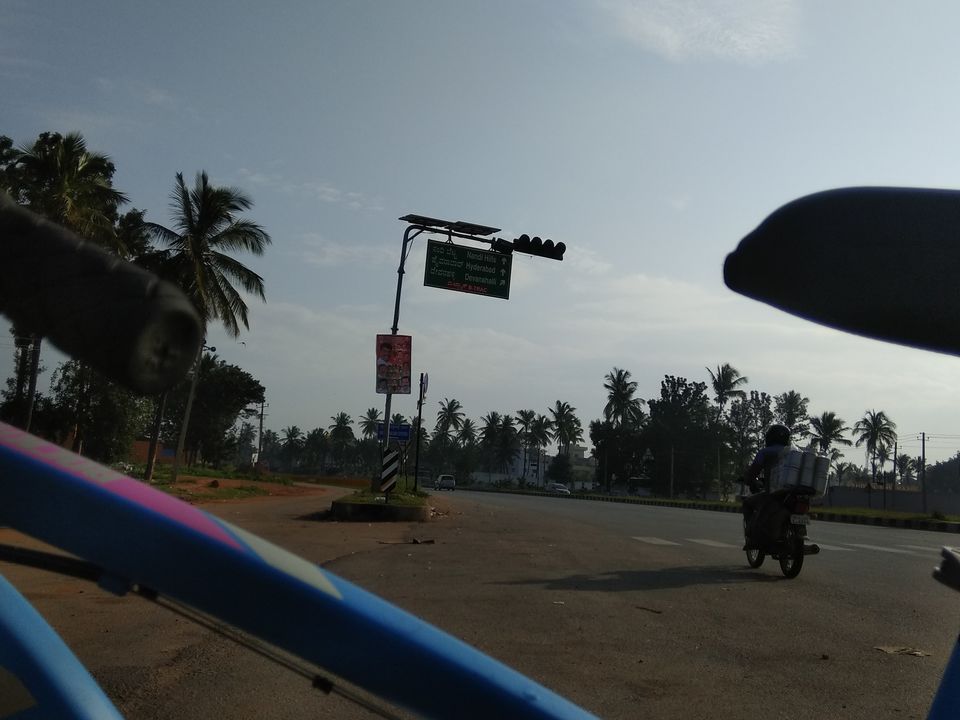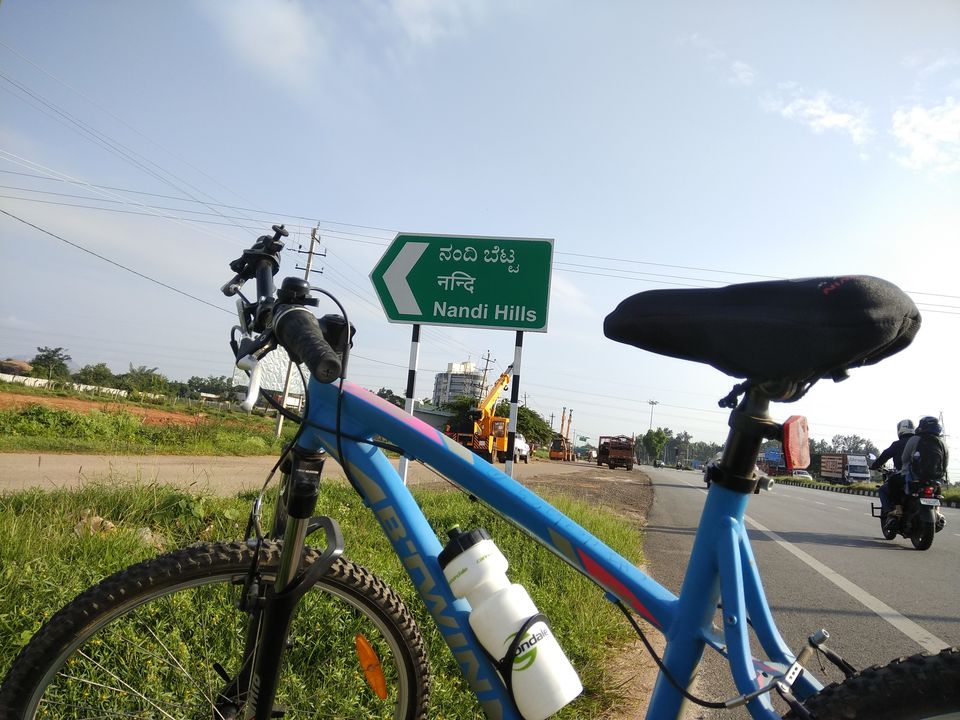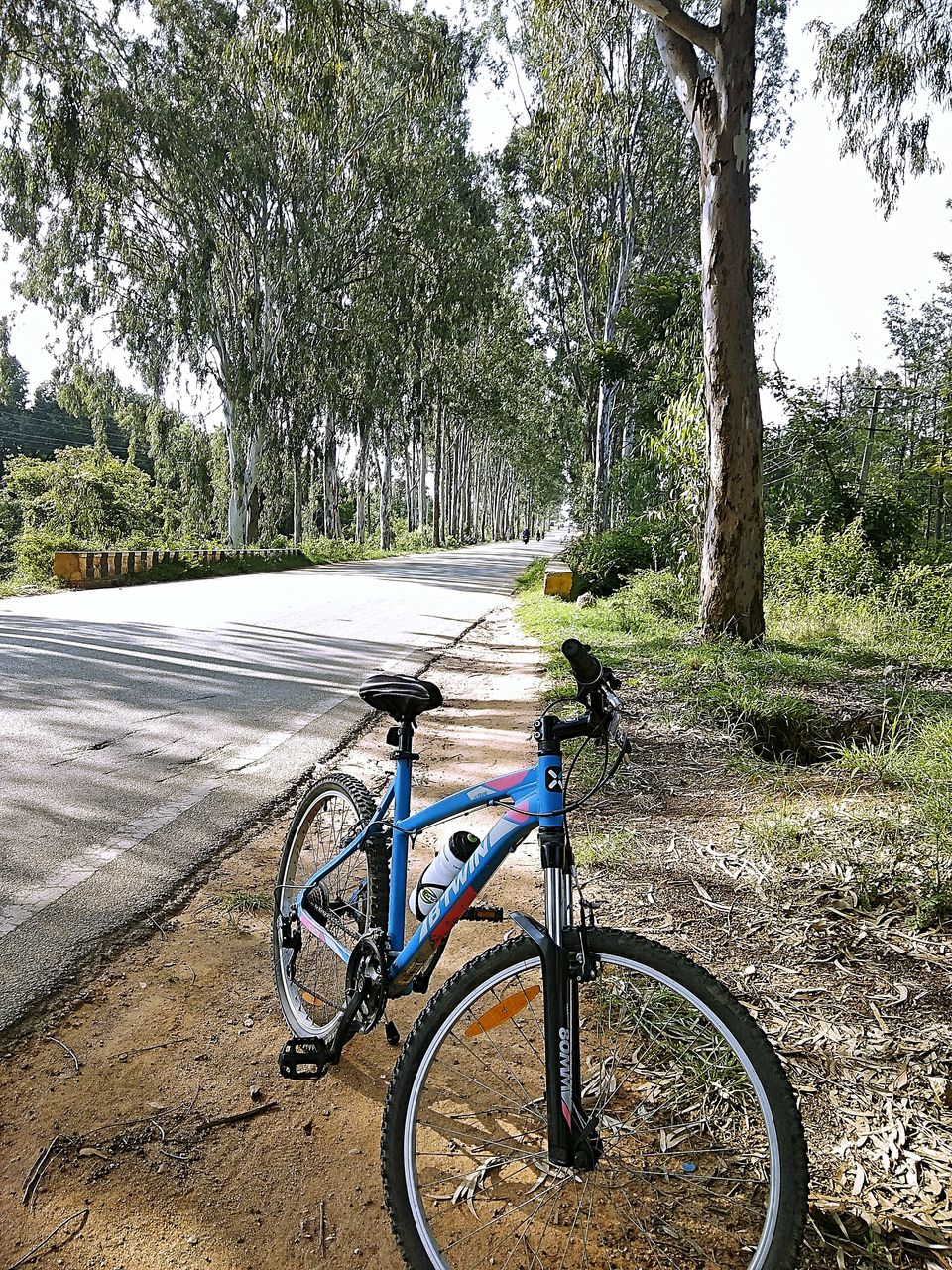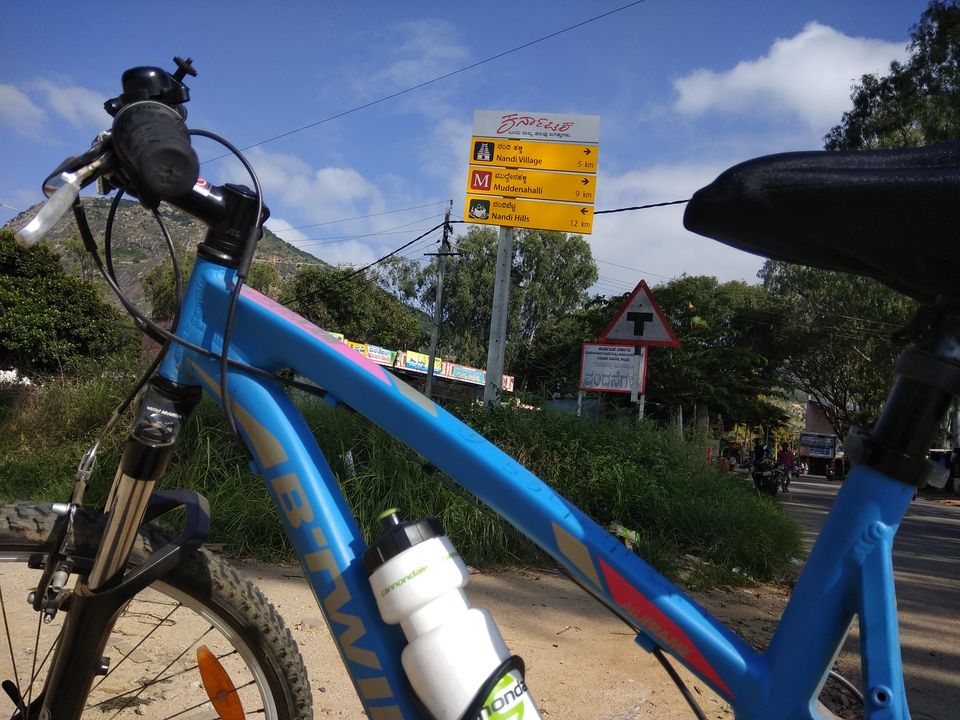 After thinking for a while I gave a call to my friend to check if he is free and can he come to pick me back after a ride to the hill top as I was confirmed that I would be completely exhausted if I push myself to make it to the top cycling and walking all the way. Once he gave a yes nod to pick me back from Nandi hills to home I made up my mind to ride to the top. It didn't take much time for the ride to take its toll on me and give all the pain and discomfort. I reached the barricade point somewhere after 2 kms of the Nandi point, actually from here the steepness of the hill started and it didn't take a name of getting normal till I reach the top. The clock ticked 10.30 a.m. and I was yet to cycle, rather than that I can say I was yet to push myself and my bicycle for other 5 kms and at that point of time I came up to a break point where coconut water was sold and I was relieved to see the shop. Nonstop I drank two coconut waters in a row and was somehow regaining my energy and thoughts of returning back had started in my head. My friend gave me a call saying that in other 45 minutes he will be reaching the junction before the steep of hill starts, so I had 45 minutes more to go to the top and get down other 8 kms to the place where he will be coming to pick me up. With a hard mind-set I resumed my walking, pushing, paddling on the steep road and reached the top of the hill by 11.20 a.m. taking few more water breaks on the way. By this time my legs had started to tremble and all I wanted was to sit and relax for a while. Didn't get much of time to relax as I had to return back in other 10 minutes now and quickly clicked few snaps of my bicycle and started cycling down.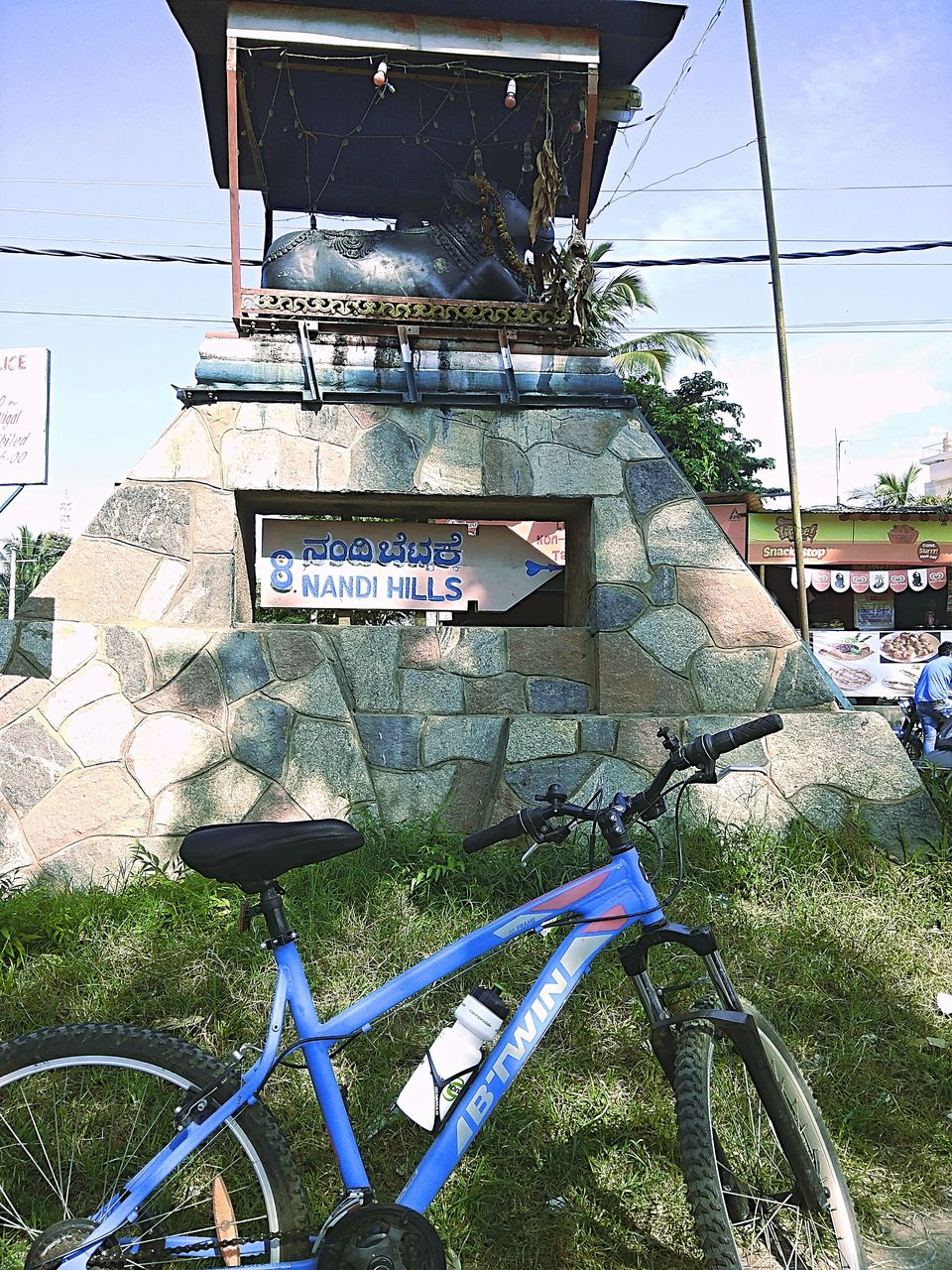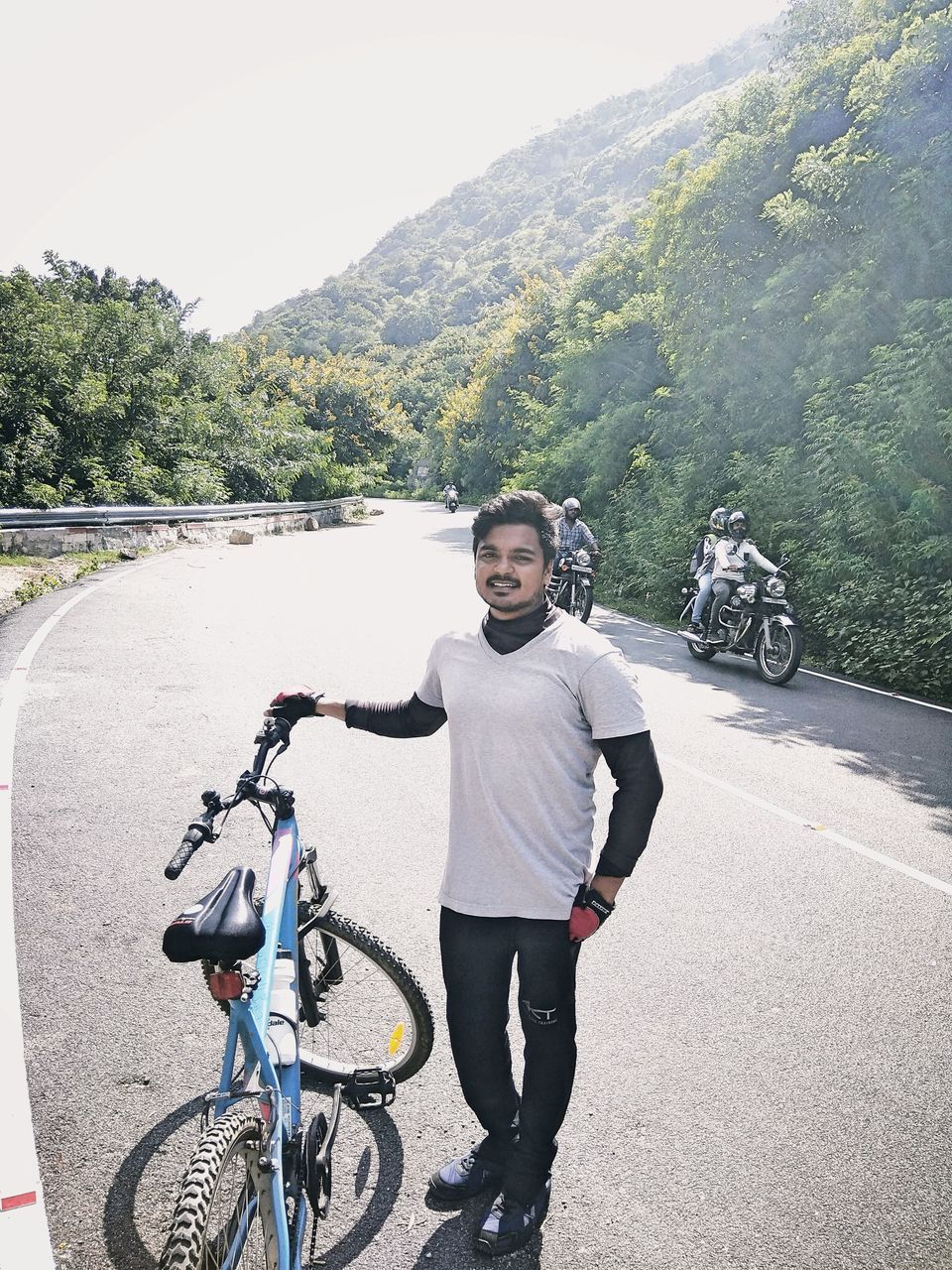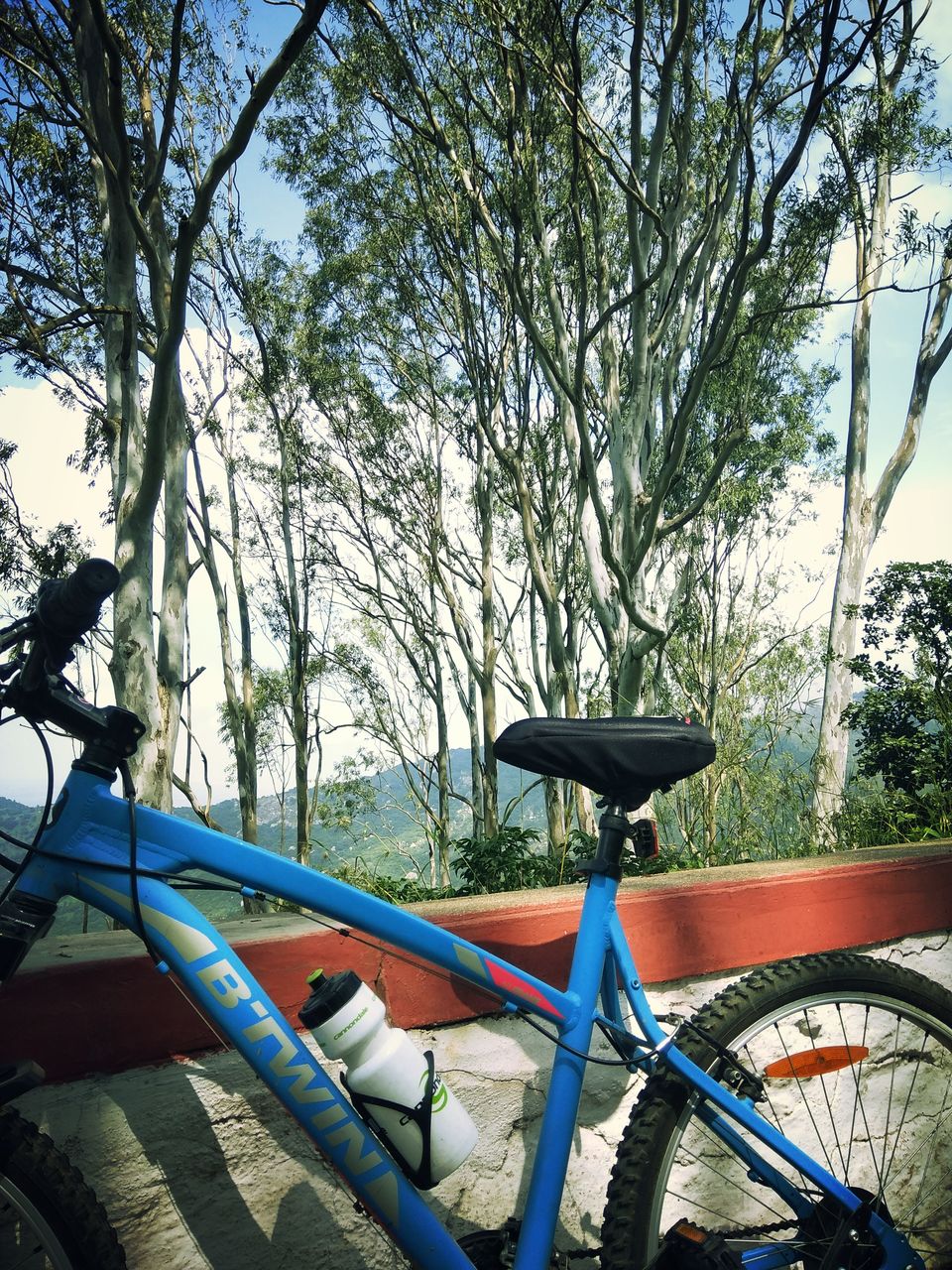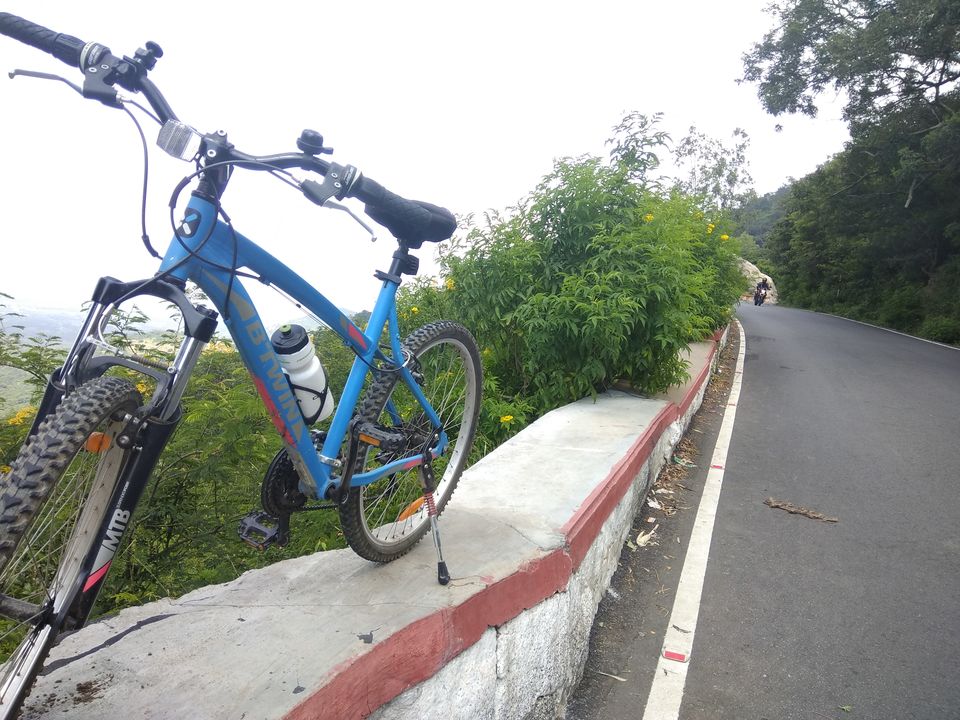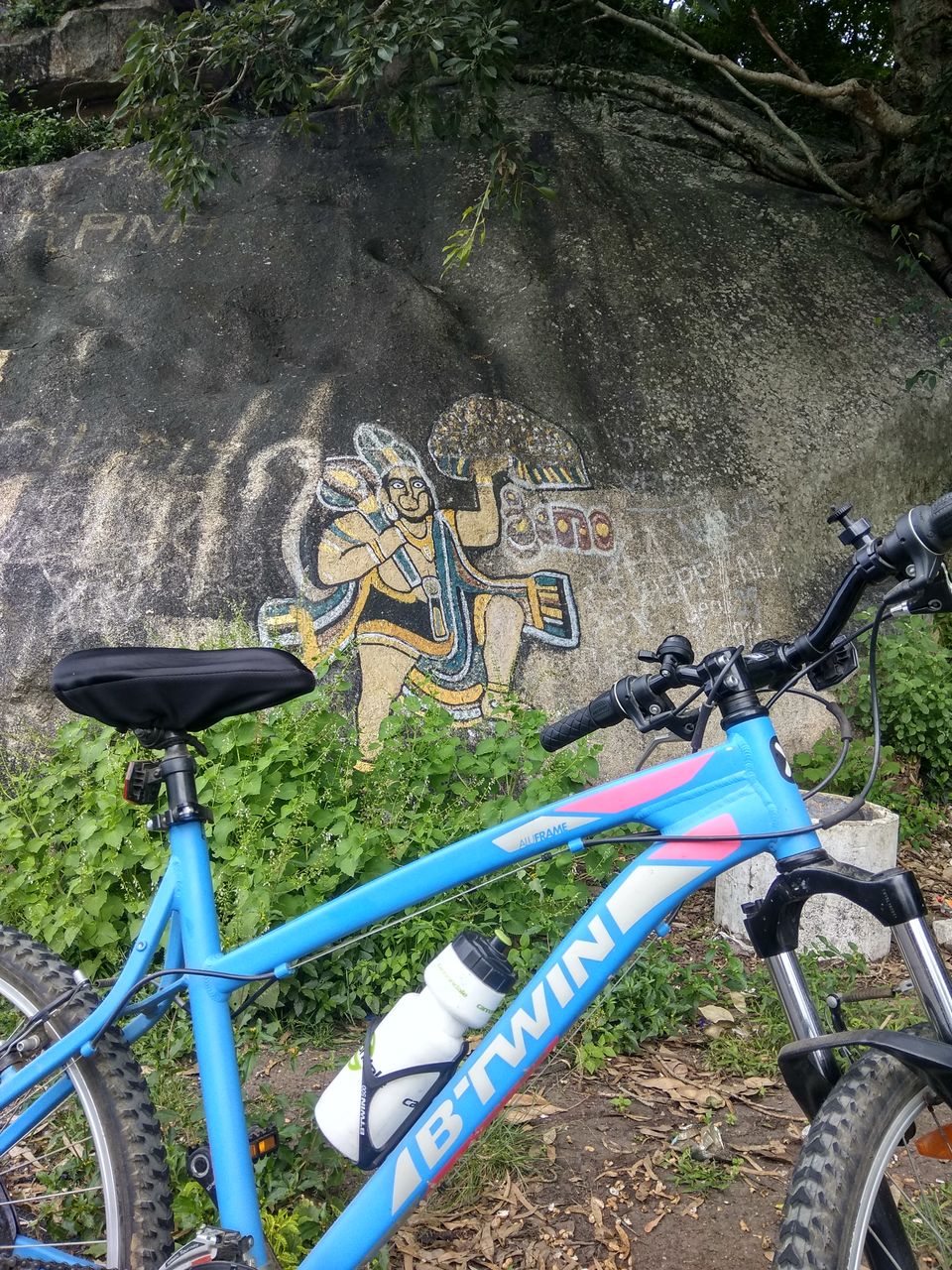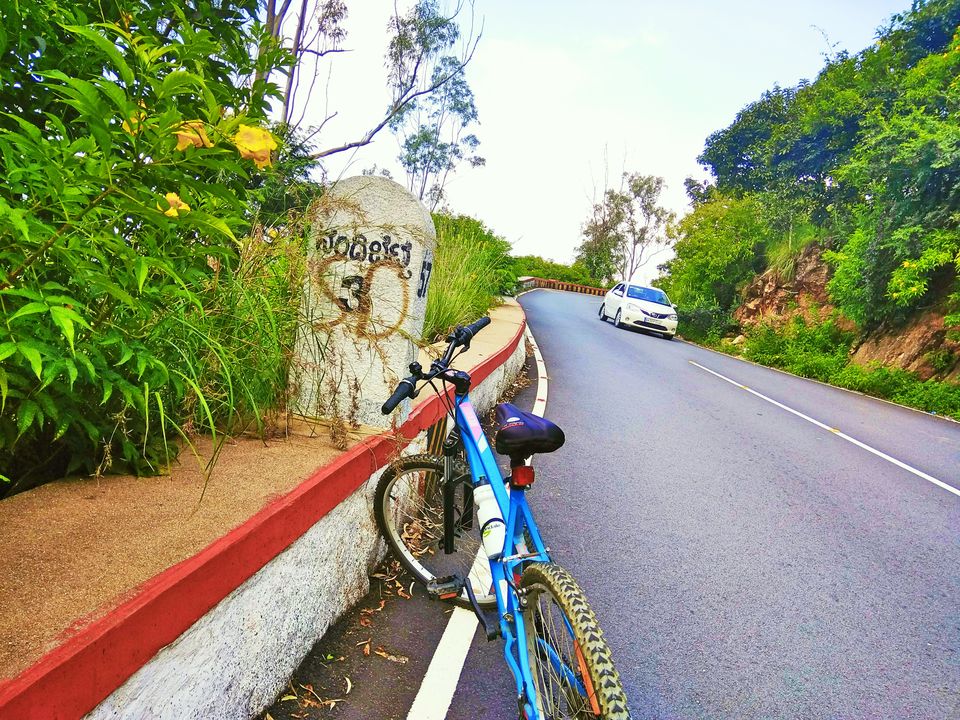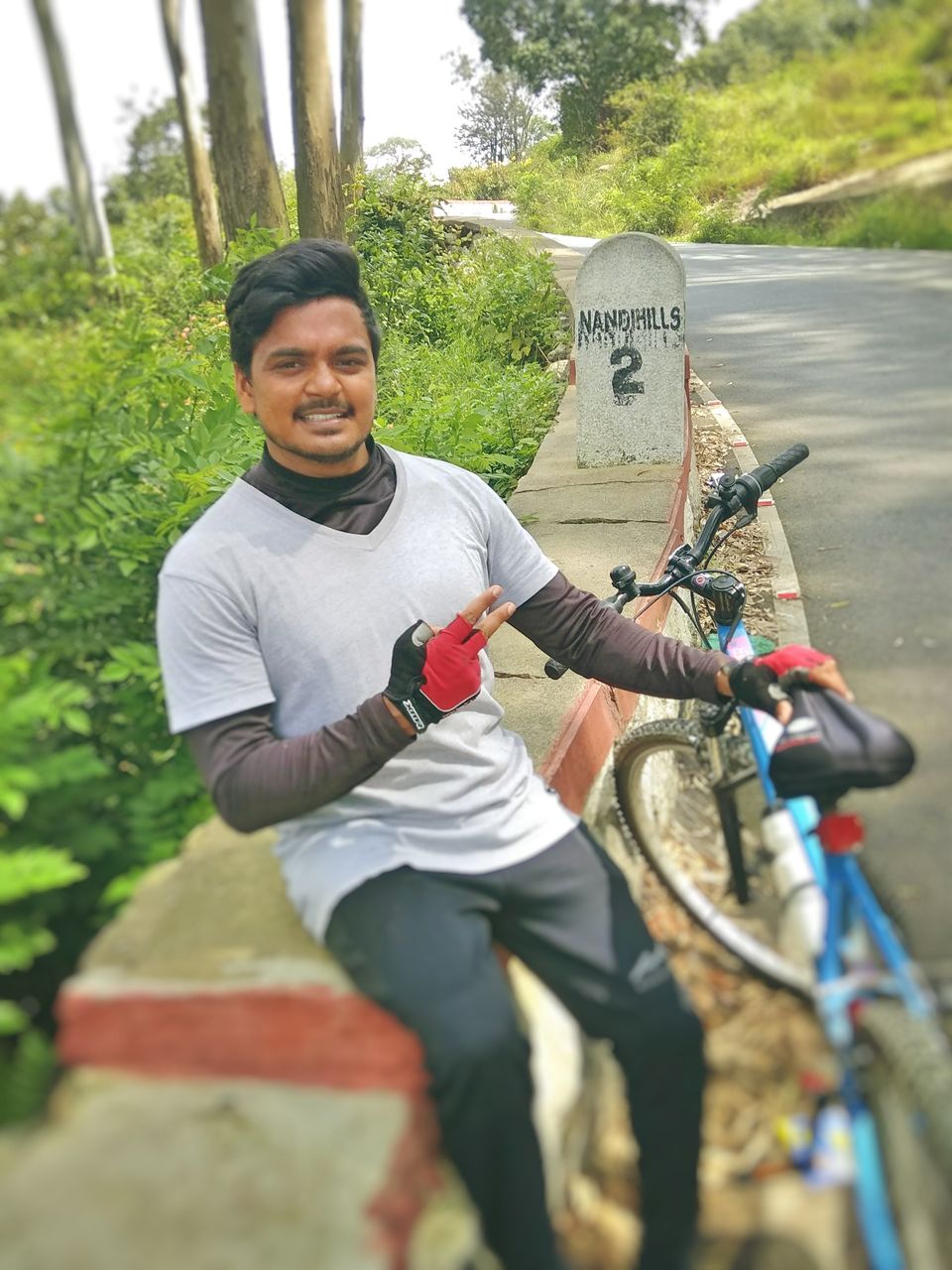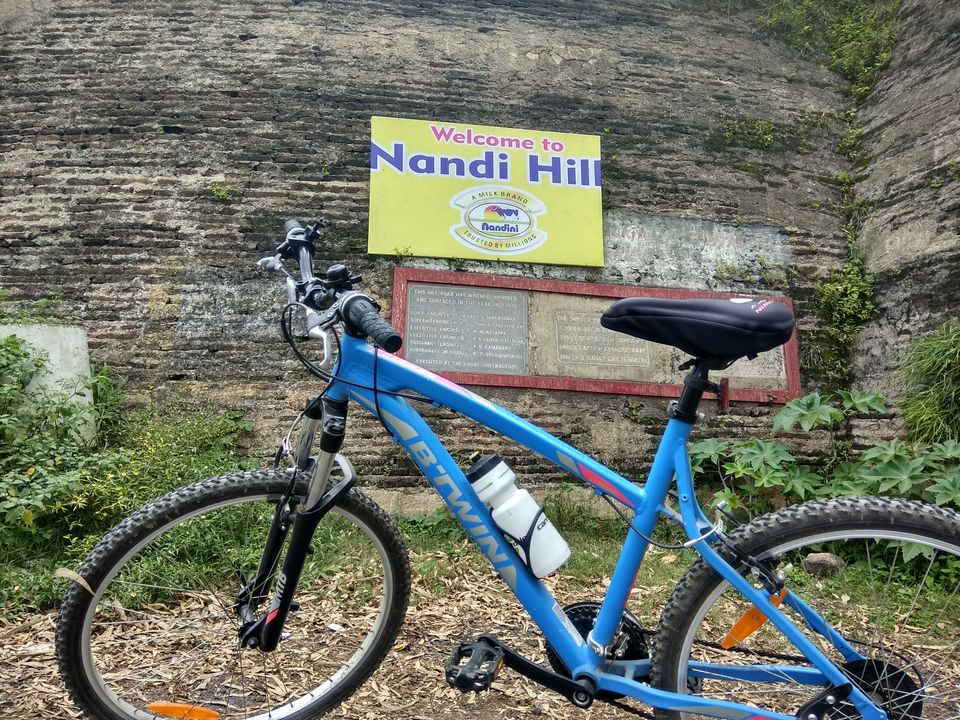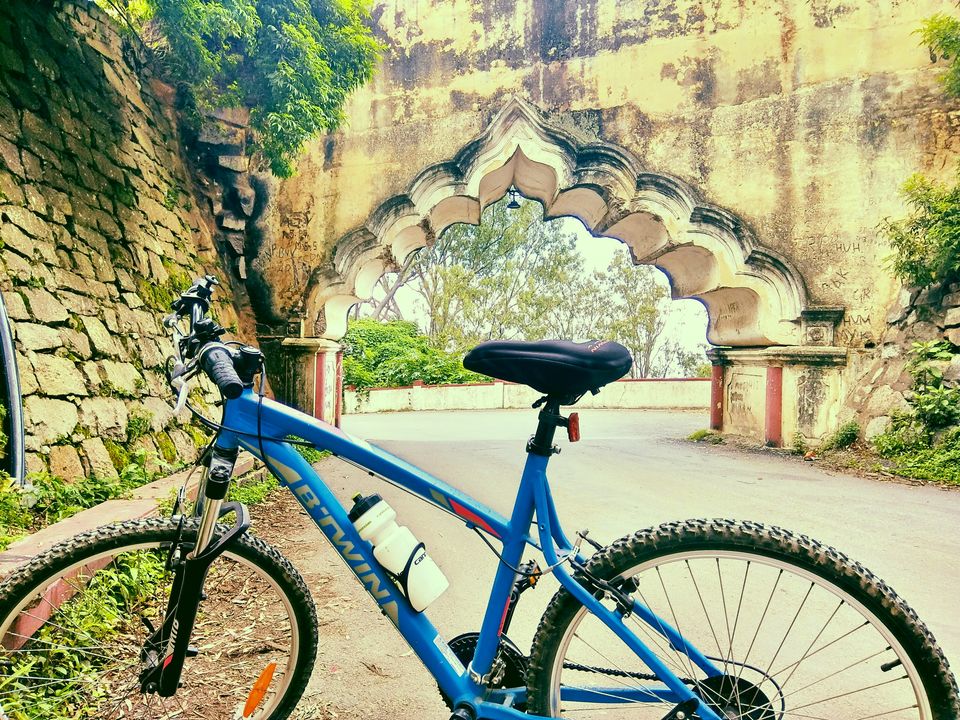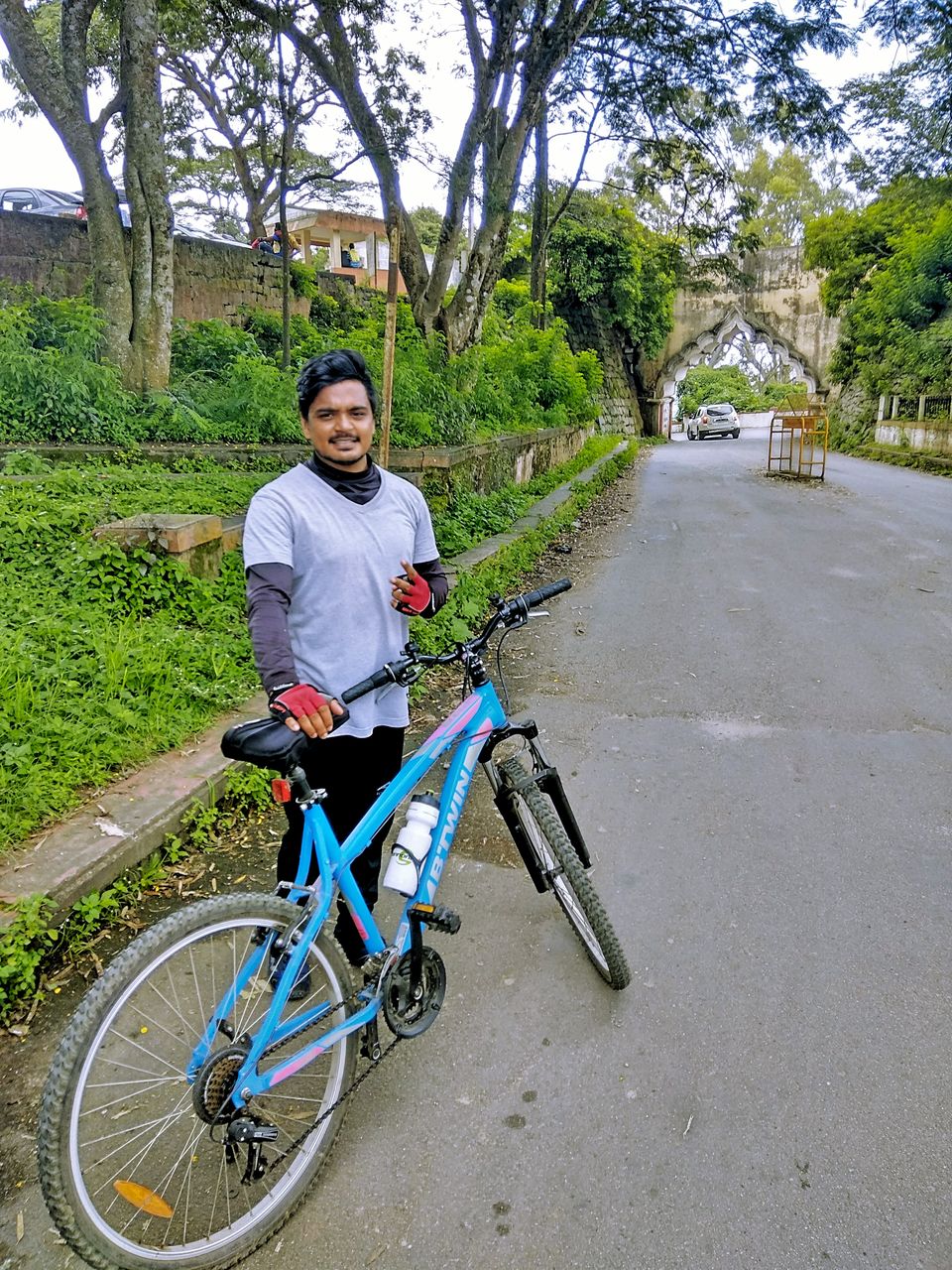 It took 1.30 hours for me to reach the top of the hill, but it took hardly more than 6 minutes to paddle down or I can say just rush down the hill and I met my friend at the starting point. After a small tea break I had to sit on the bike with cycle on my lap for next 70 kms till home which in turn turned out to be an adventure itself. So, this was an entirely unplanned ride of mine and gave an explicit happiness once I achieved it.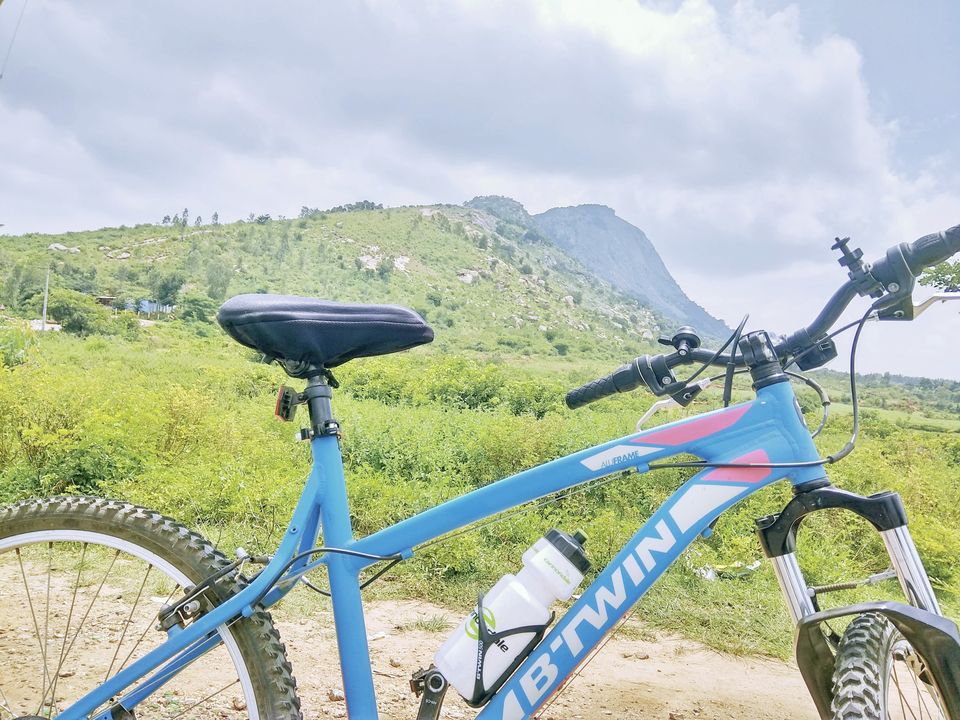 Happy Travelling!!!