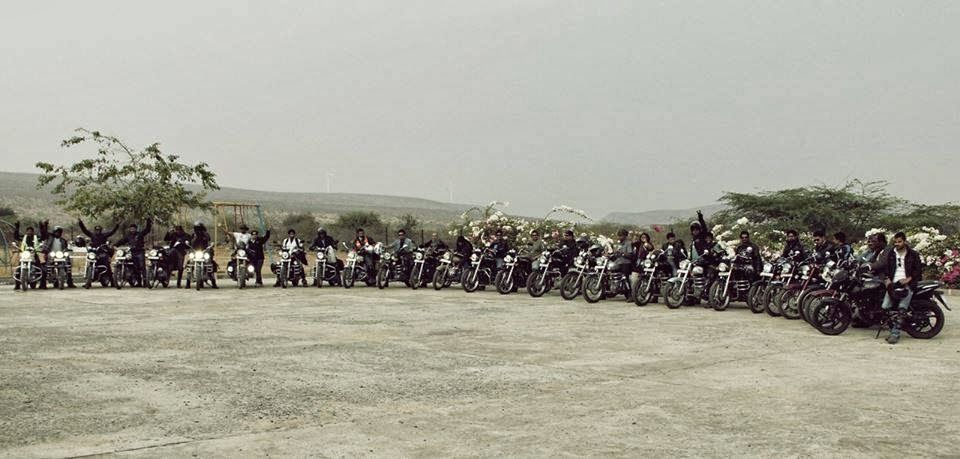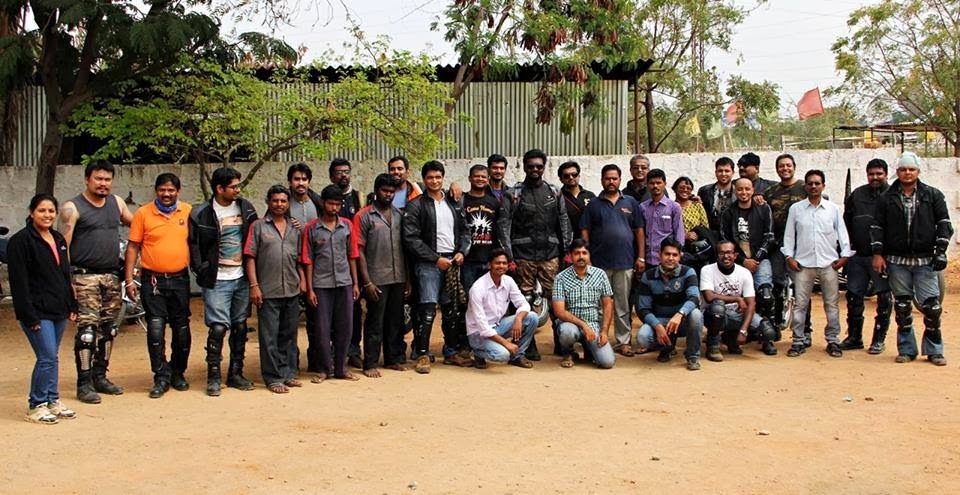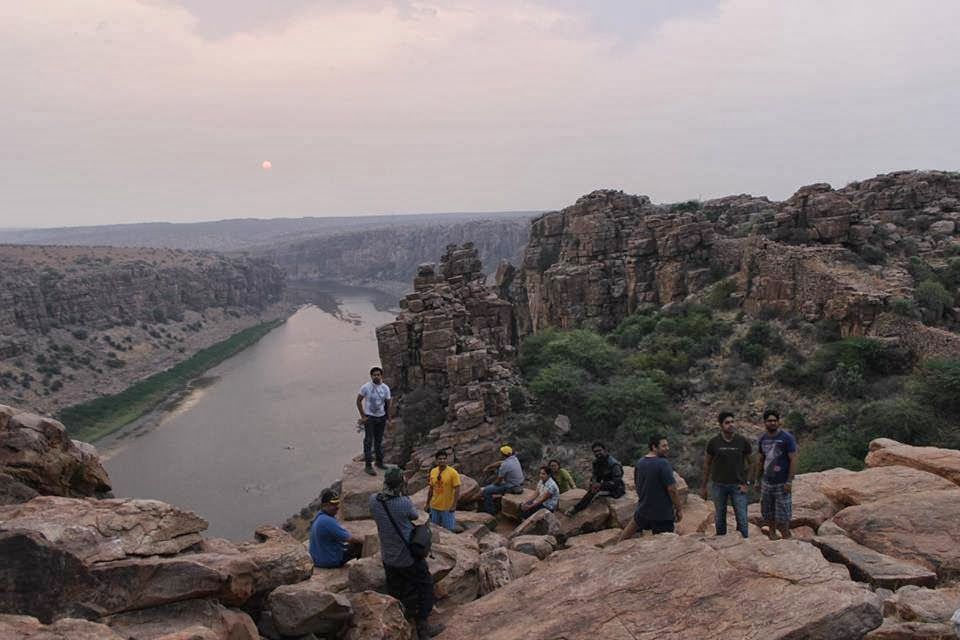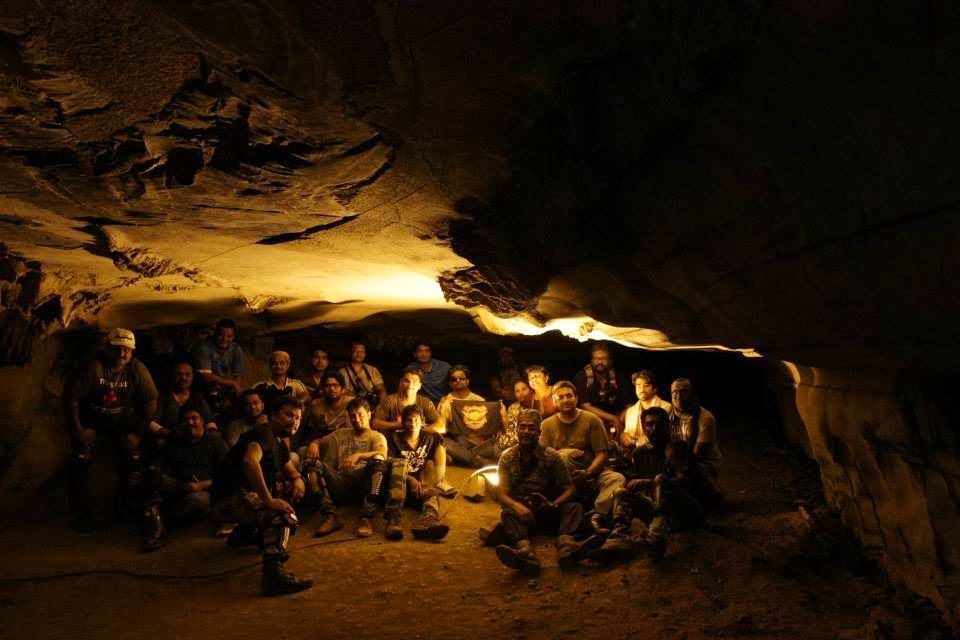 5:00 A.M: Bulls Line up at Esteem mall, Hebbal, gearing up for the 800+ km ride to Gandikota & Belum caves. Six of us from KR Puram have reached there to see our dear Abdul Khan welcoming everyone (though he was not riding with us) as always with snacks, fruits, biscuits, cakes and even hot tea. Had the briefing for the ride and then we start on a ride which turned out to be one of our best memorable rides so far.

Ride: Me and Iniyan Ilangovan in the lead with Keerthi Yadhendra and Pavan Reddy as the sweep took off on the 4 lane highway. Very few vehicles on the roads perfect for a staggered formation, nature at its best and scenic views and there they pass 23 bull riders thumping all the way and cruising as a close pack. We hear only our machine thumps and the gentle breeze passing by. You need to be with us to experience the feeling all about. Clocked 80 kms for the first break and had some hot chai by the road side. Here we revisited some basics about biking formations (formations are for safety). Here after comes our lens rider Dinesh Kallahalli Maligachar, riding pillion facing the pack, clicked some of the best pics for the group.
Ananthapur RE Service Station, Breakfast point: We see many posts wherein the RE authorized centers are criticized. But this station, 200 kms from Bangalore on the highway is something different and it touched all of us. When we check for the expenses for breakfast (dosa, idly, wada, poori for 23 guys). They just said "It as our hospitality as we are all from the same family", few of our bikes were checked and minor maintenance done, one engine oil change. They charged for nothing. Will be sending them some IBR merchandise and letter of appreciation on behalf of IBR Bangalore chapter.
Gooty 11:00 A.M, when Bangalore met Hyderabad: We have reached the place a bit, waited for 10 mins and there come our 8 riders from Hyderabad, Venkat Naren Karlapalem and team. Handshakes and hugs, it was a pleasure meeting them all on the ride. The stretch from there to Gandikota was a bit strenuous due to the heat at that time. Formations broke into many, but somehow we reached our destination not for lunch time surely, but did had lunch there.

Gandikota and AP Tourism resort: The resort set in between the ghats. Nice place to be after a long drive. We had to setup our tents before it gets dark. Done with it and we all set for the night party. Here we had the intro from all the members Bangalore and Hyderabad, while the beer guzzlers were busy all the time. Special effect here was the hookah brought by Shubham Lakhiwal and Srinkanth (Hyderabad). Next day started with few of us riding to the canyon clicking some pics. 9:00 30, we started our ride to Belum Caves around 60 kms from there. Both the chapters were riding together in a single line formation in the ghat roads was awesome again.
Belum Caves: They are formed around 10 million years in a sterch of 3 kms, out of which 1km is lightened up for visitors. One of the largest such formations in the world with stalactite and stalagmite pillars everywhere. Tunnels everywhere and a very humid place. Took us 2 hours to be out from there, bid adieu to our Hyderabad brothers and we hit the road back at 1:00 p.m. It didn't take us long to reach Ananthapur, where we waited for the group which had a puncture. By 9:00 we hit Devanhalli as planned, when it started raining. Took shelter in a fuel station for an hour but still no sign of the rain giving a break.15 of us who are comfortable with rain moved on to reach our paces by 11:00 P.M.
All together it was a great ride, camping, party and trekking. Thanks to all for joining in, loved the camaraderie. See you all soon !!