Badami was the last destination of my 1550kms & 4 Days of ride accross North Karnataka. After visiting Gokak falls I directly rode to Badami and reached at 5:00 pm for which I was fortunate to see evening and morning view of Badami Caves. I also visited Banashankri Amma temple which was 5kms from Badami.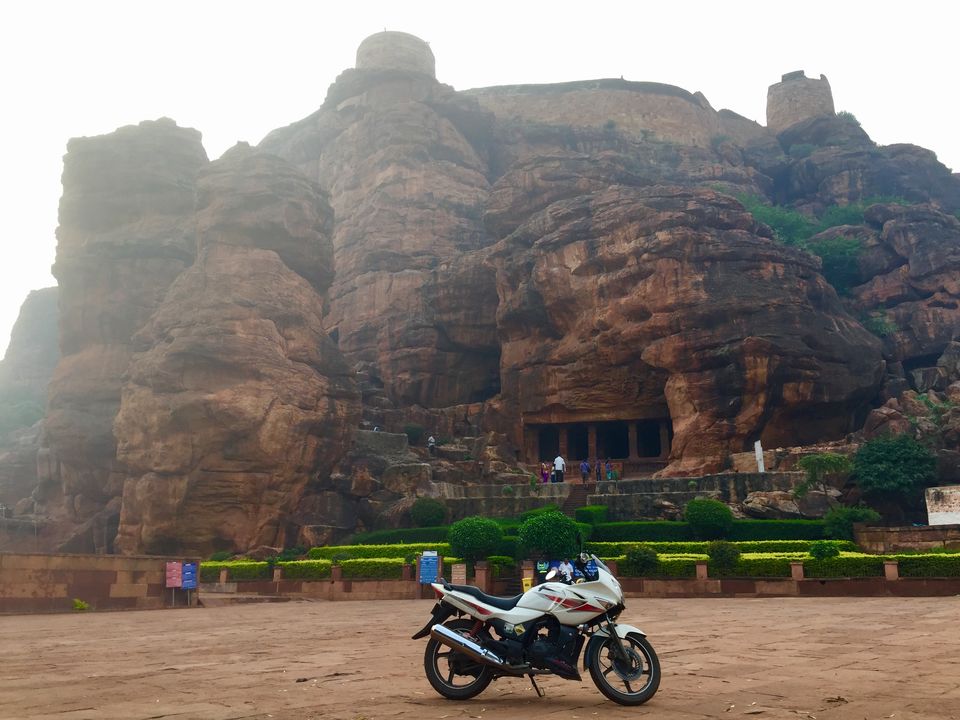 Badami caves are recognized by UNESCO world heritage site candidate and were constructed during the rule of Chalukya. The caves are carved with many Hindu temples inside them. The temples in the caves are dedicated to different deities like Lord Vishnu, Lord Shiva, Mahtma Buddha, Mahavir Jain and their various incarnations. The caves are on the bank of an artificial lake along with Bhoothnath temple. High above the water there are towering cliffs of comparatively soft sandstone. Badami comes under Bagalkot district in Karnataka which is popular for rock-cut temples and caves.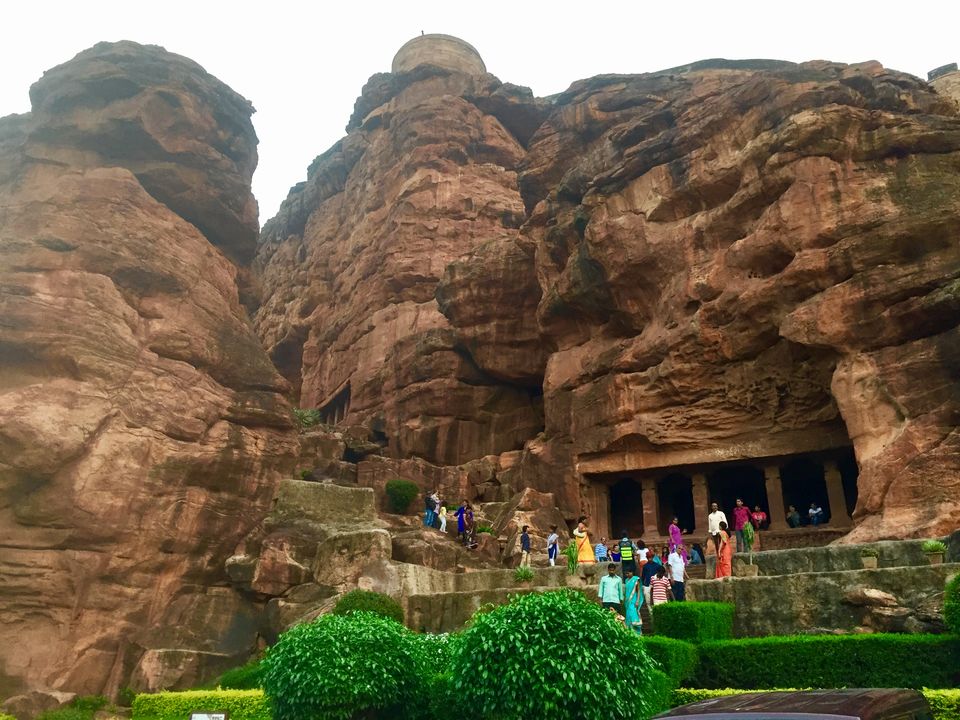 Badami Cave Temples have simple exterior but their interiors have ornamental finishing. These caves are sterling examples of Indian workmanship that existed 15 centuries ago. All the cave walls and ceilings have exquisite statues and figurines carved on them. There are all total 4 caves & distributed in 3 stages.
CAVE 1: Can be reached after climbing around 50 steps from entrance. This cave is dedicated to Lord Shiva with various sculptures for of Lord Ganesh, Kartikeya, Goddesses Lakshmi, Parvati nd Maa Durga encarved. There is a Shiv Ling and right opposite to it a Nandi Bull is placed.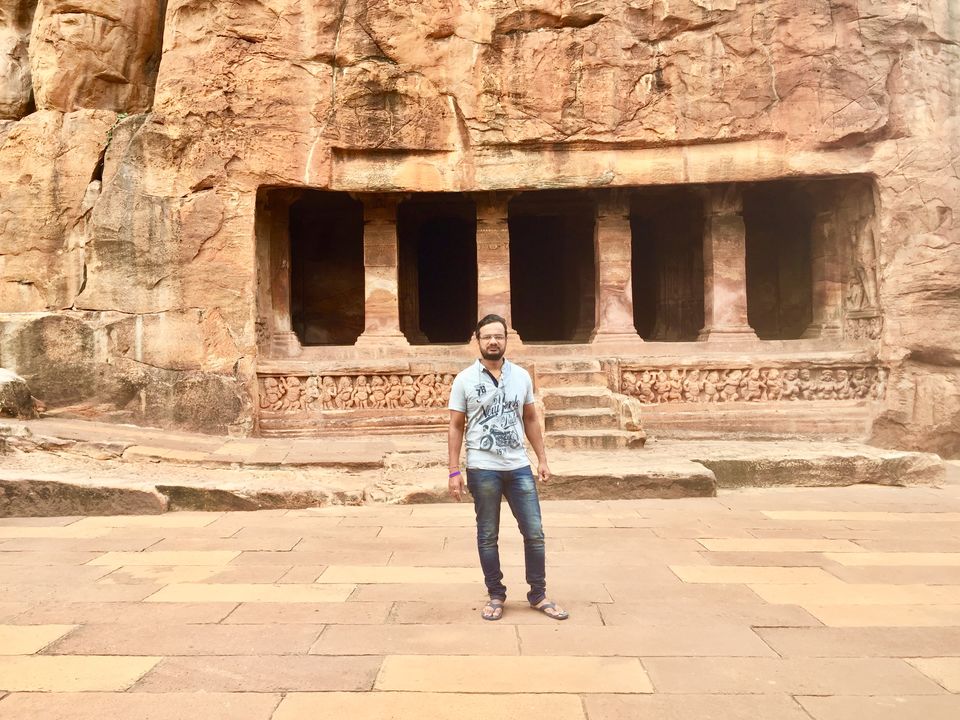 CAVE 2: This cave is dedicated to Lord Vishnu and can be reached through a staircase of 70-80 steps. At the entrance, there is a veranda having four pillars. The caves have sculpture of Lord Vishnu in the form of Trivikrama and Varaha Avatar saving Mother Earth. Form here Badami city view can be observed but be careful and please don't go till edges.
CAVE 3: This cave is also dedicated to Lord Vishnu and is the largest cave among all. There are many neat carvings in the cave which include Trivikrama, Anantasayana, Paravasudeva, Bhuvaraha, Harihara and Narsimha. It can be reached through a staircase of around 50 steps. Outside the cave sitting arrangements are made for tourists.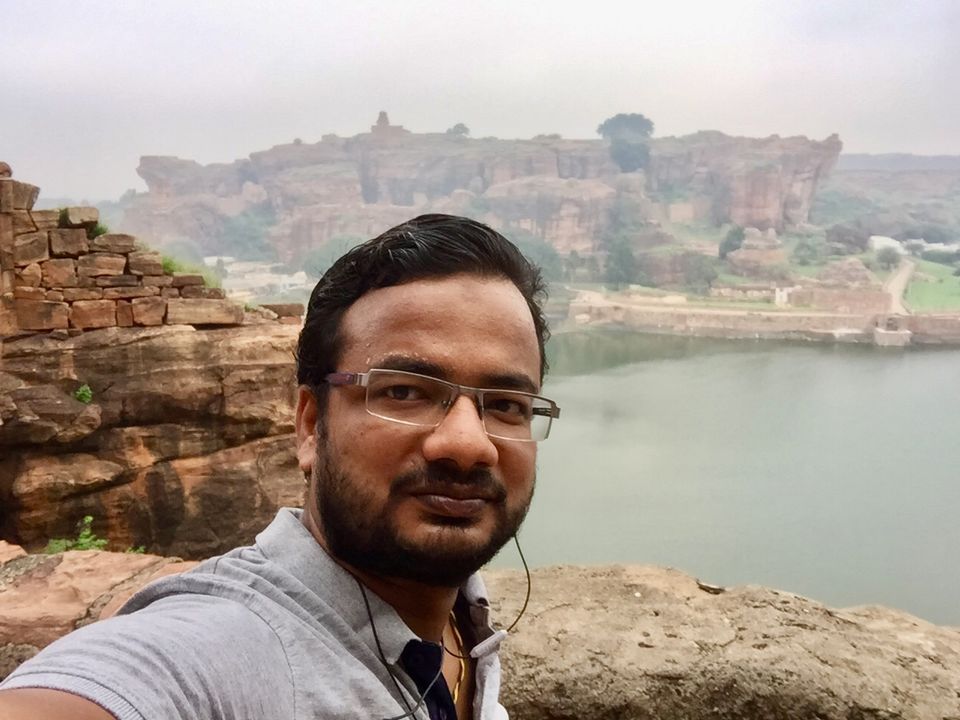 CAVE 4: It is located higher than other caves and is dedicated to Jainism. Here a sculpture of Jain saint Mahavira in seated pose (often mistaken for Buddha)is placed inside a room in the temple and standing Gomatesvara engarved in walls. There are many mini encarving of Mahavir jain neately carved around the big sculptures. Outside of this cave one can see the beautiful view of Agasthya Lake, Bhoothnath temple and upper Shivalaya.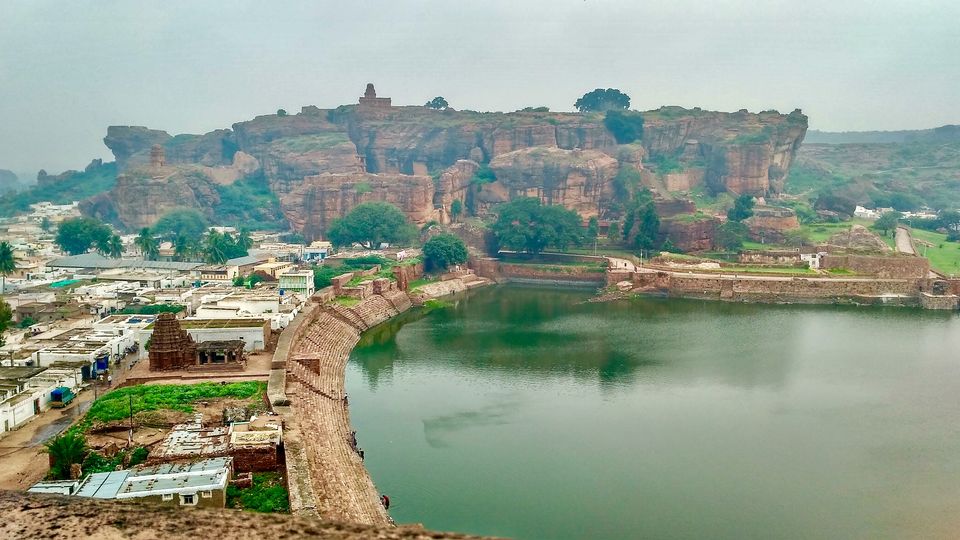 - Visiting Hours and Tickets:
The monuments are opened for the tourists from 6:00am to 6:00pm on all days of the week including public holidays. It takes around two to three hours to visit all the caves as there are many temples and other structures which the tourists can visit.
Tourists have to buy tickets in order to visit the caves. Indian tourists have to pay Rs. 15 per person while foreign nationalities need to pay Rs. 200 per person and Rs. 25 for video camera. Parking fees for bikes was Rs. 10.
* N.B: This is polythene free zone so please keep it litter free, enjoy free wifi ???? and be aware of Monkeys ????.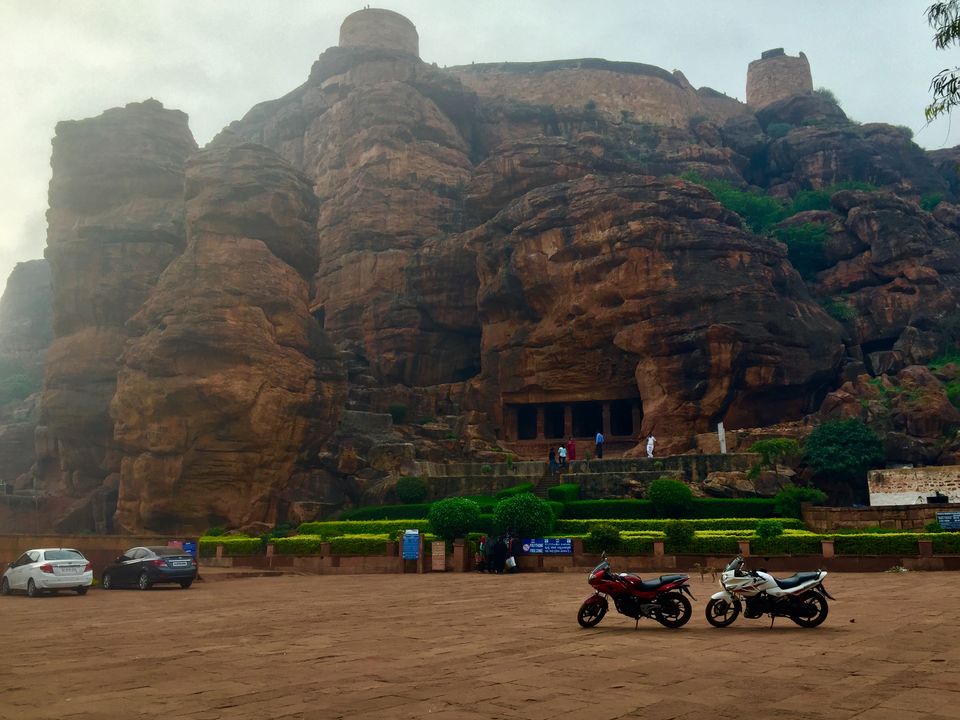 - BANASHANKRI AMMA TEMPLE:
Banashankari Amma Temple is a famous and ancient 7th century temple located in Cholachagudd near Badami, in the Bagalkot district of Karnataka. This is a temple dedicated to Goddess Parvati, the consort of Lord Shiva. There are big Deepa Stamba (lamp tower) built which I found to be attracting including the Garuda Tower. (CAPTURED IN THE VIDEO)
There was a big lake opposite to the temple but was completely dry when I visited. The walk around the lake is brilliantly built like tunnels with pillars and ceilings (captured in the video). The temple is just 5kms away from Badami and I visited this temple twice, once in evening & again in morning while returning back.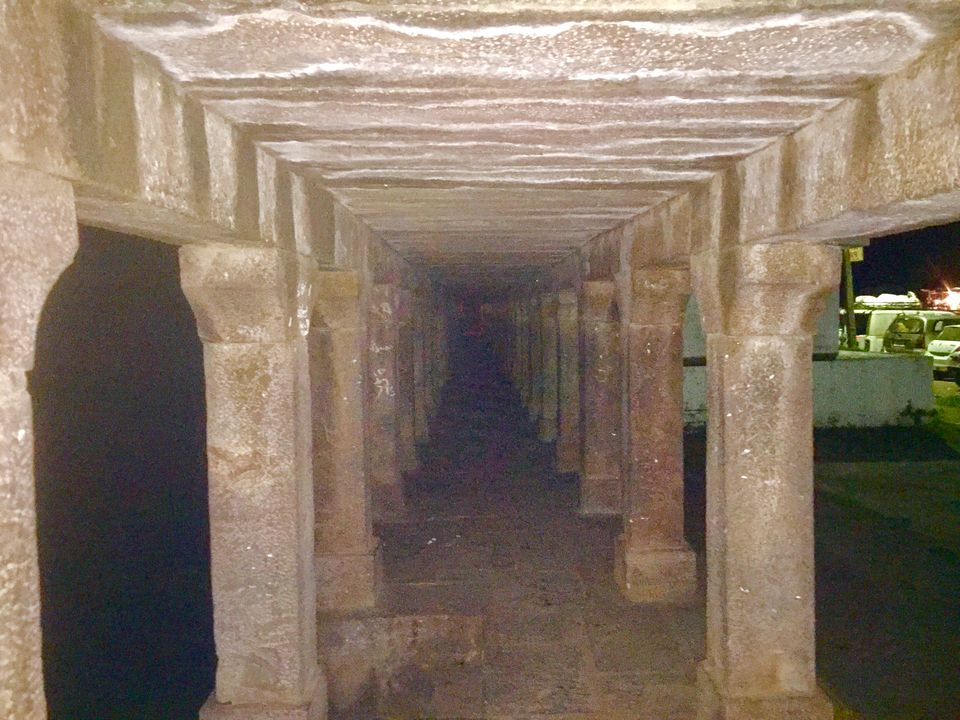 - Stay:
Badami is a small town and there are handful hotels available in the city which include one five-star, three three-stars, two budgeted and six cheap hotels. The list of hotels in the town is as follows −
• Five-Star Hotels
o Krishna Heritage located at Ramdurg Road
• Three-Star Hotels
o Hotel Badami Court located at Station Road
o Clarks Inn Badami located at Veera Pulakeshi Circle
o Badami heritage Resort located at Station Road
• Budget or Two-Star Hotels
o Hotel Rajsangam International located at Station Road
o Hotel Mayura Chalukya located at Ramdurg Road, where I was staying and its recommended.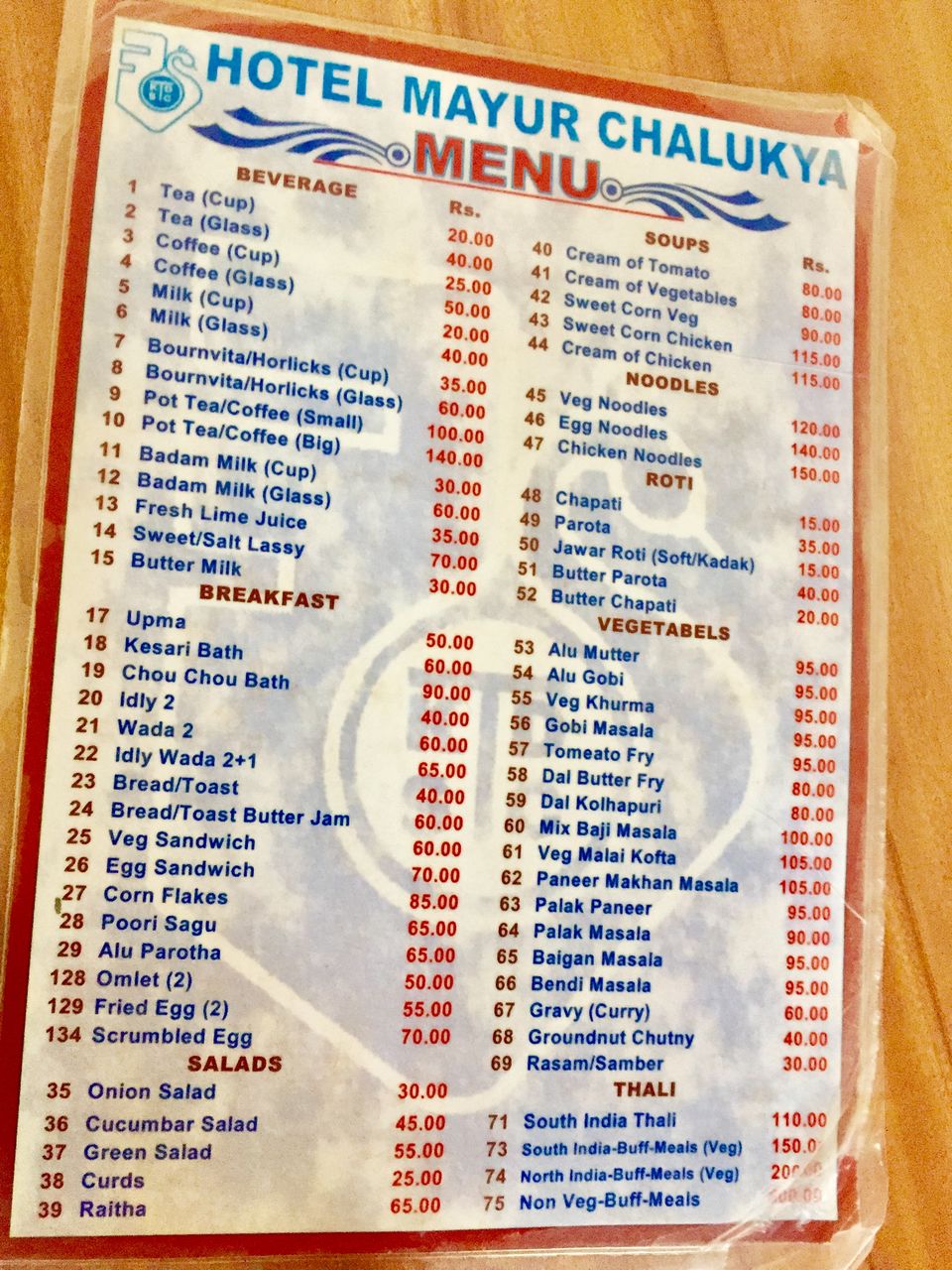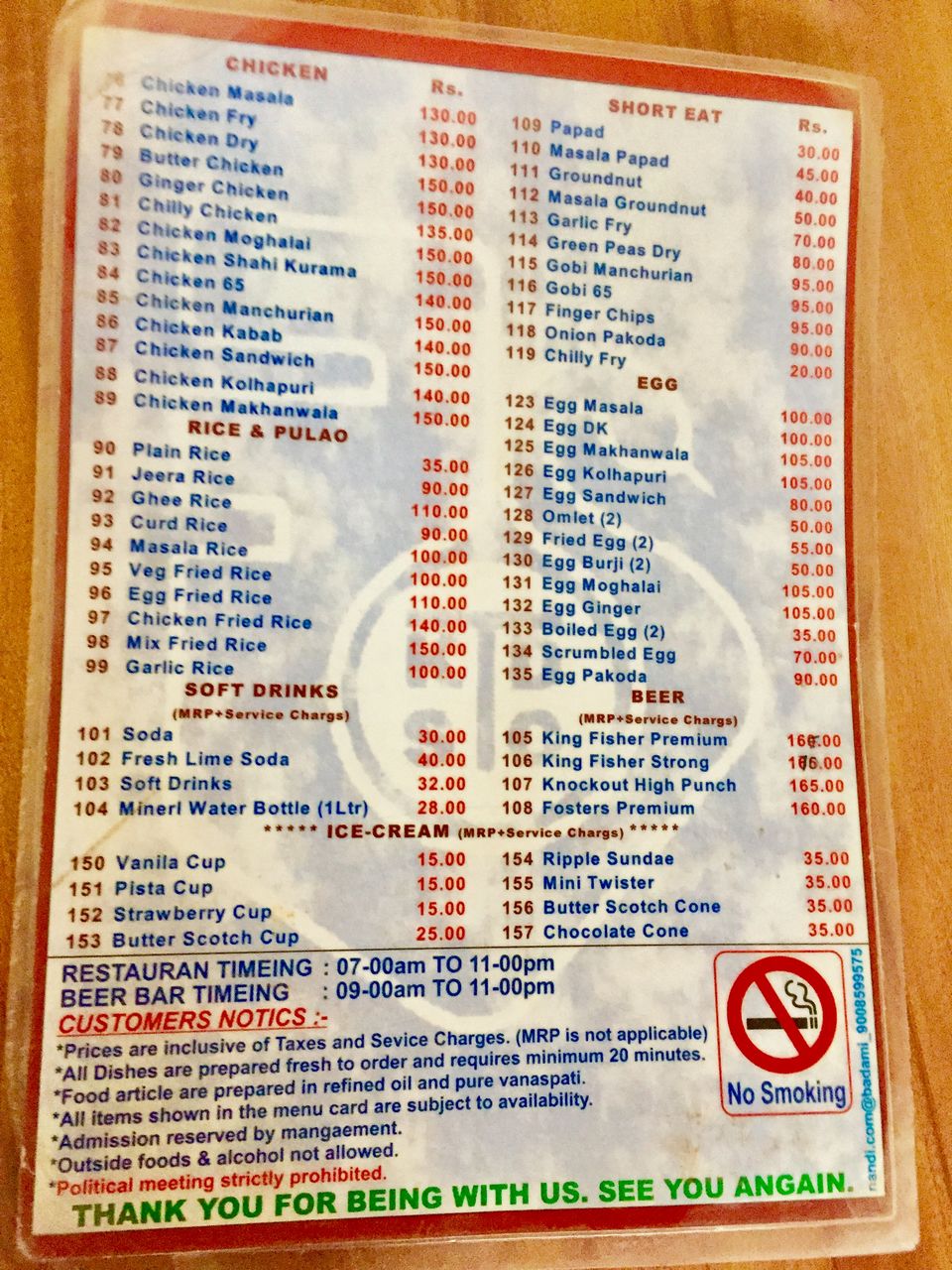 • Cheap Hotels
o Heritage Resorts located at Station Road
o Hotel Sanman Delux Lodge located near Bus Stand
o Hotel Anand Delux located near Bus Stand
o Hotel Mookambika Deluxe located opposite to KSRTC Bus Stand
o Hotel Royal Deluxe Lodge located near Bus Stand
o TG Stays Jamkhandi Road located at Jamkhandi Road