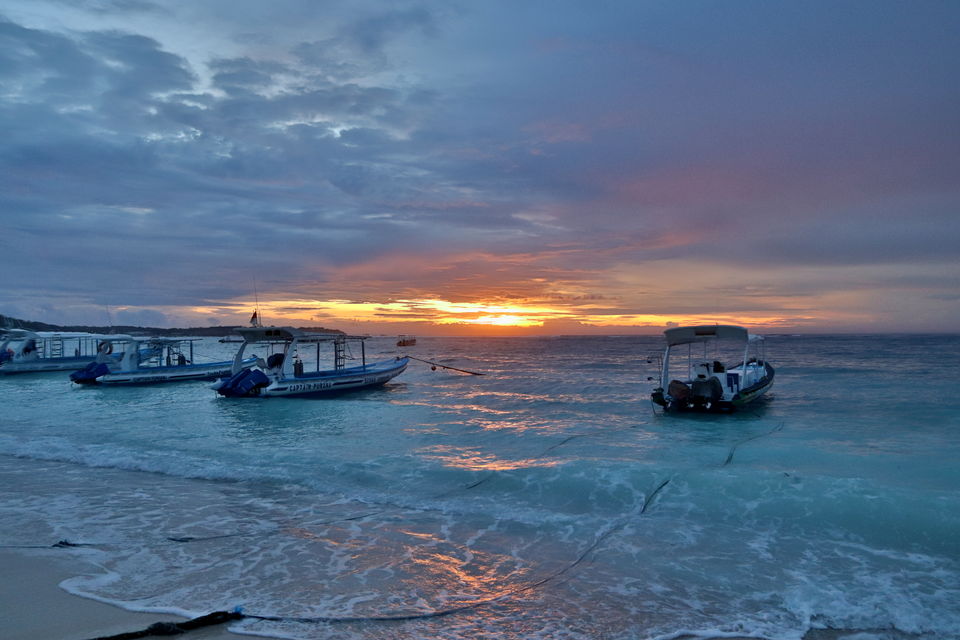 Every year during our anniversary which is in January we plan for a short vacation. So this year we had planned to Bali. Often we are confused whether to select beaches or mountains. Let me tell you, when you select Bali you don't have to worry about that part. In Bali Islands are surrounded with beautiful green mountains and waterfalls as well as we already know its popularity for fabulous and virgin beaches.
So we had started from Bangalore and then a few hours halt in Kuala lumpur and then Bali.
The day we landed in Bali temperature was quiet humid so make sure you dress up light. We had already booked the travels person and he picked us up at the airport and took us to our hotel - Wyandham which was in Kuta right in front of the beach. As we were damn tired after 8 hours of long flight we decided to take a power nap and then explore. We woke up with very loud thundering it was raining so heavily we got a nice reason to have some coffee and relax for sometime in our room. So January is the monsoon in Bali. It rains all around year mostly however Jan , Feb, and March gets the highest rainfall. It rains mostly during evening may be for an hour or two and then everything is back to normal, so make sure to carry umbrella if you are travelling in this season. Its a very relaxing climate a bit humid during the day but it also gets cloudy depends on the place you are visiting, so don't worry if you are planning your Bali trip in Jan. Climate is a very important factor if you are on vacation and exploring or travelling to a new place. So make sure you plan according to your choices.
That evening was spent with Indian food and a nice Bollywood live music that the restaurant had and we ended the evening early as next day we were to start early.
Around 5:30 AM we started to Lovina so that by 6:30 AM we are at the spot where we would be boating to get a view of the gorgeous dolphins and believe me it was a wonderful experience. This was the first time i had seen Dolphins from within earshot. The jolly fishes already had made our day beautiful and energetic and we headed towards Banjara hot water springs our next destination.
After taking a holy dip in the waterfall we went to Git Git waterfalls. Around lunch hours we were at Pura Ulun Danu where we took sometime to enjoy beautiful temple, had lunch by then the weather was cloudy so we clicked some beautiful pictures.
So here is a suggestion guys there are many beautiful waterfalls and beaches in Bali so please plan in advance of which ones you are planning to visit. In this blog of mine you might see some places and few places we have missed so we in before had decided the places we wanted to visit. So yeah, need to list down the places you would like to visit in bali in advance would be a good option.
Our next destination was the Handara gate and on the way we visit botanical garden and a small park where you have different set ups to click pictures for lifetime. Personally we love both love clicking pictures and we made sure to do that so these places are in our life forever. Guys please visit these parks whenever you are in Bali there are many such parks so inform your guide you would like to visit them and make some memories.
Evening on the way back we stopped at the Jatiluwih Rice Terraces where you can watch the paddy fields walk between the paddy fields. The green colors of the paddy fields and blue skies are hypnotizing.
Next morning was quite relaxing as a start after breakfast we went to the beach enjoyed sometime doing surfing and few water sports and headed for lunch. Around after 3 PM we started for sight scenes around the city.
Our first destination was an Abandoned Plane which is placed and now is becoming a popular tourist destination, however as attractive it sounds as per us frankly there is nothing much to do here. I believe they are setting this place up and the construction is still in progress. So if you literally have abundant time you can stop for this place. Else just let it pass. After visiting the Abandoned Plane we were to our next destination Padang Padang Beach and our last destination of the day was to watch the sunset at Uluwatu Temple. Sunsets in Bali are mesmerizing.
So here guys day the next 2 days we spent in Lembongan and Nusa Penida Islands.
From Kuta we took a Ferry to lembongan in the morning and it was around 45mins to 1 hour for us to reach Lembongan. Enjoy the ride as its generally windy in the mid sea and the waves are huge. Spot some flying fishes during this ride ;)
So at lembongan we had booked Lembongan Beach Club and Resort we dropped our luggage here got ourself hydrated with the welcome drinks and started our day trip. These islands are quite hot and humid so make sure you dress light. Lembogan is a small island a day tour is enough time to round about the complete island. So list if places in this island apart from the beaches are suspension bridge, Man-grooves here you have scuba diving options and last destination again a sunset point was Devil's tear - Another beautiful places where you can spend hours looking at the mesmerizing sunset, gushing waves and spotting turtles.
Our next day island hopping was to Nusa Penida and few destinations listed here are broken beach, Kelingking Beach, crystal beach and dream beach and all the beaches are dreamy :D
Next day we were back to Kuta island it was our day rest we spent sometime in pool and then the evening we went to the kuta market and tasted the local beer and food and some souvenirs shopping.
Few more destinations in Bali we visted were Ubud, where you can see a rich cultural heritage of people of Bali, the arts, crafts, the silver and gold market. Spend time in ubud book a stay for a day or 2 to experience the nature and pleasant climate.
We visted few more spots in Bali like Tirta gangga , Tegenungan Waterfall , Ubud King's palace- Campuhan Ridge Walk and again ended the day with SUNSET at TANAH LOT . There are sunset locations in bali which are breath taking and are equally beautiful. Make sure to visit them for sure.
Here we come to and end of our trip the next morning we took our flight back to India via Kualalampur. Hope you guys have a great and safe trip to Bali!