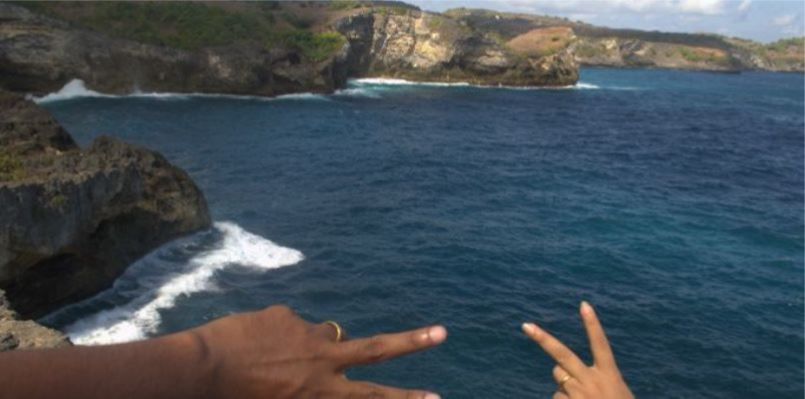 With only a few days of vacation left and a honeymoon to plan we chose Bali because of the visa on arrival privilege for Indian passport holders, a new beach destination to tick off our list and of course the travel time from Bombay to Bali.
Getting there, by Air (I have not ventured into other modes of getting there) - Ngurah Rai International Airport is in the hub of the Indonesian island. We booked our flights using MakeMyTrip and were lucky to get direct flights to Bali via Garuda Indonesia airline - 7hrs 35min from Bombay to Denpasar, Bali. For Indian national visa is on arrival as long as passport is valid for 6 months or more.
Accommodation: this time relied only on Booking.com (referred to Airbnb for options but booked them through Booking.com as Airbnb seems to be notorious wherein most hosts do reservations through multiple portals). We did most of our bookings in advance with payment to avoid carrying cash. The accommodation in Bali is surprisingly cheap and you can find extremely low rents plus breakfast included!
Food, I am all about the food! However almost everything is served with rice so rest assured your trip will end with a Bali-belly! But love the fried pork, the chicken, the beef, the duck and the seafood. To name a few if not all the mouthwatering meals; Nasi goreng, Nasi Campur, the varieties of Sate, gado-gado, spicy sambal, garlic/onion sambal...BABI GULING yumm hmmmm. For the sweet tooth its mostly all made of rice flour, sugar, coconut, fruits; namely pisang rai with ice cream was a good try for me. Alcohol wise try the multiple flavors of the local Bintang Beer (I managed to try the regular, lime & orange flavor; and easily accessible in any mart :)). Coffee lovers can sip on Balinese filter coffee or even splurge on the Luwak "poop" coffee.
Things to do and getting by, very similar to most coastal areas in India with the only add-on being the cleanliness on the beaches and the blue/turquoise color of the sea meeting the horizon. Haggling at local markets & souvenir shops; waterfalls; the steps of rice terraces; nature's furious waves crashing against high cliffs; spotting manta rays, dolphins; and monkeys spotting you! the intricate temple carvings; the slow-paced lifestyle; all adds to a great memory.
Getting by is easy overall - rent motor bikes as easy as it gets because very rarely you will even be asked to show a license before getting the bike keys. You can even use the application GRAB which is very useful in Bali as it is a low fare and comfortable drive. Islands can be hopped across by speed boats.
A few necessary and useful tips:
1) Money exchange - good exchange rate from USD - IDR; get used to seeing a lot of zeros in the IDR currency; ALWAYS exchange your money at authorized exchanges which provide you a receipt, do not be fooled by the deceivingly good rates offered by some small shops who are notorious of duping you by their counting skills.
2) Bad traffic v/s bad roads - I do not know which is worse but to avoid bad traffic travel by 2-wheeler avoid 4-wheeler and to avoid consequences of bad roads travel by 4-wheeler avoid 2-wheeler! :| confused?? yeah read on to know more.
3) Don't forget to try the local cuisines as much as possible. When on the move always carry water / fruits.
4) Do not liter on the roads, forests, beaches or the surrounding.
5) Always refuel you bike or car at the petrol stations, you can save a few bucks as small shops selling fuel will offer their own rates and mostly a few bucks higher than normal.
6) When shopping, ensure to haggle E.g. asking price 100,000 IDR purchased for 20,000 IDR :|
7) Buy a sim card only if necessary. We did not buy one as all our stays had WiFi and hurrah for internet calling. most cab drivers have WhatsApp and you can call them on the same.
8) Install GRAB application; the best option for getting cabs.