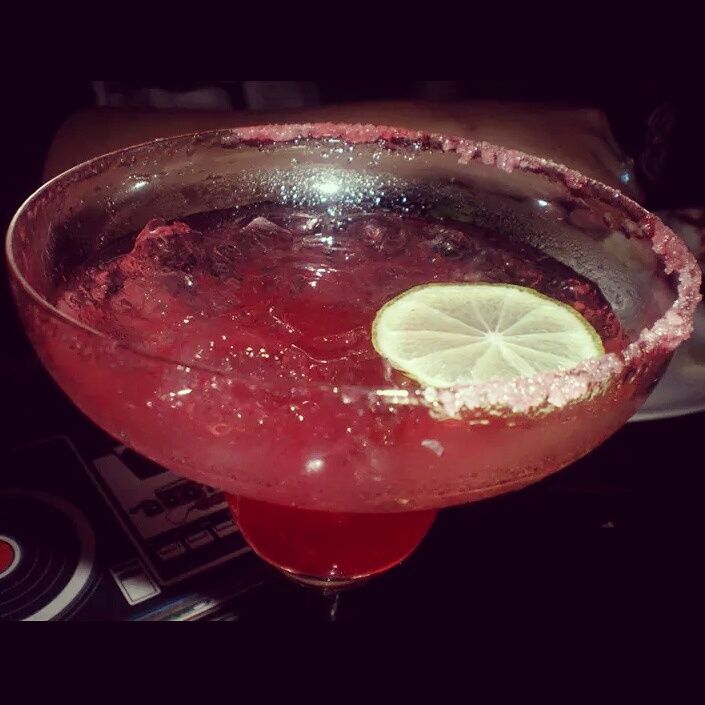 "Drinks, dance, music, conversations with strangers and happy high makes the best of a night."
This article is for all those girls who want to have a fun night (and safe) with all the above stated and that too on a minimum budget. Yes, Saturdays are the best when it comes to party but once try Sunday, for a change.
So, Sunday morning for me and my cousin started with a confusion, as she wanted to go to Summer House or Social and me wanted to go to Raasta (I'm a Happy Hour Lover). We ended up deciding to have a Bar Hopping night i.e not spending more than 1 hour at one place. Sounded tiring and risky but then we decided to give it a try.
With high hopes and bright lipsticks, we started our Bar Hopping session. Here is the list of places we went to and what we ate/drank with expenditure-
1. Raasta
Our first stop had to be Raasta. Situated on the First Floor of the inner alleys in Hauz Khas Village, this is my one of the favourite places in HKV. Drink your night away here girls, as on Sunday it is ladies night in here. So I along with my cousin reached here by 7:30 pm, got our free drinks stamps and to our surprise the place was full. You get 5 free drinks per girl with options of Budweiser, cosmopolitan, mojito, tequila sunrise, screwdriver, Rum & Coke, Blue Lagoon and some other cocktails. They make your drinks in-front of you so you can keep a check on the whether-they-are-diluting-it-or-not part. Enjoy the amazing music and free drinks, also, enjoy all the male attention as giving into the Ladies night, many guys come here too on a Sunday with high hopes (LOL). We availed all our free drinks (in total 10 of them), ordered nachos to munch on, had some tipsy conversations with girls on the next table, paid the bill (Rs.350 in total) and came out happy high. Next stop...Social.
2. Social
So, we entered Social around 9pm, got to know that some indie band is going to perform and the performance is about to start. We ordered two Sangrias (Rs. 700 in total), got ourselves a nice spot near the performance area and enjoyed the band performance. Social, gets really happening around 9 and is at its craziest from 11-12:30pm. We came across a group (with a really cute guy whom I had the eyes for) who started talking to us, we told them about our Bar hopping and that we will be at Summer House by 11:30 and they promised to meet us there to dance the night away. So, with a great night so far we made our way out of Social around 10.
3. Imperfecto
No plan was to go to this place, but on coming out of Social we heard this guy with really amazing voice singing, only to get to know that live performance is going on in Imperfecto. Thus solely on the basis of the startling voice, we headed towards Imperfecto. Ordered a pasta (Rs. 400 in total), sang with the guy to the tunes of "Gulabi aankhien jo teri dekhi", applauded him and left in love with that guys voice (don't even remember his name, thanks to Alcohol). We left from here around 11-11:15.
4. Elmas
I blame Cravings! Cheesecake is a weak point, and Elmas lives upto this weak point of mine. Thanks to all the alcohol, cheesy food and night going great, I had a pang of cheesecake craving and thus a detour (not really a detour as we were 20 some steps away from Elmas) was taken. As fast as we could, we ordered a new york cheesecake, I managed to charge my phone from 9% till 14% and then we hurried our way to Summer House Cafe.
p.s Elmas is becoming expensive day by day, paying Rs.350 for a cheesecake slice didn't seem worth at all.
5. Summer House Cafe, Aurobindo Market
We reached Summer House by 11:40pm. Summer House cafe is a very lively place. Great music, amazing crowd and fun atmosphere, once you are in here you should know that you are going to have a good time. This is one place where you bump into someone or anyone you know. Its so famous now. So, me and my cousin reached Summer House and went straight to the bar and had last drinks for the night! We ordered ourselves a glass of whiskey each (Rs. 500 in total) and then just took a nice spot to sit. Basically, Summer House Cafe on Sundays have salsa/couples dance night but do not be disheartened if you are singe because there are many single guys also there who are courteous enough to ask a girl for a dance (after analyzing all the risk assessment). So after a dance or two with random guys (do not go on the orthodox line of thinking of them as some creeps because that is not the case, IT IS JUST A DANCE even for them) to our surprise the group we met in Social showed up. And then we group danced till the wee hours.
Finally me and my cousin booked a cab (yaay OLA!) and then headed home around 12:30AM.
So all in all it was actually an amazing night and since then, I have done Bar hopping many times with friends and also suggest the same, it is fun, not at all monotonous plus you are on your tips all the time and with every new bar you come across a new environment, new music, new festivities and set of people giving you that rush of exhilaration. Much recommended.
In all we spent a total of Rs. 1100-1200 per person. So that was the best part. Lol.