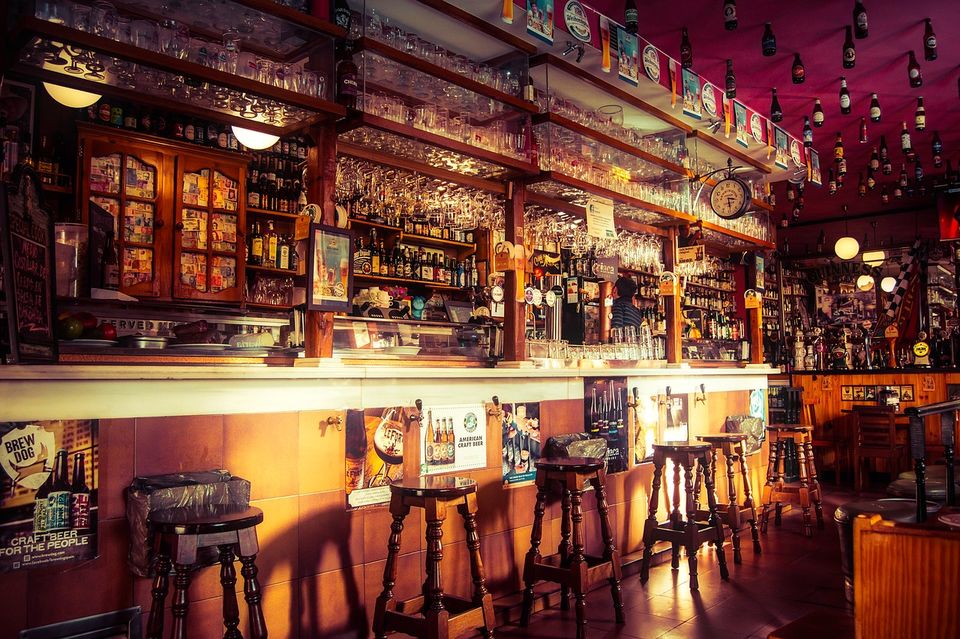 If there's anything that we Indians love more than our films and politics, it has to be the game of cricket. What is just another sport in other parts of the world, is an emotion for more than a billion Indians—an emotion that unites us all.
The country is gearing up to immerse itself in the colours of their favourite teams as Indian cricket's biggest carnival, the Indian Premier League (IPL) is just round the corner. Much like the previous years, teams from different parts of the country will battle it out for more than 45 days to take home the coveted trophy. And there just can't be any better way to enjoy these nail biting moments than to do it with your squad. Delhi peeps, get down to making those plans already because our favourite bars are putting up their screens and rolling out those deals for you!
Here are Delhi NCR's 10 best bars you should head to for a memorable evening of cricket:
Backed by cricket's very own Little Master Sachin Tendulkar, Smaaash has, in a short span of time, emerged as a brand that defines sports dining in India. With branches all around the country, Smaaash boasts of bowling alleys, Augmented Reality (AR) games, Virtual Reality (VR) games, sports simulators amongst others to keep the action going. A well stocked bar and an impressive food menu only adds to making Vasant Kunj's Smaaash one of the best places to watch the IPL on the big screen this year. Go ahead, take your family out because there's something for everyone here!
Cost: ₹1,500 for two (approx.)
Cuisine: Bar bites, North Indian
Standout dishes: Chakhna platter, loaded nachos, crispy orient chicken with peppers, margherita pizza
Timings and location: 12:30PM to 12AM; Ambience Mall, Vasant Kunj, New Delhi
Contact: 08800558477
Easily one of the most underrated gems in Delhi's Connaught Place, Smoke On Water has everything a cricket fanatic can ask for. The grunge-themed place has huge projector screens apart from private television screens for almost every table. What's even better is that the staff brings out a special IPL menu every year during the cricket season which has some crazy steal deals and lovely Tex-Mex food. Oh, and did we tell you that they actually have beer taps on their tables—isn't this what beer lovers dream of?
Cost: ₹1,600 for two (approx.)
Cuisine: American, Continental, Tex-Mex
Standout dishes: Loaded fries with beer cheese sauce, classic cheese burger, Jack Daniel's wings, New York cheesecake
Timings and location: 12PM to 12AM; D-26, Connaught Place, New Delhi
Contact: 011-30806591
Whether it be their whacky style of serving food or crazy concoctions of spirits, Social just doesn't get it wrong. Located in the heart of Delhi's Hauz Khas Village, Social Offline has for years been attracting remote workers, party freaks, food enthusiasts and sports lovers alike. The sprawling restaurant puts up huge screens every year to bring in the IPL fever and further celebrates it with special deals. And the best part is that since you'll already be at the city's favourite place to dance the night away, you won't even have to worry about a kickass afterparty!
Cost: ₹1,500 for two (approx.)
Cuisine: Continental, American, Asian, North Indian
Standout dishes: Butter garlic chilli momos, vada pao bao, fish and chips burger, Old Monk cassatta sundae
Timings and location: 11AM to 1AM; 9-A & 12, Hauz Khas Village, New Delhi
Contact: 07838652814
An in-house cricket themed bar in Gurugram's Galaxy Hotel, Howzatt is the ultimate joint for an evening with your buddies over a game of cricket. India's first cricket-themed pub and brewery, Howzatt provides the ideal environment to enjoy IPL this summer while you beat the heat with their signature home brewed beers. And if you happen to be in the mood to experiment, they also have an interesting selection of cocktails named after cricketing terms.
Cost: ₹2,5000 for two (approx.)
Cuisine: Finger food, European
Standout dishes: Kerala fish fry, pan seared vegetable shami kebab, grilled chicken sandwich, falafel roll
Timings and location: 1PM to 12AM; The Galaxy Hotel, Sector 15, Gurugram
Contact: 09911574551
Bowling alleys, cricket simulators, foosball tables, pool and snooker and even a mechanical bull—Yes Minister offers what is undoubtedly Delhi's most authentic sports bar experience. To add to that, the bar and kitchen regularly hosts screenings for all major sporting events and even opens up its doors for gaming tournaments. The icing on the cake is that you get to enjoy all of that with some delicious food and killer deals on ice cold beers!
Cost: ₹2,000 for two (approx.)
Cuisine: Mediterranean, Continental, Italian
Standout dishes: Roasted garlic hummus, peri peri barbecue chicken, mushroom penne pasta, banana split sundae
Timings and location: 12PM to 12:30AM; Essex Farms, 4, Adchini, New Delhi
Contact: 09711495495
Living up to the high standards set by the ITC group of hotels, Delhi Pavilion is the best place in town if you want to go all out and treat yourself over a game of cricket. A sports bar set inside Delhi's famed ITC Sheraton hotel, Delhi Pavilion offers guests an unmatched sporting experience, round the clock, all 365 days a year! The upscale sports bar also brings the best of world cuisine, making for a truly unique palate to go along with your drinks and live cricket action.
Cost: ₹3,500 for two (approx.)
Cuisine: North Indian, Continental, Asian
Standout dishes: Dilli nihari khas, punjabi kadhi, prawns in hot garlic sauce, white chocolate cheesecake
Timings and location: Open 24 hours; Sheraton New Delhi Hotel, District Centre, Saket, New Delhi
Contact: 011-42661230
After dominating Mumbai's nightlife for quite some time, The Irish House has now come to Noida to light up your weekend plans this summer. The contemporary bar, with its handpicked selection of beers from around the world, is a complete treat to people who take their beers seriously. One can also choose from a range of cocktails and spirits to sip on while enjoying their favourite sports. The bar is well equipped with screens and a killer music setup to ensure that there's absolutely nothing that comes between you and cricket this summer!
Cost: ₹2,000 for two (approx.)
Cuisine: European, American
Standout dishes: Drunk meatballs, grande nachos, Irish House chicken burger, beer can roast chicken
Timings and location: 12PM to 11:30PM; DLF Mall Of India, Sector 18, Noida
Contact: 0120-6209850
If you're someone who enjoys their food as much as cricket, drop everything and head to Themis Barbecue House with your squad right away! With a beautiful outdoor seating area which makes for a great setting to enjoy a game of cricket, Themis does authentic North Indian cuisine with great aplomb. The restaurant offers massive lunch and dinner buffet spreads which include exciting starters, extravagant main course delicacies and indulgent desserts. Themis also boasts of a well-stocked bar, making it the perfect hidden gem in Delhi's nightlife.
Cost: ₹1,400 for two (approx.)
Cuisine: North Indian, Chinese
Standout dishes: Chilli chicken, chilli garlic noodles, paneer tikka, gulab jamun
Timings and location: 11:30AM to 5PM and 6:30PM to 12AM; Shop 251, 2nd Floor, Above Stanmax Aggarwal Millennium Tower 1, Netaji Subhash Place, New Delhi
Contact: 011-33107689
If you're a Delhiite who's never gotten drunk and made merry at a My Bar, you're doing it wrong! A local institution of sorts, My Bar's Headquarter branch in Connaught Place is just the ideal place to head to, this cricket season if you're facing the month-end blues. With moderately priced liquor and an unmissable vibe, My Bar is a favourite amongst youngsters looking for pocket-friendly places to hang out. What's even better is that, to go with the sports screenings, this one also has crazy live music every single day ensuring that you get the best of both worlds.
Cost: ₹1,000 for two (approx.)
Cuisine: North Indian, Mughlai, Chinese
Standout dishes: Honey chilli potato, My Bar fresh garden pizza, tandoori chicken, dahi kebab
Timings and location: 11AM to 1AM; N-49, 2nd Floor, Connaught Place, New Delhi
Contact: 09999922068
Yet another underrated gem, Take Off Scarlet (TOS) is a bar that every well-informed West Delhiite will swear by! Located right in the heart of Punjabi Bagh, TOS offers gorgeous indoors as well as outdoor settings that are well equipped with huge projector screens. The restaurant also serves some lip-smacking North Indian food, heady cocktails and a decent variety of sheeshas. If you're willing to go off the beaten track and try something new, TOS definitely deserves a shot!
Cost: ₹1,200 for two (approx.)
Cuisine: North Indian, Chinese, Continental
Standout dishes: Caesar salad, chatpata mushroom, paneer lababdar, classic fish and chips
Timings and location: 12:30PM to 12:30AM; 13-C, North West Avenue, Club Road, Punjabi Bagh, New Delhi
Contact: 011-33106083
Share your travel stories with the Tripoto Community by writing in here. And while you're at it, make sure you head to our YouTube channel for some killer travel videos from all over the world.
Frequent Searches Leading To This Page:-
sports bar's in delhi, sports match in bar's of delhi, Ipl Live Screening Bars In Delhi, Best Sports Bars In Delhi, delhi cafes with sports match