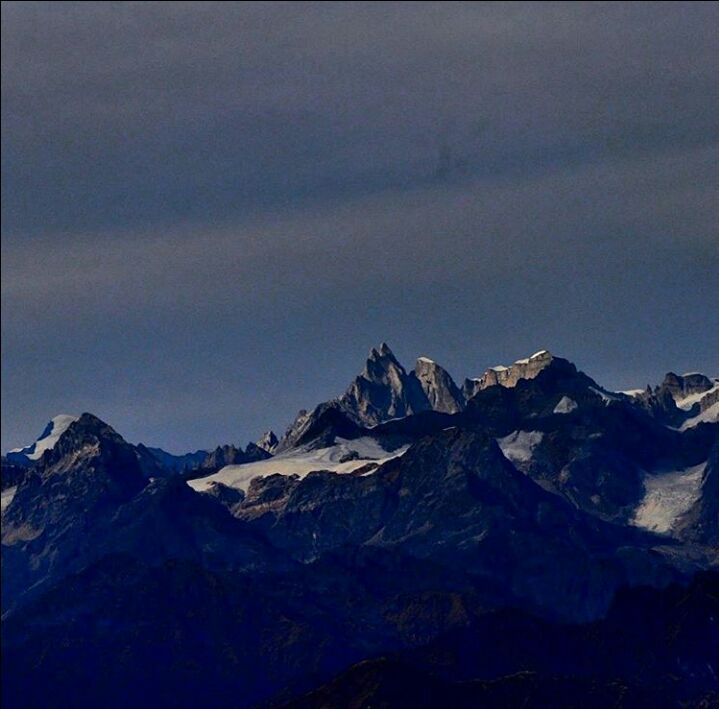 Chopta-Tungnath-Chandrashila
Given the state of social media to share and promote anything in plain sight, it's very unlikely that you haven't heard of Chandrashila. In case you haven't, it's time to get out from under the proverbial rock and summit the actual one – 'Moon Rock', aka Chandrashila. Chopta (Uttarakhand) is a popular ground for weekend campers and surely, you must have heard of it. The trek to Tungnath, a famous religious shrine (one of the Panch Kedar), begins from here. Chandrashila summit is further up from Tungnath.

Initiation into the world of Himalaya
When you're trekking for the first time, the vistas that surround you do you a lot of good. It may be slightly on the selfish side, but when you know you are surrounded by snowy giants, some of India's highest peaks, you start taking the entire exercise like a sport. More so when you know the view will only get better after each step, right until your very last at the summit, which will open up a completely new world of the Himalaya on the north-eastern skyline. Nowhere else on any trek do you get to see them all: left, right and centre, and up, close and personal. It's time to live the geography you read in school and get acquainted with these giants on a first-name basis. Here are a few:
Jaonli, Gangotri, Jogin, Thalaysagar, Bhartekunte, Rock Tower, Kedarnath, Kedar Dome, Sumeru, Kharchkund, Yeonbuk, Bhagirathi, Mandani, Satopanth, Swachhand, Janhukut, Chaukhamba, Balakun, Hathi-Ghodi Parbat, Barmal, Gorur, Tirsuli, Hardeol, Dunagiri, Nanda Devi, Nanda Ghunti and Trisul.
Season and Weather May Apply
The Trek Distance
From Chopta to Chandrashila, the distance is approximately 5.5 km and if you start early, you can return to Chopta by the evening. The first 4 km till Tungnath is a gradual yet easy ascent. The path is paved and straight forward. Call it prepping up for the real thing. Because after Tungnath is where you really get into the scheme of things. The paved path ends and gives way to a broken trail that will lead you to Chandrashila. Although it's steeper and more challenging, it's hard to miss. Follow it and you will be absolutely fine. Be wary of the altitude sickness that might creep in; Tungnath is the highest Shiva Temple in the world at a little over 12,000 ft. and Chandrashila at around 13,000 ft.
Take it easy and pace yourself. It's not a race.
Water, Food and Refreshments
From where the trek starts to Tungnath, you will find small dhaba-like shacks that appear at regular intervals and offer food, water, cold drinks, juices, milk and packaged junk. You are pretty much sorted there. However, if the temple of Tungnath is closed for the winter, you will find most of these shacks closed, save for a few at the starting point. It is advised that you have a hearty breakfast there, get some packed for the way, and carry enough water to stay hydrated through the day.
Bhujgali Bugyal. Less than 1 km after starting the trek. A stopover for food, water and refreshments.
Accommodation
If you prefer camping, you can either pitch up your own tent or ask the roadside shacks to pitch one up for you. The rates for the rooms and tents are more or less the same, depending on the season and number of tourists present there on that day, which is anywhere between 400-800 per person. You can also trek to the temple and pitch a tent nearby or stay indoors; there are a few lodges surrounding the temple premises.
Although this is an all season trek, it should not be done without professional help from the guide or without proper equipments in the harsh winter when snow nearly covers the entire path, making it riskier to find a path on your own.