It had been on my mind to go on a trek/hiking trip for some time now. So instead of going to some place 'nice', roaming around in rented vehicles, do sightseeing [do nothing & just relax], we decided to have an actual adventure trip where we would be put out of our comfort zones. Although we had trekked to a few forts close to Pune, the ones in the Himalayan region are more demanding and so we decided to go for a beginner's trek. Amongst the ones for easy-moderate level difficulty are the ones to Hampta Pass, Beaskund, Parashar Lake, Kedarkanth,Chopta etc of which we chose the one to Chopta-Tungnath-Chandrashila. It offers a good 4 day trek which includes hiking from the serene village of Sari to Chopta and a trek to the height of close to 13000 feet, which provided a sufficient condition for us to go ahead for the same.
The one to Chopta-Tungnath is an all year round trek (except monsoon), although it is more picturesque in the winter with the snowfall. It is actually considered as one of the easiest treks in the Garwal region of the Himalayas.
Day 1: The journey for Chopta Tungnath trek starts from Sari village, which is a 6-7 hours drive from Haridwar. We left for Sari at around 9 am from Haridwar. Sari lies between Ukhimath and Chopta, near Deoria Tal. The height of Sari is around 6500 feet. This is also the base camp for Deoria Tal. Also you will not find any ATMs or much amenities here. It is better to get those while travelling to Sari. Sari gives us a scenic view of many of the mountain peaks. We reached Sari at around 6:30 in the evening and decided to climb to Deoria Tal the same day, or rather night. Deoria Tal is around 3 km from Sari. The trek took us around 2 hours to reach to there( which was a bit more than required); to our defense, it was pitch dark around. On reaching the base camp @ Deoria Tal, we retired for the day.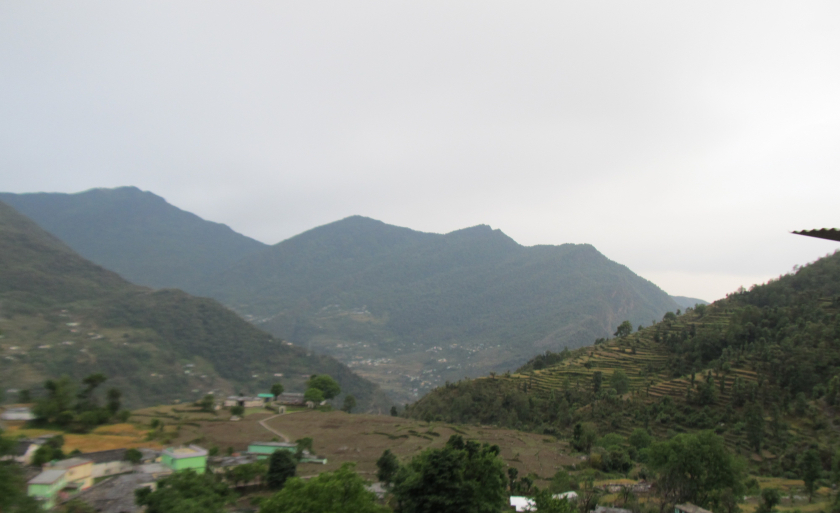 Day 2: Day 2 began early. Deoria Tal is at a height of close to 7800 ft. The mountain peaks of Chaukhamba, Nilkantha, Bandarpunch, Kedar Range, and Kalanag are visible from here. The only word that comes to mind at this place is serenity. One can see the reflection of the majestic 'Chaukhamba' in the crystal clear waters of the lake. The 'Tal' or lake is surrounded by woods around. One can go around the campsite and explore the trails around. Also there's a watch tower close to the lake that gives you grand views of the surrounding mountains. There are a few mythological stories that go around this lake, one of them being that the gods bathed in this lake. One of the facts shared by our guide was that the depth of this lake has not been measured till date. Having our breakfast, we started our journey towards Chopta -India's very own Switzerland.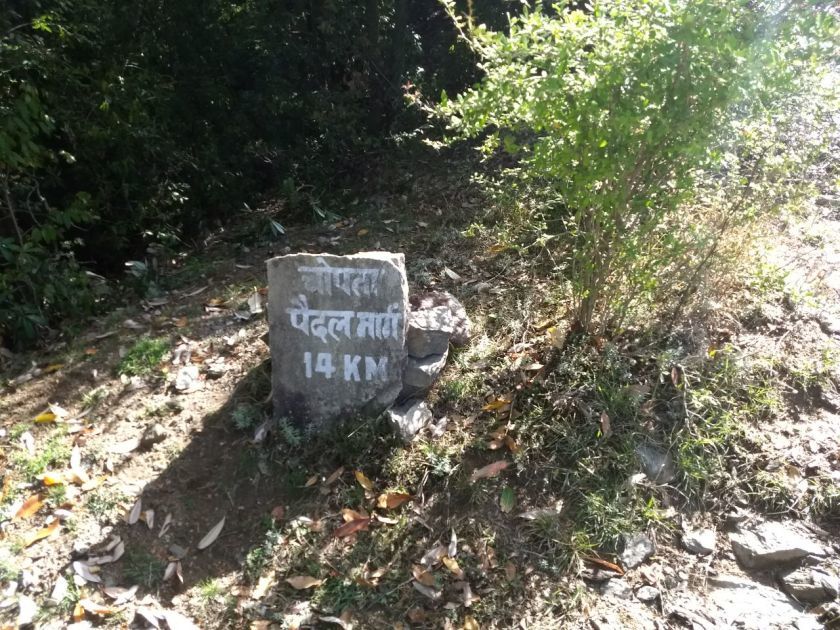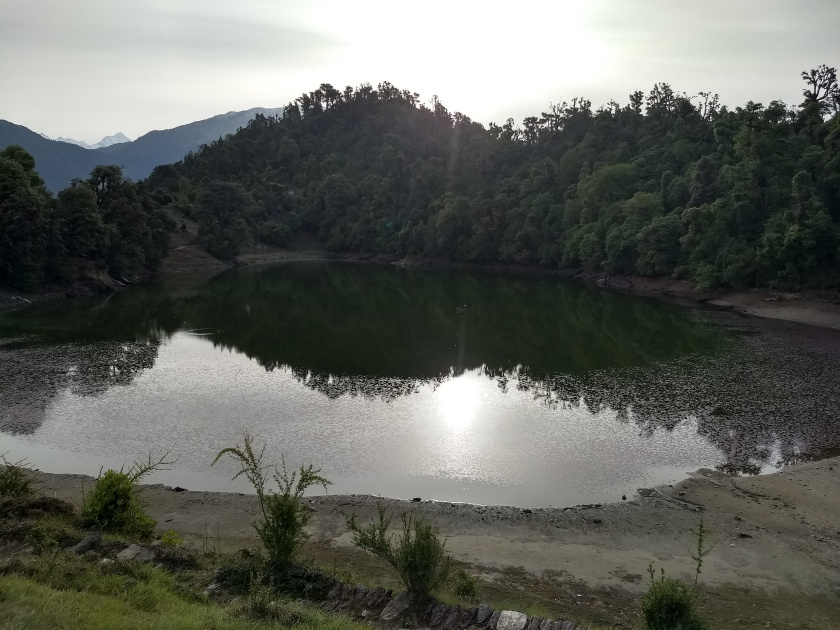 The distance from Deoria Tal to Chopta is of 14 kms which takes around 7-8 hours. We traverse from an altitude of7,841 ft (2,390 m) to 8,790 ft (2,679 m) in this trek. The route covers all the aspects of a nature hike. The route to Chopta covers ascents and descents, 20-30 min each so better to carry enough water [and some protein bars]. Also the trek gradient is moderate. The forest trail is full of rhododendron and maple trees, with the Kedar and Chaukhamba peaks visible every now and then. Along the trail you will reach a small meadow Rohini Bugyal, from where the Kala parvat is visible. As we go along, the trail takes us to Akash Kamini, a small river coming from Chandrashila. You can have lunch here and have your bottles refilled. The water is cold here, and so is the wind. From here the trail ascends gradually. After crossing a small meadow, the forest trail leads onto a road ahead. From here the Chopta base is a km away.
We reached Chopta village at around 4:30 in the evening. You can find small restaurants and eateries around, with some of them offering a dorm service as well.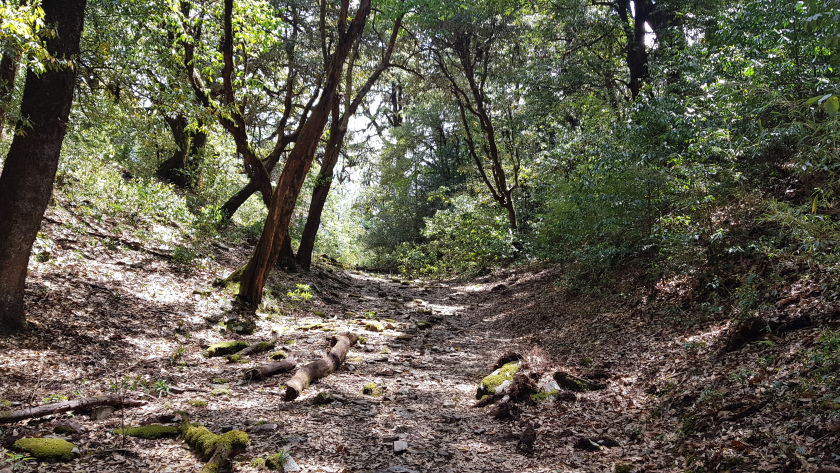 Day 3: It is advisable to start the trek for Tungnath-Chandrashila as early as possible, so that one can capture the beautiful Sunrise over Tungnath and Chandrashila peak. We ascend from 8800 ft at Chopta to 12000 ft while climbing to Tungnath, while Chandrashila requires another steep climb of about an hour from the Tungnath Temple. Chandrashila is @ an altitude of 13400 ft. It is advisable to first climb to Chandrashila and then visit the temple on the return journey.
Tungnath temple is the third of the Panch Kedars and the highest Shiva Temple in the world. There are many legends associated with this temple from the Mahabharata. The views on your left while climbing to Tungnath are incredible. It is advisable to carry water as there are no sources around the trek. Once you reach the base of temple, there are a couple of shops which offer tea and snacks.
The climb from Tungnath to Chandrashila is close 800 ft ascent and is a very steep climb. The climb up to the summit takes about 45-60 minutes from the temple. Once you reach the summit, you get a 360 degree view of the mountains of Garhwal and Kumaon. For someone with an eye for photography, Chandrashila summit provides a beautiful landscape. This peak provides breathtaking views of the Himalayas, including Nandadevi, Trisul, Kedar Peak, Bandarpunch and Chaukhamba peaks.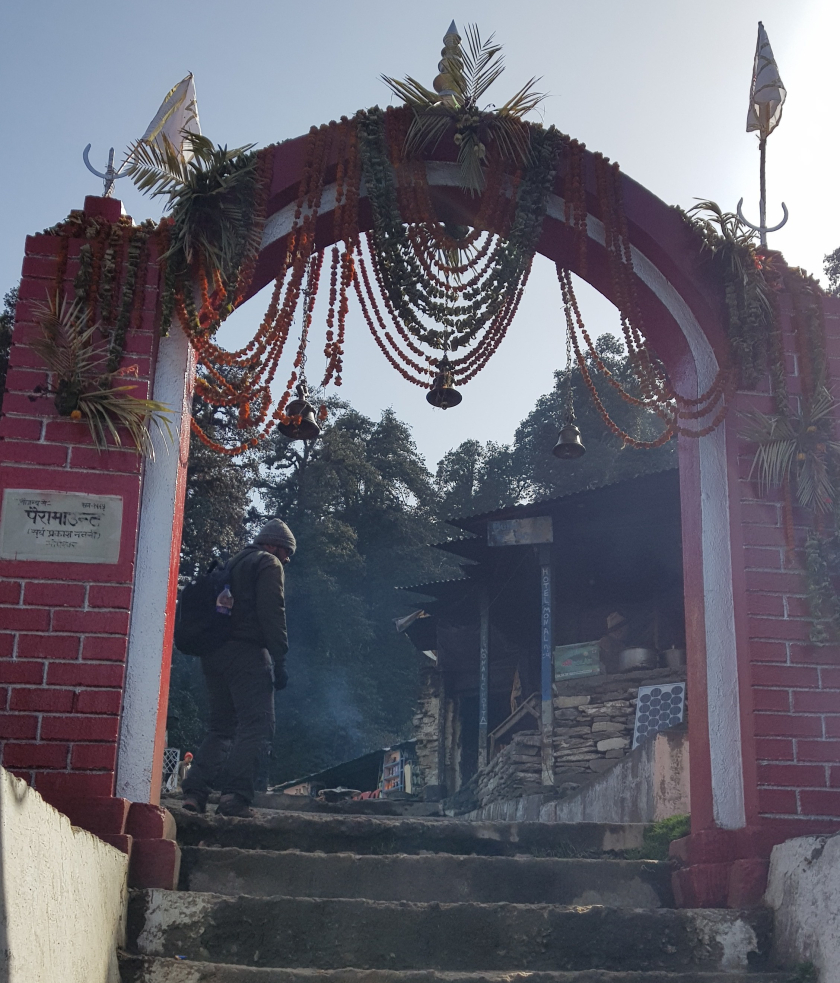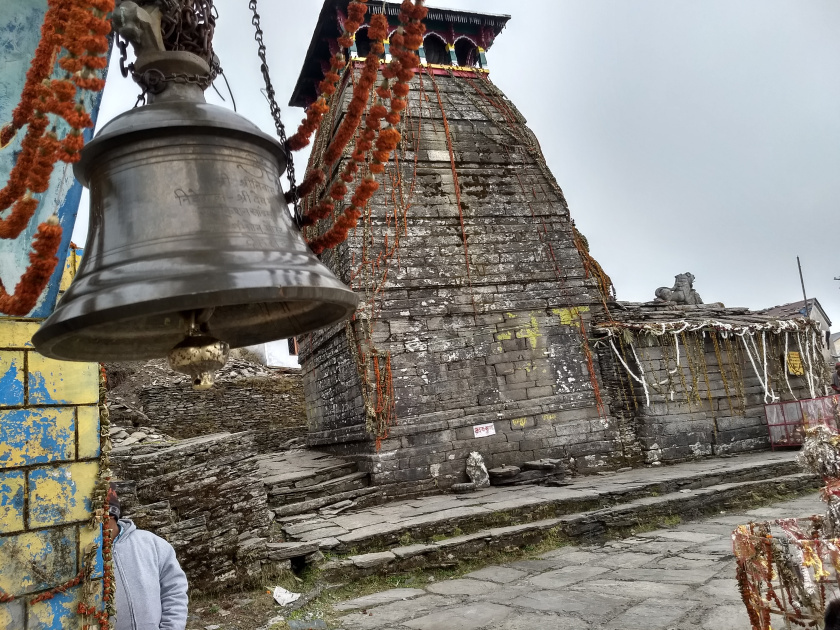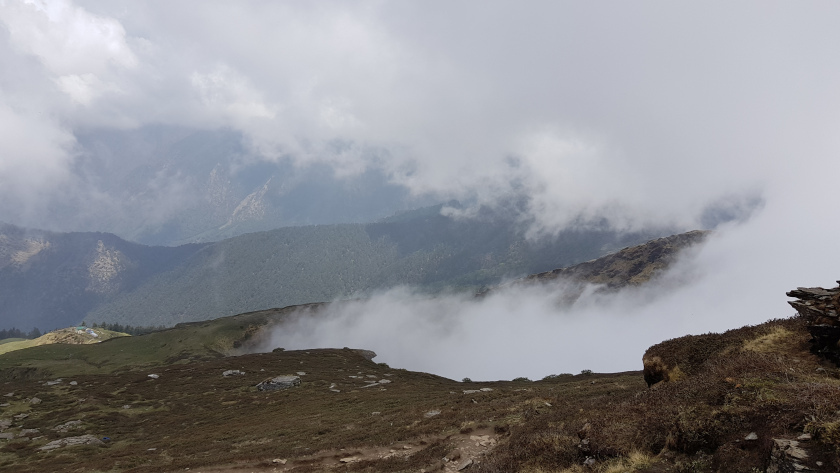 The total trek distance is around 8-9 kms from Chopta to the Chandrashila peak and takes about 4-5 hours.
Having completed our 'beginner's trek' by the third day, we had another 3 days at our disposal. Applying all the possible permutations-combinations of time, money and energy, we decided to further our journey to Badrinath and then return to Haridwar covering Rudraprayag ,Devprayag and Rishikesh on our way back.
Day 4: The distance from Chopta to Badrinath is about 180 kms and takes around 6-7 hours via cab.We left for Badrinath in the wee hours of the day and our efficient cab driver ensured that we reached our destination by noon. En route Badrinath, you can visit Joshimath as well. Joshimath is one of the four monastries established by Adi Shankara. It is also a gateway to several Himalayan mountain climbing expeditions.
Badrinath is a holy town and one of the 'Char Dhams' of Hindu pilgrimage. You can find many options for accommodation with Dharamshalas and small hotels ranging from Rs 500/night to 3000/night. Alongwith the temple, there are few places close to Badrinath that are tourist attractions as well. First (and last) of them being the Mana village.
Mana Village - About 3 kms away, Mana is the last village before the Mana Pass.It is 24 kilometres from the border of India and Tibet. There are shared cabs available, alongwith a guide to tour the village. It takes about 20 minutes to reach there. In the village, there are two caves namely "Vyas Gufa" and "Ganesh Gufa". As per legend, it is believed that Maharshi Vyas composed and dictated the epic Mahabharata from this place. Both caves have the respective deities. Going further, we get to see the Saraswati river ,the Bhim Pul and the Saraswati temple.
Legend states that Saraswati was making too much noise with its gurgling flow and it was disturbing Vyasa to focus on Mahabharata, so he cursed her to disappear from Mana. Hence she disappeared. Saraswati originates out of a rock and glides through the rocks down to join Alakananda river after 100-150 mts.
Further we can see that there are two rocks forming a kind of bridge. Legend goes that when Pandavas were walking towards Swargarohan(pathway to heaven), Draupadi could not cross the river. Then Bhima lifted and placed a rock to create a bridge for Draupadi to walk. It is called as Bhima's bridge(Bhim pul). There are markings on the rock indicating Bhima's fingerprints. Going further the Saraswati temple is the route for Satopanth Lake trek.
Post the sightseeing and having tea at the " Bharat ki aakhri chai ki dukan ", we returned to Badrinath to get into the queue for Darshan, which roughly takes around 3-4 hours.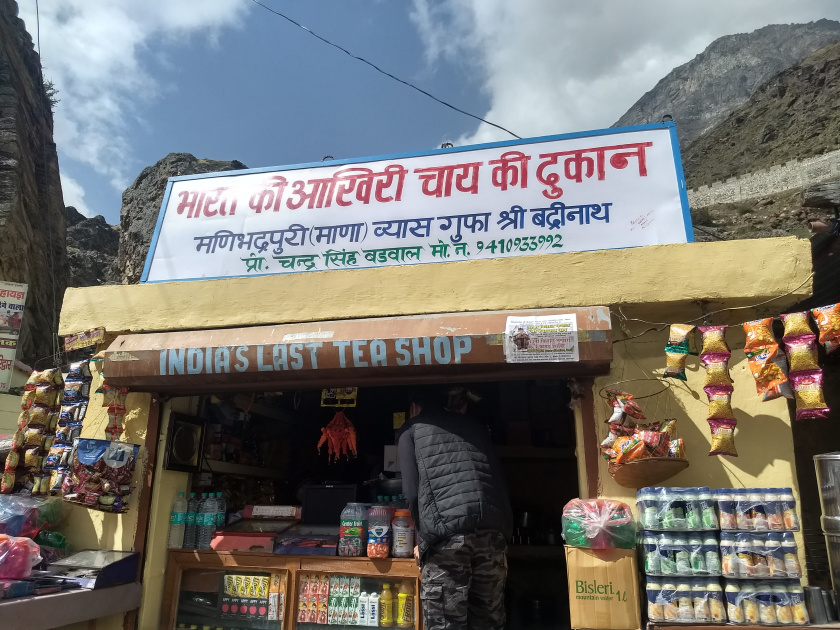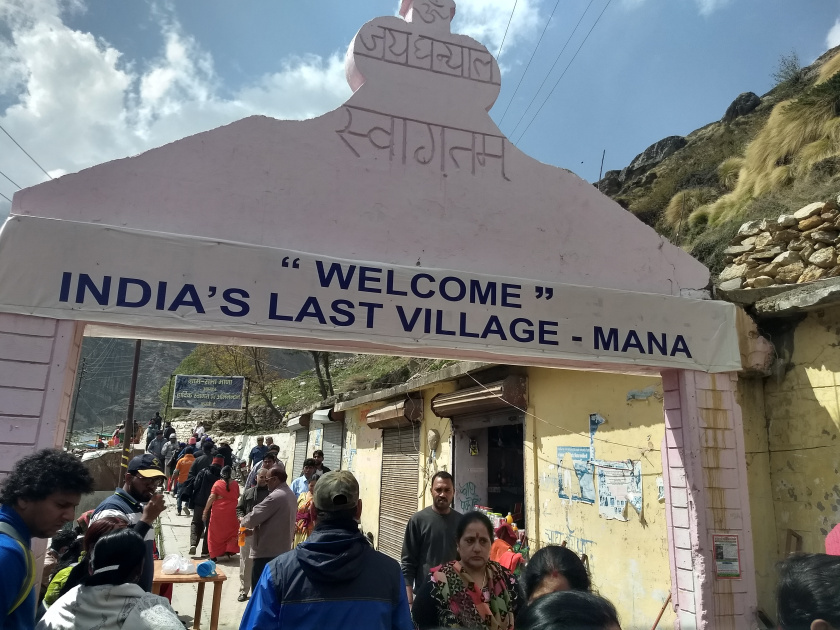 Day 5: We started for our return journey to Haridwar planning to cover Devprayag, Rudraprayag and Rishikesh en route. First in the line is Rudraprayag, which is about 160 km from Badrinath. There are two options available to reach Rudraprayag - state transport buses and private cabs. The buses start as early as 4:30 in the morning. Seats are filled mostly on first come first served basis. The bus ticket costs around 250 bucks, while the private cab may cost around 7k-8k. We decided to take the economic route with the state transport bus[ which made sure we were uncomfortable throughout the journey in every sense of the word].
We reached Rudraprayag by noon. Rudraprayag is one of the Panch Prayag (five confluences) of Alaknanda River,the point of confluence of rivers Alaknanda and Mandakini. There are a few temples located in nearby locality to visit.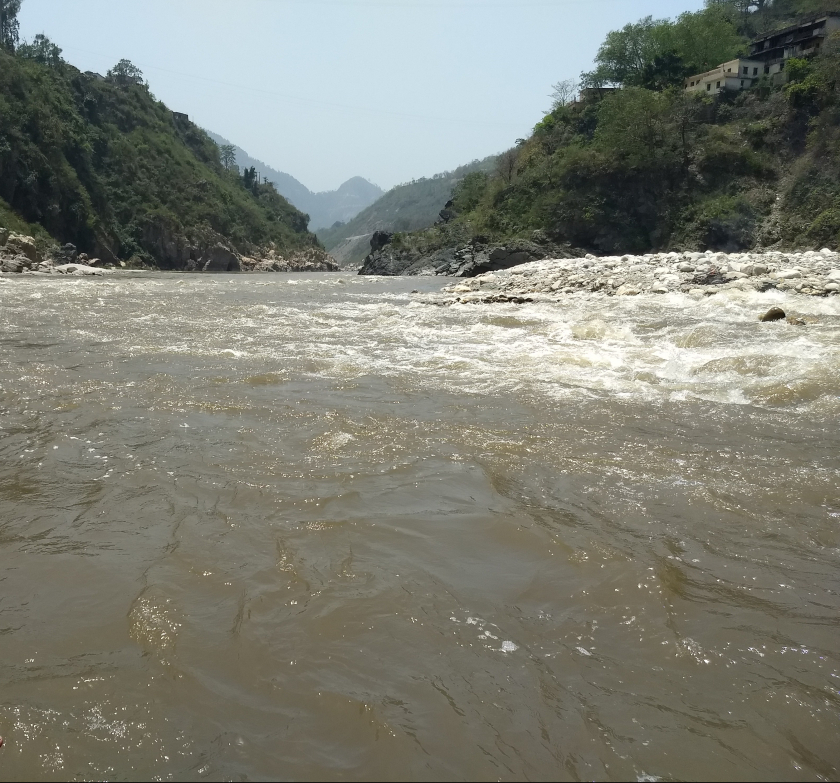 After our "pain-in-the-back" experience with the state transport buses, we decided to take a cab to reach Devprayag. This is another one of the Panch Prayag (five confluences) of Alaknanda River where Alaknanda and Bhagirathi rivers meet and take the name Ganga. On a terrace in the upper part of the village is the temple of Raghunathji, built of huge stones. Other than Sangam(confluence) and Raghunath Ji Temple in Devprayag, one can visit sacred places like Mata Bhuvneshwari temple at nearby village Pundal followed by Dhaneshwar Mahadev temple, Danda Naggaraja (Lord of Snakes) temple and Chandrabadni temple. It takes around 3 hours to reach Haridwar from here, which left us with little time to cover Rishikesh.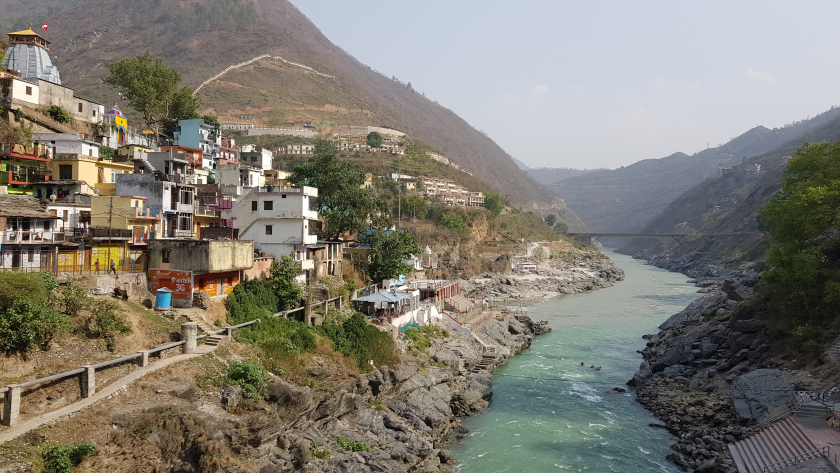 Day 6: Haridwar is regarded as one of the seven holiest places (Sapta Puri) to Hindus. Tourists congregate in Haridwar to perform ritualistic bathing on the banks of the river Ganga to wash away their sins. Brahma Kund is located at Har ki Pauri (literally, "footsteps of the Lord") and is considered to be the most sacred ghat of Haridwar. We visited the Brahma Kund taking the holy dip in Ganga, marking the end of our journey.

Trip takeaways:
This trek has all the perfect ingredients for a beginner's trek. To begin with, it has one of the most beautiful forest trails There are sections with thick wooded trees, there are moss-covered trails through enveloping tunnels and there are trails that weave through clearings in the jungles.
As one climbs up to Chandrashila, all the major summits of Uttarakhand pop into view. These are the tallest ones in India. Standing on top of Chandrashila summit is a blessing.
Always ensure to carry enough water and some snacks around.
If you plan well and finish off the trek sites in time, there are multiple tourist spots around to cover in your itinerary
Trip Summary:
Day 1: Reach Sari; 7-8 hours drive from Haridwar.
Day 2: Sari (6,601 ft) to Deoriatal (7,841 ft); 2 hours, 3 km
Day 3: Deoriatal (7,841 ft) to Chopta (8,790 ft) via Rohini Bugyal; 14 km, 7-8 hours
Day 4: Chopta (8,790 ft) to Tungnath and Chandrashila (12,083 ft) and back to Chopta; 5 hours
Day 5: Drive from Chopta to Haridwar.