Chopta is a quaint little untamed village with a few scattered houses. By road it is situated at a little diversion coming 20 kms inside on a deviated path from the road that leads further to Kedarnath after Guptakashi.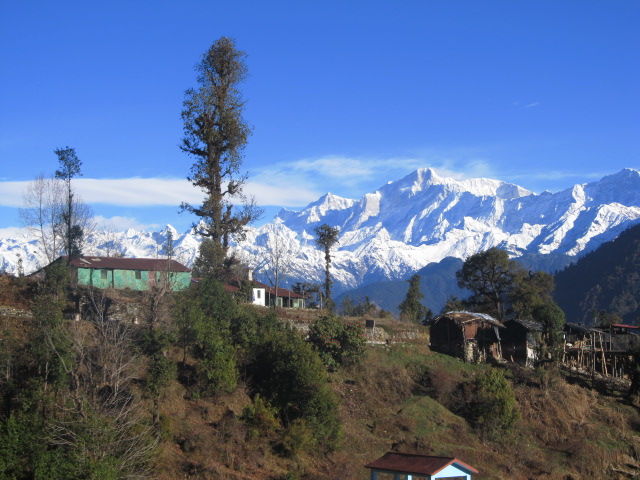 We were only two travellers, my husband and me and we had driven down to Chopta from Delhi, halted at Rishikesh for the night and next morning we headed for Chopta via Rudraprayag and Srinagar alongside the Ganga, Mandakini and Alaknanda rivers. The drive (180 kms approx) was very scenic and relaxing and while we passed Agastmuni and Guptkashi towns, we encountered stretches where there was no road and it was a tricky, kutcha ,stony path for fair distances, giving us jitters and making us pray. The car was taking the beating of it's life.
The region since it lay in the eye of the floods that hit Uttarakhand in 2013 was properly shaken up, broken,washed away and every household had one or more family members who were out on that fateful day and had never come back home. The river had taken everything in it's path and beyond, swelling up 10 times it's size. We were told unbelievable tales of the horror the cloudburst had wreaked upon the villagers and they had tears in their eyes while they recalled. The river on that fateful night had turned black and it carried with it the works, from trucks and cars to houses, trees to vast expanses of land. At places such was the fury that it paved a new path for itself.We were visiting Chopta almost one year after the floods and saw lots of construction happening and repair work along the banks of the river was in full swing. This was to strengthen weak points to avoid a repeat of the devastation.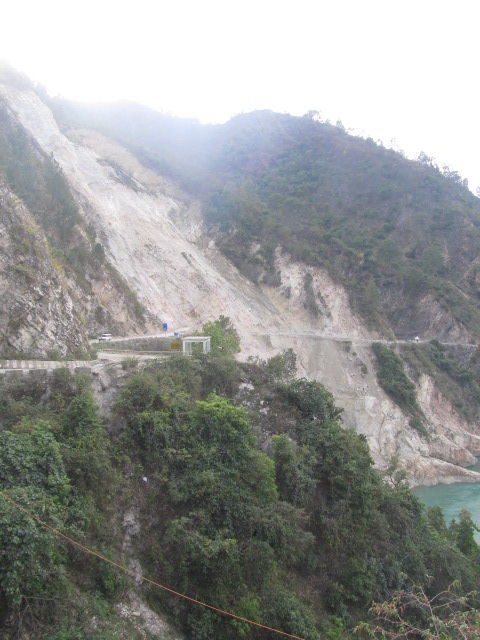 The devastation from the floods
Chopta (also known as the mini Switzerland of India) is the base town for doing the Chandrashila Peak trek which is at a height of 4000 mts. It is a challenging 5 km trek. Enroute lies the Tungnath Temple (literal meaning the Lord of the Peaks), dedicated to Lord Shiva and has been built at a height of 3470 mts, making it to be the highest of the 5 Kedars. The temple structure is made out of rock.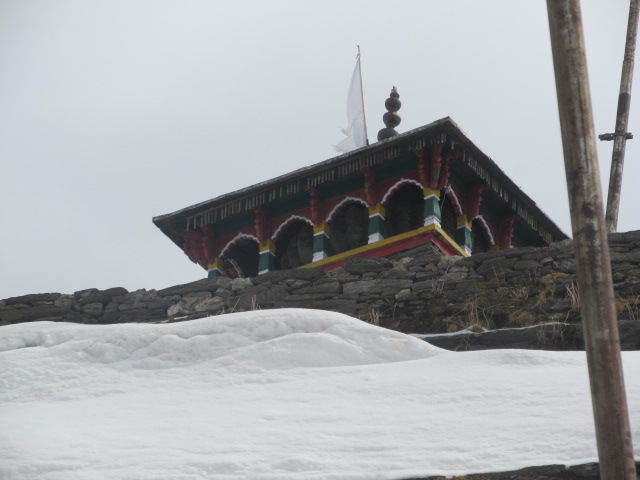 The Tungnath Temple
In clear weather and friendly season without snow, while one climbs, the mighty KedarNath range can be viewed.The climb is full of Rhododendrons on either side of the concrete pilgrim pathway till the Tungnath temple and lush.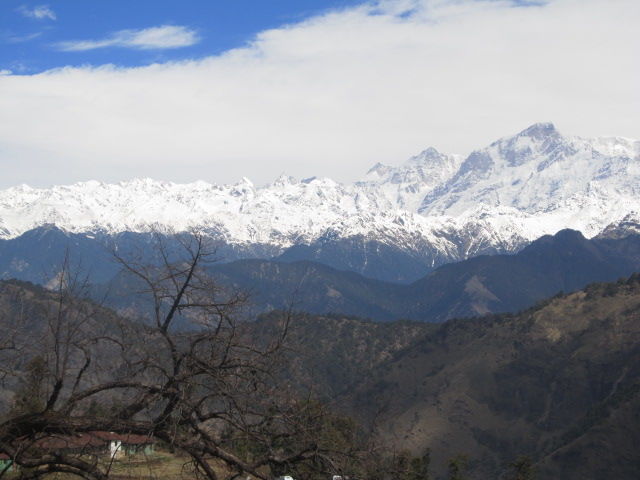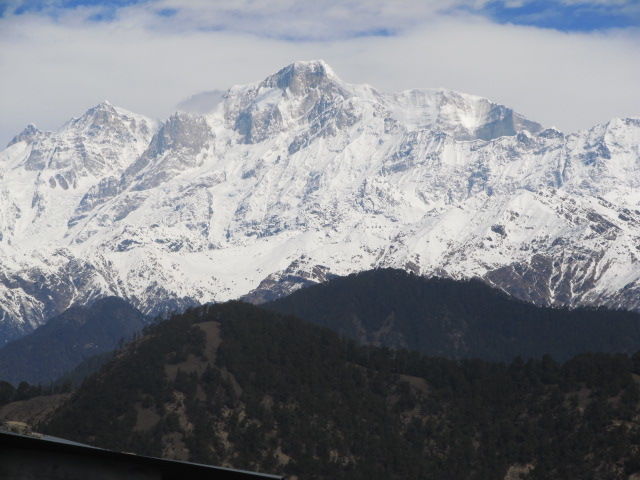 KedarNath range
Although it was April, the Chopta weather was cold and we stayed in tents on open land, managed by a local entrepreneur who took good care of us. There are many camping sites in Chopta and one can enjoy the nights in pitch dark silence with only the solar charged lights in company, since the tents are without electricity due to Chopta being a wildlife sanctuary. It is popular for its population of Monal Pheasants and musk deer.
Campsite Morning
Other wildlife in the park includes the leopard, small Indian civet,Indian Gray mongoose,common otter,jungle cat,sloth bears, black naped grey hare, langurs, sambar deer, barking deer and porcupine etc. Chopta has many colourful bird species including Eagles, Hornbills,barbets,peacocks,sandpiper,ducks,jungle fowl and many more. Its rich bird life makes it one of the popular bird watching spots in India. Once in Chopta, you can soak in the mountains of the KedarNath Wildlife Sanctuary. The sanctuary takes its name from the famous Hindu temple of Kedarnath which is just outside its northern border. The entire 14 km (9 mi) route from Ghauri Kund to Kedarnath temple (3,584 m or 11,759 ft) passes through the sanctuary.
Sign board enroute to Chopta
After a light meal of oats the next morning we drove 8 kms from our tents upwards to the start point of the trek which is from the main Chopta bazaar.
In the winters when it is all snow, the temple atop the mountain remains closed as the idol is shifted to Ukhimath. Although we were attempting it in April, we still encountered heavy snow and ice all the way. There were no other climbers to attempt climbing except one Japanese climber with a proper guide and with full equipment. There was no visible pathway due to the heavy snow cover and climbing became guesswork although the snow let us climb in all kinds of vertical, zig zag and random patterns. We were lucky to soak in the spectacular view of the mighty Kedar Nath range.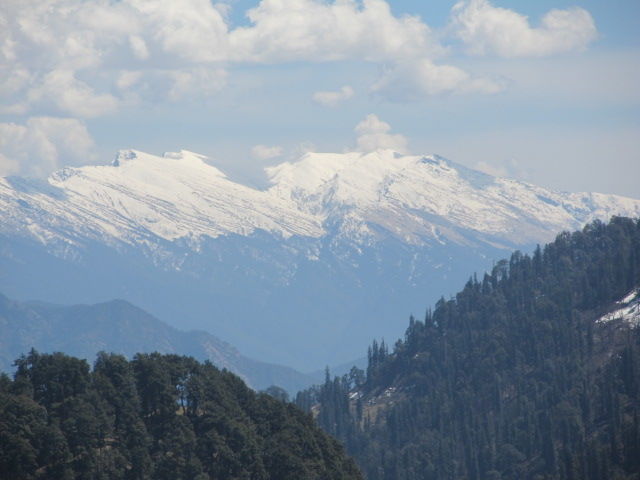 The spectacular view of the mighty Kedar Nath range.
An April visit was erroneously estimated to be without snow and not expecting this we were ill clad and ill equipped for the arduous climb. We had to muster nature's help to carve out makeshift wooden sticks for support. Wearing the wrong shoes on a snowy climb can be disastrous as feet get numb and wet and half of the climb up and all the way down we had no sensation from shin downwards. At times my husband gave me give up signals but I egged him on as I was sure wanting to summit. We would dig our feet in the snow carefully and pull out, thankful each time for the next step. One or two places I sunk right into a pot hole and had to be fished out.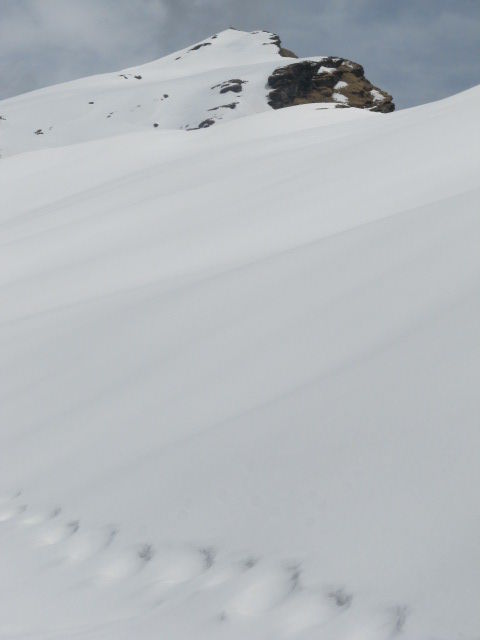 The Chadrashila Peak
As we passed the temple we noticed that it was closed. It had a strange pull and attraction. We stopped for a while and continued for the top as we had another 530 mts to gain in height and 1.5 kms to further walk in snow.
The Chandrashila peak is a daunting peak towards the top, very rocky and un inviting as most snow clad peaks are but as we stood atop, the satisfaction was huge and the only other dominant feeling apart from it was the fatigue. Although it was intermittently cloudy, the 360 degrees view on offer has to the one side Nanda Devi, (7817 mtrs-the highest peak of the Indian Himalayas), the other side is Kedarnath, Trishul, Banderpoonch etc.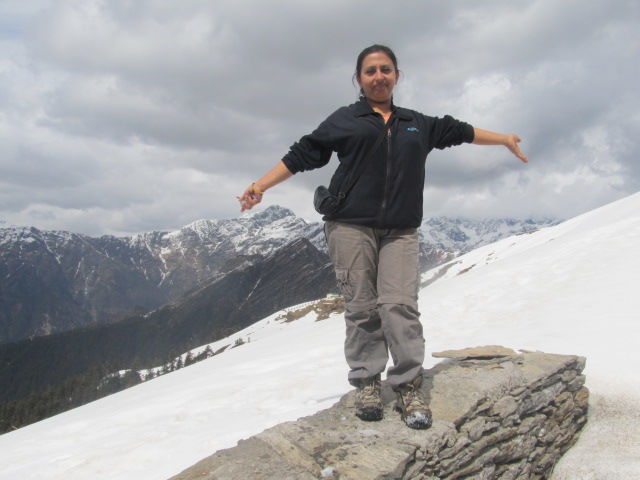 Atop Chandrashila
We prayed to lord Shiva to help us make it down smoothly and without any accident as climbing down in slippery snow can be dangerous, especially with numb feet and shaky legs. However the footmarks we had made while climbing up helped us and acted like our GPS. On very flat descends we even sledged our way back on our bare bottoms and it was truly exhilarating ! Our appearance although by the time we reached Chopta was really dilapidated. We dried our feet and had Maggie (our staple food in remote places) to eat at one of the small eating shacks in Chopta bazaar and proudly answered various queries that the locals posed to us.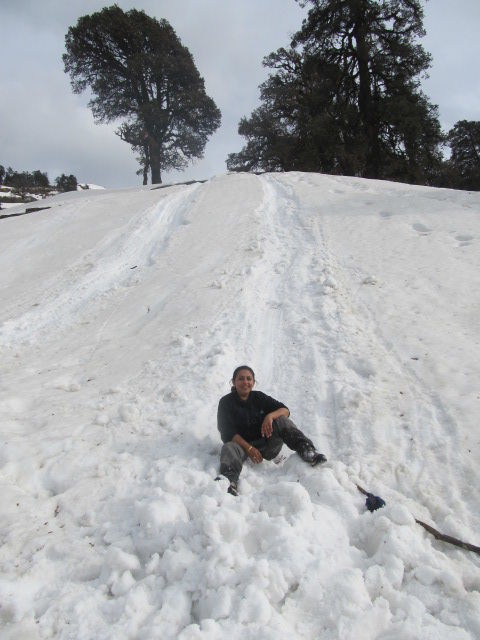 Natural sledge down
The next day we trekked from Chopta to Deoria Tal, a beautiful lake 3 kms from Chopta by trek and otherwise 20 kms of drive. The way was a narrow, stony, winding pathway. We trekked through the intervening ridges and thick forest only to be stunned by the virgin beauty of the lake which amidst the thick alpine forest houses the Himalayan trouts in abundance. The backdrop has the mighty and grandiose view of the Chaukhamba and Kedardom peaks. We absorbed the scenery for a couple of hours, listening to the silent sounds of nature and the cool wind blowing across and with no pictures to click due to a malfunctioning camera, we reluctantly made our way back to Chopta. The trek to and fro had consumed 11 hours ! It still had been an easy trek compared to the previous day !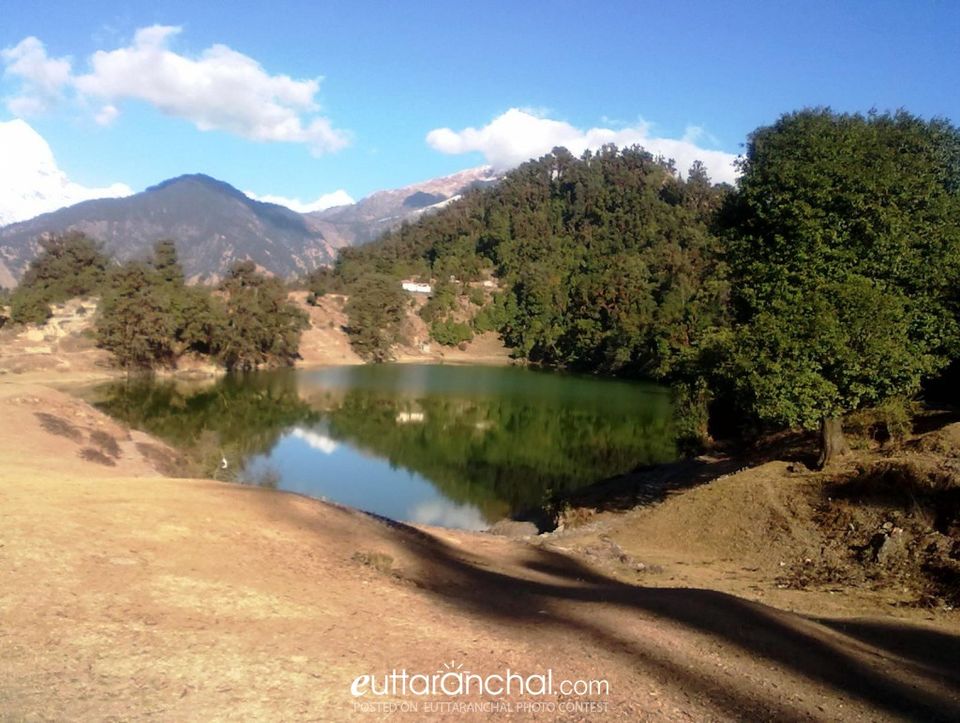 Deoria Tal (picture courtesy EUttaranchal.com)
The third day morning we packed our bags and started back for Delhi, a journey which took us 16 long hours, a total distance of 460 kms. The trip had been fantastic and fulfilling and as always we wished we had more days to spend there !
Footnote: A commercial trek/package tour if in case undertaken shall be as follows:
Day 01: Overnight train to Haridwar
Day 02: Drive Haridwar to Sari and trek to Devariyatal
Day 03: Trek Devariyatal to Chopta (3000 mts)
Day 04: Trek Chopta to Tunganath (3470 mts) and then onto Chandrashila Peak (4000 mts) and back.
Day 05: Drive Chopta to Haridwar and evening train to Delhi.