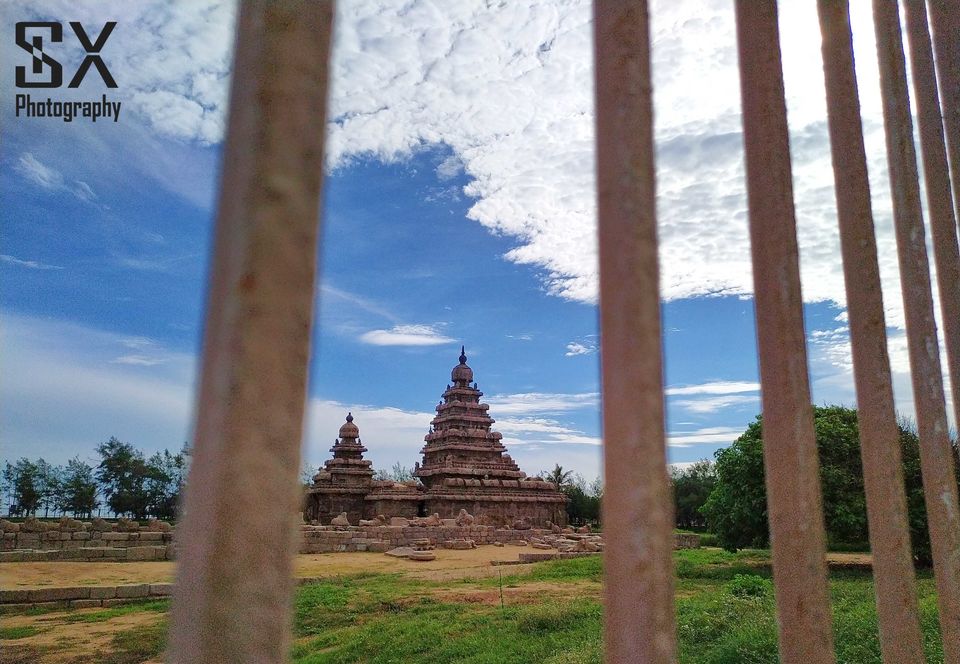 A long travel !
Cycling is a blissful thing to do.
At childhood, buying a bicycle, decorating it, wiping it daily, driving it on the street, taking it to school has always been a big goal for everyone!
Chrome finish headlight,
Yellow cloth wrapped around its head,
Image of a golden atlas bearing the earth,
Semi-circle shaped bell,
Multi-color horn in plastic,
Handle grip with green color,
In which small strips, like a pin,
Cassette films end up in beams,
A coarse sheath for brake wire,
Curved rectangle mirror,
Upper frame covered by cover,
On that, basket or seat for child,
A cover for pedal pads in plastics /metals,
Spacious and sturdy rear seat,
Cushioned seat cover,
The screen-like structure behind it,
Seat spring pit with wiping cloth,
Amazing dynamo,
Next to it is a red tail light,
Plastic balls on spokes
Colorful buds on wheel axis,
Drive chain covered by metal cover,
On that bicycle owner name by paint/sticker,
Wide rigid stand with lock,
The structure does not collapse even if four people go.
The decorations of the old bicycle that goes on and on..!
Now those vehicle & it's fun has gone and those place occupied by motorcycles & scooters at each home.
But old cycle & it's fun hasn't been replaced by any vehicle.
Currently bicycle design has lightweight and fast-moving structure;
But its quality just only for a rider not for our lovable pillions & extra load.
Well, let's get to my cycling travel story!
While this article may not say great distance, this is how we enjoyed the 107 km journey on bicycle, as a tourist!
During the curfew & its restriction, daily cycling range reduced between 5~10 kilometers only. After some time, the thought of "need to go outside to refresh mind and explore some places"
All Sunday in full curfew, with nowhere to go outside, after three weeks we have planned a bicycle trip to know about "what is going on outside?
At 5 am on one Sunday we started to go from Mudichur to Kovalam via Vandalur and back via Sholinganallur, Tambaram along with my friend Shankar.
On the Outer Ring Road in Chennai, the sodium lamps are adorned in yellow, and while decorated, the eastern sky is ready to awaken the morning sun in dark blue sky!.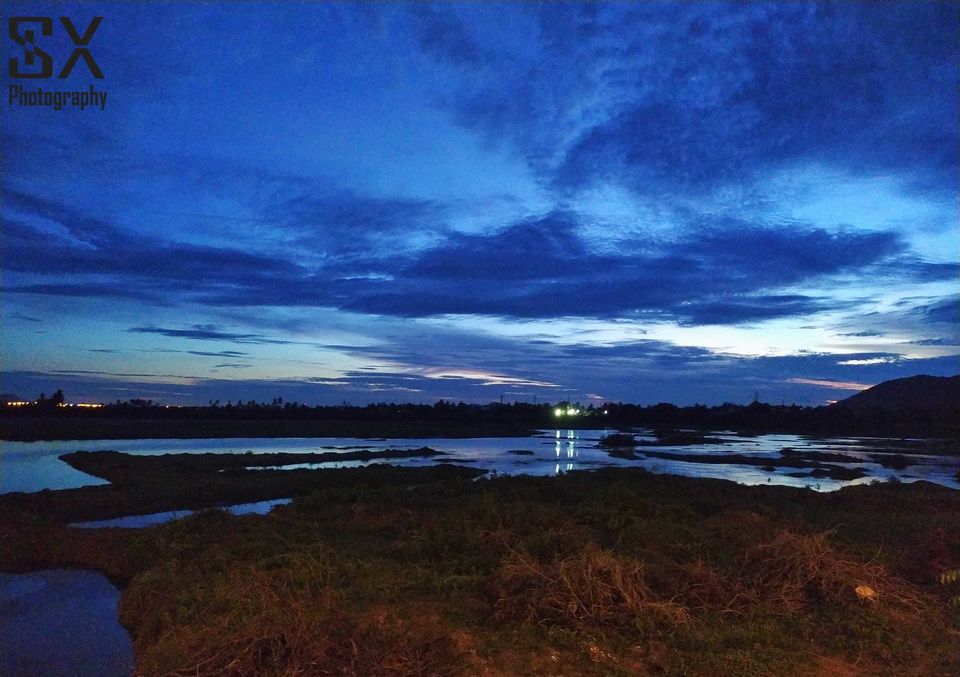 The journey continued eagerly, after several months of going to the beach.
The crowd at the mutton stall was overwhelmed in Kandigai and Mambakkam areas.
It was 6.30 am when we reached Kovalam. If we turn left and it will goes to Sholinganallur. We headed towards Pondicherry as we were going a little further to the right to access the beach.
The East Coast Road was seen almost empty in the morning. After going a little distance, friend asked to me 'Shall we go to Mamallapuram?
I replied "Yes why not" without thinking at all.
After looking at how many kilometers added in our planned journey, our bicycle went straight to Mamallapuram.
One Benz car passed us at jet speed. We even got to know roughly that it was a Benz car. Then we were carefully driving along the road left side.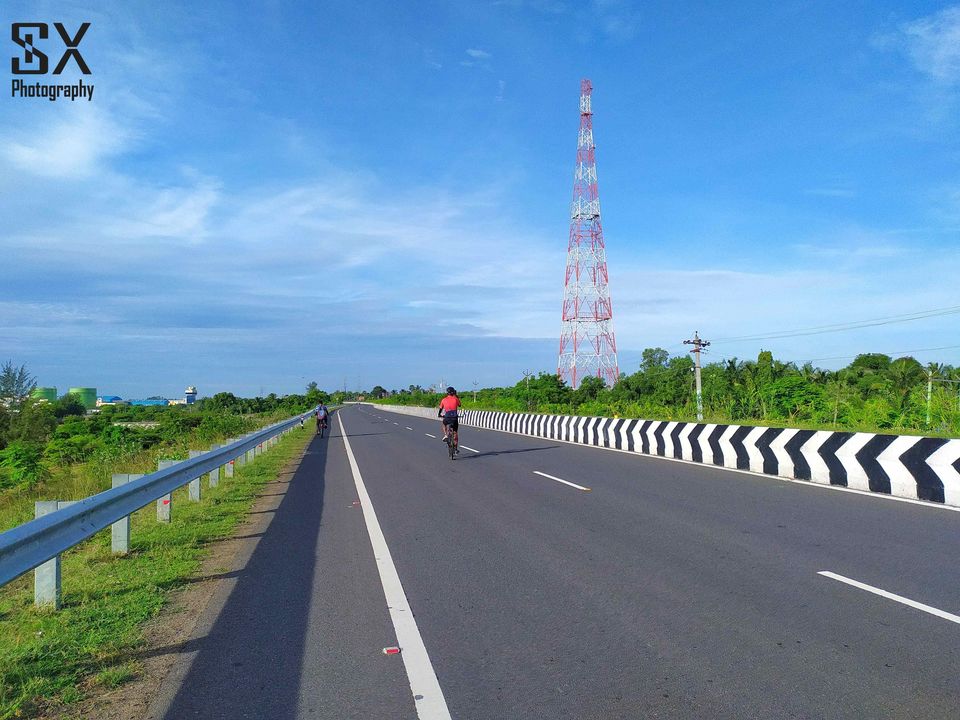 The clouds are covered sunrays which was very helpful to go further in ECR with cool.
Then we stood on the road side and took some photos.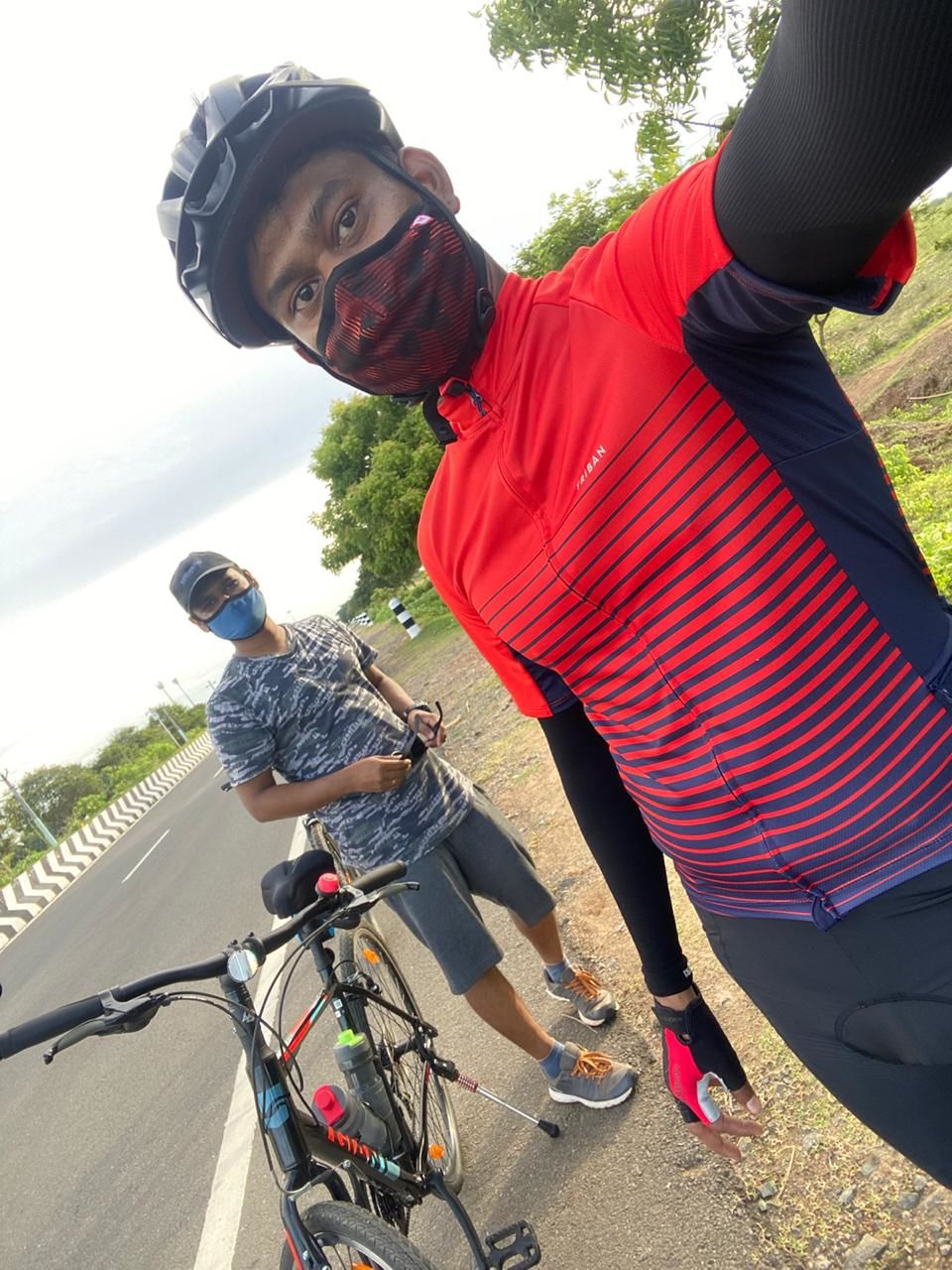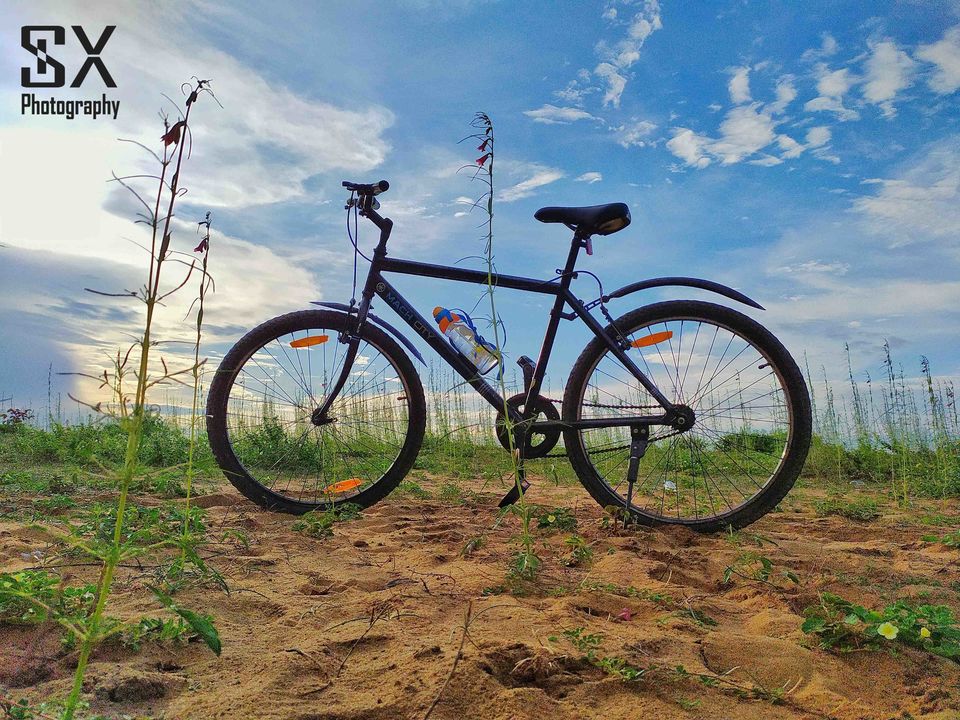 We reached Mamallapuram at exactly 7.30 am and rode our bicycles on the sand to see the beach temple from beach side.
Not even tired of coming this far. It was so hard to roll in the sand.
We looked at the sea shore temple, the lighthouse, the famine chariot, Arjunan tapas and took some photos.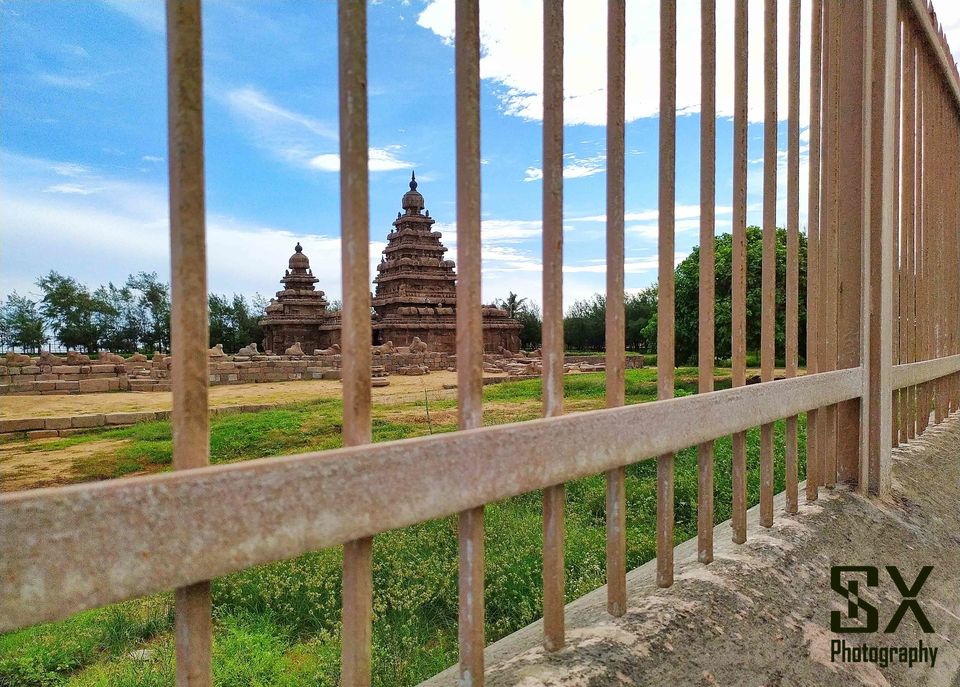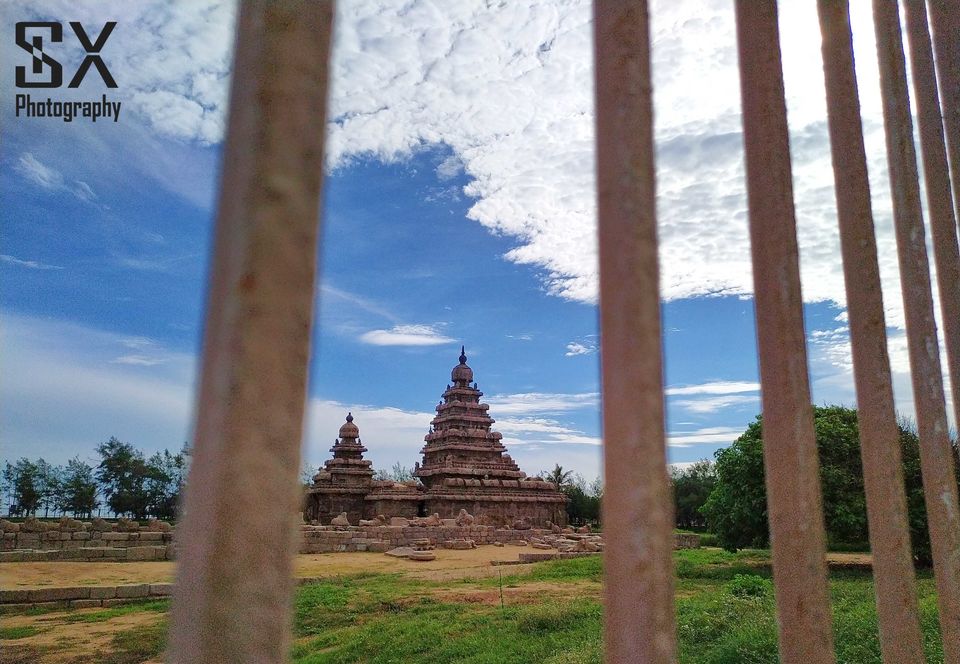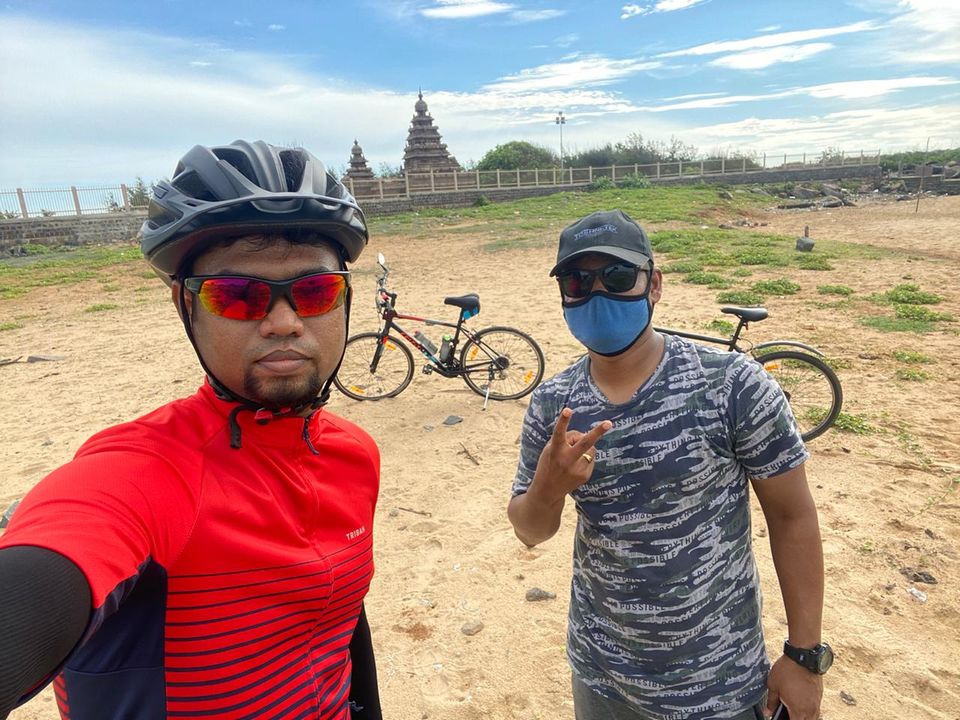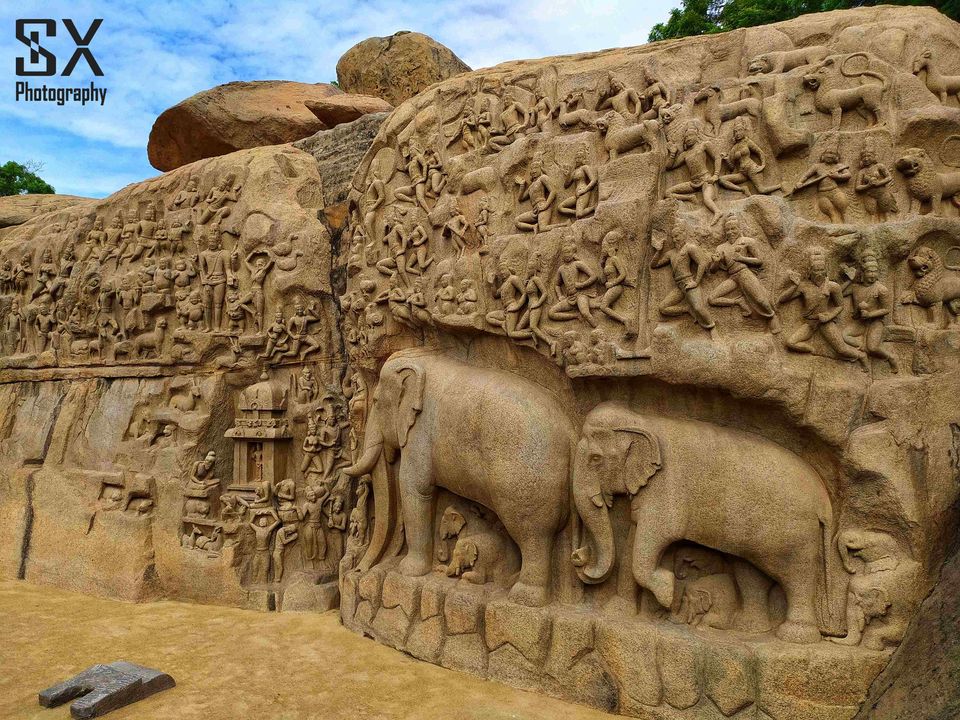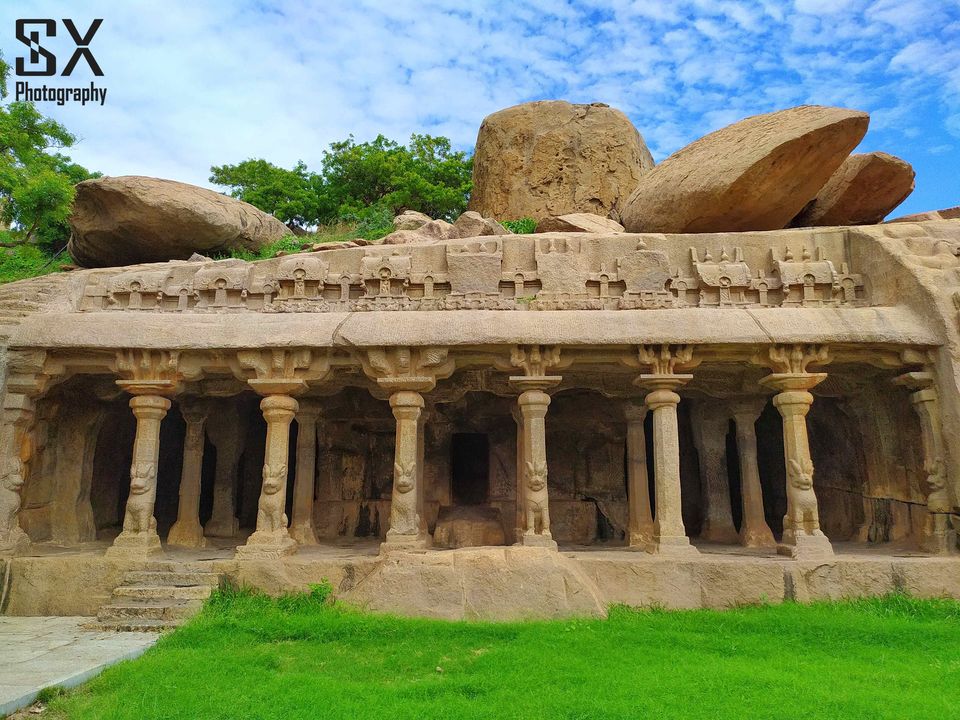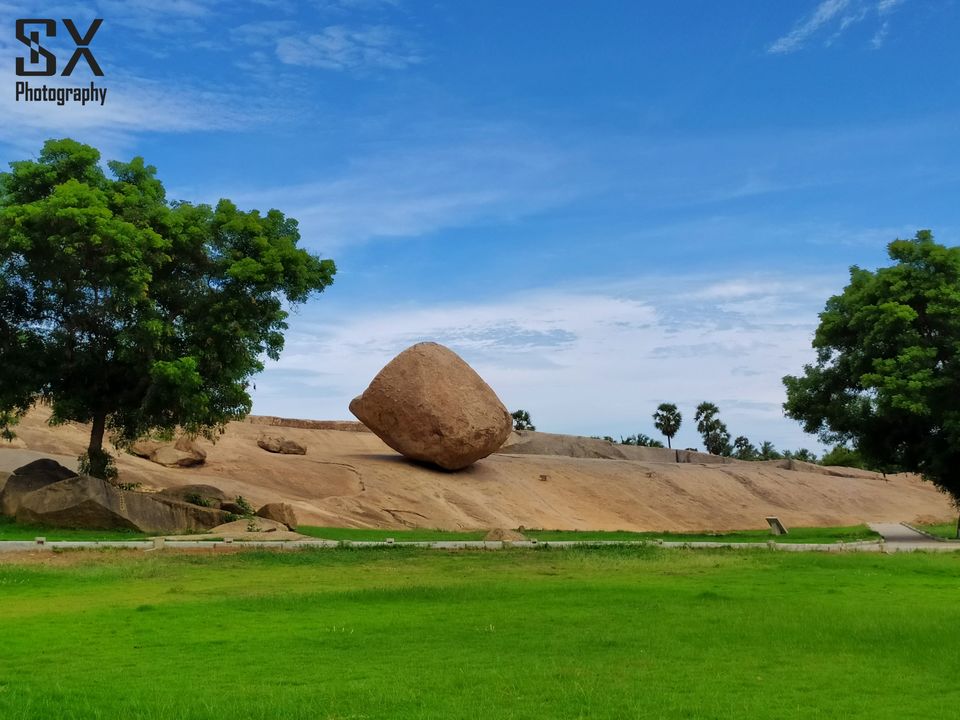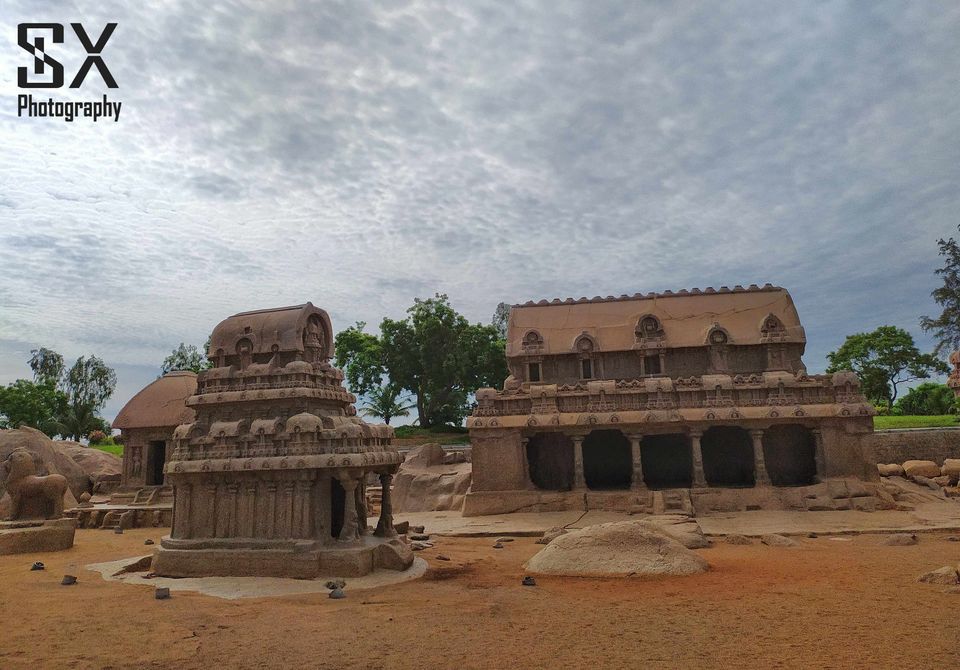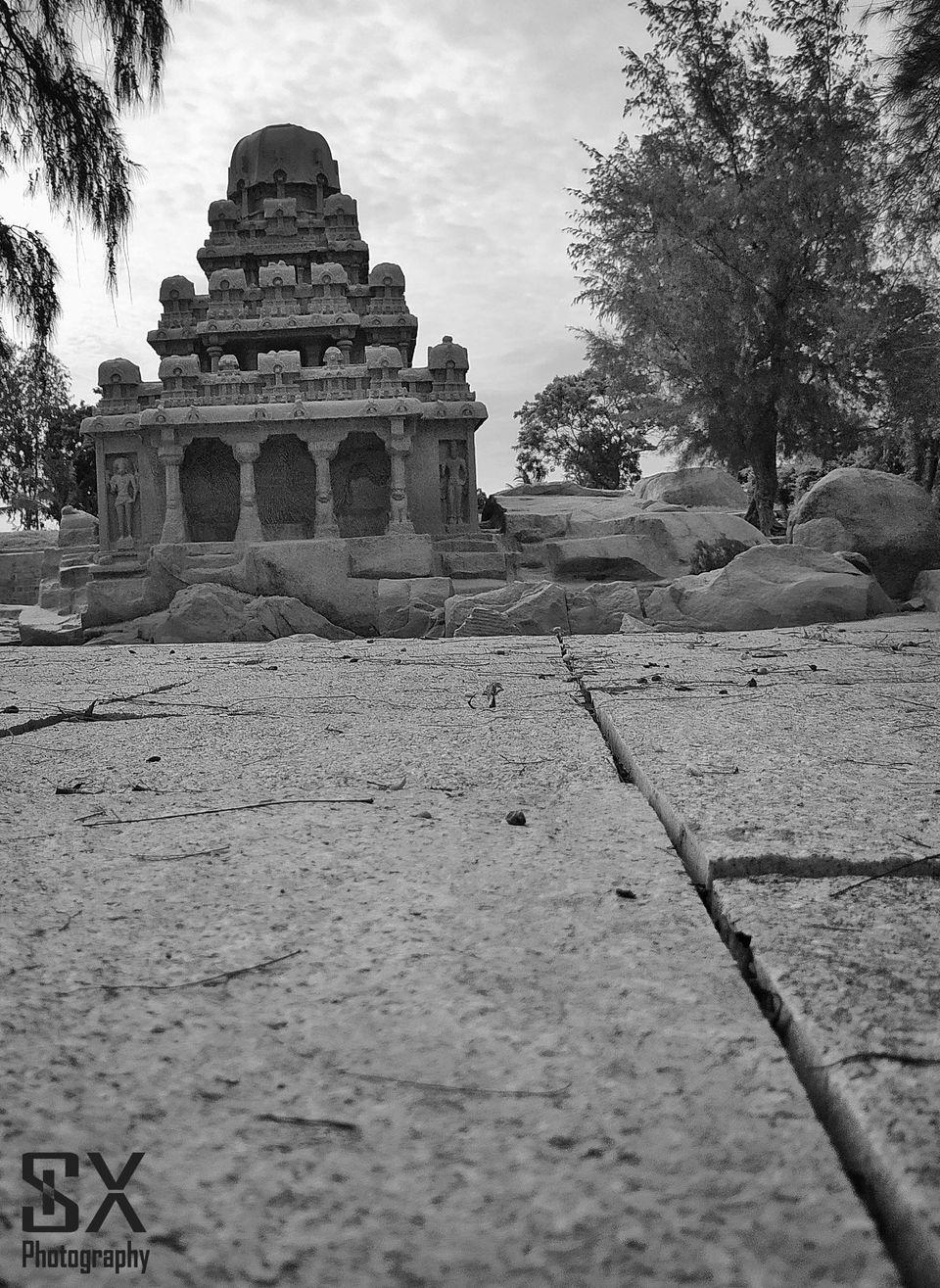 If we go on normal days to this world heritage site, covered full of by crowd ! That's means if you try to take photo, definitely monument will looks along with human beings only!
Now everything can be seen from outside (means little far)
Shankar was very impressed about lighthouse and we felt that the photo taken from the road in the space between the trees was the highlight photo of the trip.
On normal days we will definitely go under the lighthouse or go to its top. Curfew made us to look at different angle of light house.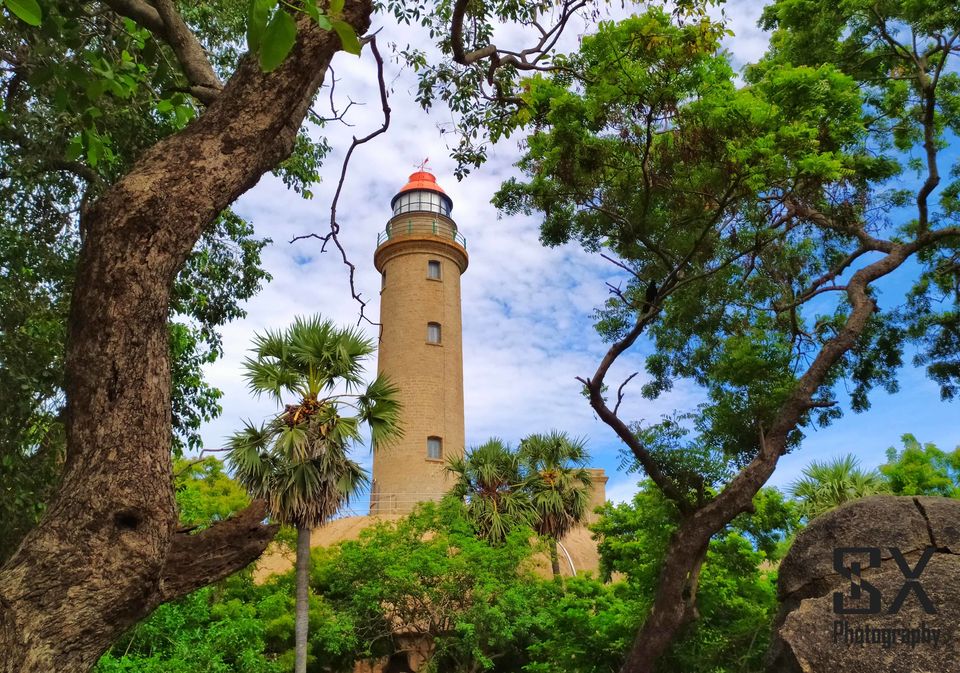 The blue sky, the greenery, the beauty of the sculptures were all waiting to enjoy by peoples.
And this trip was a good opportunity to photograph these places without any interruption.
As time went on the morning starved. We ate the bread and fruit we had brought and bought what we needed in the shops.
Almost all restaurants and grocery stores were open.
Similarly we came slowly and proceeded towards Tiruporur on the OMR and planned to reach Mudichur via Guduvanchery.
Around 9am, the journey of almost 50 kilometers has already been completed, so I got very tired! Not only that but the straight road.
We were simply going without nothing to enjoy.
We pedaled strongly to reach Thiruporur but still couldn't reach.
To go like this for 45 minutes, we took rest & had bread and water.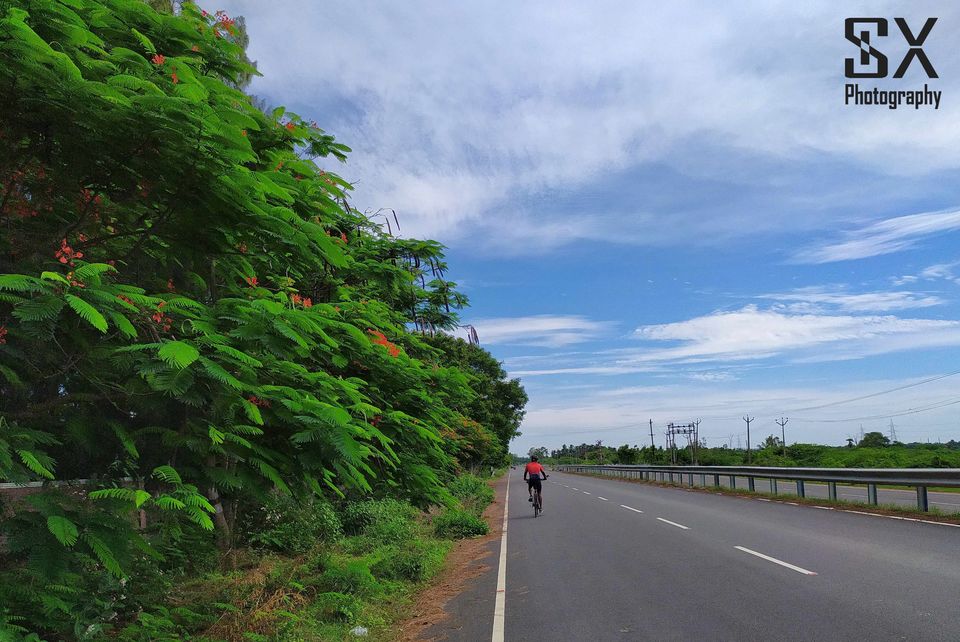 Later when we reached Thiruporur, turned left to get the direction of Chengalpattu. Nice wide road, lush greenery on both sides! Occasionally two-wheelers went by.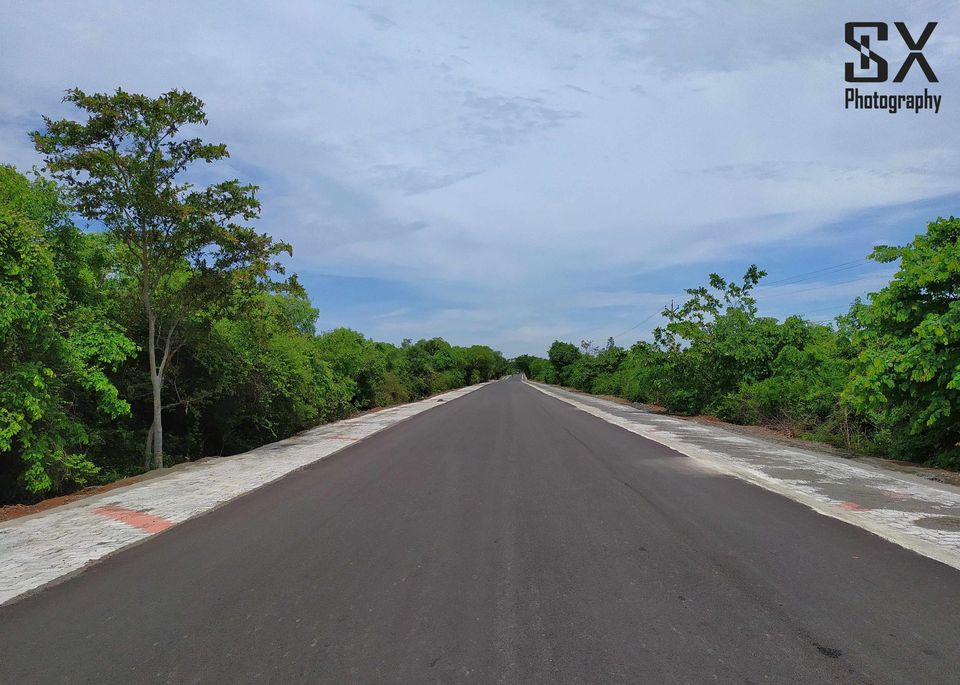 At this point, the headwind began to blow opposite to me.
Knowing that it was a hard test for us and I got up and pedaled fast.
Gear bicycle, covered cushion seat & right suit which leads to you can go even 200 kilometers without any tiredness.
But none of the above I had. That was my problem.
When we reached Poondi at 11 am, we turned right and headed towards Guduvanchery. Fantastic and wide new road !
We sat under a tree on the way for few minutes.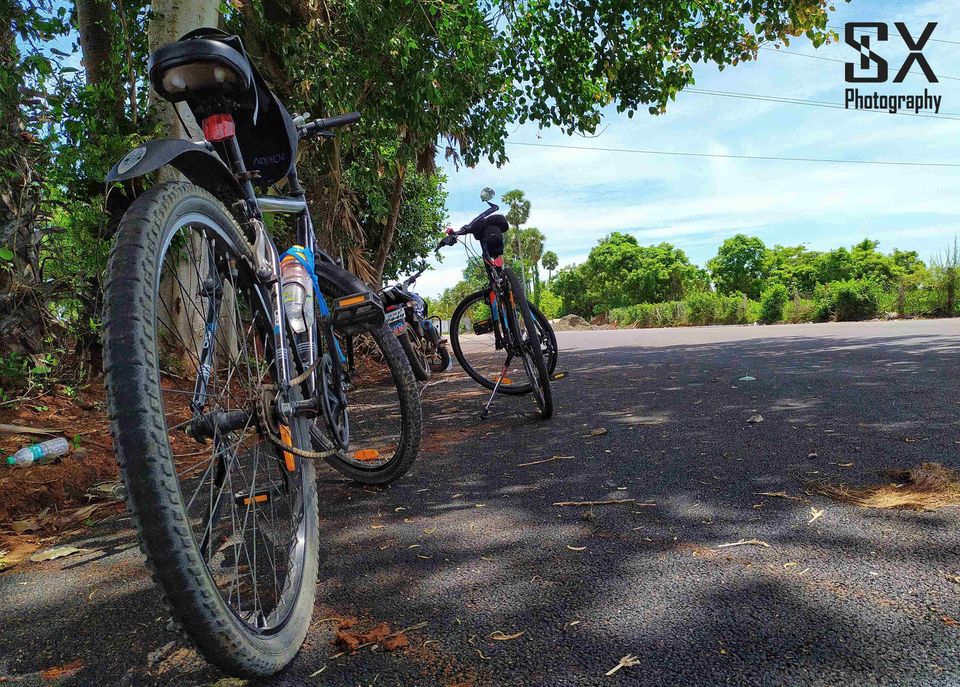 Felt to sleep due to physical exhaustion. After 15 minutes i could not even get up and move. There is no other way but need to move!
That's when the phrase "hard targets get lighter as you move towards it" came to mind. With that, I stepped on the pedal and every step made me to reach my destination.
You may think , "Why this much hard journey ?"
Same question raised in my mind also !
However, this trip is a test of mental strength and physical strength!
I can even write this story because this test completion successfully.
After drinking soda at a shop before Guduvanchery, I called my beloved brother Palanisami (office friend) about our journey and want to see him. Also told him to bring water.
After talking to him for a while, he bought the water & we had it.
After reaching the GST road I somewhat relief that "we are near to home".
A car near Vandalur was spotting people on the roadside starving and delivering food parcels. We praising him for "having a big heart".
Though complete curfew on this Sunday, the occasional citizens were doing mixing of drinks in right ratio in wrong manner.
Then we crossed the Vandalur flyover, drank a coconut water and reach home at 2 pm!
About 9 hours; Traveleed 107 kilometers. Supposed it should be completed within 5 hours. However, the experience of visiting Mamallapuram by bicycle was wonderful!
I do not want you to make such trips. But even if you want to try it , Will be very good & highly can appreciate.
But let's choose a healthy & safe activity and test your mental and physical strength!
Looking at my bicycle photo and travels for last one year, the good news is that my brother Adhi (office friend) bought a new bicycle and rides it every day!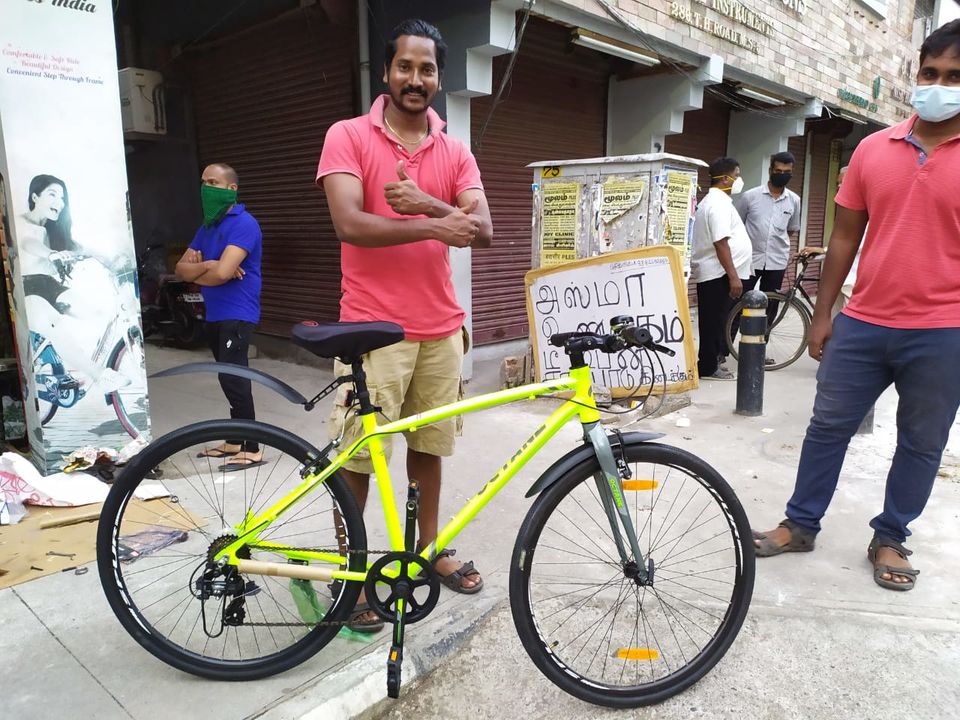 "Our actions also make such a big social changes" is a satisfying one for me !
With love,
P Sivalingam