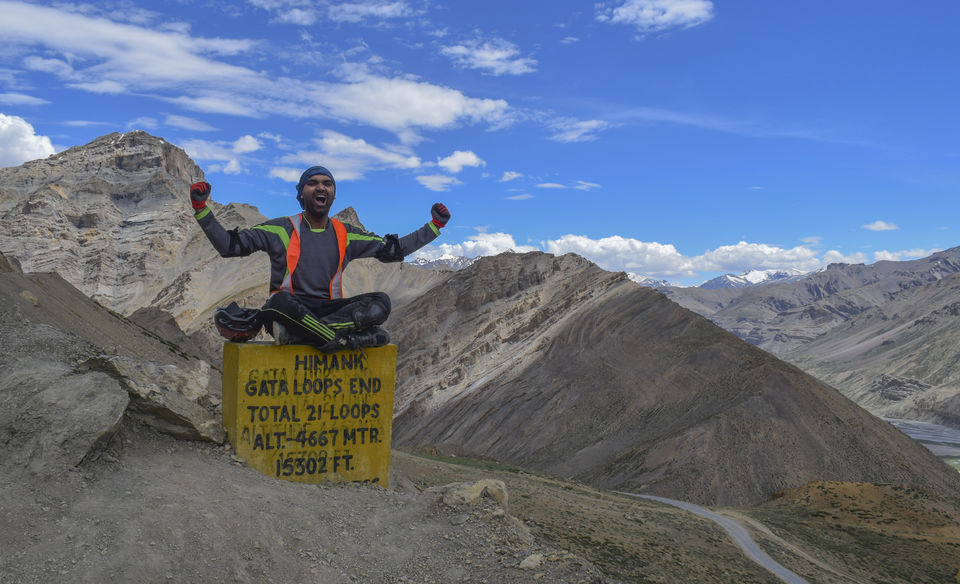 Something you can't understand until you've experienced it and something you can't forget once you have.
It's a Dream of many adventurers to take challenge of Manali-LEH road trip !!! Though I am not an adventurer; my heart was free to dream about. I read many blogs, saw Youtube videos to get to know whether I can! Or not. Then decided "Its better to see something once than to hear about it a thousand times".
Me and my friend Srinivas together planned to pedal cycle from Manali to Leh and enrolled to YHAI's Manali-Leh-Khardungla cycling Expedition. Though we were neither regular cyclist nor know how to use GEARs in cycle, we registered! Later we came to know that, in expedition, there will be a test ride and unless we clear that we are not allowed to move further.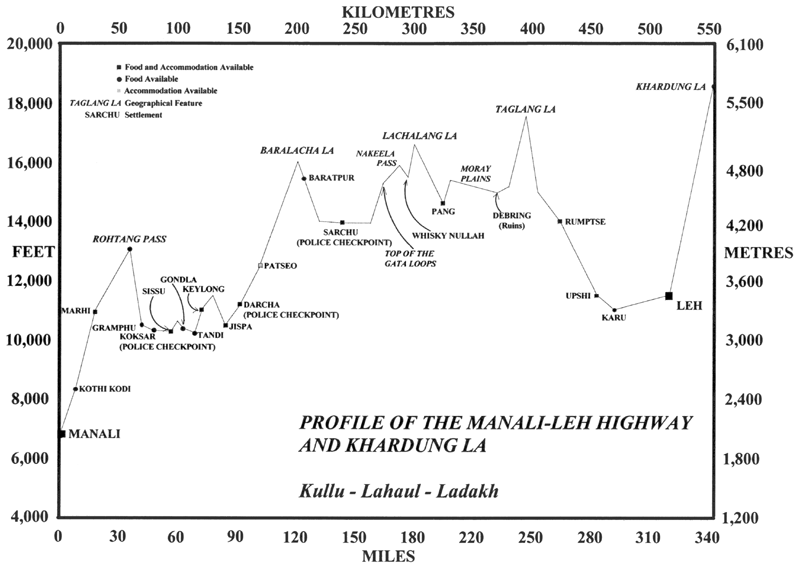 Keeping the Difficulty level in our mind, we bought a new cycle and pedaled every Sunday for Chamundi hill, Mysore (3300 ft).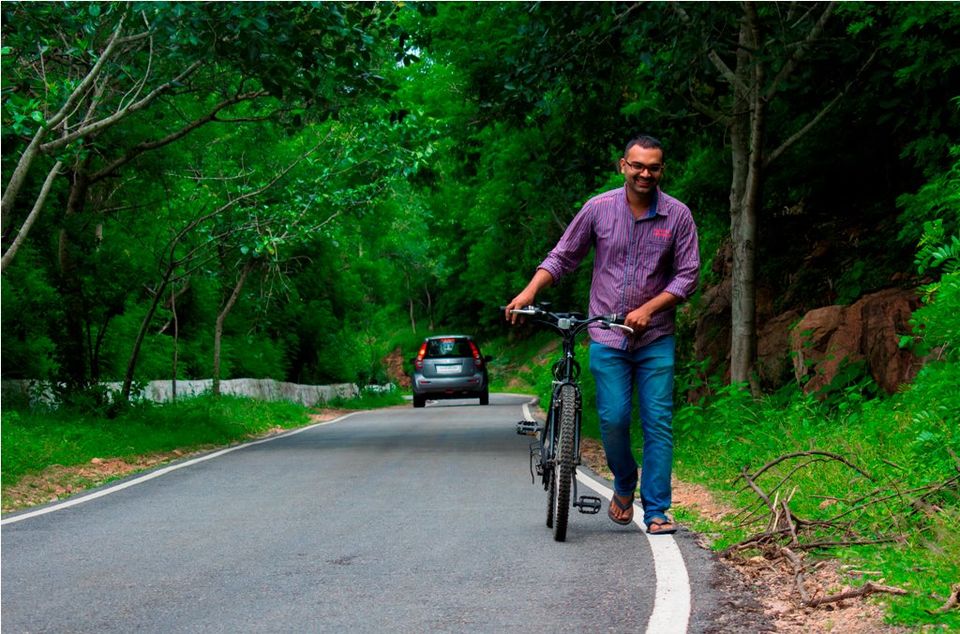 After two months of struggling, pedaling and practicing we got li'l confidence to take CHALLENGE. The final day came for which we were planning from last 4 months. We flew to Chandigarh and took Himanshu Bus to reach Manali…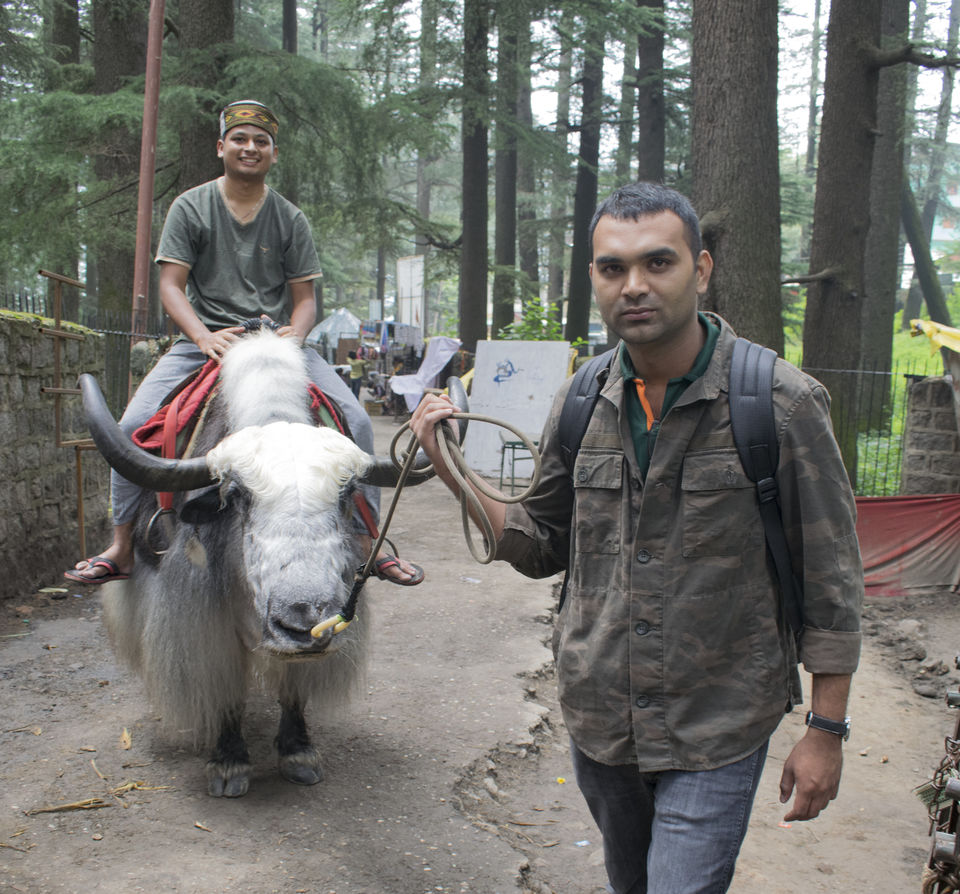 We roam around the city for a day, visited Hadimba temple. And decided not to loose much energy as we need it for next 15 days to pedal cycle from manali to Leh.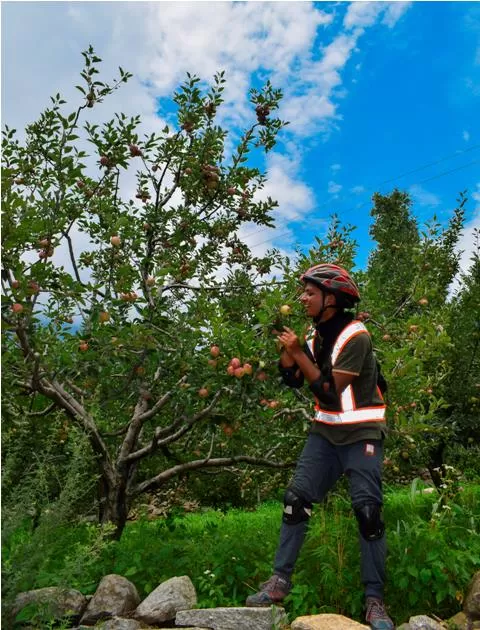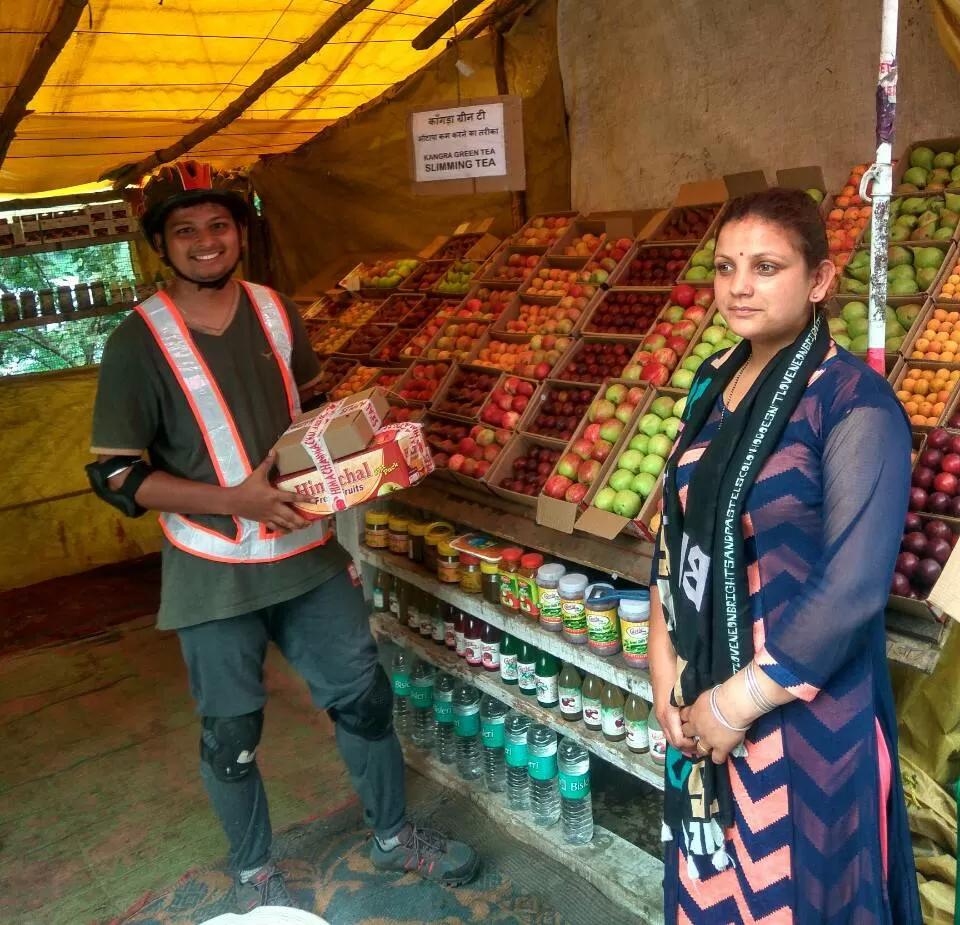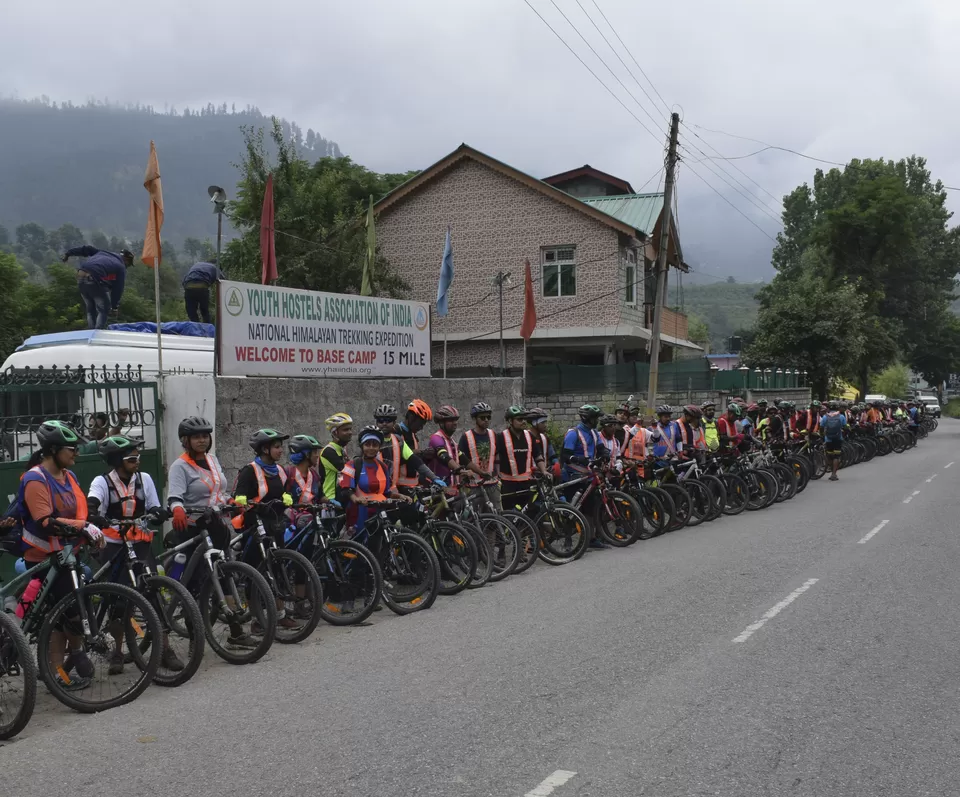 By the evening we reached YHAI Base Camp -15 Mile and completed formalities at reception desk. Wherever we look there was Apple in trees, Marjwana plants, sky Reaching Mountains with ICE caps and the long lasting loud reverberation of Beas river made us to experience the place as heaven!!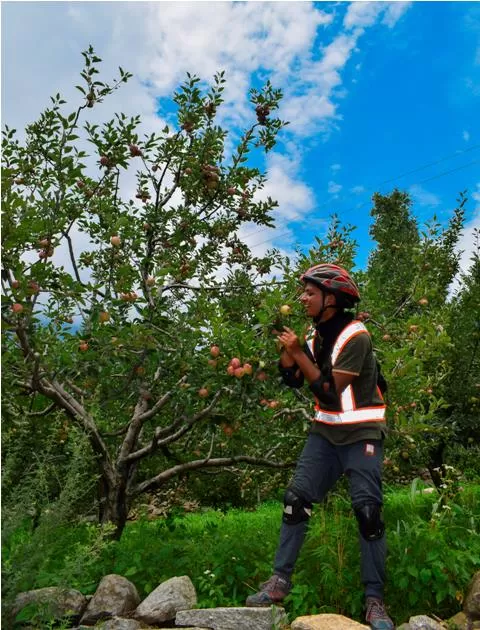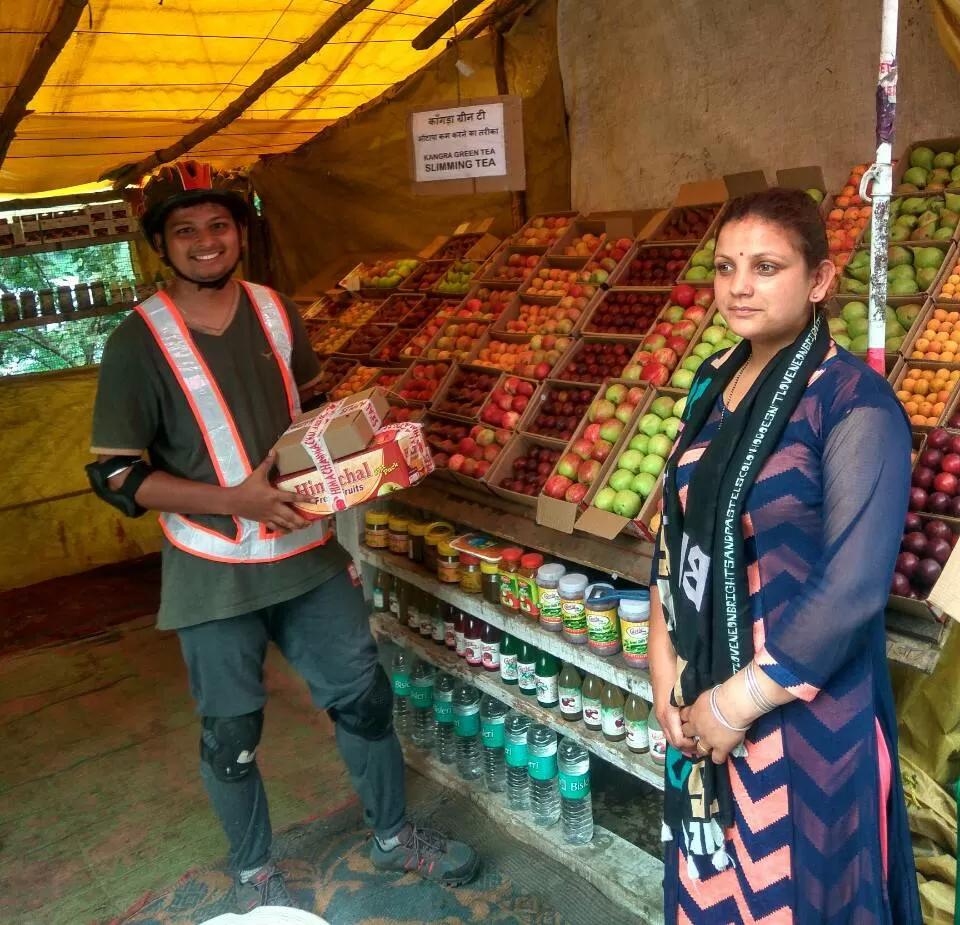 The next morning camp leader brief us about Do and Don'ts during expedition and distributed the cycles along with accessories, which include knee/elbow cap, helmet, gloves etc., We ensured our cycles were in good condition by taking small ride and get it repaired the gears, brakes, seat size, chains by YHAI mechanics. The facilities, hospitality, care and concern shown by YHAI is unexplainable. They look after us more than our family members thought the expedition.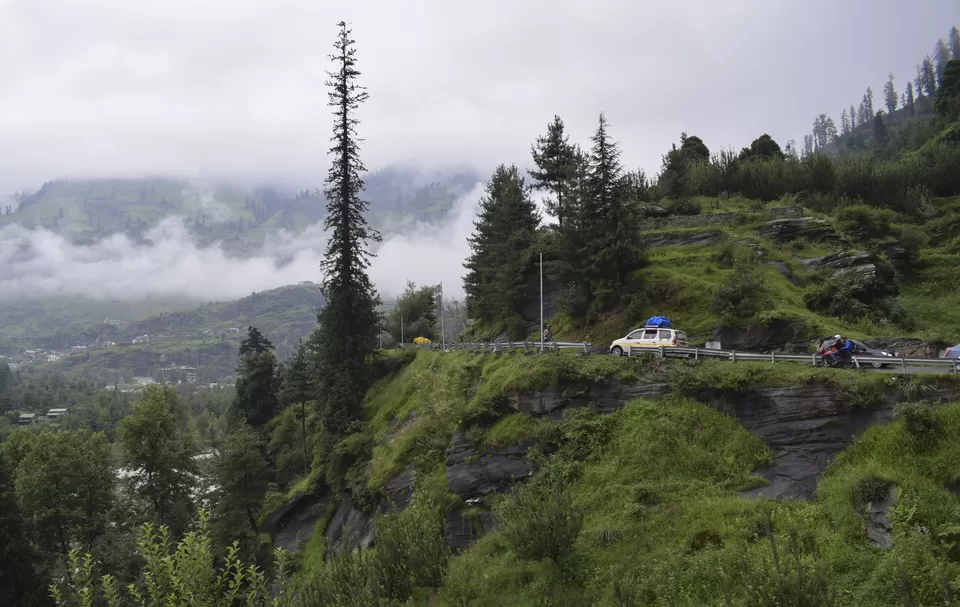 After 2 days of acclimatization ride (6 km) to village Naggar, we prepared ourselves mentally and physically to bear the pain and feel the pleasure. "There is NO GAIN without PAIN." It's a fact!!! Nature is the best teacher to make us to realize how tiny we! our Egos!! Our status is!!!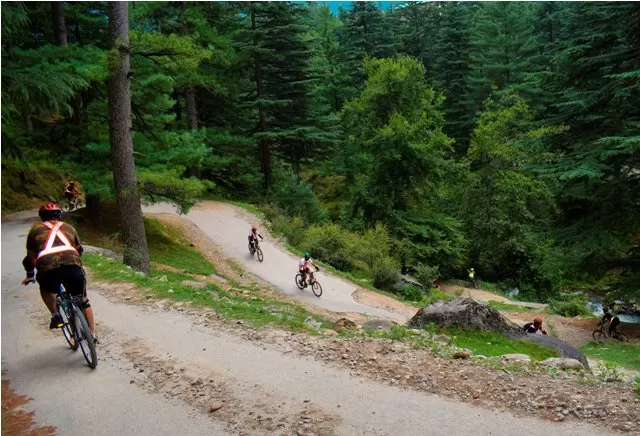 The 3rd day morning, we got ready ourselves like soldiers preparing for war by wearing all helmet, knee/elbow cap, helmet, gloves and rain coat and aligned for Flag off ceremoney to begin our mission.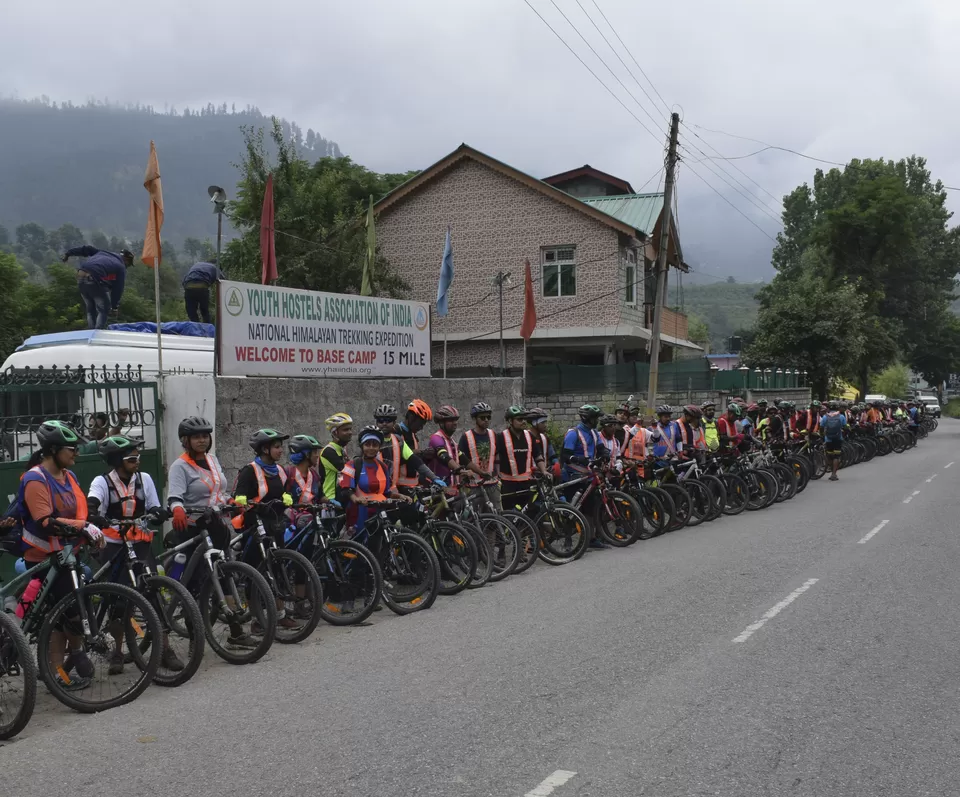 Luckily the climate was good! it was cloudy and misty which was perfectly made for our ride. we prayed GOD and start Pedaling. 1st day ride was around 38 km. But during cycling in mountains, KMs are just numbers. Some times we felt 20 km as easy path where as just 1 km as hell. It's all depend on climate, our state of mind. On the 1st day with all enthusiasm we ride so well. The landscape was awesome.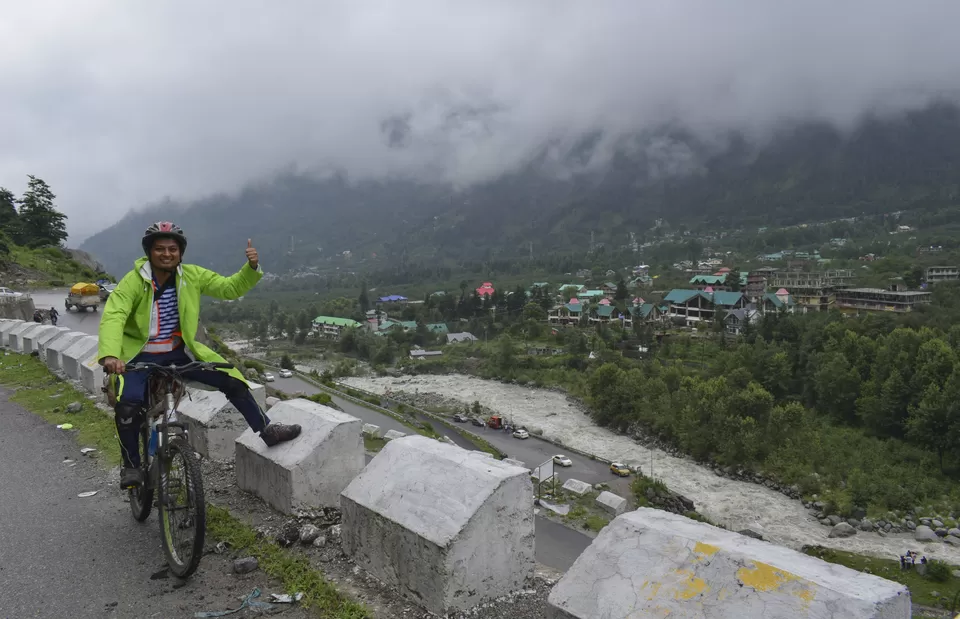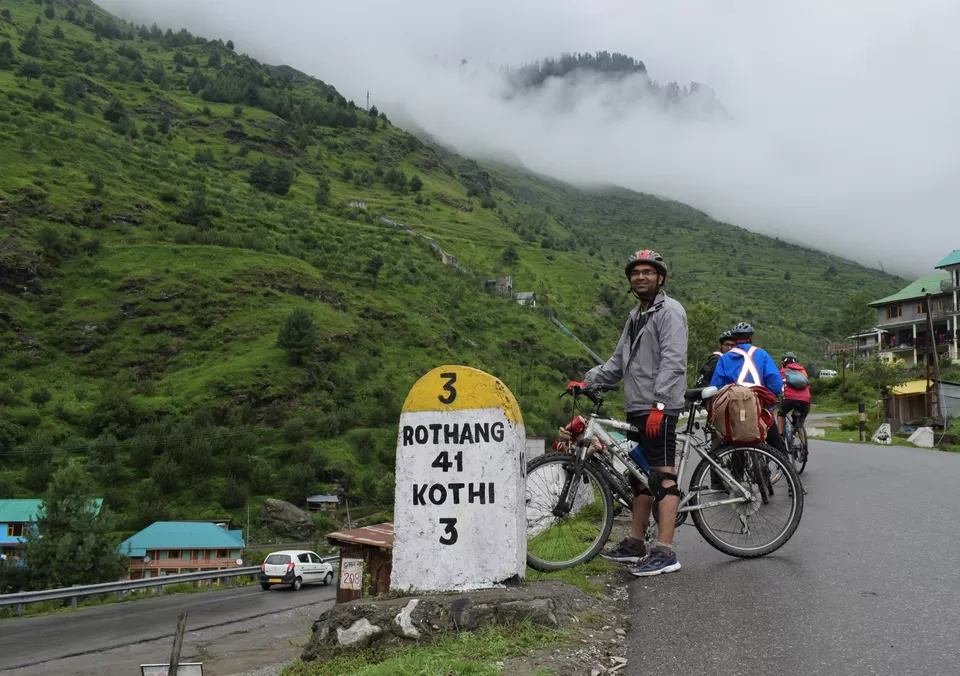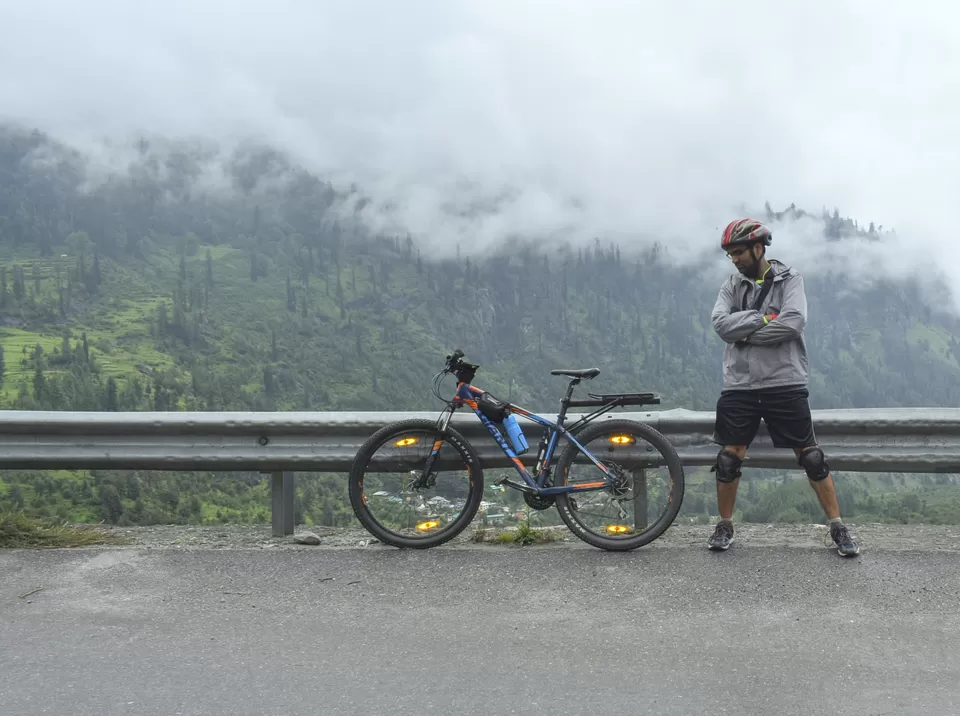 Once we left manali and entered the mountains we felt like we are entering HEAVEN. It was more than the graphics of AVATHAR movie. Everywhere greenery, fog and sometime shower of rain!!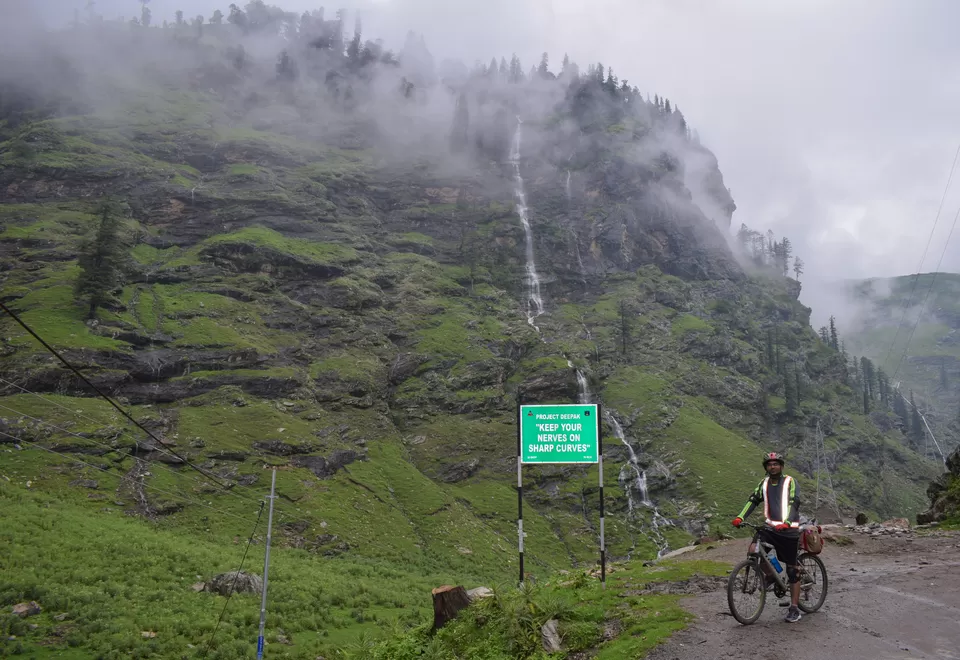 It was awe-inspiring to move forward. The rising mountains/sudden elevations of the sharp curves doesn't be the barriers for our bliss. We reached Gulaba by the evening 4 PM. Me and my friend Srinivas were the lagers, who reached the camp at last. When I reached GULABA.. it made me feel proud and enhance my confidence for next days ride.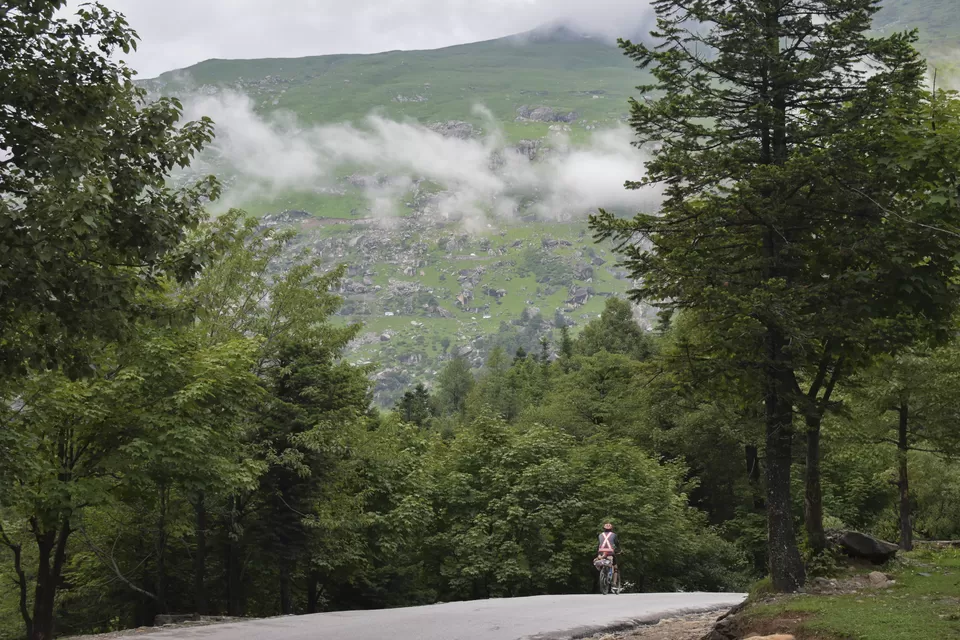 The climatic conditions in Himalayan mountains change very drastically. Suddenly heavy rain was disturbed the whole camp as well as our minds. Already we were tiered and needed rest. But the RAIN annoyed us and reduced our guts. We had our food in rain itself by wearing raincoats. It was so uncomfort feeling which make so irritation. The immensity of rain go on increased from evening to till next day morning. The tiered body and annoyed mind not allowing us to come out from our sleeping bags. But it's not depended on our decision. Our camp leader decided and instruct us to pedal slowly in that heavy rain. By scolding ourself to opted for this challenge and campleader for that madden decision, we prepared and started our next ride (50 km). The heavy rain and intense cloud was not letting us to peek anywhere and the road was not clearly visible after few meters. But the climate really helped us to minimize our burden to ride 30 km in the uphills.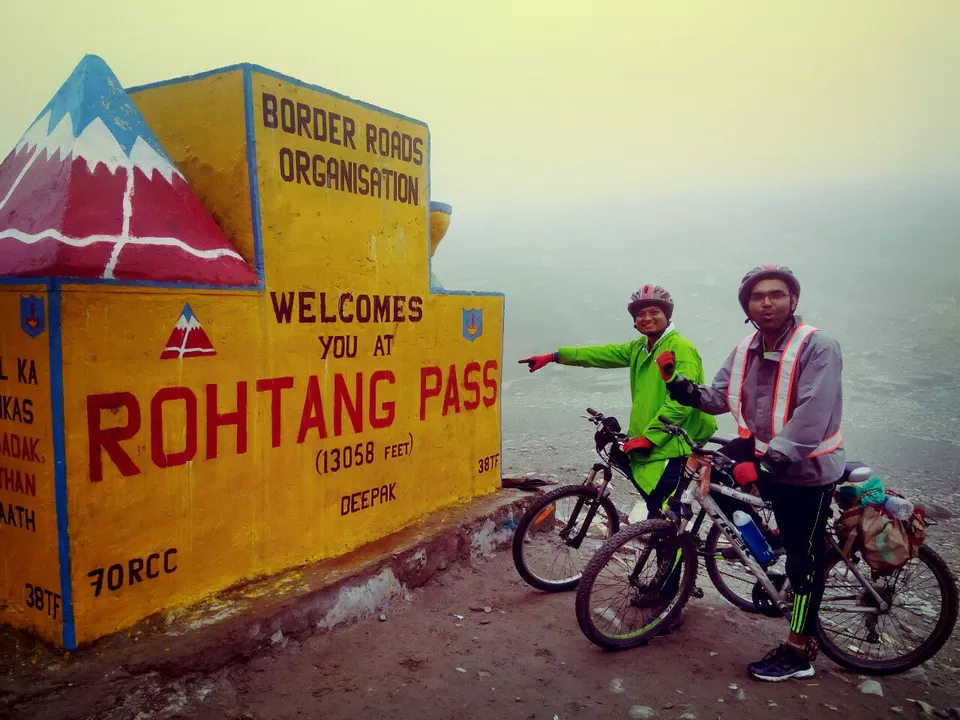 Finally we reached our first PASS – 'Rohtang Pass'. Rain was slowed down. It was completely misty. Jovial mood uplift us in the SKY  great satisfaction and proud for the challenge we taken. What we felt in the morning at Gulaba was completely opposite of what we felt at Rohtang. This is what the Teaching is!! That's why Nature is the best Teacher/Master. We presumed we have completed todays ride!! this is what the mind game is. This type of thoughts only make us to feel tiered without letting us to take further any challenges. But that's not the end of game.. we has to reach Koksar, which is 20 km away from Rohthang. We saw the road and felt its completely downhill\\\ which can be easily make it. BUT its not so easy what we think… it was HELL..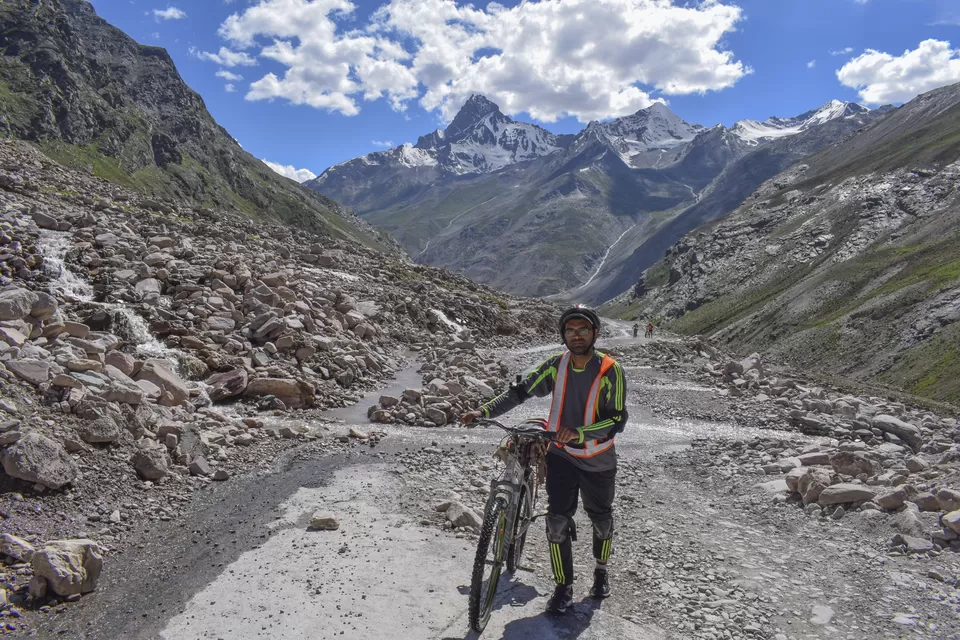 Road is too much worst. Lot of sharp curves, big boulders, small stones afraid us to take journey in that downhill. Keep on praying GOD we were riding that 14 km downhill… once we reached the Koksar village. We thought we reached our camp. It was 6.30 PM. Sun was down. But we didnot reached campsite, it was 10 km away from Koksar. No lights!! We were pedaling with blind confidence. Deep valley of river was running beside all along our ride. We were not able to see anything in that dark. Today, if I recall back… it make me feel proud and heroic. After 30 mins of ride we feared of and stoped our ride as we come across few water streams. The YHAI ambulance came behind us to provide light for our ride.. This is what makes YHAI special. The ambulance not allowed us to sit in it and take us to camp site. Instead they were provided light and made us to ride. we reached camp at 9.30 PM. Ohhh!! Feel great and bashful as everyone welcomed us with cheerful claps. As we were the last persons to get into camp.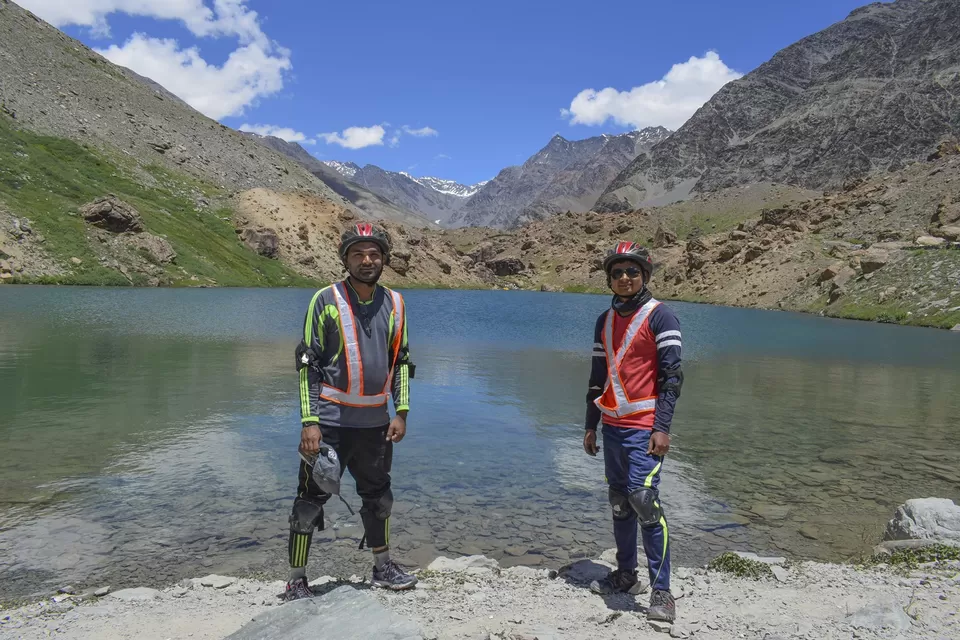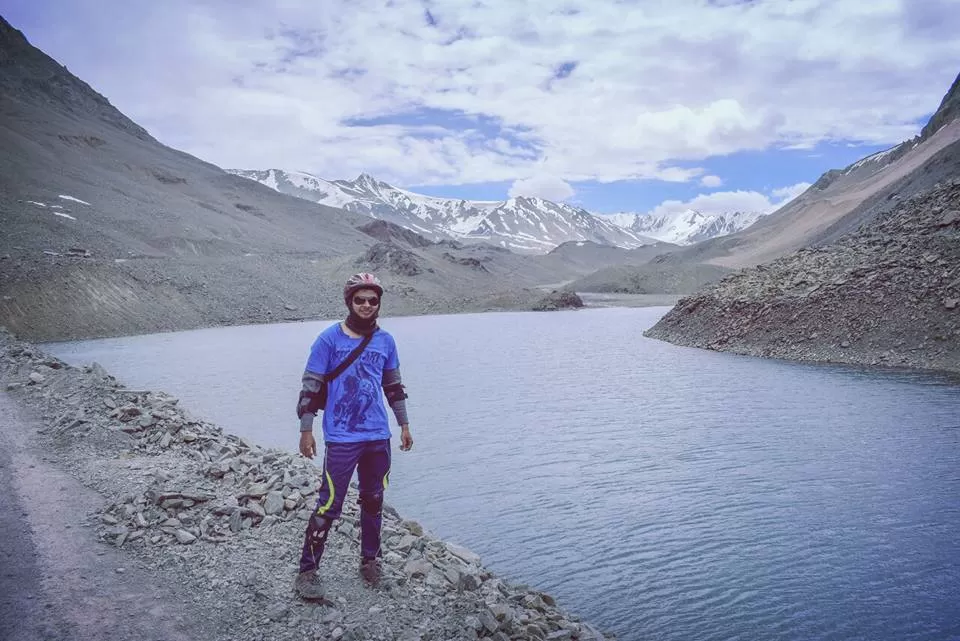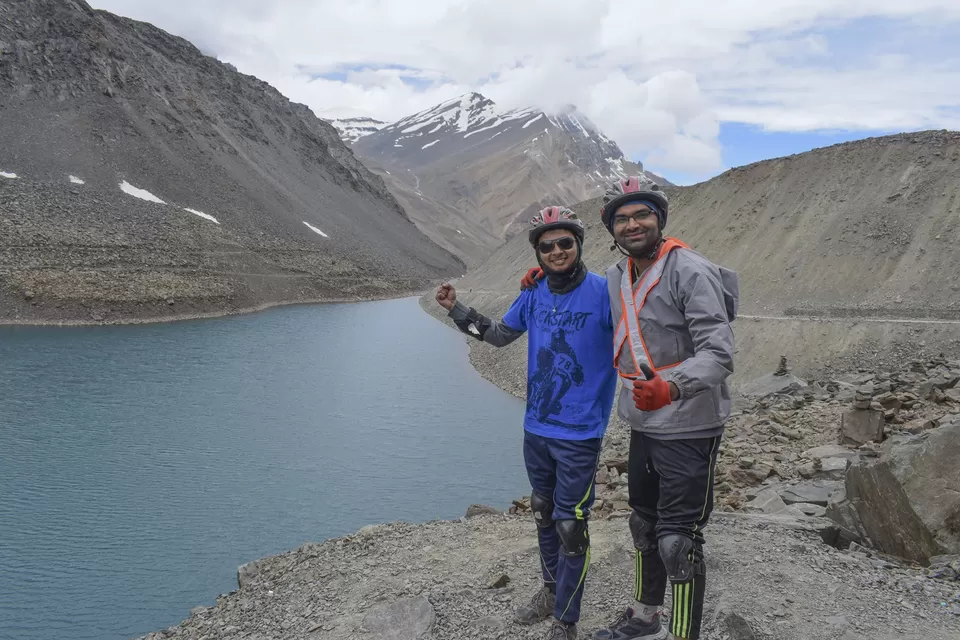 The campsite was great near Sissu…. There was a water falls and a lake visible from the camp itself. The 3rd day whether was completely differs from initial 2 days. It was soo sunny and hot. 3rd day ride was from Sissu to Jispa (55 km). the ride was literally made me crying :-( completely felt the experience of COLD DESERT! Yes too hot.. no greenery.. no trees.. not even Grass.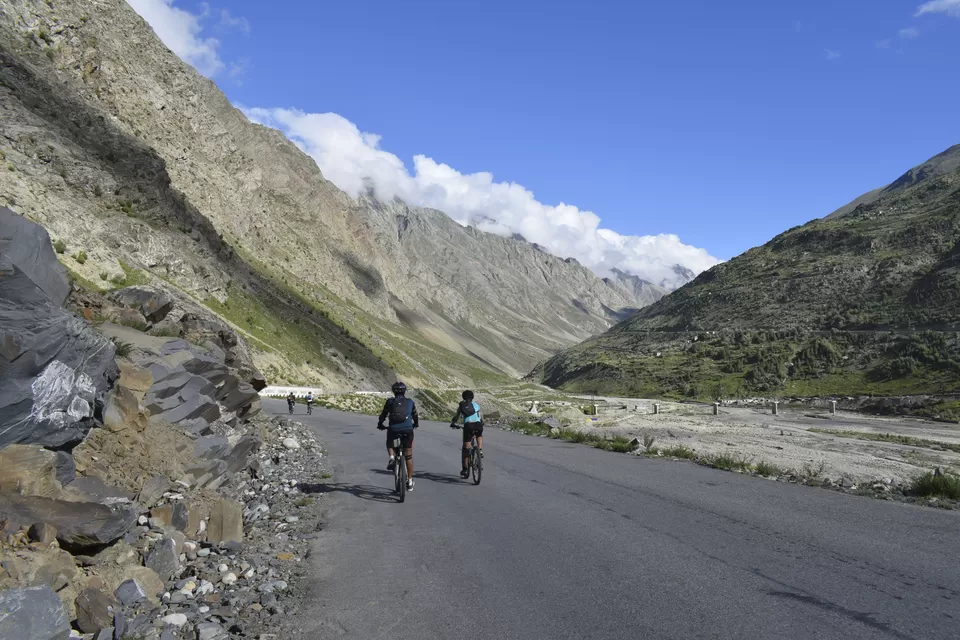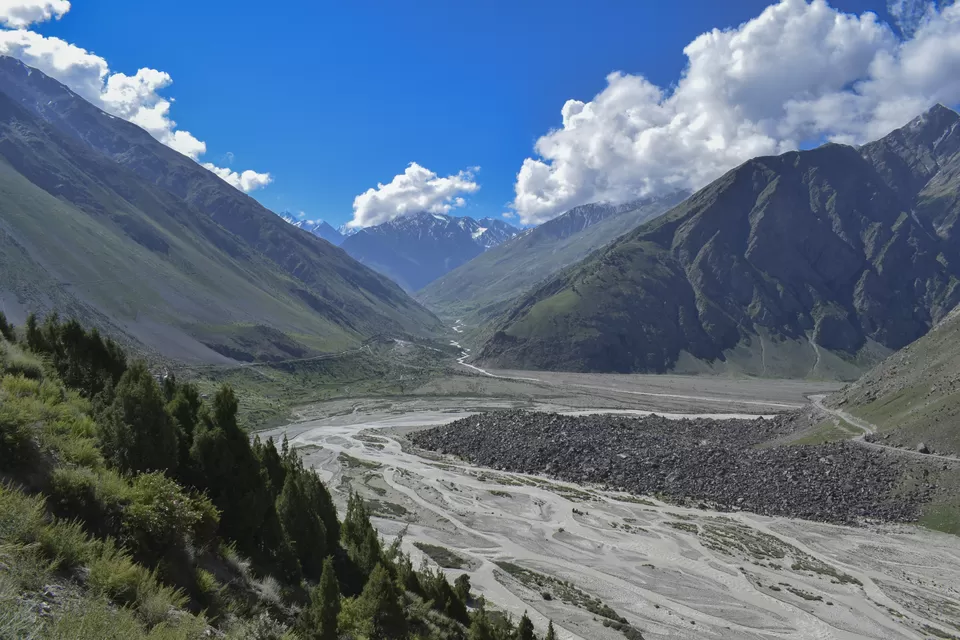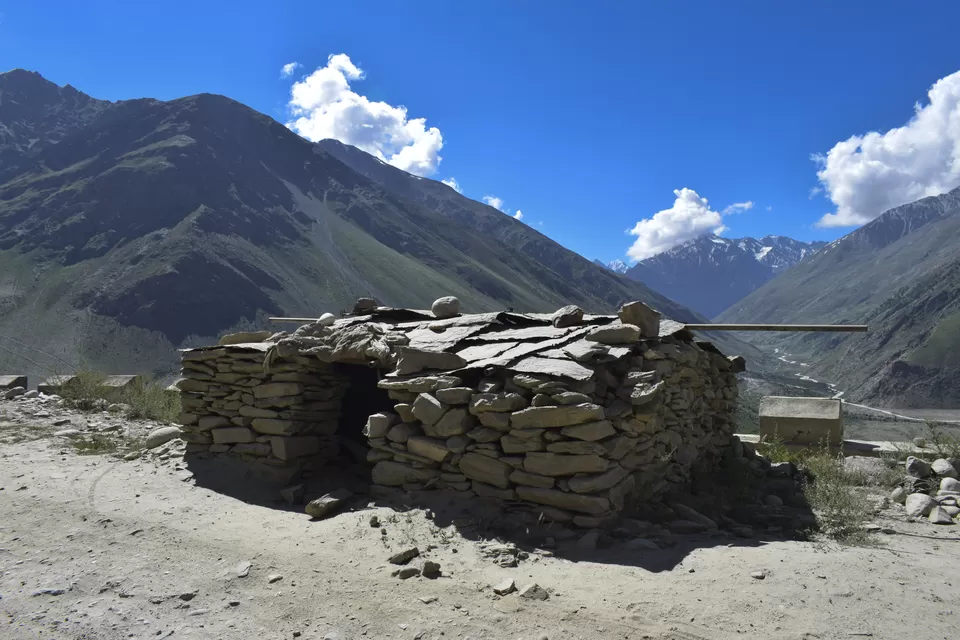 With the great difficulty we managed to reach Jispa. What we thought, It is not the same! What we experienced in initial 2 days is not the same!! Every day New Lesson with New climate and New landscape. Great!!!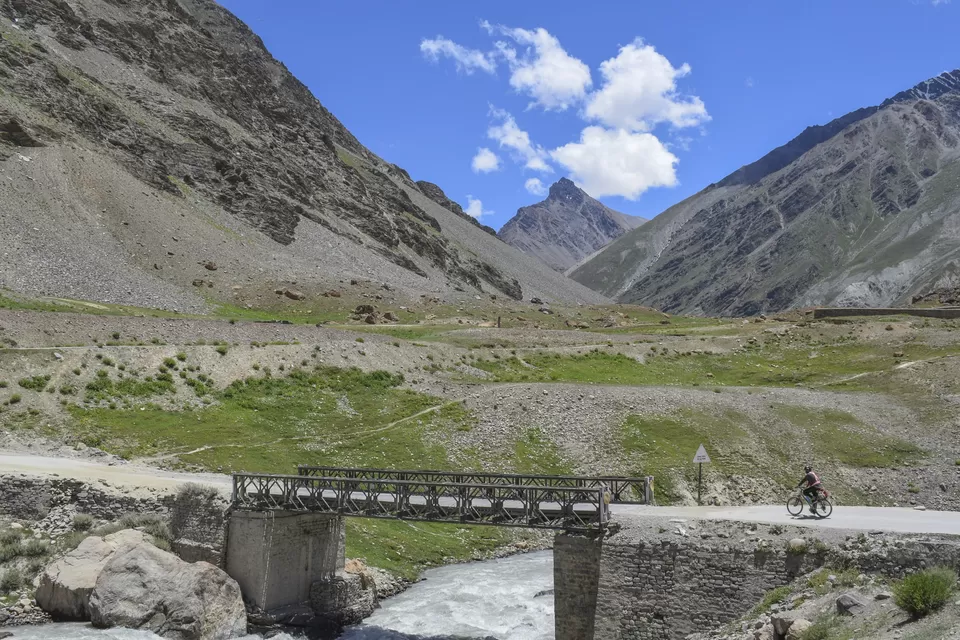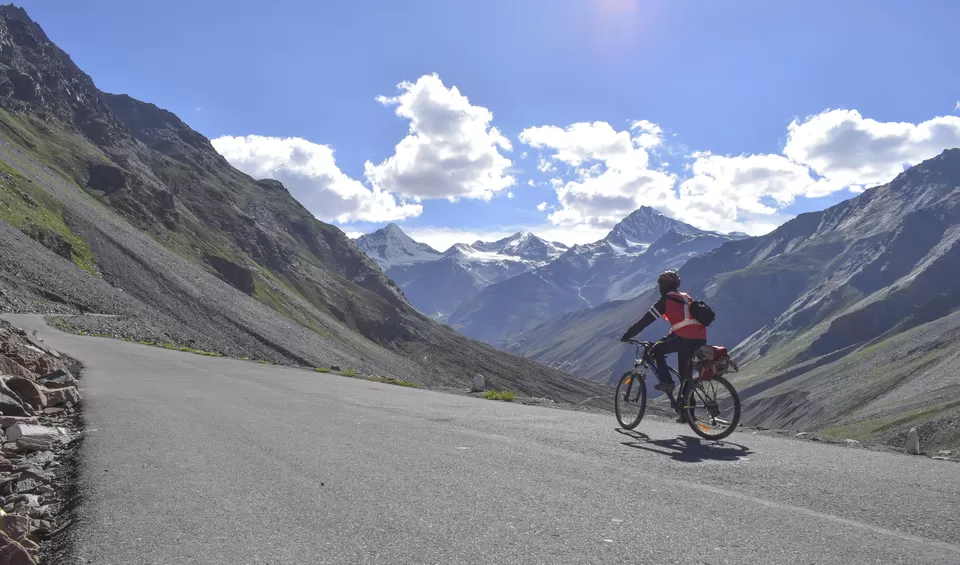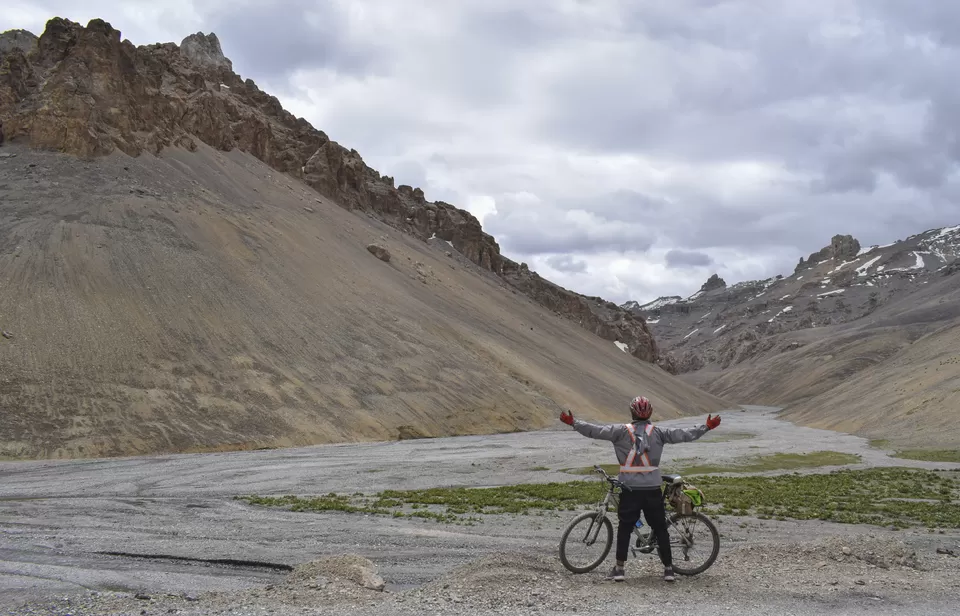 4th day Jispa to Zingzing Bar is one more difficult day of 30 km ride. on the 4th day, we feel to quit the expedition. But convinced ourself to push one more day and lets see what happen! We made a discussion that If it's not possible for us on 5th day let's catch a bus and move manali.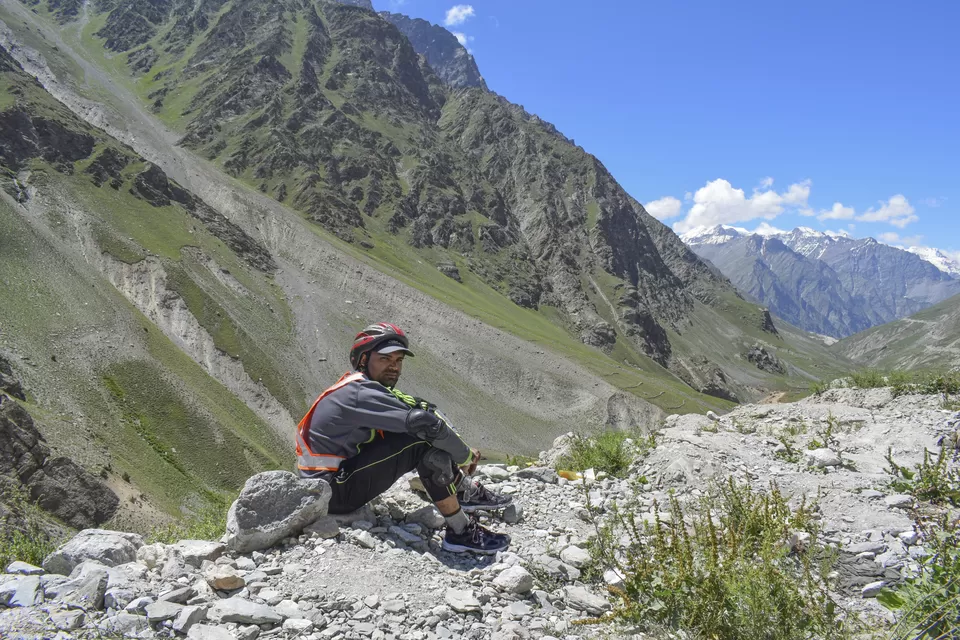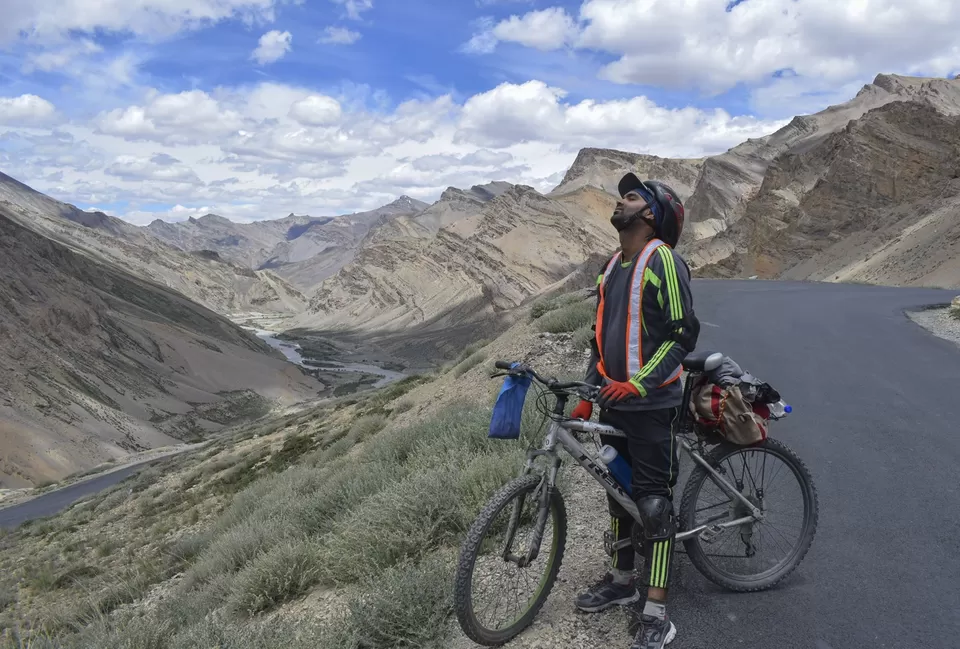 but the 5th day ride (Zispa to Barlachala-20 km-uphill and Barlachala to Sarchu camp site-32 km-down hill and plane) was motivated us to continue our mission. The landscape was grand. We become miniature in front of those vast mountains, sharp curves, deep valleys and radical changes in climate. Sarchu is the plane where we feel easy pedaling with feel of pleasure.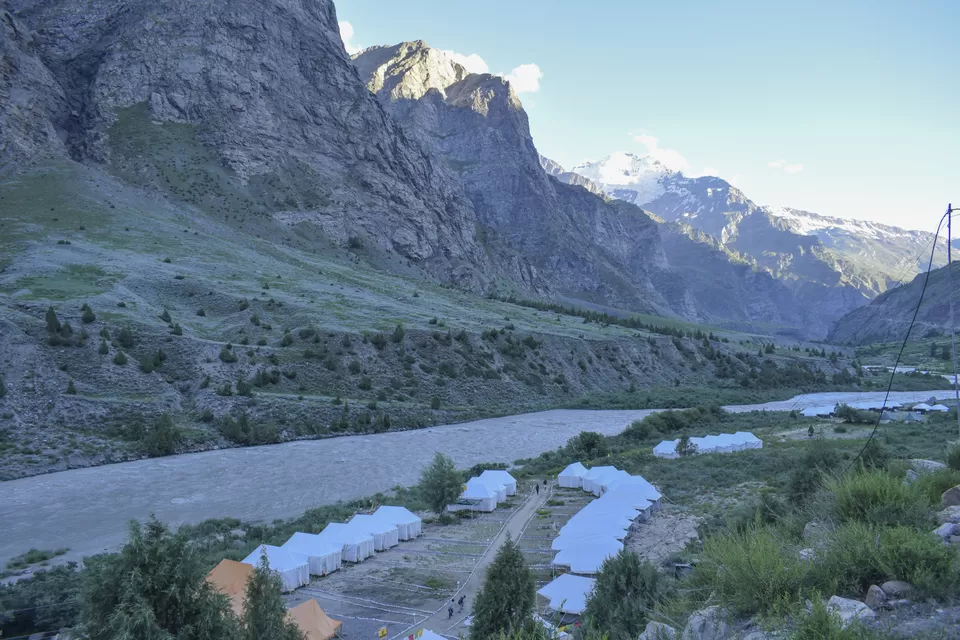 6th day Journey was from Sarchu to Pang (48 km). On this day we come across Gata loops. Name itself emphasizing the difficulty level. Gata loops is completely uphill with 21 loops with hairpin bends (Elevation 500 m). The climate was blistering. Most of the loops I manages to cross by dragging the cycle rather pedaling  but after reaching the End of Gata Loops. It was a pompous movement. Feeling great!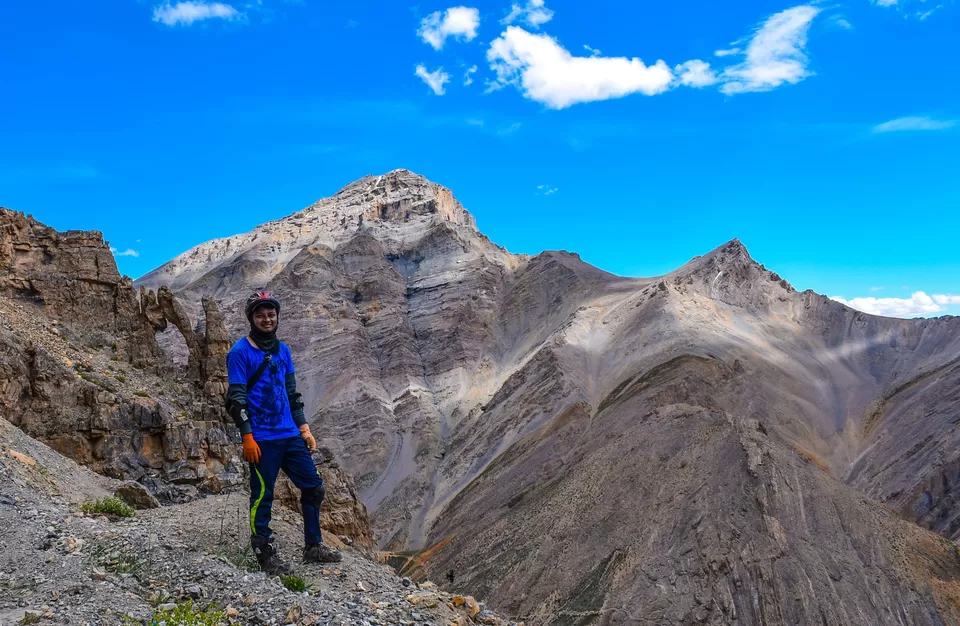 But once we complete Gata Loops, Its not the end of the day exercise. Still we have to cross Nakeela Pass and reach Whiskey Nala. Yes the increased adrenaline level suddenly decreased soon after seeing one more uphill towards Nakeela. No other way to escape nor any alternate to reach. It is the competition between our ego and Mountains. To make my ego to win, My body and mind prepared and pedaled the cycle to reach Whisky Nala crossing Nakeela.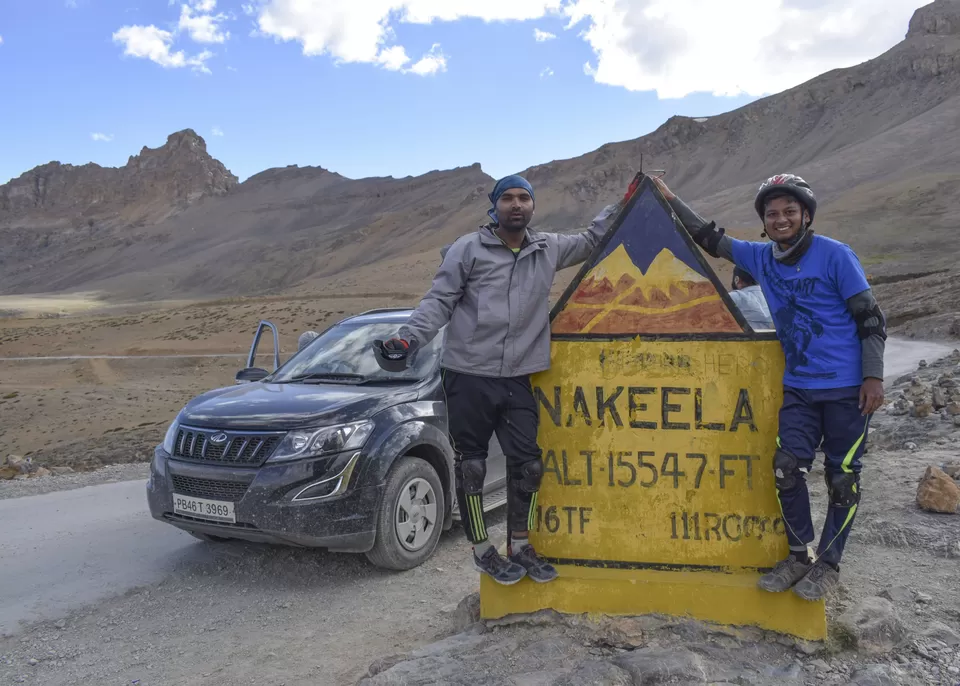 Whisky Nala… Name itself articulating the significance of the place. As it has less oxygen the mind is soo fluctuating and most of the persons has the possibility to encounter HAS (High Altitude Sickness). Luckily We didn't!! But the place was soo COLD!! By the evening 6 PM we were not able to come out of our tents. It was Chill, not able to touch water in bare hands. With all shivering we had hot masala tea and food as early evening. And got into the sleeping bags as early as possible.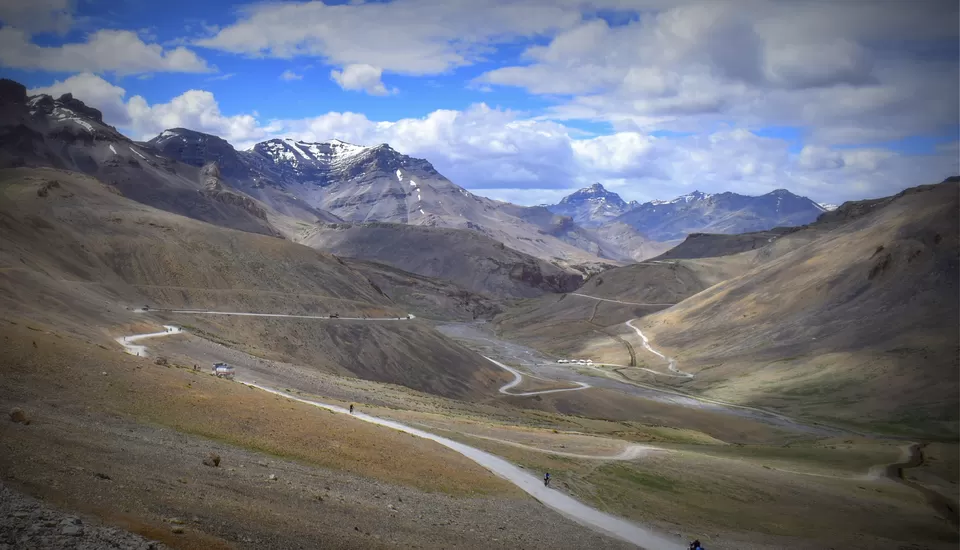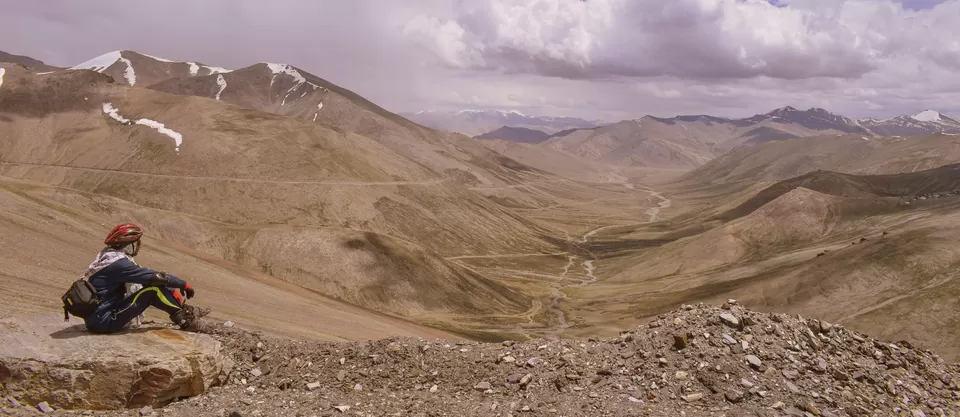 7th day, Whiskey Nala to Pang Crossing Lachang La (29 km) Whiskey Nala to Lachang La is only 8 km, easy uphill. Lachang La to Pang is 22 km, downhill. The backdrop was breathtaking, overwhelming. Its completely another world. More than any Hollywood movie set, Unexplainable beauty.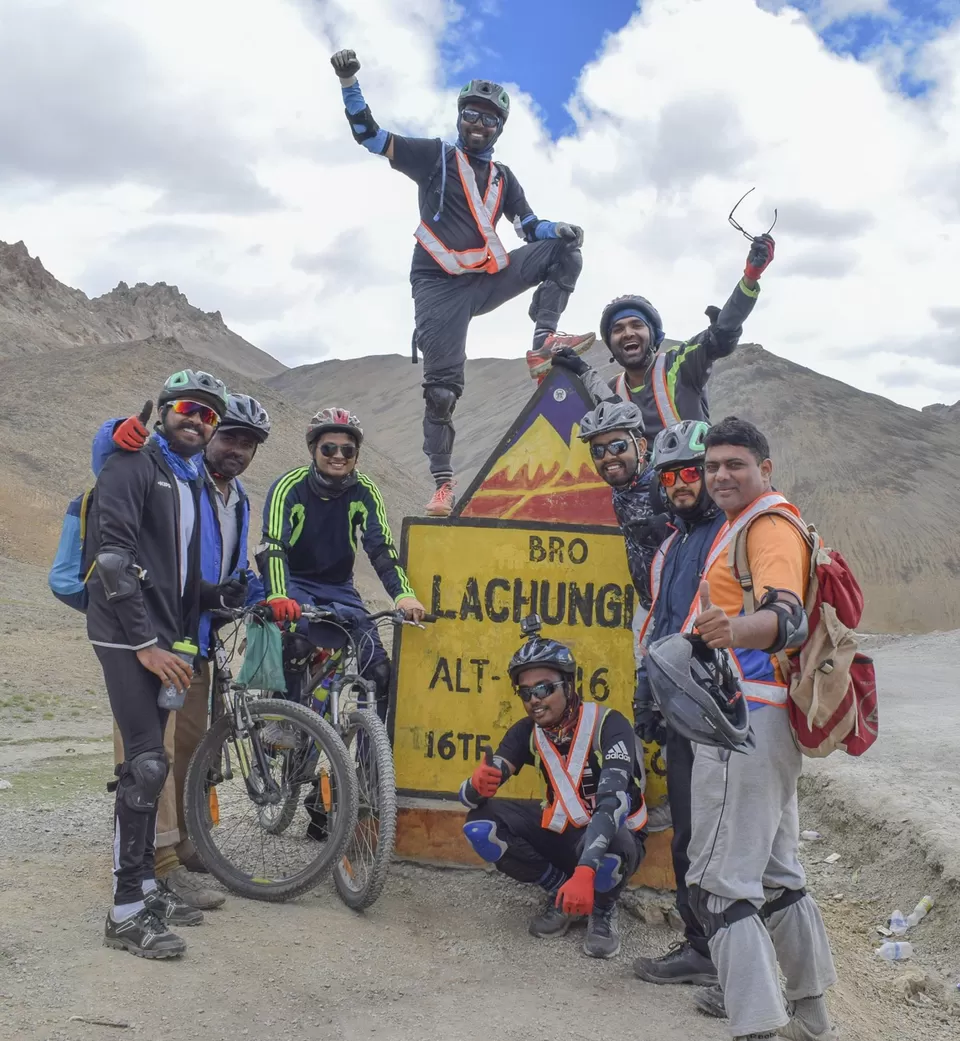 8th day Pang to Debring via Moore Plains (52 km). I thought it was so easiest journey in the expedition. But it was not!! Initially the scenery was amazing, inspiring, but as we started our jouney the route looks monotonous  never losting…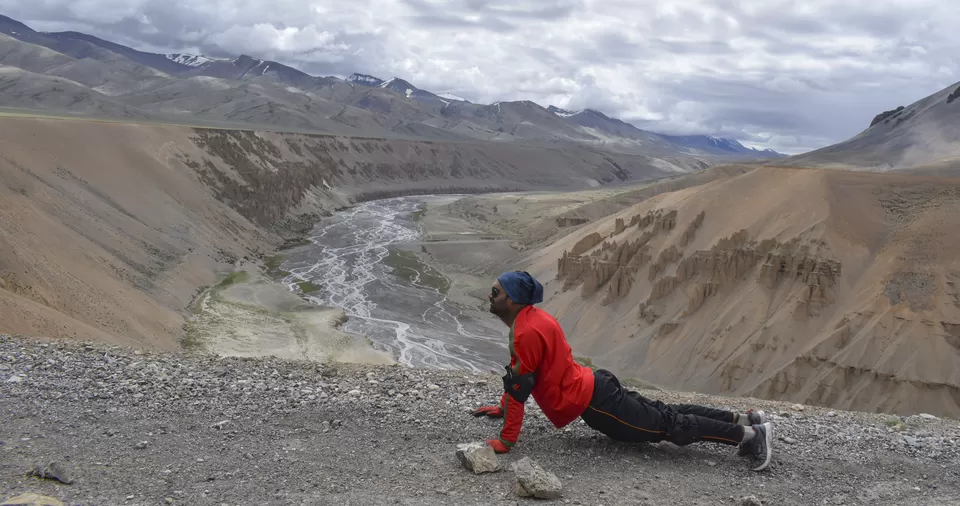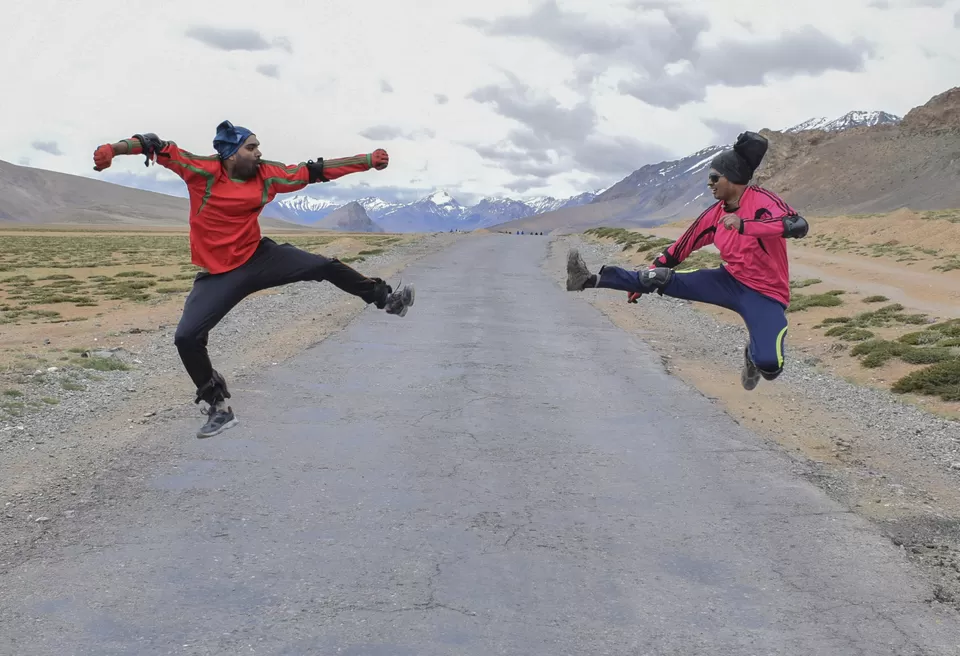 finally we reached Debring. It is also too cold. Chilled wind blowing our all egos. The military vehicles were moving all around. The Sounds of vehicle is making us to feel.. we are in battle field. the climate at the late evening is similar to what we experienced at Whiskey Nala… the drastic changes of climate increased all the respect What we had about our SOLDIERS!! Kudos to them.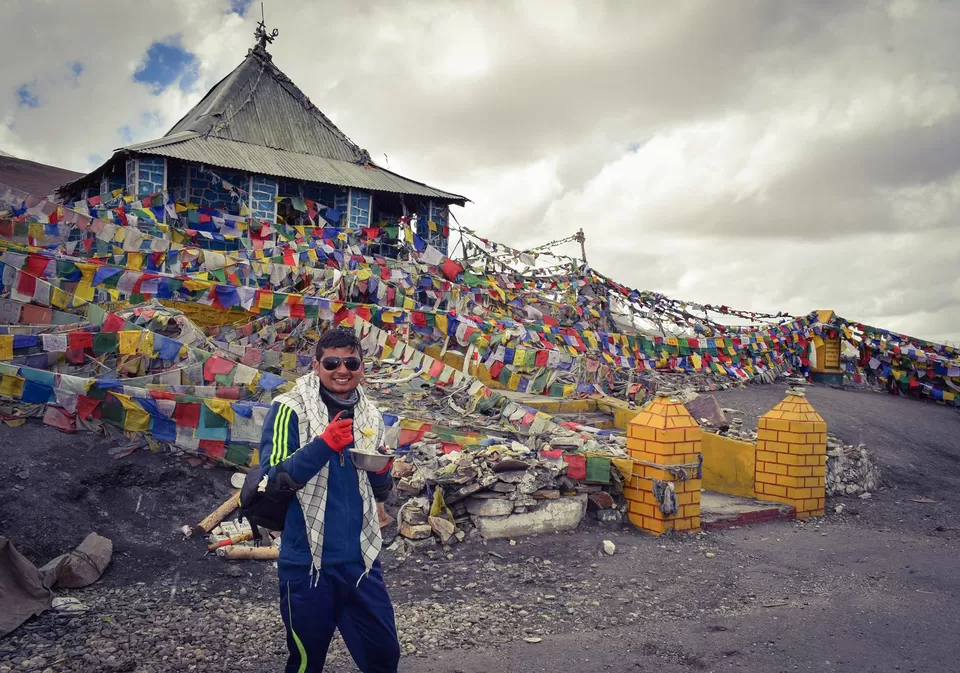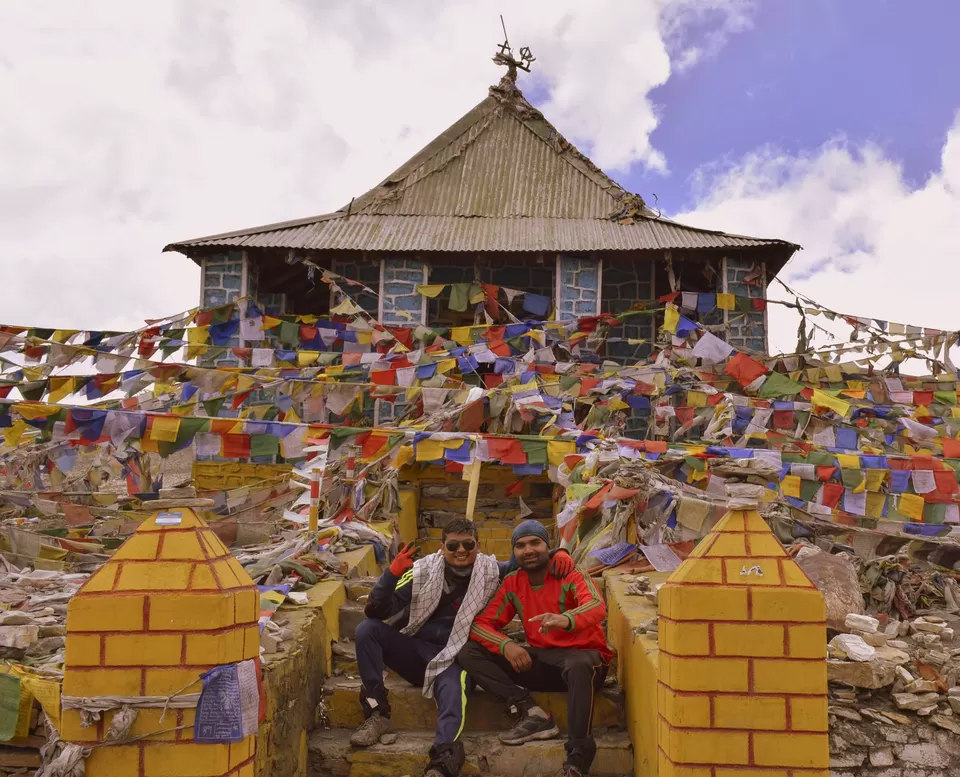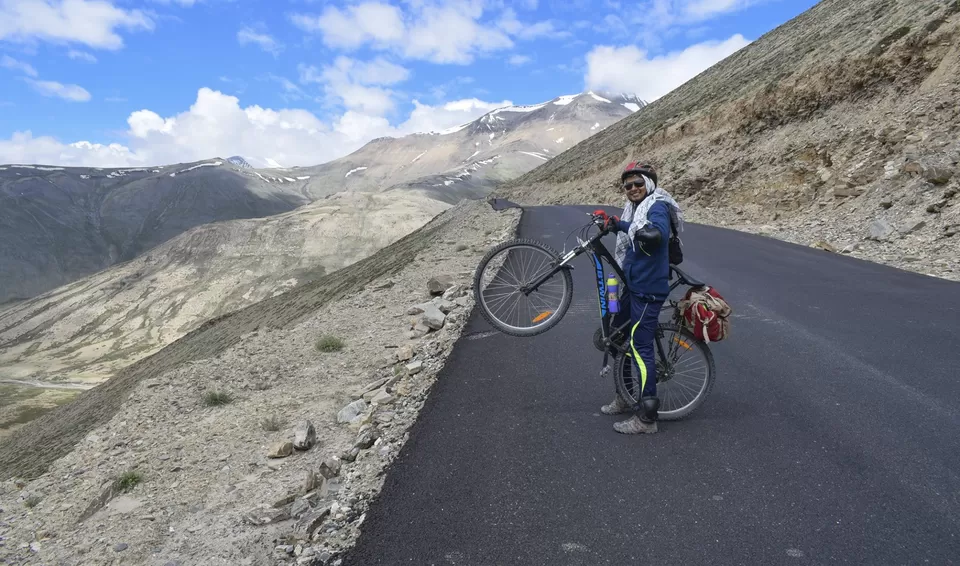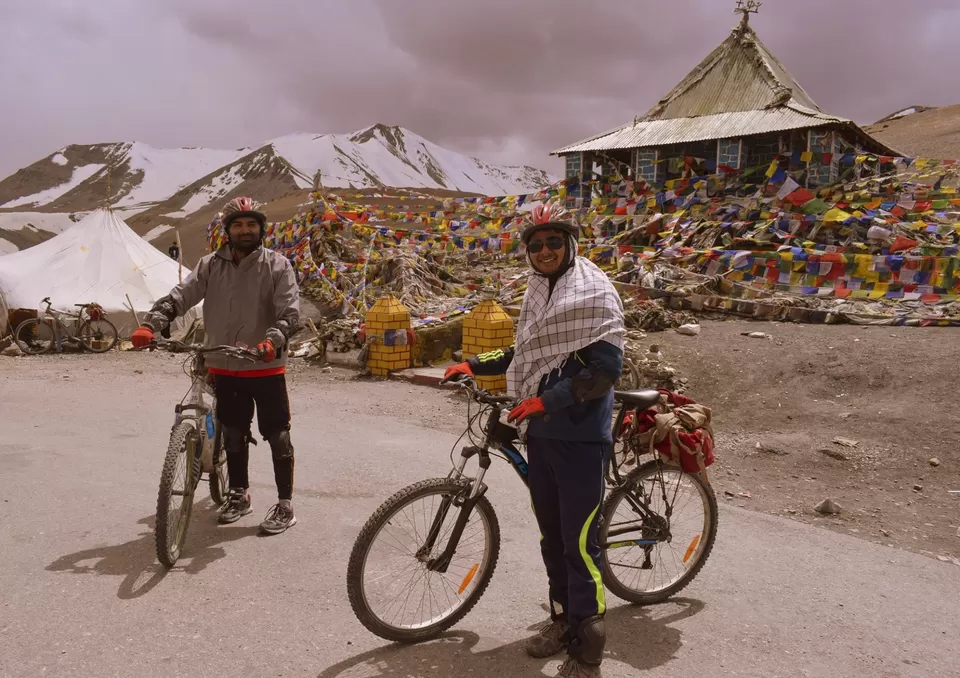 9th day Debring to Rumptse – Crossing Tanglang la (47 km). till this day I read and heard about high altitude sickness… But Crossing Tanglang la (17,480 ft ) is not soo easy task.. The peak of Tanglang la was visible and looks just after the adjacent mountain but its not. Just like oasis in hot desert due to Mirage!!. I suffered a lot of high altitude sickness and FEELED what exactly it means!!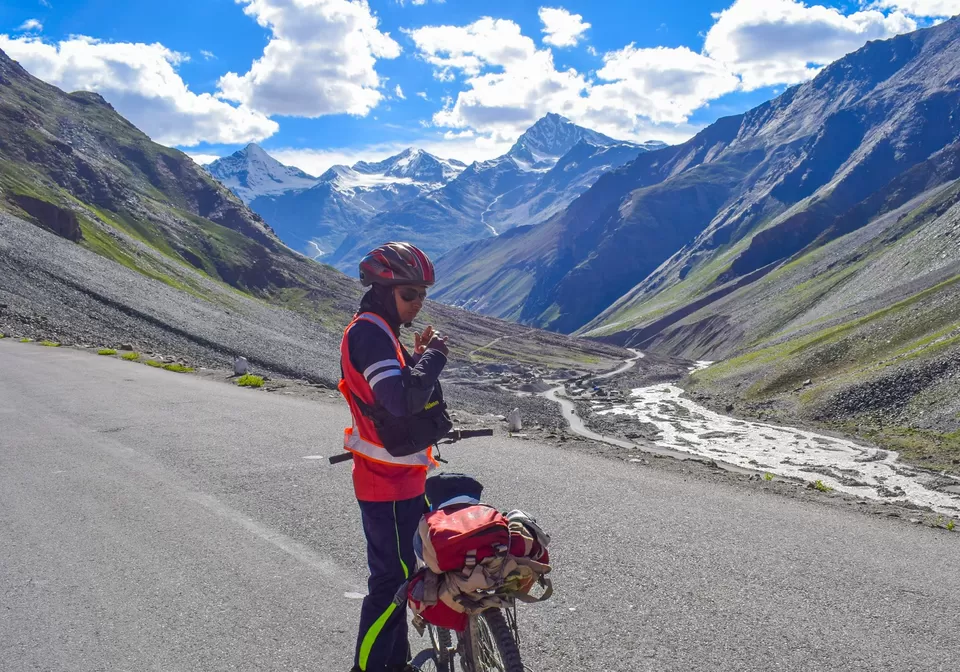 After Tanglang la, its completely downhill upto Rumptse. Not much tiring but So Dangerous journey. As it had lot of Sharp curves and deep steeps. With a great caution and alert we reached Rumptse with complete satisfaction. From manali to till Rumptse, we were Lost in mountains. 1st time after 10 days we saw many agriculture fields, greenery.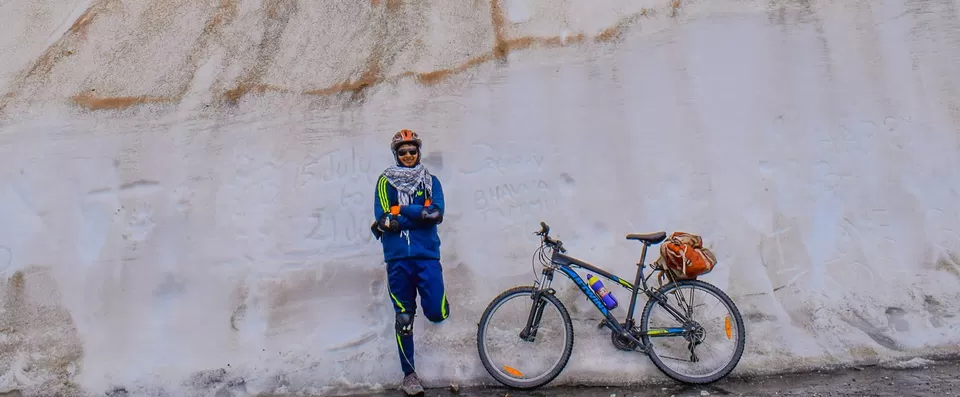 10th day Rumptse to Leh (76 km). very long journey, neither easy nor difficult. Too hot climate. Lot of army camps and military activities are visible. The struggle of soldiers can be able to feel. We canot able to tolerate just even for a few days as trip; but What about our Soldiers, who struggle everyday just to protect us. GREAT RESPECT!!!!!