Starting from Imphal
I am at Imphal, the capital of the most remote state in India: Manipur: notoriously well known for insurgency and conflicts with the headhunting tribes from the neighboring state of Nagaland.
It was 1 PM afternoon, and shopkeepers are making their final daysales and getting ready to close down the shops. It gets dark by afternoon and most public transport stops by afternoon.
For me, I have to reach Guwahati, 479 Kms away by the next day to take my flight to Bangalore. Certainty Guwahati, the gateway to northeast is the place name in India with most numerous spellings Guwahati, Gauhatti, god knows how many, but Guwahati is the official spelling.
Noting seem to help me, as I was pretty late to know that there was no night bus to Guwahati. Taxi driers were afraid to take me, as they have to cross Nagaland. "We are afraid to drive through Nagaland at Night! they will kill and rob us".. Oops I was like: Shit, I will miss my flight and will not be able to reach back: the next couple of days is curfew in Imphal (This happens regularly).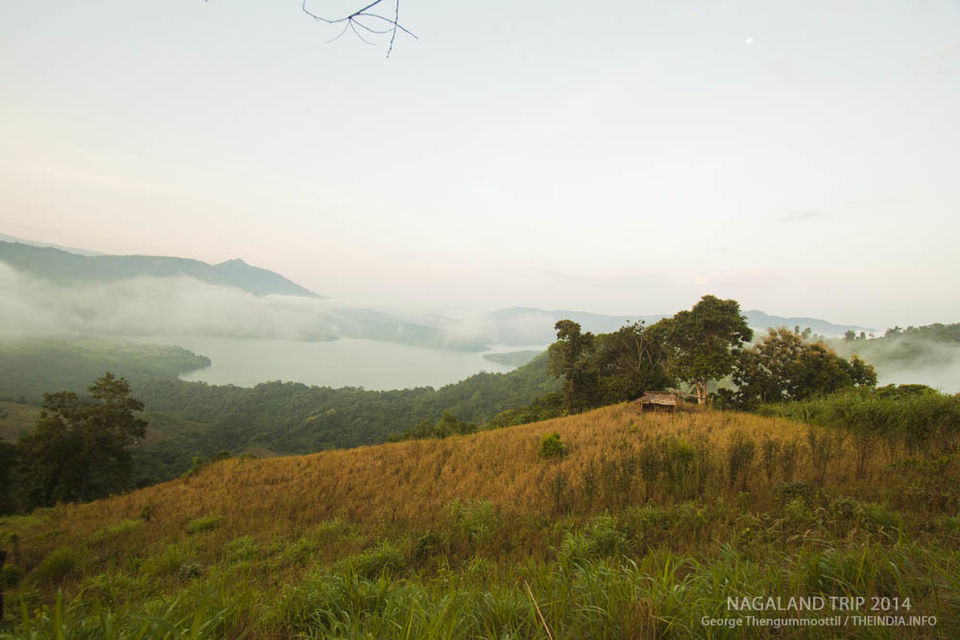 The Rural Nagaland set inside Arakan Hills: view of Doyang dam backwater from Pangti village, Nagaland.
It felt quiet funny to me, that the common people even most taxi driers of Imphal has never been to Nagaland which is just 80 kilometers away. For them its a different continent: the forbidden land.
Imphal to Senapati
To my surprise, one of the taxi drivers told me told me to get on the bus to Senapati (60 Kms from Imphal on the way to Guwahati) from where I can get vehicles to Guwahati: he pointed at a bus:looking more like just picked out from scrap.
The last bus to Senapati which will leave by 2:30 PM: another 10 minutes. I got into the bus with excitement.full of old people: few goats and a dozen of hen and not to miss: few chicks. I walked along the platform to get an empty seat at the back, without disturbing any of the busy co-passengers: busy chewing pan and bitter-leaf (They call it Pana, and almost everyone in Manipur chews it).
The antique bus was mostly made of wood shielding: runs at the most 20 kilometers in an hour, was an India before experience to me: i see India before independence in colors. wow!. After three hours of band music from the gears and engine: with chorus from the ever open mouths of the elderly and hen, the bus reached Senapati at 5 PM.
At Senapati
It sounds like a Tamil name: though I could not see anything similar to Tamilnadu. As the bus stopped, the passengers get down with their kids, chicken and chicks: rushed to a few jeeps waiting nearby. One of the jeep drivers called me and asked where I want to go. "Guwahati". after a little pause out of astonishment, he replied "Its far away. You can get a jeep day-after tomorrow. Tomorrow is Sunday, so nobody will drive! we are going to the nearby villages. If u want to join use you are welcome." That was a little heart-attack: by the time, few other drivers joined and all of them said the same. I was convinced.
In another two minutes, all the jeeps left: Now I am alone in this god knows where town: all shops closed:no people around and its dark: I am gonna be stuck in a ghost town for two days.
I started calculating "Kohima: the capital of Nagaland (on the way to Guwahati) is another 60 kilometers. If I walk all night, I can reach Kohima by morning: that would be the only plan or else sleep aside Asian Highway 1 (the highway connecting Imphal to Guwahati: a segment of Asian Highway 1 connecting Tokyo and Istanbul)". All in all, i would be proud to say: I have walked 60 kilometers of the 20,557 Kilometer long highway.
With no other idea in mind, I started walking along the road to Kohima. Almost 1 kilometer down, I could see some light: thank-lord a police check-post.
I was caught by the policeman at the check-post. I convinced them my condition and they were like "Okey, This guy is not a terrorist" but as per their advise: it was not safe to travel through Nagaland at night. They had great respect to the people of Kerala, as most of them could remember at-least one school teachers from Kerala. Anyway, I had a long conservation with them in my broken Hindi.
Into the Guwahati Truck
Meanwhile, they came up with an idea to send me to Guwahati on a truck. "A happy face after a long time". Trucks are very rare during night. there is just one or two every few hours. Most of the truck come with a lot of people in it: divers.. known as pilots, co-pilots,cleaners etc.. and there will be no empty space for an outsider.
After a couple of trucks, there came one with one empty slot: and they agreed to take me to Guwahati. The policeman got all the contact details of the drivers and asked me to get in." That was a cheers from every side"
I threw my bags with the camera into the cabin as if it was a cotton sack, With lot of happiness and fear and excitement, i climbed into the high cabin of the truck: During the process I fell down trice. I got the co-pilot seat.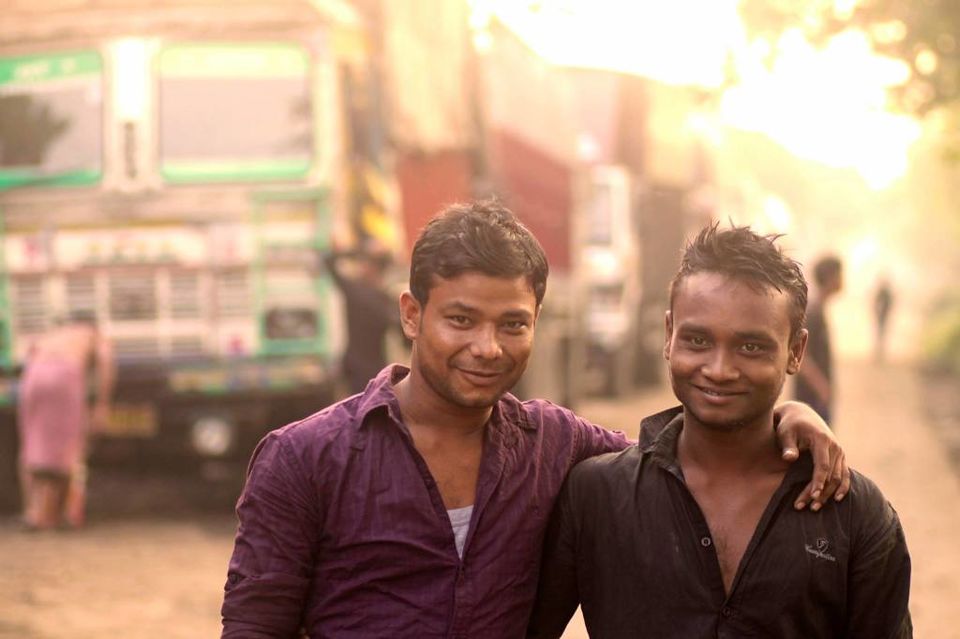 Tuñ Meçh and Ghajni Chouhan, the pilot and co-pilot at Guwahati, after our adventure in Manipur
Truck to Guwahati
In two minutes, we started our journey. "An adventure of a life time". As it was dark inside, we couldn't see each others face, but we had interesting conversation. The pilot Tura Mech, from Garo hills, Mehalaya, had a lot of stores to tell me. "Kerala always have stories in the northeast. Seems like everybody has a school teacher from Kerala. he has been till Goa in the south, but wish to come to Kerala".
We started climbing up the Ghat road to Kohima. The roads which has lines of truck traffic during day looks deserted with no one at night.
Half way up the ghat, we saw a light pointing towards us. and a car parked across the road. Tura advised me to stay quiet, and sleep inside the cabin.
He stopped the truck, near the car: two fellows climbed up either side of cabin: young freaks. They had some conservation in some wired language. They said a bye once were given some currency: not sure how much: but it was a few thousands. They moved their car off the road and allowed us to pass. Now I know why people hesitate to travel along the highway during night. This incident happened at a couple of places: at one place we fooled those guys.
Night at Kohima
We continued uphill and crossed Mao (Makes me remember about the communist name) and in another half an hour, we reached Kohima. With lots of winding roads and junctions the empty , Koima city looked like a hill set on fire at night.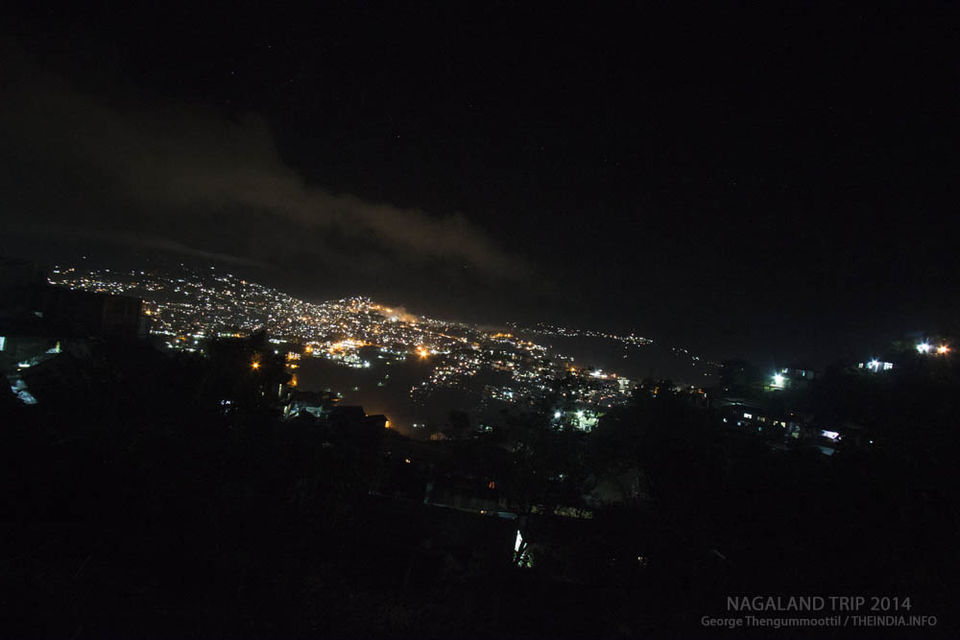 Kohima at Night: Spread across many hills.
In that little city light, i got a chance to see the face of my co-passengers. "There were two others sleeping inside the cabin: the co-pilot and the Assistant pilot. That was Ghajni Chouhan, the co-pilot and his assistant: who was the cook, cleaner, whistler... mechanic..say everything to do with the truck other than driving. he was also being trained to drive under his good teacher Tura.... Very similar to the film industry.. directors start as light boys, assistants, camera, and become director: if u are lucky enough.
The large area inside cabin has been converted into a bed: a traveling living room. I got to know that a truck drivers job is an adventurous work: with opportunities to travel a lot inside their large caravan.
Crossing Kohima seemed to be a milestone: as all of them got up and were filled with joy. I am proud that, I am one of that rare person from South India,who has traveled through these roads at night.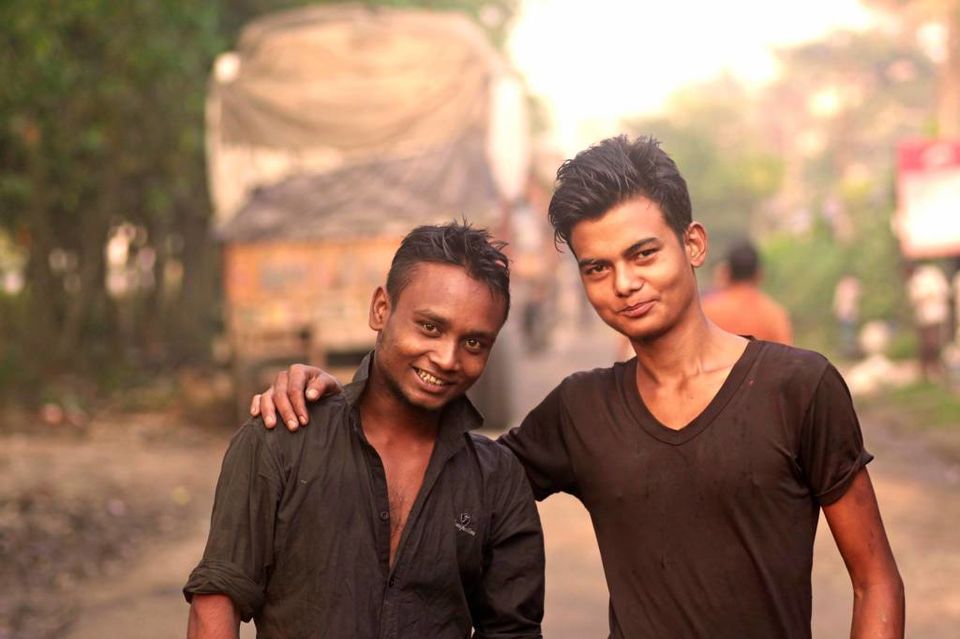 Ghajni Chouhan, the co-pilot with his assistant at Guwahatti, Assam.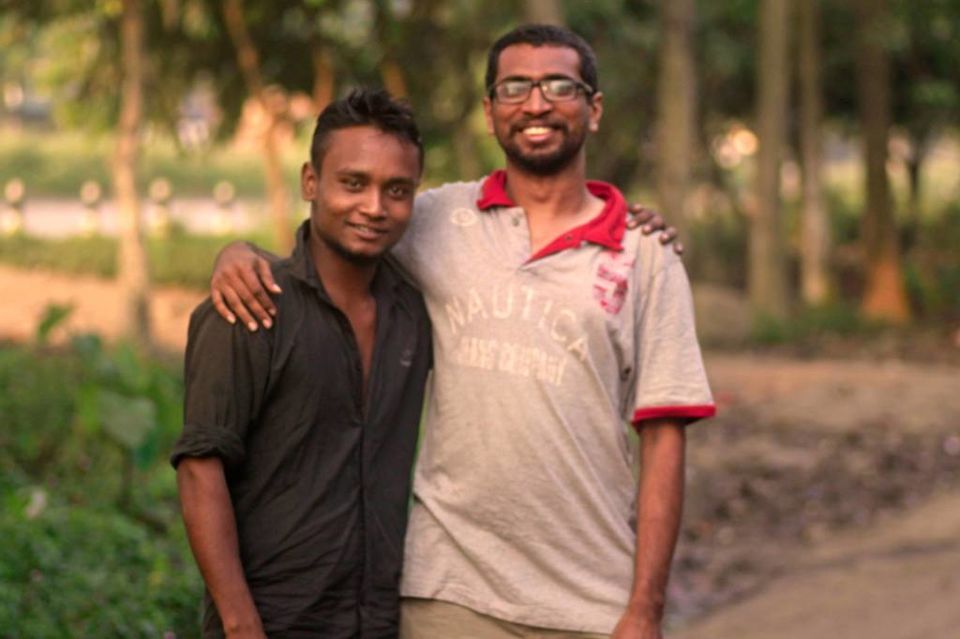 Ghajni Chouhan, the co-pilot with me at Guwahatti
Karbi Anglong Wildlife Sanctuary
By early morning, we crossed Dimapur in Nagaland, another 300 kilometers to Guwahati, but not ghat road: Tura wanted to take me through one of the most beautiful roads in Assam through the Karbi Anglong district: known for spectacular wildlife and Chicks.
The people from neighboring villages used to abduct the Karbi women: well known for their beauty. This was the reason for wars which lasted several decades, in the Naga history.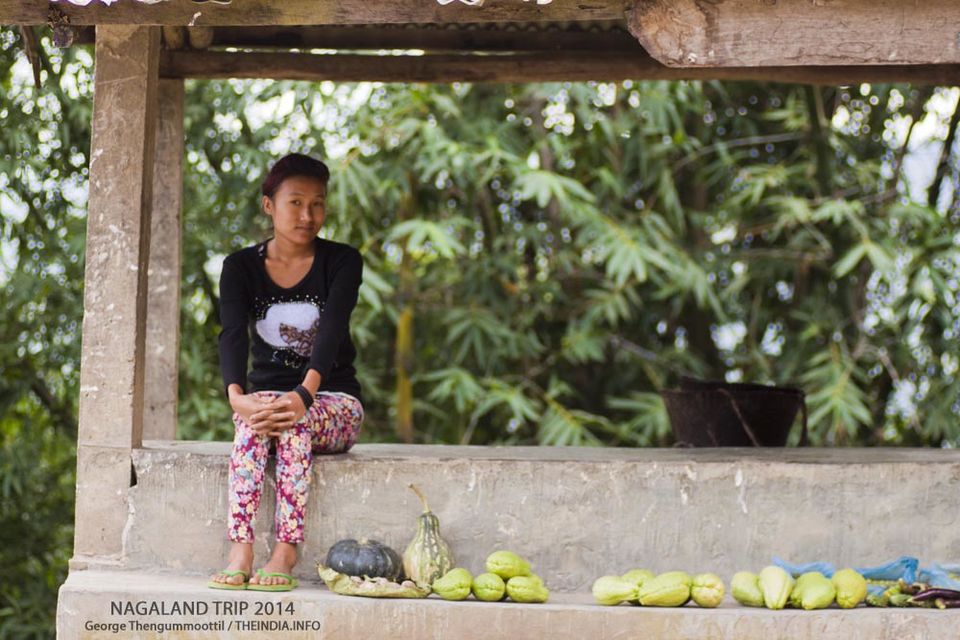 A girl selling vegetables at a road side shed.
We enjoyed the trip through this road: chatting at the very few restaurants and tea shops, we celebrated our lunch, together in at one of the beautiful spots inside Karbi Anglong Wildlife Sanctuary, and finally reached Guwahati by afternoon.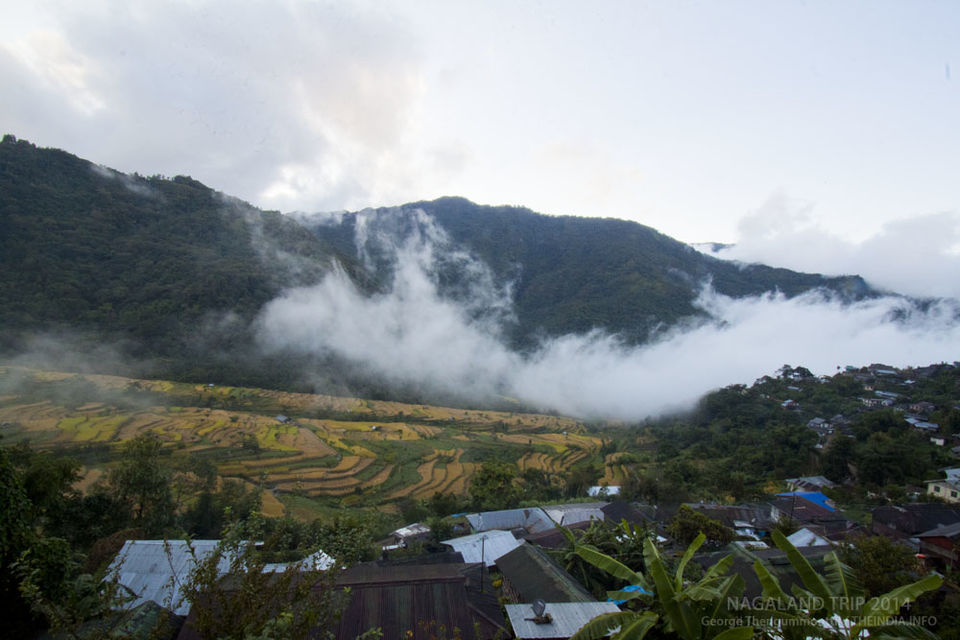 View of a Naga Village where houses are build at the hill and the common fields are in the valley.
All in all I learned a lot about a truck drivers life. It was quiet interesting.
Note: After that, I have been several times to Nagaland and Manipur after this trip. Few of the photographs used in this page are from different trip.
This post was originally published on 'theindia.info'.
Frequent searches leading to this page:-