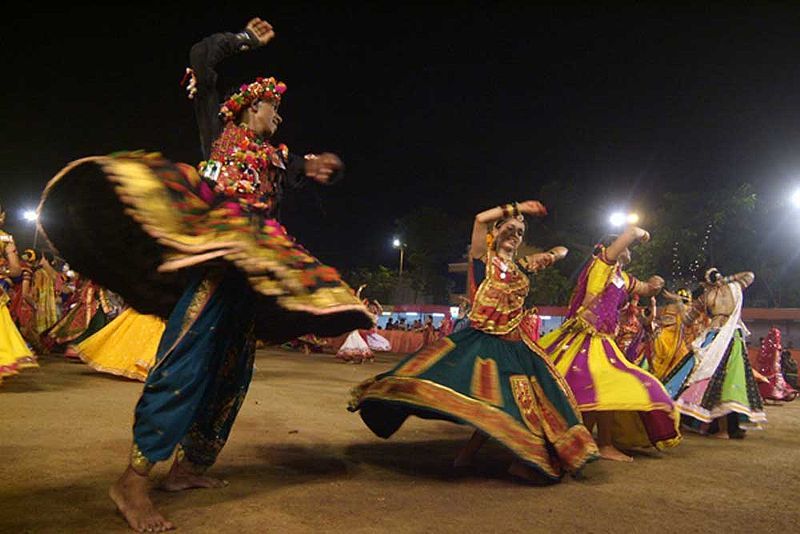 For nine nights, the state of Gujarat dances from dusk to dawn. Navratri is the best time to experience Gujarati culture, tradition and folklore. Locals play dandiya and do garba wearing beautifully designed traditional dresses. The best part about Navratri is that you are not a spectator in this euphoric festival but a participant as well. Anyone and everyone can dance to the rich tunes of Gujarati folk music from 10th to 18th October.
Gujarat is broadly divided into five sub-regions: Ahmedabad, Baroda, Kutch, Saurashtra and South Gujarat. The following list contains best Navratris from each of the sub-regions so that you get a complete dose of the varied and colourful culture of Gujarat.
Baroda is the unofficial cultural capital of Gujarat and hosts three very traditional Navratris. United Way of Baroda, the best garba pandal, sees up to 30,000 traditionally dressed men and women doing different garba moves. To experience sheer energy and euphoria head to the University of Baroda Faculty of Fine Arts Navratri. Check out Maa Shakti Garba to figure out why it is in the Limca Book of Records.
Ahmedabad is the biggest city of Gujarat and in many ways the trendsetter. Hence, Ahmedabad Navratris are a good mix of traditional and modern. Rajpath Club puts on a grand show with themed pandals, groovy music and pyrotechnics. Mirchi Rock And Dhol, organized by Radio Mirchi 98.3 FM, sees Ahmadavadis, travellers and Bollywood stars dance to garba songs. Gujarat Tourism organized Garba at GMDC Ground with its exhibitions and grassroots dandiya is for the culture vultures.
Kutch, the largest district of India, has lost its way in trying to blend Gujarati, Bollywood and Hollywood. Therefore you must head to smaller Navratris to get an authentic experience. Dance till dawn at the Vokra Fariya Dandiya in Bhuj. Head to villages around Bhuj like Drang and Sumrasar to sample rural garbas and dandiyas. You can even witness Ram-Leela play enacted by farmers, labourers and truck drivers in the village of Bibar.
The unofficial diamond capital of India and the heartbeat of South Gujarat, Surat Navratris host the best Gujarati and Bollywood musicians. Experience never-ending nights at Shankus Dandiya. Witness indoor navratri at Asia's Biggest AC Dome - Sarsana Exhibition Center. Swarnabhoomi is the place to be to see people dance to famous Gujarati musicians' tunes.
Rajkot is the place to experience the royal Navratris of the erstwhile princely state of Saurashtra. Head to the Race Course for Rajkot's most popular Navratri. Neel's City Resort is the ideal place to dance all night. Witness Navratris of Umavnashi and Kadva Patel communities at Club UV.
When to visit
The Navratri festival in 2018 is from 10th October to 18th October. Thus, you can visit any time between these dates.
Have you witnessed an energetic festival in India? Or felt the euphoria of festivals abroad? Write your own travelogue and share it with millions of other travellers. And subscribe to Tripoto YouTube Channel for stunning videos.