The westernmost state of India, Gujarat, is the 9th most popular tourist region in the country. Strategic location, longest coastline, wildlife sanctuaries, natural grandeur, and globally recognized heritage sites are gifts of Gujarat. Centuries-old sculpture, handicrafts, arts, and festivals make the state culturally rich too.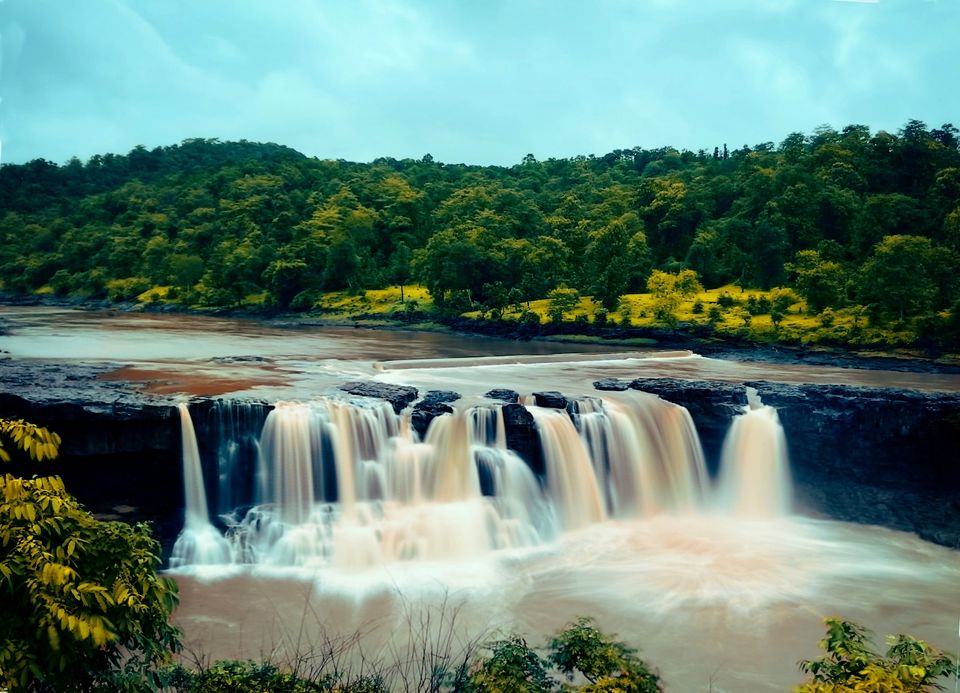 While we are discussing the natural beauties of Gujarat, we should not miss the waterfalls that the state has. Gujarat has a remarkable collection of waterfalls, owing to the nature of its landmass, which is coupled up with lush green, thriving surrounding. Here we will discuss some of those waterfalls in Gujarat.
1. Gira Waterfalls
Accessibility: Easy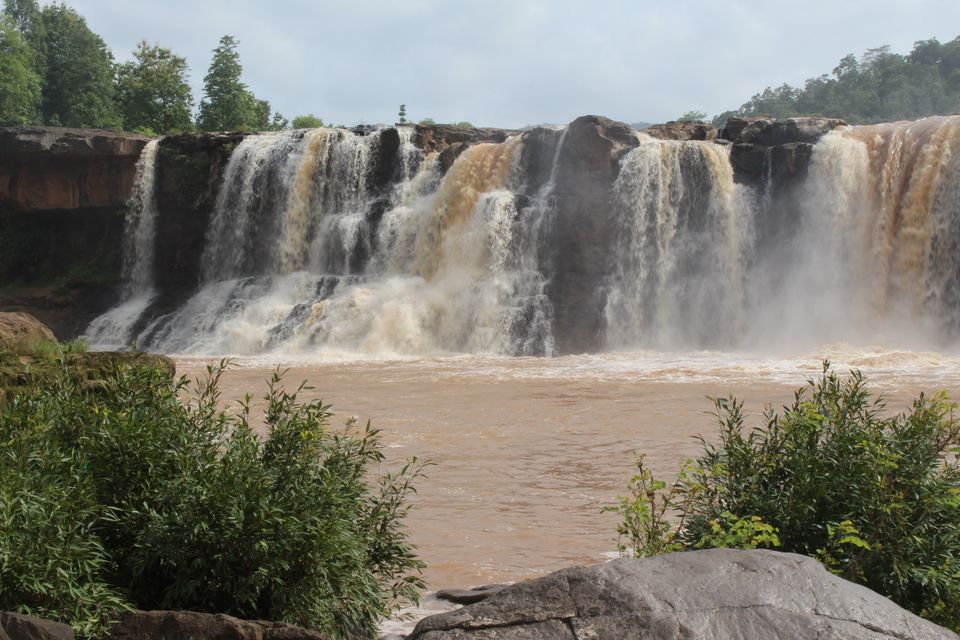 This cascading beauty is located at Wanarchod village near Saputara. It is one of the most scenic waterfalls in Gujarat, and among the major places to visit near Saputara. Also known as Gira Dhodh, Gira Waterfall is formed over the Kapri River and eventually drops into the Ambika River. The height of the falls is about 75 feet. When the water plunges into the river with great speed, creates a foggy look giving it a charming feel.
How to reach:
The nearest railway station is Waghai, on the Billimora-Waghai narrow gauge section. The most suitable starting point to reach Gira Falls is Billimora which is 65 km apart from the falls. It takes nearly 1.5 hours to reach the falls by road.
2. Girmal Waterfalls
Accessibility: Moderate to hard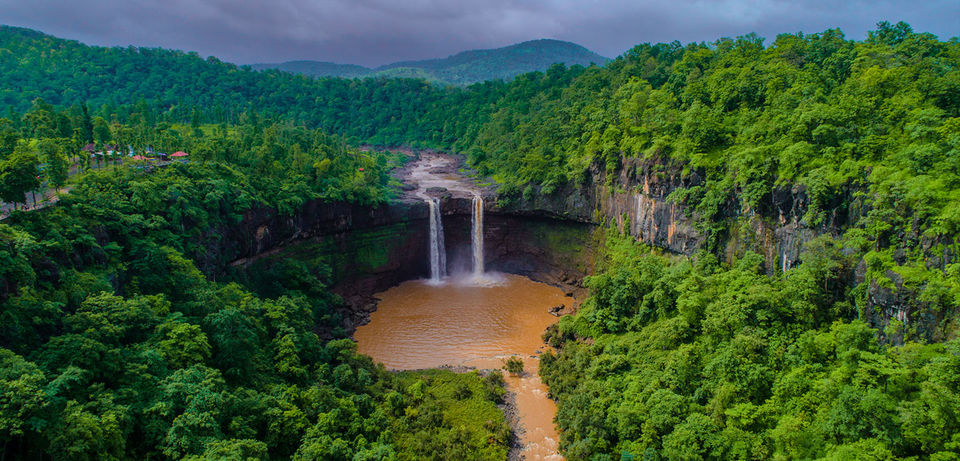 The 100ft tall Girmal waterfall lies on the Ahwa-Nawapur road and is regarded as the tallest among all Gujarat waterfalls. The picturesque beauty of this site makes it popular among visitors and people of the region alike. This waterfall is a comparatively noiseless and a more peaceful option if you are looking for a space away from the mass. One can see enthralling rainbows here along with staring at this magnificently falling water.
How to reach:
To reach the falls, first, you have to go to the Girmar village which is 343 km away from Gandhinagar. The nearest railway station to Girmar is Vapi from where you can get a private taxi to reach the village.
3. Jamjir Waterfalls
Accessibility: Easy
Jamjir or Zamzeer is located in the village Jamvala-Gir of Gir Somnath District. The falls consist of two distinct water torrents flowing at two distinct levels and then gushing down into a deep pool underneath. So, the falls are not a safe place for bathing. Jamjir is also a great place for Bird watching and bird photography. A historic Shiva temple and Hanuman Temple very near to the waterfalls are also must-visit while you are heading towards Gir.
How to reach:
The nearest airport to this place is Diu, located about 45 kilometers away and Veraval railway station is just 50 kilometers from this scenic place.
4. Chimer Waterfalls
Accessibility: Hard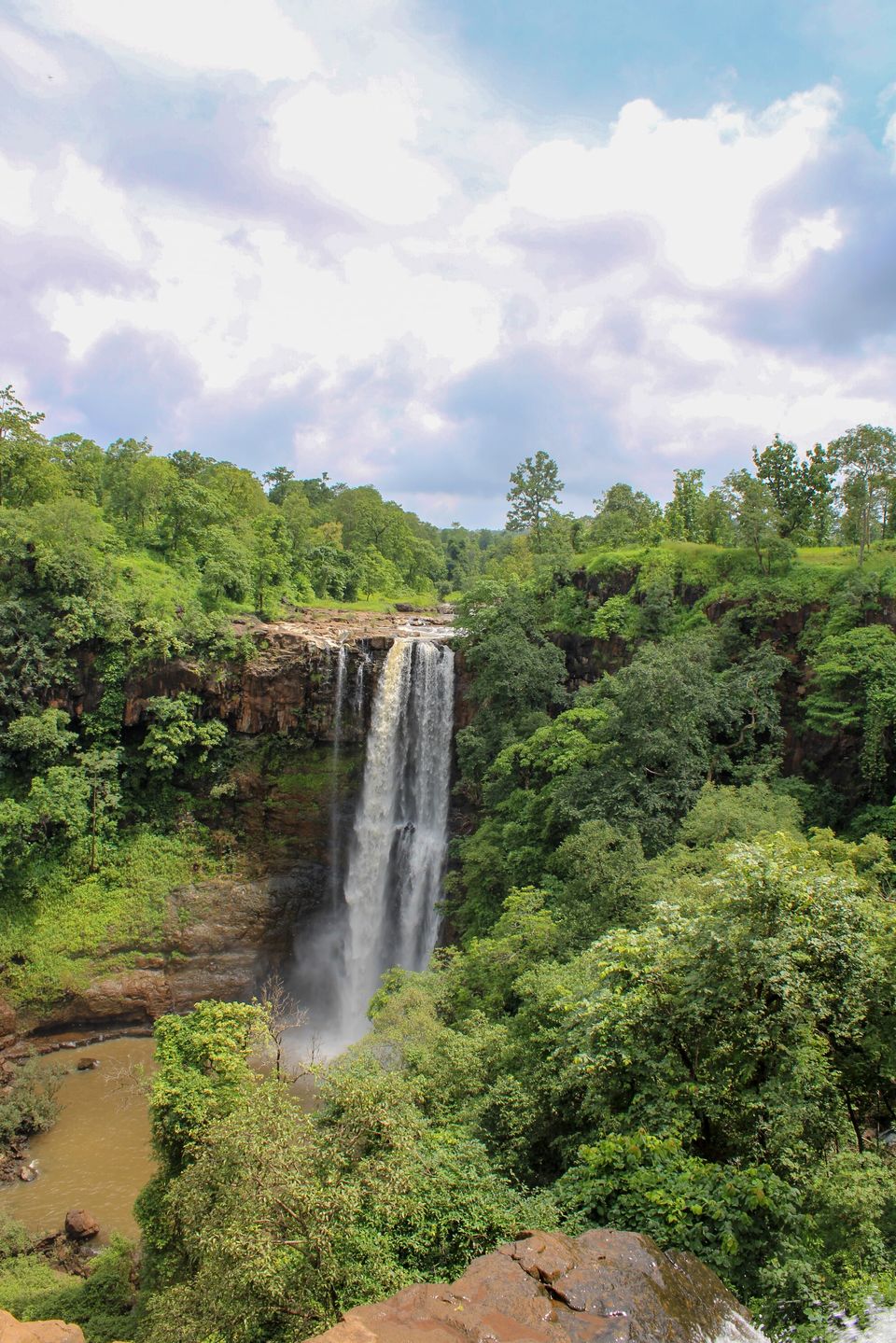 Also known as Chichkund Waterfall and located amidst the thick green forest surroundings and scenic hilly tracts, Chimer is known for being the highest waterfall of Gujarat (unofficially). Chimer falls requires a bit of walking from the main road. Though the fall is popular among the local people, it is still unknown to most of the tourists.
How to reach:
Chimer village is 30 km apart from Songadh in Dangs. It will take approximately 1 hour to reach this waterfall from Songadh.
5. Barda Waterfalls
Accessibility: Easy to Moderate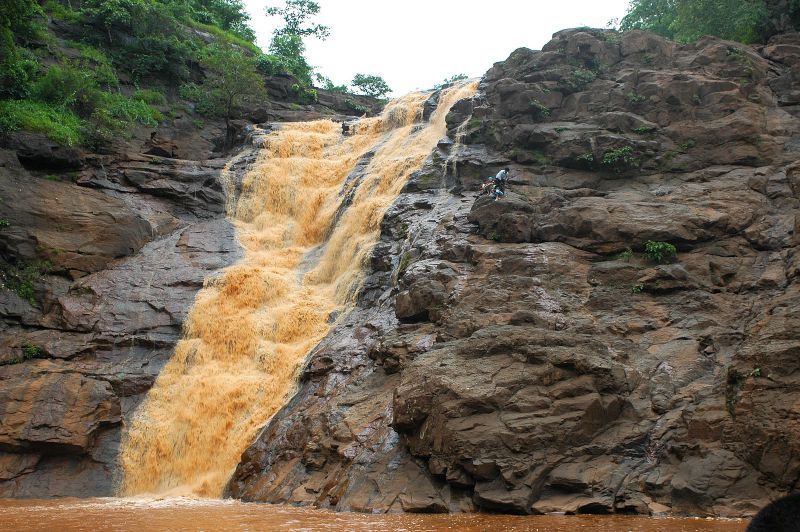 Barda is a twelve-step falls near village Chankhal. It's more known as a trekking destination in the Dangs. It is one of the best unique natural waterfalls in Gujrat. To reach the waterfalls, you have to cover a hiking distance of 30 minutes amidst the green woods. So, if you are a hiking devotee or a nature lover then a visit to this splendid waterfall is a good option.
How to reach:
Chankhal village is situated at a distance of 10 km from Ahwa on Ahwa-Mahal Road. From Chankhal, a 3-minute trek gets you to this fall.
6. Zarwani Waterfalls
Accessibility: Easy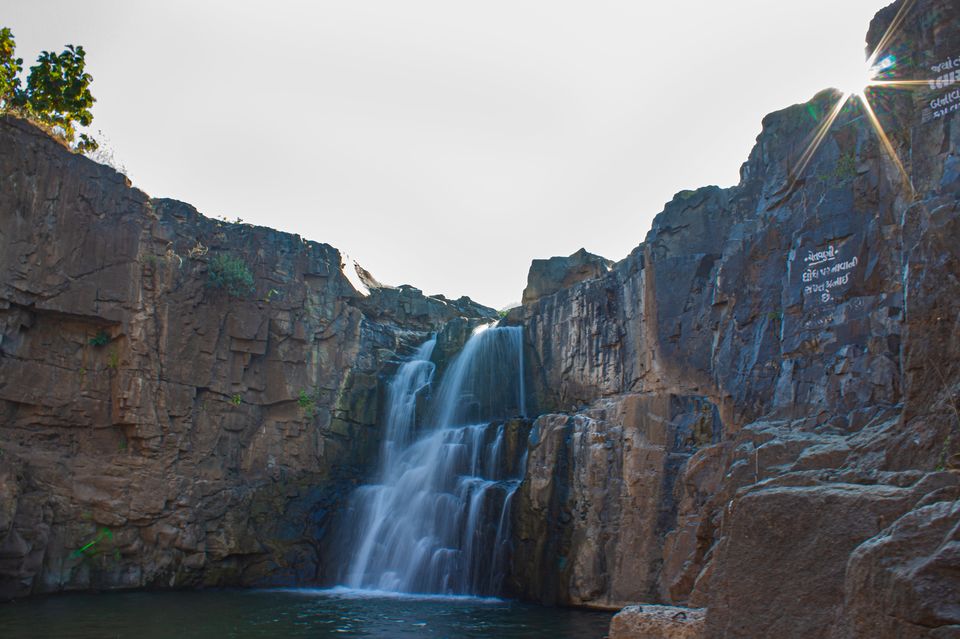 Zarwani Waterfall is located inside the Shoolpaneshwar Wildlife Sanctuary which is home to a gamut of flora & fauna. This magnificent waterfall is easy to access, and you can spend a good and quiet time with your family and loved ones here. This place is also known for being a popular campsite among avid outdoor sports supporters and with the help of the forest department you can also arrange a day picnic or treks.
How to reach:
Zarwani is about 90 km from Vadodara which may take 2.5 hours to reach.
7. Khuniya Mahadev waterfalls
Accessibility: Easy to Moderate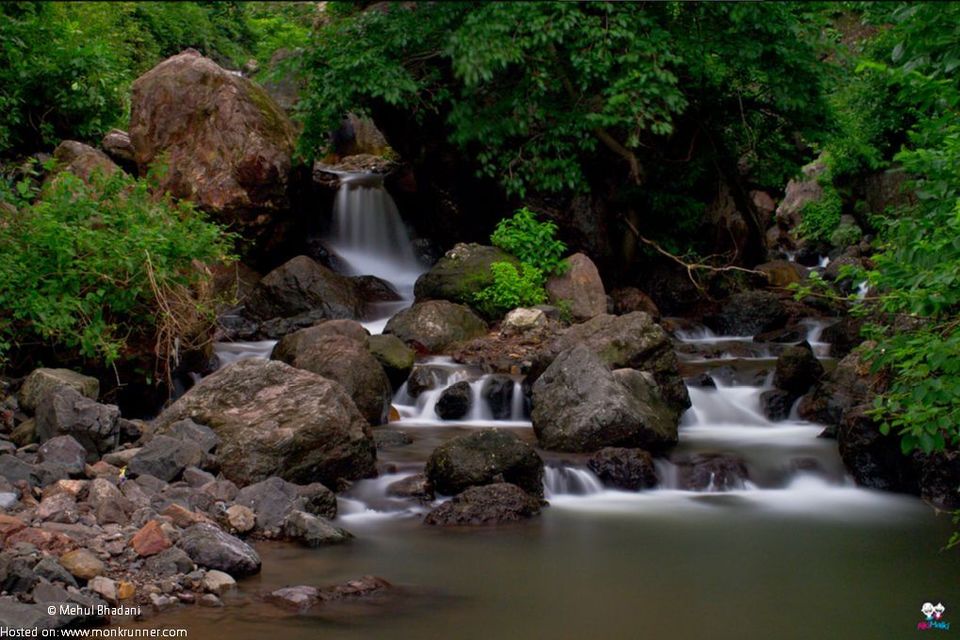 Khuniya Mahadev Waterfall is situated near Pavagadh behind a temple of Mahadev temple. This place is hiding in plain sight and is not popular among tourists making it the perfect place for you to achieve some much-needed peace of mind. To reach the place, you have to go on a mini hike where you can enjoy some of the most awe-inspiring views of the natural surroundings.
How to reach:
From Vadodara, it is only 55 km and will take approximately 1.5 hours to reach there.
8. Hathni Mata waterfalls
Accessibility: Easy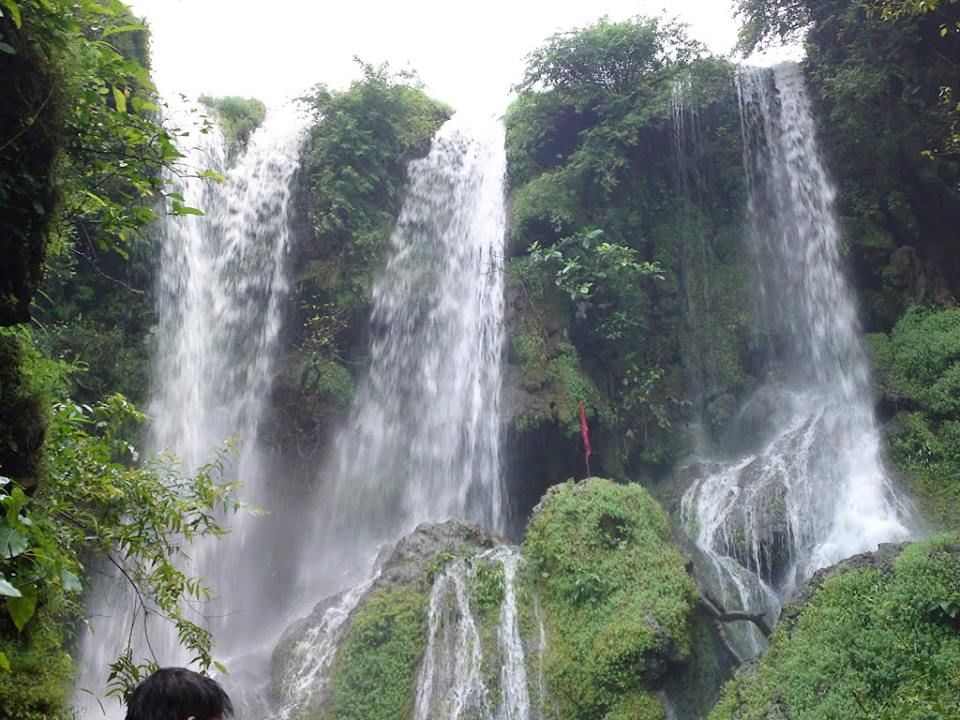 Located near Vadodara, Hathni Mata waterfall is known for being one of the most scenic and beautiful waterfalls in India. The water falling down from a height of 100 m on the rocks along with the sweet sound of the breeze will definitely have a soothing effect on you. A small temple dedicated to Hathni Mata is located in the cave adjacent to the waterfalls. The name Hathni was derived by the local tribal community from the rock that looks like a baby elephant in the base of the waterfall.
How to reach:
Hathni Mata waterfall is nearly 80 km from Vadodara and will take 2 hours to reach.
9. Ninai Waterfalls
Accessibility: Easy to Moderate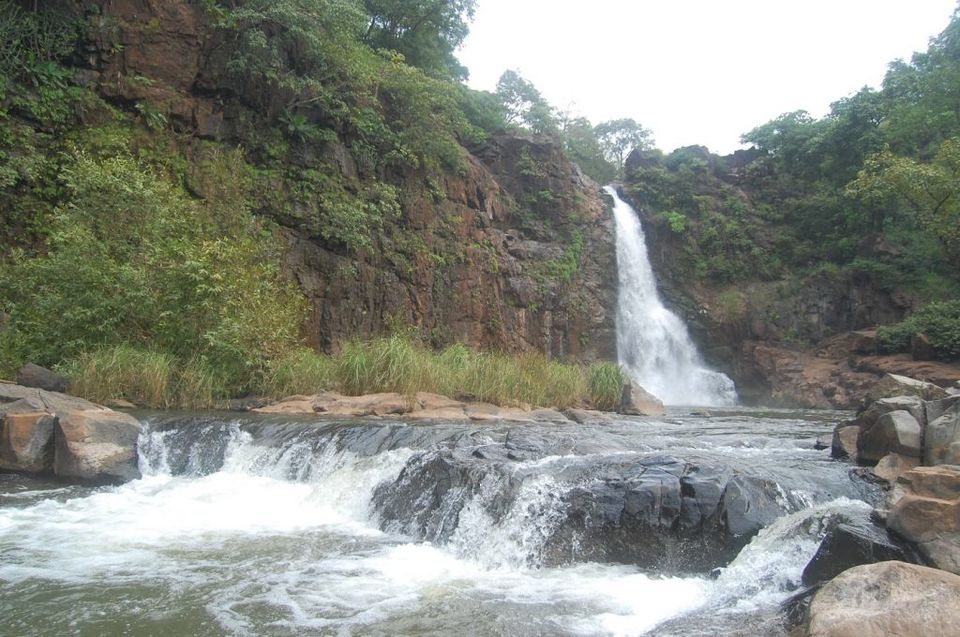 Ninai Waterfall is one of the most popular tourist locations in the Narmada District. The height of this fall is 30 ft. Mesmerizing scenic beauty characterizes the backdrop of the Ninai falls, cradled amid the forested hillocks. Shoolpaneshwar wildlife sanctuary lies in the vicinity of this fall. The Ninai Waterfall is the perfect location for someone looking for serenity and to spend some time in the lap of nature.
How to reach:
Ninai Waterfalls is a three-hour drive from Bharuch and 2 hours from the Statue of Unity. You will need to walk about 5 KM into the greenery to get to the waterfall area.
10. Bilpudi Jodiya Waterfalls
Accessibility: Easy to Moderate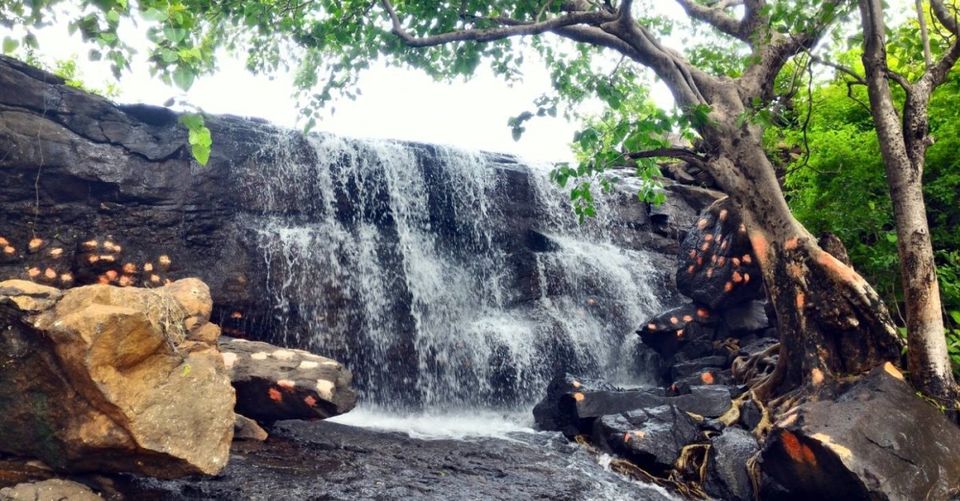 Located at a distance of 35 km from Valsad and situated amongst some of the most picturesque views and serene surroundings, Bilpudi Jodiya waterfall is a true gift of nature. This place remains clustered by tourists all year long especially during weekends. The waterfall looks elegant yet dominant while falling from a height of just 20 feet to 30 feet.
How to reach:
Valsad is the nearest railway station to Bilpudi Jodiya Waterfall. It will take approx. 1 hour to reach there from Valsad.(C)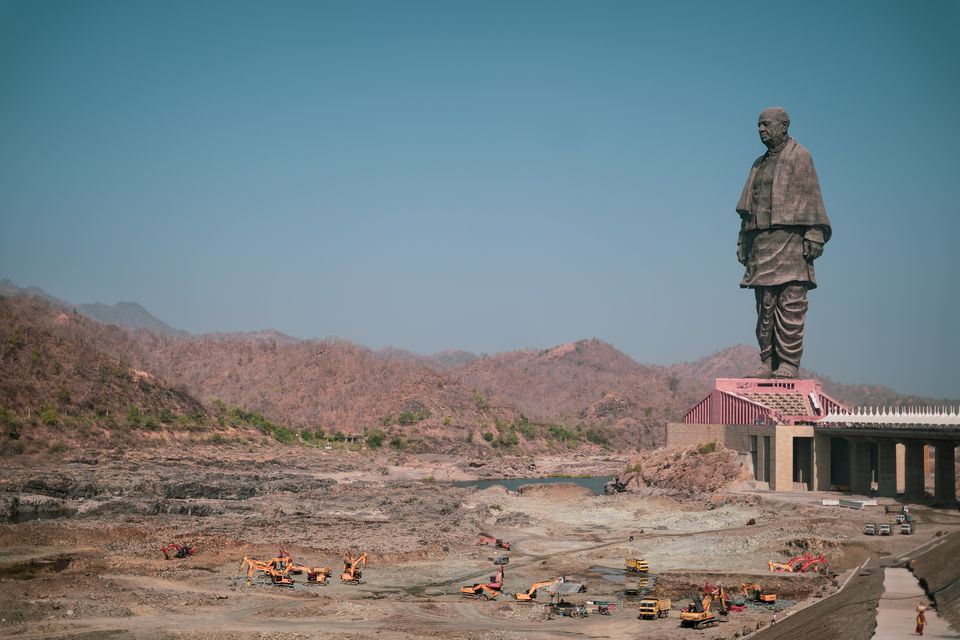 Are you planning for a visit to Gujarat? Then these beautiful waterfalls in Gujarat should positively be included in your plan. They will give you a different perspective of exploring the beautiful and traditional place.
Explore the best of travel inspiration on Tripoto Instagram!